29.08.2021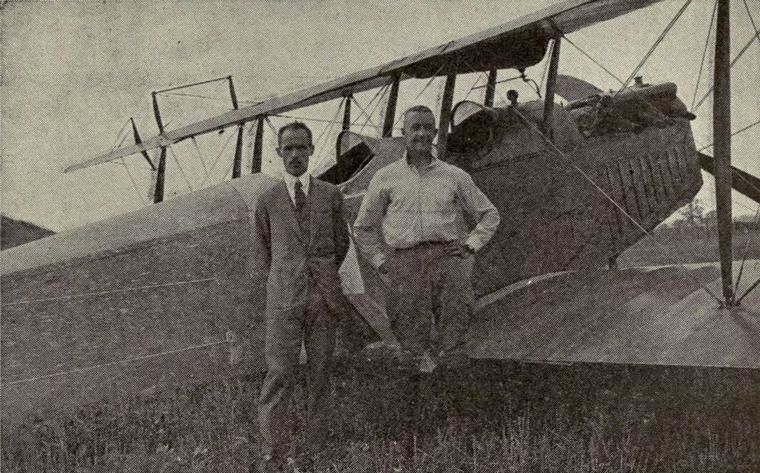 Lt. Macready (right) and McCook Field engineer E. Dormoy (left) in front of the 1st crop duster airplane (August 3, 1921) Photo T commons.wikimedia.org

Crop dusting was developed under the joint efforts of the US Agriculture Department, and the US Army Signal Corps's research station at McCook Field in Dayton, Ohio. Under the direction of McCook engineer Etienne Dormoy, a United States Army Air Service Curtiss JN4 Jenny piloted by John A. Macready was modified at McCook Field to spread lead arsenate to kill catalpa sphinx caterpillars at a Catalapa farm near Troy, Ohio in the United States on 3 August 1921.
The first test was considered so successful that the first commercial operations begun in 1924, by Huff-Daland Crop Dusting, which was co-founded by McCook Field test pilot Lt. Harold R. Harris. The use of insecticide and fungicide for crop dusting slowly spread in the Americas and to a lesser extent to other nations in the 1930s. The name 'crop dusting' originated here, as actual dust was spread across the crops. Today, aerial applicators use liquid crop protection products in very small doses.
Born in San Diego, California on 4 October 1887, John Arthur Macready was an American test pilot and aviator. He was the only three-time recipient of the Mackay Trophy, receiving the trophy in three consecutive years. Macready received a bachelor's degree in economics from Stanford University in 1912. He enlisted in the army in 1917, earning his pilot's wings at Rockwell Field, in San Diego. He quickly rose to the position of flight instructor at the Army Pilot School at Brooks Field, Texas.
As chief of the Engineering Division's Flight Test Section at McCook Field near Dayton, Ohio, in the 1920s, he led America's first military test pilots. He set a world altitude record of 40,800 feet in 1922, made the first crop dusting flights and participated in the first aerial survey of the United States in 1924. Oakley Kelly became the first to cross the United States nonstop from coast to coast by airplane, a trip that took almost 27 hours.
PLEASE GO TO
www.youtube.com/channel/UCCuRVZAGodT6sztTeXBGeMw
and subscribe to our YouTube channel