05.09.2021



Designed and built in 1934 by the Czechoslovakian company Aero Vodochody, the Aero A.200 was specifically built to compete in the European touring plane championships. Powered by a Walter Bora 9-cylinder air-cooled radial piston engine developing 160 kW (220 hp), it was capable of a maximum speed: 255 km/h (158 mph, 138 kts).

A low-wing monoplane, with a fuselage of a steel frame and braced with wire covered with wood and canvas, it could seat four under a glass canopy. Its canvas covered wings fitted with full span slats and with flaps which could fold rearwards for ease of storage or transport.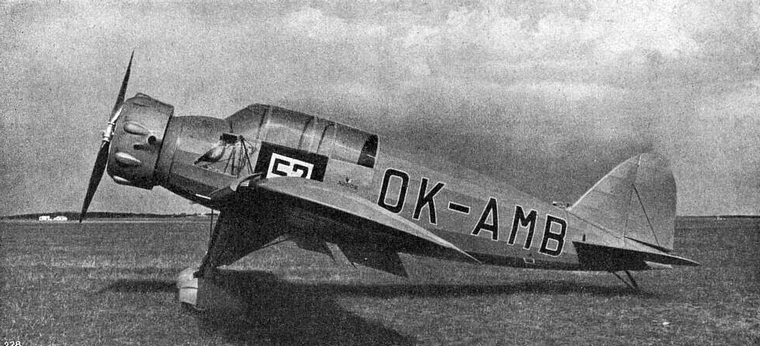 Only two were built, both of which entered the 1934 Challenge Cup that attracted 34 entries.
The International Touring Competitions (Challenge International de Tourisme) was a FAI international touring aircraft contest that took place between August and September in various European countries. The Challenges were major aviation events in pre-war Europe. The regulations were based upon the FAI rules, but details were worked out by the German Aero Club. The 1934 races were hosted by Germany and held in Berlin.
The A.200 OK-AMA, flown in competition by JŠn Ambruö, took fourth place, beaten by the Polish RWD-9s that took both first and second places. A German Fieseler Fi 97 was placed third. The A.200's sister ship, OK-AMB, flown by Vojtech éacek, finished in 14th place.
The A.200s scored the 4th result from among aircraft types taking part in the Challenge. They also had the best short take-off capabilities in the contest. The A.200s needed 74.5-77.6 m to take off and fly over 8-m high gate, although they needed some 118 m to land from above the gate.
PLEASE GO TO
www.youtube.com/channel/UCCuRVZAGodT6sztTeXBGeMw
and subscribe to our YouTube channel