Compiled by Willie Bodenstein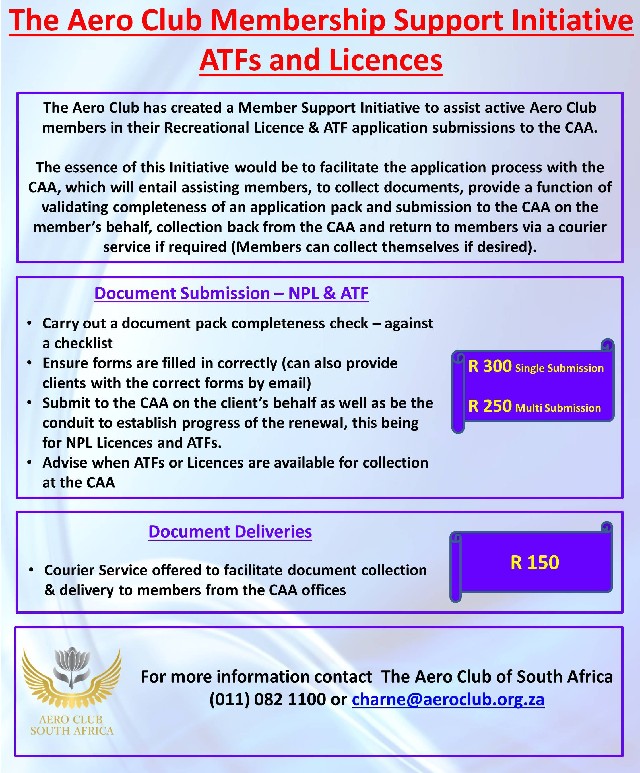 COVID 19 REGULATIONS, INITIATIVES AND AEROCLUB NEWS

OUR CENTENARY YEARBOOK IS NOW AVAILABLE TO PURCHASE FROM OUR NEW WEBSHOP

WWW.AEROCLUB.ORG.ZA/SHOP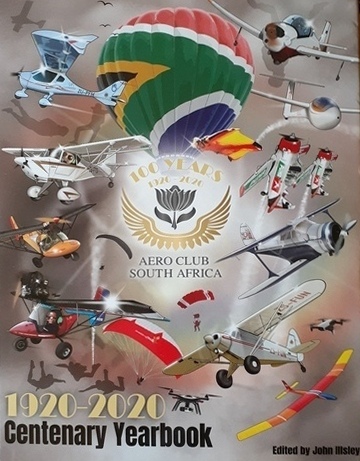 The following events will take place under the rules controlling the number of people congregating together and are therefore not open to the general public.

11 SEPTEMBER
RV Day Fly-In to Kitty Hawk. For more information Contact Dawie Pretorius Cell: 082 804 6979

17 to 19 SEPTEMBER
SAMJA Top Gun RC Jet Championships. For more information contact Dean Grobbelaar at dean@aerialconcepts.co.za

17 & 18 SEPTEMBER
EAA Silver Creek Fly-In and movie evening. Camping on the airfield. Contact Jeremy Woods Cell: 082 883 0436 or Neil Bowden Cell: 084 674 5674

18 SEPTEMBER
Sports Aerobatic Club Junior Coetzee Memorial Trophy - Baragwaneth airfield. Contact Annie Boon E-mail: chunge@mweb.co.za

23 to 26 SEPTEMBER
MISASA Africa Cup at Hotel Numbi in Hazyview. Contact Rob Mc Fie for more information Cell: 082 498 8590

24 SEPTEMBER
Stellenbosch Flying Club Fly-In on Heritage Day. For more information contact Anton Cell: 079 873 4567 or E-mail: gm@stelfly.co.za

24 SEPTEMBER
Peter Lawson Cup at Skydive Wonderboom.

24 & 25 SEPTEMBER
CANCELLED
De Havilland 90th anniversary, a gathering of Tiger Moths at Queenstown Airfield. Contact Giel 082 555 4418 or Mark 082 921 2872

24 & 26 SEPTEMBER
POSTPONED TO 5 TO 7 NOVEMBER
EAA Sun 'n Fun at Brits airfield. Contact Neil Bowden E-mail: neil1@telkomsa.net Cell: 084 674 5674

24 SEPTEMBER
Heritage Day. Great Train Race, vintage cars and aircraft at Heidelberg airfield. Contact Van Zyl Schultz Cell: 082 560 2275 or E-mail: vzs@mweb.co.za







6 OCTOBER
EAA Chapter 322 virtual monthly meeting via Zoom. Contact Neil Bowden E-mail: neil1@telkomsa.net Cell: 084 674 5674

8 to 10 October
EAA Taildraggers at Warmbaths airfield. Contact Richard Nicholson Cell: 082 490 6227 or E-mail: flybenchmark@gmail.com


23 OCTOBER
Panorama breakfast fly-in. For more information contact Alan Stewart E-mail: info@jhbflying.co.za







SUPER TUCANO OFFICIALLY INDUCTED INTO NIGERIAN AIR FORCE

Written by Guy Martin



The Nigerian Air Force (NAF) has officially inducted into service the first six of 12 A-29 Super Tucano aircraft on order from the United States. US Department of Defence officials took part in the ceremony in Abuja on 31 August along with Nigerian Minister of Defence Bashir Salihi Magashi.

The first six Super Tucanos arrived in Nigeria on 22 July as part of a nearly $500 million Foreign Military Sale (FMS), with the aircraft manufactured by Brazil's Embraer and the United States' Sierra Nevada Corporation. The remaining six will be delivered later this year.

The US Embassy pointed out that the Nigerian Super Tucano deal is the largest FMS programme in sub-Saharan Africa. It includes spare parts for several years of operation, contract logistics support, munitions and a multi-year construction project to improve Kainji Air Base infrastructure.

The US Army Corps of Engineers (USACE) is providing $36.1 million in infrastructure support to the A-29s' home base, Kainji Air Base, including earth-covered magazines and aircraft sunshades, a new airfield hot cargo pad, perimeter and security fencing, airfield lights as well as various airfield apron, parking, hangar and entry control point enhancements.

The infrastructure package also includes a flight annex wing building for simulator training as well as munitions assembly and storage and small arms storage. USACE has also stationed a project engineer at Kainji to provide ongoing maintenance and assistance.

A total of 64 pilots and maintainers from the Nigerian Air Force trained to US standards with the US Air Force's 81st Fighter Squadron at Moody Air Base in Georgia, USA. Training also emphasized the Law of Armed Conflict and civilian casualty mitigation, which are fundamental principles of the Nigerian military's professional education and training, the US Embassy said.

Precision targeting, air-to-ground integration and human rights training are all included in the partnership between the US and Nigeria, the US Embassy emphasised, following previous criticism of the Nigerian military's human rights record in combating Boko Haram terrorists.

The Super Tucanos will assist the Nigerian Air Force in their fight against violent extremist organizations including the Islamic State West Africa Province. The joint structure of air-to-ground integration also supports Nigerian Army and Navy operations.

"The Nigerian Air Force is one of our key partners that plays a critical role in furthering regional security and stability," said General Jeff Harrigian, US Air Forces in Europe-Air Forces Africa commander. "This ceremony symbolizes the strength of our unique partnership and underscores the value of training and working together."

"The A-29 is a prime tool to help Nigeria combat violent extremism and is vital to sustained deterrence," Harrigian said. "The total package deal-aircrew and maintainer training, precision-guided weapon delivery, and more-highlights our enduring partnership with the Nigerian Air Force and our commitment to enabling their successes where we can."

The Super Tucano induction ceremony is the latest of multiple significant engagements between US Africa Command, its components and Nigerian counterparts, the US Embassy said. Other recent engagements include a visit by the US Navy's Expeditionary Sea Base USS Hershel "Woody" Williams (ESB 4) in August 2021 and US Army Special Forces training with the Nigeria Navy Special Boat Service in July 2021.

US Army General Stephen Townsend, commander, US Africa Command, visited Nigeria in February 2021, where he met with President Muhammadu Buhari's Chief of Staff Ibrahim Gambari, Minister of Defence Magashi and Chief of Defence Staff General Leo Irabor.


www.defenceweb.com



SCHWEIZER DELIVERS S300C TO SENEGALESE AIR FORCE



Schweizer RSG has announced the delivery of a Schweizer S300C, SN S1973, for the Senegalese Air Force. Foreign Asset Trade Company made the purchase for the Senegalese Air Force where the helicopter will be used for insect control.

"The S300C delivers superior performance and safety and its design supports agricultural applications," said David R. Horton, president of Schweizer. "We are very pleased to have the opportunity to work with Foreign Asset Trade Company and look forward to the Senegalese Air Force operating this helicopter."
"The S300C offers operators a multi-mission piston powered helicopter with low operating costs, substantial useful loads and unparalleled safety for the helicopter pilot which makes it ideal for agricultural uses," added Horton. The initial helicopter will be well equipped for its intended use including: an AG navigation system, Isolair spray system, dual tanks and Bendix King avionic equipment.
"It is important to provide the best equipment to meet the needs of the Senegalese Air Force," said Ousmane Ndiaye, president / CEO of Foreign Asset Trade Company. "The proven use of the Schweizer 300C for insect control allows efficient application for insect eradication in a cost-effective manner," he added.
Schweizer is a U.S.- based corporation that provides comprehensive, competitive aftermarket parts, support and services as well as the production of light helicopters used for a diverse range of applications including civilian and military training, agricultural, utility and law enforcement. The existing ships are proudly supported through a global network of authorized service centres, Schweizer's own technical support team and in-house engineering.

RUSSIAN HELICOPTERS" TO PRESENT A WIDE RANGE OF MILITARY ROTORCRAFT AT THE "ARMY-2021" FORUM


In front of the pavilion "A", at the static display will be deployed attack helicopter Mi-28NE, as well as transport-combat Mi-35M and Mi-35P. These aircraft are loaded with a wide range of guided and unguided missiles and the most up-to-date avionics allow them to carry out missions at any time of the day or night.

Also, in the "Patriot" park, an upgraded military transport helicopter Mi-171Sh will be presented. It is characterized by increased protection of the crew and troops through the use of kevlar armor plates. The helicopter will also have an expanded armament to effectively support the paratroopers from the air.
Another aircraft presented at the static display will be a light helicopter Ka-226T in a new design, adapted to meet the high mountain requirements. The helicopter's fuselage ?is made with the use of modern lightweight materials, the control and the electrical helicopter systems have been modernized, an impact-resistant crashproof fuel system has been installed, which meets the increased safety requirements. At the same time, the volume of fuel tanks has been increased because of centralized refuelling support. The helicopter is also equipped with a new complex of pilot navigation and radio communication equipment.
Besides, for the first time, an unmanned aircraft BAS-200 will be presented at the "Army" forum and placed in the aviation exposition area at "Kubinka" airfield. The maximum take-off weight of the device is 200 kilograms. It can reach speeds of up to 160 km/h and is capable of transporting commercial loads up to 50 kilograms. The BAS-200 is capable of flying up to 4 hours at altitudes of up to 3,900 meters. There also presents a ground control complex to provide communication with the drone at a range of up to 100 kilometres. The device is 3.9 meters long and 1.2 meters high. The BAS-200 project is being developed by the National Helicopter Center "Mil & Kamov" of "Russian Helicopters" Holding Company.
As part of the holding's exposition at the Kubinka airfield, the world's largest serial helicopter, the modernized Mi-26T2B, as well as transport-paratroopers Mi-38T and civil Ansat Aurus helicopter, will also be presented.
At the demo centre of Rostec State Corporation, the holding will present the latest onboard equipment for Russian helicopters. In particular, guests and participants will be able to view the perspective helicopter ergonomic cabin, as well as Ansat helicopter main power elements technical condition control system.

HONDA AIRCRAFT COMPANY PRESIDENT & CEO, MICHIMASA FUJINO, RECEIVES 2021 AIAA REED AERONAUTICS AWARD AT THE AIAA AEROSPACE SPOTLIGHT AWARDS GALA



AIAA has honoured Michimasa Fujino, lead HondaJet designer and President & CEO of Honda Aircraft Company, with its 2021 Reed Aeronautics Award "for the invention of advanced aerodynamic and structural techniques" at the AIAA Aerospace Spotlight Awards Gala. The Reed Award is the highest honour an individual can receive for a notable achievement in aeronautics that represents a significant milestone in engineering advancement.

The annual AIAA Aerospace Spotlight Awards Gala recognizes the most influential and inspiring individuals in aerospace, whose outstanding contributions merit the highest accolades. This year, AIAA held the 2021 Spotlight Awards Gala virtually due to the COVID-19 pandemic.
The clean-sheet aircraft design conceived by Fujino introduced innovations in aviation technology, including the Over-The-Wing Engine Mount and Natural Laminar Flow wing and fuselage. The HondaJet is the first and only, business jet to include these technologies.
"I was very surprised, honoured and very grateful to be recognized with the 2021 Reed Aeronautics Award," said Fujino. "I've worked on airplane design for the past 35 years - it has been challenging, but also very exciting. On behalf of Honda Aircraft Company, I'd like to express my sincere appreciation to everyone who supported the HondaJet project."

HUNTINGTON BEACH PD PURCHASES THREE MD 530F HELICOPTERS

MD Helicopters, Inc. (MDHI) is pleased to announce that Huntington Beach Police Department (HBPD) has signed a purchase agreement for three MD 530F helicopters in a law enforcement configuration. The purchase agreement was signed during a special ceremony attended by Alan Carr, sole director of MDHI's board of directors.

The department has owned and operated MD helicopters for more than 40 years. MDHI's renewed focus on listening to the customer's needs and strengthening the overall purchasing and owning experience was key in the sale. MDHI is proving its dedication to deliver on promises and improvements by going beyond the sale to provide a comprehensive new fleet replacement.
"We owe this renewed relationship to the hard work of our dedicated sales team, particularly Jason Lindauer, our Director of Commercial & Law Enforcement Sales," Carr said. "Jason worked tirelessly to listen to Huntington Beach's airborne team and clearly identify what they needed to succeed, including support in selling their current aircraft and spares. He and the team at MD were willing to go the extra mile to deliver not only a winning product, but also winning support throughout the entire process and for many years to come. We have no doubt the MD 530F is the best helicopter for the job - powerful, reliable and delivering superior efficiency. Now that incredible law enforcement tool is backed by an uncompromisingly positive customer experience."
The MD 530F is the latest model in the proven single-engine line, delivering increased operational capabilities, greater mission versatility and superior performance. The updated helicopter incorporates an advanced NVIS interior designed to enhance safety during night-time patrol, surveillance and tactical operations. The enhanced certified glass cockpit features the Garmin G500TXi Electronic Flight Instrument System (EFIS), Howell Instruments Electronic Engine Instruments and Crew Alert Systems (EICAS) as well as Garmin GTN 750 Touchscreen NAV/COM/GPS.
In addition to its powerful Rolls-Royce 250-C30 650 shp turbine engine, extended landing gear and wire strike protection system, HBPD's MD 530F will be custom-configured with a full law enforcement package. In addition to the agreement to sell the department's current aircraft and spares, the comprehensive fleet replacement package includes a training program specifically tailored to the department's pilots and technicians. Delivery of the first aircraft will occur in the first quarter of 2022. The second and third aircraft will be delivered later that year.

BOMBARDIER DELIVERS FIFTH GLOBAL BUSINESS JET FOR SAAB'S GLOBALEYE AIRBORNE SURVEILLANCE SOLUTION

Bombardier is proud to announce the recent arrival of a fifth Global business jet at Swedish defence supplier Saab's Linköping, Sweden, location, ready for conversion into Saab's Airborne Early Warning and Control solution known as GlobalEye. The aircraft was delivered to Saab from Bombardier's Toronto manufacturing site and underwent interior completions work at Flying Colours Corp. in Peterborough, Ontario, prior to arriving in Sweden.

"Bombardier Global aircraft are ideally suited for conversion into specialized assets and we are recognized around the world for our collaborative, flexible approach and unparalleled expertise," said Steve Patrick, Vice President, Specialized Aircraft, Bombardier. "Our Global 6000 aircraft and increasingly its successor, our Global 6500 aircraft, are known as the go-to platforms for high-altitude, long-endurance missions that require significant payload capability with ample available power, hosted on a reliable platform featuring advanced avionics and systems technology. Bombardier's signature smooth flight technology provides a comfortable environment for operators and highly stable platform for sensors."
"Saab partners with industry leaders, which is why we chose Bombardier's Global 6000 aircraft as the platform for our advanced Airborne Early Warning and Control solution. We are looking forward to continuing our collaboration with Bombardier and Canadian industry," says Carl-Johan Bergholm, Senior Vice President and head of Saab business area Surveillance.
Saab is a leading global defence and security company and has been a trusted partner of the Canadian military for more than 30 years.
The company's GlobalEye aircraft completed its maiden flight in early 2018 and three have been delivered from Saab to the customer.
Bombardier Global business jets are a shining example of Canadian aerospace innovation, with ultra-long range, spacious cabins and class-leading maintenance intervals and reliability. Global aircraft are ideally suited to a range of specialized missions, from securing airspace, borders and infrastructure to head-of-state transport and humanitarian assistance including long-range medical evacuations.
Fellow Canadian company Flying Colours Corp. supports Saab through the introduction of a practical, functional interior for the mission system operators.
"Designing a special mission interior necessitates an intelligent approach, ingenuity and imagination," said Sean Gillespie, Executive VP for Flying Colours Corp. "Our work with Saab showcases the high levels of technical expertise delivered by our experience, knowledge and the exceptional talent within our team."
Bombardier Specialized Aircraft offers flexible solutions for customers around the world, with conversion options ranging from turnkey packages comprising the complete design, building, testing and certification activity, through to specialized engineering support and technical oversight of customer-specific projects, including modifications to external shapes such as antennae, sensors and radars. Bombardier has designated its Wichita, Kansas, facility as the Centre of Excellence for Specialized Aircraft, with the experience and expertise to carry out complex modifications on site.
More than 550 Bombardier Global, Challenger and Learjet business aircraft are currently performing specialized missions worldwide.

HINDUSTAN AERONAUTICS LTD. ORDERS 99 F404S FOR TEJAS LIGHT COMBAT AIRCRAFT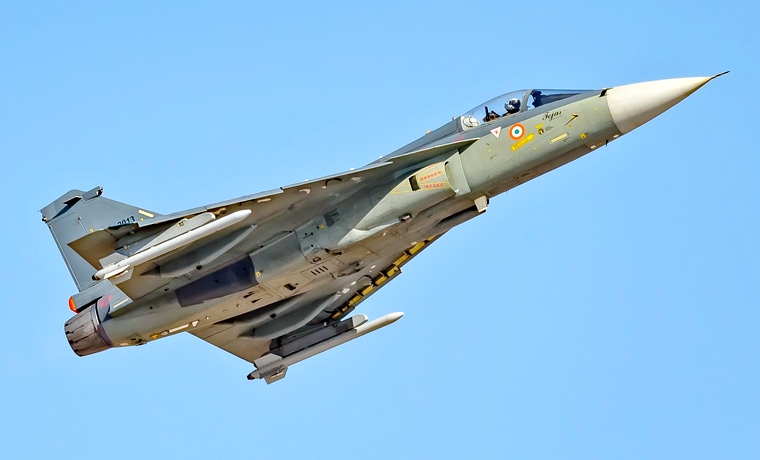 Hindustan Aeronautics Limited (HAL) ordered F404 engines to power the single-engine Tejas Light Combat Aircraft (LCA). Valued at $716 million, the order includes 99 F404-GE-IN20 engines and support services.

"We are proud of our 16-year-long partnership with HAL and happy to extend our relationship with this new order," said Chris Cyr, Vice President Military Sales and Business Development for GE Aviation. "The F404 family of engines has proven itself in operations all over the world, and we have committed to deliver all 99 engines and support services by 2029."
The F404-GE-IN20 engine is an enhanced production version of the F404-GE-F2J3, which is successfully powering India's Light Combat Aircraft demonstrator. The highest thrust variant of the F404 family, the F404-GE-IN20 incorporates GE's latest hot section materials and technologies, as well as a FADEC for reliable power and outstanding operational characteristics.
The F404-GE-IN20 engine leverages more than 14 million engine flight hours from the F404 family of engines, which has powered 15 different production and prototype aircraft.

ADAC LUFTRETTUNG TAKES DELIVERY OF ITS FIRST TWO FIVE-BLADED H145S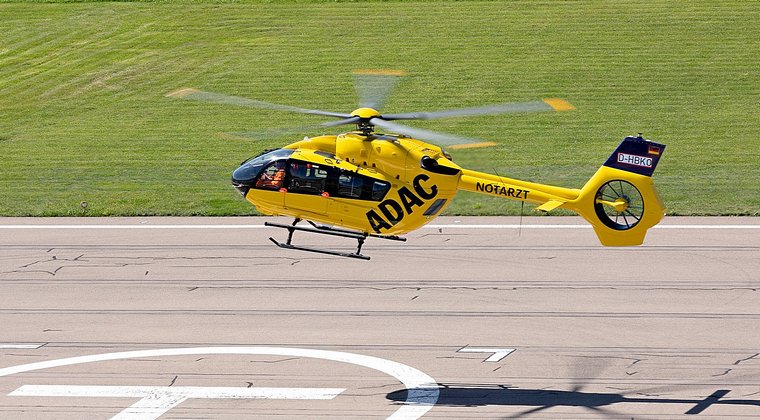 ADAC Luftrettung, one of Europe's biggest Helicopter Emergency Medical Services (HEMS) operators, has taken delivery of its first two five-bladed H145s. Furthermore, the German HEMS operator will upgrade its current fleet of 14 four-bladed H145s to the five-bladed rotor system.

"By investing in new aircraft alongside the upgrade of our existing H145 fleet, we are focusing on state-of-the-art flight technology for rescue missions. This benefits people in need and our crews alike and improves our emergency medical care in the air for the long term. In this way, we will continue to ensure patient and flight safety, which are our top priorities, at the very highest level in the future," said Frédéric Bruder, Managing Director of ADAC Luftrettung gGmbH.
"We are delighted that ADAC Luftrettung has opted for the new five-bladed H145. This opens a new chapter in the cooperation between our two organisations that dates back more than 50 years," said Bruno Even, CEO of Airbus Helicopters.
ADAC Luftrettung operates more than 50 Airbus helicopters from their 37 stations throughout Germany. In June, an ADAC H145 was the first HEMS helicopter to fly with sustainable aviation fuel.
The new version of Airbus' best-selling H145 light twin-engine helicopter was unveiled at Heli-Expo 2019 in Atlanta. This latest upgrade adds a new, innovative five-bladed rotor to the multi-mission H145, increasing the useful load of the helicopter by 150 kg. The simplicity of the new bearingless main rotor design will also ease maintenance operations, further improving the benchmark serviceability and reliability of the H145, while improving ride comfort for both passengers and crew. The helicopter's high-mounted tail boom and wide opening clam-shell doors facilitate access to the H145's spacious cabin.
Powered by two Safran Arriel 2E engines, the H145 is equipped with full authority digital engine control (FADEC) and the Helionix digital avionics suite. It includes a high performance 4-axis autopilot, increasing safety and reducing pilot workload. Its particularly low acoustic footprint makes the H145 the quietest helicopter in its class.
Today, Airbus has more than 1,470 H145 family helicopters in service around the world, logging a total of more than six million flight hours. For HEMS alone, there are more than 470 helicopters of the H145 family conducting air rescue missions worldwide.

UNITED ROTORCRAFT AWARDS CONTRACT TO SIKORSKY FOR FIVE S-70™ BLACK HAWK® HELICOPTERS



United Rotorcraft, a division of Air Methods Corporation, has awarded Sikorsky, a Lockheed Martin company, a contract for five S-70™ Black Hawk® helicopters. The bulk order will enable United Rotorcraft, as the only company authorized by Sikorsky to modify Black Hawk aircraft to the FIREHAWK® configuration, to quickly deliver these new production aircraft for aerial firefighting in support of public agencies battling increasingly destructive wildland fires.

"The FIREHAWK helicopter is fast becoming one of the most powerful and effective aerial firefighting assets in California, attacking and extinguishing wildfires before they spread out of control," said Larry Alexandre, United Rotorcraft president. "Acquiring five S-70 Black Hawk aircraft from Sikorsky with deliveries over the next 7 to 18 months confirms United Rotorcraft's commitment to the FIREHAWK helicopter and its mission and ensures their availability to support future demand from U.S. Western States or firefighting agencies around the world."
Sikorsky will produce the five S-70 Black Hawk aircraft at Lockheed Martin's PZL Mielec manufacturing line in Poland. Deliveries to United Rotorcraft's 55,000+ square foot completions facility in Colorado are expected between early 2022 and mid-2023. The first aircraft received will be configured as a FIREHAWK helicopter for the State of Colorado, which announced its contract with United Rotorcraft on Aug. 16.
"Sikorsky and United Rotorcraft have worked closely for 25 years to develop, test and upgrade two S-70 variants of the FIREHAWK helicopter for the Los Angeles County Fire Department, CAL FIRE and the San Diego Fire-Rescue Department," said Jason Lambert, vice president of Sikorsky Global Commercial and Military Systems. "We applaud United Rotorcraft's bold leadership to bring the toughest, safest, most reliable fire suppression and rescue helicopter in existence today into the hands of first responders sooner than ever."
To modify a Black Hawk helicopter to the Firehawk configuration, United Rotorcraft installs and integrates a 1,000-gallon (3,785-liter) external water tank system to the aircraft's belly. Fingertip controls allow pilots to drop the precise amount of water with high accuracy and refill the tank via a retractable snorkel in 60 seconds or less while hovering 10 feet over a water source. United Rotorcraft works hand in hand with public agencies to further customize the aircraft, as needed, from communications and navigation systems, to cabin interiors, transforming the FIREHAWK into a true multi-mission aircraft, with the ability to transport up to 12 firefighters, provide medical care on board, or perform search and rescue operations.
Thirteen S-70 FIREHAWK helicopters currently fighting fires across California are operated by CALFIRE, Los Angeles County Fire Department and San Diego Fire Rescue Department. Five more contracted aircraft are on the way.


XPENG VOYAGER X2



Founded in 2014 by He Xiaopeng, Henry Xia and He Tao, Xpeng Motors is a leading Chinese all-electric vehicle and technology company that designs, develops and manufactures intelligent automobiles that are seamlessly integrated with the Internet and utilize the latest advances in artificial intelligence. The company is beginning to make electric vertical take-off and landing (eVTOL) aircraft for Urban Air Mobility (UAM). The company's headquarters are located in Guangzhou, China.

The company's manufacturing philosophy centres around quality, continuous improvement, flexibility and high operating efficiency. XPeng's goal is to make smart electric vehicles with technology and data and shape the consumer mobility experience of the future. XPeng went public in the U.S. in August 2020 and has completed a dual-primary listing in Hong Kong.

The XPeng Voyager X2 is an eVTOL multicopter aircraft which holds two passengers, has eight propellers, eight electric motors, powered by batteries, has a maximum speed of 130 kp/h (81 mph) and a flight time of 35 minutes. The aircraft is flown autonomously, has fixed-skid type landing gear and has been made specifically for Urban Air Mobility.

The Voyager X2 was revealed at a public exhibition in Shanghai, China in July 2021.




HONG KONG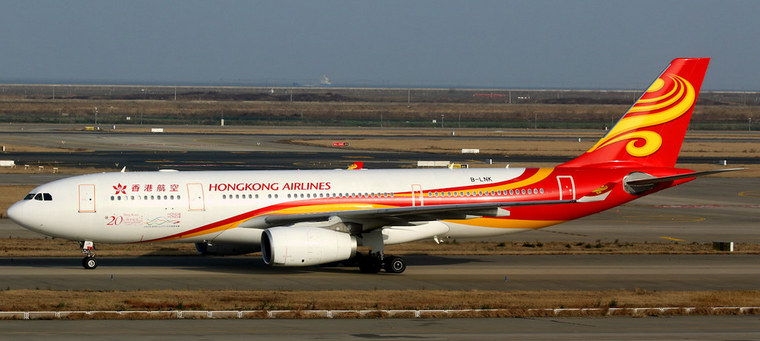 Hong Kong Airlines HX236, an Airbus A330-343 with 174 passengers and 13 crew, aborted the take-off roll at Hong Kong-Chek Lap Kok International Airport in a runway incursion incident involving a Boeing 747.
A Boeing 747-400F, registered OM-ACB and operated by Air Cargo Global as flight CCC831, landed on runway 07L at Chek Lap Kok Airport following a flight from Turkmenbashi. The aircraft taxied to the cargo apron on the south of the airfield. This necessitated crossing runway 07R, which was being used for departures.
Flight HX236 was cleared for take-off by the Tower controller and at 08:54, the aircraft began rolling for take-off. At the same time, flight CCC831 crossed the active runway at taxiway J6, which is located 1700 m from the threshold of runway 07R. The aircraft had been instructed by the Ground Controller to taxi to their parking position C12 via taxiways K4 and L2. There was no explicit clearance to cross the runway.
The flight crew of the Airbus A330 aborted their take-off roll and left the runway via J6. The aircraft subsequently took off uneventfully.
An investigation revealed that the ground movement controller was a trainee, assisted by an instructor. By the incident time, the instructor had already intervened and taken over from the trainee on more than two occasions to avoid traffic build-up. The instructor was pre-occupied with the task to establish positive ATC control without delay and probably had a lapse of concentration because he did not follow standard operating procedure to verify the position of flight CCC831, which he mistakenly assumed had already crossed runway 07R and was looking for a taxi route to the parking bay.
Causes:
A taxi instruction without a specific runway crossing clearance was misconstrued to have included a runway crossing clearance and Aircraft 1 entered RWY07R from J6 while Aircraft 2 was commencing take-off on RWY07R. This resulted in a runway incursion.
Contributing Factors
1. An instruction for Aircraft 1 to contact AMS for a runway crossing clearance was not affected as a result of probable lapse of concentration.
2. Verification of the position of Aircraft 1 was not affected and subsequently an incorrect assumption that the aircraft had already crossed RWY07R was made as a result of loss of situational awareness when instruction was issued.
3. Clarification with ATC was not affected before entering an active runway without a specific runway crossing clearance.



Ghana, Accra-Kotoka Airport: A KLM Boeing 777-306ER performed a high speed rejected take off at Accra Airport, Ghana, following a bird strike. Several tires reportedly deflated and had to be replaced.
Saudi Arabia, Abha International Airport: A parked Saudi Airbus A320-214 sustained small punctures to the fuselage in a drone attack at Abha International Airport. No injuries were reported.
Taiwan, Pingtung (South) Air Base: Republic of China Air Force General Dynamics F-16B-20-CF operated by 4th TFW during a training exercise simulating landing on public roads at Pingtung (South) Air Base, slammed into a ditch at the end of the taxiway. The sole pilot was not injured.

USA, USS Abraham Lincoln, Pacific Ocean, CA: A US Navy Sikorsky MH-60S Knighthawk with six on board crashed into the ocean alongside USS Abraham Lincoln off San Diego during a routine training flight. One crew member was rescued and five others are missing. Five more sailors aboard the USS Abraham Lincoln were injured in the incident. Two were transported ashore for treatment and are in stable condition. The other three were treated for "minimal injuries" and remain aboard.
USA, N of Plainville-Robertson Airport, CT: A Brook Haven Properties LLC Cessna 560 Citation XLS+ with two on board was destroyed when it impacted a commercial structure in Farmington, Connecticut. There were no survivors.
USA, near Wadsworth Municipal Airport, OH: An experimentally built Rand Robinson KR-2S with only the pilot on board impacted the waters of a pond under unknown circumstances near Wadsworth Municipal Airport (3G3), Wadsworth, Ohio. The sole pilot onboard was fatally injured.

USA, W of Delray Beach, Palm Beach County, FL: An experimental kit-built Van's RV-8 suffered substantial damage during the forced landing to racetrack terrain West of Delray Beach, Palm Beach County, Florida. There were no reported injuries.
France, between Woignarue and Friaucourt, Baie de Somme: An Ultralight TL-2000 with two occupants crashed without catching fire in a field between Woignarue and Friaucourt, a few kilometres south of the Bay of the Somme. Both occupants, 36 and 52, were killed. Fog may have been a factor of the accident.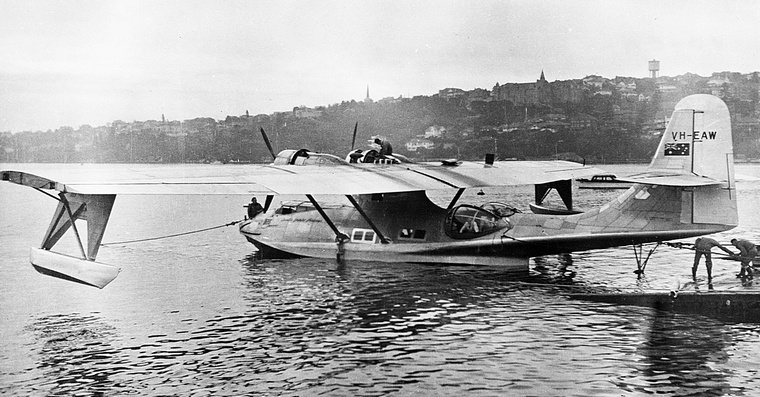 30 AUGUST 1943

A Qantas Empire Airways PBY Catalina flying boat on the "Double Sunrise Route" from Ceylon to Perth, Australia, completes the longest non-stop scheduled airline flight in history. From mooring buoy to mooring buoy, the flight takes 31 hours 51 min.


Qantas crews ferried 19 Catalina flying boats from the USA to Australia in 1941. The first of these flights was just the second east to west aerial crossing of the Pacific Ocean.
Singapore services cease in February 1942 as Japanese forces occupy most of South East Asia. Qantas flying boats evacuated servicemen and civilians from the Dutch East Indies to Australia. Two Qantas Empire flying boats were shot down by Japanese aircraft in early 1942.
The Qantas hangar and flying boat servicing facilities were destroyed in the first Japanese air raid on Darwin on 19 February 1942. A Qantas Empire flying boat narrowly escapes destruction.
Qantas DH86 aircraft evacuate 78 people from Mt Hagen in New Guinea in May 1942.
Qantas completes urgent supply flights from Port Moresby to the front-line at Buna in late 1942.
From June 1943, Qantas operated the only regular air service to Australia across the Indian Ocean between Ceylon and Perth. Catalina flying boats crossed 5,600 kilometres non-stop with flying times of between 28 and 33 hours. Passengers were awarded a certificate of membership to 'The Rare and Secret Order of the Double Sunrise'. Liberator aircraft took over in 1945 and passengers received 'The Elevated Order of the Longest Hop.' Qantas Liberators were the first to carry the flying kangaroo symbol.



PLEASE GO TO
www.youtube.com/channel/UCCuRVZAGodT6sztTeXBGeMw
and subscribe to our YouTube channel