Compiled by Willie Bodenstein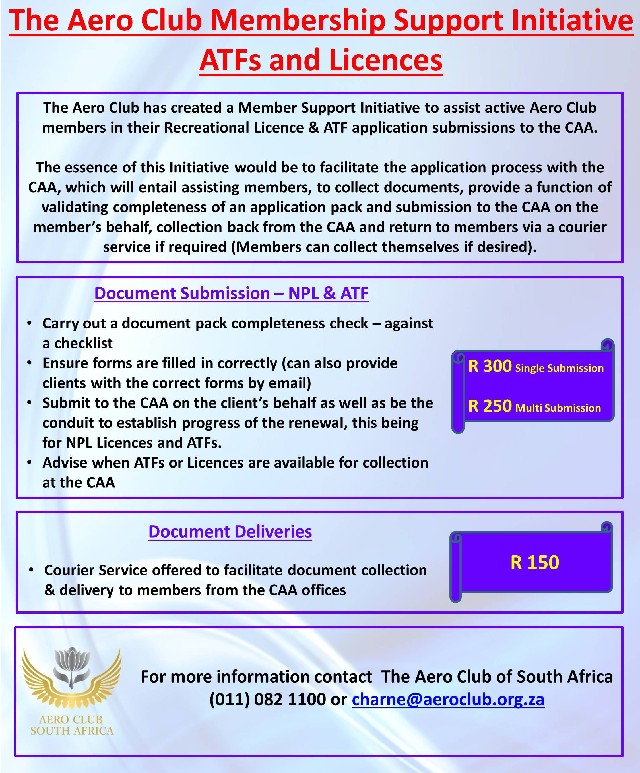 COVID 19 REGULATIONS, INITIATIVES AND AEROCLUB NEWS

OUR CENTENARY YEARBOOK IS NOW AVAILABLE TO PURCHASE FROM OUR NEW WEBSHOP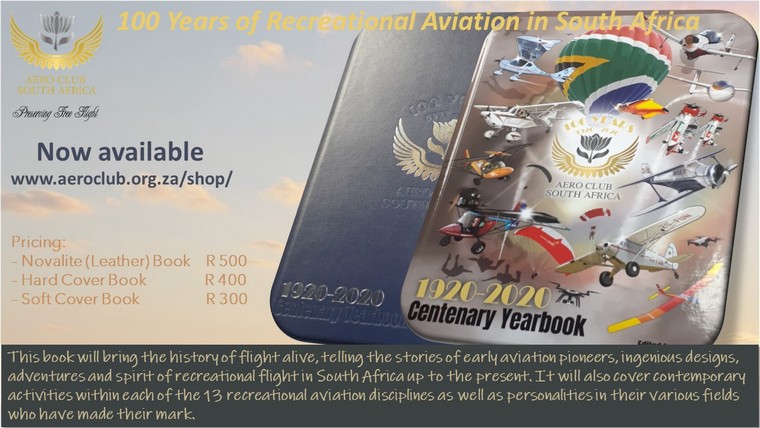 The following events will take place under the rules controlling the number of people congregating together and are therefore not open to the general public.

17 to 19 SEPTEMBER
SAMJA Top Gun RC Jet Championships. For more information contact Dean Grobbelaar at dean@aerialconcepts.co.za

17 & 18 SEPTEMBER
EAA Silver Creek Fly-In and movie evening. Camping on the airfield. Contact Jeremy Woods Cell: 082 883 0436 or Neil Bowden Cell: 084 674 5674

18 SEPTEMBER
Sports Aerobatic Club Junior Coetzee Memorial Trophy - Baragwaneth airfield. Contact Annie Boon E-mail: chunge@mweb.co.za

23 to 26 SEPTEMBER
MISASA Africa Cup at Hotel Numbi in Hazyview. Contact Rob Mc Fie for more information Cell: 082 498 8590

24 SEPTEMBER
Peter Lawson Cup at Skydive Wonderboom.

24 & 25 SEPTEMBER
CANCELLED
De Havilland 90th anniversary, a gathering of Tiger Moths at Queenstown Airfield. Contact Giel 082 555 4418 or Mark 082 921 2872

24 & 26 SEPTEMBER
POSTPONED TO 5 TO 7 NOVEMBER
EAA Sun 'n Fun at Brits airfield. Contact Neil Bowden E-mail: neil1@telkomsa.net Cell: 084 674 5674

24 SEPTEMBER
Heritage Day. Great Train Race, vintage cars and aircraft at Heidelberg airfield. Contact Van Zyl Schultz Cell: 082 560 2275 or E-mail: vzs@mweb.co.za






6 OCTOBER
EAA Chapter 322 monthly virtual meeting via Zoom. Contact Neil Bowden E-mail: neil1@telkomsa.net Cell: 084 674 5674


8 TO 10 OCTOBER
EAA Taildraggers at Warmbaths airfield. Contact Richard Nicholson E-mail: flybenchmark@gmail.com Cell: 082 490 6227







JONKER'S JS-MD 3 RES (PURE) TYPE CERTIFICATE AWARDED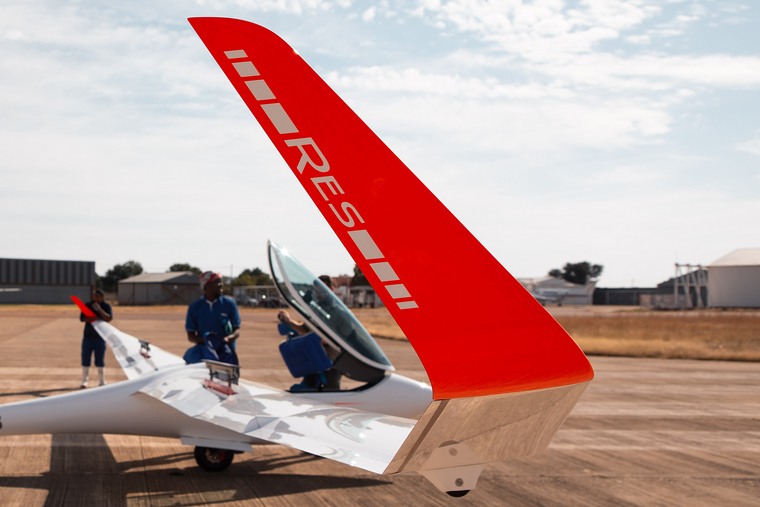 We are ecstatic to announce that the JS-MD RES (Pure) variant of the JS-MD Single type has been approved by EASA and type certification is awarded!

Thank you to our partner M&D Flugzeugbau and everyone involved in help making this possible!
The next step now is the maiden flight of the JS3 with the RES installed.
This might happen sooner than you think - so keep watching our social media platforms for updates!



IT'S THAT TIME OF YEAR AGAIN!! CALL FOR RV PHOTOS FOR THE 2022 VAN'S CALENDAR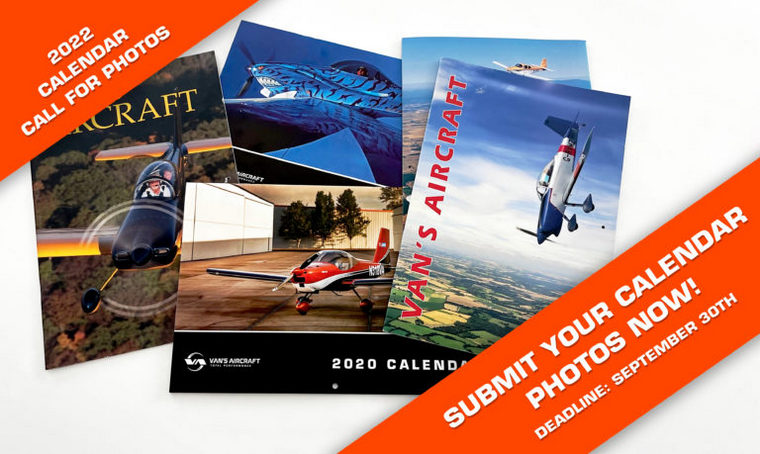 We are collecting customer photo submissions for the 2022 Van's Calendar. Please send in your best RV images to media@vansaircraft.com.


Submission Criteria: Images must be in a high-resolution format so they will print clearly. Please don't over-process, resize or crop tight - we can handle that and keeping things flexible means there is a better chance we can use it. Include the name of the photographer (and permission for Van's to use the image if you didn't take it yourself), the name of the owner/builder of the airplane and some information about the shot, the airplane, owner/builder, location, when it was taken, etc. Please don't send us any "faked" photos, they will not be used. (And yes, that's happened before. Seriously.)
The deadline for all submissions is September 30th! So send them in! And, if you know someone who has an awesome RV photo, encourage them to submit their photos as well!
Thank you:- and we look forward to seeing all your submissions!



TEXTRON AVIATION CONTINUES TO LEAD IN BUSINESS AND GENERAL AVIATION DELIVERIES



Textron Aviation delivered more aircraft to customers worldwide than any other manufacturer in the first half of 2021, leading the General Aviation Manufacturers Association (GAMA) updated shipments and billings report published this week.


The distinction is an honour and a testament to the trust of customers flying Cessna and Beechcraft aircraft in nearly every part of the world.

LEIDOS, PARAMOUNT USA AND VERTEX AEROSPACE ENTER FINAL PHASE OF ARMED OVERWATCH COMPETITION



(NYSE: LDOS), a FORTUNE® 500 science and technology leader, has announced that its team has been selected to enter the final phase of the U.S. Special Operations Command's (USSOCOM) Armed Overwatch aircraft prototype program. Leidos, Paramount USA and Vertex were among five teams awarded a total of $19.3 million for prototype demonstrations and will advance Bronco II to the Phase III Operational Prototype Demonstration later this month.

The Bronco II is designed for ultimate mission flexibility. The aircraft's unique internal Interchangeable Multi-Mission System Bay (IMSB) allows for a single airframe to be easily and rapidly re-configured to perform multiple roles (e.g. ISR, SCAR, FAC(A) CAS) incorporating high-performance sensors, network communication systems, precision weapons, an electronic self-protection suite and mission planning systems.
"Our team combines decades of experience both integrating and manufacturing cutting-edge airborne solutions for the warfighter," said Gerry Fasano, Leidos Defense Group president. "We are thrilled to have been selected to compete in the final phase."
"We believe that Bronco II is the definitive next generation aircraft, which has been designed to be future-proofed against evolving operational requirements in the asymmetrical battlespace specifically inhabited by SOCOM," said Ivor Ichikowitz, Chairman of global aerospace and technology company, Paramount Group. "Through our partnerships with Leidos, we are looking forward to building upon our 27-year legacy of designing and producing rugged technologically advanced systems. Our team has designed and developed an America centric platform for the world market and we are looking forward to bringing Bronco II back to America."
"Vertex has a 50-year legacy of supporting warfighter missions," said Ed Boyington, President and CEO of Vertex Aerospace. "Vertex's highly skilled employees will assemble the aircraft and provide the final systems support integration and launch the Bronco II for customer delivery from our Crestview, Florida facility. We are proud to be an integral part of this team."

THE BEECHCRAFT KING AIR 360/360ER AND KING AIR 260 ARE DESIGNED AND MANUFACTURED BY TEXTRON AVIATION INC



"EASA certification begins a whole new era for the Beechcraft King Air in Europe," said Tom Perry, vice president of Sales for Europe, Middle East and Africa. "The King Air has been the turboprop of choice throughout this region for more than five decades and the new 260 and 360 will build on that legendary reputation. We have incorporated innovative and next generation technologies that enhance the flying experience for an already proven aircraft."

Renowned for their versatility and reliability, King Air turboprops have been a popular choice across Europe with more than 460 aircraft throughout the region. Nearly half of all King Airs in Europe are owned and operated in France, Germany and the United Kingdom.
A typical King Air 360 flight with four passengers and a single pilot has a maximum range of 3,345 km (1,806 nautical miles), allowing it to complete flights such as London to Athens or Frankfurt to Moscow without stopping to refuel. Similarly, the King Air 260 has a maximum range of 3,185 km (1,720 nautical miles), allowing four passengers and a single pilot to take complete flights such as Rome to Madrid or Paris to Stockholm without refuelling.
The King Air 360/360ER and 260 models represent the next generation of the legendary King Air turboprop family, building on its reputation of versatility and reliability. The aircraft offer the latest technological advancements in the cockpit along with providing additional comfort to the passenger experience.
The King Air 360/360ER turboprop features the addition of the Innovative Solutions & Support (IS&S) ThrustSense Autothrottle. The autothrottle supports pilots in their critical mission of delivering people or cargo by automatically managing engine power from the take-off roll through the climb, cruise, descent, and go-around phases of flight.
Another key addition to the cockpit is a digital pressurization controller, which automatically schedules cabin pressurization during both climb and descent, reducing pilot workload and increasing overall passenger comfort. The aircraft also has a lower cabin altitude at the aircraft's certified ceiling of 35,000 feet, providing greater comfort for passengers, especially during longer flights.
The King Air 360 cabin, meanwhile, offers a stunning new look with craftsman-built cabinetry, partitions and side ledges and high-quality finishes, along with a selection of six interior schemes. Other amenities that come standard on the King Air 360 include pull-out work tables, power outlets, USB charging stations and a private aft lavatory.
The King Air 260 is also equipped with the IS&S ThrustSense Autothrottle system, as well as digital cabin pressurization. The aircraft now also features the Collins Multi-Scan RTA-4112 weather radar, providing pilots with a fully automatic system that is optimized to detect short, mid and long-range weather.
The new King Air turboprops were introduced in 2020, with the Beechcraft King Air 360/360ER achieving U.S. Federal Aviation Administration (FAA) certification in October 2020 and the King Air 260 in March 2021.

U.S. MARINE CORPS SUPPORTS HUMANITARIAN AID AND DISASTER RELIEF MISSION IN HAITI WITH THE V-22



Delivering critical resources to victims of natural disasters is one of the most important missions the Bell Boeing V-22 can undertake. Humanitarian aid and disaster relief operations require all the support available to ensure the people impacted receive the care, food, clothing and resources they need.

When Bell designed the tiltrotor, our teams were excited not only for the development of this revolutionary technology, but also for the unlimited capability it could offer our nation's military. The Bell Boeing V-22 continues to be a vital asset as it supports a recent tragedy, a devastating earthquake in Haiti.
On Aug. 28, 2021, the U.S. Marine Corps operated the MV-22 in Jeremie, Haiti, carrying relief supplies to the Haitian citizens. According to an Associated Press article by Ben Fox, "people waved and cheered as a Marine Corps unit from North Carolina descended in a tilt-rotor Osprey with pallets of rice, tarps and other supplies. Most of the supplies, however, were not destined for Jeremie. They were for distribution to remote mountain communities where landslides destroyed homes and the small plots of the many subsistence farmers in the area."
With unparalleled range and vertical take-off and landing ability, the V-22 can seamlessly navigate open ocean and mountainous terrain while traveling more than 860 nautical miles. Fox states that "two crews took off from Naval Station Guantanamo Bay, Cuba, flew to Port-au-Prince to pick up supplies and then made multiple trips across the mountainous southern peninsula to deliver their loads. They stopped only to refuel on board the USS Arlington off the coast of Haiti." The tiltrotor's unique capabilities make it the ideal aircraft to complete humanitarian and disaster relief missions - especially in a marine environment.
Time and time again, the V-22 has been used for special operations, combat search and rescue, logistics and cargo transport missions. The aircraft currently serves the U.S. Marine Corps, U.S. Air Force and U.S. Navy, as well as the Japan Ground Self Defence Force and has amassed more than 600,000 flight hours. Knowing the V-22 is helping communities when they need it most reinforces how valuable this aircraft is to successfully executing military operations worldwide. And it reminds our teams at Bell why we are proud to build dynamic vertical lift products that serve our incredible customers.

EMBRAER DELIVERS ITS 1,500TH BUSINESS JET, A PHENOM 300E, TO A SWISS CHARTER OPERATOR



Embraer has announced that it has delivered its 1,500th business jet, an impressive accomplishment achieved in only two decades, while the industry average to reach this mark is 34 years. The milestone aircraft is a Phenom 300E, the best-selling light jet for nine years in a row, which was delivered to Haute Aviation, a Swiss company focused on charter, brokerage and aircraft management.

"We are honoured to announce Embraer Executive Jet's 1,500th delivery. This landmark delivery to Haute Aviation reflects our commitment to delivering the ultimate experience in business aviation," said Michael Amalfitano, President & CEO of Embraer Executive Jets. "With our industry-leading portfolio, we always seek to redefine the customer experience through technology, performance and comfort. We are thrilled to deliver this experience to Haute Aviation and enthusiastically welcome them as a first-time Embraer customer."
Looking to diversify the company's portfolio, which includes a single-engine turboprop and ultra-long range aircraft, Haute Aviation decided to expand operations with the Phenom 300E. The aircraft, with a non-stop range of 2,010 nautical miles (3,724 km), will allow customers from Switzerland to fly domestically, across Europe and throughout the world. Haute Aviation is based out of the Saanen-Gstaad airport, which is nestled in the mountainous region of the Swiss Alps and often considered a challenge to operators due to its location. However, with superb runway and climb capabilities, the Phenom 300E demonstrates unmatched performance throughout the area with technologies such as Synthetic Vision System (SVS) to provide enhanced situational awareness and runway overrun awareness and alerting system (ROAAS)-the first technology of its kind to be developed and certified in business aviation.
Haute Aviation also cited speed as a deciding factor when it came to the aircraft, as the Phenom 300E is the fastest and longest-ranged light jet, capable of reaching Mach 0.80, allowing its customers to reach their destination quicker and with superior comfort. In fact, the Phenom 300E can reach all of Europe from Switzerland with all seats full, faster than any other aircraft in the segment.
"For Haute Aviation, the new Phenom 300E is the best product on the market to complete the range of our fleet," said Catherine Tamagni, Head of Marketing and Communication at Haute Aviation. "We believe the aircraft's two engines will suit our passengers who prefer not to fly in a single-engine aircraft, as this allows for uncompromised range and payload performance. However, we are most confident that our charter clients will be impressed by the fantastic cabin with its best-in-class altitude, low noise and extreme comfort. The Phenom 300E also has one of the best lavatories in its category as it's fully enclosed with two full-size windows and is certified for take-off and landing. We are looking forward to introducing the Phenom 300E, as well as growing our partnership with Embraer."
With over 950 customers flying 1,500 aircraft in more than 80 countries, Embraer's executive aviation business has accumulated an annual growth rate of 22% since 2002, when the first executive jet model was delivered. In 2020 alone, one in every 4 small and midsize cabin jets delivered was an Embraer Phenom or Praetor.

JOHNSTOWN FACILITY TO BUILD PARTS FOR NEW F-16S

Lockheed Martin has announced that it would bring new F-16 manufacturing work to its facility in Johnstown, Pennsylvania. The work will generate 80 new jobs in the city and the company plans to lease a new building to accommodate it.

Wayne Davis, director at Lockheed Martin's Johnstown site, says Lockheed Martin continues to see demand for new F-16s around the world, requiring development of additional parts manufacturing sites to ensure it can keep up with demand.
"Johnstown's selection for this new work reflects the highly skilled workforce in the area, a record of quality production and the space available to expand," Davis said. "We are proud to grow our presence in Johnstown and to contribute to the acceleration of jobs."
F-16 parts to be produced in Johnstown include the aft engine access covers, engine access doors, F-1 fuel tank and inlet. Upon completion in Johnstown, the parts will be shipped to Greenville, South Carolina, for final assembly and integration into the F-16s on the production line. This is in addition to F-16 component and sub-assembly work already performed at the site today.
Early work in Johnstown will kick off this year, with the bulk of hiring and other significant efforts beginning in 2022. In addition to the F-16 work, the Johnstown facility also provides parts and services for the F-35 and F-22 fighter jets, and the C-130 military transport aircraft.
In addition to the nearly 400 jobs already in place at the site today, Lockheed Martin maintains a strong presence in the Johnstown community, giving more than $42,000 to local organizations and efforts last year.
About the F-16
The F-16 is a strategic and valuable choice for many customers around the world seeking advanced, 4th generation fighter aircraft capabilities, regional and worldwide partnerships at affordable lifecycle costs. More than 3,000 F-16s are operating today in 25 countries. The F-16 has flown an estimated 19.5 million flight hours and at least 13 million sorties. Today's latest version, the Block 70/72, offers unparalleled capabilities and will be flown by at least five countries beginning in the mid-2020s.

EVE AND MICROFLITE ANNOUNCE PARTNERSHIP TO DEVELOP URBAN AIR MOBILITY SERVICES IN AUSTRALIA



Eve Urban Air Mobility, an Embraer spinoff, and Microflite, one of Australia's premier helicopter operators, has announced a partnership that will lay the foundation for urban air mobility operations in Australia that is expected to start in 2026.

Microflite and Eve plan to begin their partnership using helicopters, where appropriate, as a proof of concept to validate parameters that will apply to future electrical vertical take-off and landing (eVTOL) aircraft operations, also known in the market as EVA (Electrical Vertical Aircraft). This partnership also aims to develop new services and procedures that will create a safe and scalable operating environment for EVA operations together with communities and other industry stakeholders.
Microflite has worked with Eve since 2019 by contributing to the Concept of Operations developed jointly between Eve and Airservices Australia. This work laid the foundation for exploring new and practical concepts to safely facilitate the introduction of air taxis using Melbourne, Australia.
"This partnership is an exciting development for Microflite. Australia needs a post-COVID lift and what better way to do that than by developing high-tech and low carbon jobs that support transport, tourism and the vibrancy of this wonderful country. Microflite will work closely with Eve and its partners to evaluate the best path to bring this innovative service to customers," said Jonathan Booth, CEO of Microflite.
"Our partnership with Microflite allows Eve to inject innovation and new mobility solutions within the Australian market. We can deliver a comprehensive solution, including maintenance services and air traffic management, getting ready to introduce our aircraft to Australia, while benefiting from Microflite's extensive local operational experience," said Andre Stein, President & CEO of Eve Urban Air Mobility.

ITALY HAPPY TO BE BACK IN SLOVAKIA AT SIAF AIR SHOW

Traditionally in force for the main Slovakian air event, a wide Italian presence is confirmed to be back for the Slovak International Air Fest at the Malacky Air Base. Italian Air force will showcase both in static and flight display the Eurofighter Typhoon, the most performing European air supremacy aircraft, backbone of NATO air policy and European skies protection; the unrivalled manoeuvrability of C-27J Spartan aircraft and the M-346 Advanced Jet Trainer aircraft.

The "lion's share" of the Italian presence will be back in the hands of Italian Air Force's aerobatic team Frecce Tricolori, in Slovakia to thrill the crowds just before celebrating their 60th anniversary back in Italy, wearing special liveries of each of their tails.
The Italian representative will be completed by Leonardo, already supporting the Slovakian tactical transportation and special missions need with the C-27J Spartan of the Slovak Air Force and is interested in offering the best solution for the Slovakian training needs as well.
Leonardo's solutions, based on a full system integration between the state-of-the-art, ground-based training system and the M-345 or M-346 aerial components, which can perfectly, safely and affordably transform dreamers into fighter pilots. The dual engine M-346 is the most advanced solution available today for the LIFT (Lead in Fighter Training) phase, already successfully training pilots destined to latest versions of F-16 as well as F-35 JSF fighters for the Air Forces of Poland, Israel and Singapore.
The new single engine M-345 has born to support the pilot's whole transition from screeners up to Advanced/LIFT phases with different fallout on OCU downloading compared with M-346.
The training system based on M-345 benefits from experience with the M-346, including Live Virtual Constructive (LVC) capability. Thanks to the on-board Embedded Tactical Training System (ETTS) and real-time data link, pilots in flight (Live) can run complex missions together with pilots seating inside simulators on the ground (Virtual) and Computer Generated Forces (CGF, or Constructive), in a simulated operational-like scenario including threats and targets.
In its Multirole Armed Trainer configuration, the M-345, is ideally suited to be an effective light combat solution in evolving operational scenarios, able to carrying out operational roles and capable to employ a wide range of air-to-air and air-to-ground weapons.
The M-345 features an innovative approach in the whole aircraft system, fully conceived for efficiency: "designed for maintenance" reduces on-ground support, presents great accessibility of the on-board systems and the benefits of the Health and Usage Monitoring System (HUMS), to optimize the maintenance work by eliminating unnecessary interventions. It is also well suited to be supported in cooperation with local defence industry, in a business model open to the evaluation of any industrial synergy with the different local realities, targeting an effective response to the customer.


AUSTRIA




An Austrian Airlines Embraer ERJ-195LR departed Frankfurt International Airport, Germany, on a regular service to Salzburg, Austria when it suffered a serious incident during a go around at Salzburg.
Before departure from Frankfurt, due to the weather conditions, both pilots discussed the windshear procedures. The captain served as Pilot Flying (PF) on this flight, and the co-pilot was Pilot Monitoring (PM).
During the flight, the cockpit crew had noticed thunderstorm cells in the vicinity of Salzburg. Due to a tailwind component that was possibly too high for landing on runway 15, the cockpit crew also discussed a circling approach to runway 33, which, however, was not necessary.
During the ILS approach to runway 15, heavy rain showers passed through, causing a high noise level in the cockpit. The pilots were not informed of any advance warning regarding windshear during the approach, neither via ATIS nor via ATC. The intensity of the showers was very high, so the windshield wiper was set to MAX.
On approach, the SPEED selector switch was set to MANUAL. The reference speed Vref was determined to be 125 kts. Due to the wind, it was increased by 5 kts to 130 kts.
The aircraft was controlled on approach using the HGS (Head-up Guidance System) and was stabilised. At approximately 2,400 ft MSL (approximately 1,000 ft above ground level), the aircraft suddenly experienced a tailwind component of 24 kt. At approximately 15:35 UTC, the autopilot was switched off.
One second later, at an altitude of approximately 2,130 ft MSL and approximately 2.3 NM from runway 15, a windshear caution lasting 8 seconds was initiated by the onboard system due to the tailwind component rapidly decreasing to 4 kt.
The windshear caution came as a surprise to both pilots. Based on the windshear caution displayed in the cockpit, the PM called "Windshear", which the PF confirmed. Four seconds after the windshear, the lowest altitude on approach was reached at approximately 2,060 ft MSL (approximately 650 ft agl).
The PF made the decision to go around and initiated a missed approach procedure.
On take-off, the PF pushed both power levers forward to a thrust lever angle (TLA) of 74.9°/75.3° (left/right), then took his right hand off the power levers, pulled the control column with both hands and initiated the climb. The runway 15 of Salzburg Airport (LOWS) was diagonally to the right in front of the aircraft at this time.
Both pilots assumed at this point that the power levers were pushed far enough forward and that the TOGA mode was pressed.
However, as neither was the case, the Automatic Take-off Thrust Control System (ATTCS) was not activated. The Autothrottle System therefore remained engaged in Speed Mode and retracted the two power levers pushed forward to maintain the set Vref speed of 130 KIAS.
As the pitch angle was increased to 14 degrees and the power was taken back by the autothrottle system, a loss of speed to as low as 113 KIAS occurred. This configuration and the aircraft attitude combined with the increased G-load triggered the stall warning (stickshaker) for two seconds, 15 seconds after the windshear caution.
The flaps were retracted to position 4, 42 seconds after the windshear caution at an altitude of approximately 1,110 ft above the airfield.
A further 10 seconds later, at an altitude of approximately 2,590 ft MSL, the landing gear was retracted.
It was not until 73 seconds after the windshear caution that TOGA was pressed. The TOGA mode caused an engine power increase to the ATCCS value of 87.9% N1. 103 seconds after the windshear caution, with a DME indication of approx. 2.1 NM, the LNAV navigation mode was activated.
A further six seconds later, at an altitude of approx. 4,100 ft MSL, the left turn of the missed approach procedure was initiated. Subsequently, the PF steered the aircraft to 10,000 ft MSL and flew two holding patterns over the VOR Salzburg.
The second approach and landing on runway 15 of Salzburg Airport (LOWS) took place at approximately 16:01 UTC without further incident.
Probable causes
- Procedural deviations by cockpit crew due to "surprise and startle effect."
- Delayed reaction and activation of TOGA-mode



Kenya, Kigwandi Village, Nyeri County: A Rainbow Cheetah XLS with one on board sustained unreported damage subsequent to the forced landing to local terrain in Kigwandi Village, Nyeri County. The sole pilot onboard the airplane was not injured during the incident.
Sudan, White Nile, S of Khartoum: A Sudanese Air Force Mil Mi-24 with three occupants crashed into the White Nile, south of Khartoum. Three bodies were retrieved from the water. Search operations for other crew members are ongoing.
Cote d'Ivoire, near Ferkessedougou, Téhini: An Armée de l'air Ivoirienne Mil Mi-24D with five occupants on a reconnaissance mission on the northern border line with Burkina Faso crashed about 2 km North of Togolokaye, Téhini dept, northern Ivory Coast. All five occupants died in the accident. An investigation has been opened to determine the circumstances of this tragedy.

Germany, Wilnsdorf: The pilot of a Socata Rallye 180TS Galerien apparently committed suicide by jumping out of the aircraft during an illegal flight. He took off without ATC permission from Siegerland Airport (SGE/EDGS) that was closed. His body was found about 400 meters from the wreckage.
Russia, 4 km (2.5 mls) SW of Kazachinskoye Airport: An Aeroservice Let L-410UVP-E20 with sixteen on board was destroyed when it crashed in a forest about 4 km short of the runway near Kazachinskoye Airport (UITK). The aircraft was owned and operate by Aeroservice, but according to Russian media, the flight was a combined flight for Aeroservice and SiLA (Siberian Light Aviation). There were no survivors.

Finland, South of Matosaari, Villinginsalmi Helsinki: A float-equipped Aeroprakt A-22L Foxbat with two occupants suffered an accident on take-off from the water. The right-hand float attachment broke and the right-hand wing was damaged as well, causing a fuel leak. The two people on board managed to escape and survive the situation without serious injuries.
Japan, Gifu Air Base: A Japan Maritime Self-defence Force Kawasaki P-1 with ten crew was still being tested by Kawasaki Heavy Industries when it veered off the runway. The nose and main landing gears were buried in mud, but no major damage to the plane is reported in the initial investigation. No injuries were reported.
Mexico, Colima: A crop-dusting Robinson R22 Beta crashed in Colima after hitting electric wires. The pilot was injured and after the crash, the helicopter caught fire and was destroyed.
USA, East of Ayer, Middlesex County, MA: A Cessna 177 Cardinal with only the pilot on board was not damaged during a forced landing to parking lot terrain subsequent to inflight fuel exhaustion east of Ayer, Middlesex County, Massachusetts. The sole pilot onboard the airplane was not injured during the incident.




13 SEPTEMBER1935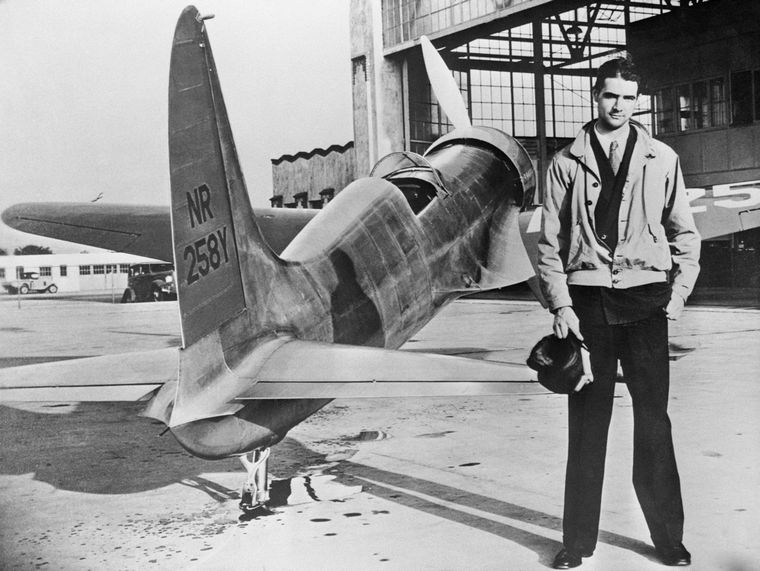 Millionaire film producer and amateur air racer Howard Hughes shattered the world land plane speed record in his home-built Hughes Racer airplane.


Hughes piloted the first flight on 13 September 1935 at Martin Field near Santa Ana, California and promptly broke the world landplane speed record by clocking 352.39 mph (567.12 km/h) averaged over four timed passes. The ship was loaded with a minimal amount of fuel to keep the weight down and Hughes was not supposed to make the 3rd and 4th passes, exhausting the fuel supply. Hughes managed to crash-land in a beet field south of Santa Ana, California without serious damage to either himself or the H-1.
Hughes later implemented minor changes to the H-1 Racer to make it more suitable for a transcontinental speed record attempt.
The H-1 Racer was the last aircraft built by a private individual to set the world speed record; most aircraft to hold the record since have been military designs.

PLEASE GO TO
www.youtube.com/channel/UCCuRVZAGodT6sztTeXBGeMw
and subscribe to our YouTube channel