Compiled by Willie Bodenstein





TOTALCARE CHOSEN FOR MAINTENANCE OF AE3007-POWERED AIRCRAFT BY AIRLINK





Rolls-Royce and Airlink have signed a TotalCare® service agreement for the AE3007 engines that power the South African airline's fleet of Embraer ERJ135 aircraft. The agreement, which covers 28 aircraft, is an extension of service for a further 10 years, continuing the airline's drive to maximise aircraft availability.


Airlink CEO, Rodger Foster, said; "Airlink and Rolls-Royce have worked hand in hand since the introduction of the ERJ135 to our fleet in May 2001. We operate 28 ERJs with a pool of 64 AE3007-A1/3 engines. We are proud of the phenomenal reliability we have achieved from these engines which have underpinned Airlink's industry leading on-time performance, which has consistently been above 97%. Our TotalCare service agreement has been key to the management of engine maintenance costs and to ensuring the economic sustainability of the ERJ135 type for the foreseeable future. We are delighted at the dependability of the Rolls-Royce team and their engines."
In 2019, prior to the Covid-19 pandemic, Airlink carried more than 2 million customers on more than 63,000 flights. Airlink currently operates a reduced route network to more than 45 destinations in 12 African countries, while remaining agile to the effects of Covid-19 and associated travel restrictions. Airlink was proudly the most punctual South African airline for 2020; its year-to-date performance up to August 2021 has been 98.1% on-time.
"Our partnership with Airlink goes back to 2001 and this TotalCare extension is a testament to our strong working relationship and mutual trust of one another," said Stewart Evans, Rolls-Royce, Vice President, Customers Europe Middle East & Africa, "I'm especially proud of the way both teams have worked closely together during the pandemic to manage maintenance costs effectively for both parties while enhancing our service offering at the same time. The entire team at Rolls-Royce is honoured to be able to serve Airlink and their customers for many more years to come."
TotalCare is the flagship integrated engine service cover provided by Rolls-Royce. It is designed for predictive maintenance planning, as well as off-wing repair and overhaul activities for operators of Rolls-Royce aero engines. TotalCare transfers both time-on-wing and maintenance cost risks back to Rolls-Royce, as well as offering advanced engine health monitoring and future product enhancements.
Aircraft covered by TotalCare achieve higher availability, increased long-term residual values and benefit from the global Rolls-Royce Care Network; a large, capable and competitive engine service network that caters for the needs of engines at every point in their lifecycle.
CANADA REOPENS TO FULLY VACCINATED SOUTH AFRICANS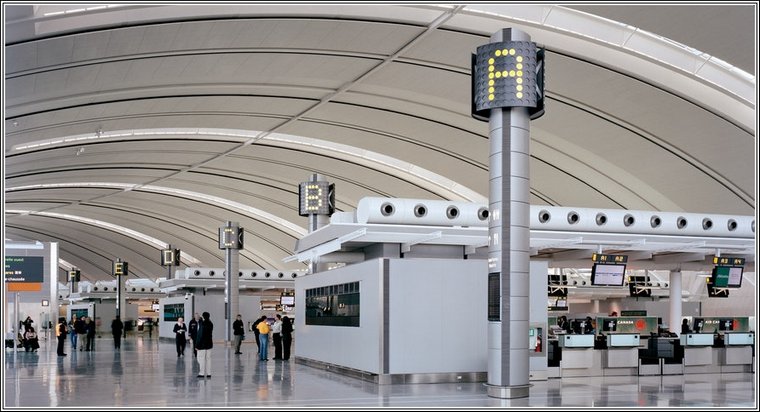 Canada has reopened to fully vaccinated travellers visiting for non-essential purposes. But teenagers travelling from South Africa will still be forced to endure a two-week quarantine.

Canada is the latest country to ease restrictions for fully vaccinated travellers, following in the footsteps of several European nations which have reopened to South Africans. The move marks an important milestone in accessing North America, with South Africans still heavily restricted from entering the United States (US), even if they are fully vaccinated.
The new travel reprieve, which came into effect on Tuesday, allows fully vaccinated South Africans to enter Canada as tourists without needing to quarantine for 14 days. Previously, South Africans were banned from entering Canada, unless they qualified for a travel exemption - for workers, students, or compassionate reasons - and were still required to quarantine.
Travellers are considered to be fully vaccinated 14 days after receiving their final dose of the Covid-19 vaccine. Only vaccines approved by Canada - Pfizer-BioNTech, Moderna, AstraZeneca-Covishield and Johnson & Johnson' Janssen - will be accepted.
Proof of vaccination must be submitted via ArriveCAN, through the mobile app or website. A valid pre-arrival Covid-19 molecular test result, taken no more than 72 hours before flying to Canada, must also be uploaded to ArriveCAN. Rapid antigen tests are not accepted.
FUTURE OF AVIATION SECURITY FOCUS OF AVSEC2021 AND 9/11 COMMEMORATION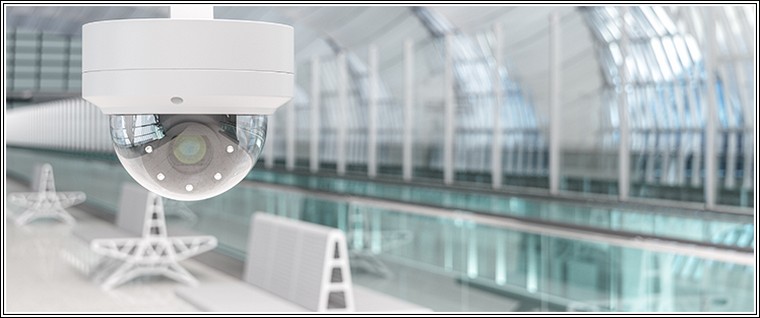 World leading aviation security and counter-terrorism experts exchanged views and expertise at the ICAO Global Aviation Security Symposium 2021 (AVSEC2021) last week, providing a crucial forum for an international exchange on means to mitigate evolving threats to the international civil aviation network as the system begins its COVID-19 recovery.

The three-day event was a unique occasion to take stock of the opportunities and challenges inherent in carrying on or resuming operations in the midst of a global pandemic, where health measures have become a critical piece of the aviation puzzle.
Discussions focused on a broad array of challenges to keep employees and passengers safe, mitigate the spread of the COVID-19 virus and respond to dramatic shifts in air travel demand, all while maintaining the appropriate levels of security and facing new challenges of a reduced workforce and financial constraints. Panellists provided unique insights into means to enhance the resilience of aviation security operations moving forward, including through the illustration of ways to foster innovation that is efficient and effective, from human, operational and financial perspectives.
The event concluded with a commemoration of the 20th anniversary of the 9/11 attacks and reflected on how aviation security has strengthened over the last two decades and discussed how lessons learnt address major challenges in aviation security. It was also an opportunity to reaffirm the international responsibility towards passengers and to remember why it is so important to persist in making security the cornerstone of the aviation sector. The proceedings underlined the joint effort undertaken by all stakeholders that allowed for a great upgrade of existing security measures at the time, setting the grounds for a more robust and consistent global aviation security system.
"The 9/11 terrorist attacks had a tremendous impact on the security of our society and dramatically altered the international security landscape. It imposed permanent change to aviation security," remarked ICAO Council President Salvatore Sciacchitano. "Staying committed to the actions and goals of the ICAO Global Aviation Security Plan (GASeP) will be the best assurance for aligning our efforts towards continued enhancement of the security of international air transport."
"9/11 had a major impact on our world view. For those in aviation it was a stark and shocking moment of reaction and realization. Mindful today of those who lost their lives, we must continue to pledge that all will be done to prevent anything like it from happening again," remarked ICAO Secretary General Juan Carlos Salazar. "The pandemic has shown us that we have a great deal of new progress to make in the months and years ahead and ICAO will be proud to serve as the nexus of multilateralism, and of effective industry cooperation, in support of those important efforts."

US AND MALDIVES AMONG SIX COUNTRIES REMOVED FROM ABU DHABI'S 'GREEN LIST' FOR TRAVEL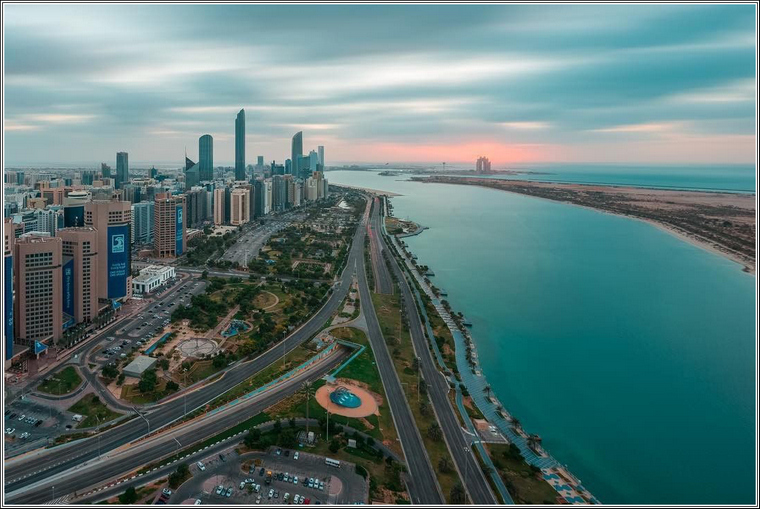 US and Maldives among six countries removed from Abu Dhabi's 'green list' for travel. Updated list now includes 28 countries including new additions Malta, Republic of Ireland and Sweden

Six countries have been removed from Abu Dhabi's 'green list' for travellers, with three added, according to the latest update.
The countries that have been demoted from the list include the US, Maldives, Israel, Italy, Austria and Armenia. As a result, visitors from those destinations must undertake the mandatory period of quarantine upon landing in Abu Dhabi.
Malta, Republic of Ireland and Sweden have become the new additions.
AIR NEW ZEALAND ANNOUNCES 2021 FINANCIAL RESULT AS IT CONTINUES TO NAVIGATE COVID-19 IMPACTS


Air New Zealand has announced a loss before other significant items and taxation of $440 million for the 2021 financial year - its first full 12-month period of operation with Covid-19 related international travel restrictions. Using the same metric, the company reported an $87 million loss for the 2020 financial year.

Statutory losses before taxation, which include a $29 million gain from other significant items, were $411 million, compared to a loss of $628 million last year.
The financial result benefited from approximately $450 million of government assistance including airfreight support schemes as well as further subsidies and initiatives that are not expected to be repeated to the same extent in the 2022 financial year.
Ongoing border restrictions saw operating revenue decline 48 percent to $2.5 billion as international flying was significantly reduced, with capacity down 55 percent on the prior year, although cargo flying revenue grew by 71 percent compared to the prior year thanks to airfreight support schemes. The airline's domestic business performed strongly, led by strong leisure demand as well as corporate customers flying at close to pre-Covid levels.
Chairman Dame Therese Walsh says the 2021 financial result reflected the reality of a year in which the airline was unable to fly two-thirds of its passenger network.
"In a severely constrained environment, Air New Zealand maintained cost discipline, focusing on delivering with excellence in the areas in its control. The return of a strong domestic business and growth in the cargo services that underpin our key export markets was a reminder of the airline's crucial role in New Zealand's infrastructure," says Dame Therese.
"Air New Zealanders showed agility during constantly changing operating conditions, managing reopenings, pauses and then closures while generating new revenue from additional cargo routes and increasing domestic and regional passenger capacity to match an increased demand for domestic leisure travel."
Dame Therese paid tribute to the continued commitment and sacrifice of the Air New Zealand team.
"To keep New Zealand connected to key markets, help Kiwis continue travelling and manage continued disruption to passengers' travel plans, Air New Zealanders have again proven their aroha for customers. From our airport employees and flight crew who are among the most frequently tested groups in the country, to all our other operations and corporate teams across the network who have worked tirelessly behind the scenes to keep our customers and cargo moving, their efforts have been extraordinary."
"These efforts, after 18 months of reduced pay and forfeited incentives, were recognised earlier this year when we announced eligible employees would each be provided with a $1,000 award of shares or cash. With significant uncertainty ahead, including the current lockdown, this was important recognition of the people who give so much to our business."
ETIHAD ENHANCES VERIFIED TO FLY SERVICE TO MAKE TRAVEL EASIER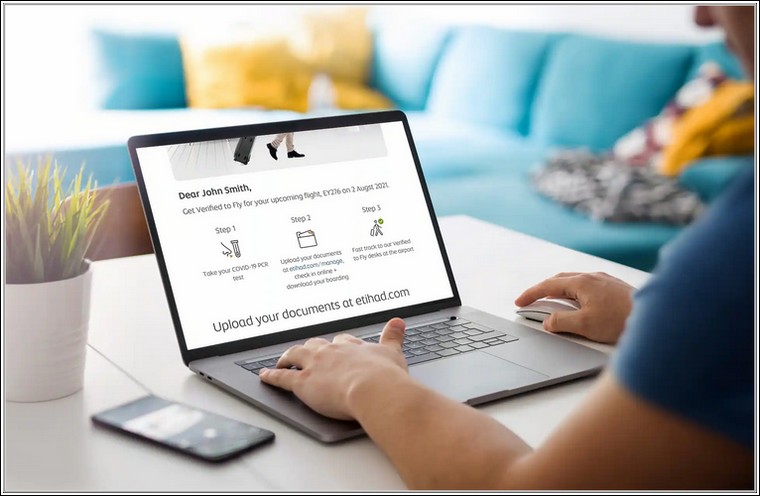 Etihad Airways, the national airline of the UAE, has upgraded its innovative Verified to Fly service to offer a more streamlined and personalised service through its website, etihad.com.

This upgrade makes the process quicker and easier for Etihad's guests to ensure they have all the required COVID-related documents before leaving for the airport. Seven days ahead of travel, all guests will receive a personalised email informing them of the documents required for their destination. These travel documents can now be uploaded directly to the 'Manage my Booking' page of etihad.com, up to 72 hours before departure.
The new website functionality replaces the email upload system which was launched by the airline in May 2021. The new upload process guides travellers through the process of uploading and shows the specific documents needed to get verified for their chosen destination.
Once uploaded, the documents will be checked and guests will receive an email confirming they have met all requirements for their flight. Additionally, travellers can check the status of their submission at any time by logging onto Manage my Booking at etihad.com. As a result, they can begin their journey with complete peace of mind and will also benefit from a significantly faster check-in at the airport.
John Wright, Vice President Airports and Network Operations, Etihad Airways, said: "Etihad's hugely popular Verified to Fly service has been used by more than 110k guests already and has now been further improved and streamlined. The service has significantly reduced airport check-in times and provided much-needed reassurance to our guests that they have already met all Covid-19 travel requirements before they reach the airport."
Etihad requires 100% of its passengers to show a negative PCR test to protect the inflight environment, which is now recognised to be one of the best in the world. More information on the stringent measures being taken by Etihad to provide a healthy and hygienic travel experience is available at etihad.com/wellness. As a precautionary measure, guests travelling on Etihad Airways flights are required to wear a face mask throughout their journey.
Those wishing to book with Etihad are advised to visit etihad.com to view their options and to remain informed of the appropriate entry requirements for Abu Dhabi. Flights are also available for booking through the mobile app, by calling the Etihad contact centre on +971 600 555 666 (UAE), or through a local or online travel agency.
BREEZE AIRWAYS REVEALS NEW A220 LIVERY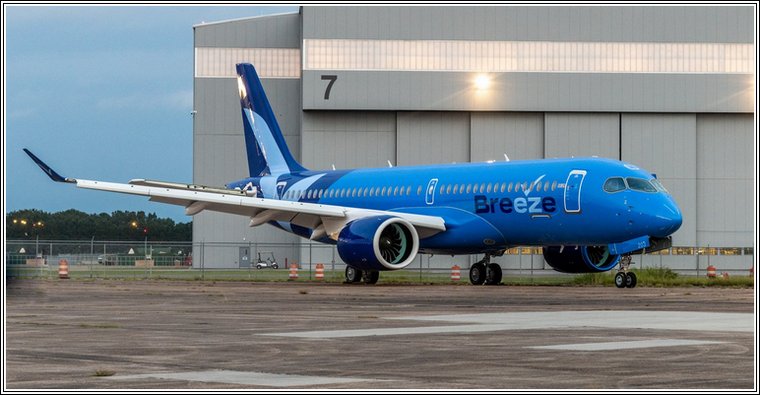 Breeze Airways has revealed its new A220-300 livery, while confirming that it has reached a purchase agreement with Airbus for 20 more of the aircraft. This previously undisclosed order for 20 brings Breeze's total order book to 80 A220-300s, the first of which will be delivered in Q4 2021.


The aircraft's fresh paint job was completed at Airbus' facility in Mobile, Alabama, which will deliver approximately one A220 per month to Breeze over the next six-and-a-half years. The airline plans to begin flights with the Airbus fleet in the second quarter of 2022.
The A220 superior efficiency will support the new airline's business objectives to offer a great travel experience, with low fares and high flexibility. Breeze is expected to provide nonstop service between underserved routes across the U.S. at affordable fares.
Breeze started airline operations in May 2021. This first A220 is the first new aircraft that will be operated by the airline.
The A220 is the only aircraft purpose-built for the 100-150 seat market and brings together state-of-the-art aerodynamics, advanced materials and Pratt & Whitney's latest-generation PW1500G geared turbofan engines. Benefitting from the latest technologies, the A220 is the quietest, cleanest and most eco-friendly aircraft in its category. Featuring a 50% reduced noise footprint and up to 25% lower fuel burn per seat compared to previous generation aircraft, as well as around 50% lower NOx emissions than industry standards, the A220 is a great aircraft for urban operations.
Over 170 A220s have been delivered to ten operators in Asia, North Americas, Europe and Africa, proving the great versatility of Airbus' latest family member.
SAUDIA CELEBRATES ITS 75TH ANNIVERSARY WITH TWO SPECIAL LIVERY WIDE BODY JETS.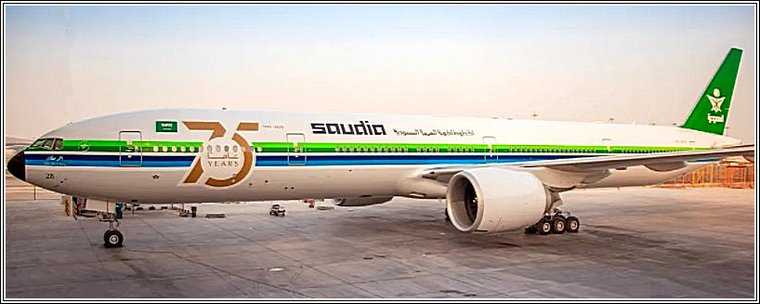 Saudia recently unveiled a Boeing 777-300ER in a retro livery. The 777-300ER that celebrates its 75th anniversary features the airlines livery from years ago,

The aircraft, HZ-AK28, was unveiled to the public on 13 September. The 777 will join a 787-9 Dreamliner that the airline recently has just introduced featuring the "75 Years".
With the airline's official establishment in 1946, these two special one-off aircraft celebrate the airline's 75th anniversary.
AIRCRAFT LESSOR GRIFFIN GLOBAL ASSET MANAGEMENT ORDERS FIVE BOEING 737-8 JETS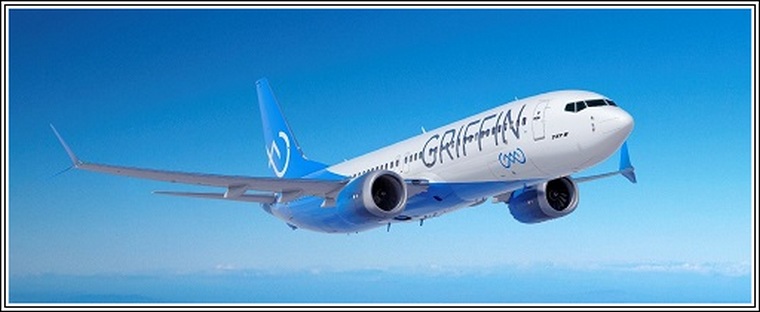 Boeing [NYSE:BA] and Griffin Global Asset Management announced that the aircraft lessor is expanding its commercial aircraft portfolio with five new 737-8 jets. The purchase is Griffin's first direct order with Boeing as it sees strategic opportunities to place the airplanes during the market recovery.

"As market conditions rebound, we are finding opportunities to serve our airline customers in innovative ways. An important component of this strategy is providing balanced capacity that meets returning passenger demand. The 737-8 is well-positioned to support this objective and this order lays a strong foundation for more to come with Boeing and Griffin on future opportunities," said Ryan McKenna, founder and CEO of Griffin.
Designed and built in Renton, Washington, the 737 MAX family delivers superior efficiency, flexibility and reliability while reducing fuel use and carbon emissions by at least 14% compared to the airplanes they replace. The 737-8 seats up to 189 passengers and can fly 3,550 nautical miles - about 600 miles farther than its predecessor - allowing airlines to offer new and more direct routes for passengers. Every 737 MAX features the new Boeing Sky Interior, highlighted by modern sculpted sidewalls and window reveals, LED lighting that enhances the sense of spaciousness and larger pivoting overhead storage bins.
"Griffin Global Asset Management is building a first-class aircraft leasing business and we are delighted that they have selected the 737-8 for their single-aisle portfolio. As Griffin places its first direct order with Boeing, we welcome them to the 737 family and look forward to working with the team in the future," said Ihssane Mounir, Boeing senior vice president of Commercial Sales and Marketing.
Backed by Bain Capital Credit, Griffin provides commercial aircraft leasing and alternative asset management with offices in Dublin and Los Angeles. The team is staffed by experienced aviation professionals who work closely with airlines, aircraft manufacturers and investors to provide custom fleet solutions and innovative financing products to airlines around the world.
SCHIPHOL - TRAFFIC AND TRANSPORT FIGURES FOR AUGUST 2021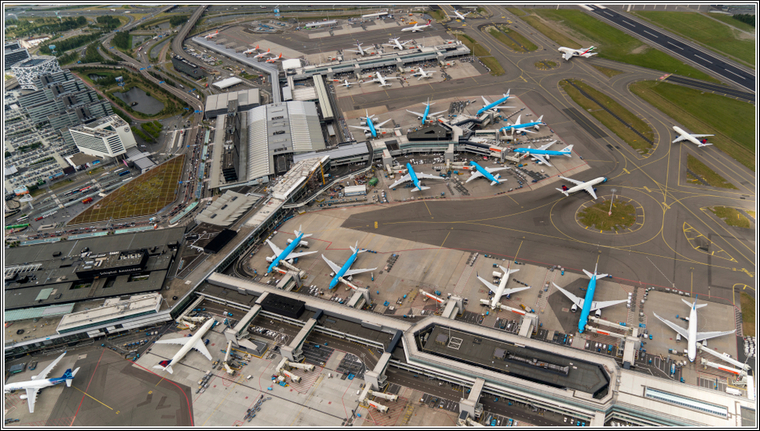 3.8 million passengers flew from, via or to Schiphol in August 2021. In August 2020, when Schiphol felt major effects of COVID-19, that number was 1.9 million. In August 2019, 6.8 million passengers travelled through Schiphol.


The number of flights to and from Schiphol was 31.847 - 29% fewer than in August 2019. The number of cargo flights was 1,743 (-20% compared to 2020, +46% compared to 2019), which contributed to a 9% increase in transported tonnage compared to last year and is comparable to 2019.
Passengers
Of the 3.8 million passengers in August, more than 1.4 million passengers had a transfer at Schiphol. The travellers with a transfer were almost 700,000 unique passengers, who are counted two times in the international counting method: as an arriving passenger and departing passenger. 3 million passengers travelled from or to a destination within Europe.
Cargo
The number of all-cargo flights has increased, from 1,194 to 1,743, compared to 2019. This compensates for the tonnage normally transported on passenger flights compared with 2019, with a total transported volume of almost 130,000 tonnes.
PLEASE GO TO
www.youtube.com/channel/UCCuRVZAGodT6sztTeXBGeMw
and subscribe to our YouTube channel