03.10.2021


Writing these articles has been very therapeutic - going back in my mind to a time 45 odd years ago. It's actually amazing how much one can remember from those years.
Last month, I mentioned a King Air 200 ZS-LAW that was flown by Dave Whalley. I wondered what had happened to him as I'd lost contact many years ago. I managed to get a telephone number for the last company he flew regularly for and they advised me that he'd passed away about a month (August 2021) before my telephone call. He was well into his 80s. Dave never married and lived in Randburg all the years. We shared a birthday (29th of May) but we never got to have a beer together on our birthday somehow. Dave was the guy who introduced the Rennies bar in their pilot's office on a Friday night. All the booze that hadn't been consumed from the catering boxes on the charter flights was available free - his reasoning was that the booze had been paid for by the pax and if they didn't drink it, well, that was their loss. The company didn't loose a cent because it had already been paid for the drinks. This carried on until the manager, John Pocock, left the company and his replacement, John (Buck) Rogers, took over and stopped the practice.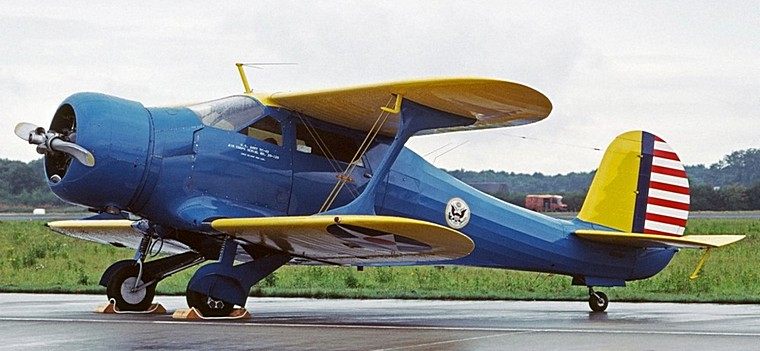 This 1939 model was Bobby Ewing's Beech 17 Staggerwing, which eventually became ZS-PWD. VP-YIV was a Rhodesian registration and belonged to Peter Dahl, who lived in Beit Bridge. He re-registered the aircraft in South Africa when things started to go wrong in Rhodesia and eventually sold it to Bobby, Bobby sold her on to the USA as N295BS, where she lives today.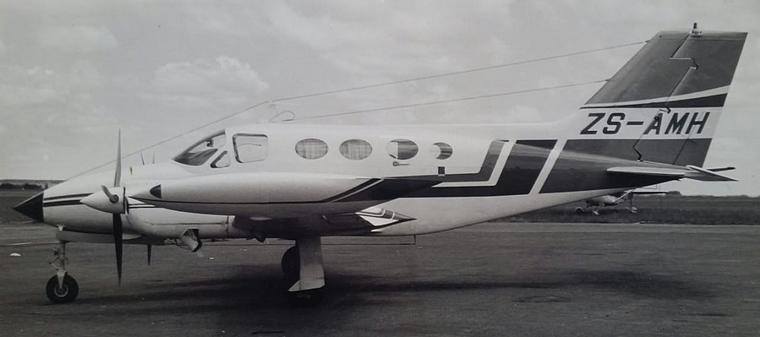 This Cessna 421 was a privately owned aircraft and was leased to Rennies Air when they needed it. I must admit that I've forgotten who owned her, as she wasn't flown very often. There was one Thursday when the DCA inspectors were there, doing IF renewals and a pilot was being checked out using this aircraft. He warned the inspector to please not pull the mixture control on the engine when he wanted to simulate an engine failure on take off as this would damage the turbo charger. The inspector went right ahead and did, causing a catastrophic turbo charger failure. The pilot managed to get her around and land on Rwy35 without any further drama, but the owner then sent DCA a bill for the repairs to the engine, which I believe they paid. This particular inspector was never so gung-ho again. This aircraft subsequently was sold and became ZS-IVX, only to be written off at Prince Albert Hamlet on 22/07/1982.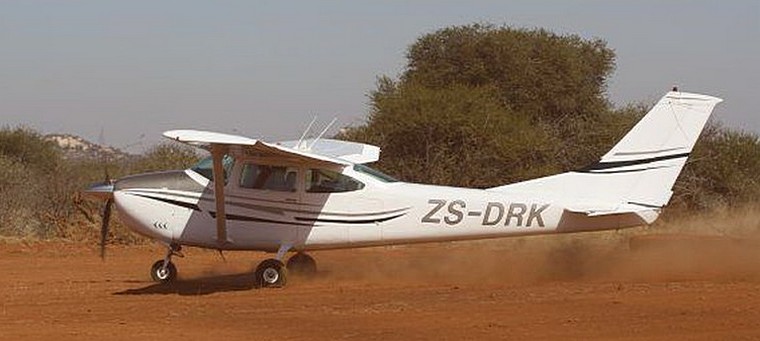 This was the first aircraft that the chairman of the Grand Central Flying Club bought for himself. Dr Ian Leitch was very found of her and flew her regularly.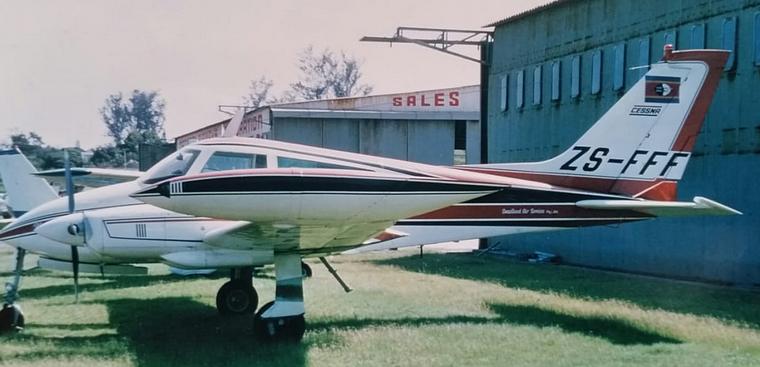 I mentioned last month that there were three aircraft with triple letter registrations on the airfield at the time (ZS-EEE, ZS-FFF and ZS-III). I didn't have a picture of ZS-FFF at the time but thanks to Alan Taylor at the SAAF Museum, who has access to the late Dave Becker's photographic print collection, we now have one. She was initially registered in Swaziland as VQ-ZJH before coming to SA and I guess the owner just never got around to removing the flag from the tail. She is no longer around, but I don't have any notes as to where she went or what happened to her.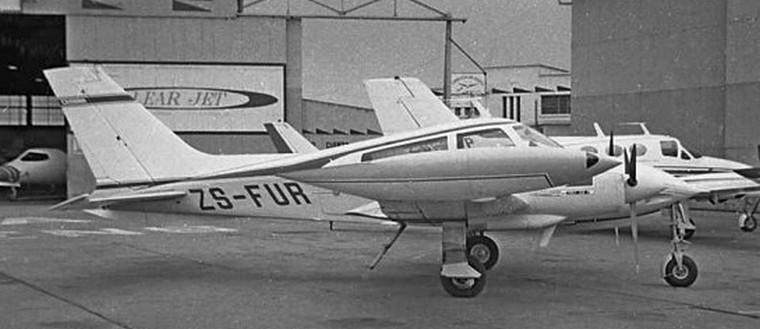 This Cessna 310 belonged to the Fergusson family and was regularly flown to various country strips where they had plantations. This aircraft was re-registered ZS-IUH and they replaced her with another aircraft, also re-registered ZS-FUR. The photo shows the first one. The first ZS-FUR / ZS-IUH was eventually broken up for spares in 1992. I could actually see her T Hangar from the tower. Getting her out of the hangar was quite an effort as it was slightly up hill. Mr Fergusson had a tow hitch welded onto her tow bar and hitched the aircraft to his car to pull her out. Getting her back in wasn't a problem as it was very slightly downhill.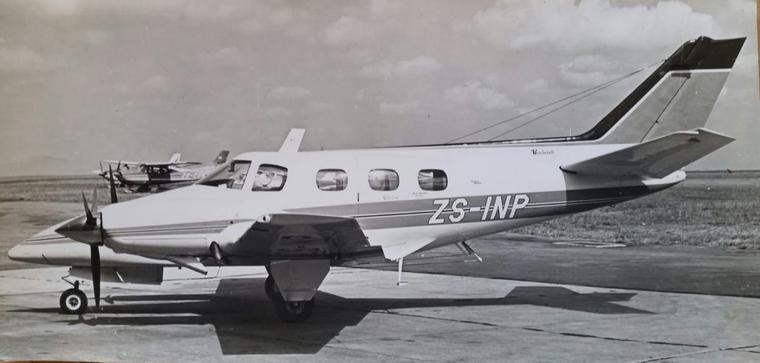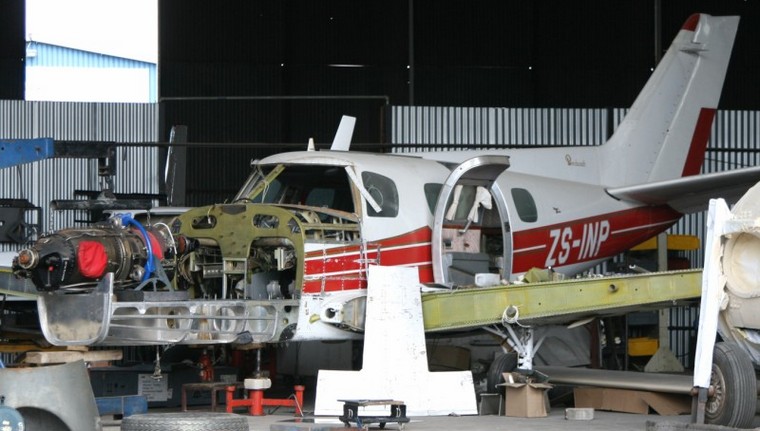 This Beech Duke belonged to Ian Sampson, who had an engineering works in Olifantsfontein and who flew her regularly on business. She was hangered in the Rennies hangar. Her colour scheme was an attractive yellow and white with brown trim. Ian eventually sold her on and she is now sitting in a hangar at Wonderboom where she was supposed to be fitted with a single P&W PT6 turbo prop engine in the nose. I'm not sure if this will ever be completed as the person who was doing the conversion, Sandro Stimer, recently passed away. I hope somebody does complete the conversion because I'd really like to see it.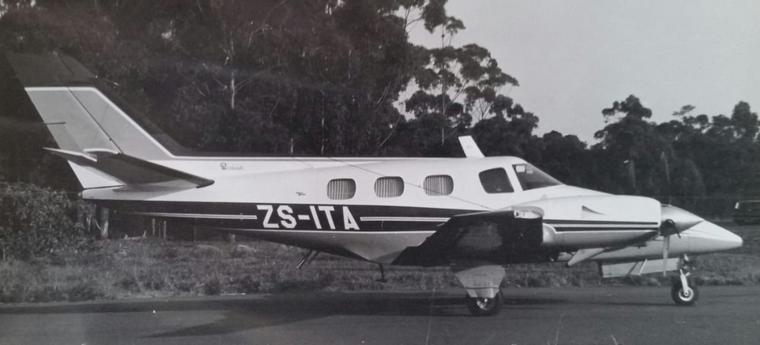 This Duke was a regular visitor (almost daily) and she was used on Escom flights. I believe there was one particular big boss at Escom who really liked flying in her and used her every time he had to fly. She was written off eventually at Fochville in December 2001.
I have always been partial to the dear old Piper Aztec as she's really a good workhorse. They say, if you can close the door, she'll fly and I saw many an old Aztec loaded like that. This particular one was used by a charter company at Rand (Transair) and flew regular charters out of GC to the power stations. She is a 1965 model PA23-250C and came into the country as ZS-EBR. She was sold in Mozambique as CR-AKU and flew there for many years. I had the pleasure of flying in her from Vilancoulos to Paradise Island in 1971 (the return trip was done in Aztec CR-AMP, which is an entirely different story). She returned to South Africa as ZS-JGR in 1976 and is by all accounts still around.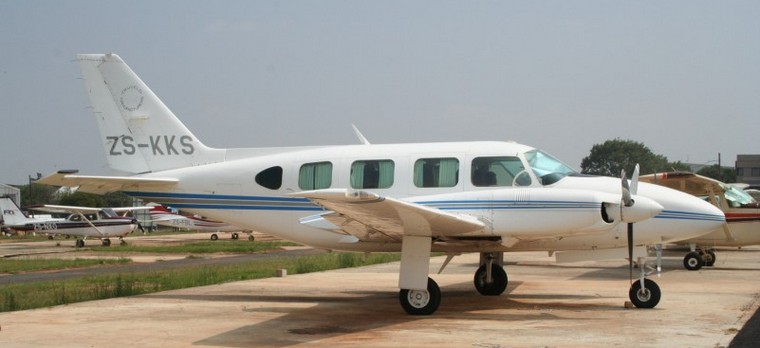 Another Piper twin favourite of mine is the Navajo. ZS-KKS belonged to an electronics company called Truvello, who, among other things, manufactured the dreaded Gatsometer speed traps that were so loved by the various traffic departments around the country. Her pilot was my best friend Peter Marais, who took up flying her after he stopped instructing. He and I enjoyed many pleasant trips around the country in her. I'll never forget being caught in a sudden heavy rainstorm just near Northem on our way back from delivering a number of speed traps to the local municipality in Phalaborwa. The noise in the cockpit was incredible. This aircraft is still around and now sports a very snazzy colour scheme in black & white as you can see.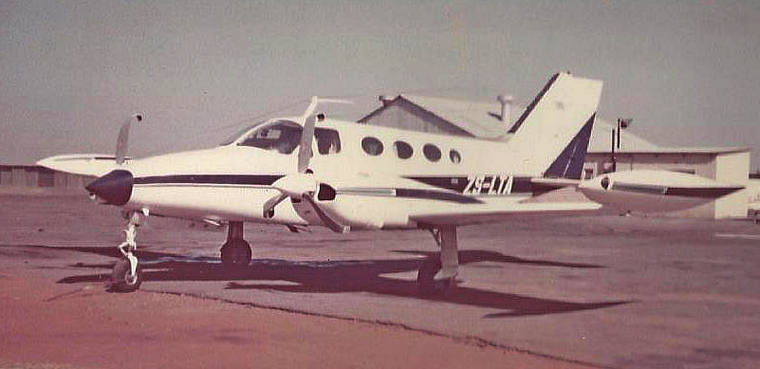 LTA Construction was one of the largest construction companies in the country and as such, their engineers and draughtsman were flown all over the country to their various construction sites. They were based at Rand and would pop in regularly as they had an office in Halfway House. This aircraft was transferred to their company in Zambia as 9J-LTA in 1986.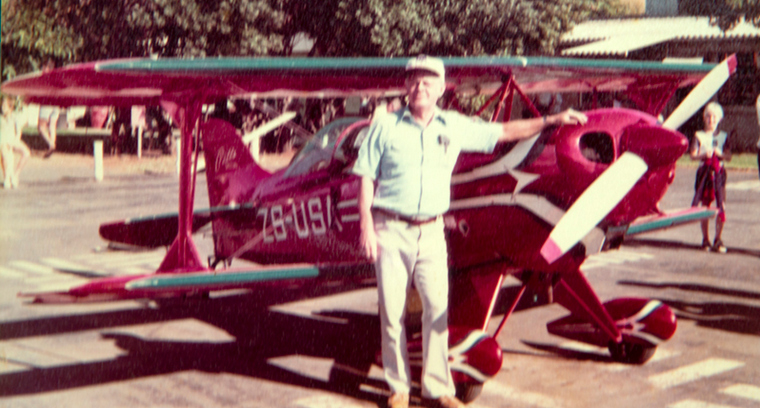 This Pitts was the first one I ever saw. She belonged to Woody Woods - seen here standing with her. This little beauty was flown regularly over the weekends and kept immaculately clean. She was built by Woody at his home and then the wings were transported to Grand Central and the final assembly done there. She first flew in 1971, which was before I joined GC. Woody flew her for many years before medical problems forced him to give up. She was sold to a gentleman who based her at Springs and unfortunately, he killed himself in the aircraft on 25 October 1984.
There were so many things happening at the airfield. The swimming pool was very popular in the summertime and specially on New Year's Eve:- there was always a party there which quite often ended up in a couple of members skinny dipping. That pool was always very cold as it was under the trees and was buried deep into the bed rock. I never saw the tennis court being used for tennis, but did see a few youngsters using it for roller skating and skate boarding.
We'll see you again next month
Ray.
PLEASE GO TO
www.youtube.com/channel/UCCuRVZAGodT6sztTeXBGeMw
and subscribe to our YouTube channel