Compiled by Willie Bodenstein



Google Banner Ad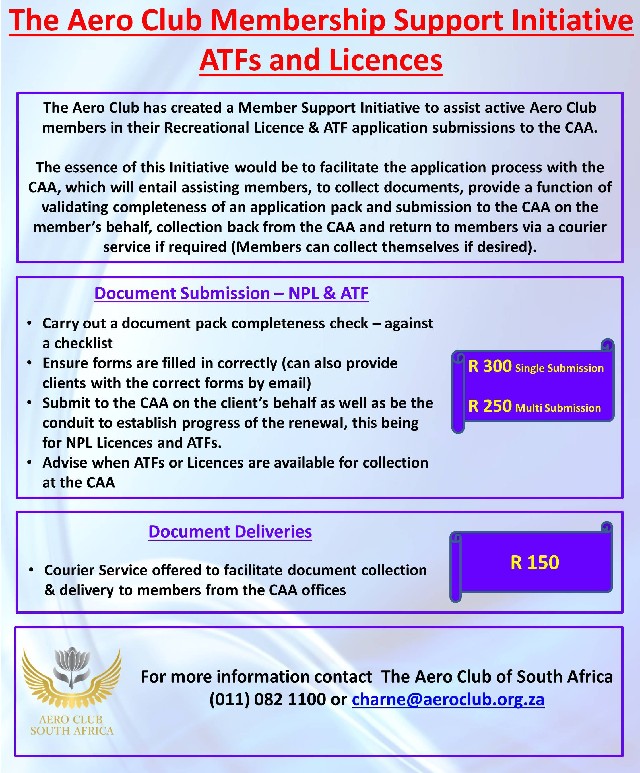 COVID 19 REGULATIONS, INITIATIVES AND AEROCLUB NEWS

OUR CENTENARY YEARBOOK IS NOW AVAILABLE TO PURCHASE FROM OUR NEW WEBSHOP

WWW.AEROCLUB.ORG.ZA/SHOP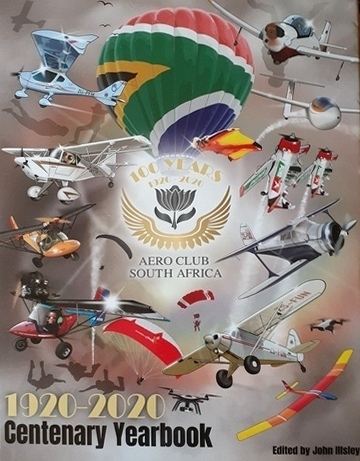 23 OCTOBER
Panorama breakfast Fly-In. Contact Alan Stewart E-mail: info@jhbflying.co.za

30 OCTOBER
Lydenburg Annual Fly-In Festival. food stalls, heli flights, 3 Live shows and more. Contact Coenraad de Beer 076 466 9999

30 OCTOBER
SAA Museum Society presents Breast Cancer awareness day. For more information contact Margeret Cell: 082 336 9600

30 OCTOBER
Open day at Henley Air Rand Airport. Contact Andre Coetzee E-mail: andre@henleyair.co.za Tel: +27 (0)11 827 5503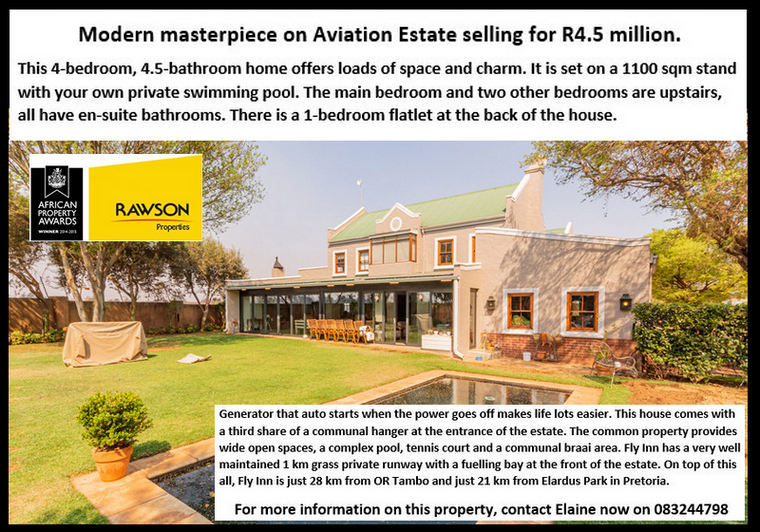 3 NOVEMBER
EAA Chapter 322 virtual monthly meeting via Zoom. Contact Neil 084 674 5674 or E-mail: neil1@telkomsa.net

5 NOVEMBER
Children's Flight at Orient airfield. For more information contact Felix Gosher felixgosher@gmail.com

6 NOVEMBER
SAA Museum Airlines Collectables Fair. Dakota Crescent, Rand Airport. For more information phone 076 879 5044

5 TO 7 NOVEMBER
EAA Sun 'n Fun at Brits airfield. Contact Neil Bowden 084 674 5674 or E-mail: neil1@telkomsa.net

13 NOVEMBER
SAPFA SA Landing Championships at Brits Airfield. For more information contact Ron Stirk E-mail: melron@mweb.co.za Cell: 082 445 0373

20 NOVEMBER
Jack Taylor Airfield Krugersdorp Fly-In. For more detail, please Whatsapp 0835778894 or e-mail kfc@iafrica.com

27 NOVEMBER
SAPFA Springs Speed Rally at Springs Airfield. Contact Dawid Cell: 073 338 5200 david@pilotinsure.co.za

27 NOVEMBER
Sports Aerobatics Club Western Cape regionals at Stellenbosch airfield. Contact Annie Boon E-mail: chunge@mweb.co.za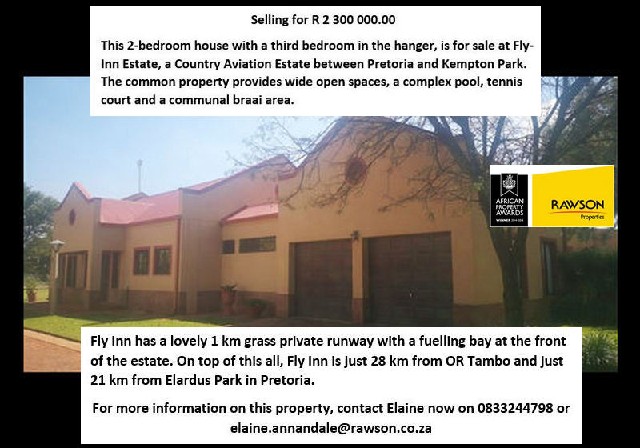 1 DECEMBER
EAA Chapter 322 virtual monthly meeting via Zoom. Contact Neil Bowden084 674 5674 or E-mail: neil1@telkomsa.net

4 DECEMBER
CANCELLED
Aero Club of South Africa annual awards venue TBA. For more information contact Rob Jonkers E-mail: rob@aerosud.co.za Cell: 082 804 7032

4 & 5 DECEMBER
Sports Aerobatics Club ACE of Base Baragwaneth Airfield. Contact Annie Boon E-mail: chunge@mweb.co.za




FINAL NIGERIAN SUPER TUCANO CREW GRADUATE IN US
Written by defenceWeb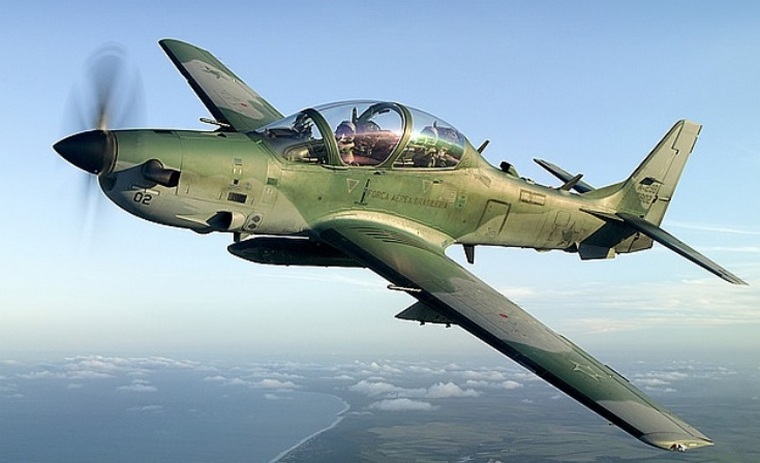 The United States Air Force's 81st Fighter Squadron has graduated the final class of Nigerian Air Force crew members after nine months of training on the A-29 Super Tucano.

The final class graduated at Moody Air Force Base, Georgia, on 2 September. Each class consisted of ground mechanics, aircraft familiarization and piloting the aircraft, the US Air Force said.
"We started from the initial qualification training and that's just to introduce you to the aircraft, flight characteristics of the aircraft and how to use it in different situations," said a Nigerian Air Force A-29 Super Tucano aircraft pilot from the 407th Air Combat Training Group. "From there, we went on to the mission training, which is how to employ the aircraft in a combat situation in different environments and how to employ the guns, rockets and bombs."
The 81st FS trained not only pilots, but also maintainers, munition technicians and other specialties.
Nigeria purchased 12 A-29 Super Tucano aircraft as well as parts, simulators and more from the US government under a $493 million foreign military sales contract.
US Air Force Major "T-Rex" Grillos, 81st FS A-29 Super Tucano aircraft evaluator pilot, said the partnership with the NAF not only improves tactics, techniques and procedures for both parties, but by providing the training, the 81st FS enables the NAF to be force multipliers for years to come.
The last wave of six NAF Super Tucano aircraft departed Moody AFB for Kainji Air Base, Nigeria, on 15 September and four arrived on 29 September. The remaining two, delayed by technical issues, arrived at the beginning of October.

EGYPTIAN AIR FORCE F-16S, MIRAGE 2000S FITTED WITH AL TARIQ PGMS
Written by Guy Martin



The Egyptian Air Force (EAF) has acquired Denel-designed Al Tariq precision guided munitions (PGMs) and is now deploying them on its Mirage 2000 and F-16 Fighting Falcon combat jets.

Mirage 2000s were first seen carrying Al Tariq weapons during the Qader 2021 exercise at the beginning of July. This week, the Egyptian military released a video marking Air Force Day celebrations (held on 14 October every year), showing two F-16C Block 52s carrying Al Tariqs. These are some of the most modern F-16s in the EAF's inventory, having been delivered less than a decade ago.
The United Arab Emirates' Tawazun Dynamics is believed to have been responsible for supplying and integrating the Al Tariq onto the Egyptian aircraft.
The Al Tariq started life as the Denel Dynamics Umbani (Lightning) guided bomb system, which is a kit that can be integrated with any Mk 81, Mk 82, Mk 83 and Mk 84 bomb to turn it into a precision weapon. It has a terminal accuracy of 3 metres circular error probable (half of the weapons land within that distance of the aim point) using laser target-designation or an imaging infra-red seeker, a range of 40 km (depending on release height) or 120 km using the optional fold-out wing kit and up to 200 km with the optional rocket motor.
The system is essentially wireless, using a tablet computer-like display and programming unit mounted in the cockpit to enable the pilot or weapons officer to programme target details and the attack profile into a weapon mounted on an ordinary dumb pylon, making integration onto aircraft a relatively simple affair.
The Umbani was first test dropped off a South African Air Force Hawk in 2011 and then became the first product (the Al-Tariq) of a joint venture between Denel Dynamics (49%) and Tawazun (51%). Tawazun Dynamics supplied the weapon to the UAE Air Force, where it equips its Mirage 2000s and Hawks. It is believed to have been used in combat in Yemen.
Tawazun became Barij Dynamics in 2018 and in November 2019, Barij became Al Tariq when it was consolidated along with 25 other UAE defence entities under the Edge group.
The Al Tariq weapon is available in two main variants: the Al Tariq S (40 km range) and the Al Tariq LR (120 km range) - which have different seekers, payload sizes and wing kit options as well as multiple configurations.
There are three main guidance configurations: accuracy with GNSS (Global Navigation Satellite System) is approximately 10 metres CEP (circular error probable); with GNSS semi-active laser it is three metres CEP, and with GNSS imaging infrared with automatic target recognition, it goes down to two metres CEP. Targeting can be either locked on before, or after, launch.

www.defenceweb.co.za

DIAMOND AIRCRAFT ANNOUNCES FUTURE ALL-ELECTRIC TRAINER AND PARTNERSHIP WITH ELECTRIC POWER SYSTEMS
Diamond Aircraft is proud to announce the development of an all-electric training aircraft, the eDA40 and has chosen Electric Power Systems' EPiC battery technology and accompanying Ecosystem.
Since 2011, Diamond Aircraft has been researching and developing electric and hybrid electric platform solutions. At Paris Airshow in 2011, in co-operation with Siemens, Diamond Aircraft introduced the DA36 E-Star, the world's first aircraft with a serial hybrid electric drive system based on the HK36 motor glider. Two years later, the DA36 E-Star 2, was presented at the Paris Airshow, with improved performance and increased payload. Further research of electric and hybrid solutions led to additional collaboration with Siemens and the introduction of the next milestone, called 'HEMEP' - the world's first hybrid-electric multi engine with lower fuel consumption (higher efficiency) and decreased noise pollution.
After extensive research and numerous flight test hours on electric and hybrid platforms, Diamond Aircraft is positioned to offer an all-electric solution to the General Aviation market - the eDA40.
Diamond Aircraft has decided to partner with the innovative battery technology company, Electric Power Systems, integrating the EPiC Ecosystem into the eDA40, a derivative of the existing and certified DA40 platform. The Electric Power Systems' Battery Module will be equipped with a DC fast charging system, capable of turning around a depleted aircraft in under 20 minutes. Batteries will be installed in a custom designed belly pod and between the engine and the forward bulkhead.
The aircraft will feature the latest Garmin G1000 NXi glass cockpit and will have several avionics add-ons available. Total flight time is expected to be up to 90 minutes as the battery technologies evolve. The eDA40 is expected to reduce operating costs by up to 40% compared to traditional piston aircraft.
"The eDA40 will be the first EASA/FAA Part 23 certified electric airplane with DC fast charging and specifically tailored to the flight training market," says Liqun (Frank) Zhang, CEO Diamond Aircraft Austria. "Making flying as eco-friendly as possible has always been at the core of Diamond Aircraft with our fuel-efficient jet fuel powered aircraft producing less CO2 and noise emissions compared to conventional piston aircraft engines. Therefore, we are more than proud to underline this commitment with the all-electric eDA40, a sustainable solution for the General Aviation of tomorrow."
"We are excited to announce our new partnership with Electric Power Systems," says Scott McFadzean, Chief Executive Officer of Diamond Aircraft Industries Canada. "The eDA40 with its proven airframe, the quick recharge capability and the low operating cost will be an excellent aircraft for the flight training market and solidifies Diamond's position as a global leader in General Aviation."
"We are thrilled to team with Diamond on this important project for the aviation industry." says Nathan Millecam, Chief Executive Officer of Electric Power Systems. "Training aircraft set the stage for demonstrating that electric aircraft can meet the demands of high-paced, high-volume operations at a reduced cost basis. Combining EPS' battery and electric propulsion know-how with a globally recognized leader in advanced general aviation design and manufacturing, enables the eDA40 to be one of the most notable Electric Aircraft projects in the world."
The eDA40 is targeted at flight training customers looking for an excellent electric circuit trainer based on the industry's leading training aircraft DA40. It is the perfect complement to an existing Diamond fleet to keep standardization high.
Initial flights of the eDA40 are scheduled for Q2 2022. Certification is expected in 2023.

DESIGN AND TECHNOLOGY UNITE IN THE NEW CESSNA CITATION M2 GEN2 AND CITATION XLS GEN2 BUSINESS JETS

Textron Aviation, an industry leader in bringing new products and product updates to market, has announced the next generation Cessna Citation M2 Gen2 and Cessna Citation XLS Gen2 business jets. Unveiled on the eve of this week's National Business Aviation Association - Business Aviation Convention & Exhibition (NBAA-BACE), the updates to the entry-level light jet and the midsize business jet usher in the next generation of aircraft design and technology, increasing comfort and productivity for passengers and pilots.

"With the mindset that no detail is too small when shaping customer flight experiences, we've touched all areas of these aircraft to create the Citation M2 Gen2 and the Citation XLS Gen2 - from the cockpit to cargo area and everywhere in between," said Christi Tannahill, senior vice president, Customer Experience. "Shaped by extensive customer feedback, the upgrades to these aircraft embody the latest in technology and design. These new models represent a significant commitment from Textron Aviation as we continue to bring best-in-class performance and features to our customers."
The company is now taking orders for both new models with deliveries expected to begin by the end of first quarter 2022 for the Citation M2 Gen2 and second quarter 2022 for the Citation XLS Gen2. NBAA-BACE attendees will have the opportunity to preview the new Gen2 interior mock-ups during the event at Textron Aviation's static display at Henderson Executive Airport.
The latest updates to the Citation M2 platform strengthen the model's focus on pilot and passenger comfort as well as productivity. A thoughtfully designed aircraft from front to back, the M2 Gen2 brings an enhanced cabin experience that includes premium interior styling, ambient accent lighting, re-mastered illuminated cupholders and additional in-flight accessible storage.
Productivity has also been bolstered with the latest technology in the cabin such as wireless charging capabilities and USB-A ports at each cabin seat. In the cockpit, three inches of legroom has been added to the co-pilot position for enhanced comfort. Additionally, cabin entry threshold materials have been improved for durability and maintainability.
Walking up to the Citation XLS Gen2, customers and pilots will immediately notice the elevated ramp presence with the new lighted airstair door. A new entry curtain has been added for inclement weather protection on the ground and improved cabin acoustics in flight. Once onboard, customers will be immersed with natural lighting and elegant styling and materials.
A new pedestal seat design enhances passenger comfort with individual controls, new styling and optional quilting, while the forward couch features an optional fold-down capability, which allows passengers to access baggage in flight.
In addition to these modern design elements, the XLS Gen2 also features a state-of-the-art intuitive wireless cabin management system that includes a touchscreen moving map monitor, wireless charging, USB charging ports at each cabin seat and optional Bongiovi Immersive speaker-less sound system.
With more than 1,000 560XLs delivered throughout the past 25 years, fractional owners and charter operators consistently choose the Cessna Citation 560XL series for its unparalleled combination of performance, comfort, ease of operation, range of mission capabilities and favourable operating efficiencies. For more information about the XLS Gen2, visit www.cessna.com/gen2jets.


GLOBAL MEDICAL RESPONSE ORDERS 21 NEW AIRBUS HELICOPTERS

Global Medical Response (GMR) will add a total of 21 Airbus helicopters from the H125, H130 and H135 families to its growing air medical fleet, with options to include up to an additional 23 helicopters, bringing the total order potential up to 44 helicopters.

"We fly a variety of Airbus products, but the main thing they have in common - and the most important thing we look for in our critical care transport solutions - is reliability," said Rob Hamilton, president of the GMR Alliances Group. "Our Airbus fleet allows us to respond quickly and transport critical patients with the appropriate level of care to give them the absolute best chance of survival. With the addition of these new aircraft, our fleet grows stronger and more capable to save lives when it matters most."
GMR, an industry-leading air, ground, specialty and residential fire services and managed medical transportation organization with more than 38,000 employees, is one of the largest operators of Airbus helicopters. GMR delivers care through multiple operating brands, including Air Evac Lifeteam, Guardian Flight, Med-Trans Corp. and REACH Air Medical Services. These operations transported more than 125,000 patients in 2020. This latest order will add to GMR's current Airbus fleet of nearly 133 helicopters.
This announcement expands upon additional orders from GMR in recent years as part of an ongoing fleet expansion. In the past 18 months alone, GMR has taken delivery of 15 Airbus helicopters.
"The air medical mission demands high availability rates. The H125 and H130 set the standard in the single-engine segment and the H135 has stood out in the twin-engine segment thanks to its consistent reliable performance in this mission," said Romain Trapp, president of Airbus Helicopters, Inc. and head of the North America region. "The fact that GMR's entire twin-engine fleet is made up of the H135 speaks volumes to its success in the air medical market. We are proud to continue delivering on our longstanding relationship with GMR and stand ready to continue to support the highest levels of availability for their essential work."
Airbus Helicopters is the leading provider of helicopters to the air medical transport industry, providing some 55% of the 2,600 EMS helicopters flying in the world today. More than half of all new air medical helicopters sold in the last decade in the U.S. were produced by Airbus. The H125 and H130 are a reference for single-engine air ambulance missions, especially in the U.S. market, and the H135 is the market leader in emergency medical services (EMS).

AIRBUS HELICOPTERS UH-72 LAKOTA FLEET SURPASSES ONE MILLION FLIGHT HOURS, WITH U.S. ARMY, NAVY AND NATIONAL GUARD UNITS



The Airbus Helicopters UH-72 Lakota fleet has exceeded the one million flight-hour mark, some 15 years after the first Lakota UH-72A entered service for the U.S. Army and following the first delivery of the newest UH-72B to the National Guard, as announced at the Association of the United States Army (AUSA) trade show in Washington, D.C.


"Many of the men and women who build the Lakota in Mississippi are U.S. military veterans themselves and they take a lot of pride in supporting the aviators who serve our nation," said Scott Tumpak, who is responsible for Airbus military helicopter programs in the U.S. "The million-hour milestone is a testament to the commitment of that workforce who has supported unprecedented on-time deliveries and to the reliability and versatility of the aircraft they build."
Airbus delivered the first Lakota helicopter to the Army in 2006, the same year the UH-72A was competitively selected as the Army's new light utility helicopter and has since delivered 463 of this initial Lakota model which primarily serves as the U.S. Army's initial entry rotary- wing training helicopter. Earlier this year, the Army introduced the first UH-72B Lakota to its National Guard fleet, the first delivery of an order placed in 2020 for 18 of the newest Lakota variant. The UH-72B is based on the widely successful H145, which incorporates various product enhancements that have been developed during the lifecycle of the commercial aircraft. The efficient Fenestron tail rotor, more powerful engines, enhanced controls and the Airbus Helionix avionics suite, to name a few, will provide added benefits for mission safety and flight performance.
By the end of October 2021, the Lakota will be operational for Army and National Guard units in 45 states and territories. It is also flown by the U.S. Naval Test Pilot School and Royal Thai Army and is a key enabler of U.S. Army combat training in Ft. Irwin, CA, Ft. Polk, LA and Hohenfels, Germany as well as the test range mission at the Kwajalein Atoll in the Pacific. The Lakota's missions are as varied as its operating locations and include training, general utility, search and rescue, disaster response, homeland security, drug interdiction, command and control and VIP transport. Lakotas have been employed extensively in responding to wildfires, hurricanes, floods and other disasters across the country and abroad in recent years, including most recently to provide support following devastating natural disasters in Haiti.
With nearly 10 different configurations available, the Lakota delivers proven performance, outstanding operational reliability and unmatched versatility for a broad spectrum of military missions. Airbus Helicopters, Inc. builds the Lakota at its production facility in Columbus, Mississippi, which employs a workforce of nearly 250 employees, 40% of whom are U.S. veterans.

HONDA AIRCRAFT COMPANY UNVEILS HONDAJET 2600 CONCEPT AT NBAA 2021

Honda Aircraft Company has unveiled the "HondaJet 2600 Concept", at a special event hosted by Honda Aircraft Company at the 2021 NBAA Business Aviation Convention and Exhibition (NBAA-BACE). Presented as the next generation of business jet, Honda Aircraft displayed a mock-up of the HondaJet 2600 Concept to collect customer feedback and validate market demand.

The HondaJet 2600 Concept inherits Honda Aircraft's aeronautical breakthroughs, including the Over-The-Wing Engine Mount (OTWEM) configuration, Natural Laminar Flow (NLF) technology on wings and fuselage nose and carbon composite fuselage. Through the further refinement of these foundational HondaJet technologies, the HondaJet 2600 Concept will be the world's first light jet capable of nonstop transcontinental flight across the United States. The aircraft has a quiet and spacious cabin suited for long range travel, can seat for up to 11 occupants and aims to deliver unparalleled fuel efficiency.
Specifications
• A range of 2,625 nautical miles, being the world's first light jet capable of nonstop transcontinental flight across the United States and also features a high speed cruise of 450 knots and a class-leading ceiling of 47,000 feet.
• Significantly more passenger space as well as a class-leading cabin tranquillity with greatly reduced vibration compared to conventional light jets, due to the OTWEM configuration. The aircraft also has the tallest cabin height and offers class-leading pressurization with a cabin altitude of 6,363 feet at its max operating altitude of 47,000 feet. Finally, the aircraft will also offer 3 types of modular and highly customizable cabin configurations.

PILATUS REPORTS STRONG DEMAND IN THE BUSINESS AND GENERAL AVIATION MARKETS



Exhibiting both the PC-24 Super Versatile Jet and the advanced PC-12 NGX turboprop at the National Business Aviation Association's annual Convention & Exhibition (NBAA-BACE), Pilatus leaders confirm a strong backlog of orders.

While global health concerns and their impact on travel and supply chains continue to impose recovery challenges for all businesses, Pilatus Aircraft Ltd Chief Executive Officer Markus Bucher was pleased to give an update on the state of business at this year's conference.
Bucher stated: "Two years ago, we were unveiling the newly certified PC-12 NGX to an enthusiastic audience at this same location". Who could have predicted the events of the past 24 months? We are happy to be back here in the largest market for Pilatus aircraft and are very fortunate that in this challenging environment sales of the PC-12 NGX and the PC-24 continue to exceed our original projections."
On the jet side, the active PC-24 fleet has grown to more than 120 aircraft operating in a wide range of roles including corporate transport, charter, fractional and air ambulance. The PC-24 differs from all other business jets in that it incorporates a standard large cargo door, has a cabin which can quickly be reconfigured between seats and cargo and is designed to operate from very short, even unpaved runways.
Bucher continued: "We still hear reactions from people discovering the PC-24 for the first time that they did not realise how large, roomy and luxurious the passenger cabin is. It truly combines the cabin of a midsize jet with the economy of a light jet and the utility of a turboprop. As we bring the PC-24 to the attention of prospective customers outside the Pilatus family, we are very encouraged that it will provide a long and productive future for its operators and Pilatus."
When you depend on one engine, depend on time-proven experts only: The NGX is powered by the Pratt & Whitney Canada PT6E-67XP engine, the first dual-channel integrated electronic propeller and engine control system in a general aviation turboprop aircraft. In addition to higher cruise speeds, lower cabin noise and reduced operating costs enabled by the new PT6 E-Series engine, the NGX features an all-new executive interior, larger cabin windows and a digital auto-throttle to reduce pilot workload and improve engine efficiency and longevity.
With more than 425 Million flying hours - more flying time than any other engine in the market - the PT6 is a proven engine and the most prolific in the segment. Operators enrolled in P&WC's new Eagle Service Plan (ESP) Platinum pay -per-hour engine maintenance programme can even benefit from insurance premium savings for their engines. The ESP Platinum programme for the PT6E-67XP engine covers full foreign object damage (FOD), including any wear and tear or other required repairs discovered during a FOD repair. This means customers no longer have to make a separate claim to their insurance as FOD events are typically covered through insurance policies.




Springs South Africa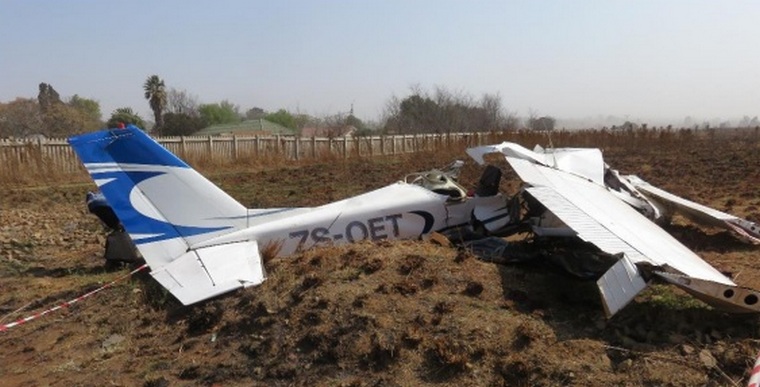 On Wednesday, 26 August 2020 at approximately 1540Z, a Cessna 172F with registration ZS-OET took off from Springs Aerodrome (FASI) on a night training flight. On-board the aircraft were a flight instructor, who was seated on the right front seat and a private pilot, who was the pilot flying (PF) and seated on the front left seat. The night training flight was part of the PF's night rating. The crew used Runway 03 as the prevailing surface wind was from the north-west at 3 knots (kts).
The flight was conducted in Visual Meteorological Conditions (VMC) at night under the provisions of Part 141 of the Civil Aviation Regulations (CAR) 2011 as amended.
Three close circuit television (CCTV) cameras at FASI which are facing the runway (in a westerly direction) show the aircraft flying low on a left downwind for Runway 03 with the intention to perform a glide approach as the PF is under instruction for her night rating. The aircraft is then seen turning left towards the runway at base leg and as the aircraft continues with the turn, the left wing impacts a tree, which is approximately 70 feet (ft) in height. Following impact with the tree, the PF loses control of the aircraft and rotates 360° to the left before impacting terrain in an upright position.
The aircraft was destroyed during the accident sequence; the flight instructor was seriously injured and the PF was fatally injured.
It was established that the night training flight was not conducted according to the stipulated circuit height of 1 000 feet (ft) as prescribed in the Aviation Training Organisation (ATO) training manual. It was also established that there was nothing wrong with the aircraft or engine systems and all damage was attributed to the accident sequence.
Probable Cause
The left wing of the aircraft impacted a tree while turning left base for Runway 03 and the pilot (PF) lost control of the aircraft.
Contributing Factors:
(1) The crew deviated from the ATO training procedures by not flying at the circuit height stipulated in their training manual.
The crew deviated from the ATO training procedures for this exercise by flying low-level circuit at night, instead of being at 1 000ft AGL before commencing the base leg turn. The landing light, which was positioned on the left wing was switched on
and it could not be determined why neither of the crew members saw the tree prior to impact as there was no evidence from the video footage that the crew attempted to take any evasive manoeuvre or action prior to impact with it.
(2) Inadequate in-flight supervision by the instructor during the night circuit training flight.



Namibia, Ondangwa Airport: A Namibian Air Force Chengdu F-7NM with only the pilot on board crashed into a security fence at the end of the runway at Ondangwa Airport. The pilot was injured.
USA, near Alta Mesa Airpark, Wilton, CA: A Antonov An-2T with four occupants experienced an aerodynamic stall/spin and a subsequent impact with trees and terrain shortly after take-off from runway 34, Alta Mesa Airpark (3CN7), in Wilton, Sacramento County, California. The four people onboard were critically injured. A video shows the airplane taking off, the airplane seemed to struggle during the climb and eventually the left wing dipped, which was followed by the airplane stalling.

USA, near Jerry Creek Reservoirs, Mesa County, CO: A Beechcraft 58TC Baron operated by Cannon Oil and Gas Well Services Inc with the sole pilot on board was damaged beyond repair after impacting with mountainous terrain in the Castle Peak area near Jerry Creek Reservoirs, Mesa County, north of the point of departure at Blake Field Airport Delta, Colorado. The sole pilot onboard the twin engine airplane received fatal injuries.
Italy, Como, Lombardy: A Cameron A-210 Balloon operated by Balloon Tour with seven occupants during take-off brushed trees and knocked down an ornament of the roof of the Tempio Voltiano museum in Como, Lombardy. The seven occupants were not injured and the hot air balloon was not damaged.

USA, near Waukesha, WI: An experimentally kit built Glasair GlaStar with two occupants was destroyed subsequent to an impact with wooded residential terrain about two miles south of Waukesha, Wisconsin. The husband and wife onboard were fatally injured.
Japan, Location: Biei town, Hokkaido: A Schempp-Hirth Arcus M motor glider with two on board crashed into a river at 1 km west of Biei glider field just after take-off. Two occupants receive fatal injuries and the glider sustained substantial damages. An eyewitness reports the glider fell almost vertically and another says down in spiral, from a height of 100 m within a minute after take-off due to engine failure. The glider was brand-new; registered on 11th May 2021 and was delivered at Biei in September. The accident flight was the third flight.

USA, Boston-Logan International Airport: An American Eagle Embraer ERJ-175LR operated by Republic Airlines suffered a bird strike after take-off from Boston-Logan International Airport, MA. This bird strike prevented the operation of flaps and slats and the flight crew circled back for a safe landing 27 minutes after take-off.
USA, near North Canaan Aviation Facilities Inc Airport: An experimental amateur built Kitfox IV sustained substantial damage subsequent to impact with trees and terrain, near a pond at North Canaan Aviation Facilities Inc Airport (CT24), Connecticut. The sole pilot onboard the tailwheel equipped airplane was transported to the hospital with serious injuries.

USA, Titusville-Space Centre Executive Airport: An amateur experimentally built Velocity RG experienced an apparent aerodynamic stall/spin and subsequent impact with airport terrain adjacent to Rwy 09 during an attempted go-around at Titusville-Space Center Executive Airport (TIX/KTIX), Titusville, Florida. The airplane was completely destroyed during the accident sequence and the sole pilot onboard was fatally injured.

UK, Fitties Beach, Humberston, near Cleethropes, Lincolnshire: A Agusta-Bell 206B JetRanger II with three on board sustained substantial damage in a forced landing on the Fitties Beach, Humberston, near Cleethorpes, Lincolnshire following a loss of engine power. The three people onboard were uninjured.
Germany, near Schönhagen, Trebbin: An Aero Shark crashed into a forest near Schönhagen, Trebbin, under unknown circumstances and was destroyed. Both occupants survived the crash and were not injured.




8 OCTOBER 1883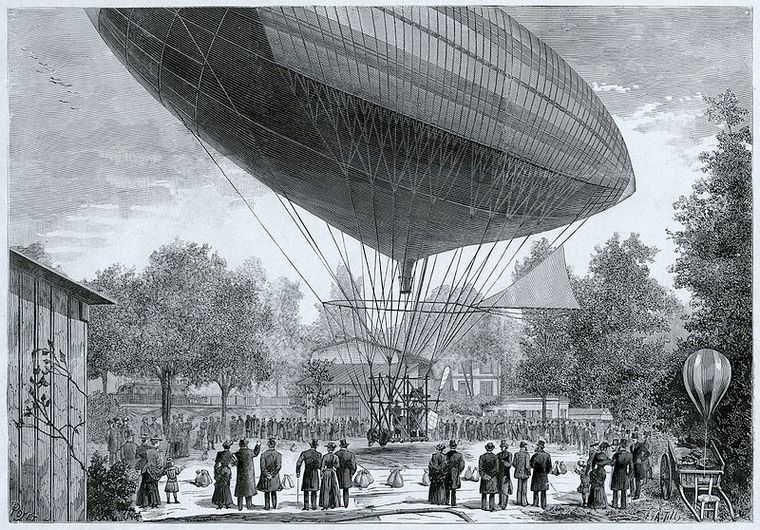 French brothers Albert and Gaston Tissandier make the first flight with an airship powered by electricity.

Albert Tissandier, born in 1839 and his brother Gaston, born in 1843 were French aviators and adventurers who collaborated in writing the magazine La Nature, a French language scientific journal aimed at the popularization of science.
Albert's devotion to aeronautics began on 8 November 1868, when he made his first hot air balloon ascent between Melun and Paris during a snowstorm.
On 14 October 1870, during the siege of Paris in the Franco-Prussian war, Albert piloted the balloon Jean-Bart to escape the city, taking two other travellers plus 400 kg (1000 lb) of mail and dispatches from 100 anxious families. He was awarded the Médaille militaire for his bravery.
in 1881, the brothers demonstrated the world's first electric powered flight at an electricity exposition by attaching an electric motor to a dirigible. It was after their first experiences with flight that they made the large model they demonstrated, for which Albert drew the blueprints. The first flight of an electric dirigible aerostat took place on 8 October 1883. They made a second attempt on 26 September 1884 which gave them all the results they were looking for.

PLEASE GO TO
www.youtube.com/channel/UCCuRVZAGodT6sztTeXBGeMw
and subscribe to our YouTube channel



Google Block Ad