Compiled by Willie Bodenstein



Google Banner Ad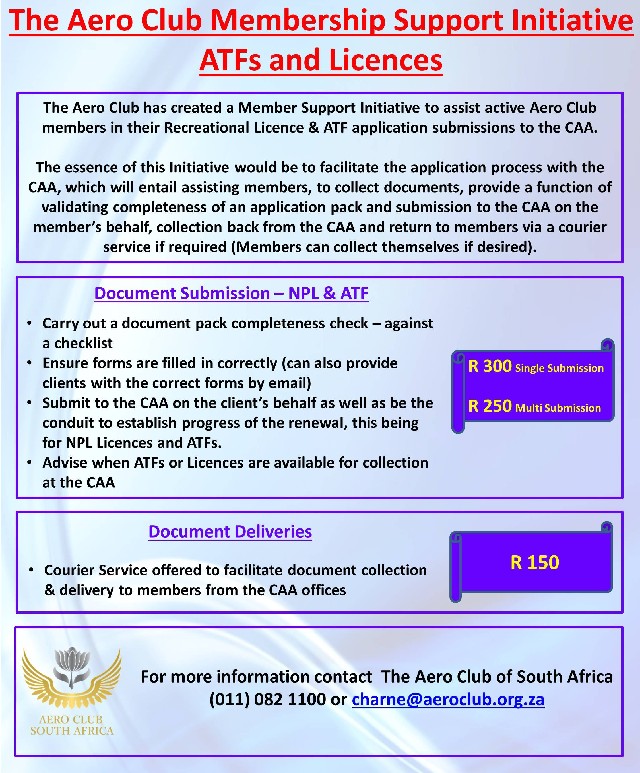 COVID 19 REGULATIONS, INITIATIVES AND AEROCLUB NEWS

OUR CENTENARY YEARBOOK IS NOW AVAILABLE TO PURCHASE FROM OUR NEW WEBSHOP

WWW.AEROCLUB.ORG.ZA/SHOP






30 OCTOBER
Lydenburg Annual Fly-In Festival. food stalls, heli flights, 3 Live shows and more. Contact Coenraad de Beer 076 466 9999

30 OCTOBER
SAA Museum Society presents Breast Cancer awareness day. For more information contact Margeret Cell: 082 336 9600

30 OCTOBER
Open day at Henley Air Rand Airport. Contact Andre Coetzee E-mail: andre@henleyair.co.za Tel: +27 (0)11 827 5503





3 NOVEMBER
EAA Chapter 322 virtual monthly meeting via Zoom. Contact Neil 084 674 5674 or E-mail: neil1@telkomsa.net

5 NOVEMBER
Children's Flight at Orient airfield. For more information contact Felix Gosher felixgosher@gmail.com

6 NOVEMBER
SAA Museum Airlines Collectables Fair. Dakota Crescent, Rand Airport. For more information phone 076 879 5044

5 TO 7 NOVEMBER
EAA Sun 'n Fun at Brits airfield. Contact Neil Bowden 084 674 5674 or E-mail: neil1@telkomsa.net

13 NOVEMBER
SAPFA SA Landing Championships at Brits Airfield. For more information contact Ron Stirk E-mail: melron@mweb.co.za Cell: 082 445 0373

20 NOVEMBER
Jack Taylor Airfield Krugersdorp Fly-In. For more detail, please Whatsapp or e-mail 0835778894 or kfc@iafrica.com

27 NOVEMBER
SAPFA Springs Speed Rally at Springs Airfield. Contact Dawid Cell: 073 338 5200 david@pilotinsure.co.za

27 NOVEMBER
Sports Aerobatics Club Western Cape regionals at Stellenbosch airfield. Contact Annie Boon E-mail: chunge@mweb.co.za





1 DECEMBER
EAA Chapter 322 virtual monthly meeting via Zoom. Contact Neil Bowden084 674 5674 or E-mail: neil1@telkomsa.net

4 DECEMBER
CANCELLED
Aero Club of South Africa annual awards venue TBA. For more information contact Rob Jonkers E-mail: rob@aerosud.co.za Cell: 082 804 7032

4 & 5 DECEMBER
Sports Aerobatics Club ACE of Base Baragwaneth Airfield. Contact Annie Boon E-mail: chunge@mweb.co.za

4 DECEMBER
Steady Climb Fly-In and expo at Rhino Park airfield. Contact David Le Roux Cell: 073 338 5200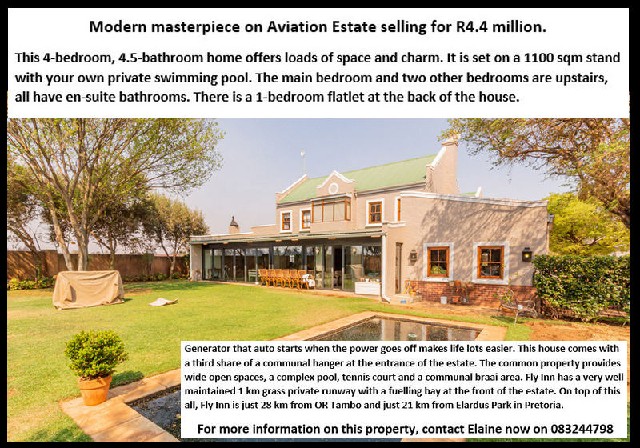 AVIATION NEWS

FIFTY PIPISTREL VELIS ELECTRO FOR BRITISH FLIGHT SCHOOLS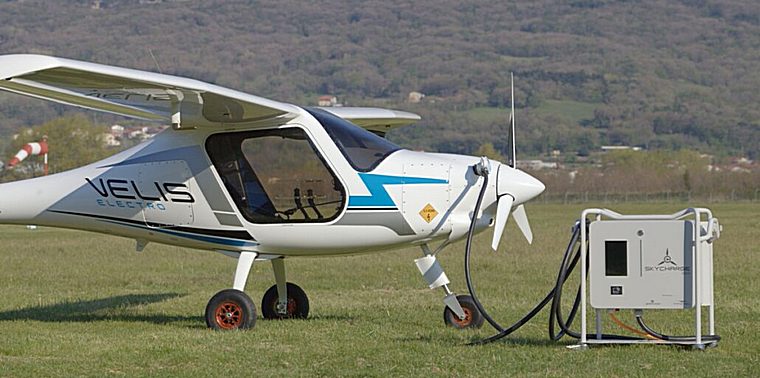 Pipistrel's UK distributors, Sergey Grachev and Deepak Mahajan are proud to unveil Green Airside - a collaboration between the Pipistrel's UK distributor - the Fly About Aviation company (based at Damyns Hall airfield near London and at Shipmeadow airfield in East Anglia) and V1 Investment Fund. This exciting project has been formed to supply 50 fully-electric Pipistrel Velis two-seater training aircraft to British flight schools.

The Pipistrel Velis Electro is the first and so far still the only fully certified electric aircraft, having attained the EASA certification in 2019 (with a following UK CAA certification in place).

The Green Airside project aims for as many as 50 Velis Electro aircraft to be made available for rent to flight training organisations throughout the UK. This will enable affordable, ready-to-fly solutions for the new generation of flight training around UK and further afield, boosting the Zero Emission training centres for the pilots of the future.

Sergey Grachev said: "The 50 Velis programme for British flying schools is now a reality! We have closed the deal with the investors and completed the order of the first ten aircraft this week. This is a massive and forward-thinking step from Pipistrel and its network of distributors to make a real change in saving the planet! We don't just talk about it - we act now!"

Green Airside's 50-Velis-programme is aimed at an average flight school, for which the Velis Electro is a great opportunity to deliver most affordable training. It includes the aircraft, compatible electric charging solutions, VR flight simulators and on-line training courses specially designed by Pipistrel for the aircraft and its supporting infrastructure.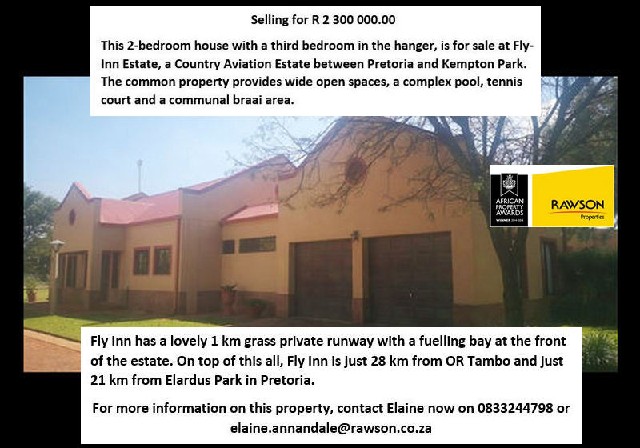 GLASAIR SPORTSMAN KITS AVAILABLE AGAIN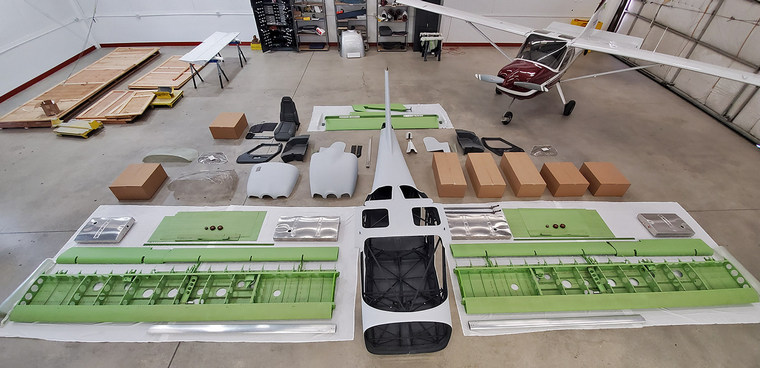 After a "COVID pause" that slowed down operations at Glasair Aviation, the company is once again selling kits. While the Two Weeks to Taxi program is still on hold, the Sportsman kits have been updated to reduce the builder's assembly time.

Coby Young, Glasair's Final Assembly Manager, says a lot of small changes have been made to the kits when it comes to cleaning up instructions, updating the bill of materials, prefabricating assemblies with many more small improvements that will make the build experience more enjoyable.

Some of the updated key features are a black interior and black cage, corrosion-proofed wings and flight surfaces, and a Quick-Build option to mirror the Two Week to Taxi program and instructions.

The Sportsman kit now includes many parts and assemblies that were previously sold separately as sub-kits.

"Quick-Build and Standard kits will contain the same components. For the Wing kit and Fuselage kits, we have included all of the smaller installation kit BOM's into the price rather than purchasing separately so overall the kit value is more significant" said Andrew Forrest, the company's Supply Chain Manager. "The BOMs will follow our TWTT kit program and these will follow our more up to date work instructions that we have been constantly updating." The builder's manual will still be provided as an overview and contain many useful tips and techniques along with instructions for jigs and assembly fixtures.

To simplify purchasing and inventory, new Sportsman kits are only available with the "high gross weight" (HGW) wing, but the standard (LGW) wing is still supported.



PILATUS REPORTS STRONG DEMAND IN THE BUSINESS AND GENERAL AVIATION MARKETS



Exhibiting both the PC-24 Super Versatile Jet and the advanced PC-12 NGX turboprop at the National Business Aviation Association's annual Convention & Exhibition (NBAA-BACE), Pilatus leaders confirm a strong backlog of orders.

While global health concerns and their impact on travel and supply chains continue to impose recovery challenges for all businesses, Pilatus Aircraft Ltd Chief Executive Officer Markus Bucher was pleased to give an update on the state of business at this year's conference.

Bucher stated: "Two years ago, we were unveiling the newly certified PC-12 NGX to an enthusiastic audience at this same location". Who could have predicted the events of the past 24 months? We are happy to be back here in the largest market for Pilatus aircraft and are very fortunate that in this challenging environment sales of the PC-12 NGX and the PC-24 continue to exceed our original projections. "

On the jet side, the active PC-24 fleet has grown to more than 120 aircraft operating in a wide range of roles including corporate transport, charter, fractional and air ambulance. The PC-24 differs from all other business jets in that it incorporates a standard large cargo door, has a cabin which can quickly be reconfigured between seats and cargo and is designed to operate from very short, even unpaved runways.

Bucher continued: "We still hear reactions from people discovering the PC-24 for the first time that they did not realise how large, roomy and luxurious the passenger cabin is. It truly combines the cabin of a midsize jet with the economy of a light jet and the utility of a turboprop. As we bring the PC-24 to the attention of prospective customers outside the Pilatus family we are very encouraged that it will provide a long and productive future for its operators and Pilatus."

When you depend on one engine, depend on time-proven experts only: The NGX is powered by the Pratt & Whitney Canada PT6E-67XP engine, the first dual-channel integrated electronic propeller and engine control system in a general aviation turboprop aircraft. In addition to higher cruise speeds, lower cabin noise and reduced operating costs enabled by the new PT6 E-Series engine, the NGX features an all-new executive interior, larger cabin windows and a digital auto-throttle to reduce pilot workload and improve engine efficiency and longevity.



LEONARDO'S TH-119 HELICOPTER PERFORMS FIRST FLIGHT



Leonardo is pleased to announce it successfully completed the initial flight test of the TH-119 IFR training helicopter on Dec. 20. The TH-119 is Leonardo's bid to replace the U.S. Navy's aging fleet of TH-57 Sea Ranger training helicopters, a variant of the successful AW119, manufactured in the U.S. with strong local supplier base. By completing this important milestone, the TH-119 remains on track to achieve full Federal Aviation Administration (FAA) instrument flight rules (IFR) certification in due course making it the only single-engine IFR-certified helicopter in production in decades.

The TH-119 was flown by Leonardo pilot Patrick McKernan at the company's Philadelphia plant, where all variants of AW119s are built. The helicopter performed excellently during the flight which included an assessment of general handling and avionics systems. If selected by the U.S. Navy, a fleet of over 125 TH-119s will be built in Philadelphia utilizing the plant's existing AW119 manufacturing and support facility.

"Already made in USA, the TH-119 is an affordable, off-the-shelf teaching helicopter that combines proven performance, flexibility and safety. It is built to accomplish every current Navy undergraduate training mission and flight skill manoeuvre with plenty of room to grow over the venerable TH-57," said Andrew Gappy, Leonardo Director of U.S. Government Sales.

A variant of the successful AW119 specifically configured for military training, the TH-119, is the only modern single engine helicopter certified to operate in actual instrument meteorological conditions (IMC), resulting in more available training days that limit "VFR only" aircraft and add to overall time to train. The TH-119 is a full-spectrum training helicopter, meaning that with a single variant configuration, the Navy can accomplish fundamental training flights like sliding landings, hovering and full autorotations (without offloading any of them to simulation) equally as well as advanced training flights including NVG, instruments, navigation, tactics, hoist, external cargo, and search and rescue. This makes the TH-119 the best solution on the market for "Navy" days: challenging weather and low visibility.

The TH-119's dual-display Genesys Aerosystems advanced glass cockpit allows instruction from either pilot seat with full IFR capabilities including flight director and 3-axis full autopilot. Its unique 180-degree adjustable observer seat offers student pilots full view of the cockpit providing a better learning environment even while riding as a passenger. The TH-119 combines exceptional power margins, thanks to its popular and reliable 1,000 shp Pratt & Whitney Canada PT6-B engine, with the durability of a cocoon-type metal airframe and reinforced shock stabilized skids for touchdown manoeuvre training. To minimize time on the ground and maximize operational flexibility the TH-119 can "hot" pressure refuel.

The TH-119 is manufactured and supported at Leonardo's existing FAA Part 21 production facility in Philadelphia, providing the Navy a low-risk delivery schedule and fleet support as well as economical single engine costs, saving millions of taxpayer dollars over competing twin engine helicopters.



TEXTRON AVIATION INKS ORDER FROM THRIVE AVIATION FOR THREE ADDITIONAL CESSNA CITATION LONGITUDE JETS



During this year's National Business Aviation Association Business Aviation Convention & Exhibition (NBAA-BACE), Textron Aviation announced Las Vegas-based private aviation charter operator Thrive Aviation placed an order for three additional Cessna Citation Longitude business jets, set to deliver beginning December 2021. This order will boost Thrive's fleet of Textron Aviation aircraft to 15, comprised of Cessna Citation Longitude, Cessna Citation Sovereign+, Cessna Citation XLS+, Cessna Citation CJ3+ and Cessna Citation M2.

The super-midsize Citation Longitude is the flagship of the Cessna Citation family of business jets and is designed and manufactured by Textron Aviation Inc., a Textron Inc. (NYSE:TXT) company.

"It's rewarding to watch Thrive Aviation expand its capabilities within the Citation family; that's precisely what we strive to offer by creating the broadest product range in the industry," said Lannie O'Bannion, senior vice president, Global Sales and Flight Operations, Textron Aviation. "Our relationship with Thrive continues to grow. As they expand their operations, the Longitude will provide them with the lowest direct operating cost of any super-midsize jet."

"Our guests love the Longitude - it's a great mix of luxury and performance that has garnered quite a following," said Scott Musselwhite, senior vice president of Commercial, Thrive Aviation. "With the addition of three more Longitudes to our fleet, we're better equipped to serve our growing demand nationwide; an expanding footprint that is a testament to our momentum and our future."

"The private aviation landscape has changed during the past 18 months - we're confident the expanded fleet of Citation Longitudes is exactly what our customers want and expect," said Thrive Aviation CEO Curtis Edenfield. "The future is bright for Thrive Aviation and we're so grateful for the relationship we have with the Textron Aviation team. They've been an integral part of our continued success up to this point."




INDIAN NAVY EXPANDS MARITIME RECONNAISSANCE CAPABILITIES WITH DELIVERY OF 11TH P-8I



Boeing [NYSE:BA] is continuing to expand the Indian Navy's long-range maritime reconnaissance anti-submarine warfare capabilities with the delivery of the country's 11th P-8I. The patrol aircraft is an integral part of the Indian Navy's fleet and has surpassed 30,000 flight hours since it was inducted in 2013.

This is the third aircraft to be delivered under an option contract for four additional aircraft that the Indian Ministry of Defence awarded in 2016. The Indian Navy was the first international customer for the P-8 and today operates the largest non-U.S. fleet. The P-8 is also operated by the U.S. Navy, the Royal Australian Air Force and the United Kingdom's Royal Air Force.
In addition to unmatched maritime reconnaissance and anti-submarine warfare capabilities, the P-8I has been deployed to assist during disaster relief and humanitarian missions.
Boeing supports India's growing P-8I fleet by providing training of Indian Navy flight crews, spare parts, ground support equipment and field-service representative support. Boeing's integrated logistics support has enabled a high state of fleet readiness at the lowest possible cost.
Boeing is completing construction on the Training Support & Data Handling (TSDH) Centre at INS Rajali, Arakkonam, in Tamil Nadu and a secondary centre at the Naval Institute of Aeronautical Technology, Kochi, as part of a training-and-support package contract signed in 2019. The indigenous, ground-based training will allow the Indian Navy crew to increase mission proficiency in a shorter time, while reducing the on-aircraft training time resulting in increased aircraft availability for mission tasking.
As a leading global aerospace company, Boeing develops, manufactures and services commercial airplanes, defence products and space systems for customers in more than 150 countries. Boeing's advanced aircraft and services play an important role in mission-readiness for the Indian Air Force and Indian Navy. Boeing is focused on delivering value to Indian customers with advanced technologies and is committed to creating sustainable value in the Indian aerospace sector - developing local suppliers and shaping academic and research collaborations with Indian institutions. Boeing has strengthened its supply chain with more than 275 partners in India and a joint venture to manufacture fuselages for Apache helicopters. Annual sourcing from India stands at approximately $1 billion. Boeing currently employs 3,000 people in India and more than 7,000 people work with its supply chain partners. Boeing's employee efforts and India country-wide engagement serves communities and citizenship programs to inspire change and make an impact on more than 300,000 lives.

USAF B-1B BOMBERS DEPLOYED TO DIEGO GARCIA ISLAND BASE FOR THE FIRST TIME 15 YEARS

The USAF recently deployed an unknown number of B-1B Lancer jets to the Naval Support Facility Diego Garcia, the British atoll in the Indian Ocean. It was the first time in fifteen years that the bombers, that do not wield nuclear weapons, but carries the Air Force's largest payload of guided and unguided conventional weapons have been at the atoll, a strategic point for launching operations in the Indo-Pacific.

The B1B's arrived at Diego Garcia after China began holding military air drills near Taiwan and launched a joint naval exercise with Russia in the Sea of Japan.
Lt. Col. Ross Hobbs, the 37th Bomb Squadron's operations director, said in a release; "Bomber Task Force missions, in support of [U.S. Indo-Pacific Command's] operational and strategic objectives, are extremely valuable to our aircrew because of the multi-country integration opportunities," "They also give us the opportunity to showcase the unmatched range, speed and lethality of the B-1."

LEONARDO'S AWHERO ACHIEVES MILITARY CERTIFICATION



Leonardo's leading-edge AWHero RUAS (Rotary Uncrewed Aerial System) has received basic military certification from Italy's DAAA, the Directorate for Air Armaments and Airworthiness. This achievement marks the world's first military certification for a RUAS in the 200-kilogram class.

AWHero's design, development, production and support meet military airworthiness authority requirements delivering the highest levels of mission safety, reliability and availability to Armed Forces. The military certification includes embarked operations and highlights the robustness of AWHero's design criteria and approach, paving the way for further development, integration and validation of expanded capabilities designed and planned for the system. This military certification is also based on elements of the worldwide recognized STANAG4702 standard.
AWHero design leverages on Leonardo's strength and extensive experience in rotorcraft development, system integration and embarked helicopter operations. Since 2019, the platform has been conducting maritime surveillance capability demonstrations on ships within the framework of the OCEAN2020 initiative, the European Defence Fund strategic research program for naval surveillance technology and maritime safety, comprising 43 organizations across Europe and led by Leonardo.
AWHero is also being evaluated in international tenders. Northrop Grumman Australia and Leonardo Australia's team has been shortlisted to proceed to the next phase of the SEA129 Phase 5 program for the acquisition of a maritime uncrewed aerial system designed to deliver a deployable intelligence, surveillance, reconnaissance and targeting capability to the Royal Australian Navy (RAN). The Northrop Grumman and Leonardo proposal will enhance capability effects and tactical decision-making during RAN maritime operations.
Google Banner Ad
Leonardo is the only company in Europe which is able to provide complete solutions by designing and developing all the elements of unmanned systems: platforms, sensors, mission systems, control stations and offer customers a certified low risk, high effective, fully integrated capability.
Leonardo is a key partner and contributor to significant European drone programs and Leonardo's expertise and capabilities in the sector have been extensively demonstrated during international exercises. Leonardo has developed uncrewed systems and technologies, including anti-drone capabilities and unmanned traffic management (UTM) systems.
The continuous development and integration of cutting-edge solutions across all domains of remotely-piloted and autonomous/semi-autonomous systems and technologies is a key element of Leonardo's BeTomorrow2030 Strategic Plan.

SAFRAN BEGINS ASSEMBLY OF ARRIEL 2E HELICOPTER ENGINE IN U.S.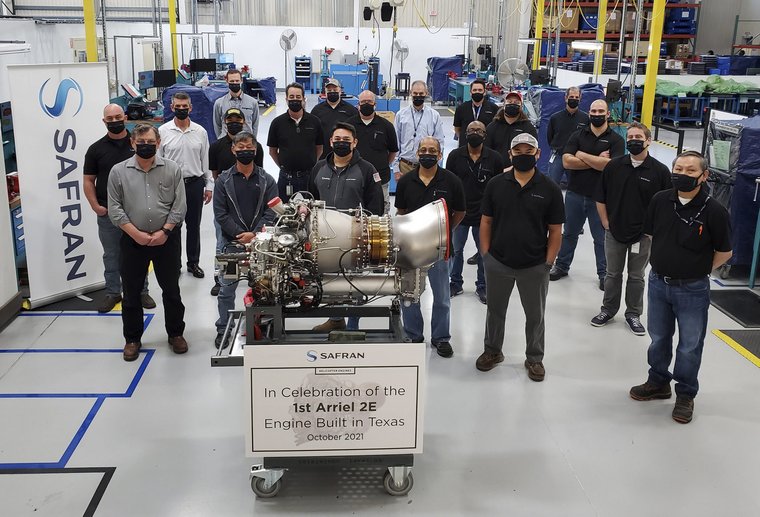 Safran Helicopter Engines has opened a second assembly line at their facility in Grand Prairie, Texas for the Arriel 2E engine. The first assembled and tested Arriel 2E engines have been delivered to Airbus. These engines power the UH-72B delivered to the U.S. Army as part of the newest Lakota helicopter. Also installed in the H145, the Arriel 2E was until now produced in France.

Safran Helicopter Engines assembles, tests and supports several Arriel variants at the Grand Prairie, Texas facility, including the 2D for the Airbus H125 and the 1E2 for the UH-72A Lakota. The Arriel has a solid footprint in the U.S., with more than 3,000 engines in service. The U.S. Army is a major operator with over 900 engines in its Lakota fleet. The U.S. Coast Guard fleet of Airbus MH-65 Dolphins are also powered by the Arriel engine.
With power outputs ranging from 650 to over 1,000 shp, the Arriel family powers over 40 different rotorcraft. Certified in December 2012 and in service since August 2014, the Arriel 2E is one of the latest variants. It offers 20% more power than the current Arriel 1E2 in the EC145. The Arriel is the best-selling helicopter engine in its class, with over 12,000 engines produced and 50 million flight hours. An Arriel-powered helicopter takes off every 15 seconds, every day.

KAMAN AEROSPACE GROUP, INC. SELECTED BY TRANSCEND AIR TO BUILD THE VY 400 HIGH SPEED VTOL AIRCRAFT

Kaman Corporation (NYSE: KAMN) has announced that its subsidiary, Kaman Aerospace Group, Inc., has been selected by Transcend Air Corporation to build the Vy 400 High Speed Vertical Take-off and Landing (HSVTOL) aircraft.

The Vy 400 design is optimized to reduce the current time and cost barriers for regional city-to-city travel. The vertical take-off and landing capabilities of the Vy 400 aircraft gives Transcend Air access to demand-rich centres of major cities. The high-speed Vy 400 travels over 400 miles per hour, making the journey from Manhattan to Boston in 36 minutes.
Gregory Bruell, Co-Founder and CEO of Transcend Air said, "Because of the Vy's high speed, we can complete many more passenger trips per aircraft. The combination of that with VTOL is key to our revolutionary economics and Kaman will be key to us scaling up production to meet the huge demand that our mass market fares will drive."
Russ Bartlett, Kaman's Senior Vice President and Chief Operating Officer noted, "Viewed from our unique rotorcraft market experience as both a helicopter manufacturer and a major supplier to other aerospace manufacturers, the Vy 400's advantages in both civil and military applications are compelling." Bartlett continued, "Transcend Air has over 250 years of collective VTOL experience informing both the aircraft design and their go-to-market strategy. Kaman Aerospace Group has components and subsystems on nearly every rotorcraft flying today and we look forward to the opportunity to be part of this innovative aircraft with Kaman's singular blend of historical achievements and cutting-edge capabilities."
Peter Schmidt, Co-Founder and COO of Transcend Air, added, "The time is now for this aircraft. We are reaping the benefits of 50 years of advancements in technology since the pioneering of tilt-wing designs in the 1960s; including computerized fly-by-wire flight control, aero-acoustics, electric control-surface actuation, the Ballistic Recovery Systems whole-airframe parachute, low- and no-carbon Sustainable Aviation and with the addition of Kaman's collaboration to deliver at scale. On the day it is certified, the Vy 400 will simultaneously become the world's fastest helicopter AND the world's fastest single-engine civil turboprop - with Kaman structures, subsystems and assembly making it possible."

INNOVATIVE EVTOL DESIGNERS CHOOSE RED A03 AS THE IDEAL SOLUTION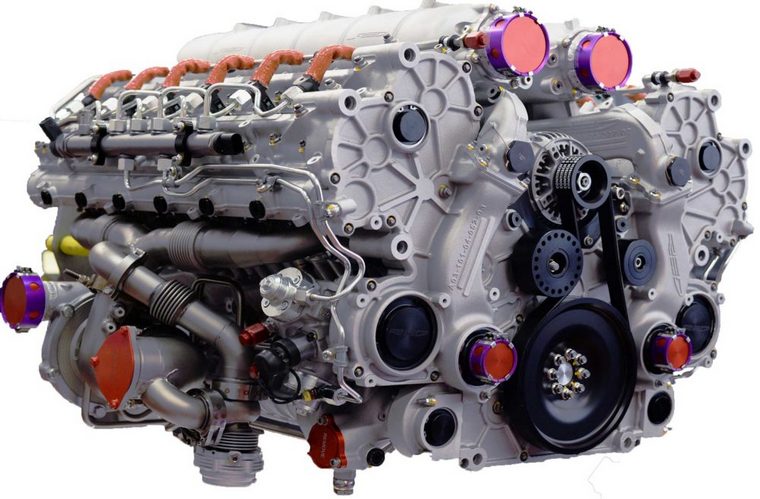 In a rapidly advancing technological landscape, electric vertical take-off and landing aircraft are rapidly promising to become the transportation technology of the future. Raikhlin Engine Developments GmbH is delighted to announce it has entered this exciting new sector and is the preferred option for several enterprising eVTOL companies seeking to find viable ways to power their aircraft.

RED aircraft GmbH is pleased to announce the utilisation of its revolutionary and highly efficient RED A03 engine in the eVTOL aerospace sector. It is developing many relationships with innovative manufacturers looking to capitalise on the engine's phenomenal power output, fuel efficiency, and safety features.
The major stumbling blocks for most electric vehicles are weight, range, and payload. Big batteries are needed for sustained flight, but with these batteries come with a significant weight penalty. By utilising a highly efficient piston engine, like the RED A03, to provide in-flight battery charging, operators can reduce battery size and increase the aircraft's useful load. The engine is also attractive to those operators who require consistent performance at high altitudes with the RED A03 200 with a peak operational altitude of 50,000ft
Enrico Evers, RED aircrafts New Customer & Business Development Head; "the eVTOL sector is producing some impressive innovations, however at this time, many are restricted by today's battery technology which hinders flight times, payload, and certification. Our clean-sheet design compression ignition engines help them become a practical reality and still provides a greener solution with reduced fuel consumption."
"By utilizing a highly efficient piston engine that uses JET-A(1) as fuel, like the RED A03 providing in-flight battery charging, operators can reduce battery size and increase the aircraft's useful load"
A standard piston or jet turbine engine isn't viable as an auxiliary power unit (APU), as the additional fuel, combined with battery weight, leaves little scope for payload.
Because the RED A03 is highly fuel-efficient, operators can carry significantly less fuel yet still rely on the RED A03 to provide an equal power output when charging batteries as part of a serial hybrid configuration. This fuel-saving translates into extended range or greater carrying capability.
The RED A03 has further key advantages that have made it the engine of choice for innovators creating new conceptual eVTOL aircraft.
To emphasise further flexibility, the RED A03 can be used in two different configurations to supplement the power needed for electrically driven flight. In the parallel hybrid configuration, a propellor drive train connects to the RED A03. It can be used to supplement electric propulsion during high-demand situations, such as taking off, climbing, and hovering. In the serial hybrid configuration, the RED A03 is not attached to the drive train and instead provides a constant and reliable source of charging for onboard batteries when needed. This allows eVTOL aircraft to be purely electrically propelled.
The RED A03 has already been approved by the United States Federal Aviation Agency (FAA), the European Aviation Safety Agency (EASA) and the Russian Federal Agency for Air Transport (FATA) and Type approval by New Zealand Civil Aviation Authority. As a result, any aircraft manufacturer seeking approval on a new design can expect to see a reduced turnaround time between presentation and aircraft approval. A vital factor, considering that in this growing industry, time to market can significantly affect an aircraft design's success.




ABU DHABI INTERNATIONAL AIRPORT





An Etihad Airways Boeing 787-10, on a cargo flight from Beijing Capital International Airport, China, to Abu Dhabi International Airport, the United Arab Emirates, with three crew on-board.
During an RNP AR approach (RNAV (RNP) Y) to runway 31L at Abu Dhabi International Airport, when the aircraft was on final approach at a distance of approximately 1.3 nautical miles from the threshold of runway 31L and approximately 210 feet radio altitude, the flight crew initiated a go-around. The go-around initiation was decided by the commander after sighting four reds of the precision approach path indicator (PAPI) and subsequently carried out by the co-pilot as pilot flying.
It appeared that the pilot flying and pilot monitoring did not change the QNH pre-set value to 999 hectopascal (hPa) as per automatic terminal information service (ATIS) information as per the descent procedure before the top of descent. The value remained at the pre-set value of 1009 hPa, which was the QNH setting at the departure airport (Beijing). At the of the go-around the aircraft was at 210 feet radio altitude, where the indicated altitude was 570 feet.
The Air Accident Investigation Sector of the United Arab Emirates (AAIS) determined that the cause of the aircraft flying below the vertical profile during approach was the incorrect local pressure (QNH) altimeter setting.
The AAIS identified the following contributing factors to the Incident:
- The operating flight crew omitted to preset local Abu Dhabi International QNH value after receiving automatic terminal information service (ATIS) information.
- Prior to and at transition level, the flight crew were fixated on the high-energy management for the descent, such that selecting the barometric setting from the standard pressure of 1013 hectopascal (hPa) to the local QNH value was carried out incorrectly.
- The Approach Controller did not provide local QNH information along with the initial descent clearance from a flight level to an altitude, nor when issued the clearance of RNAV Y runway 31L approach.
- The vertical situation displays (VSD) and its cues were not used or considered of their vertical profile assessment during approach by the flight crew for monitoring.
- Air traffic control did not provide instruction to check the QNH setting and the level of the Aircraft when the activation of the minimum safe altitude warning was triggered on its radar screen.
- At higher altitudes, the forward visibility was less than reported, due to the presence of haze layer(s) of which are commonly associated with temperature inversions in the Middle Eastern region.



Libya, Tarhuna: A Libyan Air Force Mil Mi-171E with millions of cash on board was damaged beyond repair when it rolled over during landing on a football field in Tarhuna. At least two occupants were injured.
France, Escalet, Gers: A French Air Force aerobatic team Extra EA-330LC with two on board carried out a forced landing in a field after an apparent engine power loss. Both occupants were uninjured.

Canada, Tofino Harbour Water Aerodrome: A Tofino Air de Havilland Canada DHC-2 Beaver Mk I with six occupants sustained unreported damage subsequent to a nose over during landing after a collision with a boat at Tofino Harbour Water Aerodrome (YTP/CAB4), British Columbia. The six occupants onboard the float equipped airplane were not injured.
USA, Houston Executive Airport, TX: A McDonnell Douglas MD-87 operated by 987 Investments LLC which had not flown for 10 months suffered a runway excursion after an aborted take-off from Houston Executive Airport, Texas, USA with 21 occupants on board. Video footage shows a puff of light smoke coming from the engines as the aircraft started the take-off roll. The aircraft overran the end of the runway, went through a fence and took down powerlines before it came to a stop about 500 m past the end of the runway where it burst into flames after coming to rest in a field. All 21 were evacuated safely with two people being injured.

USA, near Holly Ridge/Topsail Island Airport (N21), NC: A Mooney M20J 201 with four on board sustained substantial damage subsequent to impact with wooded terrain shortly after take-off from Holly Ridge/Topsail Island Airport (N21), Onslow County, North Carolina. Two occupants were fatally injured and two others survived with unspecified injuries.
India, Bhind, Madhya Pradesh: An Indian Air Force Dassault Mirage 2000 crashed in Bhind, Madhya Pradesh after a technical malfunction. The pilot ejected safely but was injured.

USA, Marengo, Ashland County, WI: An American Champion 8KCAB Super Decathlon operated by One Two Kilo Delta Corp with two occupants was destroyed after impact with a rural residential structure in Marengo, Ashland County, Wisconsin. The two occupants onboard the airplane received fatal injuries. There were no reported injuries on the ground.
Belgium, Yves-Gomezée, Namur: A Sonaca 201 operated by Sonaca Aircraft opf. Stratos Solution was destroyed when it experienced an apparent stall/spin and a subsequent impact with open field terrain in Yves-Gomezée, Namur. The sole pilot onboard bailed out prior to impact and parachuted to safety.




10 OCTOBER 1907

Robert Esnault-Pelterie made the first airplane flight with a control stick; he used a single, broom handle-like lever.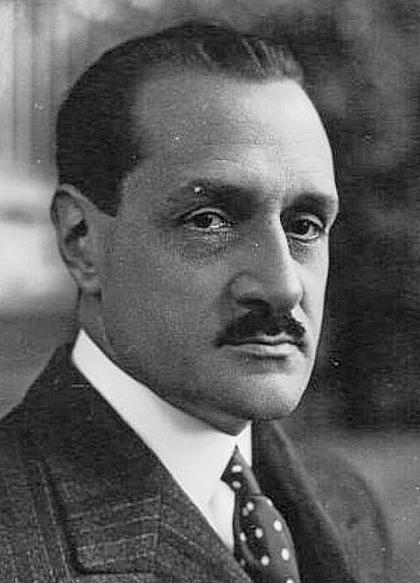 Born on 8 November 1881, Robert Esnault-Pelterie was a French aircraft designer and spaceflight theorist. He is referred to as being one of the founders of modern rocketry and astronautics, along with the Russian Konstantin Tsiolkovsky, the German Hermann Oberth, and the American Robert H. Goddard.
Educated at the Faculté des Sciences, he studied engineering at the Sorbonne and served in World War I and was made an Officier de la Légion d'Honneur.
His first experiments in aviation were based on the Wright brothers 1902 glider. In 1906, he began his first experiments in towed flight. On 19 September 1906 he flew 500 m (1,600 ft). He made his first powered flight on 10 October 1907, a distance of 100 m (330 ft) with the REP 1. This was driven by a seven-cylinder, 30 hp air-cooled engine of his own design.
Following the war, Esnault-Pelterie was involved in litigation over his joystick patent. Many aircraft built during the war had used this design and the aircraft companies owed him royalties. The damages he won and subsequent royalties made him a wealthy man. This also allowed him to repay his father's significant investment.
He died on 6 December 1957 in Nice, France.

PLEASE GO TO
www.youtube.com/channel/UCCuRVZAGodT6sztTeXBGeMw
and subscribe to our YouTube channel



Google Block Ad