19.12.2021



Google Banner Ad



As this series of articles progresses, I come across more and more memories. This is really enjoyable and I'm extremely happy to share them with you. This is the last one for this year as Christmas approaches and the editor and publisher are taking a break until 9 January 2022. I can't say I blame them; it's been a rough year. Last Saturday I lost a good friend, Glen Warden, when he crashed during an aerobatic competition at Syferfontein (Baragwanath). RIP Glen.
From me to all of you out there - thanks for all the support over the last year. Have a very Happy (and safe) Christmas and a great 2022.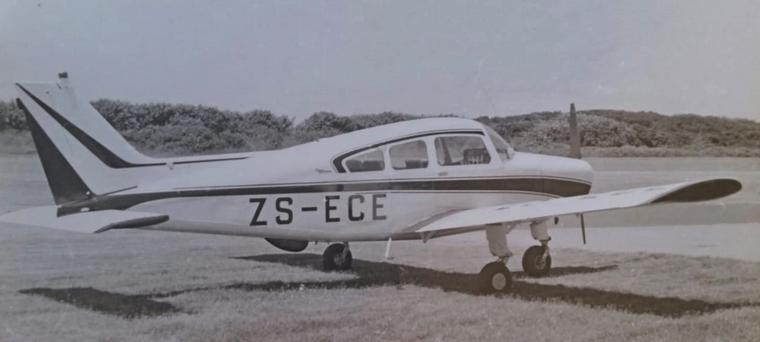 During My time at GC, I served on the committee of EAA chapter 322 as liaison between the chapter and airport management and as such, met up with two of the characters involved with the chapter namely Bill Keil and Bob Ewing. Both of these people were very different in personality with Bob being a strict yet friendly man and Bill being an argumentative type although also friendly. This led to some epic meetings I can tell you.
One of the members was a Chinese gentleman called Eddie Ying and he owned a share in the Beech Musketeer ZS-ECE along with Jacob Kalt and a German lady whose name I can't remember.
Google Block Ad
Eddie was a very friendly man and he invited the committee to hold a year-end function at his Chinese restaurant in Sandton City. I had never been to a Chinese restaurant before and really didn't understand what I was seeing on the menu. Not wanting to seem like an idiot I scanned the menu until I found something which I seemed to recognise - it turned out to be Duck in an orange (citrus) sauce and was delicious. I noticed a few of the other members also scanning the menu, obviously having the same issue that I had. No matter what, we all had a fantastic meal. At the end of the evening, we called for the bill and was told by Eddie that it was on the house - what a fantastic gesture. This is the kind of person he was. Unfortunately, the aircraft was written off in later years and for once, my register notes have let me down - I don't have the date, only the place - Kimberley. Eddie didn't keep his share for long and moved on to another partnership in a Bonanza based at Lanseria, so we lost contact. A great pity.
The Grand Central Flying Club year end functions were epic parties and well worth attending. Lots of good food (prepared by Mama Brigiolini in the restaurant kitchen), along with plenty of wine, champagne and beer. Hard liquor was not very popular for some reason and although it was available, I hardly ever saw anybody drink it. Ending up in the swimming pool was almost mandatory and after the first party I attended in 1975, I remembered to take a spare set of cloths with me.
Great fun times I can assure you.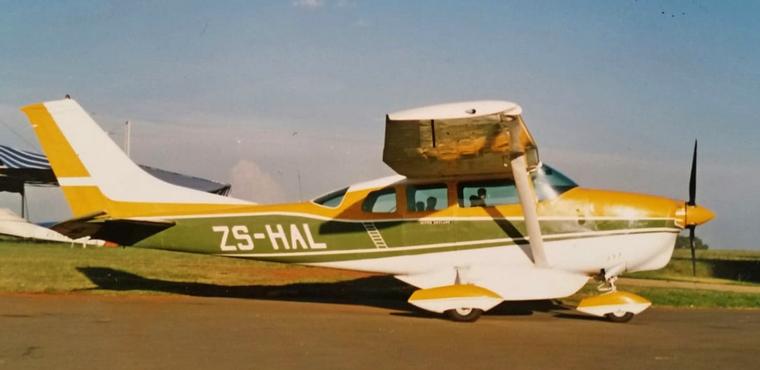 This aircraft belonged to Hal Smithers and although it looked very, very neat on the outside, the inside was very well worn. You see, Hal owned a couple of game farms up in the Timbavati area and this aircraft was his delivery truck. The amount of stuff he put into this aircraft had to be seen to be believed. Hal used this aircraft for a number of years and then sold it to a family member in Zimbabwe as Z-ING in 1995.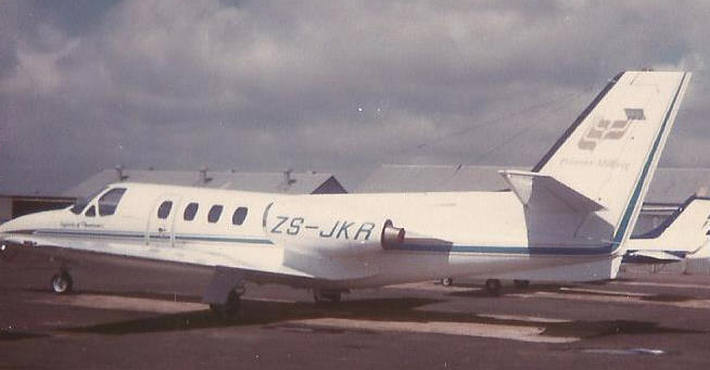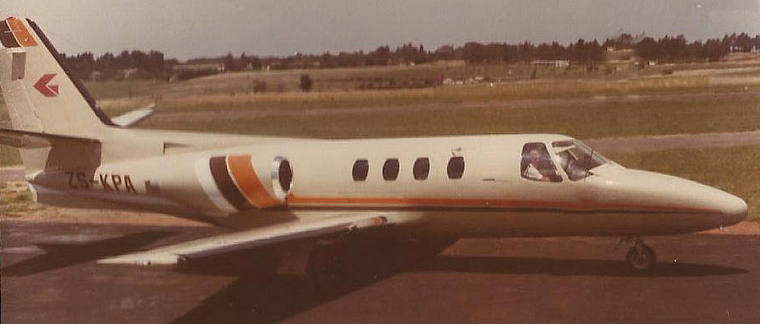 This Cessna Citation was a regular visitor from Rand Airport. She belonged to Premier Milling and was based at Rand. Initially she's come in to collect one of the big bosses of the company who lived in Halfway House but later she was also used for luxury charters. Grinair also used her occasionally and this led to them buying their own Citation, ZS-KPA. Premier Milling registered this Citation in Swaziland as 3D-ACR so that they could operate into Africa and then she was sold in Australia (VH-NEW) and finally in the UAE (A6-RKH). As I mentioned before, Grinair's ZS-KPA was exported to Portugal as CS-AYY in 1992.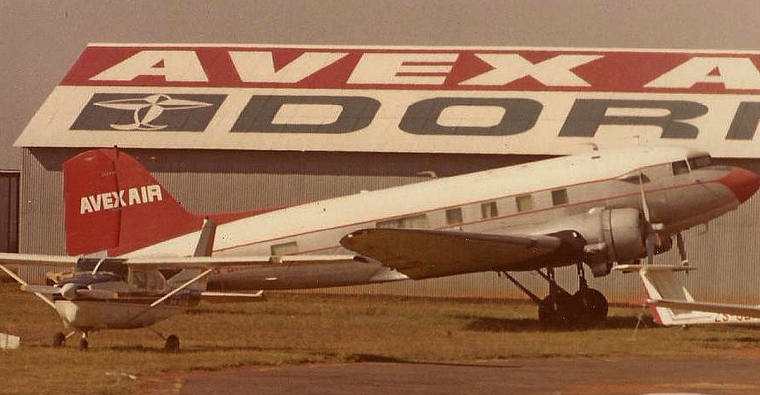 Avex Air moved some of their operation from Rand to Grand Central in the late 1970s/early 1980s and this Dak was one that came over with them. It was great to have another Dak on the airfield again as we hadn't had one since ZS-GPL had departed some years before. This aircraft had initially been imported by Johannesburg Map Studios (hence the registration) as a survey aircraft. Avex bought the aircraft from them and continued doing survey work with her. She was also used for spraying Quelea birds in Botswana. She force-landed in Angola in 1997 after an engine fire and has remained there ever since.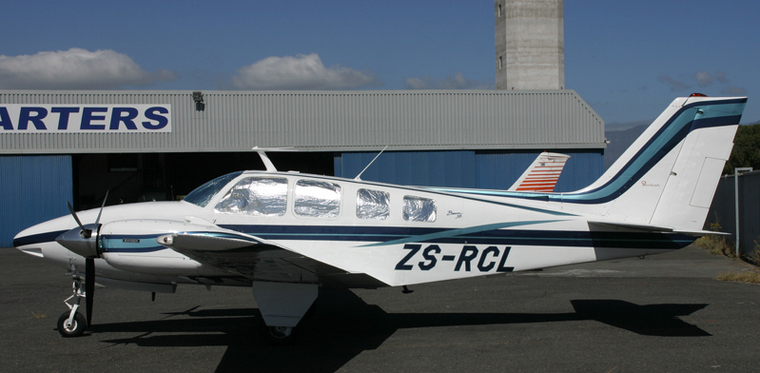 Most of us like chicken and this Beech Baron 58 belonged to Rainbow Chicken Ltd, one of the largest chicken farming companies in the country. She was used for trips to the various farms around the country and was a very busy aircraft. Initially based at Rand, the company moved the aircraft to Central in 1979. I don't know who owns her now but she is still around.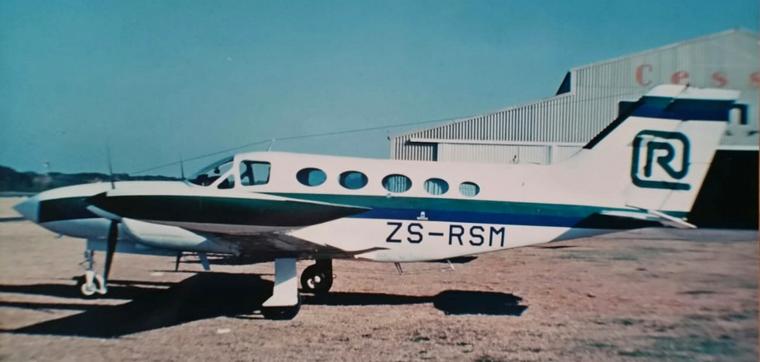 This Cessna 421 Golden Eagle was the flagship of the Rennies fleet when I joined Grand Central and could be seen out and about almost every day going to various faraway places where the pressurisation of the aircraft could be used to the advantage of the passengers. She was usually flown by Eugene de Villiers. Eugene moved on to fly the Aero Commander ZS-GKR for Grinair. He eventually was forced to give up flying when back problems put paid to his flying career. I've lost contact with him completely.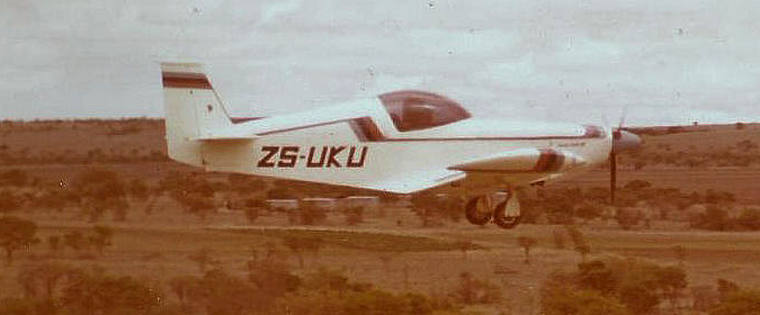 This was the first KR2 that I ever saw and she belonged to Sakkie Halgren. Despite him asking me a few times, I never got to fly with him. I regret that now as Sakkie was killed flying another KR2 at Lanseria. As we all know, Neville Ferreira was killed flying this aircraft at Kitty Hawk on 28 October 2021.
This little Auster J2 Arrow appeared very quietly one day in 1983 from Rand Airport where she'd been assembled after import. Dave Dickens was her owner and he'd brought her with him from Kenya. She was originally registered in Uganda and then Kenya. For the purposes of exporting her from East Africa, she was registered in the UK. This was necessary because trade between East Africa and South Africa wasn't allowed due to apartheid.
Dave was a very quiet gentleman and he enjoyed his little Auster to the full. He eventually sold her on and the aircraft now lives at Wings Park in East London.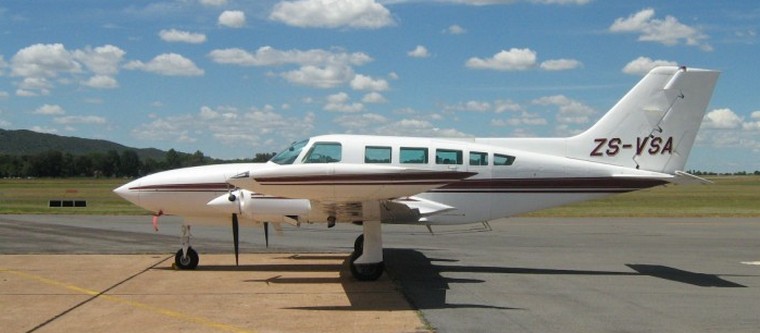 This Cessna 402B was actually based at Virginia, but may as well have been based to GC as she was there at least two to three times a week. She belonged to a company Vavasseur who were based in Durban, but the aircraft was also used on charters. The pilot was a gentleman called Christopher Godfrey who used to visit me regularly in "the box". He now lives in America and is an active member of Avcom.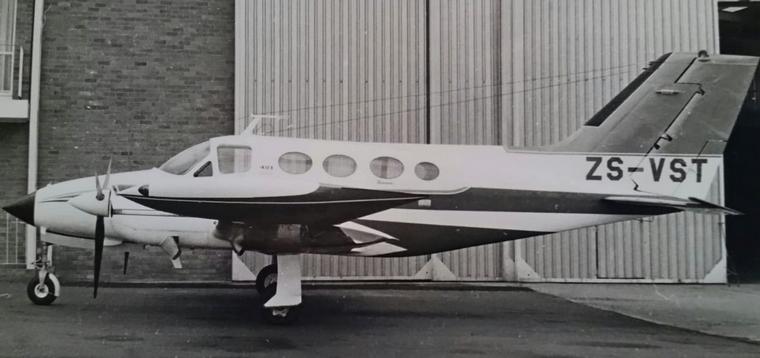 This is another Cessna 421 who was a regular visitor. She belonged to the Meat Board (or Vleis Sentraal hence the registration). For the life of me I can't remember what the pilots name was, but he always dressed in a suit, collar and tie and, once out of the aircraft, with his hat on, looked like a member of the Nationalist Party Government. He was always prim and proper with his radio work too. Never a wasted word. He would land from Rand Airport and park right in front of the clubhouse entrance gate, load or off load his pax and depart - very efficiently.
Till next year - keep youselves safe.





Google Banner Ad



PLEASE GO TO
www.youtube.com/channel/UCCuRVZAGodT6sztTeXBGeMw
and subscribe to our YouTube channel