Compiled by Willie Bodenstein



Google Banner Ad



THIS WEEK IN MIDWEEK UPDATE

60 Squadron still active as VVIP transport unit.
SAAF Museum flying training days back.
Cirrus Aircraft reveals the 2022 G6 SR series.
BAE Systems and Embraer to explore potential defence variants for the Eve eVTOL aircraft.
Leonardo US Department of Défense exercises options for 36 TH-73A helicopters.
Boeing expands partnerships with German Industry on F/A-18 Super Hornet and EA-18G Growler.
Daher's multi-mission Kodiak 100 aircraft will deploy paratroopers to test military parachutes for France's defence procurement agency.
Jubilee delivery of 10th Diamond to DEA Specialised Airborne Operations.
Bell delivers Huey II to Bosnia and Herzegovina.
Worldwide incidents and accidents
This week in history, a B-52 Stratofortress is flown from Okinawa to Madrid, establishing a new distance record of 12,532 miles (20,168 km).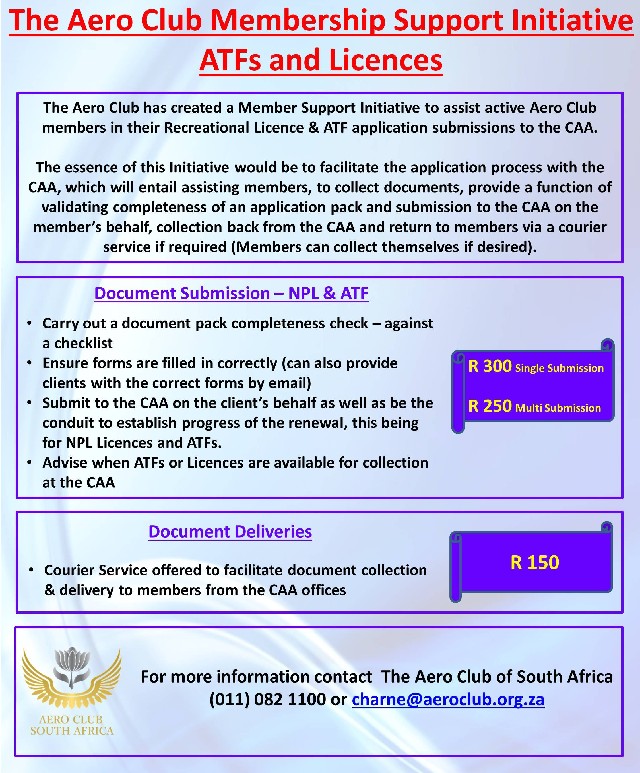 THE AER0 CLUB'S YEARBOOK IS NOW ON SALE

WWW.AEROCLUB.ORG.ZA/SHOP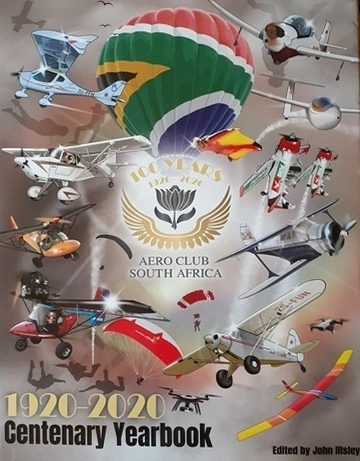 22 and 23
SAC Gauteng Regionals venue TBA. Contact Annie Boon on E-mail: chunge@mweb.co.za

29
SAPFA Rand Airport Challenge - Rand Airport. Contact Frank Eckard on E-mail: frank.eckard@mweb.co.za or Cell: 083 269 1516

29
SAPFA AGM at Rand Airport at 14h00. Contact Rob Jonkers on E-mail: rob@aerosud.co.za or Cell: 082 804 7032

29
On Saturday 29 January 2022, Pylon Racing South Africa will be hosting the Summer Races event at RMAC in the South of Johannesburg. Come and join us for an adrenaline filled action packed day with high-speed racing fun.

26 & 27
SAC North-West Regionals at Klerksdorp airfield. Contact Annie Boon: E-mail: chunge@mweb.co.za







4
SAAF Prestige Day. AFB Swartkops.

12
SAPFA Committee Bosberaad. Venue TBA. Contact Rob Jonkers e-mail: rob@aerosud.co.za cell: 082 804 7032

26 & 27
SAC North-West Regionals venue Klerksdorp airfield. Contact Annie Boon: E-mail: chunge@mweb.co.za







5
SAPFA Speed Rally at Witbank airfield. Contact David le Roux on E-Email: david@pilotinsure.co.za Cell: 073 338 5200

18 to 20
SAPFA Rally training weekend Brits Airfield. Contact Tarryn Myburgh E-Mail: tarrynorford@gmail.com or Cell: 074 182 3589

26
Stellenbosch Airshow. Contact Anton Theart on E-mail: gm@stelfly.co.za







60 SQUADRON STILL ACTIVE AS VVIP TRANSPORT UNIT

Written by defenceWeb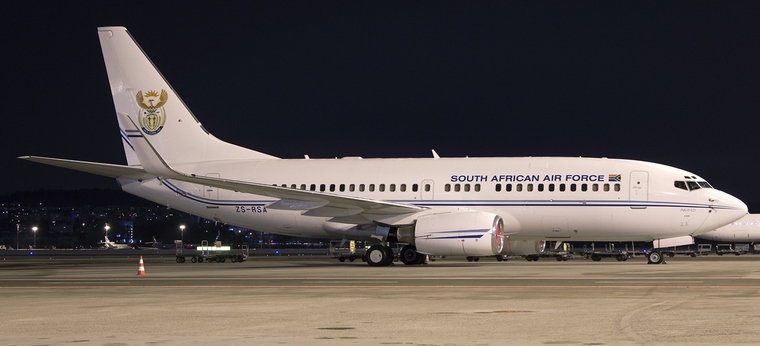 The AFB Waterkloof-based squadron was unofficially listed and known as the SAAF's sole heavy transport unit, a title it unofficially still holds. SAAF management planning in the early 2000s was for the squadron to operate Airbus A400M transports, eight of which were ordered by three government departments - Defence, Public Enterprises and Trade and Industry (Now Trade, Industry and Competition) in 2004.

That acquisition was canned by then Minister of Defence and Military Veterans Lindiwe Sisulu in 2009 following what was termed "challenges in delivery". South Africa's withdrawal from the A400M programme means the SAAF today still has as its major transport a handful of ageing C-130BZ Hercules and not the new generation Atlas airlifters using 60 Squadron hangar space on the southern side of the Centurion air force base.
While there was no official word on 60 Squadron as an active unit, military aviation enthusiast extraordinaire Dean Wingrin explained de-activation can only happen with ministerial approval (currently Thandi Modise).
"Once done, it is doubtful, given current circumstances the SAAF will receive approval to stand up a new squadron, should it be required. It's easier to keep the squadron in limbo for future requirements or acquisitions," he told defenceWeb adding tongue in cheek "one lives in hope".
This he sees as explaining the appointment of Colonel G Duvenage as new squadron officer commanding to replace Colonel NA Adams in July.
The Squadron's current duty is VVIP (Very, Very Important Persons) tasking and management. This was previously an Air Force Command Post (AFCP) duty for VIP aircraft operated by 21 Squadron, also at AFB Waterkloof.
According to Darren Olivier, Director at African Defence Review, 60 Squadron is currently used to house the VVIP Unit. During the era of former President Jacob Zuma, the demands from the Presidency and other government departments for VVIP flight planning, tasking, management and monitoring became ever more onerous and outgrew capacity at the Air Force Command Post so a mini-Command Post dedicated to VVIP flights was set up with a small staff complement. The new entity was created out of the shell of 60 Squadron.
The Air Force Command Post is meant to handle VVIP flight planning, tasking and management for SAAF flights, but VVIP was split off. Olivier believes this was because it was spending so much time and effort managing short notice VVIP flights that it had to downscale its support for core missions like search and rescue, training etc.
"The SAAF decided to set up a VVIP command post to handle the load…The VVIP Unit should have been officially created as a new unit with defined posts in the force structure, which would have required ministerial approval. Instead, it was decided to reuse some posts allocated to 60 Squadron, in limbo since the A400M cancellation.
"Whatever the reason, this unplanned, ad hoc structure that should not have existed in the first place has continued up until the present day and now has a new Officer Commanding. The root cause problems of the way we handle VVIP flying have not been resolved but carried over," Olivier stated.
60 Squadron was based at AFB Waterkloof in July 1986 following reforming. It operated modified Boeing 707s for air-to-air refuelling, electronic (EW) and intelligence (ELINT) tasks. The aircraft were later used for passenger transport, cargo and SAR (search and rescue). The last 707 operational flight undertaken by the squadron was to Bujumbura, Kinshasa and Kindu in July 2007.

SAAF MUSEUM FLYING TRAINING DAYS BACK
Written by defenceWeb



Military aviation enthusiasts and photographers can again access their monthly fix in the form of SA Air Force (SAAF) Museum flying training days on the first Saturday of every month.

The relaxation of lockdown regulations to prevent the spread of COVID-19 to what Co-operative Governance and Traditional Affairs (COGTA) Minister Nkosazana Dlamini-Zuma terms "adjusted level one" means the Valhalla, home of historic military aviation, will again open its gates to allow enthusiasts to see aircraft in flight.
"If the lockdown restrictions remain as they are at present, Museum flying training will take place on 5 February," Major Ntokozo Ntshangase told defenceWeb on Friday, 14 January.
"As always with flying training, aviation enthusiasts and photographers are welcome."
The Swartkop museum, along with satellites at Air Force Station (AFS) Port Elizabeth and Air Force Base (AFB) Ysterplaat, are open Monday to Friday from 08h00 to 15h00. No groups are allowed currently as a further preventative measure against the spread of COVID-19.
While the once-a-month fix of seeing vintage military aircraft in flight and close up on the ground is - as of now - confirmed, the same cannot yet be said of the Museum's annual air show.
The show, usually staged in May, is a major contributor to SAAF Museum funds and attracts around twenty thousand people.
COVID-19 and its associated, sometimes draconian regulations, put paid to the Swartkop air force base hosting the Museum air show last year and in 2020. Ntshangase said: "At this stage, September is a possibility, but 'possibility' has to be stressed".
Google Block Ad
SAAF Museum aircraft could be out in force for the SAAF's upcoming Prestige Day, with a notice to airmen warning of SAAF Prestige Day flying activity between 31 January and 4 February. The day is held on the Friday closest to 1 February - the SAAF was officially founded on 1 February 1920.
A contributor to a South African aviation forum is of the opinion the country "is probably a few years away" from air shows regaining their previous popularity.
"Planning big events for the next 12 months will be a risky proposition. On the other hand, I think we are all suffering pandemic fatigue and enough people just don't care about COVID-19 any more so an air show will still have moderate attendance. I think any air shows this year will have enough attendance to count as a success but won't break records," is his observation.
www.defenceweb.co.za



CIRRUS AIRCRAFT REVEALS THE 2022 G6 SR SERIES



Cirrus Aircraft has revealed the 2022 G6 SR Series featuring a refined aircraft design with reduced drag for increased fuel efficiency, Cirrus IQ™ mobile app updates and the freedom to pair premium Xi aesthetic options. The 2022 G6 SR reaches all new levels of sophistication, performance and customer convenience.

"The model year 2022 G6 SR is refreshed to seamlessly sync with your life - taking you further, keeping you connected and distinguishing your style in the air and on the ramp. This latest update to the G6 embodies our passion for continued innovation and commitment to design," said Ivy McIver, Director of the SR Series Product Line. "We are excited to continue introducing more people to personal aviation and empowering their Cirrus Life story."
Now in its sixth generation with over 8,000 aircraft delivered, the SR Series leads the market as the best-selling, high-performance, single-engine piston aircraft for 20 years in a row and provides seamless luxury, exceptional performance, intelligent connectivity and unparalleled safety features.
The 2022 model year G6 SR is the fastest to date featuring sleeker wing and tail surfaces and redesigned wheel pants, resulting in true airspeeds of up to 9 knots faster. The new model's ice panel transition seams are smoothed and wheel pant tolerances tightened to reduce drag. These aerodynamic refinements contribute to both reduced fuel consumption and faster flight segments.
Luggage compartment access becomes easier with the new remote unlock capability and keyless entry. Lock and unlock the baggage door with the key fob, then the door can be easily opened with the push of a button. The door opens past 90 degrees, stays open during loading and has been redesigned to feature a deeper pocket that can easily accommodate two quarts of oil.
With safety in mind, the G6 SR features Cirrus Aircraft Spectra™ illuminated steps offering better step and ground visibility for a more secure entry and exit during dark or low light conditions. The Cirrus 'puddle light' logo projected onto the ramp adds an extra touch of style.
Google Banner Ad
Additionally, a new, multi-functional USB panel features both USB-A and USB-C ports keeping mobile devices such as phones or laptops charged throughout the trip.
New for 2022, Cirrus IQ enhances aircraft connectivity providing increased insight. The Cirrus IQ status screen is redesigned to include aircraft model designation along with a new navigation bar featuring aircraft status, inspection intervals and warranty expiration.
"Since the Xi program's inception in 2009, we have carefully curated an exclusive experience that leverages leading-edge technology, our world-class engineering team and a dedicated Xi Design Studio to build your one-of-a-kind dream Cirrus aircraft," said Alex Alequin, Director of Design. "We are excited to release the luxuriously bold collection of exterior colours and premium leather interior options in order to create an aircraft that truly echoes your style."



BAE SYSTEMS AND EMBRAER TO EXPLORE POTENTIAL DEFENCE VARIANTS FOR THE EVE EVTOL AIRCRAFT



BAE Systems and Embraer Defence & Security have announced plans to embark on a joint study to explore the development of Eve's electric Vertical Take-Off and Landing (eVTOL) vehicle for the defence and security market.

The joint study builds on Eve's development for the urban air mobility market and will look at how the aircraft could provide cost-effective, sustainable and adaptable capability as a defence variant.
Engineers from BAE Systems' Air sector in Lancashire, UK, will work together with the Embraer Defence & Security team based at São José dos Campos, in Brazil to explore how a defence variant could be used for a range of applications such as personnel transportation, surveillance and reconnaissance, disaster relief and humanitarian response.
Eve's eVTOL could help to transform defence operations, while reducing their environmental impact - at a much lower operating cost than today's platforms.
"This collaboration with one of the leading defence companies in the world on this exciting and game-changing technology is in line with our goal to establish strategic partnerships. We look forward to exploring more ways our two organisations can work together and benefit from those rich experiences and reputations. The collaboration allows us to tap into talent from across the globe in our shared interest to develop innovative and sustainable solutions for the skies," said Jackson Schneider, president and CEO, Embraer Defence & Security.
Ian Muldowney, Chief Operating Officer, BAE Systems Air sector, said: "Bringing together Embraer's innovative technology in the commercial sector with our extensive defence engineering and systems integration experience will help us to accelerate the pace of new innovations. This joint study is a great example of how we're delivering against our commitment to collaborate to explore new and sustainable technologies for our customers."
The all-electric aircraft is part of Embraer's commitment towards more sustainable aviation and has come out of Eve, an independent company dedicated to accelerating the global Urban Air Mobility (UAM) ecosystem. The joint study directly supports BAE Systems' strategy to accelerate sustainable technology development through increased investment in research and development, as well as working with industry partners, SMEs and academia.

LEONARDO US DEPARTMENT OF DEFENSE EXERCISES OPTIONS FOR 36 TH-73A HELICOPTERS



Leonardo welcomes the announcement made by the U.S. Department of Defence to award AgustaWestland Philadelphia Corp. a $159.4 million USD firm-fixed price modification to the previously awarded contract for the U.S. Navy's Advanced Helicopter Training System. This modification exercises options for the production and delivery of 36 TH-73A helicopters Lot III and initial spares.

In January 2020 Leonardo, through AgustaWestland Philadelphia Corp., was awarded a firm-fixed-price contract valued at $176 million for the production and delivery of an initial 32 TH-73A helicopters, along with spares, support, dedicated equipment as well as specific pilot and maintenance training services. In November 2020, the second lot of aircraft were ordered through a $171 million contract modification, an additional 36. The lot III brings the total number of aircraft on order to 104. The total requirement is for 130 aircraft. The TH-73A will be used to train the next generation of student aviators from the U.S. Navy, Marine Corps and Coast Guard and is only made at Leonardo's FAA-certified Part 21 Production Line in Philadelphia, PA.

BOEING EXPANDS PARTNERSHIPS WITH GERMAN INDUSTRY ON F/A-18 SUPER HORNET AND EA-18G GROWLER



Boeing [NYSE: BA] recently announced the expansion of its industrial partnership strategy in Germany in support of the F/A-18 Super Hornet and EA-18G Growler offering to the Bundeswehr. A Request for Information (RFI) was issued to more than 10 German companies to solicit bids.

German industry partners will play a significant role in providing support equipment, logistics and overall maintenance, parts, local sustainment programs, training, and other relevant repair and overhaul solutions for Germany's potential Super Hornet and Growler fleet. German industry will also have the opportunity to participate in the development of the Next Generation Jammer for the EA-18G Growler.
The RFIs are the first step towards in-country sustainment worth approximately $4 billion USD/ €3.5 billion over the lifecycle of the programs and will contribute additional economic opportunity and value to the German economy as the programs evolve.
"Germany is home to outstanding aerospace expertise and innovation and we look forward to expanding our partnerships locally for Germany's F/A-18 Super Hornet and EA-18G Growler fleet," said Dr. Michael Haidinger, president of Boeing Germany, Central and Eastern Europe, Benelux and the Nordics. "With this partner expansion strategy, we are laying the foundation for new business opportunities for German industry champions, high-skilled new jobs and long-term economic growth."
The F/A-18 Super Hornet Block III provides advanced, proven capabilities, as well as low life-cycle and acquisition costs ideally suited to meet Germany's fighter requirements, including the dual capable commitments to NATO.
With the lowest operating costs of all U.S. tactical aircraft in production ($19,500 USD / €17,000 per flight hour, source: U.S. DoD Special Acquisition Report), combined with low procurement costs, the Super Hornet saves billions of dollars/Euros over its entire service life of +10,000 flight hours. This makes the Super Hornet the most cost-effective solution for the German Luftwaffe.
The EA-18G Growler provides full spectrum protection, jamming radars and disrupting communications, and the combination of Super Hornet Block III and EA-18G Growler will give the Luftwaffe unmatched capability in both air-to-air and surface-to-air missions. This has been demonstrated the last fifteen years, as the EA-18G Growler has spanned the globe in support of all major and rapid reaction actions. Five EA-18G Growler Squadrons uniquely support the US Air Force and US Navy operations.

DAHER'S MULTI-MISSION KODIAK 100 AIRCRAFT WILL DEPLOY PARATROOPERS TO TEST MILITARY PARACHUTES FOR FRANCE'S DEFENCE PROCUREMENT AGENCY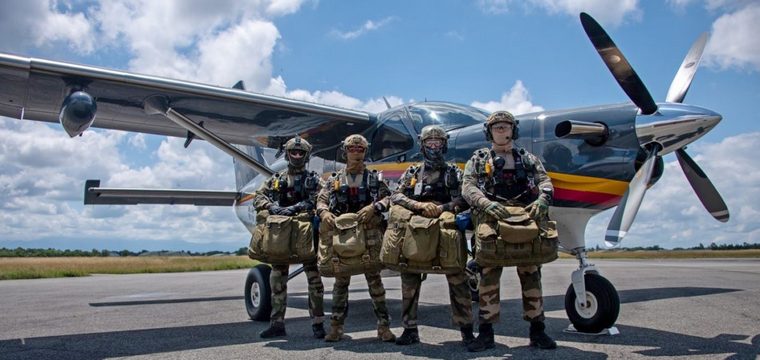 Héli-Béarn, the first operator of Daher's Kodiak 100 multi-mission aircraft in France, has been contracted by the country's defence procurement agency to perform paratroop drops that will test and validate parachute systems for the French armed forces.

This contract was awarded by the aeronautical techniques expert centre of France's General Directorate of Armament (DGA-AT) and it covers the rental of a Héli-Béarn Kodiak 100 for a period of five years at the rate of 200 flight hours annually.
"The contract acknowledges our Kodiak 100's multi-mission efficiency and performance, as well as the quality of Héli-Béarn's flight operations. It also represents another DGA recognition of Daher's products and services. We have performed operational support maintenance for the DGA's TBM 700 very fast aircraft during nearly 30 years, along with avionics modernization on its helicopters. More recently, the DGA ordered a fleet of four new TBM 940s for its support and training missions - with all of these aircraft now delivered." Nicolas Chabbert, The senior vice president of Daher's Aircraft Division.
Héli-Béarn operates two Kodiak 100s, both of which entered service with the company earlier this year in southwestern France. One of them is equipped for the deployment of paratroopers, and it already has logged nearly 200 flight hours while performing some 600 rotations for civilian skydiving centres in France.
The Héli-Béarn Kodiak 100 also has welcomed students from the French military's School of Airborne Troops (ETAP), which trains paratroopers for the country's armed forces and its Gendarmerie national police force.
Based at Pau-Pyrenees airport, Héli-Béarn performs transportation and aerial work with both fixed-wing airplanes and helicopters, while also providing aviation maintenance, training and consulting services.
Daher's Kodiak 100 is utilized for special missions worldwide, benefitting from the airplane's ability to operate from uneven and unimproved runways, as well as on water with floats. In the paradrop configuration, the Kodiak 100 can be equipped with a sliding door and accommodates up to 15 paratroops/skydivers.

JUBILEE DELIVERY OF 10TH DIAMOND TO DEA SPECIALISED AIRBORNE OPERATIONS

The DEA recently took delivery of another DA62 MPP, the 10th addition to their ever-growing fleet of Diamonds. With this latest expansion of their special mission aircraft fleet, DEA reassures their standing as the largest MPP operator in Europe.

The new aircraft is in a maritime patrol configuration, equipped with a state-of-the-art EO/IR camera, maritime radar, AIS receiver, marine band radio, SIGINT system and a Beyond Line-of-Sight datalink.
For the installation of the radar, a new radar pod had to be designed and developed, and as a result the BR-700 (Belly Radome 700mm) pod has been certified. This new pod combines both aerodynamic as well as radar specific requirements.

With the competence of designing and certifying a new pod from scratch in parallel to the normal program schedule, Diamond's Special Mission Aircraft Division demonstrated once more their market leading capability as a provider of turn-key special mission aircraft.
"Working with DEA, a long-term customer, is already a very lean and streamlined process and after all the years, it has become more than just a business relationship between the teams, which creates a very pleasant working atmosphere. Besides that, the fact that DEA got their 10th aircraft from us, sends a strong message to the industry that our special mission platforms are the best in class," said Mario Spiegel, Sales Manager, Special Mission Aircraft Division at Diamond Aircraft Austria.
"It is so impressive to see how fast both companies developed over more than ten years of successful cooperation in this extraordinary business field. As DEA was one of my first customers to look after here at Diamond, I feel even more proud to have the chance to be a part of this success story so far and I cannot wait to see where we are in the next ten years. For us as aircraft manufacturers, it also important to have partners like DEA where we work close together in regard to product development and straight feedback from the market - seems to be a perfect business symbiosis which developed under pressure of the customer's requirements," says Markus Fischer, Director, Special Mission Aircraft Division at Diamond Aircraft Austria.
"DEA continues to go from strength to strength and our relationship with the team at Diamond has a large part to play in our success. Working closely together we have developed a range of pods and sensors that can be fitted to our multi-mission aircraft and this delivery of our latest DA62 MPP and larger BR-700 belly radome is just one example. Our customers now benefit from an even broader range of sensor suites whilst continuing to realise the benefits of this modern, reliable and environmentally friendly aircraft," says Dicky Patounas, Director Business Development, DEA.

BELL DELIVERS HUEY II TO BOSNIA AND HERZEGOVINA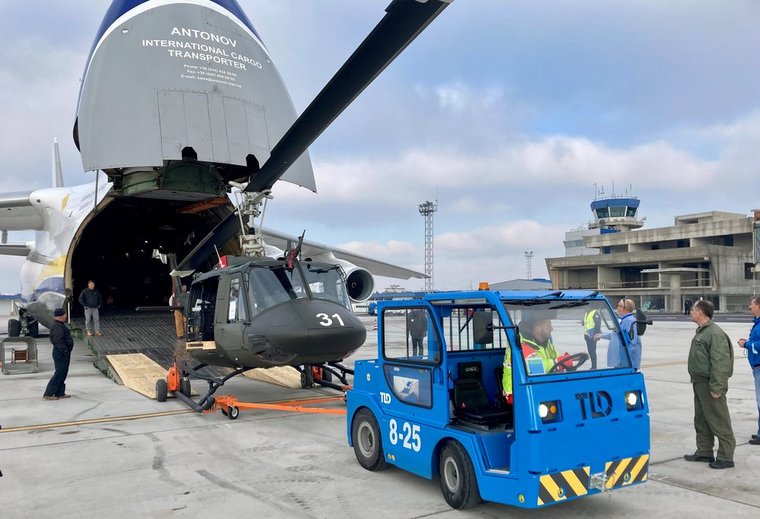 Bell Textron Inc., a Textron Inc. (NYSE: TXT) company has announced the delivery of four Bell Huey II aircraft to the Armed Forces of Bosnia and Herzegovina (AFBiH). The aircraft are part of a Foreign Military Sale signed in December 2019.

The Huey II worldwide fleet of more than 300 aircraft have a combined 1.2 million flight hours. Prior to the delivery, members of the AFBiH Air Force and Air Défense Brigade completed adaptation training at the Bell Training Academy in Fort Worth, Texas.
"We are very pleased and honoured to be able to deliver these very versatile helicopters to the Armed Forces of Bosnia Herzegovina." said Clay Bridges, regional sales manager, Bell. "The Huey IIs will enhance the Bosnia and Herzegovina's ability to perform search and rescue, firefighting and many other missions. Here and throughout the region, we are seeing the need for helicopters grow."




UAE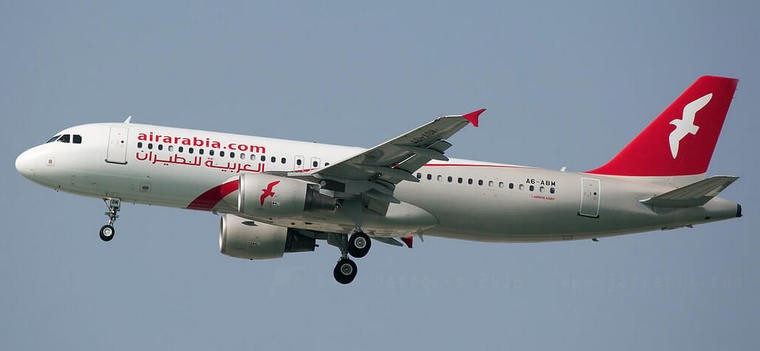 Air Arabia flight ABY111, an Airbus A320, took off from the wrong runway at Sharjah Airport, UAE.

There were 42 passengers and six crew members on board. The co-pilot, under training, was the pilot flying (PF) and occupied the right cockpit seat. The commander on the flight was a training captain and occupied the left seat.
As part of the co-pilot's training, the commander had briefed that a rolling take-off would be conducted. The responsibility for engine start was the commanders. The co-pilot taxied the aircraft whereas the commander was on the radio communications.
Tower air traffic control gave clearance for an intersection take-off from taxiway Bravo 14 for runway 30, which required a left turn for the correct runway. Thereafter, the before take-off checklist 'below the line' items were completed by the flight crew.
Instead of steering the aircraft left following runway 30 lead-on lines from Bravo 14 intersection, the co-pilot steered the aircraft right for runway 12. The co-pilot called out that RWY was not showing on the flight mode annunciation (FMA) after the thrust levers were moved to the FLX/MCT detent. As the aircraft accelerated through 57 knots, the commander realized that the aircraft was on the wrong runway and immediately took over control.
His decision to continue the take-off was based on his perception that there was insufficient available runway for rejecting the take-off. The commander advanced the thrust levers to TOGA detent and nine seconds after, changed the aircraft flap setting from 1+F to flap 2 position. The aircraft lifted off 20 to 40 meters beyond the end of runway 12. No. 3 main wheel tire received cuts when it struck one approach light during the lift-off.
The tower controller did not detect that the aircraft had turned unto runway 12 and only noticed when the aircraft was about eight seconds before lift-off.
The commander handed over controls to the co-pilot and the flight continued uneventfully to the planned destination.

Causes:
The Air Accident Investigation Sector of United Arab Emirates (AAIS) determined that the cause of the runway confusion was the Co-pilot steering the aircraft right onto the wrong runway during a rolling take-off.
Entry to the wrong runway was due to degraded situation awareness of the aircraft direction by both flight crewmembers due to lack of external peripheral visual watch and runway confirmation.
Contributing factors to the Serious Incident:
A contributing factor to the incident was that the air traffic controller did not monitor the aircraft movement after take-off clearance was given.


Moçambique, east of Maputo International Airport: An Aerostar R40S Festival with two on board of the Mozambique Air Force crashed a few seconds after take-off from Maputo International Airport (MPM/FQMA) and crashed in the Mavalane B neighbourhood, east of the airport. Both crew members died in the crash and the aircraft was destroyed.
Belize, Machakilha, Toledo District, Grahem Creek area: A Beechcraft 200 Super King Air used in the transportation of drugs landed in Machakilha, Toledo District, Grahem Creek area in Belize. The aircraft was found burnt and no drugs were found at the scene.

Argentina, Santo Tomé del Puerto Airfield (LETP), Segovia: A Plan Nacional de Manejo del Fuego Air Tractor AT-602 crashed when taking off Santo Tomé Airfield (LETP), Segovia, after a technical malfunction. The pilot survived the crash, but was seriously injured and taken to a hospital. The aircraft was destroyed.
USA, Stinson Municipal Airport, San Antonio, TX: A North American AT-6C Texan with two occupants sustained damage subsequent to the collapse of the left main landing gear during landing at Stinson Municipal Airport (SSF/KSSF), San Antonio, Texas. The two occupants onboard the tailwheel equipped airplane were not injured during the incident.

USA, near Hana Airport, Hana, Maui, HI: A Flight Design CTLS wit two on board sustained substantial damage subsequent to impact with the terrain near Hana Airport (HNM/PHHN), Hana, Maui, Hawaii. The two occupants onboard the airplane received unspecified injuries.
USA, south of Larose, Lafourche Parish, LA: A Rotorcraft Leasing Corp Bell 407 with two occupants crashed in the of marshland of Pointe aux Chenes Wildlife Management Area, south of Larose, in Lafourche Parish, Louisiana. The helicopter was located mostly submerged in the marsh. The pilot and passenger were fatally injured in the crash and the helicopter was destroyed. The helicopter was returning to the RLC Patterson heliport at the Harry P. Williams Memorial Airport, Patterson, LA., from an offshore installation in the Gulf of Mexico.

USA, SE of Spanish Fork Municipal Airport/Woodhouse Field, UT: An amateur build Zenith CH 750 Cruzer sustained substantial damage subsequent to impact with industrial structure rooftop terrain Southeast of Spanish Fork Municipal Airport/Woodhouse Field (SPK /KSPK), Spanish Fork, Utah. The sole pilot onboard the experimental amateur built airplane received serious injuries.
Mexico, Terán AB (MMTB), Tuxtla Gutiérrez: A Mexican Air Force Beechcraft T-6C+ Texan II, operated by Escuadrón Aéreo 202, 2/o.Grupo Aereo, crash landed on the runway at Terán AB (MMTB), Tuxtla Gutiérrez. The pilot survived.

USA, Lake Murray, Gilbert, Lexington County, SC: A Cirrus SR22 operated by Ridgeland Partners LLC with two on board impacted the waters of Lake Murray in Gilbert, South Carolina following engine issues after which the pilot activated the Cirrus Airframe Parachute System (CAPS, pull #127). The two occupants onboard were not injured.
South Korea, Hwaseong, Gyeonggi Province: A Republic of Korea Air Force Northrop F-5E operated by 10th FW, crashed into a mountain in Hwaseong, Gyeonggi Province. The pilot did not survive.




10 JANUARY 1962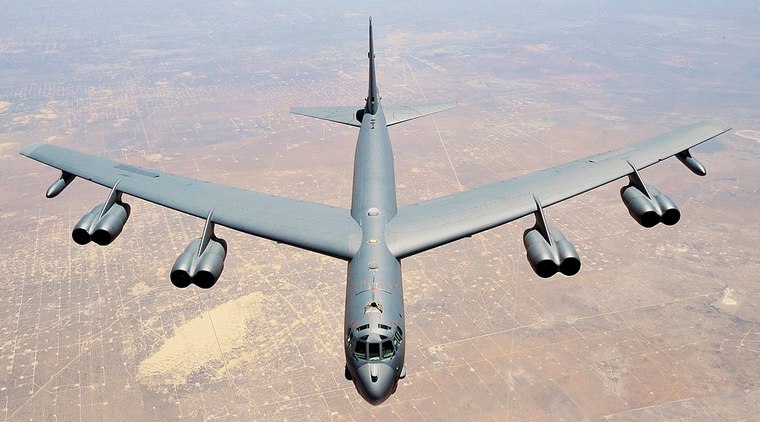 A B-52 Stratofortress is flown from Okinawa to Madrid, establishing a new distance record of 12,532 miles (20,168 km)


The Boeing B-52 Stratofortress is an American long-range, subsonic, jet-powered strategic bomber. The B-52 was designed and built by Boeing, which has continued to provide support and upgrades. The bomber is capable of carrying up to 70,000 pounds (32,000 kg) of weapons and has a typical combat range of more than 8,800 miles (14,080 km) without aerial refuelling.
The B-52 has been in service with the USAF since 1955. As of June 2019, there are 76 aircraft in inventory; 58 operated by active forces (2nd Bomb Wing and 5th Bomb Wing), 18 by reserve forces (307th Bomb Wing) and about 12 in long-term storage at the Davis-Monthan AFB Boneyard.
After being upgraded between 2013 and 2015, the last airplanes are expected to serve into the 2050s.






Google Banner Ad



PLEASE GO TO
www.youtube.com/channel/UCCuRVZAGodT6sztTeXBGeMw
and subscribe to our YouTube channel