30.01.2022



Google Banner Ad



Here we are - back again for another series of articles.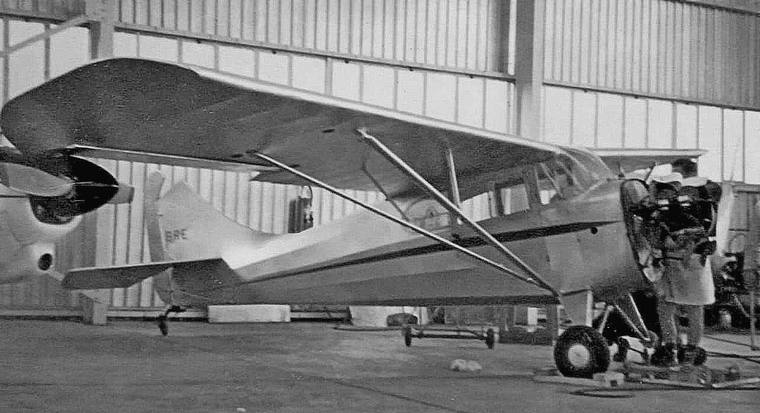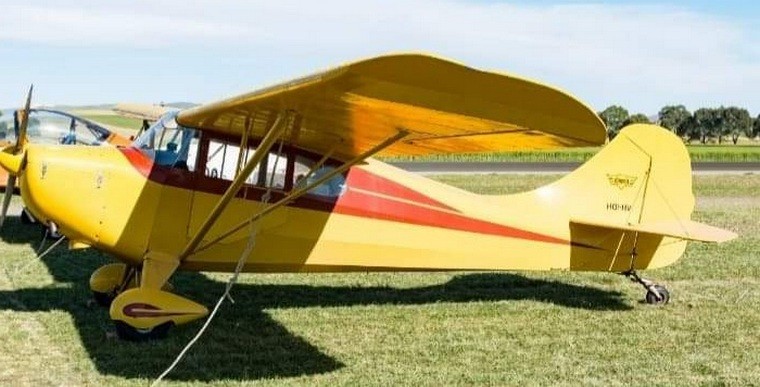 It's amazing how far
Pilots Post
and these articles go around the world. Last week I got a Facebook Messenger message from a person called Don and I didn't have a clue who he was. It turns out that he is the son of Ian Harvie, whose aircraft used to be based at Grand Central and who now lives in Australia. I remember him and his little brother running around the airfield.
I mentioned before that Ian had a Stinson (ZS-UKD) and an Aeronca Chief. This aircraft was ZS-BRE. Ian bought her from a gentleman in Namibia and flew her up to Grand Central. He then re-registered her in the old LS-1 category as ZS-ULS and started rebuilding her. She never got to fly with this registration, as she was loaded into a container with the Stinson and shipped to Australia before the rebuild was completed. This aircraft is now flying in Australia and Ian shares it with Don. Ian's other son, Andrew, became a horticulturalist and didn't learn to fly.
Google Banner Ad
Just as a matter of interest, the Stinson is now being rebuilt for the second time as Ian says she needed it as she was getting old.
I did lots of flights with Ian in the Stinson and thoroughly enjoyed her. In a previous article I mentioned a trip to the Ranch Motel - this was a really memorable one.
At one stage, I bought myself a Suzuki 50cc bike to ride to work and back, but this darned thing gave endless trouble. Ian said he could solve the problems, so I took it to his house. Next thing I knew the boys were riding it around the plot. By that stage I'd lost interest in it so I gave it to them.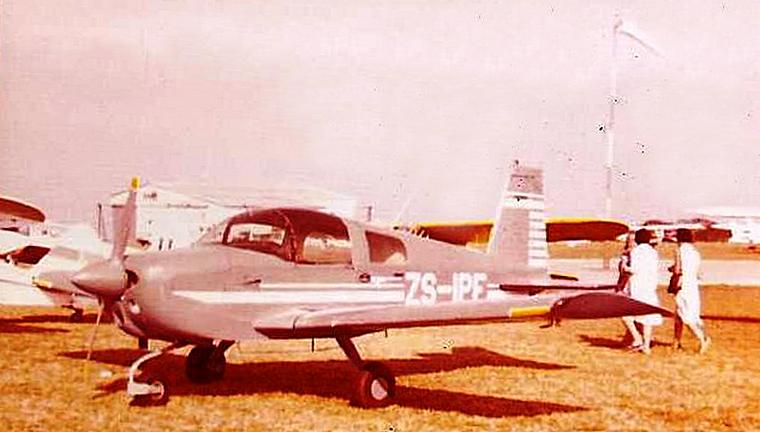 Weef de Beer, who was the engineer in charge of the Escom fleet at Grand Central decided that he liked the Grumman AA series of aircraft and became their agent here in South Africa. The first ones that arrived were the Grumman AA1 Trainers ZS-IPF and ZS-IPG which arrived in 1972. The first one I ever saw was ZS-IPF when it came to Central on a demo flight. Weef was hoping to sell her to the flying club to replace the Cessna 150s but the club wasn't interested. Weef continued to work for Escom at Grand Central and run the Grumman agency from Wonderboom but when the Aero Commander 690s arrived for Escom, he decided to concentrate on the Grummans and moved to Wonderboom permanently.
Later, ZS-IPF was bought by Stewart Wood and it was based at Grand Central. I somehow never got to fly in this aircraft, or any other Grumman for that matter, but I do believe they are delightful aircraft to fly.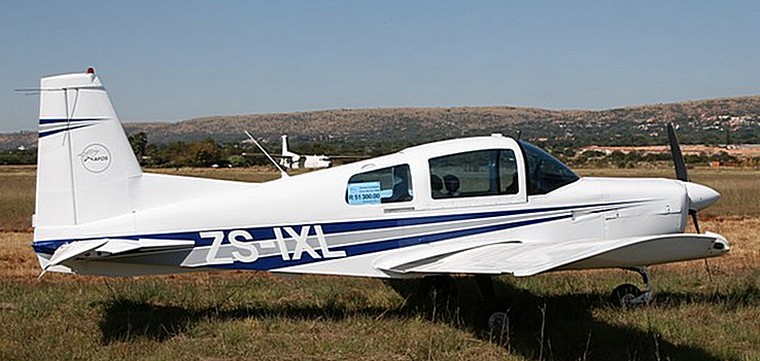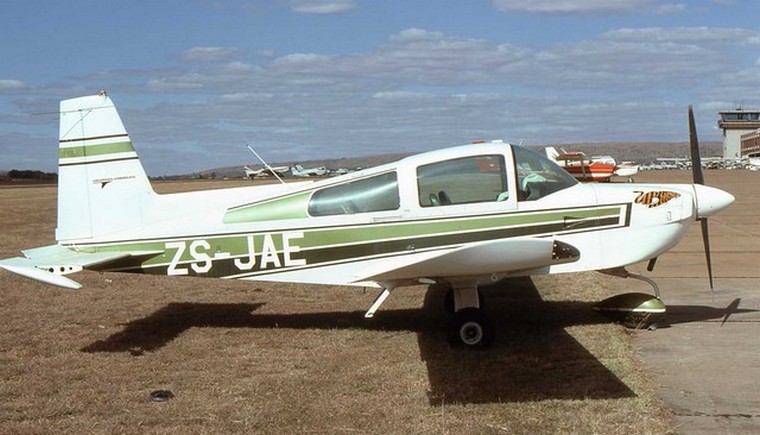 ZS - IXL was the first Grumman AA5 Traveller that I saw and I must admit I was suitably impressed. The other model in the range was the Grumman AA5B Tiger and this was the top of the range. ZS-JAD was the first one I saw, again on a demo flight. She however didn't end up living at Grand Central. As far as I can remember, no Grumman Tigers were based there but I'm open to correction.
When I joined Grand Central, Roger Lea was the boss man. He was one of the fairest people I have ever worked for. Roger's hobbies didn't stretch to flying but he did read up about flying extensively so that he could understand what people were talking about. His main hobby was exploring caves and he did this all over the world. Unfortunately, he developed Caves Disease (Histoplasmosis) which is a lung infection and which eventually killed him. He was in the UK when he was diagnosed with the disease and spent the rest of his time in the UK. I just wish I had a photo of him - can anybody help?
Google Block Ad
Justice Cecil Margo was a regular visitor to the flying club and it was very interesting to hear him talk about his war time adventures. During World War II, Cecil Margo completed three tours of duty, in the Middle East, North Africa and Europe, flying no fewer than 190 strike missions and eventually assuming command of the renowned 24 Bomber Squadron of the SAAF. During this time, he was awarded the Distinguished Service Order (DSO) by King George VI and the Distinguished Flying Cross (DFC). At the end of the war in Europe, he was chosen to lead a VE Day victory fly-past of 1,000 Allied aircraft over Austria. He was a great storyteller and could hold our interest for very long periods of time (and many beers). Justice Margo was the chairman of the commission of enquiry into the Helderberg disaster.
Thursday mornings at the airfield were always interesting as this was the day that the DCA flying inspectors were out and about doing IF renewals. One of the inspectors was Carl Sembach, who I'd met before while I worked at DCA head office. He always came up to the tower to say hello and spent a few minutes telling me who he was going to be flying with and in which aircraft. The other inspectors that were there regularly were Arthur Thomas, Mr Swanepoel (Swannie) - I can't for the life of me remember his first name, Jan van Niekerk and Robbie Robinson. Robbie initially joined Placo Grand Central as an instructor after his service in the SAAF. This was so that he could get used to the civvie way of doing things before joining DCA. Arthur Thomas's son Selwyn also did testing there but I never met him.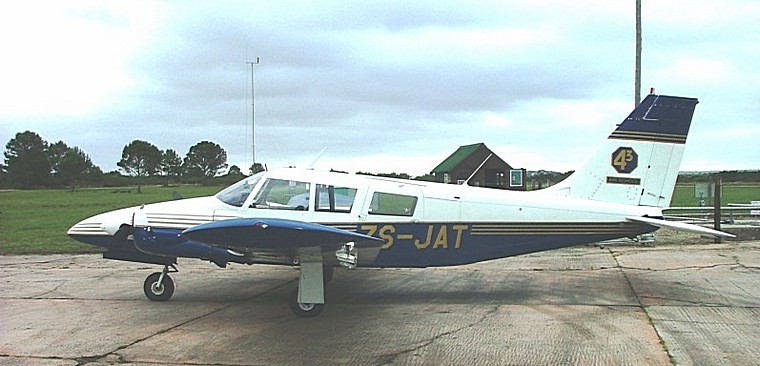 This was the first Seneca I ever flew in. She was a 1972 model and was the first one here in South Africa. She came to Grand Central in 1975 when Placo Grand Central needed a modern twin for twin conversions. Up to then they'd not had a twin on their training fleet and decided that this needed to be rectified. Alan Lurie and Freddie Smith were the main instructors on her. She was painted orange and white at that time but for some reason the orange had faded in patches and she looked decidedly second hand, but certainly did the job of twin training well.
Google Block Ad
I always did a runway inspection every morning before opening the tower and on a particular morning, after we'd had a heavy thunderstorm the night before, I noticed that sand had washed away next to the taxiway from Rwy 17 to the apron just opposite the Escom hangar. Alan went out flying later in the morning before the airfield maintenance guys had had a chance to fix the problem and on return, unfortunately, although he knew about the wash away, the left main wheel ran off the edge of the taxiway and the prop hit the ground and was damaged. The insurance, initially, didn't want to pay because they reckoned that the airfield should have been closed until the repairs had been done, but this decision was overturned by the insurance Ombudsman and she was repaired.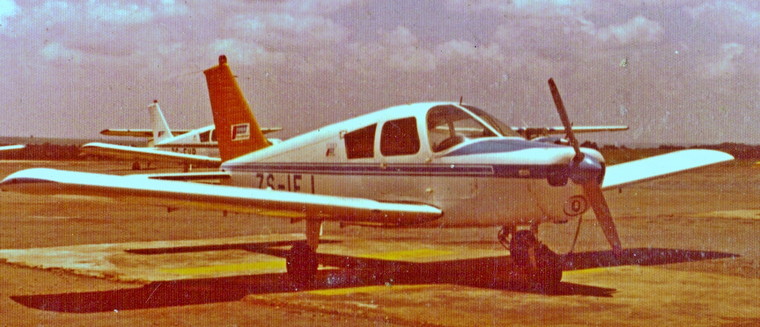 Another of the part time instructors was a British fellow called Steve de Reuck. He and I flew the Seneca into Jan Smuts to collect Roger Lea after one of his overseas trips. This was the first time I'd flown into FAJS in a light aircraft. We landed on Rwy 33 which used to run from the north side of the terminal to Atlas aircraft (Denel). Steve put her down very short and we were able to stop before crossing Rwy 03. After picking up Roger, we departed off Rwy 03 and it was amazing to see this vast runway in front of us, GC being a fairly narrow runway.
Steve was the instructor who later put one of the Cherokee 140s ZS-IEJ down on the main straight of Kyalami claiming that the engine was running rough. He didn't stay with us for long before going back to the UK.
That's all for now folks. See ya all next month.
If anybody wants to contact me with stories or info, please let me have an E-mail on xt6flyer@gmail.com





Google Banner Ad



PLEASE GO TO
www.youtube.com/channel/UCCuRVZAGodT6sztTeXBGeMw
and subscribe to our YouTube channel