30.01.2022



Google Banner Ad





The first pylon races in history took place on a circuit in 1909 at the Reims Air Meet in France. Today, only one of this type of aviation racing still survive; the STIHL National Championship Air Races, a multi-day event tailored to the aviation community that takes place each September at the Reno Stead Airport a few miles north of Reno, Nevada in the USA.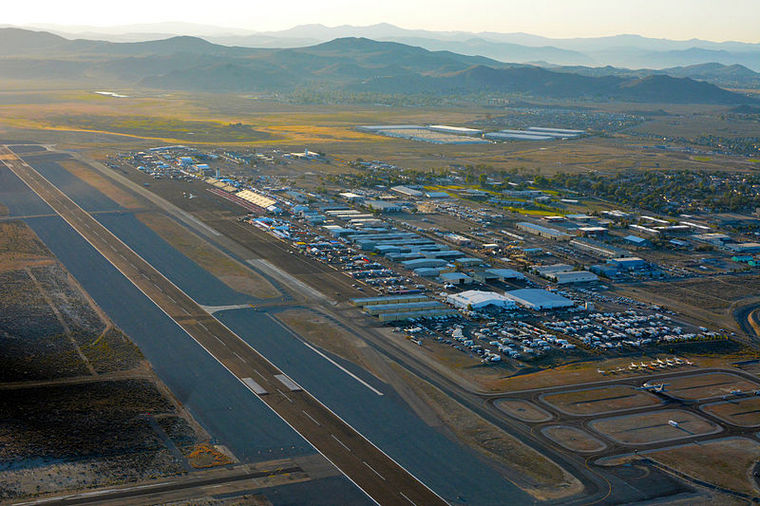 Stead Reno Airport during the 2014 Stihl Reno Air Races. Photo D Ramey Logan / commons.wikimedia.org

Carrying on the tradition of the Cleveland Air Races of the 1920s, 30s, and 40s, the first Reno Air Race was organised in 1964 by Bill Stead, a WWII veteran. The original first two races were held on a dirt strip outside Reno. In 1966, the Stead Air Force Base, named after Bill's brother Croston Stead, closed and was turned over for public use and the races moved to what then became the Stead Reno Airport.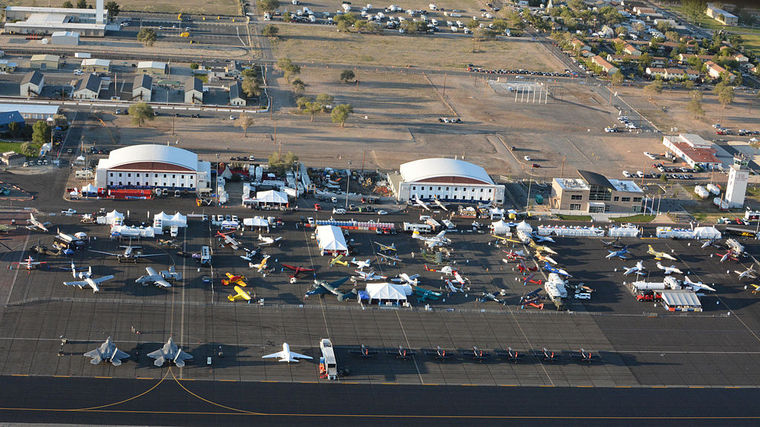 An ariel view of the static display at Stead Reno Airport during the Air Races. Photo D Ramey Logan / commons.wikimedia.org

The races have been held there since then and have become an institution for northern Nevada and aviation enthusiasts from around the world. The chief organizer is the Reno Air Racing Association (RARA).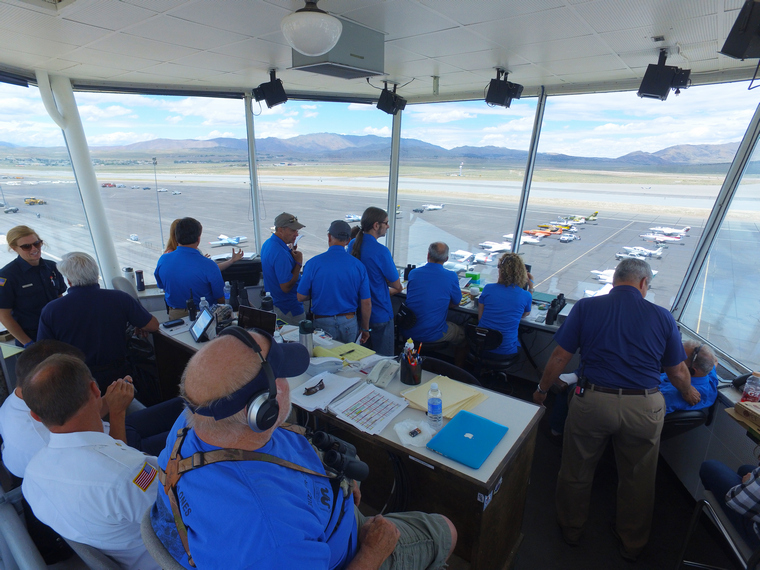 The control tower during the 2016 races. Photo by D Ramey Logan / commons.wikimedia.org

For one week, the Stead Reno Airport north of Reno becomes home to hundreds of aircraft, their pilots and crews. Over the past ten years, the event that features six racing classes, a large display of static aircraft with military and civil flight demonstrations has attracted more than one million spectators and generated more than $600 million for the region's economy.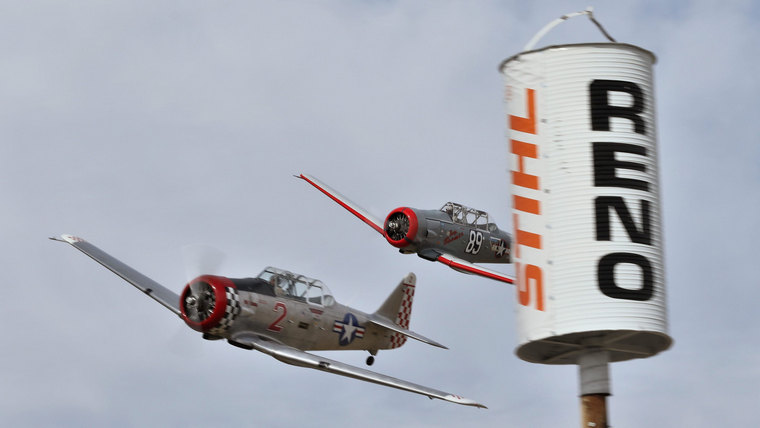 Two T6 North American Texans rounding a pylon. Photo www.aopa.org


The Air Races feature multi-lap, multi-aircraft races among extremely high-performance aircraft on closed ovoid courses which range between about 3 miles (4.8 km) (Biplanes and Formula One) and about 8 miles (13 km) (Jet, Unlimited) in length per lap.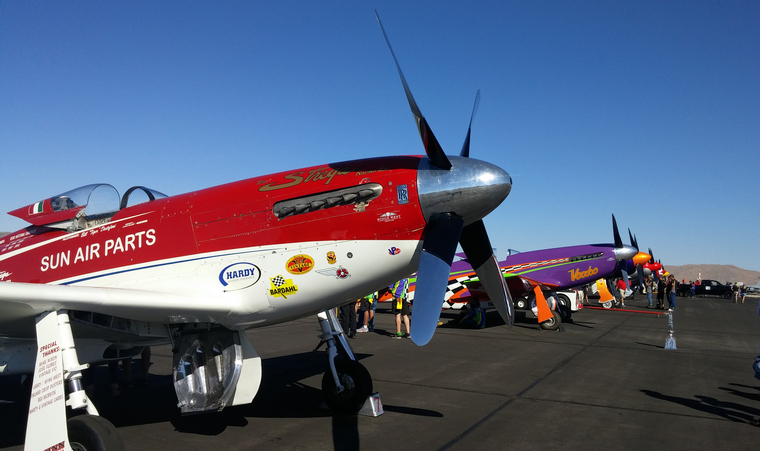 The Unlimited Gold line up at Reno 2015 Photo by D Ramey Logan / commons.wikimedia.org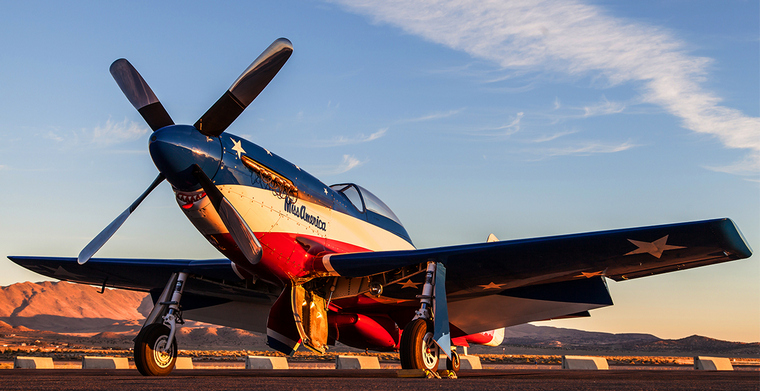 P47 Miss America at Reno 2015. www.airace.org


The six classes contested are: Unlimited, T-6, Biplane, Formula One, Sport and Jets. The recently added Sport Class racers, mostly homebuilt aircraft, reach speeds in excess of 400 mph (640 Km/h).

A L39 Aero Vodochody during the 2014 Races. Photo by D Ramey Logan / commons.wikimedia.org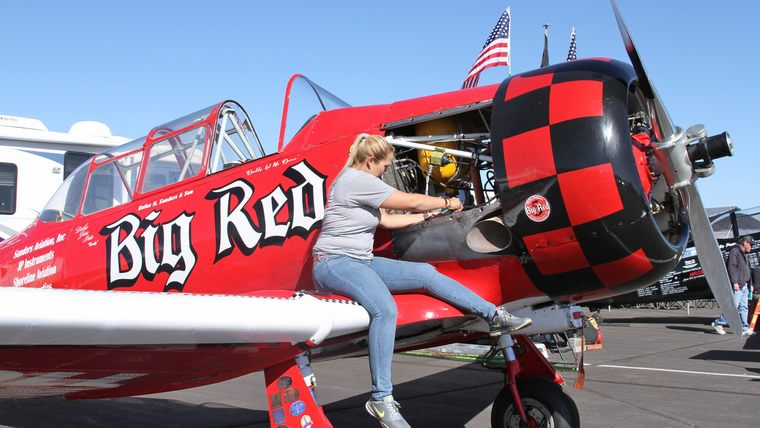 Texan Big Red receiving some tender love and care. Photo www.aopa.com

Aircraft in the Unlimited class, which consist almost entirely of both modified and stock World War II fighters, routinely reach speeds in excess of 400 miles per hour (640 Km/h). In 2003, Skip Holm piloted Terry Bland's modified P-51D Mustang, Dago Red reached an all-time Unlimited class speed record of 507.105 mph (811 Km/h) in a six-lap race around the eight-and-a-half-mile course.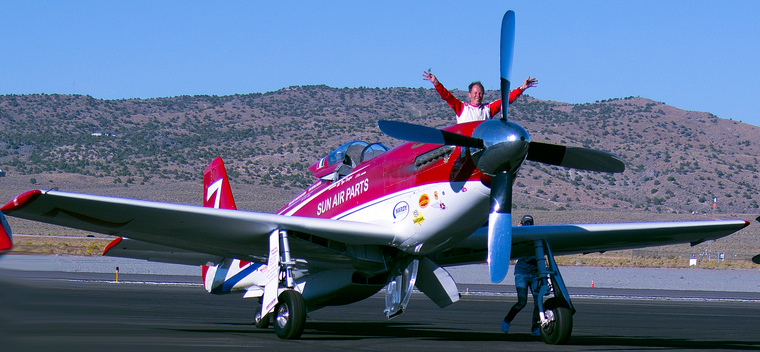 The highly modified P51 Mustang 'Strega' wins the 2015 Reno Air Races Photo by Photo by D Ramey Logan / commons.wikimedia.org



F8F-2 Bearcat Rare at the 2014 races. Photograph by D Ramey Logan / commons.wikimedia.org

The official speed record for a piston plane was held by a modified Grumman F8F Bearcat, the Rare Bear, with a speed of 528.315 mph (850.241 km/h) set on 21 August 1989. This record was retired as a new weight class-based system was introduced to allow more pilots to set new records across a wider range of aircraft. On 2 September 2017, Steve Hinton Jr, in a modified P-51 Mustang Voodoo set the new record of 531.53 mph (855.41 km/h) in the C-1e class (the same weight class Rare Bear would fall into). This record is also the fastest by any propeller driven piston aircraft.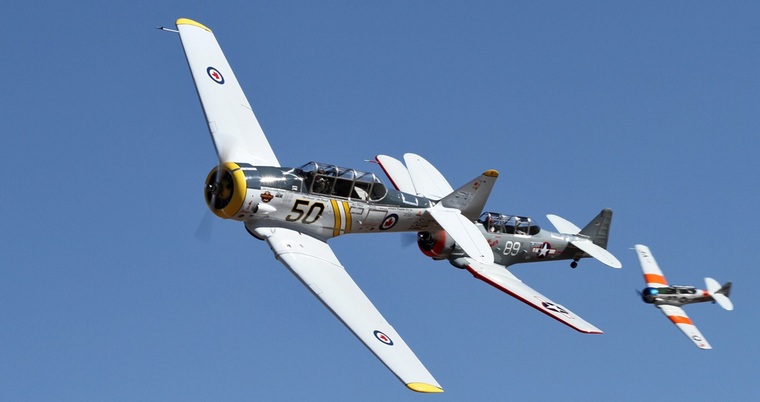 Three racers in the T6 Class jockey for position nearing a pylon. Photo www.aopa.org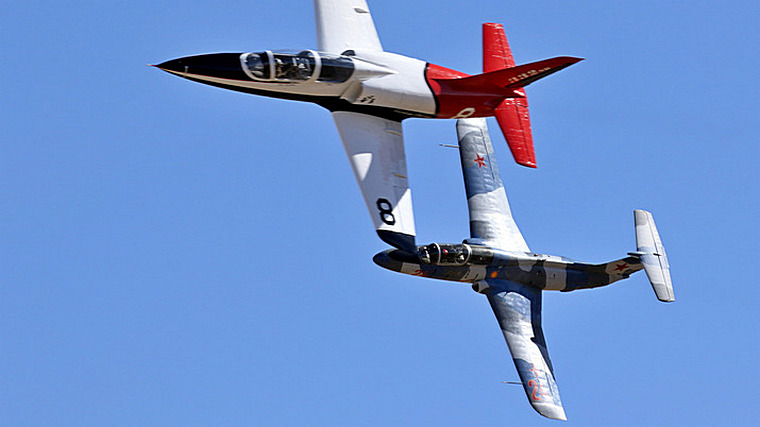 Two Aero Vodochodys a L29 and a L39 competing in the Jet Class approaching a pylon during their heat.

From 1964 until 2010, 19 aviators lost their lives due to crashes and collisions in the course of the competition and airshow. In 2007, three pilots died over the course of four days in separate incidents: Gary Hubler, Steve Dari and Brad Morehouse. Racing was suspended for one day after the last of the three incidents.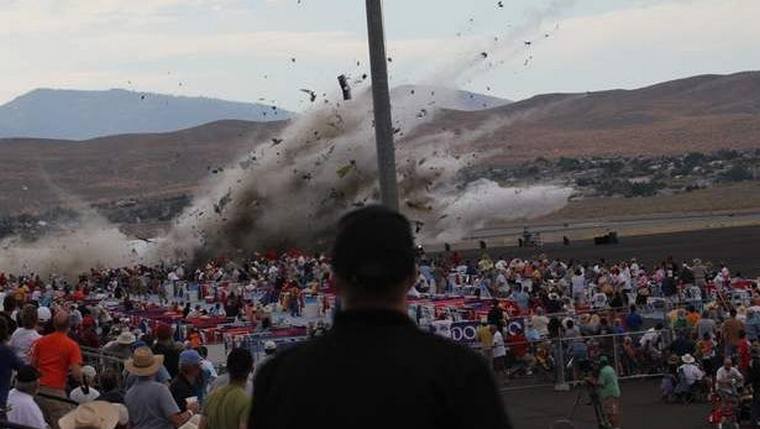 2011, The Galloping Ghost," piloted by Jimmy Leeward, crashed near the stands during the Gold Heat of the race.

On 16 September 2011, a heavily modified P-51D Mustang named "The Galloping Ghost," piloted by Jimmy Leeward, crashed near the stands during the Gold Heat of the race, killing Leeward and ten spectators and injuring 69. Race organizers cancelled all remaining 2011 races after the accident.
During the 2014, races a custom-built race plane named "Sweet Dreams" crashed on the course during qualifying for a Sport Class heat race killing the pilot, Lee Behel.


Air legends at the start line up. Photo www.airace.org

This year's races will again take place at Stead Reno Airport from 14 to 18 September. Ticket prices in 2020 for adult general admission tickets were $13 for the Wednesday, $21 on Thursday, $29 on Friday and $38 on Saturday and Sunday. You must buy an extra pit pass to access the area where crews work on the racing airplanes as well as for reserved seat grandstands and box seats.

Two Texans neck on neck at a pylon. Photo www.airace.org

All seven classes of aircraft race from Thursday to Sunday. The smaller and lighter Formula 1 and Biplane Class aircraft are generally scheduled to fly first thing in the morning, beginning at 08.00. The T-6, Sport, Jet and Unlimited aircraft generally fly starting around 10.00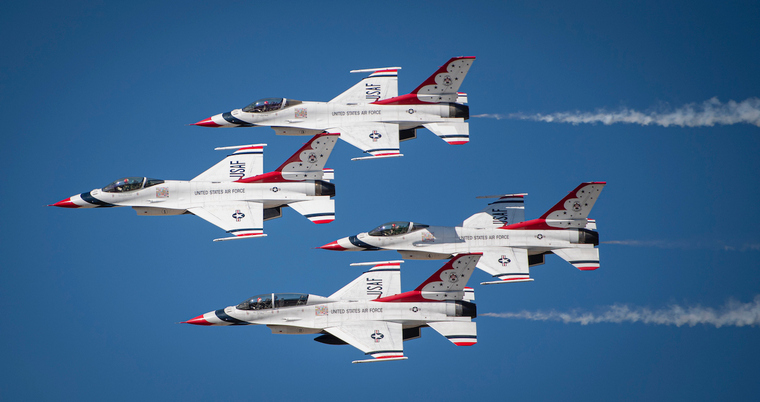 Between races entertainment, this time it is the USAF F-16C Fighting Falcons. Photo www.airace.org

In between races, there are always aerobatic exhibitions, fly-bys, military and civil aircraft demonstrations and other performances so there's is never a dull moment at the Air Races.
For more information go to www.airrace.org









Google Banner Ad




PLEASE GO TO
www.youtube.com/channel/UCCuRVZAGodT6sztTeXBGeMw
and subscribe to our YouTube channel