27.02.2022



Google Banner Ad



Working at Grand Central in the 1970s & 80s was, I think, the best time of my working life. They say that doing something you love is not really working and there is much truth in that statement.
As part of my duties, I was in charge of the fuel bay when it came to accepting deliveries of fuel etc. The delivery of fuel was very strictly controlled and the quality testing of each delivery was rigorously applied. Only once did I receive a suspect delivery. On testing the Jet A1, there was a definite rusty colour to the fuel which couldn't be explained. I was not going to accept this contaminated fuel at all. The driver phoned the depot and reported the matter to his supervisor who promptly told me the fuel was OK and had been accepted by other airports in the region (in other words Rand). I told him under no circumstances was I going to accept this fuel and a ding-dong battle ensued. Roger Lea eventually got involved as well and the delivery was rejected. This didn't make us very popular with Air BP I can assure you, but we did get our way in the end. Luckily, we didn't run out of Jet A1 before the next delivery.
Google Block Ad
Speaking of the fuel bay, we had a crew of four men who worked there and they had to be properly trained in the refuelling of aircraft. These guys and I were sent on a course run by Air BP in which we were trained how to properly earth aircraft while fuelling, how to test the quality of fuel etc and also firefighting. One of the guys who worked with us was Boy Mashilo, who was a very likeable person. The fuel bay was open 24 hours and the staff worked two shifts. 6am - 6pm and 6pm - 6am. My own shift was 6am - 6pm so I oversaw the fuel bay shift changes. As I said, Boy was a very likeable person and I was absolutely devastated to come to work one morning to find him lying dead in the fuel bay office. He'd apparently suffered a heart attack during the night and as there wasn't a telephone at the fuel bay, the other man on duty couldn't call for help. This was a terrible oversight by management and a telephone was quickly installed. The company paid for all his funeral costs as he was on duty at the time. This was the very first time I'd ever been to an African funeral and it was quite an education.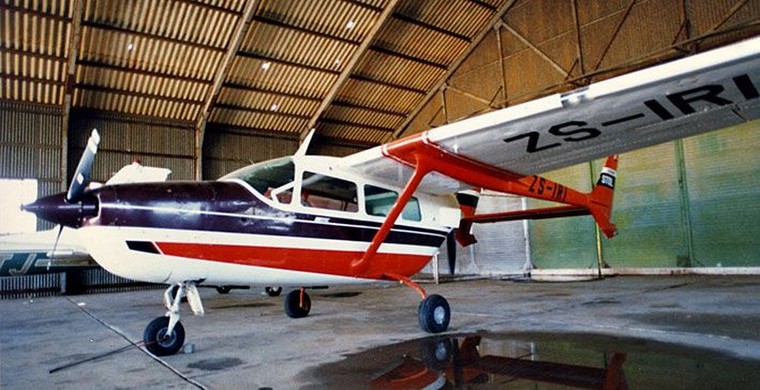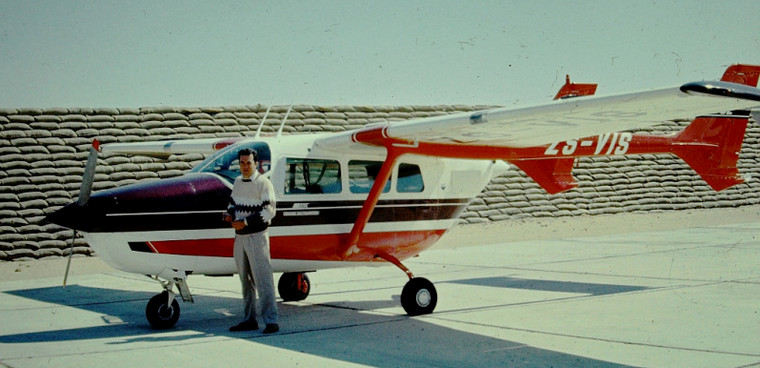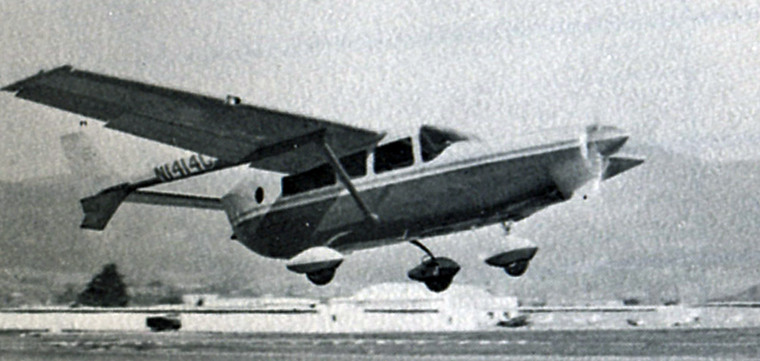 The other day, on Avcom, there was a discussion about the Cessna 337 aircraft and a name was mentioned that struck a chord with me. This was Ted Baines, who owned ZS-IRI. I didn't really have much to do with Ted, but he was very friendly on the radio. I noticed one day when he taxied past the tower that this aircraft had an escape hatch above the cockpit, which was most unusual. I asked him about it and he explained that the aircraft had been used for Whale spotting (when it was ZS-VIS) and this had been fitted in case they ever had to ditch the aircraft. Ted eventually moved to Grahamstown where he started a charter company, using the C337 and a flying school, using a Cherokee. He struggled along for a few years and eventually closed down the business and went to work for Jim Davis at 43 Air School. The C337 was sold off and at some stage, was converted to a Vision 337 (Photo N1414C). This was supposed to become ZU-AGO but I can't trace any pictorial evidence that the conversion was ever completed.
Larry Barnett was a well-known member of the aviation community in South Africa and he owned a Piper Aztec, ZS-EAA, which he based at Rand. He loved flying the Super Cub as well and would often fly one of Jimmy Popham's Super Cubs. One particular day, Larry pushed ZS-DGI up to the fuel bay to refuel her and when it came to starting her, she simply refused. He eventually flattened the battery and then came over to the tower to ask if I could help him by swinging the prop. I'd never done this before and was a little nervous. I'd seen other people do it so had a rough idea what was required and how to do this, so I gave it a bash. I must have swung that prop at least a dozen times before I finally gave up. There was no way that engine was going to start. Larry gave up and we pushed her back to the hangar only to find that he'd forgotten to turn the fuel on. Very embarrassing for him. Larry was of course famous for owning the Spitfire WR-RR PT672. Although other people disliked Larry, I always found him to be a pleasant person to speak to.
Google Banner Ad
We had our fair share of scares at GC but one which I'll never forget was when a pilot test flew a Piper Pawnee that had been rebuilt after a crash by a local company. He taxied out to the threshold of Rwy 17 and did his run-up. He then called ready for take-off and I gave him the all clear. The tail came up and the aircraft got airborne, only to have the pilot immediately close the throttle and land, veering off into the veld on the left-hand side of the runway. I shot out in the Kombi to see if he was OK and to be on standby in case the grass caught fire - it was winter and exhaust pipes can get hot. It turned out that as he got airborne, he realised the aileron controls were reversed and he had to put it down quickly. No real damage done to the aircraft except the engineer, who had signed out the aircraft, was dismissed.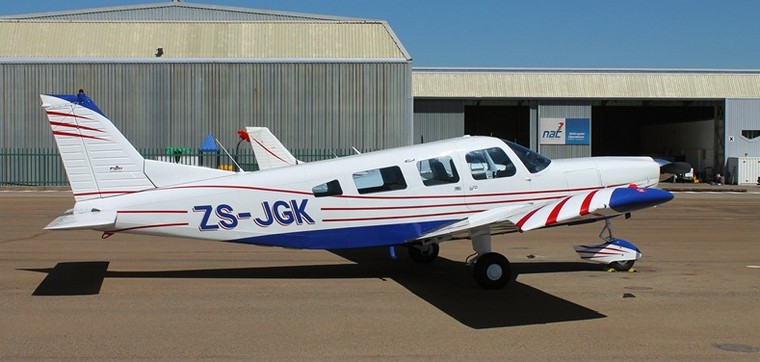 One of the ladies who learned to fly at Grand Central was Jo-Anne Brotherton. Peter Marais was her instructor from day one and the two of them got on like a house on fire. I have never witnessed a student and instructor that clicked like these two did. Jo learned to fly on the Cherokee 140 and then converted to the 180. She completed the required minimum of 40 hours for her license and was then tested for her PPL by the school's CFI Freddie Smith and passed. Jo's husband, whose name I cannot remember for the life of me, also learned to fly, but with Gordon Hollingsworth as his instructor. Their main business was the construction of farm buildings. They went on to buy this Cherokee 6 ZS-JGK and flew all over the countryside in it in support of their business and their passion for visiting game reserves. They built a hangar on the southwest side of the airfield and eventually sold this to Mike Spence. One could quite easily see that this wasn't a hangar, but rather a farm shed. It did however serve as a perfectly adequate hangar and is still in use as such today.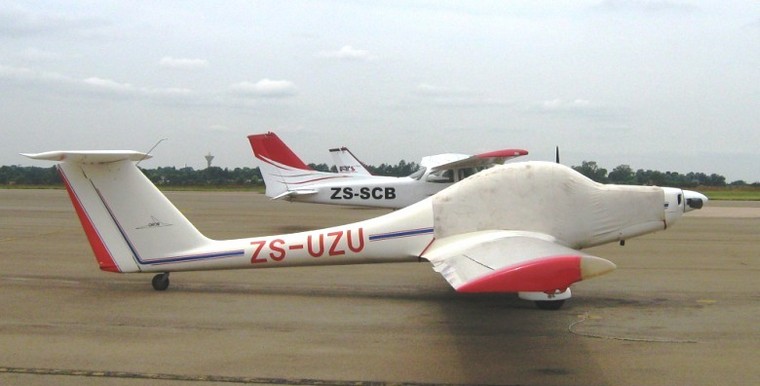 This was the first Grob 109B that I ever saw. She belongs to Dave Lister and I believe that he still owns her and is based at Krugersdorp. He bought her new in 1984 so he's been the owner for thirty-eight years - that has to be some sort of record. Dave was a member of EAA 322 and was often to be found in the EAA club house on a weekend.
As they say in the cartoons - "that's all folks" See ya all next month.
Google Banner Ad