Compiled by Willie Bodenstein



Google Banner Ad



THIS WEEK IN AIRLINES, AIRLINERS AND AIRPORTS

The South Africa Civil Aviation Authority confirms the indefinite suspension of Comair's air operator certificate.
Aeroflot temporary suspension of all international flights.
IATA releases 2021 airline safety performance.
ICAO Council condemns violation of territorial integrity and airspace of Ukraine.
British Airways (operated by Comair) offers a third flight to Mauritius.
SAA resumes Johannesburg-Durban service.
Boeing and Ethiopian Airlines Sign Memorandum of Understanding for New 777-8 Freighter.
Kano and Port Harcourt now boarding - Qatar Airways debuts two new gateways in Nigeria.
Lot wraps up 2021.

Google Banner Ad



CIVIL AVIATION AUTHORITY CONFIRMS THE INDEFINITE SUSPENSION OF COMAIR'S AIR OPERATOR CERTIFICATE
Following the 24hour precautionary suspension of Comair PTY Ltd.'s Air Operator Certificate (AOC) privileges on Saturday morning 12 March 2022, the South African Civil Aviation Authority (SACAA) confirms that the AOC is now indefinitely suspended pending the Operator addressing all the findings as communicated by the Regulator on Saturday morning.

The SACAA recognises the efforts of the Operator to close the findings as speedily as possible and in this regard the Operator started dispatching the evidence to the Regulator from the evening of Saturday 12 March 2022. The inspectorate team worked through the night to review the evidence received and as at 06:30am on the morning of 13 March 2022 the Regulator accepted the corrective action and evidence submitted in respect of one Level 1 finding.

This therefore means this finding is now closed. The review of the rest of the evidence of which the latest was received around 07:30 this morning, will continue to be assessed and reviewed by the inspectorate this morning.

According to the Civil Aviation Regulations (CARs), the Operator can appeal the decision of the suspension to the Director in terms of Part 185.04.2.

The suspension follows the visit by the SACAA to the Operator to investigate and determine the cause of a spate of occurrences affecting a concerning number of flights operated by Kulula.com and BA Comair. The SACAA sought to confirm Comair's compliance with applicable Civil Aviation Regulations (CARs). The inspection was also aimed at reviewing Comair's quality control management system (QC) and safety management systems (SMS) to establish compliance related to reporting, analysis and follow-up on occurrences, and corrective action plans to prevent recurrence.

This resulted in the Regulator raising three (3) level 1 findings, and one (1) level 2 finding. In terms of the oversight philosophy of the Regulator, a level 1 finding is an outcome which poses an immediate risk to safety and security, and it must be closed with immediate effect and a level 2 finding must be closed within 7 days.

The SACAA is fully committed to ensuring that the Operator is back in the air and has dedicated a full team to assess and review the evidence as it gets submitted. The commitment to safety in this case supersedes any other need and this is to ensure that South Africa maintains its safety record of having ZERO fatal airline accidents in over thirty years on South African soil.

The lives of our aviation personnel and the users of civil aviation services is paramount, and it is a responsibility the Regulator does not take lightly. This discipline in ensuring high levels of compliance with civil aviation safety and security is demonstrated by the continuous prestigious performance of South Africa in international safety and security assessments. South Africa is periodically subjected to independent international audits by bodies such as the International Civil Aviation Organization (ICAO) to measure South Africa's compliance to the Standards and Recommended Practices (SARPs) of this United Nations body.

In this regard, South Africa was last audited by ICAO in 2018 in terms of the Universal Safety Oversight Audit Programme - Continuous Monitoring Approach (USOAP CMA) and the country improved its compliance levels in that audit. Continuous improvement is a principle which the Regulator will work hard at elevating as it ensures that aviation remains the safest mode of transport in this country.


AEROFLOT TEMPORARY SUSPENSION OF ALL INTERNATIONAL FLIGHTS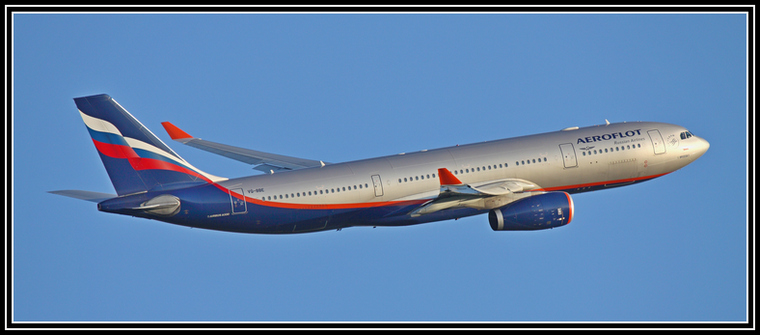 Aeroflot has announced a temporary suspension of all international flights starting 8 March (00:00 MSK) due to new additional circumstances impeding the operation of flights. International services scheduled by Rossiya Airlines and Aurora Airlines (flights within the range of SU5400-5799 and SU5950-6999) will also be suspended.

To reduce risks for passengers in the inability to use return flights to Russia Aeroflot, starting from 6 March (00:00 MSK), it will stop admitting on international flights passengers holding return tickets with the return segment to Russia dated after 8 March 2022. Passengers of international flights holding one-way tickets with departure from Russia will be admitted for carriage until the moment of flight suspension.
Passengers of cancelled international flights are eligible for a full refund of tickets.
Passengers of international flights who are currently abroad and holding return tickets with a flight segment from Russia already used can contact the airline to rebook the return segment to Russia before the suspension of flights.
For passengers staying abroad up to the moment when flights are suspended, the airline will exercise maximum effort to organize their return to Russia.
It is necessary to follow the airline's news releases and individual information updates sent to contact details indicated at booking.

IATA RELEASES 2021 AIRLINE SAFETY PERFORMANCE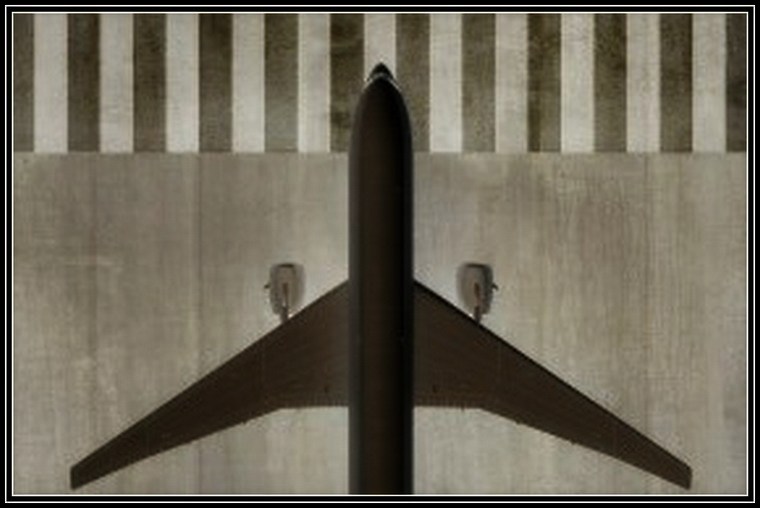 The International Air Transport Association (IATA) released 2021 safety performance data for the commercial airline industry showing strong improvement in several areas compared to both 2020 and to the five years 2017-2021.


Highlights include: Reductions in the total number of accidents, the all-accident rate and fatalities.
IATA members and airlines on the IATA Operational Safety Audit (IOSA) registry (which includes all IATA members) experienced zero fatal accidents last year.
No runway/taxiway excursion accidents, for the first time in at least 15 years.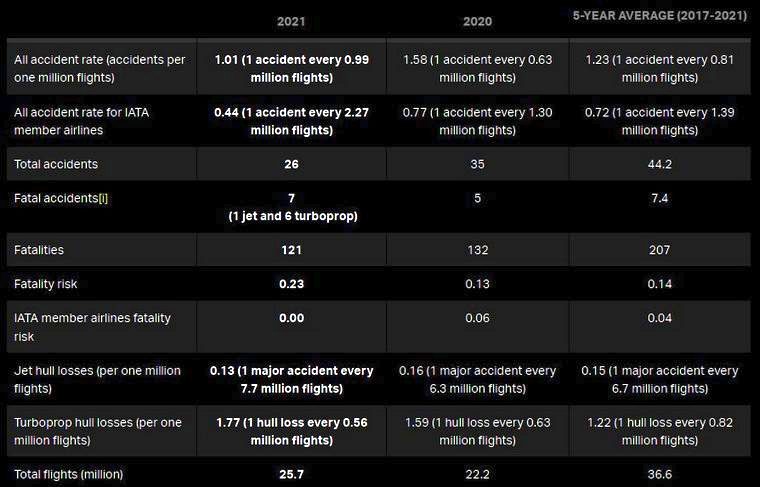 "Safety is always our highest priority. The severe reduction in flight numbers last year compared to the 5-year average magnified the impact of each accident when we calculate rates. Yet in the face of numerous operational challenges in 2021, the industry improved in several key safety metrics. At the same time, it is clear that we have much work ahead of us to bring all regions and types of operations up to global levels of safety performance," said Willie Walsh, IATA's Director General.
Fatality Risk
The overall increase in the fatality risk in 2021 to 0.23 is owing to the rise in fatal turboprop accidents. There was one fatal accident involving jet aircraft last year and the jet fatality risk in 2021 was 0.04 per million sectors, an improvement over the 5-year average of 0.06.
The overall fatality risk of 0.23 means that on average, a person would need to take a flight every day for 10,078 years to be involved in an accident with at least one fatality.
IOSA
IOSA is the global industry standard for airline operational safety audits and a requirement for IATA membership. It is used by numerous authorities in their regulatory safety programs.
403 airlines are on the IOSA Registry, including 115 non-IATA Members.
The all-accident rate for airlines on the IOSA registry in 2021 was more than six times better than the rate for non-IOSA airlines (0.45 vs. 2.86).
The 2017-2021 average of IOSA airlines versus non-IOSA airlines was nearly three times as good. (0.81 vs. 2.37). All IATA member airlines are required to maintain their IOSA registration.
"The contribution of IOSA to improving safety was demonstrated in the superb results of airlines on the registry-regardless of region of operation. We will continue to evolve IOSA to support even better industry safety performance," said Walsh.
Jet hull loss rates by region of operator (per 1 million departures)
The global average jet hull loss rate declined slightly in 2021 compared to the five-year average (2017-2021). Five regions saw improvements, or no deterioration compared to the five-year average.
Five regions showed improvement or no deterioration in the turboprop hull loss rate in 2021 when compared to the 5-year average. The only regions to see increases compared to the five-year average were the CIS and Africa.
Although sectors flown by turboprops represented just 10.99% of total sectors, accidents involving turboprop aircraft represented 50% of all accidents, 86% of fatal accidents and 49% of fatalities in 2021.
"Turboprop operations will be a focus area to identify ways and means to reduce the number of incidents related to certain aircraft types," said Walsh.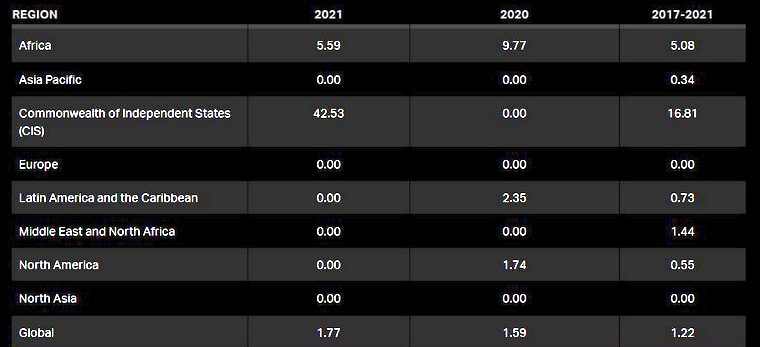 Airlines based in the CIS region experienced no fatal jet accidents in 2021 for the second consecutive year. However, there were four turboprop accidents. Three of these resulted in 41 fatalities, accounting for more than a third of 2021 fatalities. None of the airlines involved was on the IOSA registry.
Safety in Africa
Airlines based in sub-Saharan Africa experienced four accidents in 2021, all with turboprop aircraft, three of which resulted in 18 fatalities. None of the operators was on the IOSA registry. There were no jet hull loss accidents in 2021 or 2020.
The priority for Africa is the implementation of the International Civil Aviation Organization's (ICAO) safety-related standards and recommended practices (SARPS). At year-end 2021, some 28 African countries (61% of the total[i]) had 60% or greater SARPS implementation. In addition, a focused multi-stakeholder approach to specific states will be important to addressing repeated occurrences.
Google Block Ad
ICAO COUNCIL CONDEMNS VIOLATION OF TERRITORIAL INTEGRITY AND AIRSPACE OF UKRAINE


?

The 36 States composing the ICAO Council recently discussed the situation unfolding in Ukraine, during a scheduled meeting of the ICAO Governing Body's 225th Session.

A representative of Ukraine also participated in the council meeting on the basis of that state's stake in the situation.
The topic was considered by the council on the basis of an oral statement delivered by the President of the Council, Salvatore Sciacchitano, together with a presentation from ICAO Secretary General, Juan Carlos Salazar, which updated representatives on the operational aviation context.
Council states condemned the violation of the territorial integrity and sovereignty of a United Nations Member State, including its airspace, as being inconsistent with the principles of the Charter of the United Nations and Article 1 of the Convention on International Civil Aviation (Chicago Convention).
The council also expressed grave concerns on the latest developments in Ukraine and solidarity with its people, in direct alignment with the sentiments expressed by the United Nations Secretary General in his statements to the UN General Assembly on 23 and 24 February 2022.
States representatives also recalled the preamble to the convention on International Civil Aviation (Chicago Convention), which identifies the need to avoid friction and instead promote cooperation and friendship among nations and peoples, on which the peace of the world depends.
The council further underscored the paramount importance of preserving the safety and security of international civil aviation and the related obligations of Member States and in this context, urged the Russian Federation to cease its unlawful activities to ensure the safety and security of civil aviation in all affected areas and to respect its obligations under the Chicago Convention as well as other relevant international air law treaties. It called upon all concerned parties to seek to resolve the crisis through peaceful dialogue and diplomatic channels.
The council also recalled with deep sorrow the human suffering that was caused as a result of the downing of flight MH17 in the east of Ukraine on 17 July 2014 and underlined that such a tragedy should never happen again.
In the same context the council reconfirmed its support to the "Safer Skies" initiative led by Canada relating to improving international efforts to safeguard civilian flight operations over or in the vicinity of conflict zones.
The council requested the secretariat to continue to monitor the situation in Ukraine and provide support to the States involved.

BRITISH AIRWAYS (OPERATED BY COMAIR) OFFERS A THIRD FLIGHT TO MAURITIUS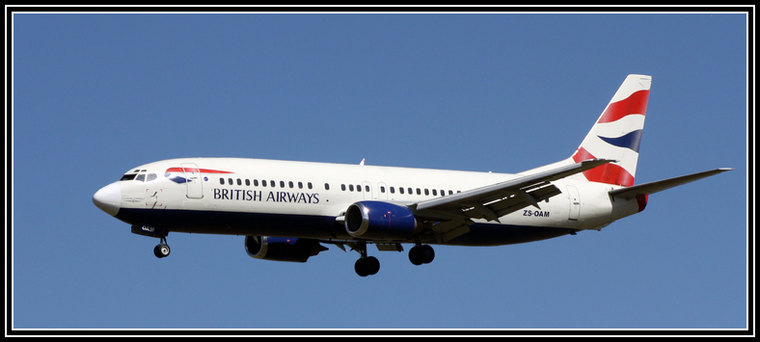 British Airways (operated by Comair) has added a third flight to its Johannesburg - Mauritius schedule from Thursday 3 March 2022.

The airline's Sales and Marketing Executive, Brian Kitchin, says demand has steadily grown it reintroduced twice weekly flights between Johannesburg and Port Louis in February.
"Mauritius has always been a perennial favourite holiday destination for South Africans and this, with the pent-up demand from people who may have had to cancel other holiday plans, has seen a relatively quick recovery on the route."
He anticipates demand to continue increasing, peaking over the approaching March - April school holidays and Easter break.
Over the holiday break, British Airways (operated by Comair's) sister company kulula holidays, is offering a variety of inclusive packages starting from R15 499 per person sharing for a seven-nights including airfares and self-catering accommodation.
There is also a seven-night family special starting from R21 536 per person sharing that includes airfares, accommodation and meals. Airfares apply to children under 12 sharing, but they stay for free.
Google Banner Ad
SAA RESUMES JOHANNESBURG-DURBAN SERVICE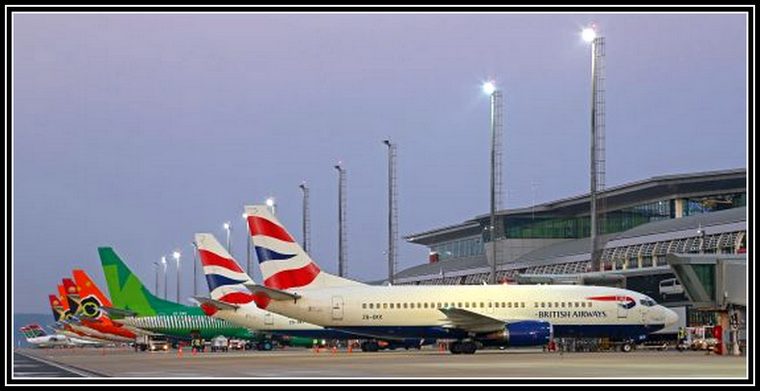 SAA has re-introduced a three-times daily return service from Johannesburg to Durban. The flight was warmly welcomed at King Shaka International Airport with a special water cannon salute and resounding applause from passengers and airport staff. The new route is a significant milestone for SAA since resuming operations five months ago. This is the second local destination SAA is now flying in addition to its busy three-times-daily Johannesburg-Cape Town service.

Mayor of eThekwini Municipality, Councillor Mxolisi Kaunda said: "As the city, we believe this development is worth celebrating. Indeed, it is going to unlock innumerable economic opportunities. It is a national carrier and it is a good feeling to have SAA back in our skies again"
SAA's Interim CEO Thomas Kgokolo says, "Both from a business and leisure perspective, the Durban decision makes sound commercial sense linking two important economic hubs. Durban is a vital springboard-destination to the rest of the province that is one the country's premier tourism hubs and also poised for huge economic growth in coming years."
"Many companies that play a significant role in our national economy are headquartered in Durban and surrounding areas and the city's port is undergoing a multi-billion-rand expansion. This means there will be a growing need for an efficient, regular and safe service to Durban and SAA's focus on the business community, is well suited for this."
SAA's Acting Chief Commercial Officer Simon Newton Smith says, "As travel opportunities begin to open both domestically and internationally, we're now in a position to amplify our evaluation of routes here and regionally. Before the pandemic hit, tourism to KwaZulu Natal amounted to around R12-billion per annum while there has also been significant promise of business investment including plans to develop areas south of Durban, including an automotive supplier park special economic zone and a R4 billion logistics park. These welcome initiatives will need to be serviced by air transport and we see SAA playing a crucial role in this respect."
Newton Smith says passenger interest in the route has been encouraging and over the next few months will be supported by targeted offers.
BOEING AND ETHIOPIAN AIRLINES SIGN MEMORANDUM OF UNDERSTANDING FOR NEW 777-8 FREIGHTER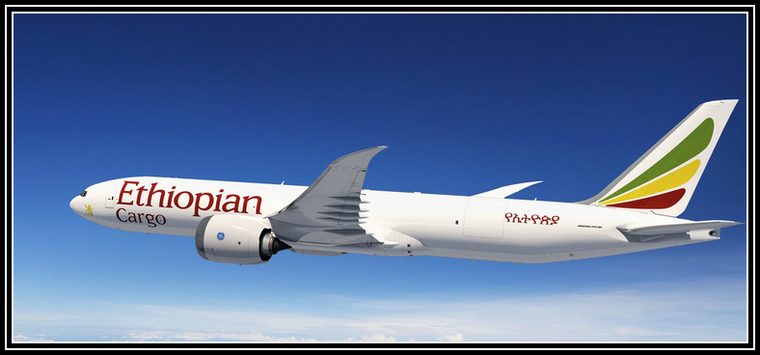 Boeing (NYSE: BA) and its longstanding customer Ethiopian Airlines has announced the signing of a Memorandum of Understanding (MoU) with the intent to purchase five 777-8 Freighters, the industry's newest, most capable and most fuel-efficient twin-engine freighter.

The MoU to order the 777-8 Freighter will enable Ethiopian Airlines to meet expanding global cargo demand from its hub in Addis Ababa and position the carrier for long-term sustainable growth.
"Consistent with our history of aviation technology leadership in Africa, we are pleased to sign this MoU with our longstanding partner Boeing, which will make us join a select group of launch customer airlines for the fleet. In our vision 2035, we are planning to expand our Cargo and Logistics business to be one of the largest global multimodal logistics providers in all continents. To this effect we are increasing our dedicated freighter fleet with the latest technology, fuel efficient and environment-friendly airplanes of the 21st century. We have also started the construction of the largest E-commerce Hub Terminal in Africa," said Ethiopian Airlines' Group CEO Tewolde Gebremariam. "The new 777-8 Freighters will be instrumental in this long journey of growth agenda. Today, our air cargo services cover more than 120 international destinations around the world with both belly-hold capacity and dedicated freighter services."
Boeing launched the new 777-8 Freighter in January and has already booked 34 firm orders for the model, which features the advanced technology from the new 777X family and proven performance of the market-leading 777 Freighter. With payload capacity nearly identical to the 747-400 Freighter and a 30% improvement in fuel efficiency, emissions and operating costs, the 777-8 Freighter will enable a more sustainable and profitable business for operators.
"Ethiopian Airlines has been at the forefront of Africa's cargo market for decades, growing its fleet of Boeing freighters and connecting the continent to the flow of global commerce," said Ihssane Mounir, senior vice president of Commercial Sales and Marketing. "The intent to purchase the new 777-8 Freighter further underscores the value of our latest airplane and ensures Ethiopian will remain a key player in global cargo, providing it with increased capacity, flexibility and efficiency for the future."
Ethiopian Airlines currently operates nine 777 Freighters, connecting Africa with more than 40 cargo centres throughout Asia, Europe, the Middle East and the Americas. The carrier's fleet also includes three 737-800 Boeing Converted Freighters and a combined commercial fleet of more than 80 Boeing jets including 737s, 767s, 787s and 777s.
Google Banner Ad
KANO AND PORT HARCOURT NOW BOARDING - QATAR AIRWAYS DEBUTS TWO NEW GATEWAYS IN NIGERIA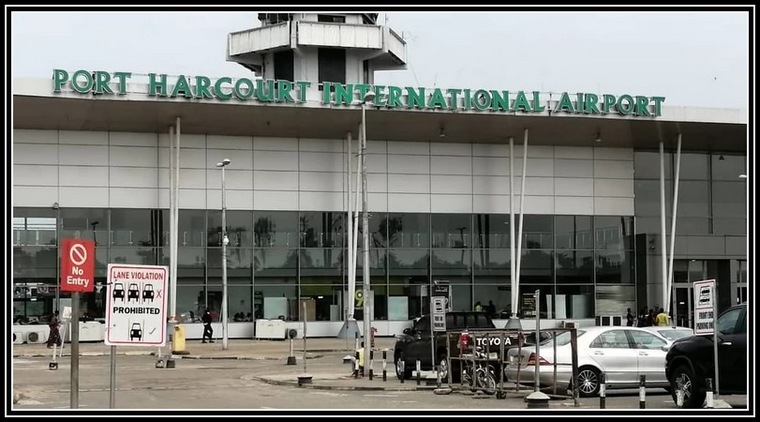 Qatar Airways has enhanced its presence in Nigeria with the launch of four weekly flights to Kano (KAN) on 02 March 2022 and three weekly flights to Port Harcourt (PHC) as off 03 March 2022, both operating via the Nigerian capital, Abuja. To mark this milestone, the new service was inaugurated by the airline's state-of-the-art Boeing 787 Dreamliner featuring 22 seats in Business Class and 232 seats in Economy Class.

Qatar Airways will operate to Mallam Aminu Kano International Airport (KAN) in one of the fastest-growing cities in the country which is the gateway to Kano's rich historical treasures that have survived millennia. Meanwhile, Port Harcourt, the largest city and capital of Rivers State, Nigeria will be served via Port Harcourt International Airport (PHC), a diverse and fast-moving city on the southern tip of Nigeria. More than a century of international trade has turned this former port town into a vibrant, fast-growing metropolis. The aircrafts were greeted in Kano and Port Harcourt by traditional water cannon salutes upon their historic arrival.
Qatar Airways Group Chief Executive, His Excellency Mr. Akbar Al Baker, said: "This is a defining moment for Qatar Airways, with Nigeria becoming our most connected market in Africa with the launch of our new services to Kano and Port Harcourt. We see tremendous opportunity in the region and these new routes are an important catalyst to further boost trade and commerce in the country. Our presence in Nigeria now covers four key markets and is a real affirmation of our support to the country. Qatar Airways has stayed steadfast in its commitment to Africa throughout the pandemic, operating continuously and reliably to Nigeria. We have since increased frequencies and grown our network, considerably, improving connectivity to and from the continent and providing travellers with more choice and convenience."
In Nigeria, the airline offers double-daily flights to Lagos and now operates daily services to Abuja. The two new routes, (Kano & Port Harcourt), bring the number of flights Qatar Airways operates between Africa and Doha to 188 weekly flights serving 28 destinations across the continent.
Minister of Aviation, Federal Republic of Nigeria, Hon. Sen. Hadi Sirika, said: "The new flights provide important travel and trade links between Nigeria and the world. As the largest economy in Africa, this enhanced global connectivity via the new Qatar Airways service will provide a vital network to move goods and people, as we recover from challenges of the pandemic and prioritise growth. Kano and Port Harcourt are both important to this recovery. This new service also reinforces the close ties between Nigeria and Qatar and it paves the way to explore new, untapped opportunities."
LOT WRAPS UP 2021




Strengthened position in tourist transport, continued high position in the cargo segment and slower-than-expected growth dynamics in the scheduled flight network. This is how LOT wrapped up the past year.


Due to the emergence of new coronavirus variants and uncertainty over traveling, the air travel market did not bounce back last year as experts used to predict it in late 2020. LOT, however, leveraged this period to expand its business in the vacation travel segment - through our partnerships with travel agents, we completed four times as many charter operations as in 2020. In the cargo segment, LOT positioned itself as the leader in the Polish market, shipping almost twice as much cargo as in 2020. The national carrier carried out a total of over 54 thousand operations on 151 routes, visiting 109 airports and transporting nearly 4.2 million Passengers on a total distance of 80 million kilometres. While the number of guests on board flights to North America has returned to 2019 levels following the lifting of entry restrictions to New York (JFK and EWR) and Chicago, the Asian network - Seoul, Tokyo or Beijing/Daxing - continues to be significantly reduced. Within the European network, flights to Paris and Vilnius were among the top choices, while Tirana turned out to be an absolute smash, becoming the top holiday destination. In the winter season, flights to Dubai, launched in autumn and the resumed flights to Colombo and Miami gained much popularity.
The year 2021 also marks the introduction of more Passenger-focused improvements and amenities. Passengers flying on board our Boeing 737s can now enjoy a wireless in-flight entertainment system, a new meal offer for economy class passengers and thanks to a freshly redesigned lot.com website, purchasing a ticket or ordering additional services is now faster and more convenient.
- The time of the pandemic has hit the airline industry particularly harshly. However, at LOT Polish Airlines, we have seized this period to take advantage of all the upcoming business opportunities, developing where demand was greatest - in holiday and cargo transport. I would like to thank our guests for every single journey on board our aircraft and our Business Partners for their trust and cooperation - Michal Fijol, LOT Chief Commercial Officer, remarked.
Maciej Wilk, Chief Operating Officer, in turn, recapitulated the results of the operational area: - Taking into account all the impediments related to the COVID-19 pandemic, I positively assess LOT Polish Airlines' operational performance for 2021. With regularity rating of 99.7% and 86% of flights landing on time, we rank 8th on the list of most punctual carriers in Europe. I would also like to thank everyone involved in LOT Polish Airlines operations: handling agents, air traffic control services, airport employees and engineers, LOT employees and associates. By working together, we have succeeded in achieving such strong results. I strongly believe that this year will be even better.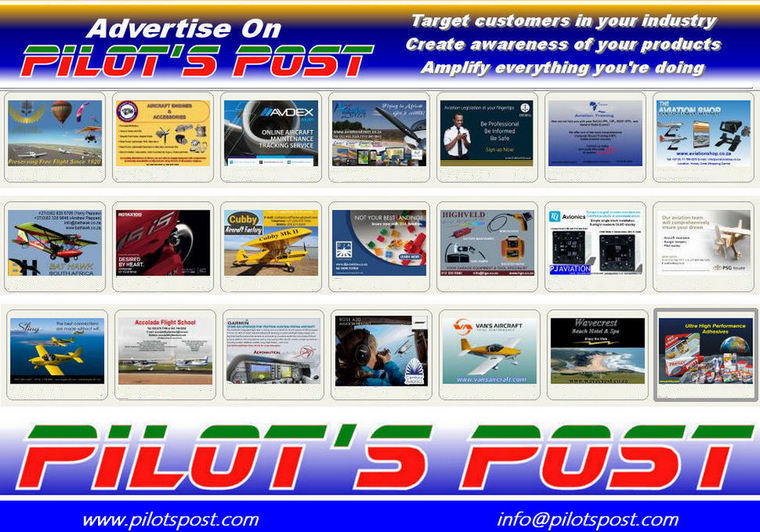 Google Banner Ad