20.03.2022



Google Banner Ad



Following the success of their two-seat tourer/trainer the Fieseler F5, Fieseler was encouraged by the German Reichsluftfahrtministerium (RLM) to develop a four-seat version specially to take part in the European Touring Plane Championship Challenge in 1934.
Designed by Kurt Arnolt, the Fi 97 was a cantilever low wing monoplane which had a fabric covered steel tube frame and a conventional tail unit. The pilot and three passengers were accommodated in an enclosed cabin. The fuselage had a fabric-covered steel tubing frame while undercarriage was a fixed tailskid. The foldable wing structure was wood and was covered with fabric and plywood.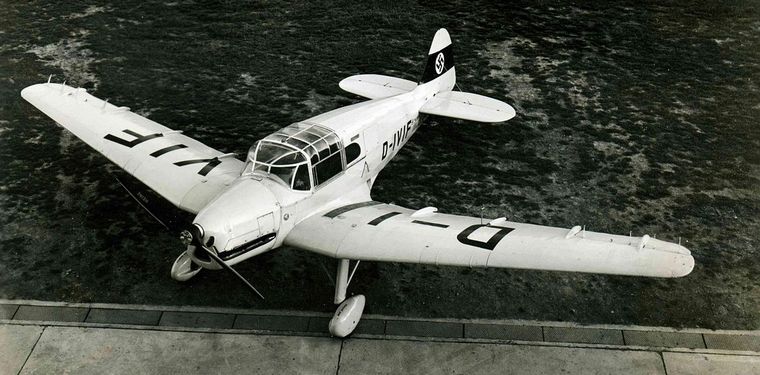 The most significant design aspect was the wing's high-lift devices which enabled the aircraft to be flown at low speeds. The leading-edge had Handley Page type automatic slats, the trailing edge had Fieseler-designed Ausrollflügel, a Fowler-type trailing-edge flap. These high-lift features allowed the aircraft to be flown at very low speeds:- to 58 km/h (36 mph). These features were later utilized in the construction of the famous Fieseler Fi 156 Storch.
Only five were built. Three aircraft were fitted with the Hirth HM 8U, 250 hp inverted air cooled V8 engine while two used the Argus As 17A, 225 hp inverted 6-cylinder air cooled inline engine. The Argus powered the Fi156 to 245 km/h (152 mph).
All five entered the competition. A significant achievement was that all the Fieselers that completed the contest placed 3, 9, 12, 13 and 16. The Polish RWD-9s took both first and second places and the Czechoslovakian Aero Vodochody A.200 OK-AMA finished in fourth place.
Google Block Ad
The International Touring Competitions (Challenge International de Tourisme) was an FAI international touring aircraft contest that took place between August and September in various European countries. The challenges were major aviation events in pre-war Europe. The regulations were based upon the FAI rules, but details were worked out by the German Aero Club. The 1934 races were hosted by Germany and held in Berlin.
Wolf Hirth, the designer of the Hirth engine, was among the pilots who in the technical challenge, took 1st and 3rd place in a short landing trial (best result - 75 m, from over 8 m-high gate) and very good results in a short take-off (78.3 m over 8 m-high gate) along with a minimal speed trial (58.49 km/h).
Google Banner Ad