17.04.2022



Google Banner Ad



CHAT, the Canadian Harvard Aerobatic Team was formed in 2000 as a three-ship routine and later became a four-ship routine in 2014 when Marco Rusconi joined the team.
The team flew two marks of Harvards, the MKII, and a MKIV. Each aircraft was individually owned by her pilot.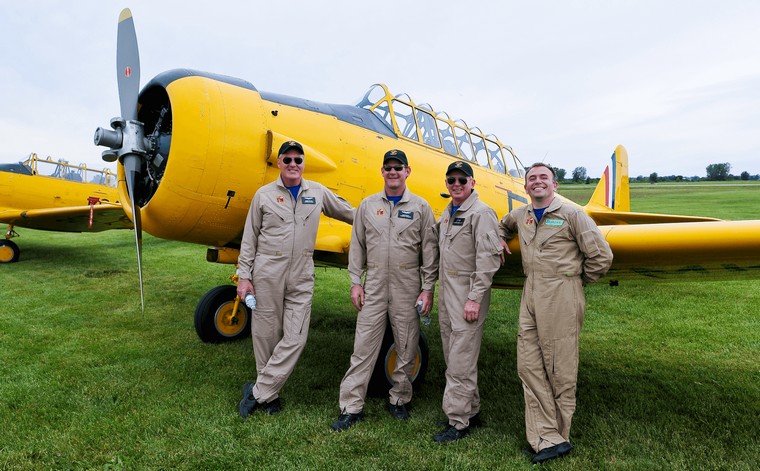 I saw them when I visited AirVenture in 2016 when they wowed the crowd with their stunning and very tight 11-minute routine of dynamic formation aerobatics. It was their first and only display at the world's biggest Fly-In.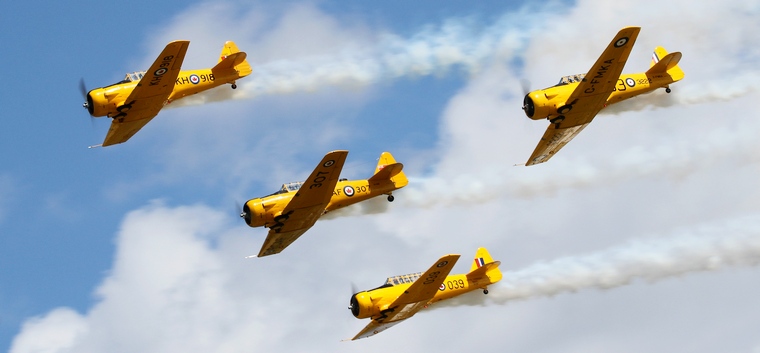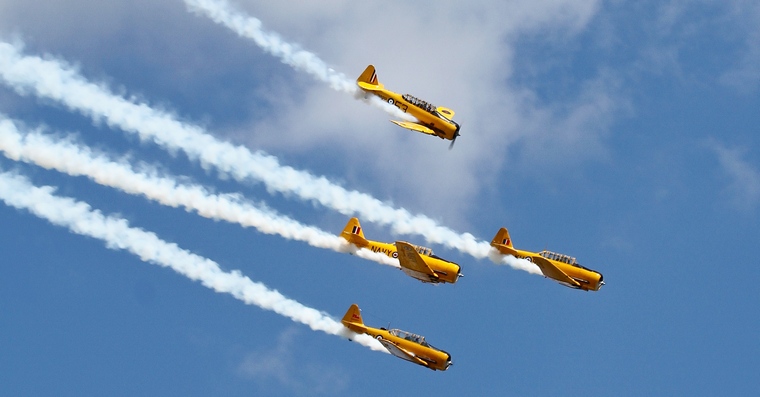 The formation leader on that day was Pete Spence, whose Harvard was a MKII, built in 1941. Pete grew up flying the family's J-3 Cub and DHC-1 Chipmunk. He has flown Harvard's for over 25 years. The airframe of his Mk II was struck off strength by the RCAF (Royal Canadian Airforce) in 1960. It spent the next 25 years with the Central Technical High School in Toronto, Ontario where the airframe was utilised for training in its aircraft department. In 1985 she was bought by Less Bala, who restored her and she again took to the skies in 1994 after 34 years. Spence bought her from Bala in 2005.




Number 2, another MKII, was flown by Dave Hewitt. Dave has been flying since 1989 and soloed in the Harvard in 1990. By 1995 he was performing solo aerobatics at airshows and he accumulated over 1,400 hours on the Harvard for a combined 1,500 total flying hours. Hewitt's MKII, was also built in 1941 at Noorduyn Aviation in Montreal, flew as RCAF 3039 and for a time, was loaned to the Royal Canadian Navy. The RCAF sold the airframe in 1960 at RCAF Station Downsview to Stan Fitzner, who flew it out of Mount Hope until 1978. It was then sold to Bob Hewitt and Norm Beckham.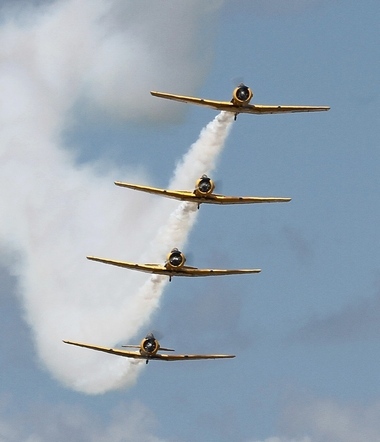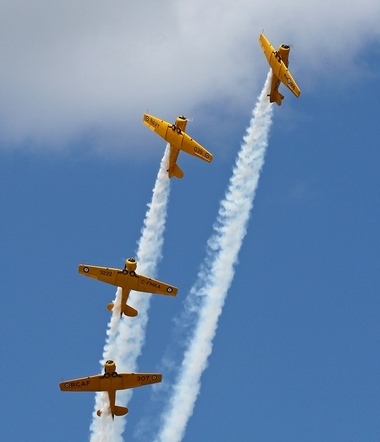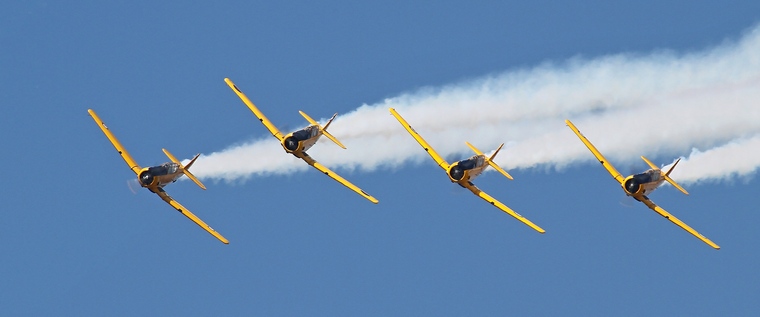 Kent Beckham flew the No. 3 Harvard, also a MKII, which was built in 1941 at Inglewood, Calif. Kent's father, Norm Beckham (Mr. Harvard), and Bob Hewitt purchased the aircraft in 1968 and in 2011, the younger Beckham became the sole owner of the trainer. In 1978, Kent Beckham earned both his glider licence and his private pilot licence. A year later, in Harvard 3222, he flew his first formation demonstration as part of a four-ship formation at an RCAF reunion. Norm and Kent began flying a father and son aerobatic routine in the Harvard's in 1981 and performed across Ontario and New York until 1998, when Norm retired from flying aerobatics.
Flying a MKIV at number 4 was Italian born Marco Rusconi, who learned to fly his father's Tiger Moth at 14 years of age. He earned his private pilot's licence in Victoria, B.C. and joined the Canadian Armed Forces (CAF) in 1997. He graduated from the Royal Military College, earned his pilot's wings in 2004 and later became an instructor on Harvard II aircraft. He then fulfilled a dream from 2008 to 2011, flying with the Snowbirds Air Demonstration Team. Rusconi was just 26 years old when he joined the Snowbirds.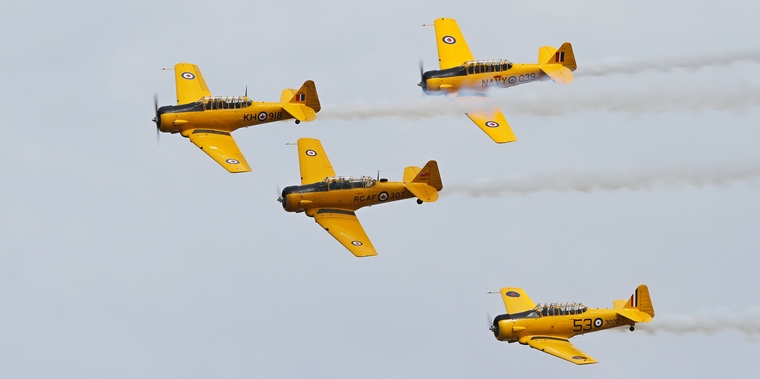 In 2017, the team performed a twilight show at Thunder Over Louisville. They then travelled north to the Norseman Festival at Red Lake, Ontario. They flew west to Missouri, where they were also a hit at the 2017 Wings Over Whiteman Air Show at Whiteman Air Force Base. CHAT finished 2017 by performing at the Canadian International Air Show in Toronto. Several other shows, flypasts and memorials were also performed over the summer including a Remembrance Day flypast over several communities around the team's home base at Woodstock, Ontario.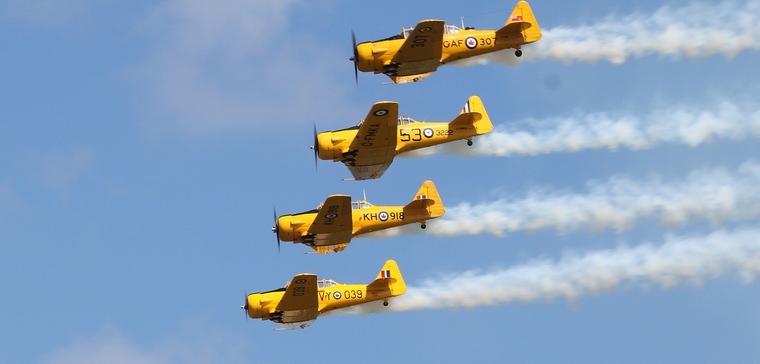 It was a sad day indeed when after an impressive 20-year run of air show demonstrations, the ream announced in April 2021 that CHAT had retired from the air show circuit.
Google Banner Ad