Compiled by Willie Bodenstein



Google Block Ad



THIS WEEK IN MIDWEEK UPDATE
Aero Club Communique April 2022 #1.
Textron aviation brings new upgrades to iconic piston product line-up.
SAAF part of North West illegal chrome mining bust.
Sri Lanka rotates Mi-17s with UN mission in CAR,
Kenya commissions Kenya Air Force Aviation Centre of Excellence.
VoloCity takes off on maiden flight.
Bombardier's newly launched Challenger 3500 jet wins top international award for excellence in product design.
EHang receives pre-order for 100 units of EH216 AAVs from Indonesian aviation company Prestige Aviation.
Lilium begins flight testing in Spain.
Lockheed Martin Stalker VXE UAS completes world record 39-hour flight.



Google Banner Ad









THE AER0 CLUB'S YEARBOOK IS NOW ON SALE

WWW.AEROCLUB.ORG.ZA/SHOP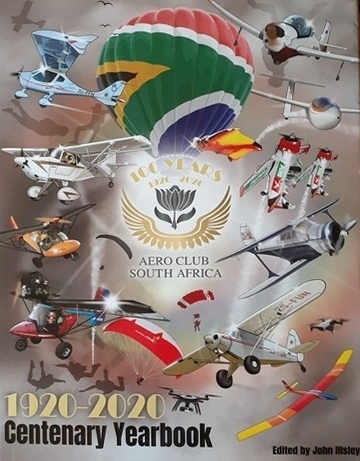 22 to 24
Aero Club of South Africa Airweek at Middleburg airfield. Contact Rob Jonkers on E-mail: rob@aerosud.co.za or Cell: 082 804 7032

22 to 24 April
EAA National Convention Middleburg airfield. Contact Marie Reddy: on E-mail: marie.reddy@gmail.com

23
POSTSPONED
Rustenburg Airshow. Contact Lesego Serekwane on E-mail: lesego@marakanelo.co.za or Cell: 066
256 7302







27 April to 1 May
SAMAA Combined Power Nationals. Henley Model Airfield.

29 April to 1 May
SAGPA North meets South at Gariep Dam. Contact Juanita Kruger on E-mail: juanita.kruger@gmail.com or Cell: 082 040 9798

27 April to 2 May
PASA 2022 South African National Skydiving Championships, Skydive Pretoria. E:Mail info@skydivepretoria.com or +27814995739 for more info

30 April to 1 May
Gathering of Moths Queenstown Airfield. Contact Giel Cell: 082 555 4418 or Mark Cell: 082 921 2872

30 April to 1 May
Queenstown Flying Club. For more information go to www.qfclub.co.za

4
EAA Chapter 322 Monthly Meeting at the EAA Auditorium, Rand Airport


6 to 8 May
Springbok Fly-In. Contact Di Ellis on E-mail: dianne@weskusfilters.co.za or Cell: 083 277 3368

6 to 8
Vryheid Vintage Car Club and Fly-in at Vryheid airfield. For more info contact Morne Strauss on E-mail: morne@imsbrokers.co.za or Cell: 073 7029870

7
Zandspruit Bush and Aero Estate Fly-in Hoedspruit. Gary Whitecross on E-mail: gary@airplay.co.za or Cell: 082 553 2204

7
SAAF Museum Fly Day AFB Swartkop

13 to15
Battlefields Country Lodge Annual Fly-in. Please contact Dave O' Halloran on E-mail: gm@battlefieldslodge.co.za

14 &15
SAC Free State Regionals at Tempe Airfield. Contact Annie Boon on E-mail: chunge@mweb.co.za

17 to 20
Nampo Harvest Day R30 Bothaville. Contact Wim Venter on E-mail: wim@grainsa.co.za or Tel: 012 816 8001

19 to 21
SAPFA President's Trophy Air Race - Tempe Airfield, Bloemfontein. For more info contact Rob Jonkers on E-mail: chairman@sapfa.co.za or Cell: 082 804 7032

28
Kroon Fly-In and Farmers Market. Kevin 061 008 9562 or Marius 083 419 6613

27 to 29
Bona Bona Fly-In. Website: www.bonabona.co.za/fly-in

28
FAKR Nav Rally. Contact Nandi on +27 83 577 8894 or or E-Mail kfc@iafrica.com

28
Parys Airshow. E-mail: haley@creativespacemedia.co.za or Cell: 083 292 7608







4
10th Newcastle Airshow. Contact Johan Pieters on E-mail: Johan@champ.co.za or Cell: 082 923 0078

4
SAPFA Krugersdorp ANR at Jack Taylor Airfield, Krugersdorp. Contact Frank Eckard on E-mail: frank.eckard@mweb.co.za or Cell: 083 269 1516

15 to 19
SAC National Aerobatics Championships at Wingspark airfield
Contact Annie Boon on E-mail: chunge@mweb.co.za

16 to 18
SAPFA Rally Nationals at Brits airfield. Contact Frank Eckard on E-mail: frank.eckard@mweb.co.za or Cell: 083 269 1516

22
Polokwane Airshow Contact: Noel Netshivhodza on E-mail: netcoxm@gmail.com or Cell: 081 728 0843

25
SAPFA Speed Rally at Kroonstad Airfield. Contact David le Roux on E-mail: david@pilotinsure.co.za or Cell: 073 338 5200







TEXTRON AVIATION BRINGS NEW UPGRADES TO ICONIC PISTON PRODUCT LINEUP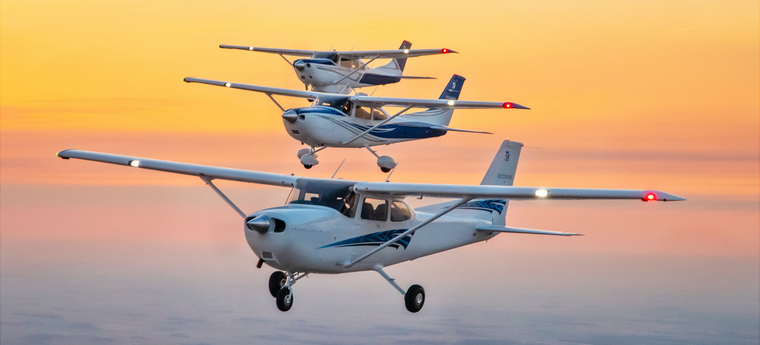 Textron Aviation recently announced a range of enhancements to its top-selling, legendary piston aircraft line-up. From utility to luxury, these upgrades to the Beechcraft Baron, Beechcraft Bonanza and all Cessna piston aircraft will provide operators with more functionality and comfort.


Beechcraft pistons introduce multiple enhancements. The new production Beechcraft Bonanza G36 will now offer a 155-pound increase to the maximum take-off weight, giving the aircraft a maximum useful load of 1,213 pounds in its standard configuration with six seats.
In addition to the increased gross weight, new production Bonanzas, along with Beechcraft Baron G58 aircraft, will offer three new interior schemes and a new cockpit layout with a standalone autopilot controller. New Bonanzas and Bonanzas will also include a Garmin GI 275 electronic standby, a carbon monoxide detector integrated in the Garmin avionics system, USB ports at every seat, powered headset plugs in the cockpit and updated LED exterior lighting for improved visibility. New models of each aircraft are anticipated to be delivered in mid-2022.
Cessna high-wing pistons feature modernized cockpit. All new production Cessna high wing piston aircraft will also include a Garmin GI 275 electronic standby. The standby modernizes the cockpit panel by eliminating three analogue standby instruments and provide additional flight data. The interior of Cessna high-wing piston aircraft also feature refreshes with the addition of Alcantara inserts in the seats along with a backlit USB A/C port in the cockpit.
"These are upgrades will truly enhance the flying experience for our customers," said Chris Crow, vice president, Piston Sales. "Customers will experience a noticeable change when they're inside each of these aircraft."



SAAF PART OF NORTH WEST ILLEGAL CHROME MINING BUST



The SA Air Force (SAAF), in the form of two helicopters, was one component of a multi-organisation, anti-crime task force that abruptly ended a multi-million Rand illegal chrome mining and smuggling syndicate near Rustenburg.

The task force assembled to tackle the illegal chrome operation, in addition to an Agusta A109 light utility and Oryx medium transport helicopter, in all probability on the strength of 17 Squadron at Air Force Base (AFB) Swartkop in Centurion, included elements of SA Police Service (SAPS) Directorate for Priority Crime Investigation (DPCI), other SAPS specialists and private security companies.

This multi-pronged team used airborne assets to pounce on Batlhako Mining's Ruighoek chrome mine outside Rustenburg last Thursday in an operation that saw chrome worth an estimated R2.5 million seized.

"During the operation, two primary syndicate members were arrested and three suspects wounded after allegedly attempting to evade arrest by driving away from the crime scene, triggering a high-speed chase and shootout," SAPS Captain Tlangelani Rikhotso is reported as saying by the SA National Defence Force (SANDF).

In addition to the large quantity of chrome recovered, police confiscated four Interlink trucks, a tipper truck, three excavators, two diesel tanks, two vehicles and a 9 mm pistol with an obliterated serial number.


Google Banner Ad
Two suspects made their first appearance on 11 April in the Mogwase Magistrate's Court and faced charges of illegal mining, while the case against the three wounded suspects has been handed to SAPS Detective Services.
Provincial Head of the DPCI Major General Patrick Mbotho hailed the collaborative nature of the operation and thanked all involved. "Mining is the highest contributor to the North West economy, this makes it important and absolutely worth protecting," he said by way of a warning to other illegal mining syndicates.
In another bust in the same area last August, four people were arrested for illegally mining chrome worth nearly R1 million.

SRI LANKA ROTATES MI-17S WITH UN MISSION IN CAR
Written by Guy Martin



The Sri Lanka Air Force (SLAF) has dispatched two Mi-17 helicopters to its aviation contingent in the Central African Republic (CAR). These are serving with the UN mission in the CAR (Minusca) and are part of the rotation of its aviation contingent, which previously saw three Mi-17s return to Sri Lanka.

The rotation took place from 29 March to 2 April and the aircraft rotation was coordinated through the SLAF UN Mission Cell.

The aircraft were transferred by an UN-chartered Antonov An-124 transport operated by Maximus Air Cargo.

The SLAF operates a number of different variants of the Mi-17 Hip family of utility helicopters, all of which are employed by 6 Helicopter Squadron from SLAF Base Anuradhapura (also known as Anuradhapura Airport) in Sri Lanka's North Central Province, Key Publishing reported. "AirForces Intelligence data states that - as of 6 April 2022 - the SLAF operates 14 Mi-171E Hip-Hs; four Mi-171 Hip-Hs; two Mi-17V-5 Hip-Hs and one Mi-17-1V Hip-H."


KENYATTA COMMISSIONS KENYA AIR FORCE AVIATION CENTRE OF EXCELLENCE
Written by Guy Martin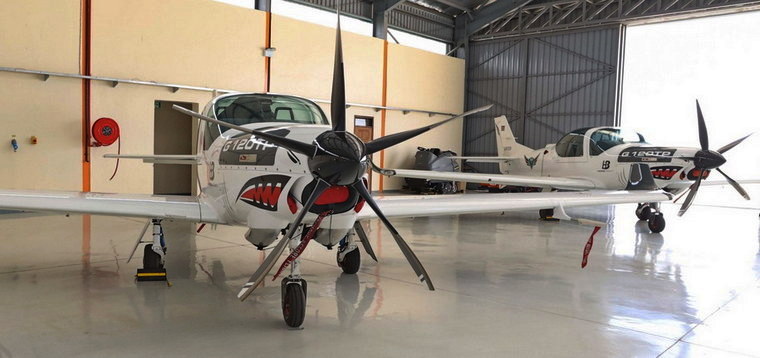 Kenya's President and Commander-in-Chief Uhuru Kenyatta has commissioned the Kenya Air Force's new Aviation Centre of Excellence (ACE), which will be used by the Kenya Defence Forces, government agencies and civilian companies as well as other East African nations.

The ceremony took place at Laikipia Air Base in Nanyuki on 7 April. Recently acquired Grop G120TP turboprop trainers were on display. The Kenya Air Force flies nine new G120TPs in addition to G120A-K piston engine trainers. The Kenya Air Force in 2013 received six G120A-K models, becoming the first African air force to operate the type. One subsequently crashed on 28 March 2018, but the pilots survived.
"This academy shows that our focus is not on hardware alone. Any modern and progressive military must lay emphasis on quality training, which is a critical force multiplier for mission attainment," Kenyatta said.
He said the acquisition of modern training aircraft and the establishment of the Aviation Centre of Excellence will assist KDF and other government agencies in creating a pool of skilled professionals to undertake varied aviation operations.
"I challenge the Center to tap into the East African Community and beyond by way of offering aviation training. This should not be limited to security sector actors but should be extended to civilian entities such as Kenya Airways and other airlines, who are also in critical need of highly qualified aviators," the President said.
Google Block Ad
Kenyatta said the military had received several new 'air systems' and announced plans to acquire ultra-modern maritime air surveillance capabilities aimed at augmenting the military's power to handle emerging national security threats.
"These efforts will ensure that our defence forces are well-equipped to fulfil their constitutional mandate of guaranteeing national security. Moreover, these enhanced capabilities will extend Kenya's ability to support disaster mitigation efforts in Kenya and regionally," he said.

VOLOCITY TAKES OFF ON MAIDEN FLIGHT



Last year, UAM pioneer Volocopter rose to the challenge of bringing its fully electric VoloCity air taxi off the ground and into the air. In this post, we're sharing the very first video of that memorable flight.

In the 10+ years that our Volocopter ground crew has been developing electric vertical take-off and landing (eVTOL) vehicles, we've pioneered numerous generations of UAM passenger aircraft. From our yoga ball tests as a fledgling company right through to the VC200 proof of concept and our high-flying, record-breaking 2X, our company's momentum has been propelled by our safety-first approach, by ensuring we continue to push the limits of innovation, and by keeping our eyes squarely on the ultimate flying prize.
The VoloCity takes to the skies for its maiden flight. But before the VoloCity took to the skies, our team had proven to the regulators that all operational risks were duly mitigated. Once we got their green light, we could start powering up the aircraft and prepare it for take-off.

That's how UAM pioneer Volocopter clocked up over 1,500 test flights or dress rehearsals in preparation for this very moment. Theory, design, processes, simulations and structures were all layered one on top of the other to create a solid foundation for the UAM pioneer's vision. Ultimately, it was a combination of teamwork, open communication and attention to detail that helped us devise our action plan. And before we knew it, Volocopter was gearing up for the VoloCity's debut.
On a chilly December morning, our team was excited because everything was finally coming together. As the VoloCity emerged from the hangar and moved onto the airfield, we held our breath for the flight test we'd been waiting no less than 11 years to conduct!
As the rotors began to turn and a light humming filled the air, the flick of a remote switch caused the VoloCity to take off and perform its maiden flight in Bruchsal, southern Germany. Once in the air, the term "air taxi" quite literally became next-level! The airborne VoloCity was much more than an innovative aircraft, it was the culmination of the Volocopter team's hard work and dedication and its success in bringing this novel technology to life.
As UAM pioneers, the challenges we surmounted as a team gave us the momentum, we needed to achieve this historic milestone. Ultimately, we proved that the system we developed for our aircraft really did give it wings.

BOMBARDIER'S NEWLY LAUNCHED CHALLENGER 3500 JET WINS TOP INTERNATIONAL AWARD FOR EXCELLENCE IN PRODUCT DESIGN



Bombardier is pleased to announce that its newest business jet, the Challenger 3500 aircraft, has been honoured with the distinction "Red Dot: Best of the Best" in the Red Dot Award: Product Design 2022. The prestigious Red Dot Award is one of the most sought-after international recognitions for design and innovation excellence.

The Red Dot: Best of the Best is awarded for ground-breaking design and is the highest award in the competition, reserved for the best products in a given category. The award is a testament to Bombardier's successful Challenger platform and is representative of the company's innovative spirit and approach to continuous improvement. The Challenger 3500 business jet was recognized as Red Dot: Best of the Best in the Trains and Planes category.
"Bombardier's design teams are true masters of their craft and I am proud that their work on the Challenger 3500 jet was recognized by the Red Dot jury for belonging to the best in its category," said Éric Martel, President and Chief Executive Officer, Bombardier. "The Challenger aircraft platform has always delivered impressive performance, consistent reliability and a smooth ride and I'm thrilled that the new interior design and technological features elevating the aircraft's cabin experience have been acknowledged by this prestigious award."

Bombardier conceived the next-generation Challenger 3500 business jet through a sustainable lens, introducing a redesigned interior with intelligent and sustainably minded cabin features crafted to combine comfort with function. Further elevating the passenger experience, Bombardier's exclusive and patented Nuage seat is included in the aircraft's standard configuration - the first time a seat of this calibre is available in the super mid-size segment.
"Our jury was especially impressed by the products that won a Red Dot: Best of the Best. This distinction is synonymous with ground-breaking design par excellence. Only a very small percentage of competition winners were awarded this special title because a product needs to have a certain something in order to win this top award. This distinction is proof that Bombardier created a brilliant design!" said Professor Dr. Peter Zec, founder and CEO of the Red Dot Award.
In addition to its sustainability signature, the Challenger 3500 aircraft also introduces new and innovative technological features, such as the industry's first voice-controlled cabin to manage lighting, temperature and entertainment systems, wireless chargers throughout the cabin and the only 24-inch and only 4K display in its class.
The Red Dot Award is one of the most prestigious design awards worldwide and honours innovation, concepts and visions. This year's winners will be celebrated during an award ceremony on June 20 in Essen, Germany and featured in the Red Dot Design Yearbook.

EHANG RECEIVES PRE-ORDER FOR 100 UNITS OF EH216 AAVS FROM INDONESIAN AVIATION COMPANY PRESTIGE AVIATION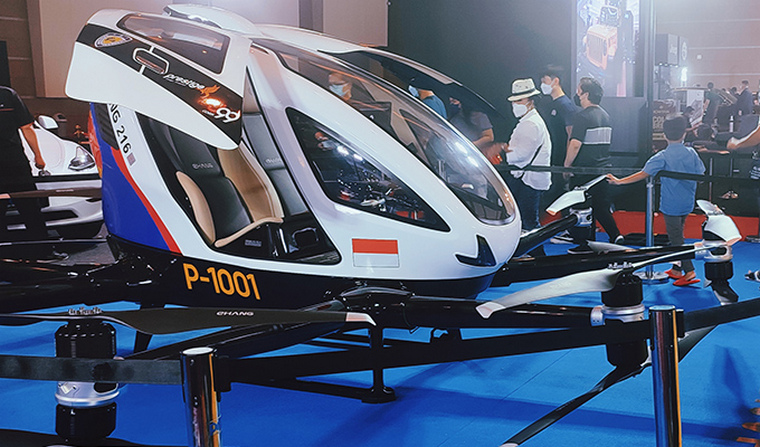 EHang Holdings Limited (Nasdaq: EH) ("EHang" or the "Company"), the world's leading autonomous aerial vehicle ("AAV") technology platform company, has announced that EHang has received a pre-order for 100 units of EH216 AAVs from Prestige Aviation, an Indonesian aviation company and a subsidiary of Prestige Corp.

It's the largest pre-order EHang has received so far for its passenger-grade AAVs in Asia. Prestige Aviation previously purchased one unit of EH216 from EHang and the two parties jointly conducted a debut flight demonstration for aerial sightseeing in Bali, Indonesia in 2021.
Bambang Soesatyo, Chairman of the People's Consultative Assembly Republic Indonesia, attended the signing ceremony at IIMS 2022 and said, "I am pleased to witness further reinforcement of collaboration between Prestige and EHang as well as their joint efforts to promote a broader application of solutions to Urban Air Mobility ("UAM") to the Indonesian market. Coming next, we hope to explore more possibilities to facilitate the implementation of UAM in Indonesia, to seek breakthroughs in infrastructure, airworthiness certification and other related fields."

Rudy Salim, Executive Chairman of Prestige Aviation, said, "EHang has long been a crucial partner to Prestige Aviation. As a forerunner of Indonesia's sustainable transportation, we hope that we can address the Indonesian public's need for aerial transportation and we are therefore ready to support the Indonesian new capital Nusantara's Smart City initiative with EH216 AAVs. Indonesia is an archipelagic country with more than 17,000 islands within its borders. Therefore, a new transportation mode that can facilitate inter-island mobility will undoubtedly help regional economies to grow exponentially, assisted by its low cost when compared to other conventional land routes. We will join hands with EHang to bring safe, efficient, economical and eco-friendly transport solutions to facilitate inter-island mobility and many other scenarios in Indonesia."
Hu Huazhi, Founder, Chairman and CEO of EHang, attended the online ceremony and commented, "We sincerely appreciate all the support and recognition of Prestige Aviation and our expanding network of partners, which inspire EHang to further expand our global market. We will continue our in-depth collaboration with Prestige Aviation on UAM in Indonesia. We believe that, as the Regional Comprehensive Economic Partnership ("RCEP") brings favourable policies to international cooperation, we will further accelerate the development of UAM in Asia Pacific region with the aim to benefit the people with cutting-edge AAV technologies."

LILIUM BEGINS FLIGHT TESTING IN SPAIN

(Lilium N.V. (NASDAQ: LILM) ("Lilium"), developer of the first all-electric vertical take-off and landing ("eVTOL") jet, has announced that it has begun the next phase of flight testing in Spain with its 5th generation technology demonstrator, Phoenix 2.

Over the coming months at the ATLAS Flight Test Center, Lilium plans to extend the flight envelope through full transition and high-speed flight. These developments come after successful flight testing with the same aircraft in southern Germany last year.
Lilium also plans to introduce an additional demonstrator aircraft, Phoenix 3, which is scheduled to arrive in Spain for its first flight this summer. This aircraft is expected to significantly accelerate the flight test campaign, allowing Lilium to increase learnings and reduce program risks.
Together with excellent weather conditions, the ATLAS Flight Test Center provides optimal infrastructure and enables aircraft to fly over a large, unpopulated area while transitioning fully to high-speed wing-borne flight. The modern facilities and support from the Andalusian Foundation for Aerospace Development ("FADA") and Center for Advanced Aerospace Technologies ("CATEC") have been instrumental in setting Lilium up for a successful flight test campaign.
Daniel Wiegand, Co-Founder and CEO of Lilium said: "We are excited to have kicked off our next phase of flight testing in Spain. This step takes us even closer to reaching our goal of creating a sustainable and accessible mode of high-speed, low noise regional air mobility."

LOCKHEED MARTIN STALKER VXE UAS COMPLETES WORLD RECORD 39-HOUR FLIGHT

Lockheed Martin Skunk Works demonstrated the expanded endurance capabilities of a specially configured Lockheed Martin Stalker VXE unmanned aerial system (UAS) through a world record endurance flight on Feb. 18, 2022, at the Santa Margarita Ranch in California.

The flight establishes a new record in the Group 2 (5 to <25-kilogram) category with a flight time of 39 hours, 17 minutes and 7 seconds. The flight has been submitted to the Fédération Aéronautique Internationale (FAI), the world sanctioning body for aviation records, through its U.S. affiliate, the National Aeronautic Association, for certification.
A production Stalker VXE was modified for this record-setting flight with an external, wing-mounted fuel tank. The flight provided valuable insight for improvements to Stalker VXE aimed at scaling its mission capabilities for the future.
Stalker VXE's class-leading endurance, broad operating envelope, modular payload compliance, vertical take-off and landing capability and open system architecture allow it to execute diverse and demanding missions while maintaining a small operational footprint and crew.




USA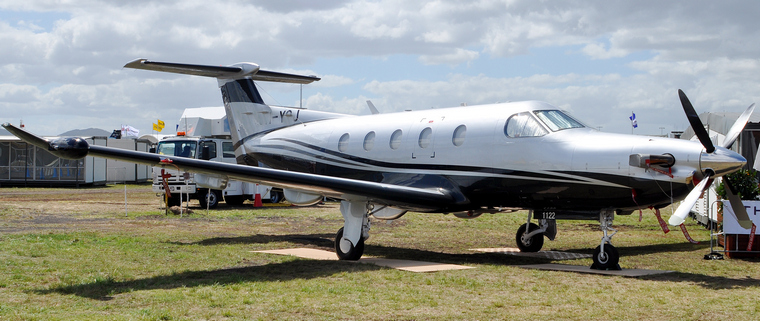 File Photo. Not the accident aircraft.

The pilot and all seven passengers were killed when on 13 February 2022, a single-engine turboprop Pilatus PC-12/47E crashed into the Atlantic Ocean three miles east of the North Carolina coast. In addition to the 3,000-hour commercial pilot and his son, the victims included the airplane's owner, his girlfriend and four high-school students. The airplane was returning to its base in Morehead City (KMRH) from a duck-hunting trip in mainland Hyde County.

The flight departed the non-towered Hyde County Airport in Engelhard at 13:35 local time. The pilot made contact with air traffic control to request a VFR flight following at 3,500 feet and clearance for the GPS approach to Runway 26 at KMRH. Three minutes after take-off, the controller advised the pilot that Restricted Area 5306-A was active. The pilot acknowledged and promised to remain clear to the east, but at 13:41 the controller made multiple unsuccessful attempts to advise the pilot that he was about to enter restricted airspace. To reduce the risk of collision, the controller instructed military traffic in the restricted area to remain at or above 4,000 feet.

At 13:49, the pilot contacted ATC to request the GPS Runway 26 approach, which was initially denied while the restricted area was active. When asked why he did not acknowledge the earlier calls, the pilot replied that he "was trying to get out" and hadn't been able to receive the controller's earlier transmissions. Three minutes later, the restricted area went cold and the controller cleared the flight for the approach via the CIGOR intersection with instructions to cross at or above 1,900 feet.

In the next seven minutes, the controller asked whether the flight was on course to CIGOR and repeated the local altimeter setting, as radar indicated that the Pilatus was 200 feet low. The pilot's readback of the altimeter setting was the last transmission received by ATC. At 14:01, radar showed the PC-12 abruptly climbing through 4,700 feet as its airspeed slowed to 103 knots. In the next minute, it disappeared from radar without a distress call or emergency declaration. An Alert Notice was issued at 14:29 and the U.S. Coast Guard subsequently located the wreckage under 60 feet of water. Prevailing weather at KMRH included 10 miles visibility under a 900-foot overcast and northerly winds of 13 knots with gusts to 18.



Zimbabwe, near Chibhero College, Mhondoro: A Robinson R44, possibly registered in the RSA, crashed near Chibhero College in Mhondoro. The pilot, the sole occupant, was killed.
France, Plouhinec, Morbihan: A Viking Dragonfly Mk II with two occupants crashed in a swamp after the 66-year-old pilot had suffered a cardiac arrest. The passenger, a 35-year-old woman, who was on her first flight, attempted to carry out a forced landing. Both perished in the accident.

Canada, Sault Ste Marie, ON: A PZL-104 Wilga 32 sustained substantial damage subsequent to impact with wooded terrain during an apparent forced landing at Sault Ste Marie, Ontario. The pilot did not survive.
Germany, near Oerlinghausen Airfield: The pilot of a Bölkow Phoebus C lost control during flight and crashed in a wooded area near Oerlinghausen Airfield (EDLO). The aircraft was damaged beyond repair and the pilot did not survive.



Brazil, Near SNHN - Heliporto EFAI, Contagem , Mnas Gerais: A Guimbal Cabri G2 helicopter with two on board on a training sortie crashed near the heliport. Shortly after take-off, the helicopter lost power and hit a truck in the parking lot of a food distributor near the heliport. The pilot and student were injured.
USA, Cobb County Parkway, Kennesaw GA: An American Aviation AA-1 Yankee Clipper impacted powerlines while on finals. It subsequently made a forced landing on a major roadway, sustaining substantial damage. The pilot survived.






12 APRIL 1911

Pierre Prier makes the first non-stop flight from London to Paris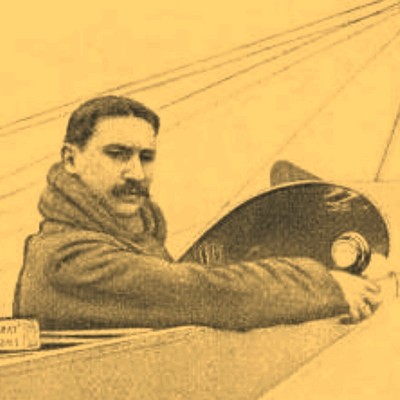 A new aviation milestone was achieved when Pierre Prier undertook a non-stop flight in a monoplane between England and France. He specifically flew from the community of Hendon, which is six miles (9.7 kilometres) from the centre of London, to the Paris suburb of Issy-les-Molineaux.
While still flying over English soil, the 24-year-old French pilot encountered both fog and squalls. He took his plane higher into the skies to avoid those threatening conditions. By the time he was flying above Dover and preparing to travel across the English Channel, the plane had reached an altitude of more than 3,200 feet (975.4 meters).
The weather conditions for Prier's flight improved as he made his way over the channel. These conditions remained good until he was soaring above the French city of Beauvais, which is 54 miles (86.9 kilometres) from Paris. The remainder of Prier's airborne journey was spent flying through a haze. He arrived at Issy-les-Molineaux at 5:33 p.m., three hours and 56 minutes after flying out of Hendon. His flight had covered a total of 290 miles (466.7 kilometres).
Prier was not the first to travel across the English Channel in a plane; six other people had already accomplished that feat. Prier, however, was the first person to fly non-stop from the vicinity of London to the vicinity of Paris. His flight, which in effect served as an unprecedented link between those two major European capitals, received global attention.
Google Banner Ad