Compiled by Willie Bodenstein



Google Banner Ad



THIS WEEK IN MIDWEEK UPDATE
US approves possible AH-1Z Viper sale to Nigeria.
The Republic of Angola orders three Airbus C295s.
Pilatus ends 2021 financial year flying high.
Tecnam shapes the future of IFR aviation training with the P-Mentor.
EAA AirVenture Oshkosh 2022 to welcome Yagen collection of warbirds.
Delivery of the 100th Global 7500 aircraft.
Dassault Aviation's Falcon 6X successfully completes cold soak trials.
Pipistrel and Lobo Leasing sign partnership and place order for 15 Nuuva V300 hVTOL aircraft.
Eve and Thales enter a partnership to develop eVTOL aircraft.
Worldwide incidents and accidents.
This week in history, Brazilian priest Adelir Antonio de Carli lifts off from Paranagua for a flight inland to Dourados, over 725 km (450 mi) to the northwest, suspended under 1,000 brightly coloured party balloons.



Google Block Ad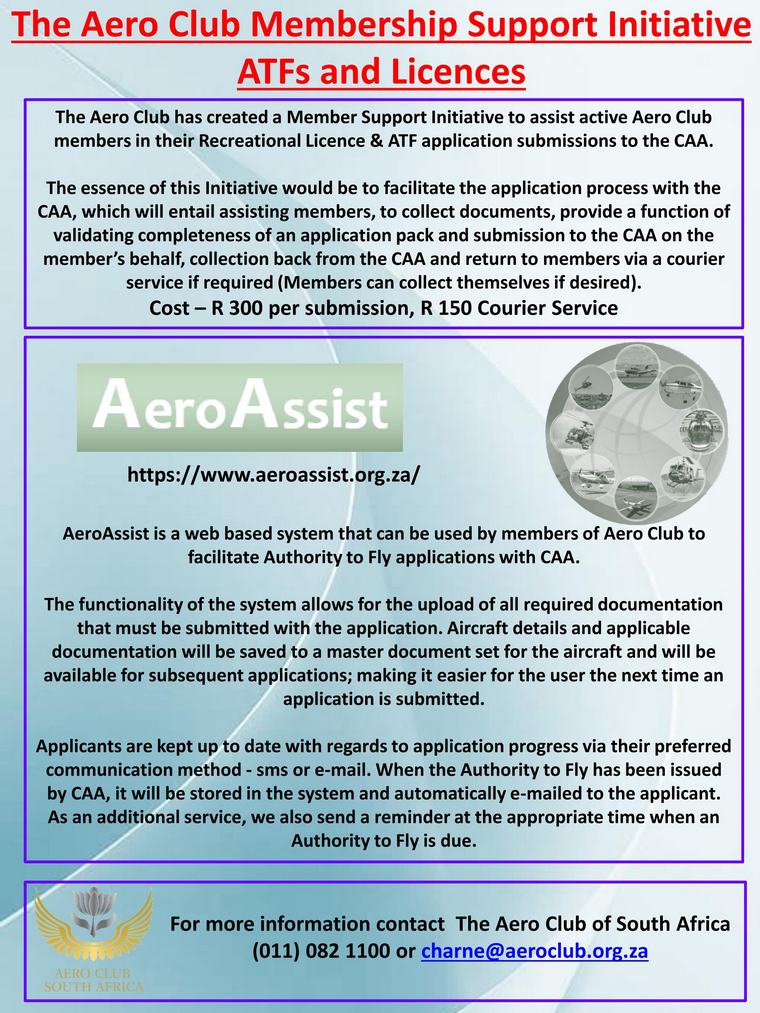 THE AER0 CLUB'S YEARBOOK IS NOW ON SALE

WWW.AEROCLUB.ORG.ZA/SHOP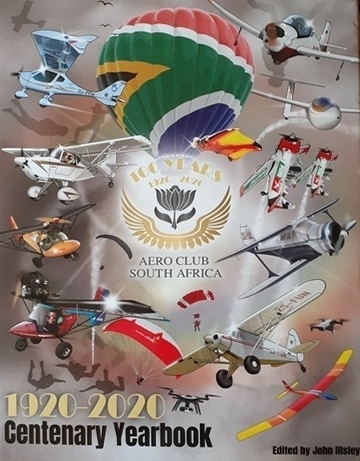 27 April to 1 May
SAMAA Combined Power Nationals. Henley Model Airfield.

29 April to 1 May
SAGPA North meets South at Gariep Dam. Contact Juanita Kruger on E-Mail: juanita.kruger@gmail.com or Cell: 082 040 9798

27 April to 2 May
PASA 2022 South African National Skydiving Championships, Skydive Pretoria. For more info, E-Mail them on info@skydivepretoria.com or call +27814995739

30 April to 1 May
Gathering of Moths Queenstown airfield. Contact Giel Cell: 082 555 4418 or Mark Cell: 082 921 2872

30 April to 1 May
Queenstown Flying Club. For more information go to www.qfclub.co.za







2
Pro Patria Military Fair at the Amphitheatre, Voortrekker Monument. Contact Marc Quesnel on E-mail: queslrm@gmail.com

4
EAA Chapter 322 Monthly Meeting at the EAA Auditorium, Rand Airport

6 to 8 May
Springbok Fly-In. Contact Di Ellis on E-mail: dianne@weskusfilters.co.za or Cell: 083 277 3368

6 to 8
Vryheid Vintage Car Club and Fly-In at Vryheid airfield. For more info contact Morne Strauss on E-mail: morne@imsbrokers.co.za or Cell: 073 7029870

7
Zandspruit Bush and Aero Estate Fly-In Hoedspruit. Contact Gary Whitecross on E-mail: gary@airplay.co.za or Cell: 082 553 2204

7
SAAF Museum Fly Day AFB Swartkop

13 to15
Battlefields Country Lodge annual Fly-In. Please contact Dave O' Halloran on E-mail: gm@battlefieldslodge.co.za

14 &15
SAC Free State Regionals at Tempe airfield. Contact Annie Boon on E-Mail: chunge@mweb.co.za

17 to 20
Nampo Harvest Day R30 Bothaville. Contact Wim Venter on E-mail: wim@grainsa.co.za or Tel: 012 816 8001

19 to 21
SAPFA President's Trophy Air Race - Tempe Airfield, Bloemfontein. For more info, contact Rob Jonkers on E-mail: chairman@sapfa.co.za or Cell: 082 804 7032

28
Kroon Fly-In and Farmers Market. Call Kevin 061 008 9562 or Marius 083 419 6613
27 to 29

Bona Bona Fly-In. Website: www.bonabona.co.za/fly-in

28
FAKR Nav Rally. Contact Nandi on +27 83 577 8894 or on E-mail; kfc@iafrica.com

28
Parys Airshow. E-mail: haley@creativespacemedia.co.za for info or Cell: 083 292 7608







4
10th Newcastle Airshow. Contact Johan Pieters on E-mail: Johan@champ.co.za or Cell: 082 923 0078

4
SAPFA Krugersdorp ANR at Jack Taylor airfield, Krugersdorp. Contact Frank Eckard on E-Mail: frank.eckard@mweb.co.za or Cell: 083 269 1516

15 to 19
SAC National Aerobatics Championships at Wingspark airfield
Contact Annie Boon on E-mail: chunge@mweb.co.za

16 to 18
SAPFA Rally Nationals at Brits airfield. Contact Frank Eckard on E-Mail: frank.eckard@mweb.co.za or Cell: 083 269 1516

22
Polokwane Airshow Contact: Noel Netshivhodza on E-mail: netcoxm@gmail.com or Cell: 081 728 0843

25
SAPFA Speed Rally at Kroonstad airfield. Contact David le Roux on E-Mail: david@pilotinsure.co.za or Cell: 073 338 5200





US APPROVES POSSIBLE AH-1Z VIPER SALE TO NIGERIA

Written by Guy Martin



The United States has approved a possible sale of 12 Bell AH-1Z Viper attack helicopters to Nigeria in a deal that could be worth nearly a billion dollars if it goes ahead.

The US Department of Defence on 14 April announced that the State Department had approved the possible Foreign Military Sale and notified Congress of the $997 million deal, which also includes 28 T-700 GE 401C engines and 2 000 Advanced Precision Kill Weapon System (APKWS) guidance sections.
Other equipment included in the proposed sale includes M197 20 mm guns, sighting systems, night vision equipment as well as technical and logistics support. No Hellfire missiles were mentioned and it is not clear which branch of service would operate the aircraft.
"$25 million of case funds will be allocated for institutional and technical assistance to the Armed Forces of Nigeria (AFN) to continue Air Ground Integration (AGI) programme, which includes developing targeting processes that are legally compliant with International Humanitarian Law and the Laws of Armed Conflict as well as other related elements of logistics and program support," the Defence Security Cooperation Agency (DSCA) stated.
"The proposed sale will better equip Nigeria to contribute to shared security objectives, promote regional stability and build interoperability with the US and other Western partners. This sale will be a major contribution to US and Nigerian security goals," the DSCA added.
Nigeria has for some time shown interest in acquiring AH-1Z helicopters, but the deal was put on hold over concerns about possible human rights abuses by the Nigerian government. In July last year it emerged that members of the Senate Foreign Relations Committee had placed a hold on the proposed sale.
Google Block Ad
Nigeria's military has been upgrading its capabilities in the wake of domestic terrorism and rising armed robberies and kidnappings for ransom - earlier this month, hundreds of people were abducted from trains and held for ransom.
Nigeria has had a sometimes-rocky road in acquiring military hardware from the United States. In 2014, the United States blocked any sale by Israel of surplus American-made weapon systems to Nigeria, nixing the proposed sale of ex-Israeli AH-1 Cobras after citing human rights concerns, saying Nigeria was not doing enough to avoid civilian casualties in the fight against Boko Haram. In 2014 the Nigerian Air Force expressed interest in acquiring a dozen Scorpion jets from Textron AirLand to fight Boko Haram insurgents, but nothing came of this.
Under former President Barack Obama's administration, arms sales to Nigeria were cut back, but when Donald Trump assumed power in 2016, his administration agreed to sell Nigeria 12 A-29 Super Tucano turboprops manufactured in the United States by Sierra Nevada Corporation which were delivered last year. They have been used to combat terrorists.
www.defenceweb.co.za

THE REPUBLIC OF ANGOLA ORDERS THREE AIRBUS C295S
The Republic of Angola has placed a firm order for three Airbus C295s to perform multirole operations. Two aircraft will be specifically equipped for maritime surveillance and one for transport missions.
The aircraft configured for transport missions will be able to carry out tactical cargo and troop transport tasks, paratrooping, load dropping or humanitarian missions.
The two C295s configured as Maritime Surveillance Aircraft (MSA) will play a key role for Search and Rescue (SAR), control of illegal fishing and borders, support in case of natural disasters and intelligence-gathering missions, among others. They will be equipped with the Airbus-developed Fully Integrated Tactical System (FITS) mission system as well state-of-the-art sensors.
All three aircraft will be equipped with the latest version of the Collins Aerospace Pro Line Fusion avionics suite.
With this new order, the Força Aérea Nacional de Angola becomes the 38th C295 operator worldwide.



PILATUS ENDS 2021 FINANCIAL YEAR FLYING HIGH





The 2021 financial year was extremely successful for Pilatus, but also challenging. Despite the difficult circumstances, a new production record of 152 aircraft deliveries was set. Sales of 1.3 billion Swiss francs, an operating result of 210 million and incoming orders worth 1.7 billion francs are a very good result. The Board of Directors also underwent a change and a reinforcement.

Pilatus achieved growth in sales of 19 percent and a 35 percent higher operating result compared to the previous year. The total number of aircraft delivered is impressive: 45 PC-24s, 88 PC-12 NGXs, 17 PC-21s and 2 PC-6s, 152 aircraft all in all.

High demand in both Business Units in the Business Unit Government Aviation, Pilatus succeeded in concluding a follow-up order with France for nine PC-21s. Another highlight was the successful presentation of the PC-7 MKX, the brand-new smart basic trainer for military pilot training. There was a boom in the General Aviation markets, which greatly benefited the PC-12 NGX and PC-24.

Besides the many highlights which shaped the past year, Pilatus also had to contend with some turbulence: disruptions to supply chains and supply bottlenecks had a negative impact on production. The efficiency of our work processes suffered, resulting in higher costs.

Markus Bucher, CEO of Pilatus, took a positive view of last year's result: "Thanks to a great deal of hard work and flexibility, we achieved a very good result of which the entire crew may be justifiably proud. Demand for our products and services has rarely been so high. Meeting customer expectations despite unreliable supply chains and continuing deglobalisation will, however, ensure our work remains challenging."

The newly elected 57-year-old Annette Rinck is currently President & CEO of Leica Microsystems. Annette Rinck has over 20 years' experience in global industrial companies. She has worked at Honeywell for the past seven years, most recently as General Manager, Global Brands and in the Building Management Systems Division. She has a PhD in Business Administration/Strategic Marketing.

With immediate effect, the Pilatus Board of Directors is therefore composed as follows: Hansueli Loosli (Chairman), Lukas Gähwiler (Vice Chairman), Martin P. Furrer (member), Mario Rossi (member) and the newly elected members, Dominik Burkart and Annette Rinck.


Google Banner Ad
Outlook for the current year
Hansueli Loosli, Chairman of the Board of Directors at Pilatus: "We will see further turbulence in 2022. But we have got off to a good start and we look to the future with confidence. Pilatus has a unique product range and quite simply the best products in their respective niches. We also have a good order book, which provides us with a solid foundation. The reinforced Board of Directors, together with the entire Pilatus team, will do all we can to fly Pilatus into a promising future!"



TECNAM SHAPES THE FUTURE OF IFR AVIATION TRAINING WITH THE P-MENTOR.

TECNAM has announced the introduction of a new, revolutionary aircraft into the General Aviation arena - a model named P-Mentor. With the Type Certificate issued on 7 April 2022 the P-Mentor sees its official birth date. The aircraft will be showcased for a worldwide premiere at AERO Friedrichshafen at Tecnam Stand No. A4-319.

"Mentor: an experienced and trusted person you rely on to give you advice and guidance, especially in your career" With these words in mind, Tecnam started the P-Mentor program: a simple and sustainable solution to guide student pilots from their first flight up to Instrument Rating, all in one two-seater single piston aircraft: IFR; PBN, RNAV; Variable Pitch, Autopilot, Simulated Retractable Gear Control and BRS.
The P-Mentor is the ultimate synthesis of Tecnam's leadership, knowledge and experience in solutions for Flight Training Organisations and private customers.
The P-Mentor allows complete PPL, IR and UPRT training, with approved PBN/RNAV as well as AFCS: the entire training syllabus with unprecedented fuel consumption and emissions, further enhances the renowned profitability of Tecnam-made fleet.
For the first time ever, the extremely fuel efficient and low-emissions Rotax 912iSc becomes the hearth of a full IFR-approved aircraft, coupled with an MT constant speed propeller.
Google Block Ad
The all-new wing specially designed for the P-Mentor features a tapered planform with laminar flow airfoil and mixed structure; light alloy for spars and wing box and CFRP for the one-piece leading edge. Its design allowed the P-Mentor to pass the latest CS-23 Amendment requirements for low speed and stall characteristics without Ballistic Recovery System (BRS) being essential part of the aircraft configuration. BRS is approved and available as an option for customers who require additional safety add-ons. An integral fuel tank is located behind the main spar and it offers a remarkable 130lt volume with more than 9 hours endurance.
Flight and Training experience offers the state-of-art Garmin® G3X glass cockpit, with Garmin® GI275 as back-up instrument and multiple configurations to allow PBN/RNAV as well as GFCTM 500 autopilot training. Simulated retractable gear control for enhanced students' proficiency since their first flight is available as an option.
Besides its revolutionary avionics, the P-Mentor sports Tecnam's signature Italian style with the clean and sleek lines, interiors shaped around a large cabin, modern seats and superior visibility.
Tecnam's commitment towards sustainable aviation is a reality today: flight training choosing Tecnam as their single and twin-engine aircraft fleet supplier can save up to 10 tons of CO2 for every graduated Commercial Pilot. The less-emission training fleet currently available is Made-In-Tecnam.
P-Mentor is the IFR approved aircraft with the lowest fuel consumption and CO2 emissions, with up to 60% of emissions reduction when compared with IFR competitors.

EAA AIRVENTURE OSHKOSH 2022 TO WELCOME YAGEN COLLECTION OF WARBIRDS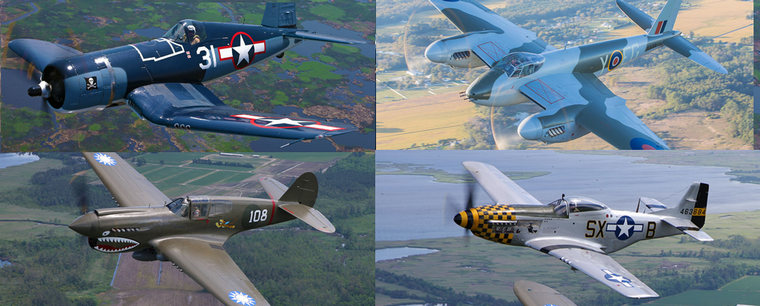 Four flying aircraft from one of the largest flying warbird collections in the world will be coming to EAA AirVenture Oshkosh 2022, as the Military Aviation Museum of Virginia Beach, Virginia, brings World War II-era airplanes to participate in this year's event. The 69th annual EAA Fly-In convention is July 25-31 at Wittman Regional Airport.

The four airplanes - a de Havilland DH.98 Mosquito, Curtiss P-40 Warhawk, Goodyear FG-1D Corsair and North American P-51 Mustang - will be flown to Oshkosh and exhibited in the warbirds area. Several of these aircraft from the collection will also make appearances on Boeing Plaza, with the schedule to be determined. The appearance is part of the museum's celebration of its founder, Jerry Yagen and his aviation achievements. Yagen is scheduled to attend as well.
"Jerry Yagen's passion for warbird aircraft has through the years evolved into one of most magnificent airworthy collections in the world," said Rick Larsen, EAA's vice president of communities and member programs, who coordinates AirVenture features and attractions. "To have these airplanes as part of the world's largest annual gathering of warbirds that occurs at Oshkosh every summer makes this year's event even more special, both in the air and on the ground."
Each aircraft brings a unique story:
de Havilland DH.98 Mosquito - This airplane was sold as surplus to a Canadian farmer in 1948, where it sat until a Canadian museum acquired it in 1978. The Military Aviation Museum obtained it in 2004 and shipped it to New Zealand for restoration. It made its first flight in 2012 and at the time was the only flying example of the type in the world. The aircraft previously attended AirVenture in 2015.
Curtiss P-40 Warhawk - This aircraft is painted in the markings of David Lee "Tex" Hill of the famed "Flying Tigers" American Volunteer Group based in China. The aircraft was built in 1941 and sent to Great Britain as part of the lend-lease program, then on to the Soviet Union, where it was lost in action and not recovered for a half-century. The P-40 was the aircraft that established the Military Aviation Museum collection.
Google Banner Ad
Goodyear FG-1D Corsair - Delivered in May 1945, the Corsair spent much of its military career in storage, thus being one of the lowest time Corsairs known. The "Skull and Bones" livery honours a hometown hero, Norfolk, Virginia-born Ray Beacham, who flew with the famous VF-17 unit in the South Pacific.
North American P-51D Mustang - Arguably the most iconic American fighter of WWII, the Mustang is a testament to American ingenuity and industrial capability. The Mustang was designed in 1940 with the first flying prototype built in just 120 days. The Military Aviation Museum's example was built in 1945 and wears the markings of the 353rd Fighter Group.
Yagen will also bring his soon-to-be-published book to AirVenture and speak at Warbirds in Review sessions and other venues about building the warbird collection. The aircraft committed to Oshkosh are some of his favourite airplanes, as each played a key role in building the collection. More details will be announced as they are finalized.

DELIVERY OF THE 100TH GLOBAL 7500 AIRCRAFT

Bombardier recently celebrated another key milestone with the delivery of the 100th Global 7500 business jet to its long-time customer - and the largest Global 7500 fleet operator - VistaJet. This delivery underscores the proven performance, reliability and reputation of the industry flagship Global 7500 aircraft.

The Proven Industry Leader
Since its entry into service in December of 2018, the Global 7500 business jet remains the undisputed industry leader for performance with a range of 7,700 nm and a top speed of Mach 0.925. Underscoring its unbeatable proven performance, the Global 7500 aircraft fleet has achieved a dispatch reliability of 99.8% - a truly exceptional achievement for such an advanced clean sheet design.
Industry Firsts
The Global 7500 aircraft is not only the first purpose-built business jet with four equal full-size living spaces, it also introduced numerous innovative industry firsts that continue to lead the industry, including:
The Nuage seat, which features the first zero-gravity position in business aviation. The Soleil circadian lighting system, the first - and only - true circadian lighting system to help combat jetlag. The advanced Pur Air system with a hospital grade HEPA filter, activated carbon filter and the fastest fresh air replacement. The first OLED touch dial on the nice Touch Cabin Management System. The first business jet with an Environmental Product Declaration.
Industry Records
Thanks to its Smooth Flex Wing and powerful Passport engines, the Global 7500 aircraft has set multiple speed records, including the fastest flight from Los Angeles to New York and from New York to London. It also holds the title of the longest ever flight in business aviation of 8,225 nm from Singapore to Detroit and the industry's first ever non-stop mission from London City Airport to Los Angeles.

DASSAULT AVIATION'S FALCON 6X SUCCESSFULLY COMPLETES COLD SOAK TRIALS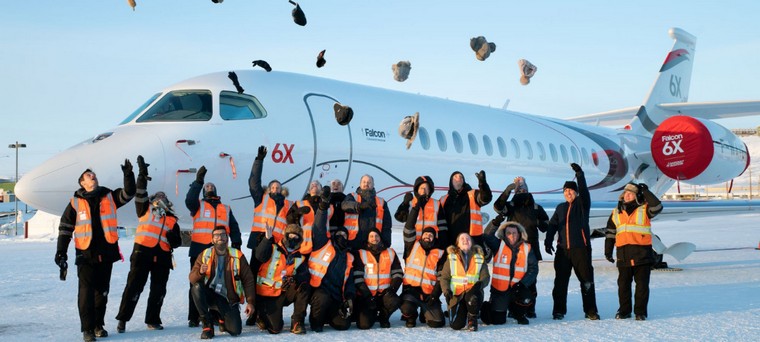 The Falcon 6X has completed cold weather testing, passing another major milestone towards certification, which is expected later this year.

The test team of engineers consisting of technicians and pilots from Dassault Aviation and engine manufacturer Pratt & Whitney Canada endured bone-chilling temperatures as low as -37°C (-35° F) during the long trial runs in Iqaluit, a tundra town in the far north of Canada.
"The Falcon 6X continues to impress us with its performance and reliability as we move through the certification process," said Carlos Brana, Dassault Aviation's Executive Vice President of Civil Aircraft. "The aircraft operated flawlessly at the extreme temperatures an aircraft can be subjected to in the severest climate conditions. That includes engines, systems and low-temperature maintainability requirements."
During the arctic ground test campaign, the aircraft was cold soaked for three successive nights and subjected to different start sequences each morning. Teams then powered up the aircraft and conducted engine ground runs and high-speed taxi tests. Ground tests were followed by a test flight during which anti-icing systems and handling qualities were checked and the stability of fuel and hydraulic fluid temperatures verified while the aircraft remained in a holding pattern flown at 10,000 feet.
Google Banner Ad
These tests, which were completed at the end February, followed an initial series of cold weather tests in Iqaluit in December, when temperatures dipped as low as -25°C (-13°F). The 6X endured a total of 50 hours of Arctic cold tests and has now accumulated some 650 flight hours, and completed over 220 flights.
Dassault team members were ferried to Iqaluit aboard the 6X from the company's Istres test centre in the south of France and reported that the cabin was exceptionally quiet and comfortable with excellent connectivity en route. Over Canada, they encountered spectacular views of the aurora borealis, especially through the 6X's unique skylight, a window installed at the top of the galley area.

PIPISTREL AND LOBO LEASING SIGN PARTNERSHIP AND PLACE ORDER FOR 15 NUUVA V300 HVTOL AIRCRAFT



Pipistrel, the world leader in electric aviation and unmanned flight systems, and Lobo Leasing Limited, a global vertical lift leasing platform, signed a letter of intent with deposits for the acquisition of 15 Nuuva V300 autonomous cargo hVTOL aircraft. The agreement confirms Lobo Leasing and Pipistrel's commitment to the development of new vertical take-off and landing, environmentally friendly and sustainable air transportation solutions.

The NUUVA V300 is an optimal hVTOL UAV for middle mile logistics with a 3 cubic meter capacity and under favourable flight conditions, the vehicle can carry 460kg up to 400km. It is designed to operate 10x more economically than today's helicopters, requires no runways and it brings enhanced safety and reliability using Pipistrel's already type-certified electric engines. This aircraft will leverage on Pipistrel's solid foundation in the industry, including 15 years of electric aviation experience and 8 years of unmanned flight experience with 10+ UAV operators.
As part of the agreement, Lobo leasing and Pipistrel will collaborate to build and connect a base of operators and investors, and by using Lobo's existing global platform, deliver customer-driven bespoke leasing solutions to enhance the deployment of the Nuuva V300 aircraft in different types of missions globally.

EVE AND THALES ENTER A PARTNERSHIP TO DEVELOP EVTOL AIRCRAFT


Eve UAM, LLC, an Embraer company, and Thales, a global technology leader providing solutions, services and products in the defence, aeronautics, space, transportation, digital identity and security markets, have teamed up to support the development of Eve's electric vertical take-off and landing aircraft (eVTOL) in Brazil.

The strategic partnership involves a series of joint studies over a twelve-month period, which started in January 2022, on the technical, economical and adaptable feasibility of a 100% electrically powered aircraft. Thales will also contribute with its expertise in developing avionics, electric, flight control, navigation, communication and connectivity systems.
"This partnership will strengthen Eve's position as a leading player in the global market and our commitment to delivering an effective and sustainable new mode of urban transportation. Embraer is a leading player in aviation in Brazil and globally and has partnered with Thales for more than thirty years. Eve will leverage on this partnership too," said Andre Stein, co-CEO of Eve.
"Thales is actively engaged in Urban Air Mobility emergence. We are particularly proud to take a new step in Brazil, joining Eve in a project that can be a game-changer for sustainable urban mobility worldwide," said Yannick Assouad, Executive-Vice President, Avionics, Thales. "This industry is coming to stay and will bring many advantages to the country, particularly concerning the environment, due to the use of clean energy."
Both Thales Technological Space Centre, in São José dos Campos, and their recently opened Avionics Centre, in São Bernardo do Campo, will provide support to Eve's and Embraer's teams working on the project, which will also rely on Thales' engineers from France, Canada and the United States.




SOUTH AFRICA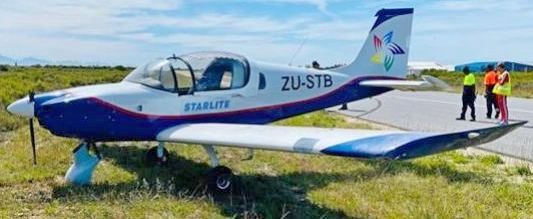 10 OCTOBER 2021


On Sunday morning, 10 October 2021, a student pilot on-board a Sling 2 aircraft with registration ZU-STB took off on a training flight from Runway 28 (RWY 28) at Mosselbay Aerodrome (FAMO) in the Western Cape province. The training flight, which was intended to be conducted at FAMO, was a solo consolidation of circuit-and-landing exercises. The flight was conducted under visual flight rules (VFR) by day and under the provisions of Part 141 of the Civil Aviation Regulations (CAR) 2011 as amended.
Clear weather conditions prevailed at the time leading to the accident.
The student pilot stated that he completed four uneventful circuits. During the fifth circuit while on touch down, landing RWY 28, the aircraft bounced three times, whereafter, the instructor advised the student pilot over the radio to do a go-around as he was watching from the Air Traffic Control (ATC) tower.
The student pilot added power to initiate a go-around and, immediately thereafter, rejected the go-around by pulling the power back to idle after feeling misalignment on the nose wheel and hearing the propeller blades striking the runway surface.
The left-wing tip scraped the runway, the aircraft skidded off to the left-side and came to a stop 5 metres (m) from the runway edge on the grass. The student pilot had a total of 23 dual hours and 2.3 solo hours at the time of accident.
The student pilot did not sustain any injuries; the aircraft sustained substantial damage to the nose gear, the left-wing tip and the propeller blades.
The student pilot was issued a Student Pilot Licence (SPL) Aeroplane on 25 January 2021 with an expiry date of 18 January 2023. His Class 2 medical certificate was issued on 12 January 2021 with an expiry date of 31 January 2022, with corrective lenses restriction.
• The mandatory periodic inspection (MPI) carried out on the aircraft prior to the accident flight was conducted on 20 August 2021 and was certified at 1997.6 airframe hours. The aircraft was issued a Certificate of Release to Service (CRS) on 20 August 2021 with an expiry date of 19 August 2022 or at 2097.6 hours of flight time, whichever occurs first unless the aircraft is involved in an accident or becomes unserviceable.
• The aircraft was initially issued an Authority to Fly (ATF) on 7 August 2017 with an expiry date of 31 August 2022.
• The approach was unstable which resulted in the aircraft touching down with the nose gear first instead of the main gears after which the aircraft bounced three times. The nose gear bent, the propeller struck the runway and the aircraft veered off the runway before it stopped on the grass.
Probable Cause:
During landing, the aircraft bounced three times on touch down, causing the nose wheel to bend and the pilot to lose control of the aircraft.



USA, near Cedar City, UT (CDC): A RRSF LLC Diamond DA40 Diamond Star with four occupants crashed after take-off from Rwy 02 at Ceder City Regional (CDC) under unknown circumstances about 5 Mi East of Cedar City, UT. There were no survivors.
USA, South Valley Regional Airport (U42), West Jordan, UT: A Utah Helicopter LLC Robinson R44 Raven II with three on board crashed while the student pilot was practicing hovering on the taxiway with a passenger in the rear seat when he lost control and the instructor failed to regain control. The main rotor severed the tail boom and the helicopter rolled to the right and ended up on its side. One of those onboard suffered minor injuries.

Australia, near Kununurra-East Kimberley Regional Airport, WA: An Aviair Pty Ltd Beechcraft 58 Baron with two occupants onboard reported smoke in the cockpit during the approach to East Kimberley Regional Airport Western Australia. The aircraft undershot the runway and was destroyed in the subsequent fire. The occupants were seriously injured. The passenger later died.
USA, Herlong Recreational Airport (HEG/KHEG), Jacksonville, FL: A Schleicher ASW-19B glider was destroyed subsequent to impact with terrain at Herlong Recreational Airport Jacksonville, Florida. The aircraft was being towed for take-off when the pilot released the tow line at about 150' AGL during the take-off sequence because of control issues. The pilot received fatal injuries.

USA, near Richland Airport (RLD/KRLD), Richland, WA: An experimental amateur built Van's RV-6A with two on board came to the rest inverted during a take-off attempt in gusting wind conditions at Richland Airport (RLD/KRLD), Richland, Washington. The occupants received minor injuries while the aircraft suffered substantial damage.
Atlantic Ocean, near Anguilla: A TUI Airlines Netherlands Boeing 787-8 Dreamliner with 314 on board on a scheduled flight had to divert to Curaçao (CUR) after one of the flight deck windscreen panes completely shattered. A safe precautionary landing was made at CUR.

USA, Felts Field (SFF/KSFF), Spokane, Spokane County, WA: Maverick Air V LLC Cirrus SF50 Vision Jet G2 suffered minor damage to its tail section when it was hit by a driverless Tesla model Y. The car was in what Tesla calls 'Smart Summon' mode in which owners can manipulate their cars' forward and backward progress.
Israel, near Rosh Pina Airport (LLIB), Mahanayim: A Fly Synthesis Texan TC with two occupants forced landed following a loss of engine power in an open field terrain near Rosh Pina Airport (LLIB), where it came to rest inverted. The occupants received moderate injuries. The aircraft was substantially damaged.



20 APRIL 2008

In an effort to raise money for a spiritual rest stop for truckers in Paranagua, Brazil, and to break the existing 19-hour record for a flight suspended by helium balloons, Brazilian priest Adelir Antonio de Carli lifts off from Paranagua for a flight inland to Dourados, over 725 km (450 mi) to the northwest, suspended under 1,000 brightly coloured party balloons.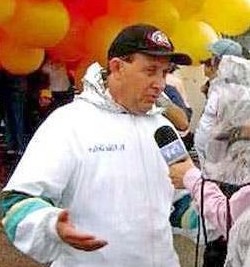 Carli's flight equipment included a parachute, helmet, waterproof coveralls, GPS device, mobile phone, satellite phone, flotation device chair, aluminium thermal flight suit and at least five days of food and drinking water.
Rising to as high as 20,000 feet (6,096 m), he was swept backward out over the Atlantic Ocean and disappeared about eight hours after take-off.
Some of his balloons were found floating intact in the sea two days later and his body was found floating in the Atlantic 700 km (435 mi) northeast of Paranagua near Maricá, Brazil, on 4 July.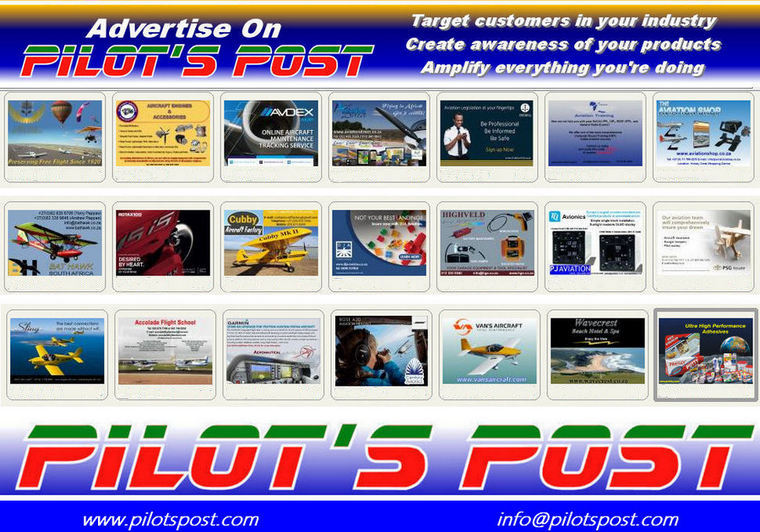 Google Banner Ad