Compiled by Willie Bodenstein



Google Banner Ad



THIS WEEK IN MIDWEEK UPDATE
11th edition of the Africa Aerospace and Defence Exhibition 2022 (Aad2022) at Airforce Base Waterkloof, Pretoria.
Upgrading the SAAF's ageing C-130BZ Hercules fleet would cost R1.6 billion.
PTAR Newsletter #3
No SAAF Museum air show this year.
Ampaire Powers Up Hybrid-Electric Eco Caravan.
H2FLY sets hydrogen-electric flight world record.
Southern Airways expands its fleet with acquisition of 2 Tecnam P2012 travellers.
Tru Simulation + Training's full-flight simulator for the Cessna Skycourier receives FAA Qualification.
Marines complete Ch-53k® initial operational test & evaluation test vignettes.
Leonardo: Qatar's first two NH90 NFH naval helicopters delivered.
Rostec receives permission for mass production of new parachutes.
S-Plane selected by Airbus for innovative wing demonstrator project.



Google Block Ad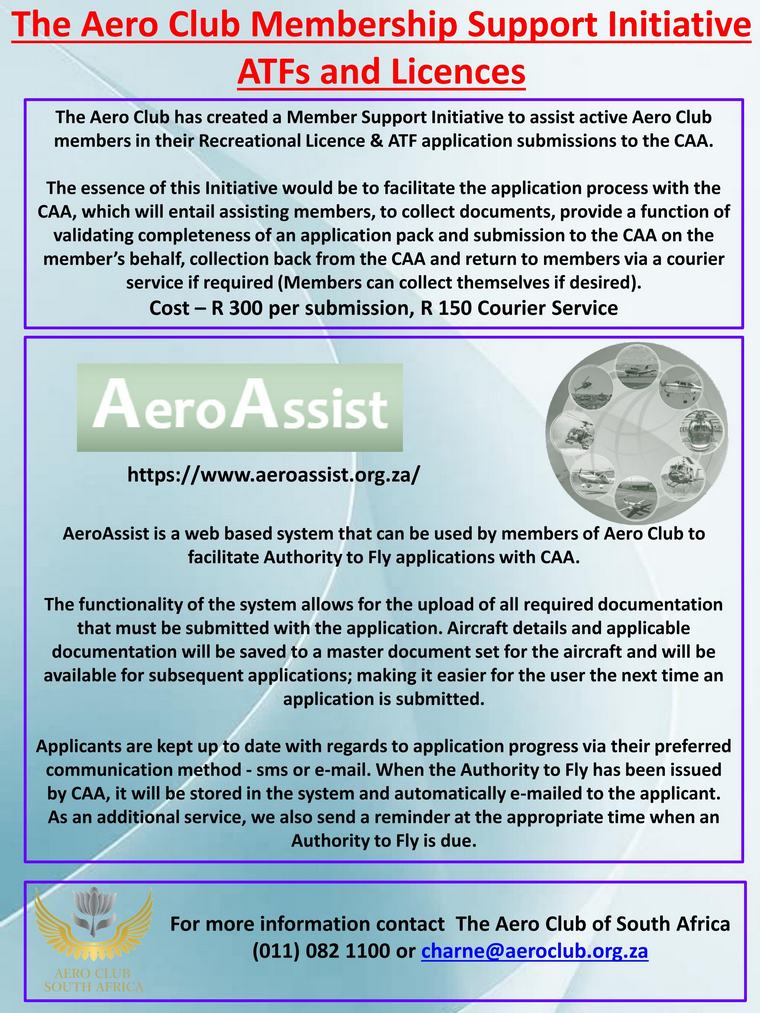 PTAR NEWSLETTER #3

Hello fellow Air Racers, this our 3rd newsletter of the year in the run up to the PTAR. We are now on a 20-day countdown to the New Tempe, Bloemfontein event, as a reminder to get your entries in before the end of April. Entries can be made here: -

www.sapfa.co.za/competition-entry-form-ptar

Date: Friday and Saturday 20 & 21 May 2022
Where: New Tempe Airfield, Bloemfontein
The fees are as follows:
• Entry Fee R 4 500 per aircraft as the early bird fee (This amount can be paid into the SAPFA bank account - Nedbank Limited, Account Number 1876019840). Fees will increase after 30th April to R 5 000.

• Membership fees Aero Club & SAPFA R 970 per crew member - to register or renew www.aeroclub.blueboxonline.com
• FAI licence R 350 per crew member (Can also be purchased on line on the Aero Club Bluebox payment system)
If neither of the crew are SAPFA members, then the total fee per crew is
R 2640. If preferred, this total amount can be paid to SAPFA, who in turn will apportion to Aero Club the membership fees.
• Additional banquet tickets are R 550 ea (The two crew members get a banquet ticket each as part of the Entry fee of R 4500)
• Accommodation & Car Hire - Options for Accommodation & Car Hire is available on the website

The race format will follow what was established in 2019 in Saldanha, which has also been successfully executed in the Speed Rally series. The race rules are available on the SAPFA website PTAR_Rules_Rev_13.pdf. Please familiarise yourself with these. The course for both days will be laid out on a pre-plotted map that you will receive on each race day consisting of 10 turn points while each turn point will be manned and clearly marked with an orange tarpaulin over a car. The route will be around 300 nm for each day. The 2nd day's start will have the gain/loss accrued from day 1 applied to the starting time grid and will also be a cross-over route (over the airfield). The handicap formula is available in the Supplementary Rules on the website. Test Flights will be available from Wednesday onwards and are encouraged in case we don't have an accurate enough 3D speed to work with.

Home Page for PTAR - www.sapfa.co.za/home/ptar/ (watch this space)
For Entries: - www.sapfa.co.za/competition-entry-form-ptar

Many thanks for our sponsors supporting the PTAR so far: Francois de Jager & Heinrich Slabber from Holborn Assets, Aircraft Finance Corporation as well as many of the local support companies based in Bloemfontein.

Further details of the planning and run up to PTAR 2022 will be communicated in due course. Your comments are most welcome to email race@sapfa.co.za

Till next time, fly safe

Rob Jonkers (Race Director)

THE AER0 CLUB'S YEARBOOK IS NOW ON SALE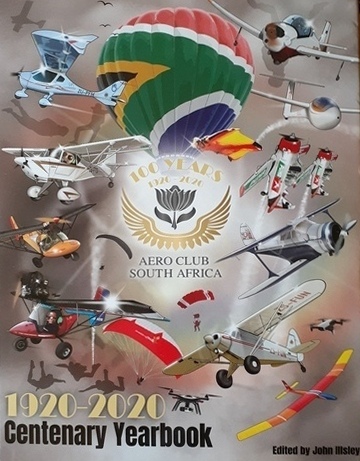 WWW.AEROCLUB.ORG.ZA/SHOP






6 to 8 May
Springbok Fly-In. Contact Di Ellis on E-mail: dianne@weskusfilters.co.za or Cell: 083 277 3368

6 to 8
Vryheid Vintage Car Club and Fly-In at Vryheid airfield. For more info contact Morne Strauss on E-mail: morne@imsbrokers.co.za or Cell: 073 7029870

7
CANCELLED
Zandspruit Bush and Aero Estate Fly-In Hoedspruit. Gary Whitecross on E-mail: gary@airplay.co.za or Cell: 082 553 2204

7
SAAF Museum Fly Day AFB Swartkop

13 to15
Battlefields Country Lodge annual Fly-In. Please contact Dave O' Halloran on E-mail: gm@battlefieldslodge.co.za

14 &15
SAC Free State Regionals at Tempe airfield. Contact Annie Boon on E-mail: chunge@mweb.co.za

17 to 20
Nampo Harvest Day R30 Bothaville. Contact Wim Venter on E-mail: wim@grainsa.co.za or Tel: 012 816 8001

19 to 21
SAPFA President's Trophy Air Race - Tempe Airfield, Bloemfontein. For more info, contact Rob Jonkers on E-mail: chairman@sapfa.co.za or Cell: 082 804 7032

28
Kroon Fly-In and Farmers Market. Kevin 061 008 9562 or Marius 083 419 6613 have the details

27 to 29
Bona Bona Fly-In. Website: www.bonabona.co.za/fly-in

28
FAKR Nav Rally. Contact Nandi on +27 83 577 8894 or E-mail kfc@iafrica.com

28
Parys Airshow. E-mail hailey@creativespacemedia.co.za or Cell: 083 292 7608 for details.








4
10th Newcastle Airshow. Contact Johan Pieters on E-mail: Johan@champ.co.za or Cell: 082 923 0078

4
SAPFA Krugersdorp ANR at Jack Taylor airfield, Krugersdorp. Contact Frank Eckard on E-Mail: frank.eckard@mweb.co.za or Cell: 083 269 1516

15 to 19
SAC National Aerobatics Championships at Wingspark airfield. Contact Annie Boon on E-mail: chunge@mweb.co.za

16 to 18
SAPFA Rally Nationals at Brits airfield. Contact Frank Eckard on E-mail: frank.eckard@mweb.co.za or Cell: 083 269 1516

22
Polokwane Airshow Contact: Noel Netshivhodza on E-mail: netcoxm@gmail.com or Cell: 081 728 0843

25
SAPFA Speed Rally at Kroonstad airfield. Contact David le Roux on E-Mail: david@pilotinsure.co.za or Cell: 073 338 5200







11TH EDITION OF THE AFRICA AEROSPACE AND DEFENCE EXHIBITION 2022 (AAD2022) AT AIRFORCE BASE WATERKLOOF, PRETORIA


The Hon Minister of Defence and Military Veterans, Ms Thandi Modise will host the launch of the Africa Aerospace and Defence Exhibition, AAD 2022. The eleventh edition of AAD will take place at AFB Waterkloof, Centurion, over the period from 21 to 25th of September 2022, and will once again bring together various industries from across the world to showcase the latest technological innovations in the aviation and defence sector. This exhibition takes place biennially in September.

AAD The first three days of the exhibition are traditionally trade days, followed by two air show days that are open to the public.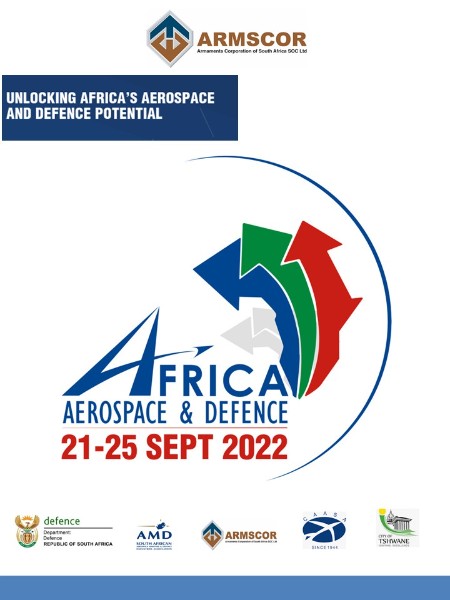 AAD is one of the world's premier aerospace and defence events and an important date on the aviation and defence calendar. AAD is a successful partnership between South Africa's Aerospace, Maritime and Defence Industries Association (AMD), the Commercial Aviation Association of Southern Africa (CAASA) and the Armaments Corporation of South Africa (ARMSCOR), with full support from the Department of Defence (DOD) and the Department of Trade, Industry and Competition (the dtic).
AAD provides manufacturing companies in the aerospace and defence arena the most viable access to the Continent's purchasing, procurement and supply chains in the sector, as well as other sectors that benefit from these technologies.
Now in the 11th instalment since its inception in 2000, this biennial event has grown in leaps and bounds. It serves the interests of both the civilian and military sectors. AAD is the largest defence and aviation exhibition in Africa and has established itself as a major platform for showcasing the most advanced technologies in the global defence and general aviation environment.

UPGRADING THE SAAF'S AGEING C-130BZ HERCULES FLEET WOULD COST R1.6 BILLION
Written by Defenceweb







The Department of Defence (DoD) is exploring upgrading the SA Air Force (SAAF) C-130BZ Hercules fleet at a cost of R1.6 billion. According to a reply to a parliamentary question by Defence and Military Veterans Minister Thandi Modise, "a Required Operational Capability (ROC) is in process for the upgrade of the current C-130 fleet."


Kobus Marais, Democratic Alliance (DA) shadow defence minister, in another question, asked Modise about Armscor's discussions to acquire second-hand C-130s based on known approaches to Armscor by both the Royal Air Force (RAF) and US Air Force (USAF). It asks, in part, if she and/or Armscor "considered discussions" with Lockheed Martin and the two air forces "for support to acquire new and/or well-maintained aircraft". This would, in Marais' view give the SAAF a serviceable fleet of "at least six to seven aircraft".
The American offer was in the form of correspondence from the US Embassy Office of Defence Co-operation (ODC) offering Hercules C-130H models through the excess defence articles (EDA) programme. "This letter was sent to the CSANDF and routed to CAF."
The SAAF considered three options. The first, according to Modise, was to spend no money and decline the purchase of second-hand aircraft and not upgrade the current C-130BZ fleet - this would mean aircraft lifespan terminates in 2024.
The second was also to decline the purchase offer and upgrade aircraft currently in 28 Squadron's inventory, returning to service "the rest of the fleet". Upgrade cost is estimated at R1.6 billion for five aircraft presently in service aircraft and one in long term storage. This would enable the C-130BZs to remain airworthy until 2040.
The third option is to accept the purchase offer from the United States at R228 million per aircraft and simultaneously upgrade the current fleet of five aircraft for R1.6 billion. Second-hand C-130H models would be able to serve until 2028 and the C-130BZs until 2040.
"The SAAF considered option two," Modise stated in her reply to Marais.
She added that the door for additional Hercules transports is not completely closed, stating that Armscor "indicated" to Lockheed Martin it awaits the Department of Defence (DoD) restarting the acquisition process. This is because "any new requirement will be satisfied through an open bid process" depending on the user requirement statement.
"Armscor," she further told the DA defence watchdog, "has been approached by the UK Embassy [should be High Commission] about potential used C-130s available". This will not happen "due to no budget for the acquisition of the assets".



NO SAAF MUSEUM AIR SHOW THIS YEAR
Written by defenceWeb



There will almost certainly be no SA Air Force (SAAF) Museum air show this year, even though COVID-19 restrictions are considerably more relaxed regarding outdoor gatherings.

Museum staffer Major Ntokozo Ntshangase told defenceWeb the "usual May" date was out with time cited as the reason. The alternative of September for a Spring air show is this year also a no-go because all eyes will be on neighbouring Air Force Base (AFB) Waterkloof where Aerospace Africa and Defence (AAD) is set to run from 21 to 25 September.
Since February, military aviation enthusiasts have been able to attend monthly flying training days at AFB Swartkop - the next one will be on Saturday, 7 May.
"As always with flying training, aviation enthusiasts and photographers are welcome," he said.
The Swartkop museum, along with satellites at Air Force Station (AFS) Port Elizabeth and AFB Ysterplaat, are open Monday to Friday from 08h00 to 15h00.
A defenceWeb request to AAD organisers for information on confirmed exhibition bookings and possible aircraft attendance still awaits response.



AMPAIRE POWERS UP HYBRID-ELECTRIC ECO CARAVAN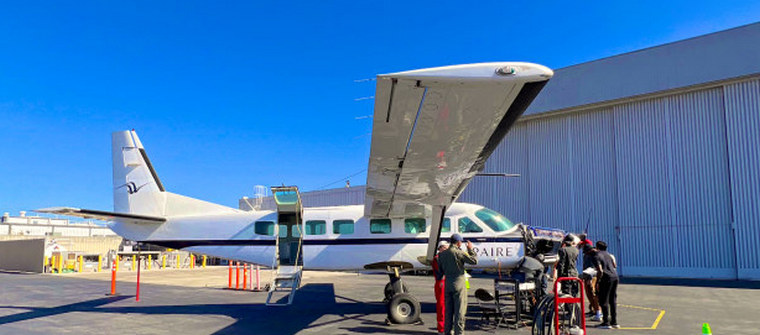 Ampaire earlier this month began ground testing the propulsion system on its first hybrid electric Cessna Grand Caravan flight test aircraft, which the company has branded the Eco Caravan. This aircraft represents a milestone for hybrid electric aviation, building on the technology and heritage of Ampaire's Electric EEL aircraft.


In light of record fuel prices and growing concern over the environmental impact of aviation, Ampaire's Eco Caravan is uniquely positioned to enable current Caravan operators to continue to thrive while achieving dramatic operating cost and emissions savings.
The upgraded Eco Caravan offers game-changing fuel savings over the original aircraft of up to 70% on short-hop routes and over 50% on long-haul flights, while still carrying 9 passengers or cargo. The aircraft can achieve an emissions reduction of up to 90% if using sustainable aviation fuel. The Eco Caravan is capable of operating from airports without electric charging infrastructure.
Ampaire has decided to move forward as an independent company on its mission to reduce aviation emissions. Ampaire will proceed with development of the Eco Caravan and the application for a supplemental type certificate (STC) for its hybrid propulsion system and will continue to work closely with operators globally to maximize benefits for their fleets.
The Eco Caravan is the first hybrid electric aircraft to enter the FAA certification process. The STC process can take much less time than certifying an entirely new aircraft, allowing a certification target of 2024. By upgrading current aircraft to hybrid-electric power, it also enables the Eco Caravan to improve the emissions and affordability of existing fleets, a key requirement for Ampaire customers.
"Powering up a new propulsion system, one that is fully integrated into a flyable aircraft, is a tremendously exciting milestone for Ampaire," said CEO and co-founder Kevin Noertker. "We expect the Eco Caravan to be the first in a series of hybrid electric upgrades for a number of aircraft models that will transform the industry by lowering emissions and costs."
Noertker described the first ground power runs at Los Angeles's Hawthorne Airport as an initial validation of the system's operation. First flight of the Eco Caravan is expected in the second half of 2022.



SOUTHERN AIRWAYS EXPANDS ITS FLEET WITH ACQUISITION OF 2 TECNAM P2012 TRAVELLERS

Tecnam has announced that Southern Airways signed an agreement for a purchasing of their first two P2012 Travellers in the passenger transportation commuter configuration with the intention of adding up to four more aircraft within 12 - 18 months.

Comfortably accommodating nine passengers with one or two crew, the Traveller is a new-generation, twin-engine, turbocharged piston-powered, high-wing, fixed-landing-gear aircraft, compliant to the latest certification standards. The introduction of the 11 seats twin engine aircraft into the Southern Airways fleet will provide a new, modern and advanced solution to the company. The P2012 widens the offers to the customer and enhances the travel experience for the passengers, while providing a reliable and cost-effective platform. Designed for high duty cycles and all-weather capabilities, the Traveller will also offer experiences that discerning travellers expect, such as: air conditioning, premium interiors, in-seat USB power, superior leg room, in-cabin luggage compartment and under-seat storage space.

The P2012 Traveller perfectly matches Southern Airways needs and has been a natural solution to further expand the commercial offering to the customer with a state-of-the-art product.




H2FLY SETS HYDROGEN-ELECTRIC FLIGHT WORLD RECORD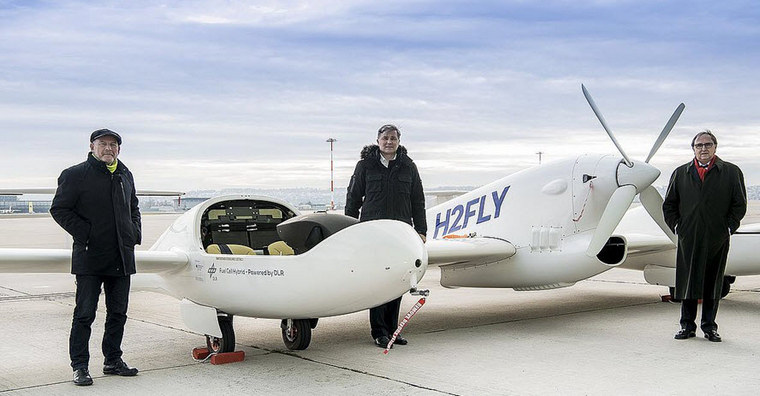 The HY4 passenger aircraft sets new world record, flying above 7,000 ft for the first time on April 13th. On April 12th the H2FLY demonstrated a 77-mile cross country flight from Stuttgart Airport to Friedrichshafen Airport.

H2FLY, the Stuttgart-based developer of hydrogen fuel cell technologies for aircraft, announced that its demonstrator aircraft, the HY4, set what is believed to be a new world record last week for hydrogen-powered passenger aircraft, flying at an altitude of 7,230 feet and confirming the company's position as one of the leading companies in this new sector.
The news comes as the company also flew a 77-mile journey between Stuttgart and Friedrichshafen on April 12th, marking the first time a hydrogen-electric passenger aircraft has been piloted between two major airports.
Commenting Prof. Dr. Josef Kallo, co-founder and CEO of H2FLY said "This is a remarkable achievement for H2FLY, as no other hydrogen-powered passenger aircraft has flown between two commercial airports to date. We are also thrilled to have set what we believe to be a new world record by reaching an altitude of over 7,000 feet with our HY4 aircraft. We want to thank our long-time partners Stuttgart Airport, University of Ulm, DLR Stuttgart, Friedrichshafen Airport and AERO Friedrichshafen for supporting us in our mission to make sustainable travel a reality."
The aircraft flew the mission to Friedrichshafen in order to participate in the AERO Friedrichshafen airshow, which took place from April 27th. The HY4 was presented to the general public for the first time and was be exhibited until the end of April. Up to now, testing of the HY4 has taken place exclusively in the test area around Stuttgart Airport. Stuttgart Airport is a long-term partner of H2FLY and plays a key role in supporting the company with its infrastructure.
Walter Schoefer, Speaker of the Board of Flughafen Stuttgart GmbH concluded: "We are delighted that HY4 has achieved this next technical milestone. This is another step on the long road of the aviation transformation process towards a more climate-friendly air transport. We see hydrogen-electric engines as the key to zero-emission flying and have therefore been promoting the HY4 project for many years. As a 'fairport', we want to continue to be a pioneer and enabler for the next steps when it comes to sustainability."
Claus-Dieter Wehr, Managing Director of Friedrichshafen Airport commented: "In the airport's more than one-hundred-year history, this is the first time a hydrogen-powered aircraft has landed here in Friedrichshafen. We are very pleased that we can thus play our part in the further development and testing of hydrogen-electric propulsion. Particularly in view of the numerous projects on sustainable mobility in aviation, I see great opportunities for the Friedrichshafen site to create the framework conditions for innovative aviation companies and to attract them here."
The four-seat HY4 has successfully demonstrated the applicability of hydrogen-electric propulsion solutions in aviation during several flight campaigns with more than 90 take-offs. It also serves as a test platform to further develop the propulsion system and thus lay the foundation for development work on a hydrogen-electric-powered, 40-seat Dornier 328, which will be developed jointly with Deutsche Aircraft by 2025.



TRU SIMULATION + TRAINING'S FULL-FLIGHT SIMULATOR FOR THE CESSNA SKYCOURIER RECEIVES FAA QUALIFICATION



TRU Simulation + Training has announced that its Cessna SkyCourier Full-Flight Simulator (FFS) has successfully earned Level D qualification from the Federal Aviation Administration (FAA), allowing pilot training to commence. This achievement comes just one month after Textron Aviation earned FAA type certification for the SkyCourier.


TRU Simulation + Training Inc., an affiliate of Textron Aviation Inc., is a Textron Inc. (NYSE:TXT) company that designs and delivers high-fidelity training devices and support for civil and defence customers.
"The success of the Cessna SkyCourier simulator program is the result of the collaboration between the Textron Aviation flight test and production teams, FlightSafety International's courseware and instructor teams and our employees at TRU," said Jerry Messaris, vice president and general manager of TRU Simulation + Training. "Together, we worked on the design, production, testing and qualification of the simulator to ensure the highest quality training device and we look forward to pilots utilizing it for many years to come."
The Cessna SkyCourier is a new twin-engine, large-utility turboprop. With a clean-sheet design and advanced manufacturing processes, the high-wing aircraft's production line is underway and the first unit will soon enter the market.
The SkyCourier's Full-Flight Simulator, located at FlightSafety's Wichita East Learning Center, is equipped with the latest Garmin G1000 NXi avionics and features real aircraft parts throughout the cockpit, ensuring accurate representation of the aircraft. TRU's design incorporates its industry-leading, third generation control loading system that produces a highly realistic flight experience. The full-flight motion of the simulator integrates TRU's REALCue system that uses an electric motion base with 42-inch-stroke actuators. The visual system is equipped with FlightSafety's VITAL 1150 Image Generation system, a large array of high-resolution airfield models and high-definition projectors on a 200x40 degree display, creating an immersive training environment. The simulator has been built using the latest TRU frame design, which supports configurable seating and IOS arrangement, along with improved quick, easy access to internal equipment for maintenance of the device.
FlightSafety International and TRU Simulation + Training formed FlightSafety Textron Aviation Training in 2019. The joint venture provides training services for Textron Aviation's broad product line of business and general aviation aircraft.



MARINES COMPLETE CH-53K® INITIAL OPERATIONAL TEST & EVALUATION TEST VIGNETTES



Demonstrating its advanced capabilities in the fleet environment, the CH-53K heavy lift helicopter completed Initial Operational Test & Evaluation test vignettes (IOT&E), paving the way for the expected declaration by the U.S. Marine Corps of Initial Operational Capability (IOC) later this year and a Full Rate Production decision in 2023.

Sikorsky, a Lockheed Martin company (NYSE:LMT), built four System Demonstration Test Article CH-53K helicopters and delivered them to the Marine Operational Test and Evaluation Squadron One (VMX-1), in Jacksonville, North Carolina, to support the seven-month evaluation, which concluded in March.
"The performance of these intelligent aircraft during Marine-operated flight tests displays the CH-53K's operational effectiveness and ensures it will support Marines at the forefront of combat capability and heavy lift for decades to come," said Bill Falk, Sikorsky's CH-53K program director. "The CH-53K delivers greater lift and endurance capabilities over the legacy aircraft. Its fly-by-wire system reduces pilot workload and enhances the ability to refuel in mid-air, which is critical to expanding the Marine Corps operational flexibility across all U.S. and allied military services, making the CH-53K a powerful asset for the Marines evolving missions."
The completion of IOT&E testing follows several CH-53K program markers including: Day and night time air-to-air refuelling. Air-to-air refuelling with 27,000 lb. external load. Sea trials with over 350 landings. Delivery of first six production aircraft.
The CH-53K program is on track to achieve Initial Operational Capability (IOC) in 2022. IOC is achieved when the first squadron receives four CH-53K helicopters with the required personnel suitably trained and certified, primary and support equipment and technical publications, including initial spares with interim repair support and initial training curricula, are in place and ready to deploy in accordance with U.S. Marine Corps standards.
The CH-53K established high-tech production line in Stratford, Connecticut, is active with six aircraft in build, including three on schedule for delivery this year. There are 46 aircraft fully on contract including four heavy lift helicopters for the government of Israel. The helicopters for Israel are under a U.S. Navy Foreign Military Sales (FMS) agreement.
An additional 10 U.S. Marine Corps aircraft are on contract for long lead material. The program of record for the U.S. Marine Corps is 200 aircraft.
The CH-53K will further support the U.S. Marine Corps in its mission to conduct expeditionary heavy-lift assault transport of armoured vehicles, equipment, and personnel to support distributed operations deep inland from a sea-based center of operations. This capability is critical in the Indo-Pacific region and around the globe.

LEONARDO: QATAR'S FIRST TWO NH90 NFH NAVAL HELICOPTERS DELIVERED



The first two NH90 helicopters dedicated to naval missions of the Qatar Emiri Air Force, were delivered from Leonardo's Venice Tessera final assembly line.

The Qatar Emiri Air Force is one of the NH90 end users to operate both the TTH and NFH versions of the NH90 for a number of land operations and naval missions.
As well as acting as prime contractor for the overall programme, Leonardo is responsible for the final assembly and delivery of the 12 NH90 NFH helicopters from its Venice Tessera facility. The company is also providing a support and training services package for crews and maintenance technicians.
Managed through the NH Industries joint venture, the NH90 is the largest military helicopter programme in Europe. Nearly 470 units are in service worldwide and the platform has logged nearly 330,000 flight hours in a wide range of weather and environmental conditions, over land and sea.
Another major programme achievement in the Qatar Emiri Air Force's NH90 programme was made on 31 March with the delivery of the first two NFH naval variant helicopters. The aircraft handover, achieved in accordance with contractual commitments, was performed during an official ceremony held at Leonardo's Venice Tessera NH90 final assembly line (Italy) in the presence of Qatar Emiri Air Force, Leonardo and NHI representatives. This event follows the delivery of the first TTH aircraft for land operations from Airbus Helicopters' facility in Marignane (France) in December 2021, while the second TTH was handed over recently. The first NFH naval helicopter had its public premiere in Qatar on 18 December 2021 during the National Day.
Qatar's NH90 programme includes 16 NH90 TTHs for land operations, 12 NH90 NFHs for naval missions, a comprehensive support, maintenance & training services package and associated infrastructure. The Qatar Emiri Air Force is one of the few NH90 end users to operate both the TTH and NFH versions of the NH90 for a number of land operations and naval missions. The programme has the potential to be extended in the future with the addition of 6 + 6 units in a mixture of TTH and NFH variants. Leonardo is prime contractor for the overall programme and is also responsible for the final assembly and delivery of the 12 NH90 NFH helicopters from its Venice Tessera facility. The company is also supplying simulators, training aids and an extensive maintenance support and training services package for aircrews and maintenance technicians. Leonardo is providing, contributing to or supporting the integration of various avionics and sensor payloads, including the Leonardo LEOSS-T HD electro-optical system, HD Mission Video Recorder, Automatic Identification System, Tactical video link and Full HD display for cabin consoles. Airbus Helicopters is responsible for carrying out the final assembly of the 16 NH90 TTH aircraft. Deliveries will continue through to 2025.

ROSTEC RECEIVES PERMISSION FOR MASS PRODUCTION OF NEW PARACHUTES

Technodinamika holding of Rostec State Corporation has received permission for mass production of the Magic sports parachute system that can be used for single or team acrobatic skydiving at an altitude up to 4,000 meters. The product fully matches the criteria set by the military and has been assigned the "O1" code. The code means the system is fit for mass production and use by the sports teams of the Russian Armed Forces and other security agencies.

The Magic parachute system includes the nine-section main ram-air parachute and the seven-section reserve parachute and the parachute pack with a harness. The main parachute, elliptical in shape, is of intermediate category, that is, it can be used by parachutists with an average level of training, who have done at least 100 jumps, to transit from training parachutes to high-speed ones. The main feature of the new system is its light and small pack. It does not restrain the parachutist's movements during the jump and lets the person freely perform acrobatic moves during freefall.
"The new sports parachute has several advantages. It is safe and easy to control, it deploys smoothly and is highly stable in turbulent conditions. It can be used for jumps at altitudes up to 4,000m and does not hinder acrobatic moves. The system has been assigned O1 code, meaning it is fully complied with the criteria set by the Ministry of Defence. We are ready to start mass production," representatives of Rostec aviation cluster said.
The parachute system was created by Polet Ivanovo Parachute Works of Technodinamika Holding Company. Earlier, the enterprise developed the Malva-24 sports parachute system that can be used for jumps at altitudes of up to 2,000 meters. This system is now used by the Ministry of Defence sports teams.
"The development of the Magic sports parachute system line involved new design and technology solutions as well as modern materials. For instance, the main parachute canopy is made of 100% air-tight fabric and its profile is narrower than that of its peers. The suspension lines are made of cord that is stable, does not stretch or shrink and therefore does not alter the performance of the canopy. Due to the new, modern materials and the new design of the canopy, the parachute has a higher horizontal descent speed and is more rigid and stable," Technodinamika general director Igor Nasenkov said.
Military parachute sports are a type of military training that teaches personnel parachute jumping skills such as landing precision, ability to make decisions in limited time, landing at small plots, group airdrop etc. Annual competitions are held for military paratroopers in several disciplines, including single and team acrobatics.

S-PLANE SELECTED BY AIRBUS FOR INNOVATIVE WING DEMONSTRATOR PROJECT
Written by Guy Martin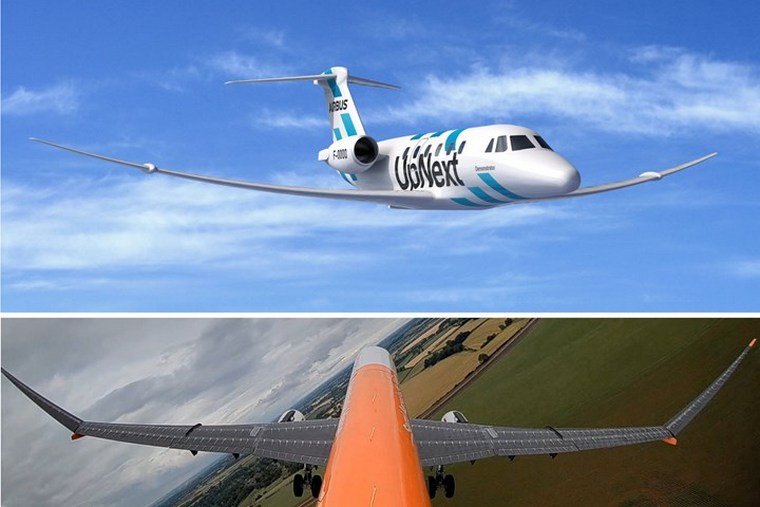 Airbus has chosen S-Plane Automation to supply its X-KIT optionally piloted vehicle conversion kit for its eXtra Performance Wing demonstrator project, which will see X-KIT installed on a remotely controlled Cessna business jet.


S-Plane said its X-KIT will be used to safely and reliably ensure the remote control of a Cessna Citation VII that will fly breakthrough wing technologies being developed by Airbus UpNext, a wholly owned Airbus subsidiary set up to fast-track the development of future technologies through the rapid assembly of demonstrators and evaluating, validating and maturing these technologies.
The eXtra Performance Wing project was launched in September 2021 and completed wind tunnel testing in early April. Airbus said the project takes inspiration from nature to improve wing aerodynamics and performance that is intended to be compatible with any future aircraft configuration and propulsion system to reduce CO2 emissions, contributing greatly to Airbus' decarbonisation strategy.
Initially introduced at a smaller scale through another Airbus project, AlbatrossONE, which tested semi-aeroelastic hinged wings that unlocked during flight when experiencing wind gusts or turbulence, the eXtra Performance Wing will also examine onboard technologies, like gust sensors, pop-up spoilers and multifunctional trailing edges, to enable the active control of the wing.
"The scaled demonstrator will integrate and fly breakthrough wing technologies using a remote-controlled Cessna Citation VII business jet platform in representative flight conditions," explained Oliver Family, Head of eXtra Performance Wing UK.
At the heart of the X-KIT system installed on the Citation VII is an appliance known as the X-CUBE. According to Dr Iain Peddle, S-Plane's Chief Technical Officer: "The X-CUBE interfaces with all the necessary aircraft sub-systems, such as fuel, engine, electrical power, communication and hydraulic systems to manage and control them."
The X-KIT also includes a selection of satellite and line-of-sight radio frequency datalinks. This communication equipment reliably links the aircraft to S-Plane's ground station equipment, such as remote piloting stations and payload operator stations running S-Plane's highly configurable ParagonC2 and ParagonISR software. An Integration Testing Station (ITS) facilitates fast and high-fidelity testing of the integrated system for formal acceptance testing of integrated systems.
"S-Plane is highly experienced at the conversion of fixed-wing and rotary-wing aircraft into UAS [Unmanned Aerial System] and OPS [Optionally Piloted System], having done so for more than 13 years", said Dr Thomas Jones, S-Plane's Chief Executive Officer. "This experience allows us to support safe, fast and affordable conversions, even for unconventional aircraft".
"S-Plane not only supplies the X-KIT, but supports clients with system design and engineering, configuration, integration, flight testing and certification activities. With this approach, our clients optimally benefit from our experience and can be sure that our equipment is properly configured within their larger system," Jones said.
One of the aircraft S-Plane has supplied its X-KIT for is the Tecnam P2006T light twin, which has been used by Spanish electronics company Indra on its Targus optionally piloted vehicle, designed for surveillance missions.
The P2006T-based Targus began flight testing in 2020, with ground-breaking experimental flights in non-segregated airspace with an Unmanned Aerial Vehicle (UAV) that weighs 1.25 tons and has an 11 metre wingspan.
The Targus optionally piloted vehicle is based on the MRI version of the Tecnam P2006T aircraft, and is fitted with a Seaspray 5000E radar, a high resolution electro-optical/infrared payload (FLIR UltraForce 275-HD or Wescam MX-10) and maritime AIS (Automatic Identification System). Targus can fly in civil airspace like any other certified aircraft. Once deployed in the area of operations, it can be configured as an unmanned aircraft.
S-Plane integrated the X-KIT system onto the Targus together with Indra, Gaerum and Airborne Technologies.
The X-KIT system operates the aircraft controls identically to when they are operated by a pilot. When a pilot is on board, he may override the controls or switch over to manual piloting as required.
S-Plane said the optionally piloted vehicle has many benefits, such as being able to execute missions that demand human judgement and control such as flight in civil airspace, flight over congested areas, flying at low level and transporting passengers when in manned mode. When the optionally piloted vehicle is configured as an unmanned aerial vehicle, it can perform missions which require extreme endurance or are too dangerous for manned aircraft.
The X-KIT design allows an aircraft to retain its certification status for manned flight, enabling its continued use in airspace where manned aircraft operations take place.
The X-KIT system can be installed on most fixed-wing and rotary-wing aircraft to convert these into manned, unmanned and optionally piloted ISR aircraft systems. It has been installed on the Fama Kiss 209 helicopter and CADG Helix ISR aircraft (Stemme ES-15).
Johannesburg-
based Ultimate Unmanned led the development of the Viper 1000C unmanned aerial vehicle, based on the Stemme S15 motor glider. This was launched in 2016 and evolved into the CADG Helix optionally piloted vehicle, capable of carrying hundreds of kilograms of sensors, including long-distance day and night cameras. The base model Helix-1 system can be flown with a single pilot while the mission equipment is controlled from a ground station, while the Helix-2 can take the pilot out of the cockpit entirely. The Helix-1 has successfully been trialled on anti-poaching missions in the Kruger National Park, leading to the apprehension of half a dozen poachers over a six-week period. It has also been deployed to Mozambique.
www.defenceweb.co.za




SOUTH AFRICA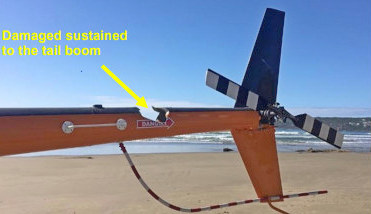 On Monday morning, 18 October 2021, a pilot accompanied by two passengers on-board a Robinson R44 Raven II helicopter with registration ZS-PWH were on a private flight from Botlierskop Game Reserve, situated between Mossel Bay and George in the Western Cape Province, with the intention to return to the game reserve when the incident occurred.
Visual meteorological conditions (VMC) by day prevailed at the time and no flight plan was filed.
The helicopter was owned by the game reserve owner and is usually parked on the helipad situated at the game reserve. The pilot conducted a pre-flight inspection on the helicopter and no abnormalities were found.
The helicopter had about 60 litres (L) of Avgas LL100 fuel in the tank.
According to the pilot, he provided a short pre-flight briefing to the passengers. After the passengers had boarded the helicopter, the pilot made sure they were properly harnessed. He then started the engine and waited until the engine indications were within the green arch.
Thereafter, the helicopter lifted off uneventfully and climbed to 500 feet (ft) above ground level (AGL), travelling at 70 knots indicated air speed (KIAS).
The pilot flew the helicopter in a south westerly direction towards Boggomsbaai area. En route, he heard a loud bang and felt a vibration on the controls. According to the pilot, the engine indications remained within limits. He then decided to execute a precautionary landing on the beach. During landing, the pilot appeared to have flared the helicopter incorrectly. This caused the aluminium main rotor to diverge, resulting in one (first) of the main rotor blades striking the top part (monocoque shell) of the tail boom and damaging it while the tail boom shaft remained intact.
After the helicopter had settled on the ground, the pilot switched off the engine and the electrics. The helicopter sustained minor damages and no injuries were reported.
During a walk-around inspection, there was evidence of a bird strike (blood stain) on the other (second) blade's lower section near the blade tip area. The bird that struck the blade was not found and the pilot could not identify the species of the bird.
Inspection on the blades indicated no damage to the spars or skin-to-spars joint areas and disbonding or buckling on the aerofoil areas. The blade set was, thus, not replaced.Post-accident examination of the helicopter maintenance records and other documentation revealed nil abnormalities or defects and showed that the helicopter was certificated, equipped and maintained in accordance with existing regulations and approved procedures. Examination of the helicopter flight folio indicated no open or differed maintenance items listed before the flight.
Probable cause:
Precautionary landing was carried out after a loud bang and vibration due to a bird strike, resulting in the tail boom being struck by the number 1 main rotor blade.
Contributary factor:
The pilot flared the helicopter too high during precautionary landing.



South Africa close to Witbank: A Jabiru with two on board after an engine out made a successful forced landing onto a tar road when the one wing struck a roadside sign. The occupants were not injured. The aircraft suffered substantial damage.
USA, Las Vegas-Harry Reid International Airport: A Cessna 182M Skylane with two on board was taxiing into position onto the runway from which an American Airlines Airbus A321-231 had just taken off from. The Cessna was overturned suffering substantial damage. A video seems to indicate possible jet blast from departing traffic. The two occupants onboard the airplane were not injured during the incident.

Russia, Mogocha, Trans-Baikal Territory: A Most Avia Mil Mi-8T with fifteen on board on a relocation flight of fire fighters on landing overturned and which was followed by a fire. One person died and six were injured.
Belgium, near Hasselt-Kiewit Airfield: A Dallach D4 Fascination after an engine out on approach to land forced landed 500m short of runway. The pilot, the only occupant, was not injured.

Venezuela, Zulia: Venezuela's FANB Strategic Operational military units found two Piper PA-34-200T Seneca II's hidden in the bushes near a clandestine airstrip while conducting Operation Bolivarian Shield 2022. The aim of the operation is to tackle illegal drug trafficking in the region. Both aircraft had possibly cloned registration numbers.
France, Le Touquet Airport: A Aéroclub Jean Bertin Robin DR.400-160 Chevalier with two occupants suffered substantial damage when struck by a gust of wind when landing at Le Touquet Airport. The aircraft ended up in a ditch. The occupants survived.

Ukraine, Balakliya, Kharkiv Oblast: A Russian Air Force Sukhoi Su-34 was observed while falling down in a flat spin, emitting no smoke or fire and with no apparent structural damage, impacting the ground and exploding. It is unclear if the aircraft was shot down or crashed because of a malfunction. The two pilots ejected safely and were probably recovered by a Russian SAR helicopter seen above the crash area in the immediate aftermath.
USA, S of Perry, Taylor County, FL: An amateur build experimental Titan T-51D Mustang with only the pilot on board sustained substantial damage subsequent to the ensuing forced following a loss of engine power landing south of Perry, Taylor County, Florida. The pilot was seriously injured.

Ukraine: A Russian Air Force Kamov Ka-52 was shot down in Ukraine by Ukrainian armed forces.



3 MAY 1976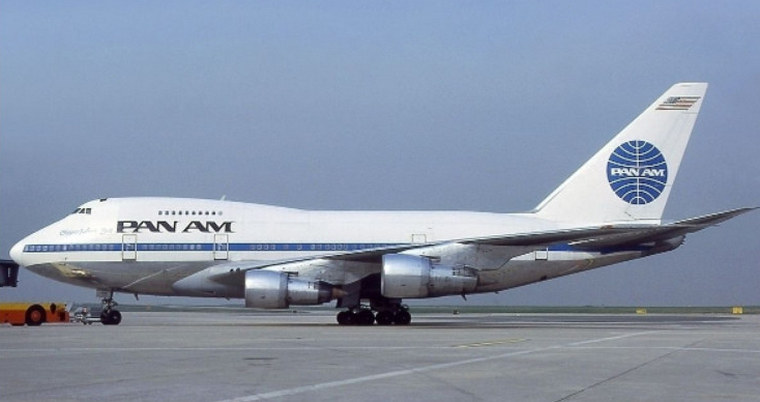 A Pan Am Boeing 747 makes a record around-the-world flight, taking 1 day 22 hours.


On May 1st, 1976, a Pan Am Boeing 747SP, the 'Liberty Bell Express, with 98 passengers onboard departed New York JFK. The first leg of its odyssey took it eastwards to New Delhi, India and it covered the 13,000 kilometres (7,000 NM) at an average speed of 870 km/h (470 knots).
The next leg took the flight to Tokyo Haneda Airport, 12,130 km (6,550 NM) away. The flight returned directly from Tokyo to New York at a blistering average speed of 912.5 km/h (493 knots).
This third and final leg measured a distance of 12,100 km (6,530 NM). After 37,230 km (20,080 NM) of flying, the 'Liberty Bell Express' landed at JFK just over 46 hours after leaving.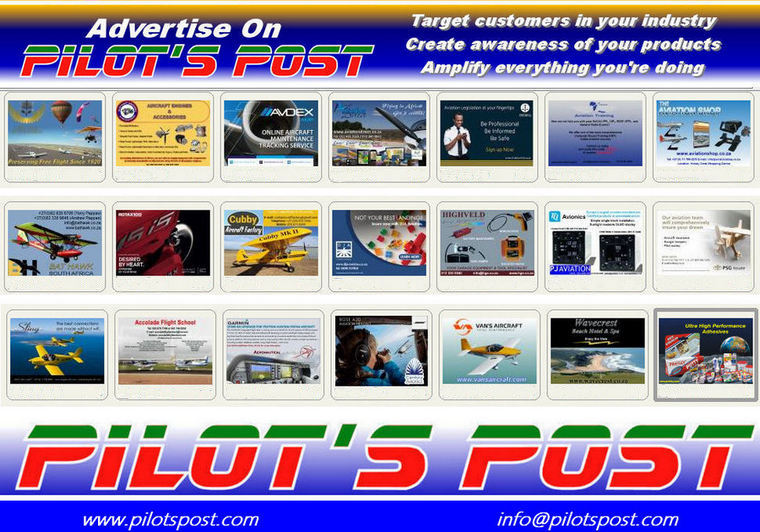 Google Banner Ad