Compiled by Willie Bodenstein



Google Banner Ad



THIS WEEK IN MIDWEEK UPDATE
New home at SAAF Museum for Dawid Stuurman gate guards.
Algeria receives second Lockheed Martin Super Hercules.
Savback Helicopters debuts ultra-light Zefhir helicopter in the UK.
Top Air Show Performers Commit to EAA AirVenture Oshkosh 2022 EAA.
NASC Tracer UAV Unveiled at AUVSI.
BRP-Rotax and Bose Aviation united in determination.
Continental Aerospace Technologies™ receives EASA approval to extend the CD-300 time between replacement.
TMAP joins Joby and SKT in partnership to bring air taxi service to South Korea.
Worldwide incidents and accidents.
This week in history, death of William J. "Pete" Knight, U. S. politician, combat pilot, test pilot and astronaut.



Google Banner Ad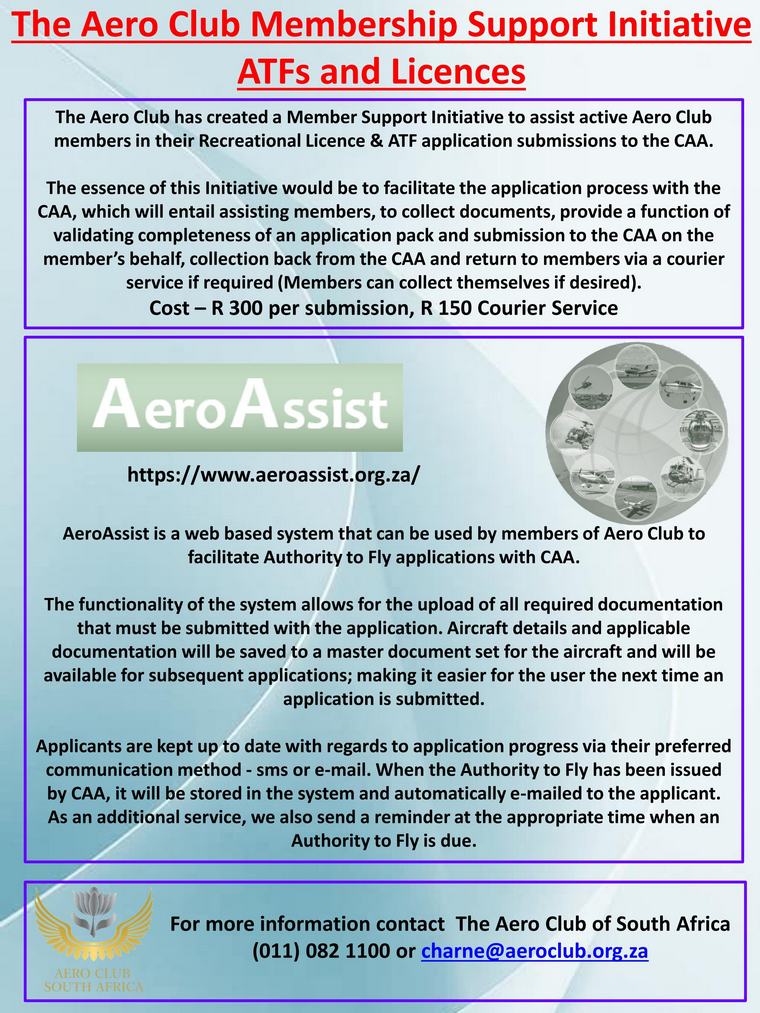 THE AER0 CLUB'S YEARBOOK IS NOW ON SALE

WWW.AEROCLUB.ORG.ZA/SHOP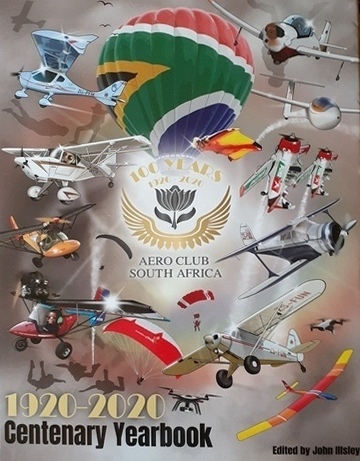 19 to 21
SAPFA President's Trophy Air Race - Tempe Airfield, Bloemfontein. For more info, contact Rob Jonkers on E-mail: chairman@sapfa.co.za or Cell: 082 804 7032

28
Kroon Fly-In and Farmers Market. Contact Kevin on 061 008 9562 or Marius on 083 419 6613

27 to 29
Bona Bona Fly-In. Website: www.bonabona.co.za/fly-in

28
FAKR Nav Rally. Contact Nandi on +27 83 577 8894 or on E-mail kfc@iafrica.com

28
Parys Airshow. E-mail hayley@creativespacemedia.co.za or Cell: 083 292 7608 for info.







4
10th Newcastle Airshow. Contact Johan Pieters on E-mail: Johan@champ.co.za or Cell: 082 923 0078

4
SAPFA Krugersdorp ANR at Jack Taylor airfield, Krugersdorp. Contact Frank Eckard on E-mail: frank.eckard@mweb.co.za or Cell: 083 269 1516

15 to 19
SAC National Aerobatics Championships at Wingspark Airfield. Contact Annie Boon on E-mail: chunge@mweb.co.za

16 to 18
SAPFA Rally Nationals at Brits Airfield. Contact Frank Eckard on E-mail: frank.eckard@mweb.co.za or Cell: 083 269 1516

22
Polokwane Airshow. Contact Noel Netshivhodza on E-mail: netcoxm@gmail.com or Cell: 081 728 0843

25
SAPFA Speed Rally at Kroonstad Airfield. Contact David le Roux on E-mail: david@pilotinsure.co.za or Cell: 073 338 5200








1 to 3
EAA Taildraggers at Warmbaths Airfield. Contact Richard on E-mail: Richard.nicholson1963@gmail.com or Cell: 082 490 6227

7 to 9
AERO South Africa at Wonderboom National Airport. Contact Annelie Reynolds on E-mail: annelie.reynolds@za.messefrankfurt.com

16
SAPFA Kitty Hawk Rally. Contact Frank Eckard on E-mail: frank.eckard@mweb.co.za or Cell: 083 269 1516

16
Garden Route Airshow at George airport. Contact Brett Scheuble

22 to 31
EAA AirVenture Oshkosh, Wisconsin, USA. Camping on the airfield contact Neil Bowden on E-mail: neil1@telkomsa.net

29 and 30
Soutpansberg Fly-In Louis Trichardt.
Contact Jaco on E-mail: spbvliegklub@gmail.com or Cell: 082 353 6002

30
Krugersdorp Flying Club Spot Landing. Contact Nandi on 083 577 8894 or E-mail kfc@iafrica.com for info.







NEW HOME AT SAAF MUSEUM FOR DAWID STUURMAN GATE GUARDS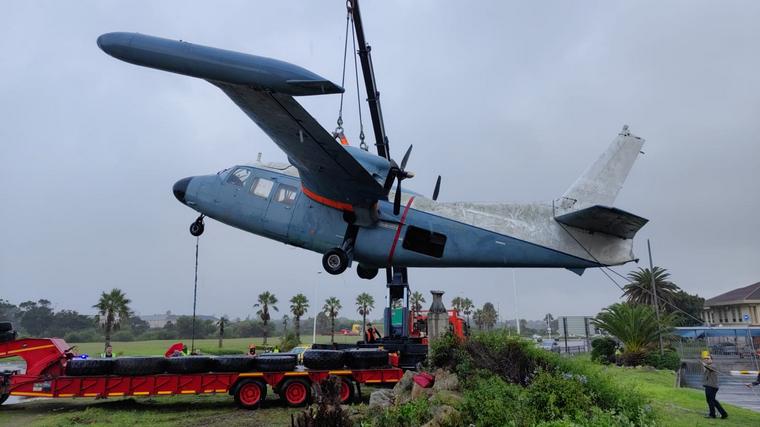 A shining example of "where there's a will there's a way" saw volunteers with a common interest in aviation band together to move two neglected aircraft "in service" as gate guards to a new home at the Port Elizabeth branch of the SA Air Force (SAAF) Museum.


The aircraft - a former SAAF P166S Albatross and a MK I Impala (tail number 507) - graced the entrance to what was Port Elizabeth Airport, now Dawid Stuurman International, for years until the degrading effects of the coastal climate took their toll. The Albatross high-wing inshore maritime patrol aircraft parted company with its plinth and the Impala, according to former Buccaneer navigator Charlie Wroth and initiator of the move, was "not looking good".
April 2020 was when the Albatross parted company from its plinth and Wroth, whose passion is "saving metal military aircraft and giving them a safe haven", decided a rescue mission was in order.
"Enquiries were made and I was put in touch with Captain Mark Kelbrick (Officer Commanding SAAF Museum Port Elizabeth). It became 'we' and Mark and I started working on the project. This in turn saw air show broadcaster and the best aviation PR man in the country Brian Emmenis put social media to use, starting the volunteer ball rolling," Wroth said.
While Emmenis' social media efforts were moving along, Wroth and Kelbrick made contact with local management of the Dawid Stuurman International Airport, formerly Port Elizabeth Airport, one of nine in the Airports Company of SA (ACSA) stable.
"With Claudia Daniels onboard, the team numbered three," he recalls, adding that this was when the project took on the Impala knowing "it had been on the plinth for a long, long time and needed refurbishment".
"An ACSA decision to donate both aircraft to the Port Elizabeth branch of the Air Force Museum was the next step in the right direction and approval to move the airframes was granted."

This approval opened the door for Kelbrick to start seeking SAAF authorisation and assistance knowing that specialist ground crew and equipment would be essential for the move to go smoothly.
Air Force Base (AFB) Ysterplaat's 2 Aircraft Service Unit (ASU) was given the nod to join the team. At the same time, Steve Kotze, owner of Samson Machine Moving and Rigging, offered the specialist services of his company, headed by operations manager Neil Duvenage. Again, the camaraderie of the military aviation community shone through as Kotze's late father once wore the blue SAAF uniform, first as a crash boat captain at Langebaan and subsequently a pilot in Durban.
A hiccup in the form of missing a window of opportunity to move the aircraft, due to the non-availability of mobile cranes, saw the project on hold until early 2022. The team of civvy volunteers and equipment, all working pro bono and supported by SAAF expertise with Wroth, Kelbrick and Daniels unofficially in charge, arranged site inspections and came up with a workable game plan.
"Late April was chosen as a date for the move but became 6 and 7 May. That was made certain when Mark (Kelbrick) used his connections to access free use of a pair of horses and lowbed trailers, kindly lent to the project for the day from the Davidson family, a well-known aeronautical family in Port Elizabeth. The involvement of local municipal road traffic control officers and ATNS (Air Traffic and Navigation Services) was also confirmed".

"Saturday, 7 May was 'go for launch' with the weather on the limits," Wroth said.
This did not deter the team and the Albatross was first up, then the Impala. With both safe on the lowbeds, the convoy set off in low visibility and driving rain for the museum on the opposite side of the airfield. "Some bundu bashing" handled with aplomb by the drivers ensured a safe arrival was Wroth's appreciative summation of the professionalism on display.
"By 16h30, it was 'Mission Accomplished' and the pair of 'old ladies' were safe in their retirement home for much-needed TLC," he said.
The Italian maritime patrol aircraft has no SAAF tail number because it was made from a pair by Classic Aircraft Maintenance, a company once owned by the late Mike Beachyhead of Thunder City fame, Wroth told defenceWeb when asked for this information.
Although a long and daunting road lies ahead, refurbishment is up next. The project's originator is optimistic that the involvement of privateers like himself will eventually see the Albatross and Impala in static display condition. He knows this full well as the driver of a project to restore Buccaneer 421 on the inventory of the SAAF Museum at AFB Swartkop.



ALGERIA RECEIVES SECOND LOCKHEED MARTIN SUPER HERCULES
Written by Guy Martin

The Algerian Air Force has taken delivery of a second Super Hercules transport from Lockheed Martin and will receive further examples in the near future.

A first Super Hercules (7T-WJA, cn 382-5818) arrived in Algeria on 23 January this year - it is a former Lockheed Martin demonstrator (N5103D) and the commercial LM-100J prototype (the LM-100J is the civilian version of the C-130J). It first flew on 30 June 2017.
The second LM-100J for Algeria arrived at Boufarik Air Base on 24 April after a stopover at St John's International Airport in Canada the previous night. The aircraft (7T-WJB, cn 382-5824) is a former civil aircraft and was operated by Pallas Aviation as N5105A. It first flew in October 2017 and is the second LM-100J produced.

Algeria ordered four C-130J-30 Super Hercules transport aircraft in 2018, but it is not clear if they will all be to LM-100J standard or military versions.
The Algerian Air Force already operates C-130H and C-130H-30 Hercules transports, which are in service with the 2čme Escadre de Transport Tactique et Logistique (2nd Tactical Transport and Logistics Wing) at Boufarik Air Base. Seven C-130H and three C-130H-30 transports are believed to be operational, along with a single L100-30. They have been in service since the early 1980s. Another two have been lost in crashes.
Other transports in service include half a dozen C295s, half a dozen Il-76TDs and numerous smaller Beech 1900Ds and Super King Airs.
Algeria is the second C-130J Super Hercules operator in Africa after Tunisia received two aircraft in 2013 and 2014. Twenty other nations around the world operate the type.
www.defenceweb.co.za

SAVBACK HELICOPTERS DEBUTS ULTRA-LIGHT ZEFHIR HELICOPTER IN THE UK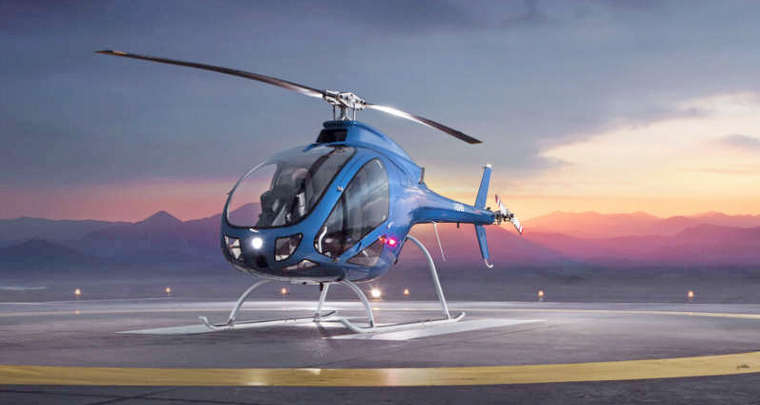 Savback Helicopters is expanding its helicopter sales and marketing business and brought the Italian-built two-seat Zefhir helicopter to the Private Flyer show, part of The Elite Series, at Wycombe Air Park this week. This luxury brand event, which took place during 13-14 May, 2022, brings together best-in-class luxury brands, private jets, helicopters, supercars, powerboats, yachts and lifestyle accessories - all in one location.

The Zefhir helicopter, developed by CURTI Aerospace, has been designed for the discerning private pilot as a high-quality, two-seat single-turbine aircraft. Its airframe and components have been designed to meet the exacting requirements of EASA CS-27, with its carbon fibre airframe and the largest luggage space in its category. Light, efficient and durable composite rotor blades and an elegant and clean interior add to its style. The CURTI company draws on decades of experience in the production of complex parts for certified helicopters.
Matching state-of-the-art materials and technology with a passion for flying deeply rooted in the company's DNA, Zefhir gives the perfect synthesis between competence and intuition. Its Italian design is reflected in its attention to detail. Zefhir is presented as a 'jewel of modern technology and materials,' right down to its elegant lines and exclusive style interiors.
"The Zefhir also offers a unique option - an innovative extra safety feature - a ballistic parachute which deploys in the unlikely event of engine failure or pilot incapacitation," commented Nabore Benini, Vice President, CURTI. "This makes it the first and only helicopter in the world with a tried and tested parachute," he added.
CURTI is based in the heart of Italy's famous Motor Valley, which boasts a long tradition of supercars and super bikes, luxury and sport. Within an hour's drive are Ferrari, Maserati, Lamborghini, Pagani, Dallara and Ducati. "This heritage, outstanding skillset and unique supply chain enabled the birth of this exceptional two-seat helicopter," highlighted Mr Benini.
Optimising state-of-the-art virtual reality technology, visitors at Private Flyer can 'experience' the Zefhir - flying, selecting the destination, configuration, optional colours and cockpit, etc.

The Zefhir is powered by an ultra-modern turboshaft engine (gas generator and turbine), with Full Authority Digital Engine Control (FADEC), a revolution in a lightweight two-seater helicopter. Zefhir delivers pure performance at the pilot's command. Its powerplant has a maximum power of 180 kW (241 shp), but it is engineered to deliver constant continuous power at 105 kW (141 shp), ensuring safety and performance at all altitudes and temperatures. The engine installation is optimized using sophisticated computational fluid dynamics.
A hover ceiling of 4,000m (13,100 ft) can be achieved at the maximum take-off weight of 600/650kg (1,322lb). The larger of two fuel tank options allows a range of 638 km (396 miles) with 10 minutes of reserve.
Complementing its headquarters in Sweden, Savback is led in the UK and Ireland by Stephen Mitchell, Head of Sales, who brings 25 years' experience in civil aviation sales, complementing the Savback team's experience in corporate jets, airlines and helicopters. Savback UK is based at Nottingham Heliport.
The UK is a significant and well-developed market for private helicopters with UK-based market intelligence company Parapex Media counting 1,159 helicopters in the locally registered fleet as of 1st April 2022, including 690 single-engine aircraft
Savback's Chief Executive Officer Reja Savbäck commented: "We have been very pleased with the results and progress of our focus on the UK to date. As we rally back out of the pandemic, the timing is right to introduce the Zefhir helicopter to this discerning market, offering the ultimate in point-to-point personal travel.



TOP AIR SHOW PERFORMERS COMMIT TO EAA AIRVENTURE OSHKOSH 2022

Some of the world's top air show performers have made commitments to fly at EAA AirVenture Oshkosh 2022 as part of the afternoon and night air show line-ups.

Those performers include aerobatic champions and long-time Oshkosh favourites for the 69th EAA Fly-In convention, scheduled for July 25-31 at Wittman Regional Airport. The event features nine air shows over seven days, including night air shows on July 27 and July 30. The daily afternoon air shows are presented by Daher and Pratt & Whitney, while the Wednesday, July 27, night air show will be presented by Covington Aircraft.
"This is already an outstanding all-star air show line-up and we're just getting started," said Rick Larsen, EAA's vice president of communities and member programs, who coordinates AirVenture features and attractions. "There are returning performers, new air show acts and particular aircraft connected with specific events and anniversaries. We'll be adding more exciting acts and performances in the coming weeks that will again make the nine air shows during AirVenture week unforgettable.".
Among the returning performers and aircraft already on the schedule include:
AeroShell Aerobatic Team (T-6)
Chuck Aaron (helicopter aerobatics)
Eric Edgren (T-Clips)
Kyle Fowler (Rutan Long-EZ)
Kyle Franklin Comedy Act (Piper Super Cub)
Mike Goulian (Extra 330C)
Nathan Hammond (Super Chipmunk)
David Martin (Beechcraft Baron)
Patriot Parachute Team
Jim Peitz (Beechcraft 33C Bonanza)
RAD Aerosports Jet Waco w/ Dell Coller
Red Bull Air Force (Kirby Chambliss, Aaron Fitzgerald, Kevin Coleman, and more)
Red Line Air Shows (RV-8 and Extra)
Bill Stein (Zivko Edge 540)
Skip Stewart (Pitts S2S Prometheus)
Trojan Phlyers (T-28s)
Patty Wagstaff (Extra 300S)
Matt Younkin (Twin Beech)
Along with these early confirmations, many more exciting performers will be announced, including some only-in-Oshkosh performers and aircraft. Exact days for each performer and complete daily air show line-ups will be announced as they are finalized.

NASC TRACER UAV UNVEILED AT AUVSI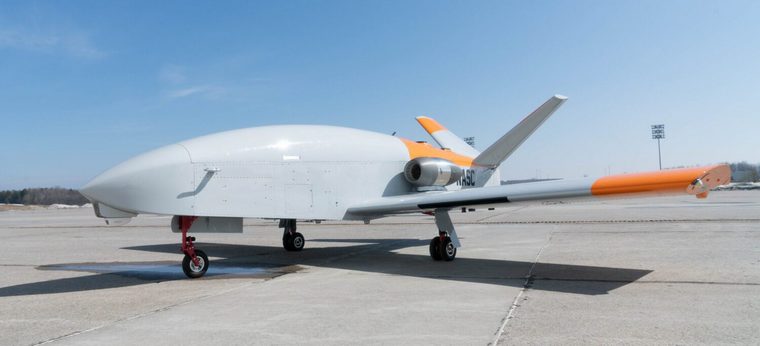 A new unmanned aerial vehicle (UAV) was unveiled at the AUVSI Xponential convention in Orlando Florida and it should look quite familiar to Sonex builders and fans! Navmar Applied Sciences Corporation (NASC) has partnered with Sonex Aerospace to develop a twin-engine jet powered UAV called TRACER.

Based-upon the SubSonex Personal Jet, the NASC TRACER is a low-cost, high-performance UAV designed for speed, versatility and survivability.


"The easily field-maintainable aircraft is intended for a wide range of operations," reports NASC officials, "including Manned-Unmanned Teaming (MUM-T), reconnaissance, counter UAS, communication relay, insertion into contested airspace, electronic warfare, research and development, military training activities and many other mission sets."

BRP-ROTAX AND BOSE AVIATION UNITED IN DETERMINATION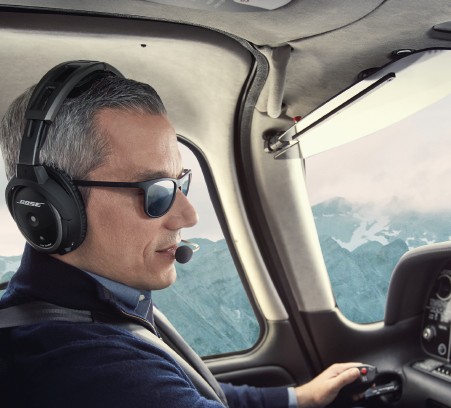 BRP-Rotax is proud to announce the cooperation with Bose Aviation for the new Rotax Care initiative which was launched at the Aero 2022 in Friedrichshafen and will be available for the worldwide aircraft customers from now on.

Rotax aircraft engines are worldwide best known for their reliability, best-in-class power-to-weight ratio and which have gained the trust of flight schools, home builders and aircraft manufacturers alike. Setting standards and trends, Rotax aircraft engines lead the market in the light and ultralight segment. Therefore, it is no wonder that BRP-Rotax has decided to cooperate with Bose Aviation, the premium manufacturer of headsets for their new Rotax Care initiative.
Both brands share the same pure passion for outstanding performance and are driven by enthusiasm for innovative solutions that provide unique experiences for their customers. The Rotax aircraft customers can now profit from this partnership.
"When we teamed up with Bose Aviation, it was like finding the perfect match and I am proud to announce the cooperation with this exceptional brand", said Peter Oelsinger, General Manager BRP-Rotax / Member of the Management Board, Vice President Sales, Marketing RPS-Business & Communications. "Our aircraft customers can now benefit from this partnership with the add-on of the high-quality Bose A20 Aviation Headset in the new Rotax Care package with extended offers."
Rotax Care. The no-compromise warranty.
Rotax Care is the extended warranty program for our Rotax 4-stroke aircraft engines, 912 iS/c and 915 iS/c. Extending the Rotax standard warranty coverage, Rotax Care adds three years of peace of mind or the time to reach a Time Before Overhaul (TBO) - whatever comes first.
All parts, labour and troubleshooting covered. No catch.
Rotax Care covers all engine parts - mechanical and electronic. Rotax service partners and iRMT-certified technicians will service and troubleshoot your engines using genuine Rotax parts only.
CONTINENTAL AEROSPACE TECHNOLOGIES™ RECEIVES EASA APPROVAL TO EXTEND THE CD-300 TIME BETWEEN REPLACEMENT



Continental®, a subsidiary of Continental Aerospace Technologies Holding Limited (HKEX: 232.HK), has announced that the Time Between Replacement (TBR) for the CD-300 has been extended to 2,000 hours. The powerful 300hp Jet-A piston engine was announced on an airframe application in 2019 with an initial TBR of 1,200 hours or 12 years and a commitment to increase the TBR hours.

The Continental® team worked in concert with the European Aviation Safety Agency (EASA) and is proud to fulfil this product enhancement commitment for our customers and partners.
Since the heavy-fuel CD-300 engine was launched, Continental® has worked diligently to achieve this product life extension. Continental's engineering team invested countless hours strenuously testing the largest Jet-A engine, verifying its reliability and endurance while ensuring that all components meet the highest quality standards. Along with the TBR extension, Continental® examined additional ways to increase the value of this fuel-efficient engine that burns 34.9 litres per hour which equates to 9.2 gallons per hour in an economy cruise setting.
After a thorough review of the engine components, the gearbox replacement will also change from being replaced every 600 hours to 'on condition'. Operators must perform routine oil changes, but these enhancements will reduce overall engine maintenance costs and provide more uptime for pilots.
"Continental is working continuously to improve the quality and robustness of our engines and parts," said Dr. David Dörner, Vice President of Global Research and Development. "These product improvements are a testament to Continental's commitment to advancing general aviation engine technology and customer value.
With 9 million flight hours accumulated on our Jet-A engines, we believe that the Jet-A engine is a viable powerplant option for today's operators and the more sustainable future of GA."

U.S. AND SIKORSKY SIGN 10TH CONTRACT FOR H-60 BLACK HAWKS



Aviation, Inc. (NYSE:JOBY), a California-based company developing all-electric aircraft for commercial passenger service, has confirmed that TMAP, South Korea's largest mobility platform, will join Joby's partnership with SK Telecom to bring aerial ridesharing services to Korea.

As Korea's largest mobility platform, TMAP holds an unprecedented amount of transportation and mapping data gathered over the last 20 years. This data will inform the partners' design of optimal air taxi routes, infrastructure networks and an overall mobility service that suits the preferences of Korean consumers.
TMAP also jointly owns on-demand ride-hailing app UT along with Uber, a partner to Joby since 2019, which will enable multi-modal journeys that seamlessly integrate both ground and air travel.
Together with SK Telecom, Korea's leading telecommunications company, TMAP and Joby will work together to integrate emission-free aerial ridesharing into TMAP's transportation services.
"TMAP's deep knowledge and understanding of mobility needs across Korea, along with millions of daily users across Korea, makes them a great partner and platform through which to bring our aerial ridesharing service to customers," said Justin Lang, Head of Partnerships and Corporate Strategy at Joby. "South Korea is a remarkable opportunity for our aircraft to improve lives and save people time while working with SKT and TMAP puts us in the best position to deliver a revolutionary service that is clean, quiet, and affordable."
Joby and SKT previously announced an agreement to work closely on introducing emission-free aerial ridesharing to Korean cities and communities in support of the "K-UAM" (Korean Urban Air Mobility) Roadmap laid out by the South Korean Ministry of Land, Infrastructure, and Transport.
Commenting on the announcement, Lee Jong Ho, CEO of TMAP Mobility, said: "By cooperating with Joby, TMAP will become a platform operator that can offer a seamless transportation service between the ground and the sky."
While Joby's aerial ridesharing service will be operated directly by the company and offered to passengers via the Joby app or Uber app in core US markets, this announcement reflects Joby's strategy to partner with local companies committed to delivering exceptional customer service and operational excellence to launch its service in select international markets.
With a maximum range of 150 miles (241 kilometres), a top speed of 200 mph (321 km/h), and a low noise profile that will allow it to access urban areas, Joby's piloted electric vertical take-off and landing (eVTOL) aircraft is designed to make convenient, emission-free air travel an everyday reality.





On Friday morning, 11 February 2022, a flight instructor and a student pilot (SP) on-board a Cessna 172M aircraft with registration ZS-SLY were cleared by Air Traffic Control (ATC) for take-off on Runway (RWY) 11 to conduct circuit training at Wonderboom Aerodrome (FAWB), Gauteng Province.

The flight was conducted under visual flight rules (VFR) by day and no flight plan was filed.

Fine weather conditions prevailed at the time of flight with a light surface wind of 8 knots (kts) and temperature of 27°C.

The flight crew completed three touch-and-go circuits; thereafter, the instructor disembarked the aircraft to allow the SP to conduct a solo consolidation flight. After receiving clearance from ATC, the SP took off from RWY 11 and completed the first circuit uneventfully. During the second circuit landing, the SP stated that the aircraft ballooned and landed hard on its nose gear, thereafter, it bounced before coming to a halt on the runway.

The aircraft sustained substantial damages; however, the SP was not injured during the accident.

According to the wind component computation, the aircraft landed with a crosswind of 7.88 knots. Although the crosswind was within the maximum demonstrated crosswind of 15 knots, it affected the aircraft more because the airspeed was reduced. After the aircraft ballooned, the flight controls were less effective at a slower speed.

Any time the airplane floats, judgment of speed, height and rate of sink must be especially acute. The pilot must smoothly and gradually adjust the pitch attitude as the airplane decelerates to touchdown speed and starts to settle, so that the proper landing attitude is attained at touchdown.

The slightest error in judgment and timing results in either ballooning or bouncing. If the pilot misjudges the rate of sink during a landing and thinks the airplane is descending faster than it should, there is a tendency to increase the pitch attitude and AOA too rapidly.

This not only stops the descent but sees the airplane climbing. This climbing during the round out is known as ballooning. [Figure 8-35] Ballooning is dangerous because the height above the ground is increasing and the airplane is rapidly approaching a stalled condition. The altitude gained in each instance depends on the airspeed or the speed with which the pitch attitude is increased.

Depending on the severity of ballooning, the use of throttle is helpful in cushioning the landing. By adding power, thrust is increased to keep the airspeed from decelerating too rapidly and the wings from suddenly losing lift, but throttle must be closed immediately after touchdown.

When ballooning is excessive, it is best to execute a go-around immediately; do not attempt to salvage the landing. Power must be applied before the airplane enters a stalled condition.

Probable cause:
The aircraft speed was high on approach, resulting in the aircraft ballooning before it landed with the nose gear first, which subsequently broke off.

Contributing factor:
Lack of experience.



Cameroon, near Nanga Eboko: A Caverton Helicopters (Cameroun) Ltd. Viking DHC-6 Twin Otter 400 with 11 on board on a domestic non-scheduled passenger flight crashed in a forest near Nanga Eboko, Cameroon. The aircraft was carrying Cameroon Oil Transportation Company (COTCO) personnel to Dompta. There were no survivors.
USA, West Penn Township, near Tamaqua, Schuylkill County, PA: A Diamond DA42 L360 Twin Star with three occupants suffered substantial damage when, after reported engine issues, it made an emergency landing in a field near West Penn Township, near Tamaqua, Schuylkill County, Pennsylvania. The aircraft came to rest upside down. The instructor, student pilot and passenger onboard received minor injuries.

Slovenia, Beltinci: A Kubicek BB20GP hot air balloon made an emergency landing in the yard of a house in Beltinci after clipping some powerlines. The three occupants were not injured and the balloon received minor damage.
USA, near Broomfield-Rocky Mountain Metropolitan Airport, CO: A Cessna 172N Skyhawk was destroyed subsequent to an impact with terrain while on approach to Broomfield-Rocky Mountain Metropolitan Airport (BJC/KBJC), Denver, Colorado. The sole pilot onboard was fatally injured.

USA, Sioux Falls Regional Airport, SD: A South Dakota Air National Guard (USAF) General Dynamics F-16CM-40-CF Fighting Falcon suffered substantial damage when it overran the runway on landing at Sioux Falls Regional Airport (Jo Foss Field) (FSD/KFSD), South Dakota. The pilot was not injured.
USA, 0.25 miles E of Athens/Ben Epps Airport, Athens, GA: A Piper PA-24-250 Comanche crashed 0.25 mile east of Athens/Ben Epps Airport (AHN/KAHN), Athens, Georgia because of engine issues. The pilot was fatally injured and the aircraft was destroyed.

USA, near Aurora State Airport, OR: A Thrush S2R-H80 510G clipped powerlines and impacted the terrain during an aerial application flight near Aurora State Airport (UAO/KUAO), Oregon. The sole pilot onboard received serious injuries
Brazil, Paiaguás, Mato Grosso do Sul: A Cessna 206 with a Bolivian flag and no visible registration was seized by DRACCO (Department of Repression of Corruption and Organized Crime) in Paiaguás, Mato Grosso do Sul. An operation to locate the aircraft began on 06 May 2022 after it had flown illegally into Brazilian airspace. Authorities found the aircraft missing its wings to hide the evidence. It is believed drug smugglers intended to repair the plane and commence smuggling operations.

India, Swami Vivekananda Airport, Raipur, Chhattisgarh: An Agusta A109E Power Elite operated by the Government of Chhattisgarh with two on board crashed when landing during a training flight at Swami Vivekananda Airport (RPR/VERP), Raipur, Chhattisgarh. Both pilots died of their injuries and the helicopter was destroyed.
USA, Hanson-Cranland Airport, MA: An experimental RotorWay A600 Talon, burned out at Hanson-Cranland Airport, Massachusetts. The pilot smelled gas upon starting the engine and exited the helicopter just as the fire ignited. The helicopter was destroyed in the ensuing fire.




8 May 2004

Death of William J. "Pete" Knight, U. S. politician, combat pilot, test pilot and astronaut. Knight holds the world's speed record for flight in a winged, powered aircraft.


William John "Pete" Knight who was born on 18 November 1929 was an American aeronautical engineer, politician, Vietnam War combat pilot, test pilot and astronaut. He was one of twelve pilots who flew the North American X-15, an experimental spaceplane jointly operated by the U.S. Air Force and NASA. He was also selected for participation in the X-20 Dyna-Soar program.
On 3 October 1967, Knight piloted X-15 Flight 188, the program's fastest flight. Flying at a maximum Mach of 6.7 and a maximum speed of 4,520 mph (7,274 km/h), he set a speed record for flight in a winged, powered aircraft. The flight was made in the X-15A-2, the second of three planes in the X-15 fleet.
Two weeks, later on 17 October, Knight flew X-15 Flight 190, reaching a maximum altitude above 50 miles. This qualified him as an astronaut according to the United States definition of the boundary of space. However, this altitude did not surpass the Kármán line, the internationally accepted boundary of 100 kilometres (62 miles). It was the last successful flight of the X-15-3, the fleet's third plane. On November 15, X-15 Flight 191 ended in disaster, killing pilot Michael Adams and destroying the X-15-3.
After nearly ten years of test flying at Edwards AFB, he went to Southeast Asia in 1968, where he completed a total of 253 combat missions in the F-100 during the Vietnam War. Following his combat tour, he served as test director during development of the F-15 Eagle at Wright Patterson Air Force Base in Dayton, Ohio. He also was the program director for the International Fighter (F-5) Program at Wright-Patterson. In 1979, he returned to Edwards AFB and served as a test pilot for the F-16 Fighting Falcon.
After 32 years of service and more than 6,000 hours in the cockpits of more than 100 different aircraft, he retired from the U.S. Air Force as a colonel in 1982.
Google Banner Ad