Compiled by Willie Bodenstein



Google Banner Ad



THIS WEEK IN MIDWEEK UPDATE
Military aircraft flocking to Oshkosh for EAA AirVenture Oshkosh 2022.
AIR Unveils AIR ONE: The eVTOL aircraft designed for individual consumer ownership.
Pilatus Hands Over Fourth PC-24 to Platoon Aviation.
De Havilland Aircraft of Canada Limited launches DHC-515 Firefighter.
Surack buys Enstrom Helicopter.
Textron Aviation inks order for three Cessna Citation jets in support of the government of Turkey flight inspection missions.
STIHL National Championship Air Races; thank you to our 2021 donors.
Czech Republic Chief of Defence signs beams of AH-1Z and UH-1Y.
Worldwide incidents and accidents.
This week in history, Sikorsky Russky Vityaz, the world's first four-engined aircraft and the first aeroplane with a lavatory.



Google Banner Ad








THE AER0 CLUB'S YEARBOOK IS NOW ON SALE

WWW.AEROCLUB.ORG.ZA/SHOP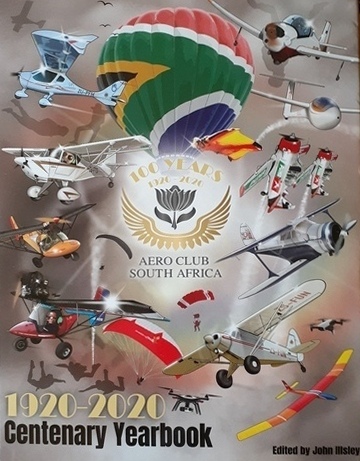 28
Kroon Fly-In and Farmers Market. Call Kevin 061 008 9562 or Marius on 083 419 6613

27 to 29
Bona Bona Fly-In. Website: www.bonabona.co.za/fly-in

28
FAKR Nav Rally. Contact Nandi on +27 83 577 8894 or E-Mail: kfc@iafrica.com

28
Parys Airshow. E-mail: hayley@creativespacemedia.co.za or Cell: 083 292 7608 for info







4
10th Newcastle Airshow. Contact Johan Pieters on E-mail: Johan@champ.co.za or Cell: 082 923 0078

4
SAPFA Krugersdorp ANR at Jack Taylor airfield, Krugersdorp. Contact Frank Eckard on E-mail: frank.eckard@mweb.co.za or Cell: 083 269 1516

11
Brakpan Cessna Fly-In. For more info contact on Clarissa 074 953 7144

11
Proper Planning Prevents Poor Performance. Brakpan Airfield Clubhouse. Contact Santjie on 063 239 2151

15 to 19
SAC National Aerobatics Championships at Wingspark Airfield. Contact Annie Boon on E-mail: chunge@mweb.co.za

16 to 18
SAPFA Rally Nationals at Brits Airfield. Contact Frank Eckard on E-mail: frank.eckard@mweb.co.za or Cell: 083 269 1516

22
Polokwane Airshow Contact: Noel Netshivhodza on E-mail: netcoxm@gmail.com or Cell: 081 728 0843

25
SAPFA Speed Rally at Kroonstad Airfield. Contact David le Roux on E-mail: david@pilotinsure.co.za or Cell: 073 338 5200








1 to 3

EAA Taildraggers at Warmbaths airfield. Contact Richard on E-mail: Richard.nicholson1963@gmail.com or Cell: 082 490 6227

7 to 9
AERO South Africa at Wonderboom National Airport. Contact Annelie Reynolds on E-mail: annelie.reynolds@za.messefrankfurt.com

16
SAPFA Kitty Hawk Rally. Contact Frank Eckard on E-mail: frank.eckard@mweb.co.za or Cell: 083 269 1516

16
Garden Route Airshow at George airport. Contact Brett Scheuble

22 to 31
EAA AirVenture Oshkosh, Wisconsin, USA. Camping on the airfield. Contact Neil Bowden on E-mail: neil1@telkomsa.net

29 and 30
Soutpansberg Fly-In Louis Trichardt.
Contact Jaco on E-mail: spbvliegklub@gmail.com or Cell: 082 353 6002

30
Krugersdorp Flying Club Spot Landing Competition. Contact Nandi on 083 577 8894 or E-mail kfc@iafrica.com







MILITARY AIRCRAFT FLOCKING TO OSHKOSH FOR EAA AIRVENTURE OSHKOSH 2022



A long list of current military aircraft is among the early commitments to EAA AirVenture Oshkosh 2022, including many arriving to celebrate the 75th anniversary of the U.S. Air Force this year. The 69th edition of EAA's Fly-In convention is from July 25-31 at Wittman Regional Airport in Oshkosh, Wisconsin.

"Displays and aerial performances of current military aircraft are always among the most popular parts of EAA AirVenture Oshkosh each year, for aviation enthusiasts and the public," said Rick Larsen, EAA's vice president of communities and member programs, who coordinates AirVenture features and attractions. "This is just the start, as we expect the list of military aircraft to grow as we approach AirVenture's opening day, especially in support of the Air Force's 75th anniversary in 2022."
The current military aircraft listed, from the U.S. Air Force and U.S. Army, are those on ground display, with some performing during the daily air shows as well include:
C-5 Galaxy, C-17 Globemaster III, F-16 Fighting Falcon, KC-46 Pegasus, HH-60 Pavehawk, AH-64 Apache, UH-60 Blackhawk, MH-47 Chinook, AH-6 Little Bird and T-38 Talon.
Many more military aircraft, for both ground display and aerial demonstrations, are expected to be added to this list in the coming weeks, with announcements coming as confirmations are finalized.



AIR UNVEILS AIR ONE: THE EVTOL AIRCRAFT DESIGNED FOR INDIVIDUAL CONSUMER OWNERSHIP

AIR, the creator of personal eVTOLs for the consumer market, unveiled its debut vehicle, AIR ONE and announced that it is now accepting pre-orders. AIR ONE is a sporty, easy-to-operate electric vertical take-off and landing (eVTOL) aircraft designed for individual consumer ownership.


Combining aerospace innovation with the maturity of automotive technology and uncompromising safety standards, AIR's first-of-its-kind airEVs offers the ground-breaking opportunity to easily "drive the sky". Founded by Chen Rosen and later joined by Netanel Goldberg and Rani Plaut, based in the green fields of Pardes Hanna, near Tel Aviv, AIR is paving the way for a cleaner, more thrilling future of mobility, affording everyone the freedom to fly.
"The future of mobility is in the sky, but to get there we need to build consumer confidence in eVTOLs as a legitimate mode of everyday transport and develop vehicles on a mass-scale to bring that vision to life," said AIR's CEO and Co-Founder Rani Plaut. "AIR ONE is our hat in the ring, simultaneously showing consumers the first in a line of diversified, playful models for personal flight and demonstrating cutting-edge technology that will enable high-volume production and scalability."
The company's inaugural vehicle is an all-electric two-seater eVTOL that offers a range of 110 miles on a single charge at speeds up to 155 miles per hour and a flight time of one hour. AIR ONE prioritizes everyday practicality for consumers with collapsible wings for easy parking and its ability to take off from or land on any flat surface.
Based on technology and manufacturing techniques from the automotive and aerospace industries, AIR ONE is designed from inception to be a fun, safe and practical vehicle that adheres to aerospace standards and regulations. To this end, AIR is currently working with the FAA to obtain G1 certification.

PILATUS HANDS OVER FOURTH PC-24 TO PLATOON AVIATION



The ceremonial handover of the fourth Super Versatile Jet to Platoon Aviation, the German charter operator, took place at AERO Friedrichshafen, Germany's leading show for general aviation. The versatile PC-24 stands out for many reasons, not least of which is its unique paint scheme.

The ceremonial handover of the keys to the brand-new PC-24 serial number 266 took place in the presence of Pilatus and Air Alliance, the authorised Pilatus Sales Centre for Germany and Austria. Platoon Aviation, the Hamburg-based company, took delivery of its first PC-24 in spring 2021. The handover brings Platoon's total fleet to four Super Versatile Jets with more on order.
Platoon Aviation's business jets serve a constantly growing customer base, offering a unique travel experience which stands out from its competitors in terms of both product and service. The German operator, whose fleet consists exclusively of PC-24s, provides flights to all European destinations. In summer, the company flies to classic holiday destinations such as Olbia, Nice, Majorca and Naples.

DE HAVILLAND AIRCRAFT OF CANADA LIMITED LAUNCHES DHC-515 FIREFIGHTER

De Havilland Aircraft of Canada Limited (De Havilland Canada) is pleased to announce that it has launched the De Havilland DHC-515 Firefighter (formerly known as the CL-515) program.

"After an extensive business and technical review, we are pleased to announce that we have launched the De Havilland DHC-515 Firefighter program, which will involve negotiating contracts with our European customers and ramping up for production," said Brian Chafe, Chief Executive Officer of De Havilland Canada.
The DHC-515 Firefighter will build on the history of the iconic Canadair CL-215 and CL-415 aircraft which have been a critical part of European and North American aerial firefighting fleets for over 50 years. Important upgrades are being made that will increase the functionality and effectiveness of this legendarily rugged firefighting aircraft.
European customers have signed letters of intent to purchase the first 22 aircraft pending the positive outcome of government-to-government negotiations through the Government of Canada's contracting agency, the Canadian Commercial Corporation (CCC). De Havilland Canada expects first deliveries of the DHC-515 by the middle of the decade, with deliveries of aircraft 23 and beyond to begin at the end of the decade, providing other customers the opportunity to renew existing fleets or proceed with new acquisition opportunities at that time.

De Havilland Canada acquired the Canadair CL program in 2016 and has been contemplating a return to production since 2019. The new DHC-515 Firefighter matches the other aircraft in the De Havilland fleet in terms of lifespan, ruggedness and Canadian aerospace engineering quality. The final assembly of the aircraft will take place in Calgary, Alberta where work on the CL-215 and CL- 415 aircraft currently takes place. It is anticipated that more than 500 people will need to be recruited over the coming years to successfully deliver this program.
"To bring the DHC-515 into production is important for not only our company, but countries around the world who rely on our aircraft to protect their people and forests," said Chafe. "We understand the important role the previous aircraft have played in protecting people and property and as our climate continues to change and summers increase in both temperature and length, the DHC-515 will be an important tool for countries around the globe to use in extinguishing fires."

SURACK BUYS ENSTROM HELICOPTER



Indiana-based Surack Enterprises announced on Friday that it acquired Enstrom Helicopter, which filed for Chapter 7 liquidation bankruptcy and shuttered operations in January. Menominee, Michigan-based Enstrom was in near-continuous operation for 64 years, manufacturing more than 1,300 light turbine and piston-powered helicopters for police, military, commercial and private missions.

A previously-announced deal to sell the company's assets to Midlothian, Texas-based MidTex Aviation in March collapsed. Enstrom had most recently been owned by China's Chongqing General Aviation Industry Grou (CGAG) but had at various times been owned by the Purex Corp., famed defence attorney F. Lee Bailey and inventor Dean Kamen.
Enstrom joins the Surack Enterprises portfolio of aviation-related businesses, including Sweet Aviation, which provides airplane charter flights, training, and rentals; Sweet Helicopters, which provides the same for rotorcraft and aviation insurance broker Aviation Specialty Insurance. Sweet Helicopters hosts the annual Rotors 'n Ribs helicopter fly-in in Goshen, Indiana, which includes an airshow, barbecue and helicopter-related safety seminar.

TEXTRON AVIATION INKS ORDER FOR THREE CESSNA CITATION JETS IN SUPPORT OF THE GOVERNMENT OF TURKEY FLIGHT INSPECTION MISSIONS



Textron Aviation recently announced it has received an order from Turkish Aerospace Industries (TUSAS) for one special mission Cessna Citation Longitude and two special mission Cessna Citation Latitude jets. The aircraft will be fitted with special flight inspection calibration equipment and used by the DHMI (General Directorate of State Airports Authority) in Turkey to inspect regional airport navigation aids.

The Cessna Citation Longitude and Cessna Citation Latitude are designed and manufactured by Textron Aviation Inc., a Textron Inc. (NYSE:TXT) company.
Textron Aviation is honoured to, once again, be selected as the aircraft of choice for the critical mission of ensuring the integrity of the airways that constitute the national airspace of Turkey.
Bob Gibbs, vice president, Special Mission Sales for Textron Aviation said: "Textron Aviation is honoured to, once again, be selected as the aircraft of choice for the critical mission of ensuring the integrity of the airways that constitute the national airspace of Turkey," said Bob Gibbs, vice president, Special Mission Sales for Textron Aviation. "The Longitude and Latitude continue the long legacy of Cessna Citation flight inspection aircraft in service by the DHMI, while providing additional capability and performance for its missions."
DHMI began using two Cessna Citation V aircraft for flight inspection in 1993, which were replaced by Cessna Citation XLS aircraft in 2009.

The clean-sheet design of the Longitude integrates the latest technology throughout the aircraft, bringing customers the lowest direct operating cost in its class. Powered by FADEC-equipped Honeywell HTF7700L turbofan engines with fully integrated autothrottles with envelope protection, the Longitude offers best in class maintenance intervals of 800 hour/18 months, Textron Aviation maintenance and diagnostic systems (AReS). The spacious cockpit incorporates easier access and an ergonomic design that fully focuses on crew comfort and efficiency. No super-midsize business jet offers more range, greater payload or higher cruise speed at a lower direct operating cost.
The Citation Latitude, with a four-passenger range of 2,700 nautical miles (5,000 km) at high-speed cruise, is set apart from the competition by its combination of comfort and efficiency. The aircraft's class-leading take-off field length of 3,580 feet provides operators with greater range out of short fields. Inside, the Latitude offers an unrivalled cabin experience featuring the most open, spacious, bright and refined cabin environment in its category. With a flat floor and six feet of cabin height, innovation abounds with exceptional features designed throughout the aircraft.

STIHL NATIONAL CHAMPIONSHIP AIR RACES THANK YOU TO OUR 2021 DONORS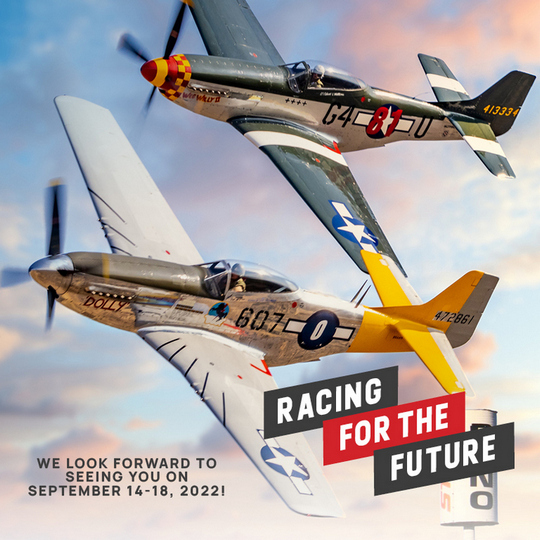 2021 was the year the STIHL National Championship Air Races returned after we all weathered some of the most challenging circumstances on record. Generous donations from our dedicated fans and supporters are a vital element of the Reno Air Racing Association's success and we want to extend our sincere thanks to everyone who donated a gift to help us emerge from the Covid shutdown in 2020 and back into air racing in 2021!

Your donations not only helped make the past year possible, but also gave us the resources and energy to begin an exciting journey as we launch our 2022 STIHL National Championship Air Races and our new "Racing for the Future" campaign.
Our vision is to establish the Reno Air Racing Association as the pinnacle of inspiration, education and exhilaration for people of all ages. Our success with our STEM education programming has now led to our first flight training scholarships and we have even more programs coming to life in the near future. We hope you will join us as we accelerate into this new chapter in our evolution.
Air racing is our passion, we are using the excitement, history and pageantry of our beloved sport to inspire the next generation of aviators, fans and stakeholders. Your contributions are an important factor in making this possible and we'd like to extend our deepest heartfelt gratitude to those who donated this past year.

CZECH REPUBLIC CHIEF OF DEFENCE SIGNS BEAMS



Bell Textron Inc., a Textron Inc. (NYSE: TXT) company, completed another step in the production of AH-1Z and UH-1Y helicopters for international customers. Czech Republic meeting to observe the Czech Republic H-1 aircraft production Chief of Defence (CHOD) Gen. Aleš Opata, Deputy Minister of Defence František Šulc and delegates visited Bell's Amarillo Assembly Center in a landmark line.

"Hosting Gen. Opata at our Amarillo Assembly Center allows us to showcase the significant progress Bell has made in aircraft production to support this vital international program and customer," said Mike Deslatte, H-1 vice president and program director. "We are honoured to continue our great relationship with the Czech Republic as we prepare to provide them with leading defence aircraft and continue the success of the H-1 program."
During the visit, Gen. Opata signed the beams of the first AH-1Z and UH-1Y aircraft that will be delivered to the Czech Republic. Production continues on schedule with all 12 aircraft expected to be complete in 2023.
"In military operations today, one of the key requirements is to be able to win in both aircraft capabilities and logistics support," said Nate Green, H-1 program manager. "There is no better example of two complementary aircraft regularly operating from expeditionary locations and completing as many missions together as the AH-1Z and UH-1Y."
The Bell AH-1Z and UH-1Y offer advanced capabilities for defence missions and decrease the maintenance and operational footprint due to their 85% commonality. Bell is actively producing AH-1Zs for the U.S. Marine Corps and expects to complete deliveries this year, followed by production for international operators. Bell recently completed the first delivery of four AH-1Z helicopters to the Bahrain Defence Force and expects to complete the first international delivery of the AH-1Z this year.




SOUTH AFRICA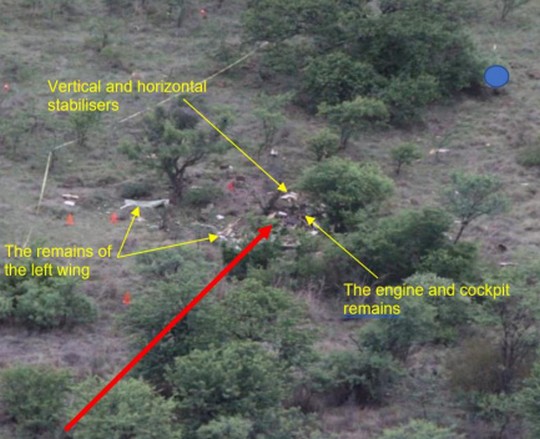 On Thursday afternoon, 28 October 2021, a pilot on-board a Rand KR-2 two-seat high-performance aircraft with registration ZS-UKU took off on a private flight from Kitty Hawk Aerodrome (FAKT), located south-east of Pretoria in Boschkop, Gauteng province, with the intention to return to the same aerodrome.
Visual meteorological conditions (VMC) prevailed at the time of the flight.
According to the first eyewitness, the aircraft entered the aerobatic box situated west of FAKT; thereafter, the pilot executed a few aerobatic-type manoeuvres before flying towards the south.
The second eyewitness saw the aircraft overhead his house flying at an estimated height of 500 feet (ft) above ground level (AGL).
The aircraft then made a high-speed left-hand turn during which the right wing broke off in-flight. As a result, the pilot lost control of the aircraft and crashed at Tierpoort farm, approximately 0.57 nautical miles (nm) south of FAKT Runway 01.
The aircraft was destroyed and the pilot was fatally injured during the accident.
Post-accident examination of the failed right-wing aileron indicated that the right wing separation was triggered by the aileron aerodynamic flutter which was caused by the aileron that was not balanced in accordance with (IAW) the Rand Robinson Engineering Build Manual.

Probable Cause
The pilot lost control of the aircraft after the right-wing broke off in-flight due to the aileron aerodynamic flutter.
Contributing Factor:
The aileron was under balanced to the extent of 60 kilograms per millimetre (kg/mm) residual moment.



USA, Miami, FL: An American Airlines Boeing 737-823 (WL) suffered a temporary runway excursion during the beginning of the take-off roll at Miami, Florida, USA. Immediately after commencing the take-off from runway 18L, the aircraft veered to the left and off the side of the runway. The flight crew rejected the take-off and steered the aircraft back onto the runway and subsequently onto a taxiway.
USA, Gainesville Municipal Airport (GLE/KGLE), Gainesville , TX: A Bellanca 14-19-2 Cruisemaster was written off when it was involved in an accident at Gainesville Municipal Airport (GLE/KGLE), Gainesville, Texas. The airplane landed gear up and slid off the runway. A post-crash fire ensued and destroyed the aircraft. The sole pilot onboard was not injured.

France, Belledonne massif, near Adrets, Isère: An AéroClub de Dauphiné Jodel D.140C Mousquetaire with five on board on its maiden flight after a rebuild crashed at the Belledonne massif near Adrets, Isère. All five occupants died in the crash and the aircraft was destroyed by fire.
Austria, Reichraming (Bezirk Steyr Land): Two Ikarus C-42CS collided in mid-air. The pilots of both aircraft pulled the rescue parachute. Both aircraft crashed in a forest.
Slovenia, Kamnik: An Alpi Aviation Pioneer 300 suffered an engine failure immediately after take-off at the airfield Kamnik and made an emergency gear up landing. The aircraft suffered minor damage and the pilot was not injured.

USA, Wayne Municipal/Stan Morris Field (KLCG), NE: A Cessna 140 participating in the May-Day STOL Drag Races crashed while on finals to Wayne Municipal/Stan Morris Field (KLCG), Nebraska, in an apparent stall-spin accident. The sole pilot was fatally injured. The remaining events for the weekend were cancelled.
Germany, Illertissen Airfield: A parachutist crash landed on a parked Cessna plane at Illertissen Airfield. The parachutist was not injured, but the airplane sustained substantial damage.

France, Châteaubernard Air Base: Two French Air Force Dassault Rafale C's collided in mid-air during the air show at the 709 base at Cognac-Châteaubernard. The debris damaged a house in Gensac-la-Pallue, without causing any injuries. Both aircraft landed safely.
USA, near Prescott Regional Airport/Ernest A Love Field (PRC/KPRC), Prescot: A Cessna P172D Skyhawk sustained substantial damage subsequent to the forced landing following a loss of engine power shortly after take-off from Prescott Regional Airport/Ernest A Love Field (PRC/KPRC), Prescott, Arizona. The sole pilot onboard the airplane was not injured.

A Cessna P172D Skyhawk sustained substantial damage subsequent to the forced landing following a loss of engine power shortly after take-off from Prescott Regional Airport/Ernest A Love Field (PRC/KPRC), Prescott, Arizona. The sole pilot onboard the airplane was not injured.




13 MAY 1913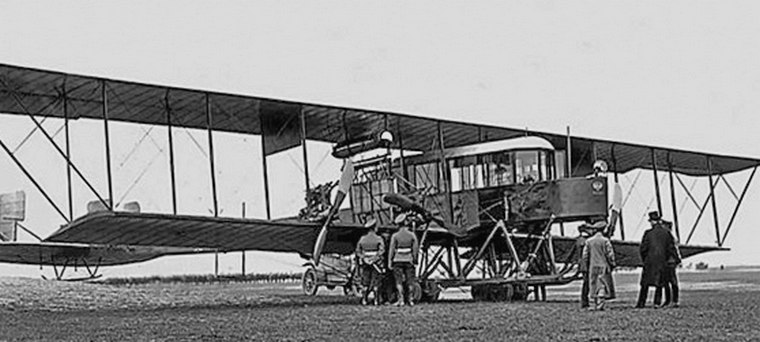 Sikorsky Russky Vityaz, the world's first four-engined aircraft and the first aeroplane with a lavatory.


The Sikorsky Russky Vityaz (Russian: ??????? ??????), or Russian Knight (S-21) was the first four-engine aircraft in the world, designed by Igor Sikorsky and built at the Russian Baltic Railroad Car Works in Saint Petersburg in early 1913.
Sikorsky conceived the S-21 design in 1911, when no known aircraft could lift more than 600 kilograms (1,323 lb). The carrying capacity record belonged to the French pilot Ducis, who had flown 800 m (2,600 ft) with a load of 600 kg (1,323 lb)
The aircraft had a cabin with dual control columns, two passenger cabins and a storage room for spare parts as well as a lavatory closet. There was also an open deck forward of the pilot's cabin equipped with a searchlight and machine gun. The ailerons on the upper wings provided for the airplane's stability. The first quadruple-engined version of what was to become known as the Russky Vityaz was powered by four engines installed in tandem pairs.
Sikorsky's aspirations for the Russky Vityaz proved to be short-lived. While parked on the runway on 23 June 1913, the aircraft was crushed by an engine that fell off a single-seat Morane-Saulnier aircraft during a landing. Sikorsky decided not to repair the seriously damaged Russky Vityaz
Google Banner Ad