Beta Technologies Media release



Google Banner Ad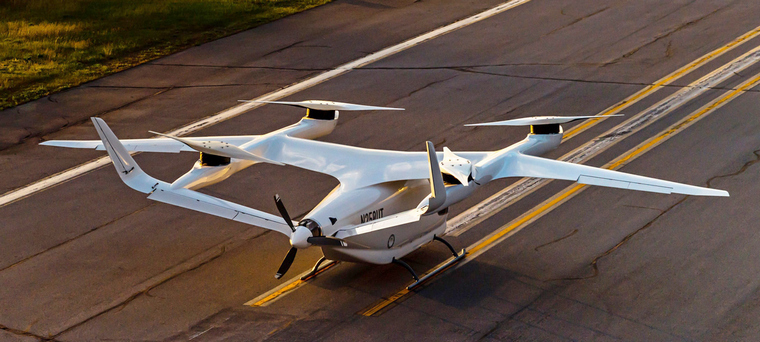 Beta Technologies, founded by entrepreneur Kyle Clark, is developing an eVTOL aircraft. The company is one of several electric VTOL companies receiving funding from Martine Rothblatt's United Therapeutics, to transport human organs. Their first technology demonstrator was called Ava XC.
Alia-250 is an electric vertical take-off and landing (eVTOL) aircraft capable of transporting cargo or passengers. The cargo version is called the Alia-250c.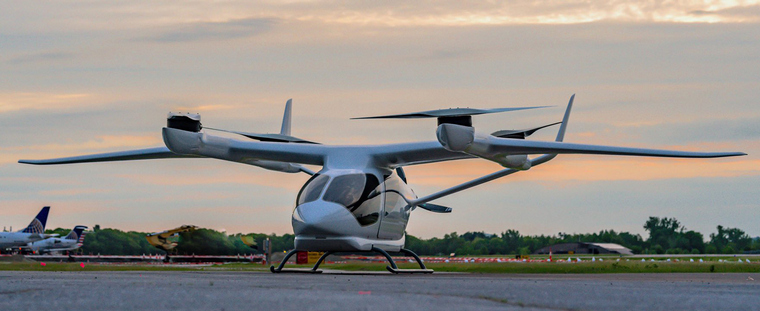 Beta Technologies Alia on tarmac.

The goal with Alia is to keep the aircraft as simple as possible (which increases safety, a less complex aircraft has fewer things which can fail), to keep the aircraft as light as possible, carry a lot of energy using batteries and keep the aircraft as efficient as possible by using electric motors.
The main purpose of this aircraft is to fly two people and cargo, for organ transplant missions from hospital to hospital. The eVTOL aircraft will have a range of 250 miles (400 km). The company's future plans are to also make a passenger aircraft as well for up to 6 people, including a pilot.
On 12 June 2020, Beta Technologies revealed their full-scale Alia eVTOL aircraft with four vertical lift propellers and one pusher propeller for forward flight. Clark says the shape of the all-electric aircraft was inspired by the Arctic tern, a strongly migratory bird which has the longest migrations known in the animal kingdom, taking complex indirect routes of up to 56,000 miles (90,000 km).
Google Banner Ad
The Alia design includes "a twin-tail assembly supported by angled trusses, dramatically arched wings, and arcing, tapered wingtips." according to a Wired Magazine article. The company is using fixed efficient vertical propellers to reduce the complexity of the aircraft, reduce the cost of manufacturing the aircraft, reduce maintenance needs, increase safety, and makes it easier to certify, to get the aircraft into the market place. The longer wing, the shape of the wing and the longer V-tail was designed to reduce drag and increases the stability of the aircraft at low speeds.
Because each set of propellers has a specific job (either lift or cruise), the design of the aircraft could be optimized without worrying about making any type of compromises, when compared to engineering tilting propellers. The company also manufactures its own electric motors to make sure the motors are completely customised for the aircraft. The battery cells are purchased from outside vendors but the battery packs are customized and completed in-house.
On 9 November 2020 a video showing a test flight of the Alia prototype was uploaded to the company's Facebook and Instagram accounts.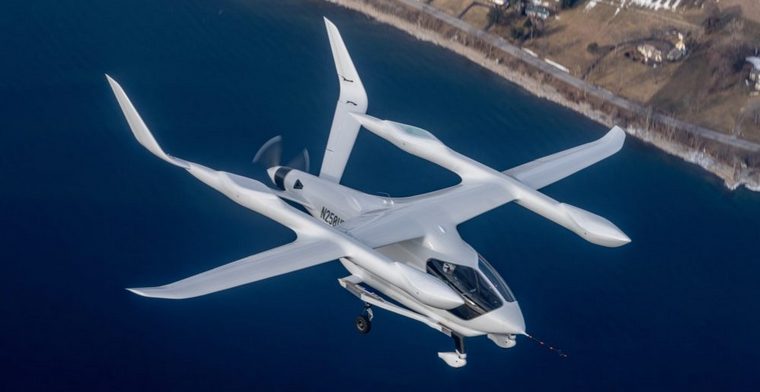 Still of the Alia's test flight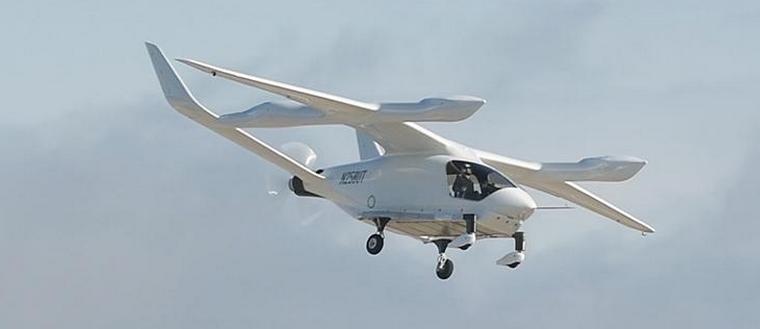 Grounded view of the Alia in flight

Beta Technologies is a US Air Force Agility Prime participant, as of 29 May 2020, and has passed Phase III of the Initial Capabilities Opening. Agility Prime is the US Air Force's program to add eVTOL aircraft to their fleet. The Air Forces needs eVTOL aircraft for passenger transportation and cargo missions. For passenger aircraft, the eVTOL aircraft will need to have the capacity for three to eight passengers, speeds of 100 mph (161 km/h) or more, and with a range of at least 100 miles (161 km). For cargo missions, the eVTOL aircraft needs to be uncrewed with a maximum gross take-off weight greater than 1,320 lb (599 kg).
The US Air Force foresees eVTOL aircraft used in such applications as search and rescue (SAR), medical evacuation, firefighting, disaster relief, humanitarian operations, logistics, special operations and other defence support.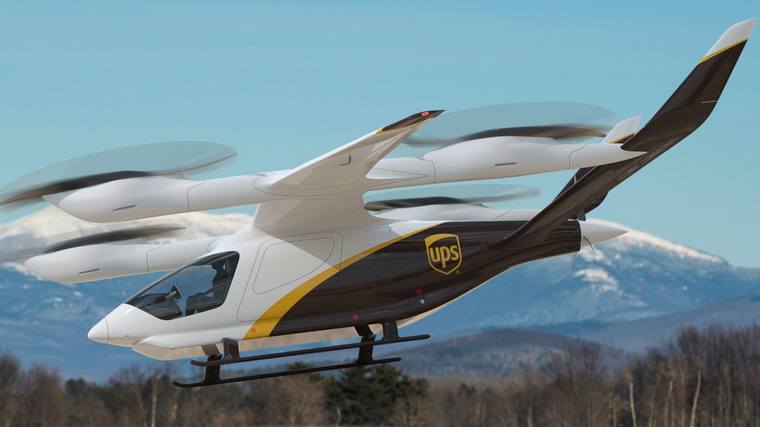 Alia-250c in UPS livery (concept art, April 2021)

On 7 April 2021, United Parcel Service (UPS) announced it will purchase up to 150 Alia eVTOL aircraft for time-sensitive cargo deliveries which will take-off and land on at UPS facilities. The eVTOL aircraft will be used for UPS where normally small conventional airplanes are flown from airport to airport. UPS foresees this as a stepping stone to expand these cargo flights for other delivery services. The first aircraft are expected to be delivered to UPS in 2024. UPS also stated they have a growing fleet of electric vehicles and plans to charge both ground and air vehicles at their cargo facilities.
On 13 April 2021, Beta Technologies and Blade (based in New York, USA) signed a deal to purchase five Alia eVTOL aircraft with an option to buy 15 more. Blade was founded in 2014 and has 200,000 users and transported 40,000 passengers by helicopter in 2019. Blade has stated they have been limited to flying in and out of airports and existing heliports due to noise restrictions. However, since the Alia is very quiet, Blade is looking forward to building and/or buying new infrastructure in areas where helicopters weren't allowed to fly before.
As of April 2021, Beta Technologies has four customers including United Therapeutics, the U.S. Air Force (through their Agility Prime program), United Parcel Service and Blade.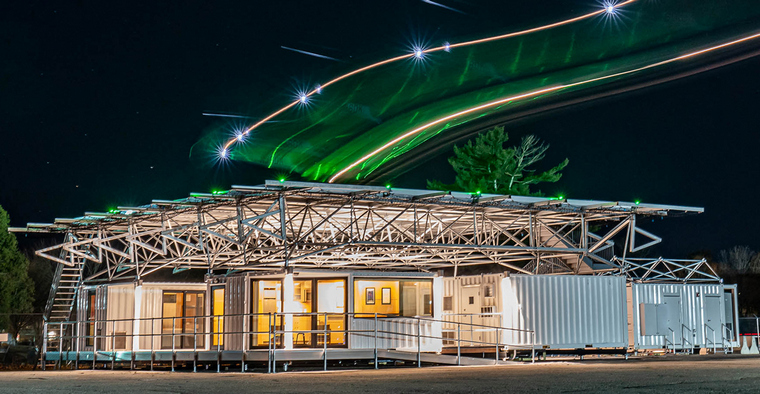 Beta Technologies modular charging station with optional lounge, lodging, maintenance and warehouse.

Beta Technologies, in less than three years, have developed a rapid recharging station for eVTOL aircraft. The landing pad can be used for almost any VTOL aircraft including passenger eVTOL aircraft, helicopters or cargo delivery drones. They even sell a standalone fast charge inverter without the station.
The stations are modular allowing different configurations to fit in areas with space limitations or allowing the station to be scalable to any size allowing more than one aircraft to land at a time.
Google Block Ad
The stations are made from shipping containers due to the high strength of these containers that can resist harsh environments, are low in cost, are readily available, and are easily transported by ship, train or truck. Use of shipping containers in architecture is well-documented with online articles and there is even a Wikipedia page about the subject: Shipping container architecture
The station can include multiple types of rooms such as a lounge for the crew, lodging, patios, with features including large windows and heating and air conditioning. Sleeping rooms are available for the crew whether it's for an hour or overnight. This feature reduces the added expense of ground travel and cost of expensive hotels in urban or remote locations. Based on need, the station can also be fitted with additional modules for warehousing cargo and for maintenance and repair equipment.
Features of the charging station:
On-site maintenance & repair workshop, pilot lounge and sleeping accommodations for pilots, warehouse units, battery energy storage and generator, solar array and an elevated landing deck.
The stations would take power directly from the grid and/or from solar panels charging a bank of batteries. Having battery storage allows the station to charge eVTOL aircraft without the need to have heavy power lines installed for the station. Powering the station with solar panels and with battery storage allows the station to recharge the aircraft even if the grid lost power or was located in a remote location without power lines.
Google Block Ad
It should be noted that the cost of electricity from utility companies during the day, is when the price of electricity is the highest. The lowest cost of electricity from power companies is at night. Therefore, by having charging stations with a bank of batteries available to charge the Alia aircraft during peak hours, keeps the cost of electricity down. Multiple studies also show that purchasing solar panels and batteries lower the cost of electricity over time, versus buying electricity directly from power companies. If a charging station is connected to the grid, and if and when needed, the station could charge their batteries in the middle of the night when electricity costs less money. If equipped, the station can also make its own power using a generator.
Having the landing pad above the structure also increases the safety of people and other objects on the ground, allows the station to be built in a smaller footprint when little space is available, and helps with security when a fence is installed around the facility. These stations can be installed in any urban area, at airports, remote locations and in places where there are harsh weather conditions.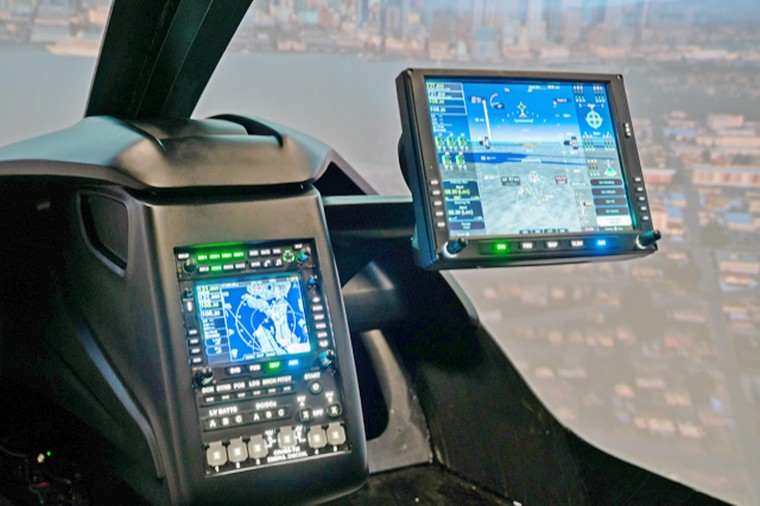 Beta Technologies digital cockpit.

Specifications:

Aircraft type: eVTOL
Capacity: 2 passengers and cargo
Lifting propellers: 4 propellers mounted on two booms
Forward flight propeller: 1 pusher propeller
Electric motors: 5
Target range: 250 miles (500 km)
Payload: 6,000 lb (2,720 km)
Power source: Batteries, charging time is one hour
Wing: 50 ft (15 meter) high arched wing
Tail: Large V tail
Landing gear: Fixed skid landing gear
Safety: Lifting propellers above the fuselage to eliminate head injuries from passengers or maintenance crew. Distributed electric propulsion (DEP) increases safety because if one lifting propeller fails, the remainder lifting propellers can safely land the aircraft.



Google Banner Ad