2022.07.17



Google Banner Ad



Not strictly a race plane in the sense that it competed with others in a set course, the Hughes H-1 Racer was built by Hughes Aircraft in 1935 with the sole purpose of setting a world airspeed record which it did on 13 September 1935 at Martin Field near Santa Ana, California. With Hughes at the controls, it promptly broke the world landplane speed record clocking 352.39 mph (567.12 km/h) averaged over four timed passes.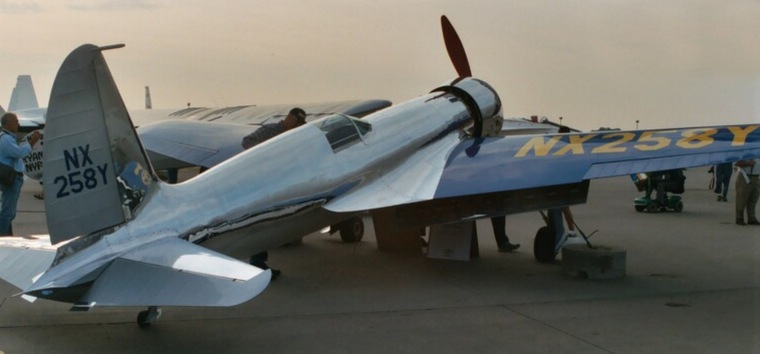 Hughes later implemented minor changes to the H-1 Racer to make it more suitable for a trans-continental speed record attempt. The most significant change was the fitting of a new, longer set of wings that gave the aircraft a lower wing loading. On 19 January 1937, a year and a half after his previous landplane speed record in the H-1, Hughes set a new trans-continental speed record by flying non-stop from Los Angeles to New York City in 7 hours, 28 minutes and 25 seconds. He smashed his own previous record of 9 hours, 27 minutes by two hours. His average speed over the flight was 322 miles per hour (518 km/h).
The H-1 Racer was the last aircraft built by a private individual to set the world speed record; most aircraft to hold the honor since have been military designs.
General characteristics
Crew: 1
Length: 27 ft 0 in (8.23 m)
Wingspan: 31 ft 9 in (9.67 m)
Height: 8 ft 0 in (2.4 m)
Wing area: 138 sq ft (12.8 m2)
Empty weight: 3,565 lb (1,620 kg)
Gross weight: 5,492 lb (2,496 kg)
Powerplant: 1 ◊ Pratt & Whitney R-1535[23] radial engine, 700 hp (521 kW)
Performance
Maximum speed: 352 mph (566 km/h, 306 knots)
Wing loading: 40 lb/sq ft (195 kg/m2)
Power/mass: 0.13hp/lb (210W/kg)
Google Banner Ad