Compiled by Willie Bodenstein




Google Banner Ad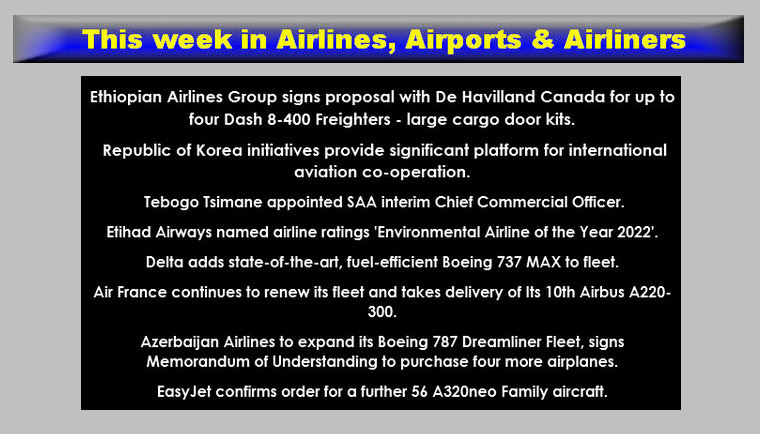 ETHIOPIAN AIRLINES GROUP SIGNS PROPOSAL WITH DE HAVILLAND CANADA FOR UP TO FOUR DASH 8-400 FREIGHTER - LARGE CARGO DOOR KITS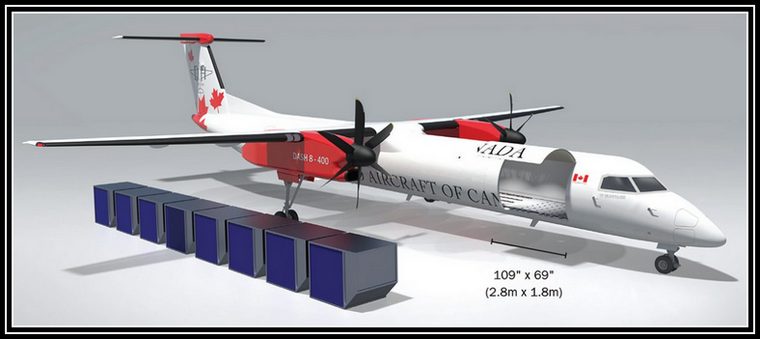 De Havilland Aircraft of Canada Limited ("De Havilland Canada") and Ethiopian Airlines Group ("Ethiopian") announced today that Ethiopian has signed a proposal for the purchase of two Dash 8-400 Freighter - Large Cargo Door (F-LCD) conversion kits. The proposal provides an option for an additional two F-LCD conversion kits. The parties are working to finalize a definitive and binding agreement.


"Cargo has played a pivotal role in Ethiopian Airlines' operations over the past couple of years and will remain a key growth pillar of our business over the coming years," said Mesfin Tasew, Chief Executive Officer, Ethiopian Airlines Group. "The pandemic and subsequent recovery efforts have given rise to significant opportunities in the cargo space and we see great value in converting our older Dash 8-400 fleet to freighters to capitalise on these growing opportunities."
"Ethiopian's proposal with De Havilland Canada is a superb testament to the versatility of the Dash 8-400 aircraft to satisfy a wide variety of operational requirements and we thank Ethiopian for this confidence in the aircraft's capability," said Philippe Poutissou, Vice President, Customer Experience, De Havilland Canada. "The Dash 8-400 aircraft's industry-leading operating costs and environmental footprint, as well as its outstanding performance and large cabin volume have facilitated our introduction of a series of freighter options -- including Quick Change, Package Freighter and LCD Freighters -- to better serve the expanding cargo market.
"We are also excited to announce our partnership with Ethiopian to offer Dash 8 freighter conversions through their experienced MRO - already a De Haviland Canada Authorized Service Facility," added Mr. Poutissou. "This conversion capability will support Ethiopian's fleet needs and can be offered to other Dash 8 aircraft operators in Africa and neighbouring regions as an additional choice to the conversions De Havilland Canada can perform in Canada or through our Mobile Repair Team."
The Dash 8-400 aircraft has logged over 11 million flight hours and transported more than 570 million passengers. Worldwide, the aircraft is in the fleets of more than 70 owners and operators.

REPUBLIC OF KOREA INITIATIVES PROVIDE SIGNIFICANT PLATFORM FOR INTERNATIONAL AVIATION CO-OPERATION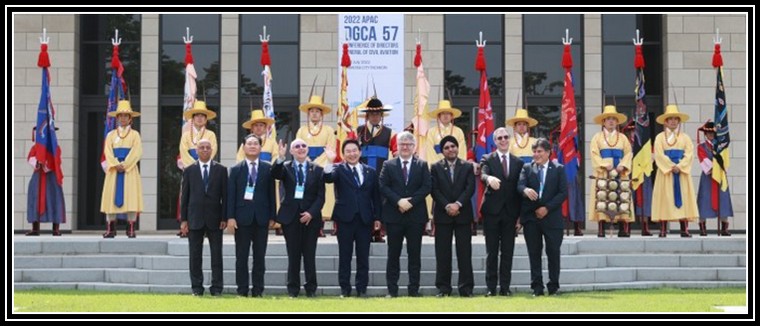 A series of events recently hosted by the Government of the Republic of Korea has provided a significant platform for boosting, through deeper international co-operation, the sustainable and resilient recovery of the global aviation sector.


The 57th Conference of the Directors General of Civil Aviation of the Asia Pacific Region (DGCA-APAC) opened in Incheon on 4 July 2022 under the theme of "Strengthening Regional Co-operation for the Restoration of Air Network with No Country Left Behind."
Addressing the event, both ICAO Council President Salvatore Sciacchitano and Secretary General Juan Carlos Salazar underscored the relevance and importance of the theme to the current context, noting that the APAC region has shown exemplary commitment to co-operation throughout the pandemic. Both leaders strongly encouraged the attending States to continue in this spirit of co-operation with and through ICAO, particularly as the global flight network responds to challenges related to the pent-up demand for air transport services.
This was also the venue for a signing of a Letter of Intent regarding Korea's participation in the ICAO Digital Transformation, as the organisation endeavours to support its Member States more efficiently despite the pandemic by implementing new ICT technologies.
The Republic of Korea also hosted its Conference on International Air Transport Co-operation for the seventh time. In his opening remarks, President Sciacchitano underscored ICAO's deep, long standing and generous commitment to regional and global co-operation, highlighting that "after two years marked by the international public health crisis, and as proof of the demand for air services is evident worldwide, it is encouraging that this conference is taking place under the theme of Leap Forward to Better Skies."
During his mission, the President undertook bilateral meetings with the Republic of Korea's Minister of Land, Infrastructure and Transport, Hee-ryong WON; its Deputy Minister for Civil Aviation, Yong-Seog KIM; and its Vice Minister of Foreign Affairs, LEE Dohoon.
The President also addressed Korea University, providing remarks focussed on the significance of the Chicago Convention to global peace and sustainable development, along with ICAO's associated strategies and activities to support aviation's recovery.
Google Block Ad



TEBOGO TSIMANE APPOINTED SAA INTERIM CHIEF COMMERCIAL OFFICER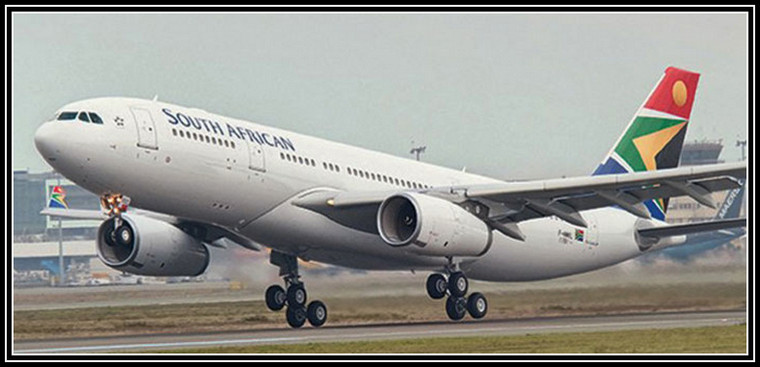 In preparation for leaving SAA at the end of August, Interim Chief Commercial Officer Simon Newton-Smith is transitioning the role to Tebogo Tsimane, who has several years of experience in senior roles within the commercial and operational environment at SAA.


Newton-Smith says, "My job was to support the team in restarting SAA, rebuilding market confidence and ensure that our passenger and cargo loads were maximised during a tough operating environment. I am very proud of what the Commercial team and our colleagues right across the business have achieved since our September 2021 restart. After a year leading the team and with the foundation set for the next chapter in SAA's rebuild, now is the right time for me to hand the reigns to Tebogo."
SAA's Interim Chair and CEO Professor John Lamola says, "Simon has brought much needed stability to our commercial operation in the time he has been here, and he leaves with our appreciation and deep thanks. Tebogo has been with SAA for a number of years in various senior roles, has an exceptional understanding of the complexities of the new aviation operating environment and knows exactly what SAA needs to do to remain successful and profitable".
Google Banner Ad
ETIHAD AIRWAYS NAMED AIRLINE RATINGS 'ENVIRONMENTAL AIRLINE OF THE YEAR 2022'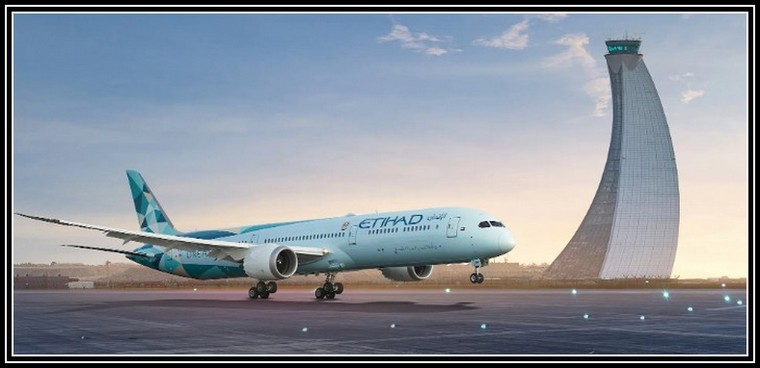 Etihad Airways, the national airline of the UAE, has been named 'Environmental Airline of the Year 2022' in the annual Airline Ratings awards. The ranking recognises Etihad's industry-leading strategy to improve aviation sustainability for both the airline itself and the entire industry.

The UN Framework Convention on Climate Change chose the UAE as host for COP 28 which will take place in 2023. Etihad's achievement is fully aligned with Abu Dhabi and the UAE's own commitment to work with the international community to accelerate global efforts to address climate change and environmental protection and create a more sustainable economic future.
The airline recently published the Etihad Airways Sustainability Report which Airline Ratings deemed as a benchmark for the industry, demonstrating the potential advancements to be made in sustainable aviation by a wide range of initiatives.
Tony Douglas, Group Chief Executive Officer, Etihad Aviation Group, said: "Our ambition to become a leader in aviation sustainability has taken us on a journey to reduce the impact of aviation on the environment, not just for Etihad, but for the entire industry.
"We continue to explore and test all possible ways to decarbonise - from research into sustainable aviation fuels and contrail avoidance to offsets and reforestation through the Etihad Mangroves. The Sustainability Report we published earlier this year is a culmination of our efforts demonstrating the work we have done and what we have learned so far and I would encourage everyone to read it."
Etihad's sustainability initiatives began with a focus on creating operational efficiencies. The airline quickly went on to unite industry leaders and build the most comprehensive, cross organisational aviation sustainability initiative ever undertaken. This umbrella programme, now in its third year, includes partnerships with Boeing, GE, Airbus and Rolls Royce, as well as a wide range of collaborations with pioneering new-technology organisations, academic researchers, smaller businesses and start-ups.
Etihad's flagship sustainability programmes include the Green-liner programme using the airline's fleet of Boeing 787 Dreamliners as flying test-beds, as well as the Sustainable50 A350-1000 launched earlier this year.
Mr Douglas continues: "We are grateful to our partners from the major manufacturers to academics and small start-ups who have partnered with us on this mission, in particular through the Green-liner and Sustainable50 programmes. And we're appreciative of our guests and corporate clients who have signed up to our green loyalty programme "Conscious Choices" or played their part by bringing a little less luggage or choosing to offset their flights.
"This accolade is testament to our efforts over the past few years to be the greenest airline in the sky and we're proud to be awarded the Environmental Airline of the Year 2022. We are tremendously proud of this achievement but will not rest on our laurels as we have ambitious, industry-changing and climate critical action to continue to build on."
Airlineratings.com Editor-in-Chief Geoffrey Thomas said "Etihad Airways has shown its clear leadership in the push for sustainable flight with its Green-liner Boeing 787 programme and this year with its Sustainability50, A350 aircraft.
"At every touchpoint, Etihad Airways staff and management are committed to reducing the airline's Co2 footprint and it shows. The mantra at Etihad Airways is a million things count in reducing emissions and thus the focus is all-consuming."
Mr Thomas added that "the airline's Sustainability Report 2020-2021 demonstrates the potential advancements to be made in sustainable aviation by a wide range of initiatives, co-ordinated to achieve a 20% reduction in emissions intensity in its passenger fleet by 2025, cut 2019 net emissions by 50% by 2035, and reach net-zero emissions by 2050."
Over the past three years, the airline has conducted a vast number of research eco-flights demonstrating potential carbon emission savings of up to 72% on a single flight. Etihad has also tested and implemented world-first operational efficiencies and technology solutions including Jeppesen Flite Deck Advisor, SATAVIA contrail avoidance, GE Engine Foam Wash, eTech logs and lightweight Unit Load Devices.
In addition to the airline's comprehensive testing and innovation programme, Etihad became the first airline to secure commercial finance based on verified compliance with the Sustainable Development Goals of the United Nations (UN SDGs).
The Etihad Mangroves Forest project was launched with plans to establish carbon-absorbing forests in countries where the airline operates.
In an initiative to involve its guests and corporate clients, Etihad offers the Conscious Choices programme with rewards for customers who take environmentally positive action such as offsetting their flights. Corporate clients can benefit from accredited solutions to reduce their Scope 3 emissions.
DELTA ADDS STATE-OF-THE-ART, FUEL-EFFICIENT BOEING 737 MAX TO FLEET





The aircraft will be 20%-30% more fuel efficient than the retiring Delta planes it will replace, making the agreement an important step in Delta's journey toward a sustainable future for aviation. Delta Air Lines will add the state-of-the-art Boeing 737 MAX aircraft to its fleet, as the airline continues to refresh its fleet to elevate the in-flight customer experience while improving fuel efficiency.

Delta is ordering the largest model in the MAX family, the 737-10, which will begin delivery in 2025. It will be powered by the next-generation LEAP-1B engines manufactured by CFM International, a company jointly owned by GE and Safran Aircraft Engines. The aircraft will be 20%-30% more fuel efficient than the retiring Delta planes it will replace, making the agreement an important step in Delta's journey toward a sustainable future for aviation.
"The Boeing 737-10 will be an important addition to Delta's fleet as we shape a more sustainable future for air travel, with an elevated customer experience, improved fuel efficiency and best-in-class performance," said Ed Bastian, Delta's chief executive officer. "These new aircraft provide superior operating economics and network flexibility, and the agreement reflects our prudent approach to deploying our capital."
Most importantly, Bastian said, "This aircraft will be piloted, served and maintained by the very best professionals in the business, and it's their hard work and dedication to our customers that always sets us apart."
"We are proud that Delta is renewing its single-aisle fleet with the 737 MAX, Boeing's most fuel-efficient family of airplanes," said Stan Deal, President and CEO of Boeing Commercial Airplanes. "Built in our factory in Washington State with support from key suppliers across the US, the 737-10 will provide Delta with the best economics to carry more passengers across its short and medium-haul routes."
The announcement was made at the 2022 Farnborough International Airshow in the U.K., and included a signing ceremony with Delta, Boeing and CFM executives.
The 737-10 aligns with four key pillars of Delta's long-term fleet strategy:
Size: As a larger aircraft than the those it replaces, the 737-10 provides superior economic benefits as Delta continues to grow the average gauge of its narrow-body fleet.
Simplification: The 737-10 is expected to share a common training category across Delta's 737 fleet.
Scale: The order will grow the size of Delta's 737 family to more than 300 aircraft by the end of the decade.
Sustainability: With its next-generation LEAP engines, the 737-10 will be among the most fuel-efficient aircraft in Delta's fleet, along with the A321neo.
The order is within Delta's 2022-24 Capex guidance provided at Capital Markets Day in December 2021.
Nearly one-third of the aircraft's 182 seats will be premium seating, with 20 customers in First Class, 33 in Delta Comfort+ and 129 in Main Cabin. Customers will experience the Boeing Sky Interior, highlighted by modern sculpted sidewalls and window reveals, with in-flight entertainment and power ports in every seat; high-speed satellite Wi-Fi throughout the aircraft; and on-demand video content available through Delta Studio. The cabin will also feature LED lighting that enhances the aircraft's sense of spaciousness and large pivoting overhead bins.
With a top speed of Mach 0.79 and a range of 3,300 nautical miles, the 737-10 has broad flexibility to serve markets across the U.S. within Delta's industry-leading network. The aircraft will be deployed in core hubs including New York, Boston, Atlanta, Detroit, Minneapolis-St. Paul, Seattle and Los Angeles.
Final assembly of the plane will take place at Boeing's facility in Renton, Wash., near Delta's international hub at Seattle-Tacoma International Airport.
The aircraft will complement Delta's high-performance A321neo fleet as the airline updates and refreshes its narrow-body fleet for the years ahead. With the order, Delta's Boeing 737 fleet will grow to more than 300 total aircraft and will be Delta's second-largest fleet family behind the Airbus A320.
The 737-10 is currently awaiting final certification from the Federal Aviation Administration, which is expected in 2023. In the event of a delay, the agreement has adequate protection in place, including allowing Delta to shift to another model of the MAX family if necessary.
The order is the latest Delta initiative to elevate and reshape the future of air travel in the air and on the ground. That includes a $12 billion long-term investment in new and upgraded facilities at airports in New York, Los Angeles, Salt Lake City, Seattle and other key cities; new, expanded and enhanced Delta Sky Clubs in airports nationwide; upgraded high-speed on-board WiFi; expanded in-seat in-flight entertainment throughout Delta's fleet; and new digital tools to improve convenience and reduce stress at every point of the journey.
AIR FRANCE CONTINUES TO RENEW ITS FLEET AND TAKES DELIVERY OF ITS 10TH AIRBUS A220-300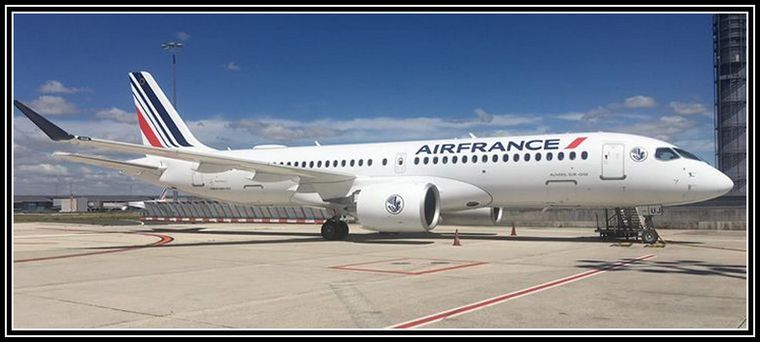 Air France recently has reached a symbolic milestone, with the arrival of its 10th Airbus A220-300, the latest jewel in its medium-haul fleet. The aircraft, with registration number F-HZUJ, left the Airbus assembly line in Mirabel (Quebec) to join Paris-Charles de Gaulle, where it will operate the company's short and medium-haul flights.

It will operate its first commercial flight to Venice on 5th July 2022 (Air France flight 1126).
The aircraft sports its new name "Auvers-sur-Oise" at the front of its fuselage, in reference to the town north of Paris which is internationally known for the landscape and impressionist painters Paul Cézanne, Camille Corot and Vincent Van Gogh. The Dutch painter spent his last days in Auvers-sur-Oise during a period of intense creativity.
Since 2019 and the delivery of its first Airbus A350, Air France has revived the tradition of naming its aircraft after French towns. Auvers-sur-Oise is the 96th town to be honoured on the company's aircraft.
Between now and the end of 2025, 60 A220-300s will gradually replace some of Air France's medium-haul aircraft. With up to 15 deliveries scheduled each year, this is the fastest fleet integration of an aircraft in the history of Air France.
An aircraft boasting an improved economic and environmental performance.
The most innovative and efficient single-aisle aircraft in its category, the Airbus A220-300 is perfectly suited to Air France's short and medium-haul network. It provides a cost reduction per seat of 10% compared to the Airbus A318 and A319 and stands out for its energy efficiency, consuming 20% less fuel than the aircraft it replaces and its Co2 emissions are also reduced by 20%. Its noise footprint is also 34% lower.
These characteristics will play a decisive role in reducing Air France's environmental footprint and achieving its sustainable development objectives.
Within the framework of its "Air France ACT" programme, the company is targeting a 30% reduction in Co2 emissions per passenger/km by 2030 compared to 2019. This target excludes so-called "offsetting" actions in order to exclusively take into account measures that strictly reduce direct and indirect emissions.
Heading for Europe
This summer, the Air France Airbus A220-300 serves Berlin, Hamburg and Munich (Germany), Milan-Linate, Milan-Malpensa, Bologna, Rome, Naples and Venice (Italy), Barcelona, Valencia and Madrid (Spain), Lisbon (Portugal), Copenhagen (Denmark), Athens (Greece), Helsinki (Finland), Vienna (Austria), Warsaw (Poland) and Stockholm (Sweden) on departure from the Air France hub at Paris-Charles de Gaulle.
Optimal comfort on board
This aircraft has 148 seats, in a 3-2 seat configuration offering 80% of customers a window or aisle seat. The seat is the widest of the market for single-aisle aircraft. It is reclining and features an adjustable headrest, leather upholstery and an ergonomic seat cushion for enhanced comfort. A wide solid tray table, cup holder, a pouch for storing magazines and books, individual USB A and C ports and a tablet or smartphone holder integrated into the backrest completes the package.
The cabin, the most spacious and brightest in its category, is decorated in the Air France signature colours - shades of blue, a strong presence of white providing light and contrast, and a hint of red symbolises the airline's excellence and know-how. The central aisle is particularly wide, allowing customers to move about at ease. The carpet revisits the traditional ornamental herringbone pattern, symbolising the emblematic Haussmann-inspired world of Parisian apartments. Large panoramic windows provide natural light for the duration of the trip. Finally, the spacious baggage racks are easy to access.
Google Block Ad
AZERBAIJAN AIRLINES TO EXPAND ITS BOEING 787 DREAMLINER FLEET, SIGNS MEMORANDUM OF UNDERSTANDING TO PURCHASE FOUR MORE AIRPLANES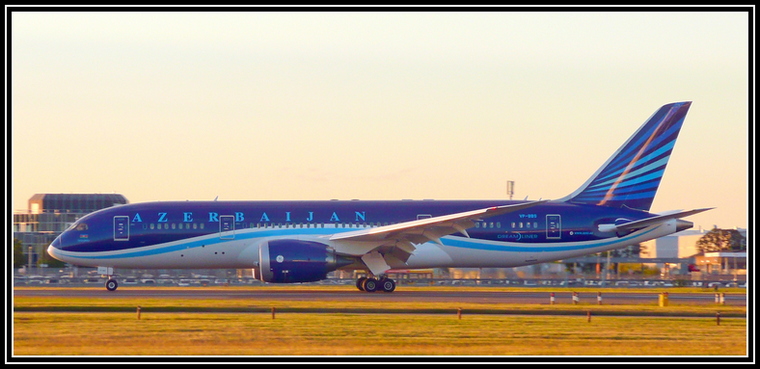 Boeing (NYSE: BA) and Azerbaijan Airlines today signed a Memorandum of Understanding (MoU) for four additional fuel-efficient 787-8s at the Farnborough International Airshow. The Azerbaijan flag-carrier currently operates two 787-8s, with today's announcement the airline intends to grow its Dreamliner fleet to 10 by 2030, enabling it to open new routes across Central Asia.

"Azerbaijan Airlines was the first airline in the Caspian and Central Asia region to operate the 787-8 Dreamliner and we currently have two 787-8s in-service. This MoU is the evidence of joint efforts to scale up the mutually beneficial partnership between Azerbaijan Airlines and Boeing," said Jahangir Asgarov, President of Azerbaijan Airlines. "Over the years, our 787 airplanes have provided impeccable performance, and the addition of more long-haul airplanes will further expand the geography of Azerbaijan Airlines' route network."
The 787-8 reduces fuel use and emissions by 20-25% compared to the airplanes it replaces, and the jetliner's range can reach up to 13,530 km in a typical two-class configuration. The 787 family's fuel efficiency, flexibility and range have enabled carriers worldwide, like Azerbaijan Airlines, to open more than 300 new non-stop routes. Built with lightweight composite materials and powered by advanced engines, the 787 family has an airport-noise footprint that is 60% smaller than the previous generation of airplanes.
"Today's agreement extends our long-term partnership with Azerbaijan Airlines as they renew their fleet to capitalise on the growing long-term travel demand that we are seeing globally," said Stan Deal, President and CEO of Boeing Commercial Airplanes. "The global in-service 787 fleet has been the most-utilised wide-body during the market downturn and we are confident in the proven performance capabilities of this airplane."
EASYJET CONFIRMS ORDER FOR A FURTHER 56 A320NEO FAMILY AIRCRAFT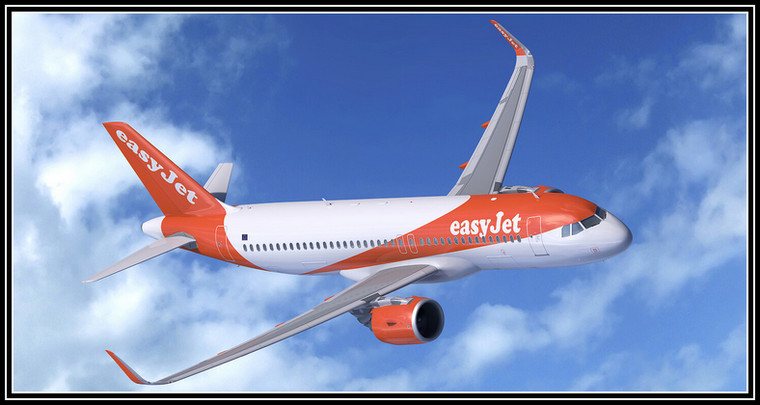 EasyJet has confirmed a firm order for 56 A320neo Family aircraft following shareholder approval. The order is part of EasyJet's fleet renewal and up-gauging, cost and sustainability enhancements to the business. The agreement includes an upsizing of 18 A320neo to the larger A321neo model.

Kenton Jarvis, CFO for EasyJet, said: "We believe this order will support positive returns for the business and the delivery of our strategic objectives. The new aircraft are aligned with EasyJet's sustainability strategy, with the adoption of the more efficient new technology aircraft being a core component of EasyJet's path to net zero emissions. Alongside this, the new aircraft are significantly quieter, with half the noise footprint of the older aircraft they are replacing."
"EasyJet has democratised flying for millions of travellers and we are delighted this latest agreement for 56 A320neo Family aircraft not only future proofs its growth as traffic rebounds, but also lays the foundations for its sustainability journey", said Christian Scherer, Chief Commercial Officer and Head of Airbus International.
EasyJet currently operates a fleet of over 300 A320 Family including the A319, A320ceo, A320neo and A321neo, making it the world's largest airline operator of Airbus' single aisle aircraft. EasyJet serves over 130 European airports in some 31 countries operating over 1,000 routes.
The A320neo Family incorporates the very latest technologies including new generation engines and Sharklets, which together deliver at least 20 percent fuel saving. With more than 8,100 orders from more than 130 customers, the A320neo Family is the world's most popular aircraft.
Google Banner Ad