Compiled by Willie Bodenstein




Google Banner Ad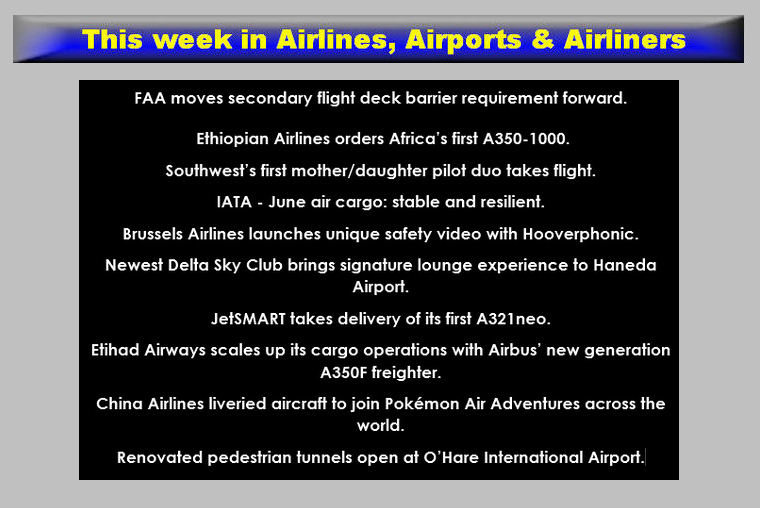 FAA MOVES SECONDARY FLIGHT DECK BARRIER REQUIREMENT FORWARD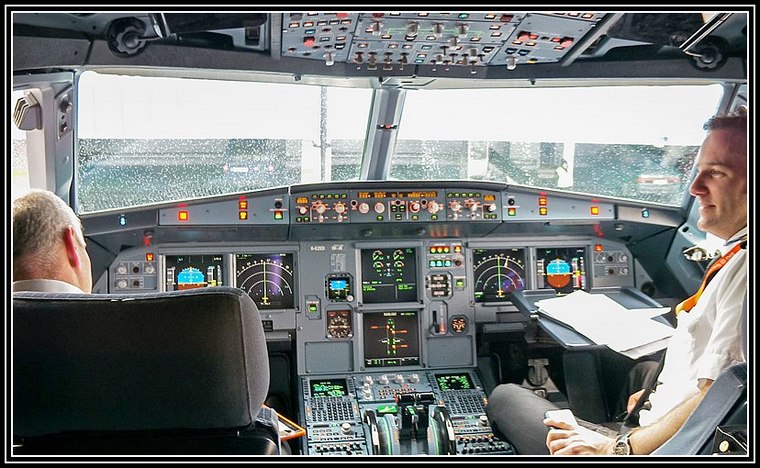 The U.S. Department of Transportation's Federal Aviation Administration (FAA) has proposed requiring a second barrier to the flight deck on certain commercial airplanes. The additional barrier would protect flight decks from intrusion when the flight deck door is open.


"Flight crews keep us safe when we travel to visit loved ones, explore new places and conduct business. They, too, deserve to be protected, and this rulemaking is an important step forward," U.S. Transportation Sec. Pete Buttigieg said.
The proposed rule requires aircraft manufacturers to install a second physical barrier on airplanes produced after the rule goes into effect and used in commercial passenger service in the United States.
"Each additional layer of safety matters. Protecting flight crews helps keep our system the safest in the world," FAA Acting Administrator Billy Nolen said, a helicopter pilot and former commercial airline captain.
Last year, the Biden-Harris Administration put the secondary flight deck barrier on its priority rulemaking list. During 2019 and 2020, the FAA worked with aircraft manufacturers, labour partners and others to gather recommendations that are included in today's proposal. The Administrative Procedures Act requires FAA to follow the full rule-making process for this mandate that Congress included in the 2018 FAA Re-authorization Act.
The public has 60 days to comment on the proposed rule once it is published in the Federal Register. The FAA will publish a final rule after the comment period closes.
ETHIOPIAN AIRLINES ORDERS AFRICA'S FIRST A350-1000




Ethiopian Airlines Group, the flag carrier of Ethiopia, Africa's largest airline group, has upsized four of its A350-900 on order to the largest variant of the A350 Family, the A350-1000, becoming Africa's first customer for the aircraft.


Ethiopian Airlines has already ordered 22 A350-900s, of which 16 aircraft have been delivered. With the A350-1000 upsizing, Ethiopian Airlines' backlog consists of four A350-1000s and two A350-900s.
Ethiopian Airlines Group CEO Mr. Mesfin Tasew said, "We are delighted over the upsizing of the A350-900 on order to the largest variant, A350-1000, that helps us stay ahead of the curve in technology. We are the technology leaders in the continent introducing the latest technology and fuel-efficient fleet into Africa. The A350-1000 is the best fit for our dense routes, and we believe that the upsizing will be instrumental in satisfying the increasing demand of customers in our vast global network across five continents. We will continue on keeping ourselves abreast of aviation technology advancements to enhance our service and fulfil customers' demand."
"We are proud of our strong partnership with Ethiopian Airlines - the first airline in Africa to order and operate the A350-900. In another first, Ethiopian Airlines is once again leading the way in Africa's aviation sector by introducing the A350-1000, the largest version of the world's most efficient and technologically advanced passenger aircraft." said Mikail Houari, President, Airbus Africa and Middle East. "The A350-900 has delivered extraordinary capability, fuel efficiency, and operational reliability of 99.5 percent together with unbeatable operational flexibility and efficiency, from short to ultra-long-range operations."
The A350-1000 will increase the East African carrier's capacity and it will be an addition to its modern wide-body fleet. The airline will benefit from a flexible, high-value Family leveraging Airbus' unprecedented level of commonality and same type rating.
The Airbus A350's clean-sheet design features state-of-the-art aerodynamics, a carbon-fibre fuselage and wings, plus the most fuel-efficient Rolls-Royce Trent XWB engines. Together, these latest technologies translate into unrivalled levels of operational efficiency and sustainability for Ethiopian Airlines, with a 25% reduction in fuel-burn and CO2 emissions compared to previous generation twin-aisle aircraft.
By the end of June 2022, the A350 Family had received 940 orders from 52 customers, making it the reference large widebody family for the next decades.
Google Block Ad
SOUTHWEST'S FIRST MOTHER/DAUGHTER PILOT DUO TAKES FLIGHT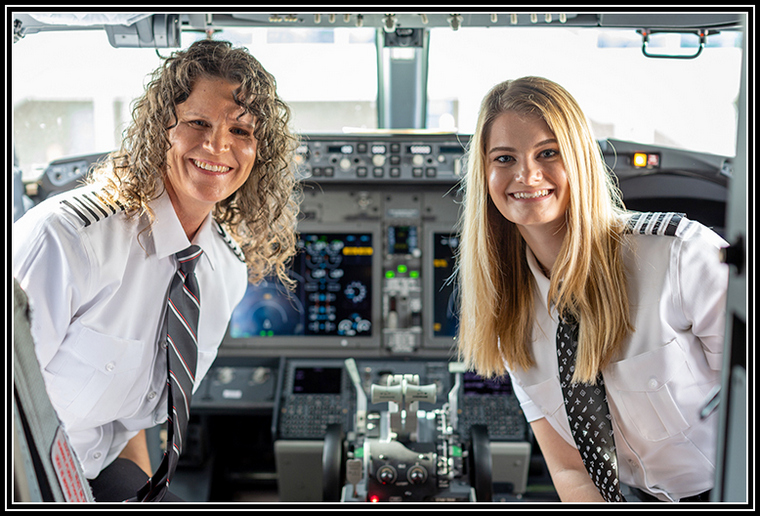 Holly Petitt started her aviation career fresh out of college as a flight attendant working for another carrier. After riding the jumpseat in the flight deck, she realised she wanted to learn to fly planes. She then got to work training and obtaining her certifications. Holly welcomed three beautiful kids and took flight lessons while supporting her family as a full-time mom. With the help of her amazing support system (her husband and mother), she was able to pursue her dream of being a pilot.


Naturally, Holly's daughter, Keely Petitt, grew up around the Southwest Family and became an extension of it. At 14, Keely and her siblings received the gift of a discovery flight. In that moment, she realised she wanted to follow in her mother's footsteps and become a pilot. Keely began to pursue her passion for flying airplanes, earning her pilot's license, and even landed an internship at Southwest in fall 2017. Our Campus Reach Internship Program created a runway for Keely to learn more about a career in aviation.
Keely loved everything about Southwest from the Culture, to flying, to everything in between, and made it her goal to come back. "Southwest was always the end goal for me," said Keely. "There was really never any other option." After working hard and keeping in touch with her cohorts, she was able to find her way back to Southwest as a Pilot, making her and her mother Southwest's first mother/daughter Pilot duo!
On Saturday, July 23, Holly and Keely Petitt flew their first Southwest flight together, on Flight #3658 from Denver, where the two are from, to St. Louis, making history for Southwest Airlines.
"It's been a dream come true," said Holly, "First, I found this career and fell in love with it, and then that one of my kids fell into this and in love with this career too. It's surreal."
Our People are the Heart of Southwest. We want to ensure we're equipping our Employees so they have a career with Heart and Purpose. Not only are Holly and Keely making Southwest history, but also, they're breaking barriers and empowering women of all ages to pursue their dreams in aviation, and pun intended, reach for the skies.
IATA - JUNE AIR CARGO: STABLE AND RESILIENT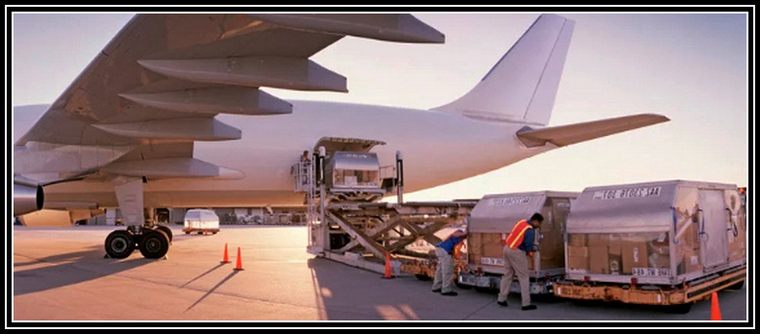 Global demand, measured in cargo tonne-kilometre's (CTKs*), was 6.4% below June 2021 levels (-6.6% for international operations). This was an improvement on the year-on-year decline of 8.3% seen in May. Global demand for the first half-year was 4.3% below 2021 levels (-4.2% for international operations). Compared to pre-COVID levels (2019) half-year demand was up 2.2%.

Capacity was 6.7% above June 2021 (+9.4% for international operations). This was an increase on the 2.7% year-on-year growth recorded in May. Capacity for the first half-year was up 4.5% (+5.7% for international operations) compared to first half-year of 2021. Compared to pre-COVID levels demand was up 2.5%.
Air cargo performance is being impacted by several factors
Trade activity ramped-up slightly in June as lockdowns in China due to Omicron were eased. Emerging regions (Latin America and Africa) also contributed to growth with stronger volumes.
New export orders, a leading indicator of cargo demand and world trade, decreased in all markets, except China.
The war in Ukraine continues to impair cargo capacity used to serve Europe as several airlines based in Russia and Ukraine were key cargo players.
"Air cargo demand over the first half of 2022 was 2.2% above pre-COVID levels (first half 2019). That's a strong performance, particularly considering continuing supply chain constraints and the loss of capacity due to the war in Ukraine. Current economic uncertainties have had little impact on demand for air cargo, but developments will need to be closely monitored in the second half," said Willie Walsh, IATA's Director General.
June Regional Performance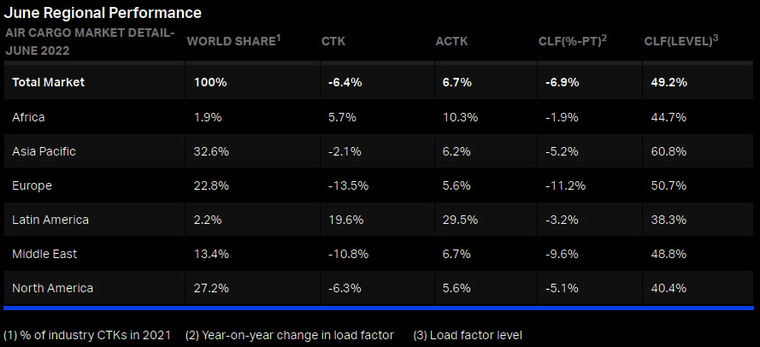 Asia-Pacific airlines saw their air cargo volumes decrease by 2.1% in June 2022 compared to the same month in 2021. This was a significant improvement over the 6.6% decline in May. Demand for the first half-year was 2.7% below 2021 levels. Airlines in the region have been heavily impacted by lower trade and manufacturing activity due to Omicron-related lockdowns in China, however this continued to ease in June as restrictions were lifted. Available capacity in the region fell 6.2% compared to June 2021. This contributed to capacity being 0.2% below 2021 levels for the first half of 2022.
North American carriers posted a 6.3% decrease in cargo volumes in June 2022 compared to June 2021. Demand for the first half-year was 3.3% below 2021 levels. High inflation is affecting the region. Demand in the Asia-North America market is falling and the Europe - North America market has started to decline. Capacity was up 5.6% in June 2022 compared to June 2021 and up 6.1% for the first half-year of 2022.
European carriers saw a 13.5% decrease in cargo volumes in June 2022 compared to the same month in 2021. This was the weakest performance of all regions. It was, however, a slight improvement over the previous month's performance, which saw the sharpest fall in demand since early 2022. This is attributable to the war in Ukraine. Labour shortages and lower manufacturing activity in Asia due to Omicron also affected volumes. Capacity increased 5.6% in June 2022 compared to June 2021. Demand for the first half-year was 7.8% below 2021 levels while capacity was 3.7% above.
Middle Eastern carriers experienced a 10.8% year-on-year decrease in cargo volumes in June. Significant benefits from traffic being redirected to avoid flying over Russia failed to materialize. Capacity was up 6.7% compared to June 2021. Demand for the first half-year was 9.3% below 2021 levels, the weakest first half performance of all regions. First half-year capacity was 6.3% above 2021 levels.
Latin American carriers reported an increase of 19.6% in cargo volumes in June 2022 compared to June 2021. This was the strongest performance of all regions. Airlines in this region have shown optimism by introducing new services and capacity, and in some cases investing in additional aircraft for air cargo in the coming months. Capacity in June was up 29.5% compared to the same month in 2021. Demand for the first half-year was 21.8% above 2021 levels and half-year capacity was 32.6% above 2021 levels. This was the strongest first half performance of all regions.
African airlines saw cargo volumes increase by 5.7% in June 2022 compared to June 2021. As with carriers in Latin America, airlines in this region have shown optimism by introducing additional capacity. Capacity was 10.3% above June 2021 levels. Demand for the first half-year was 2.9% above 2021 levels and half-year capacity was 6.9% above 2021 levels.
Google Banner Ad
BRUSSELS AIRLINES LAUNCHES UNIQUE SAFETY VIDEO WITH HOOVERPHONIC

Brussels Airlines launches an eye-catching video to draw the attention of her passengers to the important safety instructions of a flight. Fully in line with her long tradition of putting the very best of Belgium on the world map, the national airline took the iconic Belgian band Hooverphonic under her wing. The group wrote a catchy song based on the exact lyrics of the instructions. The result is a unique clip, in which the song is mixed with surrealistic images including an artistic homage to Magritte, another example of Belgian excellence. From 1 August, the video will be rolled out on all of the airline's long-haul aircraft.

For years now Brussels Airlines has been a flying ambassador for Belgium, offering a selection of Belgian beers, wines and chocolates on board. As from today, Belgian music is also part of that selection.
?In order to keep drawing the attention of its passengers to the crucial safety instructions on board, Brussels Airlines has for many years now created creative videos instead of the classic safety videos. Until recently, the safety instructions were presented with a humorous animated film. Earlier the Red Devils also gave the instructions. Today Brussels Airlines launches a brand new safety video which will be shown on her long-haul flights as from 1 August.
Fully in line with her long tradition of putting the very best of Belgium on the world map, the national airline took the iconic Belgian band Hooverphonic under her wing.
?The result is a four-minute clip with a catchy song supported by a visual gem with subtle references to other Belgian artists such as Magritte. The video was directed by Jan Boon and the technical part was handled by virtual reality production house Studio Regie in Merelbeke.
"The safety instructions we give on board at departure are essential. Safety is our priority but that is not a synonym for bland at Brussels Airlines. For years we have tried to attract the attention of our passengers with humour and creativity. The result of the unique collaboration with Hooverphonic is the perfect example of this. We are very happy that our Belgian pride has taken up the challenge and pulled out all the stops to create a surprising song and clip that will be going around the world from today."
NEWEST DELTA SKY CLUB BRINGS SIGNATURE LOUNGE EXPERIENCE TO HANEDA AIRPORT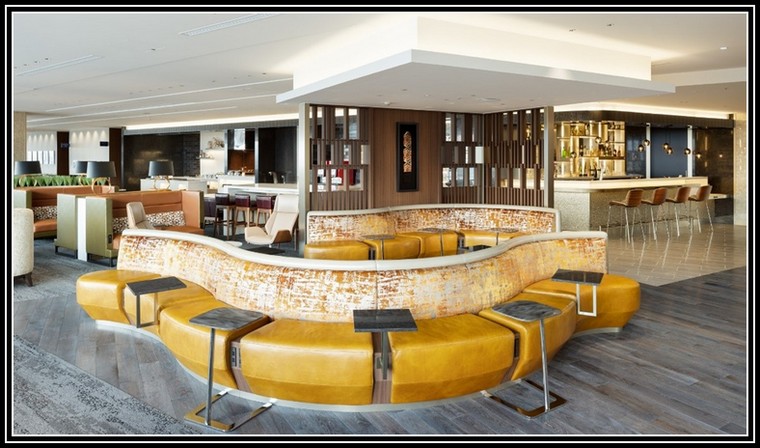 Delta is opening its first Delta Sky Club at Tokyo's Haneda Airport - the only club there operated by a U.S. airline - a luxurious addition featuring regional specialties as Japan gradually eases pandemic-era restrictions and welcomes business and leisure travellers alike.

"We've been looking forward to this day for years," said Claude Roussel, Managing Director - Delta Sky Club. "Bringing the signature Delta Sky Club experience to Haneda as we continue to grow our network of premium, one-of-a-kind lounges is a huge moment for our Asia-Pacific partners, and all future Haneda Club customers."
Haneda marks Delta Sky Club's third new lounge of the year, with the airline's two largest Clubs - located at Terminal C at New York's LaGuardia Airport and Terminal 3 at Los Angeles International Airport - just opened this spring. Across the network, Delta is building more state-of-the-art Delta Sky Clubs and expanding existing Clubs to deliver an even more premium experience for guests wishing to relax and recharge during travel.
The premier space signifies the completion of Delta's service shift from Tokyo's Narita airport to Haneda, which is more conveniently located and favoured by business travellers. Initially set to open in the summer of 2020 ahead of the Olympic games, the long-awaited Club has sat empty since March 2020. As Japan gradually re-opens to international travel, the Delta Sky Club team is ready to share the new lounge with the world.
Located on the fifth floor of Terminal 3, the Club features a premium bar serving seasonal cocktails, wines, beers, spirits and Japanese sake - all complimentary for guests. A specialty, made-to-order noodle bar staffed by a dedicated chef will provide a delicious taste of the popular regional cuisine. A buffet bar will serve international and Asian-inspired meals prepared with fresh, seasonal ingredients in the Club's restaurant-quality kitchen.
Google Block Ad
JETSMART TAKES DELIVERY OF ITS FIRST A321NEO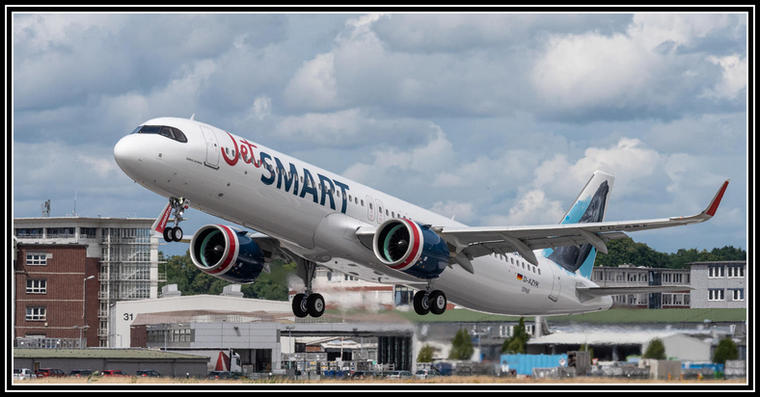 JetSMART, the South American ultra-low-cost carrier (ULCC) operating in Chile, Argentina and Peru, took delivery of its first Airbus A321neo, leased from Aviation Capital Group. The fuel-efficient single-aisle aircraft will be key in reducing the airline's environmental footprint.

"The delivery of our first A321neo marks the beginning of a new era for JetSMART, supporting our vision to serve 100 million passengers by 2028. It is also an important step in becoming the leading ULCC in South America. We worked with Airbus to configure our A321neo as the most competitive aircraft in the market, while maintaining our focus on sustainability and ultra-low fares," said Estuardo Ortiz, CEO JetSMART.
"The A321neo's performance and efficiency will allow JetSMART to continue offering low fares, while reducing its carbon footprint," said Arturo Barreira, President of Airbus Latin America and the Caribbean.
JetSMART's A321neo is powered by Pratt & Whitney GTF™ engines and can seat up to 240 passengers in Airbus' award-winning Airspace cabin, which brings unique lighting displays, more personal space and a sleek design to improve passenger experience.
The A321neo incorporates new generation engines and Sharklets, which together deliver more than 20 percent fuel and CO2 savings, as well as a 50 percent noise reduction. To date the A321neo has captured more than 8,100 orders received from over 130 customers.
In Latin America and the Caribbean, Airbus has sold over 1,100 aircraft and has a backlog of over 500, with more than 700 in operation throughout the region, representing almost 60 percent market share of the in-service fleet. Since 1994, Airbus has secured approximately 70 percent of net orders in the region.
ETIHAD AIRWAYS SCALES UP ITS CARGO OPERATIONS WITH AIRBUS' NEW GENERATION A350F FREIGHTER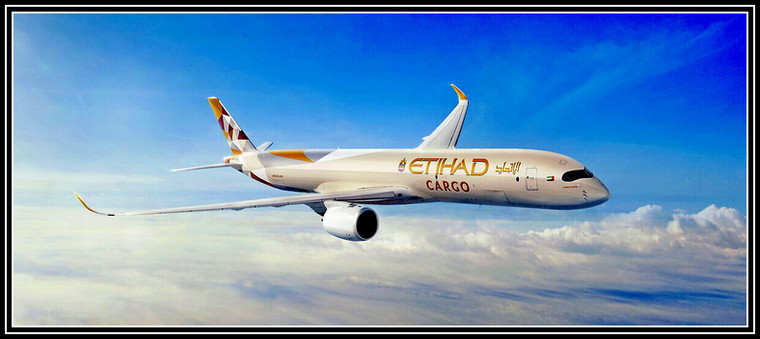 Etihad Airways has firmed up its order with Airbus for seven new generation A350F freighters, following its earlier commitment announced at the Singapore Airshow. The freighters will upgrade Etihad's freight capacity by deploying the most efficient cargo aircraft available in the market.

This order of the A350F sees the national carrier of the UAE expanding its relationship with Airbus, and adding to its existing order of the largest passenger version of A350-1000s, five of which have been delivered.
Tony Douglas, Group Chief Executive Officer, Etihad Aviation Group, said: "In building one of the world's youngest and most sustainable fleets, we are delighted to extend our long-term partnership with Airbus to add the A350 Freighter to our fleet. This additional cargo capacity will support the unprecedented growth we are experiencing in the Etihad Cargo division. Airbus has developed a remarkable fuel-efficient aircraft that, in tandem with the A350-1000 in our passenger fleet, supports our commitment to reaching net-zero carbon emissions by 2050."
"Airbus is delighted to extend its long standing partnership with Etihad Airways, who recently introduced the A350 passenger services and is continuing to build on the Family with the game-changing freighter version, the A350F," said Christian Scherer, Chief Commercial Officer and Head of Airbus International. "This new generation large freighter brings unprecedented and unmatched benefits in terms of range, fuel efficiency and CO2 savings, that support customers by enhancing operational efficiencies at the same time as reducing environmental impact."
Etihad has also firmed up a long term agreement for Airbus' Flight Hour Services (FHS) to support its entire A350 fleet, to maintain aircraft performance and optimise reliability. This marks the first agreement for an Airbus FHS contract for an A350-fleet in the Middle East. Separately, Etihad has also opted for Airbus' Skywise Health Monitoring, allowing the airline to access real-time management of aircraft events and troubleshooting, saving time and decreasing the cost of unscheduled maintenance.
As part of the world's most modern long-range family, the A350F provides a high level of commonality with the A350 passenger versions. With a 109 tonne payload capability, the A350F can serve all cargo markets. The aircraft features a large main deck cargo door, with its fuselage length and capacity optimised around the industry's standard pallets and containers.
More than 70% of the airframe of the A350F is made of advanced materials, resulting in a 30 tonne lighter take-off weight and generating at least 20% lower fuel consumption and emissions over its current closest competitor. The A350F fully meets ICAO's enhanced CO2 emissions standards coming into effect in 2027. Including today's commitment the A350F has won 31 firm orders by six customers.
The A350F meets the imminent wave of large freighter replacements and the evolving environmental requirements, shaping the future of air freight. The A350F will be powered by the latest technology, fuel-efficient Rolls-Royce Trent XWB-97 engines.
Google Block Ad
CHINA AIRLINES LIVERIED AIRCRAFT TO JOIN POKÉMON AIR ADVENTURES ACROSS THE WORLD




China Airlines is officially joining the "Pokémon Air Adventures" of The Pokémon Company. The Pokémon Company Corporate Officer Susumu Fukunaga and China Airlines President Kao Shing-Hwang recently issued a joint announcement about the launch of China Airlines' "Pikachu Jet CI." The Pokémon-themed liveried aircraft will accompany travellers on their long-awaited return to the freedom of the skies after the COVID-19 pandemic.

Susumu Fukunaga, Corporate Officer of The Pokémon Company, said that the COVID-19 pandemic has dealt a devastating blow to the tourism and transportation industry. With the pandemic now slowing down, The Pokémon Company is launching "Pokémon Air Adventures" to re-ignite everyone's passion for travel. He hopes that the partnership between The Pokémon Company and public transport, local governments and businesses will encourage people to explore the world once more.
China Airlines President Kao Shing-Hwang said that the airline was proud of becoming Pokémon's airline partner in Taiwan. The mission of "Pokémon Air Adventures" also matched the ESG sustainability philosophy of China Airlines. The first-ever collaboration between the two companies has been two years in the making and the launch of an aircraft with Pokémon-themed livery to inject extra fun into the journey. One of China Airlines' new A321neo passenger aircraft has been chosen for the job and its new livery should be finished and ready to meet all Pokémon fans by autumn this year. "Pikachu Jet CI" will hopefully help spur the revival of post-COVID tourism and encourage everyone to look forward to their next holiday.
The fuselage of "Pikachu Jet CI" will feature a custom livery designed exclusively for China Airlines by The Pokémon Company. The base colour will harmonise with China Airlines' corporate colours and the plum blossom logo on the tail-fin. The fuselage will be painted with a pastel gradient with orange, pink and violet to present a starry night sky with dawn approaching. Eleven Pokémon, including Flying Pikachu, Shaymin, Swablu, Togekiss, Munna, Jigglypuff, Snorlax, Slowpoke and Teddiursa, will embark on the joyful journey with all the passengers. As a long-time promoter of ESG sustainability initiatives, China Airlines will embrace the spirit of philanthropy in "Pokémon Air Adventures" by planning a series of charity events in the second half of the year to send a message of gratitude and support to all the health workers, airport police, and epidemic prevention taxi drivers on the front-lines for their dedication and hard work during the COVID-19 pandemic.
RENOVATED PEDESTRIAN TUNNELS OPEN AT O'HARE INTERNATIONAL AIRPORT





Mayor Lori E. Lightfoot and the Chicago Department of Aviation (CDA) announced today the re-opening of seven renovated pedestrian tunnels beneath the Lower Level Roadway at O'Hare International Airport ahead of the busy Fourth of July travel season.

"These new tunnels provide a more vibrant and inviting welcome to Chicago for travellers connecting between the Terminals and the CTA Blue Line station, O'Hare's Elevated Parking Structure, or the Hilton Chicago O'Hare Airport Hotel," CDA Commissioner Jamie L. Rhee said. "The work involved crucial infrastructural repairs while updating the tunnels with a beautiful, modern design and energy-efficient lighting improvements."
The CDA's design and construction contractors performed remediation work for water infiltration that affected the original cast-in-place reinforced concrete tunnels, which were constructed in the 1970s. During periods of heavy rain, groundwater would leak into the tunnels, requiring frequent maintenance over the past decade to repair damage to interior architectural features.
Crews used 3D laser scans of the tunnels to facilitate the repairs, which were conducted in conjunction with interior renovation work. The new designs, inspired by Chicago's vibrant history and commitment to sustainability, feature wood finishes and asymmetrical curved metal wall and ceiling panels. Each tunnel features its own distinct floor finish pattern.
Large LED screens break up the line-arity of the tunnels. The screens display vibrant scenes of the city, important travel information, and can be used to broadcast emergency notices if needed.
The first three completed tunnels - PC5 in Terminal 3, PC3 in Terminal 2 and PC1 in Terminal 1- re-opened in November 2021, the week before Thanksgiving. Tunnel PC7 in Terminal 3, which closed for construction in August 2021, re-opened in February.
Work on tunnels PC2 in Terminal 1, PC4 in Terminal 2, and PC6 in Terminal 3, which closed for renovations in November 2021, were completed in recent weeks. All tunnels have since been re-opened to the public and are ready to connect travellers to O'Hare's terminals as summer travel heats up.
Google Banner Ad