Compiled by Willie Bodenstein



Google Banner Ad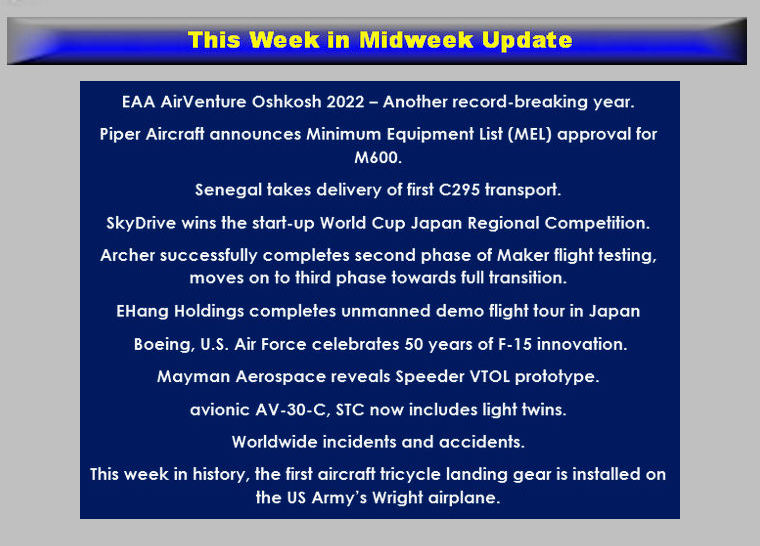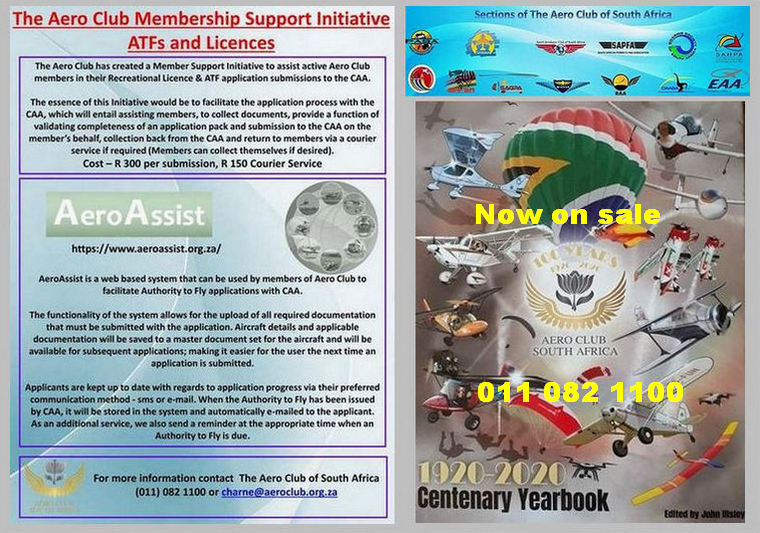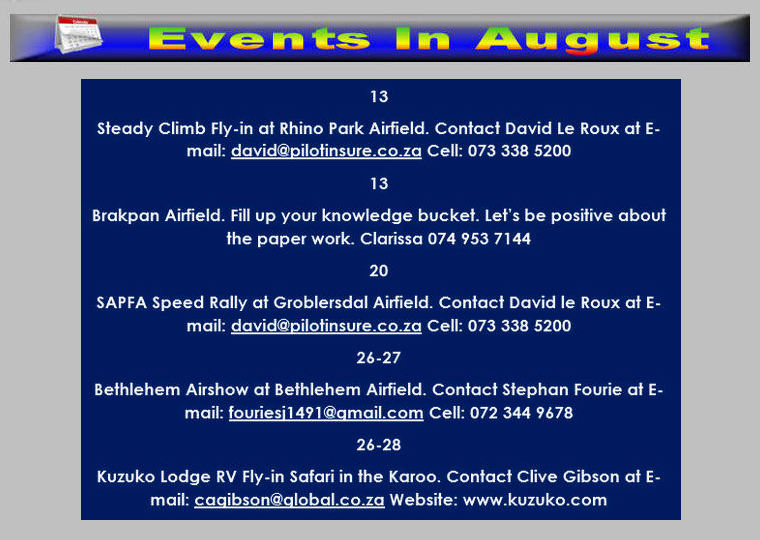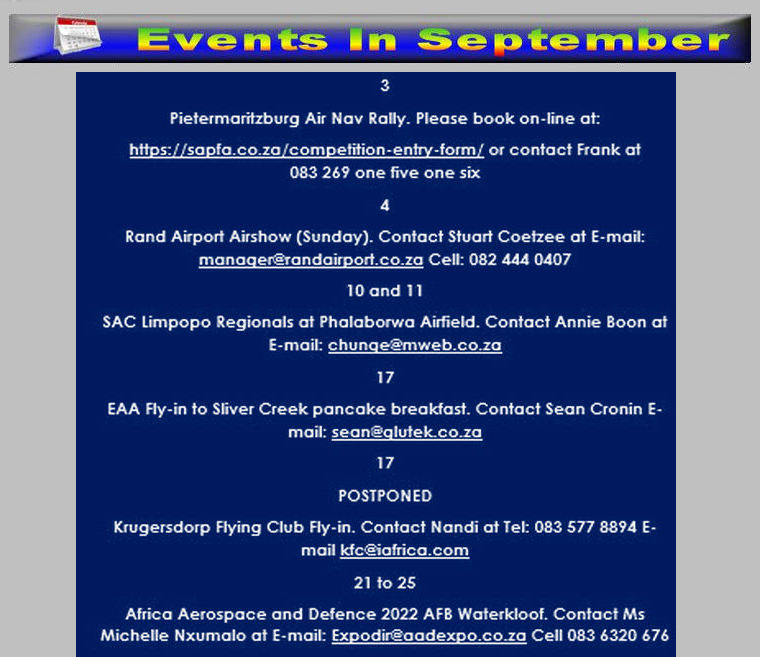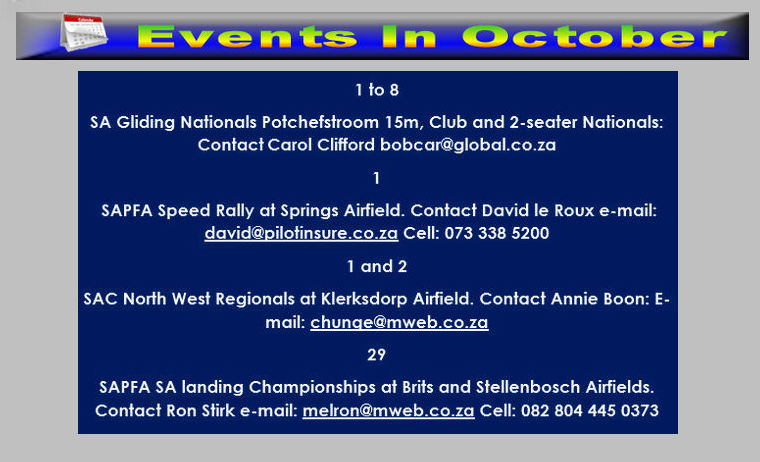 EAA AIRVENTURE OSHKOSH 2022 - ANOTHER RECORD-BREAKING YEAR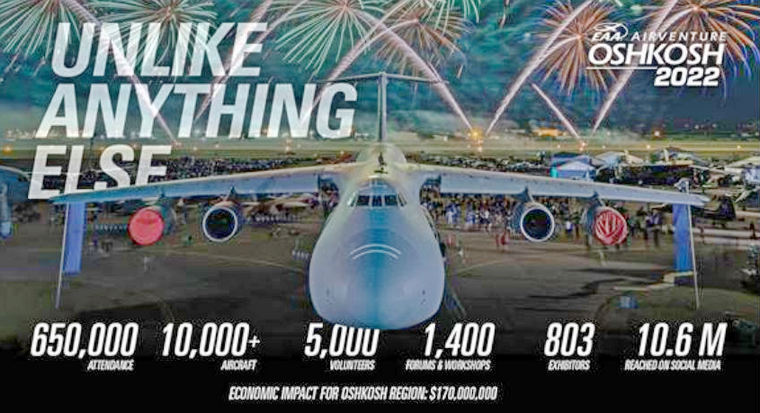 Breaking the all-time record of 642,000 visitors set in 2009 with an estimated more than 650,000 entering the gates this year, EAA AirVenture Oshkosh again proved that it is the world's greatest aviation event.

"We had seven days of nearly perfect weather, along with this year's programmes and activities, which brought out people and airplanes in numbers that we haven't seen before." Pelton continued.
A closer look at the numbers:
Attendance: Approximately 650,000 - A record total (previous mark: 642,000 in 2019) and 7 percent above 2021's attendance of 608,000. Pelton said, "There were several factors involved in the record attendance this year, in addition to the great weather. Programmes such as the 75th anniversary of the U.S. Air Force contributed to exciting aerial displays all week, and it was a joy to welcome our international visitors back in full force for the first time since 2019."
Total aircraft: More than 10,000 aircraft arrived at Wittman Regional Airport in Oshkosh and other airports in east-central Wisconsin. At Wittman alone, there were 18,684 aircraft operations in the 11-day period from 21-31 July, which is an average of approximately 121 take-offs/landings per hour when the airport is open.
Total show planes: 3,226 included: 1,375 registered in vintage aircraft parking, plus 1,156 homebuilt aircraft (up 6 percent over 2021), 369 warbirds (up 5 percent from 2021), 137 ultralights, 87 seaplanes, 77 aerobatic aircraft, and 25 rotorcraft.
Camping: More than 12,000 sites in aircraft and drive-in camping accounted for an estimated 40,000 visitors.
Volunteers: More than 5,000 contributing in excess of 250,000 hours.
Commercial exhibitors: 803.
Forums, Workshops, and Presentations: more than 1,400 sessions hosted throughout the week.
Social Media, Internet and Mobile: more than 10.6 million people were reached by EAA's social media channels during AirVenture, with engagement of 1.1 million; more than 83,000 hours of viewing EAA video clips online also occurred during the event.
International guests: International visitors returned in a big way in 2022, with attendees from 92 countries outside the U.S., just one behind the record total from 2019.
The Gathering shines: The EAA Aviation Foundation's annual event to support its aviation education programmes attracted more than 1,000 people and raised more than $2 million dollars that will be focused on EAA's mission of growing participation in aviation.
Media: 797 media representatives on site, from six continents.
Economic impact*: $170 million for the five counties in the Oshkosh region (Winnebago, Outagamie, Fond du Lac, Calumet, and Brown). * - based on 2017 University of Wisconsin Oshkosh economic impact study.



PIPER AIRCRAFT ANNOUNCES MINIMUM EQUIPMENT LIST (MEL) APPROVAL FOR M600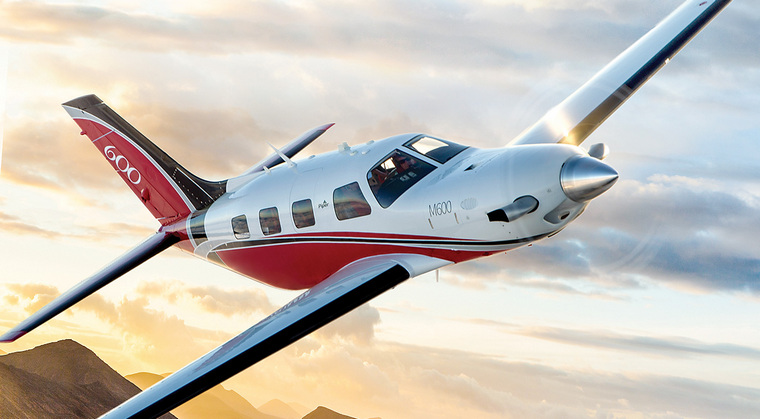 Piper Aircraft has announced that the M600 Minimum Equipment List (MEL) has gained FAA approval. This is a significant milestone for the aircraft, as this now qualifies the venerable M600 to be operated under FAA part 135 charter operations.


Since its first delivery in 2016, the Piper M600 and now M600 SLS has become known as one of the most efficient and technologically advanced single engine turbo prop aircraft on the market today. With the HALO safety system, including standard features like Collier-award winning Garmin Autoland, and the reliability and efficiency of the Pratt & Whitney PT6A-42A engine, the M600 SLS continues the legacy of excellence that Piper Aircraft is now known for.
"The addition of an approved MEL for the M600 is a testament to the diverse mission profiles this aircraft can accommodate and an important step forward in expanding the operational capability of the airplane," stated Ron Gunnarson, Vice President of Sales, Marketing, and Customer Support at Piper Aircraft.



SENEGAL TAKES DELIVERY OF FIRST C295 TRANSPORT
defenceWeb



Senegal has become the latest African country to receive Airbus C295 aircraft, taking delivery of the first of two transports on 28 July. Senegal's Armed Forces reported that the aircraft was received during a ceremony held in Dakar. A second C295 will arrive at the end of 2023.

Minister of Armed Forces Sidiki Kaba said "These two aircraft will enable Senegal to ensure, independently, the projection and disengagement of its troops engaged in the various theatres of external operations and to meet all the transport and training needs of the internal theatre."

Kaba also received Mi-17 and Mi-35 helicopters that had recently undergone major servicing. "The acquisition of the CASA 295 and the return from overhaul of the combat helicopters are expanding the Air Force fleet. The challenge of preserving potential remains to be met in the particularly demanding field of aviation."

"Today is certainly historic as it marks an important turning point in the life of the armed forces, which are significantly increasing their capabilities in the context of strategic air transport," Kaba said.



"A multirole tactical transport aircraft equipped with the latest generation technologies, the CASA 295, has large personnel carrying capacities. Beyond its take-off and landing performance on short runways, its versatility allows it to cover a wide spectrum of missions in air transport, air drop, and medical evacuation thanks to a configuration change capability in very short timelines."
In addition to aircraft, Senegal will take delivery of eight LG1 105 mm howitzers from France's Nexter, and is receiving around 5 000 M4A1 rifles from the United States to replace the country's M16A1 assault rifles. The latest tranche of rifles arrived in Dakar in January this year.
The equipment acquisition is part of President Macky Sall's Emerging Senegal Plan that aims to enhance the country's armed forces. Impending deliveries include three OPV 58S offshore patrol vessels from Piriou, while in June, Senegal's armed forces received Puma M36 armoured personnel carriers from South Africa, as well as heavy machineguns, mortars, recovery vehicles, assault rifles, riot shields, a dozen Toyota Land Cruisers equipped with pintle-mounted heavy machineguns, combat ambulances, rocket-propelled grenade launchers and riot helmets.
In addition to Islamist terror groups in Sahel, Senegal is dealing with separatists in its Casamance region, the location of one of Africa's longest-running conflicts.
The C295 is accumulating a steady stream of orders in Africa. In November 2021 Airbus delivered a C295W to Burkina Faso and on 31 May, Mali received a second C295 after a year's delay due to US sanctions. The first arrived in December 2016 from Airbus. Earlier this year, Angola firmed up an order for three C295s, four years after its government first revealed plans to acquire the aircraft, which will be used in part for maritime surveillance.
www.defenceweb.co.za

SKYDRIVE WINS THE STARTUP WORLD CUP JAPAN REGIONAL COMPETITION



SkyDrive Inc. (hereinafter SkyDrive) ranked first at the Start-up World Cup Japan Regional competition, which took place in Tokyo, Japan on 21 July, 2022. The top start-ups from each regional competition will fly out to the USA to compete for a $1,000,000 prize. The Grand Finale for Start-up World Cup 2022 will be held in September in San Francisco, California.


SkyDrive was established in July 2018 with the mission of "leading a once-in-a-century mobility revolution." Since then, it has advanced the development of flying cars and cargo drones while working in partnership with others to promote the shared vision of a future in which people use air mobility as a means of transportation in their daily lives.
SkyDrive is the only company in Japan that has successfully conducted manned test flights and is now involved in designing a system for future air mobility as a member of Japan's Public-Private Council for advanced air mobility. The company's cargo drones, which can carry payloads of up to 30kg, are already being used at worksites in Japan, mainly in mountainous areas.
SkyDrive is aiming to launch a flying car service in the Osaka Bay area in 2025. SkyDrive has headquarters in Toyota, Aichi.

ARCHER SUCCESSFULLY COMPLETES SECOND PHASE OF MAKER FLIGHT TESTING, MOVES ON TO THIRD PHASE TOWARDS FULL TRANSITION

Archer Aviation Inc. (NYSE: ACHR) today announced that it has successfully completed all of its "critical azimuth" flight tests, marking the completion of the second of three key phases of flight testing. The purpose of these tests are to validate the crosswind capabilities of Archer's eVTOL aircraft configuration and flight control systems. The company has now successfully flown Maker at increasing speeds of up to 15 knots, in various directions and attitudes.

Maker completed its first hover test flight in December of last year. Following extensive ground testing, and the addition of Archer's new tilt propeller system, the aircraft returned to flight testing earlier this year and has been flying almost daily of late, allowing the Archer Flight Test Team to evaluate incremental speed increases and complex manoeuvres while in hover. The culmination of these tests also demonstrated the robustness of the aircraft's take-off and landing capabilities.
Archer's flight test campaign has been designed to carefully evaluate the company's systems and technology. The rapid progress made by the company with Maker has allowed the validation of a number of technologies for Archer's production aircraft. Having successfully validated various systems through this second phase of flight testing, Archer is now shifting into the third phase of its program during which it will evaluate the aircraft's performance at increasing forward speeds. At the current rate of progress, the company continues to anticipate expanding to full transition flight by the end of the year.
"Every flight test we conduct provides us with a treasure trove of data, validating our design and rapidly propelling us towards our vision for eVTOL air travel," said Adam Goldstein, Archer's CEO. "This latest milestone is truly exciting and not only reinforces the capabilities of our aircraft design, but of our highly innovative team. We're excited to share more updates as we move the campaign even further forward in the coming months."

EHANG HOLDINGS COMPLETES UNMANNED DEMO FLIGHT TOUR IN JAPAN



EHang Holdings Limited, the world's leading autonomous aerial vehicle technology platform company, has completed a demo flight tour in July for its EH216 AAV across four cities in Japan, after its demo flights in Okayama and Fukushima cities last year.

The unmanned vehicle made its appearance on the ceremonial day on 18 July, which marked the 1,000-day countdown to the opening of the Expo 2025 Osaka, Kansai.
The demo flights in Japan included over-the-sea flights and point-to-point flights, both believed to be the firsts for an electric vertical take-off and landing (eVTOL) vehicle in Japan.
The Expo 2025 Osaka, Kansai looks to introduce the innovative eVTOL technology to the public and has plans to use eVTOL vehicles for visitor transportation at the Expo, according to the company sources.
"We will continue to develop situations for flying vehicles in logistics, tourism, emergency transportation and disaster response, and will continue to take on the challenges of airborne business, including take-off and landing sites, in co-operation with the public and private sectors," said Hiroshi Kirino, chairman of Okayama Kurashiki Mizushima Aero & Space Industry Cluster Study Group, a Japanese partner of EHang.
With EHang's first mover advantages and leading expertise in AAV technologies, the company is expected to provide its EH216 flights for the Expo 2025 Osaka, Kansai, and implement its safe, autonomous and eco-friendly UAM solutions in Japan in the near future, according to Hu Huazhi, chairman and CEO of EHang.



BOEING, U.S. AIR FORCE CELEBRATE 50 YEARS OF F-15 INNOVATION



On 27 July, 1972, the Boeing [NYSE: BA] F-15 flew for the first time with Chief Test Pilot Irv Burrows at the controls. Fifty years later, the undefeated F-15 continues to evolve and add advanced capability to the U.S. Air Force fighter fleet.


"Boeing is proud of the F-15's proven performance and of our shared legacy on this platform with the U.S. Air Force and operators around the world," said Prat Kumar, Vice President of F-15 Programmes. "With its unrivalled combat performance, five decades-long production run and continuous evolution, the F-15 has a remarkable history and continues today to be a critical asset for U.S. and allied forces. And with the development of new, advanced capabilities and the evolution of the F-15EX, the best is yet to come."
Boeing's F-15 programme was initiated at the request of the U.S. Air Force, which needed a fighter jet designed to maintain the country's air superiority. Through its variants, the F-15 has also served that mission internationally with numerous global customers including Japan, Israel, Saudi Arabia, Singapore, South Korea and Qatar.
The newest F-15, the F-15EX Eagle II, delivers a state-of-the-art electronic warfare system, along with contemporary sensors and avionics. The airframe, known for its unrivalled payload capacity, is capable of carrying next-generation hypersonic weapons.
The F-15's manufacturing process has also evolved over the years to include digital design and automation and tooling, including revolutionary full-size determinant assembly advanced manufacturing processes.
"Boeing's modernised manufacturing process improves quality while decreasing time and costs," said Kumar. "We've seen increased global interest in the contemporary F-15 and its next-generation capabilities."
More than 1,500 F-15s are in service worldwide. The U.S. Air Force took delivery of its first F-15EX in March 2021.

MAYMAN AEROSPACE REVEALS SPEEDER VTOL PROTOTYPE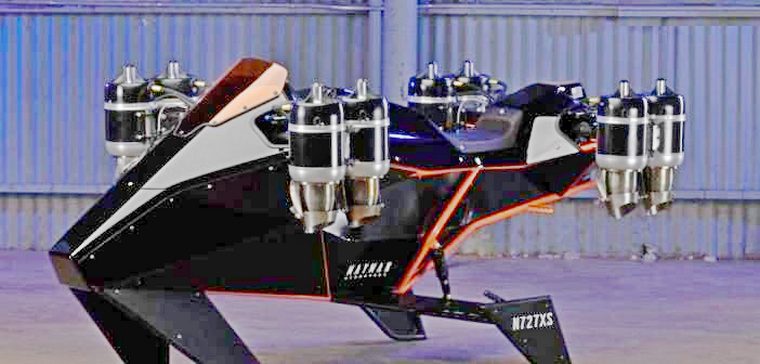 Mayman Aerospace has revealed a flight-ready prototype of its Speeder Air Utility Vehicle at the Draper Venture Network CEO Summit. The VTOL (vertical take-off and landing) aircraft has eight jet engines, with a carbon fibre body designed and modelled to lift 1000 lbs (450kg) and fly 400 miles (640km) at over 500mph (800km/h) in an unpiloted cargo mode.

Venture capitalist Tim Draper, a primary investor in the project said, "We believe the Speeder is the future of VTOL flight and I'm personally looking forward to flying one myself."
The multi-use VTOL air vehicle can operate using regular, zero net carbon or sustainable aviation fuel (SAF). The P2 Speeder will use Mayman's proprietary-developed on-board computer system to rebalance thrust in case of an engine anomaly.
Mayman has been working alongside the US military for a number of years, initially winning a collaboration contract with the Navy Seals in 2016. The design of the Speeder quickly developed from there, with shifting demands placed on payload, range and training.
With a successful test run of their P1 Prototype last year, remote control test flights for the P2 are scheduled to begin in late 2022. Piloted tests are planned to follow shortly thereafter before the end of the year.
David Mayman, founder of Jetpack Aviation and Mayman Aerospace said, "Mayman Aerospace is pushing the outer limits of VTOL flight and will continue to innovate and incorporate new technologies, including hydrogen powered turbine engines, electric fanjets and turbofan propulsion, complex 'sense and avoid' sensors for autonomous swarming, and potentially even supersonic flight."
Mayman believes the Speeder will have several advantages over helicopters, drones and eVTOL aircraft and that the updated P2 design will offer maximum flight efficiency and safety via system redundancy.
Rapidly deployable, cheaper and simpler to maintain, the company is aiming the Speeder at potential customers in defence, critical cargo, wild land firefighting and disaster relief applications.

UAVIONIX AV-30-C, STC NOW INCLUDES LIGHT TWINS AND HIGH-SPEED PISTONS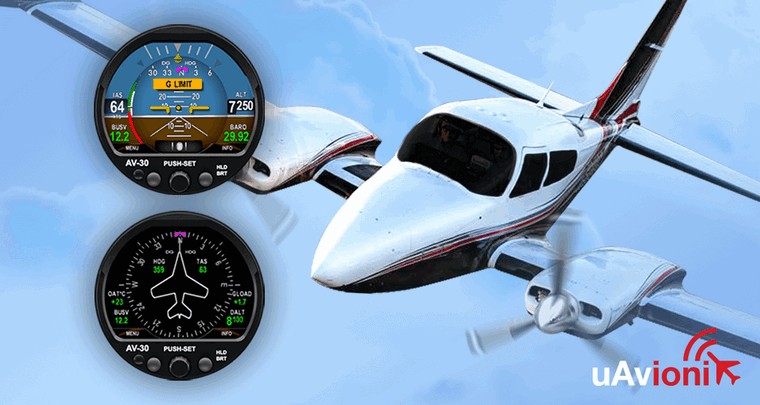 uAvionix recently announced it has received FAA approval to expand the Approved Model List (AML) for its AV-30-C Electronic Flight Instrument System (EFIS), by over 190 light twin and higher performance single-engine models. This expansion significantly extends the availability of AV-30-C in the general aviation market to include a large portion of popular aircraft from Beechcraft, Piper, Tecnam, Air Tractor, Cirrus, Extra, Howard, Taylorcraft, Cessna, and many others.

Launched in October 2019 for experimental aircraft and STC certified in September 2020, AV-30-C is currently available in all major general aviation markets including the US, Canada, UK, Europe, South Africa, Australia, and New Zealand. AV-30-C is a three-inch panel display, installable as either a primary attitude indicator (AI) or directional gyro (DG) that adds a suite of in-flight information in a single device. In addition to its primary function, AV-30-C includes a Probeless Angle of Attack Indicator, Baro Corrected Altitude, Indicated/Vertical/True Airspeed, Bus Voltage, G Load, and GPS Navigational Data. Additional features such as autopilot control, ADS-B traffic support through the AV-Link Wi-Fi adapter, and magnetic DG aiding through AV-Mag, are already available in the experimental market and are currently undergoing certification.
"We are excited to make our highly successful AV-30-C available to a broader market segment," says Ryan Braun, Chief Operating Officer for uAvionix. "We have received a lot of requests from aircraft owners in the light-twin and high-performance singles market for solutions that preserve the unique look of their panel while offering the significant benefits that a digital EFIS can bring. The expanded AML and continued development of significant new functionality reinforce our commitment to be the avionics provider of choice for the light GA pilot."
The expanded AML for AV-30-C also enables additional aircraft to enjoy the benefits of controlling their tailBeaconX ADS-B OUT Mode S transponder from the feature-packed 3" instrument. tailBeaconX is a low-cost, highly integrated 1090 MHz ADS-B transponder that replaces a rear navigation light by combining it with an ADS-B OUT / Mode S transponder, SBAS GPS, antennas, and a rear LED position light. tailBeaconX is uniquely capable of meeting the worldwide requirements of countries implementing space-based ADS-B, such as Canada. A tailBeaconX utilizing the uAvionix AV-30-C multi-function display as the control head frees up panel space and allows the use of the tailBeaconX SBAS GPS data on the AV-30-C.
For more information on the AV-30-C system please contact us on sales@aeronautical.co.za.






USA



Mid-air Collision over George Inlet de Havilland DHC-2, N952DB, and de Havilland DHC-3, N959PA

???On 13 May, 2019, at about 12:21 Alaska daylight time, a float-equipped de Havilland DHC-2 (Beaver) airplane, N952DB, and a float-equipped de Havilland DHC-3 (Otter) airplane, N959PA, collided in mid-air about 8 miles northeast of Ketchikan, Alaska. The DHC-2 pilot and four passengers sustained fatal injuries. The DHC-3 pilot sustained minor injuries, nine passengers sustained serious injuries, and one passenger sustained fatal injuries. The DHC-2 was destroyed and the DHC-3 sustained substantial damage. The DHC-2 was registered to and operated by Mountain Air Service LLC, Ketchikan, Alaska, under the provisions of Title 14 Code of Federal Regulations (CFR) Part 135 as an on-demand sightseeing flight. The DHC-3 was registered to Pantechnicon Aviation LTD, Minden, Nevada, and operated by Venture Travel, LLC, dba Taquan Air, Ketchikan, Alaska, under the provisions of Part 135 as an on-demand sightseeing flight. Visual meteorological conditions prevailed in the area at the time of the accident.
According to information provided by the operators, both airplanes had been conducting sightseeing flights and were both converging on a scenic waterfall before returning to the Ketchikan Harbour Seaplane Base (5KE), Ketchikan, Alaska, when the accident occurred. Automatic dependent surveillance-broadcast (ADS-B) tracking data for both airplanes revealed that, at 12:17:15, the DHC-3 was at about level 4,000 ft mean sea level (msl) on a track of 225°, and the DHC-2 was 4.2 nautical miles (nm) south of the DHC-3, climbing through 2,800 ft msl, on a track of 255°.1 At about 12:19, the DHC-3 started a descent from 4,000 ft, and the DHC-2 was at 3,175 ft and climbing. During the next 1 minute 21 seconds, the DHC-3 continued to descend on a track between 224° and 237°, and the DHC-2 levelled out at 3,350 ft on a track of about 255°. The airplanes collided at 12:21:14 at an altitude of 3,350 ft, 7.4 nm northeast of 5KE.
What We Found
?The probable cause of this accident was the inherent limitations of the see-and-avoid concept, which prevented the two pilots from seeing the other airplane before the collision, and the absence of visual and aural alerts from both airplanes' traffic display systems, while operating in a geographic area with a high concentration of air tour activity. Contributing to the accident were (1) the Federal Aviation Administration's provision of new transceivers that lacked alerting capability to Capstone Program operators without adequately mitigating the increased risk associated with the consequent loss of the previously available alerting capability and (2) the absence of a requirement for airborne traffic advisory systems with aural alerting among operators who carry passengers for hire.?
What We Recommended
?We made recommendations to the Federal Aviation Administration, ForeFlight, Taquan Air, aviation industry groups (Aircraft Owners and Pilots Association, Experimental Aircraft Association, National Business Aviation Association, Tour Operators Program of Safety, Tongass Aircraft Pilots Association, Helicopter Association International), the National Association of Flight Instructors and the Society of Aviation and Flight Educators?. Previously issued recommendations reiterated to the Federal Aviation Administration?.???



UK, Kinglassie, SW of Fife Airport, Glenrothes, Fife: A Zenair CH-601UL Zodiac suffered substantial damage in a forced landing in a field near Kinglassie, close to the Fife Airport.
UK, Cotswold Airport, Kemble, and Gloucestershire: A Piper PA-28-140 Cherokee Cruiser operated by the Bristol and Wessex Aeroplane Club Ltd with three on board was conducting touch-and-goes at Cotswold Airport (GBA/EGBP), Kemble, Gloucestershire, U.K., when it veered off the left side of runway 26. It continued between two stored Airbus jetliners that were parked head to tail, hitting the nose landing gear of a Red Wing Airbus A321 (VP-BRM) with the right-hand wing tip. It crossed the A429 road and came to rest in a ditch. The three occupants were taken to a hospital.

Canada, S of Toronto, ON: An Air Canada Express Canadair CRJ-200ER was climbing after take-off from Toronto Airport, Canada, when the flight crew noticed cracking in the right-hand side window. An immediate descent to 11,000 feet was initiated and the flight returned to Toronto. A safe landing was made 40 minutes after take-off.
Belgium, Near Tournai/Maubray Airfield: A Schleicher Ka 6CR glider stalled as a result of a steep climb during a winch launch at Maubray Airfield and was destroyed. The pilot died in the crash.
Taiwan, Yanpu Township, Pingtung County: A Comco Ikarus C42 with two on board crashed under unknown circumstances in Pingtung County. Both occupants died in the crash.

USA, Atlanta Hartsfield-Jackson International Airport, GA: A Delta Air Lines Boeing 757-351 suffered an unknown landing gear issue prompting a go-around before an emergency landing at Atlanta-Hartsfield. The aircraft is seen in a video with the right landing gear on fire after touching down. All occupants escaped with no injuries and the aircraft returned to passenger service on 7th August.
USA, Ellenville, NY: A Cessna 150H with two occupants sustained substantial damage subsequent to an impact with residential terrain in Ellenville, New York. The two people on-board received unspecified but apparent minor injuries.
Israel, near Kafr Yasif: A Tecnam P92 Echo crashed in the olive groves between Kafr Yasif and Jdeideh-Al-Makar, Israel. One occupant died in the crash; another was injured.

USA, Fayette County southwest of Fayette, IA: A Robinson R44 Raven II operated by November Alpha LLC sustained unreported damage subsequent to the forced landing following an inflight powerline strike during an aerial application flight in Fayette County southwest of Fayette, Iowa. The sole pilot on-board the helicopter was not injured during the incident.




8 AUGUST 1910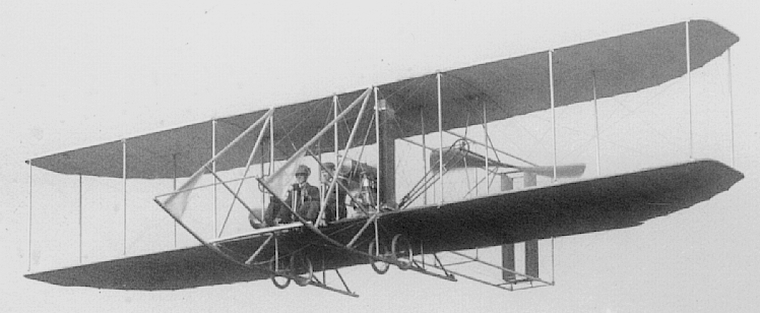 The first aircraft tricycle landing gear is installed on the US Army's Wright airplane.


The Wright military flyer of 1909, airplane was built by Wilbur and Orville Wright and sold to the U.S. Army Signal Corps in July 1909. It was the world's first military airplane. For the Wright brothers, it represented a first step in their efforts to produce marketable aircraft incorporating the principles that they had employed six years earlier in achieving the first powered heavier-than-air flight.
The Army's performance specifications called for an observation craft that would keep a pilot and passenger aloft for more than one hour and fly at an average speed of 40 miles (65 km) per hour.
Lieutenant Frank Purdy Lahm joined Orville for a flight of 1 hour 12 min. 374/5 sec., setting a new world's duration record for flight with a passenger.
Google Banner Ad