Compiled by Willie Bodenstein



Google Banner Ad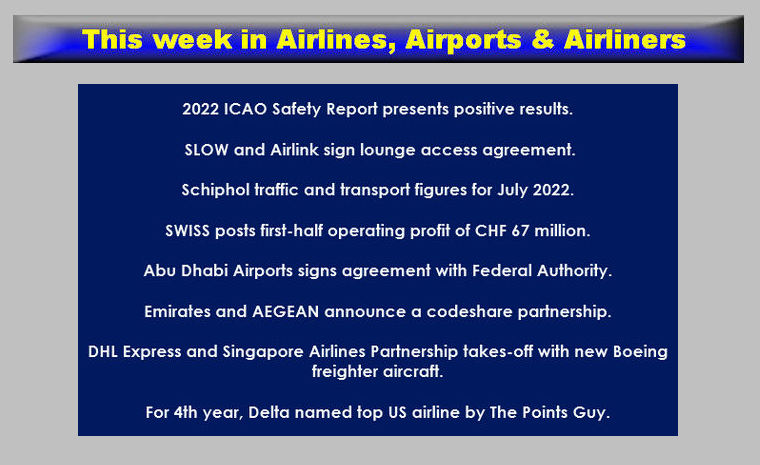 2022 ICAO SAFETY REPORT PRESENTS POSITIVE RESULTS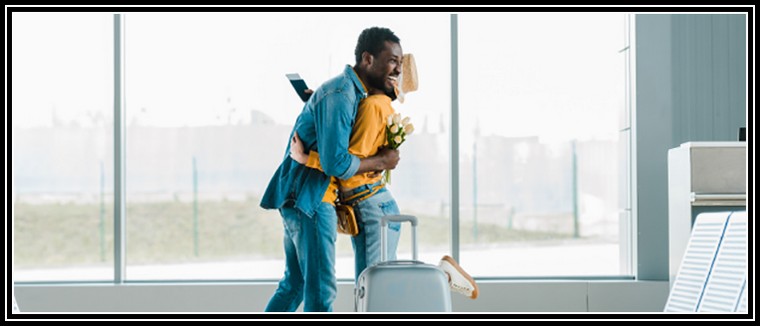 ICAO has released its 2022 Safety Report, presenting a detailed analysis of Global Civil Aviation Safety Performance for 2021 operations. The report results reveal a 9.8% decrease in the global accident rate for last year vs. 2020, dropping from 2.14 to 1.93 per million departures.



Meanwhile 2021 fatalities fell by 66% against the number in 2020, though the number of accidents where fatalities occurred remained consistent at four.
"These outcomes are very positive and encouraging, and reconfirm that air transport is the safest mode of transport even during the current global circumstances," commented ICAO Secretary General Juan Carlos Salazar.
"Scheduled commercial flight departures in 2021 increased by almost 11%, but even despite these millions of more flights amidst restart and recovery resource shortages and the many other operational challenges facing airline and airport operators today, air transport's collective and longstanding commitment to safety, security and health of passengers and crew remains unwavering."
"The positive safety performance being seen system-wide is recognised in the 2022 Safety Report as being due in part to the pandemic response and recovery recommendations set out by the ICAO Council's Aviation Recovery Task Force (CART)," added ICAO Council President Salvatore Sciacchitano, "and to the Safety Stream commitments adopted by States at the ICAO High-level Conference on COVID-19 (HLCC) held last October."
The 2022 Safety Report also stresses that in response to existing and emerging trends, ICAO is working in closer partnership today with the whole international aviation community to achieve future safety improvements.
Key emphasis is being placed on improving safety performance and reducing operational safety risk through improved standardisation, implementation, and monitoring.
The 2022 edition of the ICAO Safety Report provides updates for the ICAO 2020-2022 Global Aviation Safety Plan (GASP) indicators linked to its 'Goal 1', which focuses on achieving a continuous global reduction of operational safety risks and related targets.


SLOW AND AIRLINK SIGN LOUNGE ACCESS AGREEMENT







SLOW and Airlink sign lounge access agreement.
From today, Airlink's premium and qualifying passengers travelling on its domestic and regional flights, have access to SLOW lounges at Johannesburg's, Cape Town's and Durban's international airports.



Iain Meaker, CEO for Slow Lounges stated: "Airlink has signed a lounge agreement that will see its passengers enjoy our renowned lounge hospitality. We are very excited and honoured to be associated with premium brand Airlink, and to assist in making its passengers travel through the major airports in South Africa a truly memorable and relaxing experience."
The lounges were built to be exceptional and distinct and offer the following activities and features:
• A selection of luxury snacks, light meals, canapes and delectable desserts
• Freshly brewed coffee and premium beverage and wine selections
• Private rooms
• Private marble bathrooms, serviced & cleaned after each use
• Free high capacity, unlimited WiFi, with multiple power outlets throughout the lounge
• A Living Library and a variety of complimentary media publications and newspapers
• Our complimentary spa offering being re-introduced on 1 September, a perfect way to relax before your flight
• Continued heightened attention to hygiene and sanitising safety protocols
Following the signing of the Airlink lounge agreement with SLOW, Rodger Foster, CEO and Managing Director of Airlink stated "We are very excited to partner with SLOW, as it offers our customers a unique value proposition and a memorable experience as they embark on their journey with Airlink."




Google Block Ad



SCHIPHOL TRAFFIC AND TRANSPORT FIGURES FOR JULY 2022


Traffic and transport figures for July 2022
Almost 5.2 million passengers flew from, via or to Schiphol in July 2022. In July 2021 that number was 3 million, in July 2020 1.3 million and 6.7 million passengers in July 2019. The number of commercial flights to and from Schiphol was 36.000 (+24% compared to 2021, +129% compared to 2020 and -20% compared to 2019). The number of cargo flights was 1.424 (-23% compared to 2021, -39% compared to 2020, +22% compared to 2019). The transported tonnage decreased by 8% compared to last year, was similar to 2020 and decreased by 7% compared to 2019.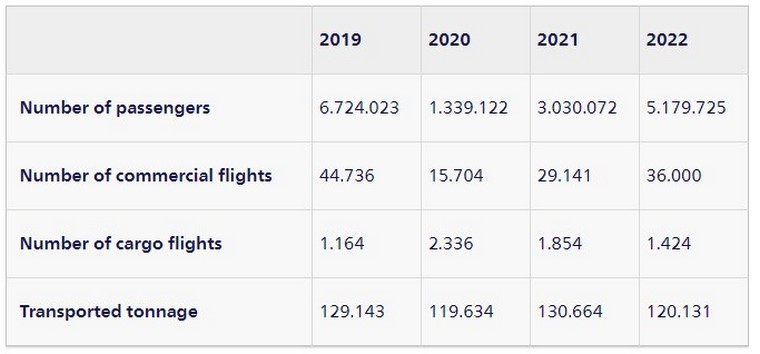 Of the 5.2 million passengers in July, almost 1.9 million passengers had a transfer at Schiphol. The passengers with a transfer were 950,000 unique passengers, who are counted twice in the international counting method: as an arriving passenger and departing passenger. 3.6 million passengers travelled from or to a destination within Europe, and almost 1.6 million outside of Europe.
Cargo
The number of all-cargo flights has decreased from 1,854 to 1,424, compared to 2021. The number of all-cargo flights was 1,164 in 2019 and 2,336 in 2020. The total transported volume was 120,131 tonnes in July 2022.
SWISS POSTS FIRST-HALF OPERATING PROFIT OF CHF 67 MILLION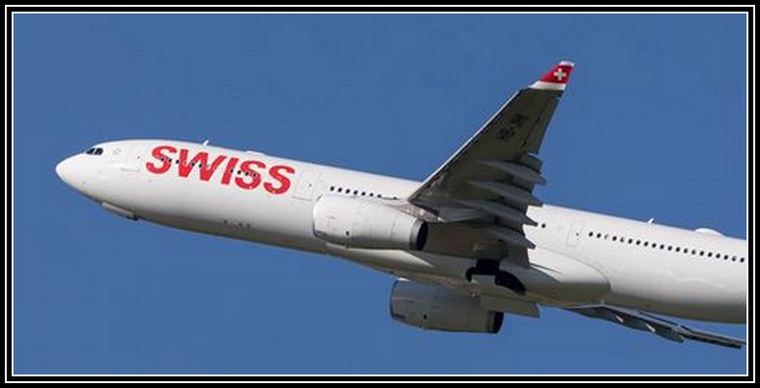 SWISS returned to profit in the first six months of 2022 and posted an operating result of CHF 67.0 million for the period. The encouraging business developments that had been seen in the first few months of the year strengthened further in the second-quarter period.


The Airline of Switzerland benefited in particular from sizeable booking demand and from the improved profitability provided by its completed restructuring activities. SWISS transported some 5.3 million passengers in the first six months of 2022, five times as many as it had carried in the prior-year period. The increase was reflected in first-half revenues, which totalled CHF 1.8 billion. Despite the likelihood of an economic slowdown, SWISS is also confident of returning to profit in its 2022 full-year results.
After some initial setbacks owing to the Omicron coronavirus variant in the first few weeks of 2022, Swiss International Air Lines (SWISS) saw the first signs of renewed growth in its booking volumes as early as the first-quarter period. The positive trend strengthened in the course of the second quarter; and first-half earnings were further boosted by the cost optimisations achieved through the company's restructuring activities. Higher fuel costs were partially offset by the steep increase in customers' travel activities and by higher ticket prices. Cargo business also remained buoyant, and again made a key contribution to overall financial results. Adjusted EBIT for the first half of 2022 amounted to CHF 67.0 million, a substantial CHF 465 million improvement on its prior-year level (H1 2021: CHF -398.2 million) that enabled a return to operating profit earlier than projected. Total revenues were raised 179.7 per cent to CHF 1.8 billion (H1 2021: CHF 659.3 million). First-half capacity was at 62 per cent of that of the comparable period in 2019; by contrast, first-half capacity in 2021 was at some 26 per cent of its 2019 level.
"We are delighted to be back in profit again after just the first six months of this year, and to have achieved this despite our still reduced capacities," says SWISS Chief Financial Officer Markus Binkert. "The combination of substantial pent-up travel demand, higher ticket prices and our improved cost structures has had a very beneficial impact on our liquidity situation over the past few months. This also enabled us to terminate our bank loan facility which had been guaranteed by the Swiss Confederation ahead of time in the course of the second quarter."
Positive trend strengthened in the second-quarter period
The positive business trend which had been witnessed in the first few months of this year strengthened significantly in the second-quarter period. A steep rise in demand prompted a substantial increase in revenues, which, at CHF 1.1 billion, was more than triple their prior-year level (Q2 2021: CHF 359.7 million). The revenue growth combined with the positive effects of the restructuring actions taken to produce a second-quarter Adjusted EBIT of CHF 114.4 million, an improvement of almost CHF 312 million on the prior-year period (Q2 2021: CHF -197.2 million).
Strong growth in passenger volumes
Passenger numbers saw strong growth in the first half-year. SWISS transported some 5.3 million travellers between January and June, over five times the volume of the previous-year period. More than 47,000 flights were performed over the same six months, around 3.5 times as many as in the first half of 2021. SWISS offered 137.1 per cent more first-half capacity system-wide in 2022 in available seat-kilometre (ASK) terms, while total first-half traffic volume, measured in revenue passenger-kilometres (RPK), was up 422.1 per cent on its previous-year level. System-wide seat load factor for the first-half period amounted to 73.6 per cent, an improvement of 40.2 percentage points on the previous-year period.
SWISS on track for full-year profitability
After a second quarter which saw strong travel demand, booking levels also look favourable for the rest of the summer season. However, fuel prices are likely to remain very high and a cooling of the economy is also expected. Shortages of resources continue to pose major challenges, too, both to airlines and to the entire air transport sector. But with its sound structure and cost base, SWISS can look ahead with confidence to the second half-year.
"Thanks to the restructuring that we conducted last year, SWISS stands today on solid financial foundations," says CEO Dieter Vranckx. "And in posting these positive first-half results, we have kept our word to our stakeholders. With this stability, we can invest once again in our product, in further improving our customer services and in our own personnel and therefore retract the crisis response measures which we agreed with our employees in Switzerland earlier than planned."
Google Block Ad
ABU DHABI AIRPORTS SIGNS AGREEMENT WITH FEDERAL AUTHORITY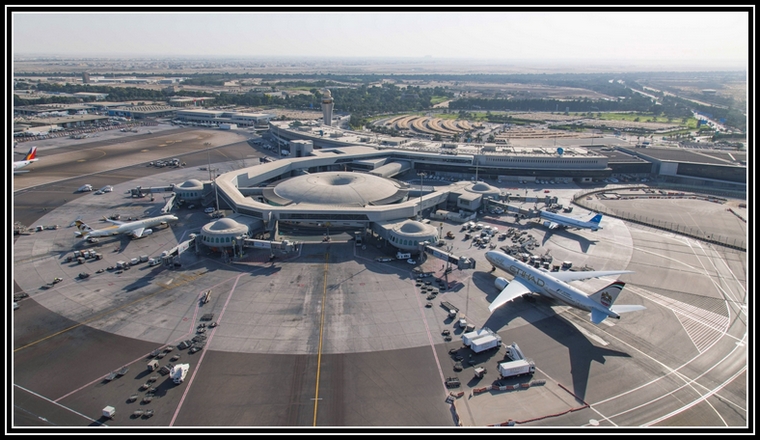 Abu Dhabi Airports has entered into an agreement with the Federal Authority for Identity, Citizenship, Customs and Port Security (ICP), to boost service quality and enhance passenger experience.

The agreement stems from Abu Dhabi Airports and ICP's keenness to adopt best practices in areas of security, safety and air transport. This partnership aims to achieve the highest levels of service excellence at all terminals and facilities of Abu Dhabi Airports.
Major General Saeed Al Shamsi, executive director of the General Directorate of Residency and Foreigners Affairs in Abu Dhabi, stated that this agreement is a testament of a long-standing journey of joint efforts and collaboration with Abu Dhabi Airports and various entities related to the authority's services provided through the Department of Air and Sea Ports. He highlighted that the authority is leading the mission of enhancing travel procedures of passport checking and passenger transit procedures in alignment with the highest service quality standards, leveraging state-of-the-art technologies and systems to verify travel documents and entry permits for departures and arrivals, especially through smart gates and electronic service stations.
AD Airports signs a SLA with ICP - 2He added that the signing of this agreement reflects mutual interest to advance work mechanisms, highlight potential collaboration areas and reinforce commitment by a unified vision that instils a culture of service excellence.
Shareef Hashim Al Hashmi, CEO of Abu Dhabi Airports, said: "Our agreement with the Federal Authority for Identity, Citizenship, Customs and Port Security is a reflection of the continuous collaboration with strategic partners to enhance the business ecosystem and improve passenger experience at Abu Dhabi airports in a way that embodies the wise leadership's vision to provide distinguished services to travellers, which contributes to strengthening Abu Dhabi's position as a leading global destination."
EMIRATES AND AEGEAN ANNOUNCE A CODESHARE PARTNERSHIP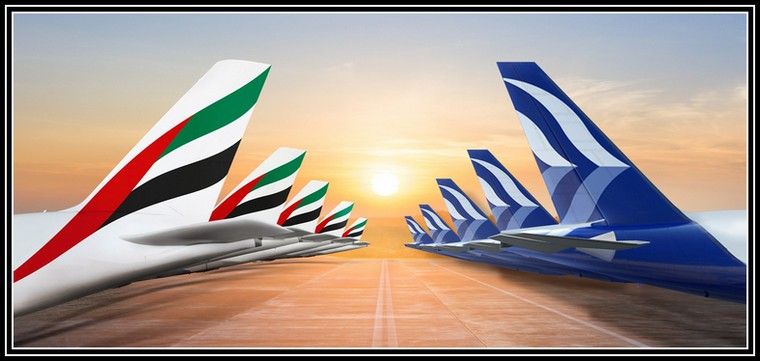 Emirates is activating a new codeshare partnership today with AEGEAN, allowing its customers to benefit from increased connectivity to eight domestic Greek points via Athens, and using a single ticket.

Emirates will place its code on AEGEAN operated flights, providing customers with a convenient and seamless booking experience as well as one consistent baggage policy, to popular destinations: Kerkyra, Chania, Iraklion, Mikonos, Thira, Rhodes, Thessaloniki and Alexandropoulos. Under the codeshare agreement, AEGEAN will also place its code on Emirates-operated flights between Dubai and Athens for their customers to benefit from smooth connections to Dubai and onward. Travel itineraries can now be booked on emirates.com and aegeanair.com, with travel agents as well as online travel agents (OTAs), for travel immediately.
Starting October 2022, Emirates and AEGEAN will further increase their joint codeshare network to include eight more European regional routes via Athens, including Bucharest, Belgrade and Naples, among others, as well as westwards on Emirates' flights to New York Newark from Athens, and New York JFK from Milan. Emirates currently serve Athens with 12 weekly flights operated by a Boeing 777. These additional codeshare routes will be subject to receiving the necessary regulatory approvals.
Through its codeshare agreements with more than 26 carriers, two rail partners as well as 110 interline partners worldwide, Emirates offers its customers truly global connectivity across 6 continents.
Google Banner Ad
Google Banner Ad
DHL EXPRESS AND SINGAPORE AIRLINES PARTNERSHIP TAKES OFF WITH NEW BOEING FREIGHTER AIRCRAFT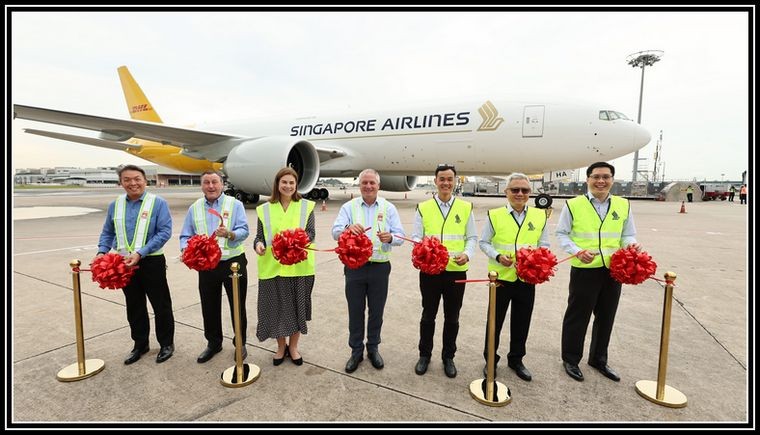 DHL Express, the world's leading international express service provider, has welcomed the arrival of its new Boeing 777 freighter at Singapore Changi Airport. The freighter, which sports a dual DHL-Singapore Airlines (SIA) livery, has a maximum capacity of 102 tonnes. SIA will operate it on routes to the United States of America via South Korea thrice weekly from August 2022.

Mr Robert Hyslop, Executive Vice President for Aviation, DHL Express, said: "Our global DHL Express aviation network consists of a combination of owned and partner airlines, which allows us to respond to increasing customer demand with agility and flexibility. The new Boeing 777 freighter demonstrates our ongoing effort to strengthen our network and adjust flight routes, as well as lower our carbon emissions to achieve greener logistics. Singapore Airlines' expertise in flight operations will enable us to better meet our customers' needs in cross-border commerce, as we leverage the strategic location of our South Asia Hub in Singapore."
Mr Lee Lik Hsin, Executive Vice President Commercial, SIA, said: "SIA's longstanding partnership with DHL reinforces Singapore's position as a key air cargo and e-commerce logistics hub, and highlights our firm commitment to our cargo business. Air cargo also plays a vital role in keeping global supply chains open. Apart from supporting the fast-growing e-commerce segment, this new freighter operation provides a foundation to expand the partnership between SIA and DHL in the future."
Ms Christy Reese, Vice President of Commercial Sales and Marketing, Asia Pacific, Boeing, said: "We are thrilled that the partnership between DHL and Singapore Airlines will be predicated on the strength of Boeing 777 Freighters. The versatile 777 Freighter is the world's largest, most capable twin-engine freighter and can fly long-range trans-Pacific missions in excess of 6,000 nautical miles with 20 percent more payload than other large freighters like the 747-400F. The airplane, which is capable of carrying a maximum payload of 102 tonnes, will deliver superior tonne-per-mile economics for DHL and Singapore Airlines as they look to sustainably address increased demand in the global air freight market."
In March 2022, DHL Express and SIA signed a Crew and Maintenance agreement to deploy five Boeing 777 freighters. These freighters will be operated by SIA pilots, with the maintenance overseen by SIA.
The second Boeing 777 freighter is slated to enter into service in November 2022, following which both freighters will operate the Singapore-Incheon-Los Angeles-Honolulu-Singapore route six times weekly. The remaining three freighters are planned for delivery throughout 2023. Following this, all five freighters will operate on routes between the United States and Singapore via points in North Asia and Australia.
FOR 4TH YEAR, DELTA NAMED TOP US AIRLINE BY THE POINTS GUY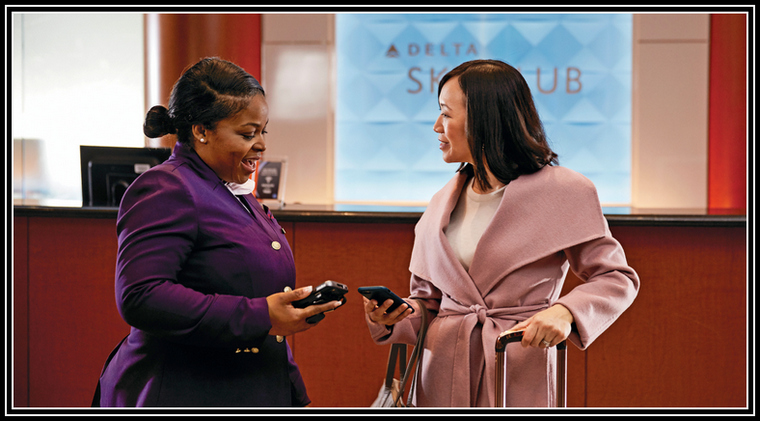 Delta Air Lines has been named the best U.S. airline by The Points Guy for the fourth year running, with the online travel platform noting Delta's excellence in on-time reliability from April 2021 to March 2022, a customer-centered experience and an extensive global network.
"Delta was by far the No. 1," TPG founder and CEO Brian Kelly said Wednesday on "CBS Mornings." Delta scored 70.43 out of 100, nearly 10 points ahead of No. 2 Southwest and No. 3 United.
The Points Guy's editorial team reviewed published airline policies and real-time reports between 1 April 2021 and 31 March 2022 in its data-focused analysis of reliability, experience, loyalty and costs and reach. This is the latest award for Delta, which also was recently recognised for having one of the industry's best travel reward programs by U.S. News & World Report. The airline also has been recognised by The Wall Street Journal, the U.S. Department of Transportation and Wallethub for its reliability and operational performance in 2021.
Google Banner Ad