Compiled by Willie Bodenstein




Google Banner Ad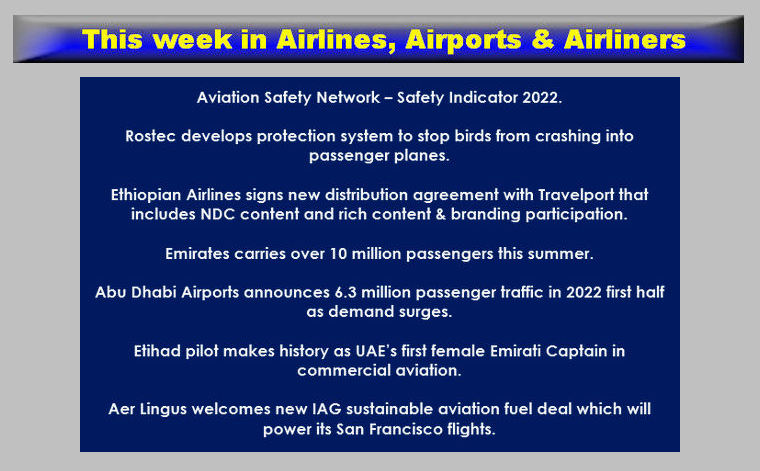 AVIATION SAFETY NETWORK - SAFETY INDICATOR 2022









ROSTEC DEVELOPS PROTECTION SYSTEM TO STOP BIRDS FROM CRASHING INTO PASSENGER PLANES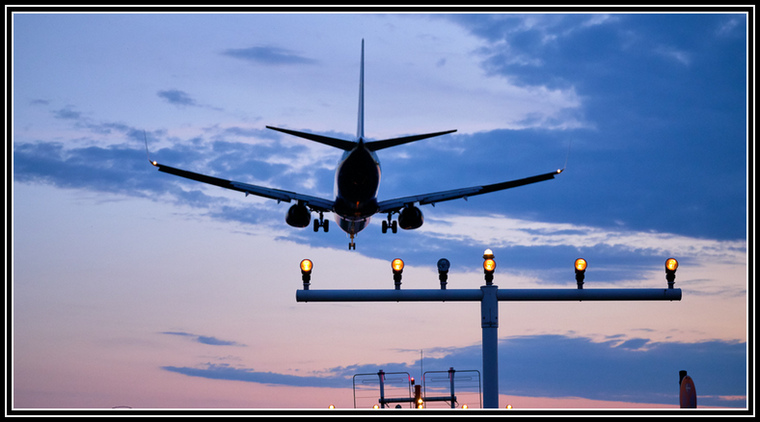 Ruselectronics holding has developed an ornithological flight safety system for airports - Orni. It can monitor the flight of about 100 birds simultaneously up to 21 kilometres. The equipment has successfully passed test runs at Pulkovo Airport in St. Petersburg.



Orni includes a subsystem for radar detection and tracking, equipped with one to four passive coherent locators, as well as a subsystem for interfacing with bio-acoustic emitters and other devices that scare away birds that are in a dangerous flight zone.
The devices do not create interference or affect the operation of radio equipment in aircraft and airports.
The complex received software that records and archives all bird flights, also controls the operation of subsystems and exchanges information with other airport services. All Orni work is carried out automatically. As part of Rostec, the development is being carried out by Ruselectronics holding company - Research Institute Vector.
"According to the International Civil Aviation Organization, more than 5,000 bird strikes occur annually worldwide. In almost half of the cases, the birds hit the engine, after which the aircraft must return to the airport. Our new system tracks bird flights near the airport and scares them during aircraft take-offs and landings," said Andrey Sorokin, Director of Commercial Activities at Vector Research Institute.
Google Block Ad




ETHIOPIAN AIRLINES SIGNS NEW DISTRIBUTION AGREEMENT WITH TRAVELPORT THAT INCLUDES NDC CONTENT AND RICH CONTENT & BRANDING PARTICIPATION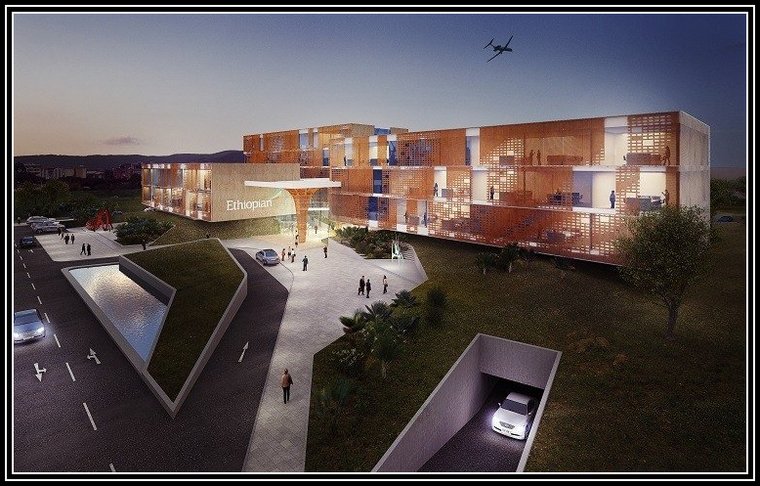 Ethiopian Airlines, the largest carrier in Africa, and Travelport, a global technology company that powers bookings for hundreds of thousands of travel suppliers worldwide, announced a new agreement. The renewed deal includes distribution on the Travelport+ platform, including New Distribution Capability (NDC) content from Ethiopian Airlines. This agreement expands the ongoing travel retailing and distribution relationship between Travelport and Ethiopian, who was ranked the number one airline within the African continent by Business Insider earlier this year.



Both companies are in the process of developing a strategic plan to provide agents access to NDC content and functionality from Ethiopian Airlines in the Travelport+ platform. As part of the agreement, Ethiopian Airlines will also become a new participant in Travelport's Rich Content & Branding (RC&B) program. As a top 100 carrier booked through Travelport, the carrier is laying the foundation to ensure that Travelport-connected agencies can access the most robust, enriched Ethiopian Airlines' content following its current fleet expansion.
"As we are now investing in our ability to meet high demand for travel following the pandemic, it is crucial that we deepen our partnership with Travelport as they understand our need to efficiently deliver simplified access to our growing content," said Lemma Yadecha, Chief Commercial Officer at Ethiopian Airlines. "Travelport's enhanced multi-sourced content capabilities within the Travelport+ platform will help us to provide agents and their travellers with quick, easy access to highly relevant offers and more choices to fit their needs. Our expanded agreement with Travelport and Rich Content & Branding will further enable us to drive more value for our travellers through today's modern travel retailing environment."
David Gomes, Head of Regional Air Partners, EMEA at Travelport, says: "Our renewed, expanded agreement with Ethiopian Airlines to include NDC content and Travelport RC&B is a significant step in evolving and modernising Ethiopian's retailing strategy. Travelport+ was built to manage multiple sources of content and effectively merchandise personalised and dynamic offers, which will greatly benefit the agency community and provide a better experience for Ethiopian's travellers."
EMIRATES CARRIES OVER 10 MILLION PASSENGERS THIS SUMMER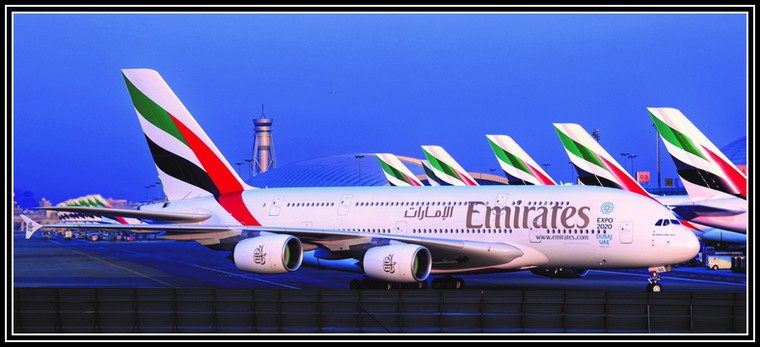 Having anticipated the strong return of travel demand, Emirates worked closely with its airport partners to operate as scheduled, minimise travel disruptions, and take customers to their planned holidays and trips to see friends and family across the world over the summer.



The airline also ramped up operations to serve customer demand during this busy period, reinstating daily services to London Stansted, and increasing flights to 33 cities on popular routes across Europe, Asia, and the Middle East, as well as to favourite holiday spots like the Seychelles, Maldives, Mexico and Miami.
In June, Emirates added Tel Aviv to its global network and in July it added a third daily flight to London Gatwick to serve travellers impacted by capacity cuts at Heathrow.
The iconic Emirates A380, the world's largest commercial jet, was also deployed to serve high customer demand at over 30 cities around its network.
On ground, the airline re-opened and was operating 32 signature Emirates Lounges, including 25 dedicated lounges at major airports across its network, to provide frequent flyers and premium travellers with a comfortable haven to rest and refresh during their journey. The airline had also reinstated its trademark complimentary Chauffeur Drive airport transfers for First and Business Class customers in nearly all cities it serves.
Dubai International (DXB) is the world's busiest international airport. With millions of Emirates customers arriving, departing, and transiting through DXB each month, the airline ensured a smooth operation at its 24/7 hub with close co-ordination and with additional resources deployed throughout the airport eco-system.
Travellers benefited from the airline's investments in services and digital initiatives to reduce wait-times at the airport and facilitating a smooth flow for customers to complete their formalities and get to where they are going.
During the summer months:
Over 3.8 million travellers across the network checked-in online via emirates.com and the Emirates App and over 500,000 travellers used the 22 self-service check-in kiosks and 38 baggage drop facilities in Dubai Terminal 3 and over 11,000 travellers utilised Emirates' home check-in services, which are complimentary for First Class passengers departing Dubai, entirely skipping the airport check in queue and proceeding straight to immigration.
Emirates continues to rebuild its network and capacity as travel restrictions ease. It is currently operating at 74% of its pre-pandemic network/capacity and plans to increase that to 80% by year end. The airline is also commencing in November a US$2 billion retrofit programme to equip 120 aircraft with its latest onboard products.
Google Banner Ad
ABU DHABI AIRPORTS ANNOUNCES 6.3 MILLION PASSENGER TRAFFIC IN 2022 FIRST HALF AS DEMAND SURGES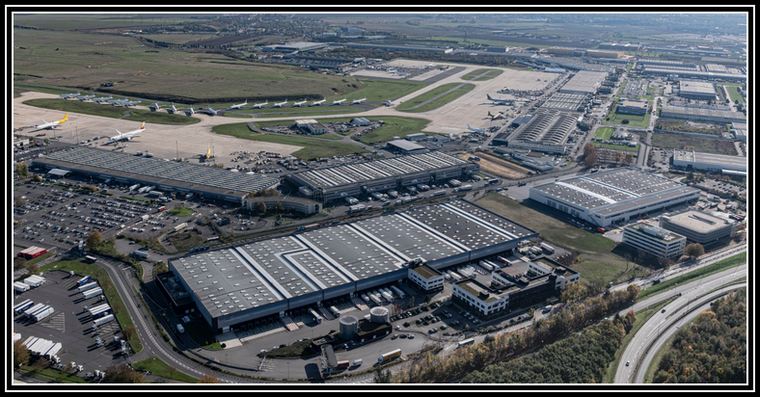 Abu Dhabi Airports, the operator of the five airports in the Emirate of Abu Dhabi, today released its passenger traffic report for the first half of 2022. The report reveals healthy figures for passenger traffic of 6,299,725 across Abu Dhabi International, Al Ain International, Al Bateen Executive, Delma and Sir Bani Yas Island airports between 1 January and 30 June 2022.


The airports also recorded 94,538 flights in H1 2022 in a clear demonstration of substantial network and passenger traffic growth while maintaining the highest levels of operational excellence.
Shareef Hashim Al Hashmi, Chief Executive Officer, Abu Dhabi Airports, said: "Our passenger traffic results for this year's first half represent another stride forward for Abu Dhabi Airports and the wider industry. While 2021 was a successful year, the target for 2022 was always to build on that momentum by catering to higher numbers of travellers and expanding our airline network with partners while staying committed to the highest levels of service excellence.
He added, "The resumption of regional and global markets and successful efforts of airlines to accommodate demands safely and effectively, have been instrumental to achieving these figures. Looking ahead, our aim is to continue building on this success throughout the second half of 2022."
Robust service levels in H1 2022
In addition to the passenger traffic and air traffic management results, the sustainability of airport operations was another standout takeaway from official H1 2022 figures. At Abu Dhabi International (AUH) alone, the Emirate's largest airport, the number of scheduled passenger flights increased by 94% compared to the first half of 2021. AUH today is connected to 101 scheduled passenger destinations served by 23 airlines, compared to 76 destinations by 19 airlines in the same period last year.
The top five countries in terms of passenger volumes at AUH during H1 2022 are India (1,280,000), Pakistan (485,000), United Kingdom (374,000), KSA (333,000) and Egypt (283,000). Meanwhile, the top five destination airports were London Heathrow (276,000), Delhi (225,000), Mumbai (221,000), Cochin (217,000) and Cairo (203,000).
Abu Dhabi International also handled 297,549 tonnes of air freight during the first half of the year, further emphasising the Emirate's capabilities and strategic location as a hub for cargo and freight handling in the UAE and the region.



ETIHAD PILOT MAKES HISTORY AS UAE'S FIRST FEMALE EMIRATI CAPTAIN IN COMMERCIAL AVIATION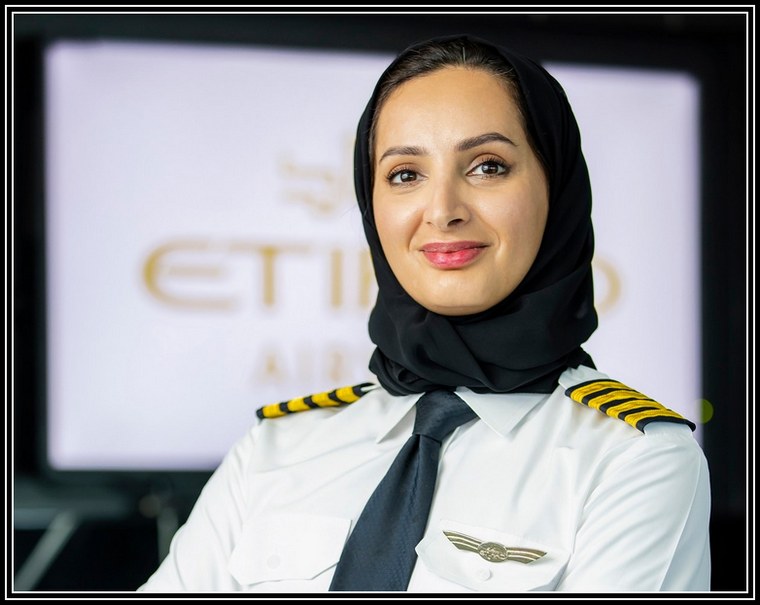 Etihad Airways, the national airline of the UAE, this week celebrated Captain Aisha Al Mansoori who has become the UAE's first female Emirati Captain in a commercial airline. This is a significant milestone for aviation within the UAE and part of Etihad's efforts to expand the roles of women in aviation, in particular the pilot community.



The command upgrade ceremony took place at Etihad's Crew Briefing Centre in the presence of the pilot's family, her peers in Etihad's pilot community, and the airline's senior management.
The 33-year-old Captain joined Etihad's Cadet Pilot programme in October 2007 and was one of only two UAE National females in her batch. In 2010, Aisha Al Mansoori successfully graduated from the programme and took her first flight on an Airbus A320 to Amman, Jordan.
Since then, Al Mansoori climbed the ranks, completing the requisite flying hours to become a Senior First Officer. She was then the first female UAE national to fly the superjumbo passenger aircraft the Airbus A380.
To obtain the rank of Captain, Al Mansoori completed Etihad's rigorous programme of checks and the mandatory number of flying hours required to be considered for the rank of Captain. She passed the UAE General Civil Aviation Authority's theoretical knowledge and flying exams successfully and officially became the first Emirati female Captain to hold an Air Transport Pilot License in the UAE.
Mohammad Al Bulooki, Chief Operating Officer, Etihad Aviation Group, said, "Etihad is extremely proud of Captain Aisha's achievement and the trailblazing role she is playing for women in aviation in the UAE. She will no doubt be the first of many, and Etihad looks forward to welcoming more female pilots to the rank of Captain in the future.
"Etihad remains committed to Emiratisation and to elevating Emirati women to play their part in the growth of the aviation industry.
"Aviation is gender blind, and to prove oneself, Etihad's pilots undergo intensive exams and meet strict requirements on flying hours to ensure the highest standards of training in international aviation are upheld. Aisha earned her rank and will no doubt inspire her fellow Emiratis and young women around the world to follow their dreams in aviation."
On this occasion, Captain Aisha Al Mansoori said: "I am very grateful to have had the opportunity to join Etihad's Cadet Pilot programme and grow my career over the years with Etihad. I am thankful for the tremendous support I have received from my instructors at Etihad and for their guidance through my training, which has shaped my skills and prepared me for the rank of Captain.
"I am proud to be the first female Emirati to be a Captain in a commercial airline, and I hope I will be an inspiration to young women to follow this career path."
On 28 August, Al Mansoori will commence regular flying duties as a Captain at Etihad, a day which also marks Emirati Women's Day.
Google Block Ad

AER LINGUS WELCOMES NEW IAG SUSTAINABLE AVIATION FUEL DEAL WHICH WILL POWER ITS SAN FRANCISCO FLIGHTS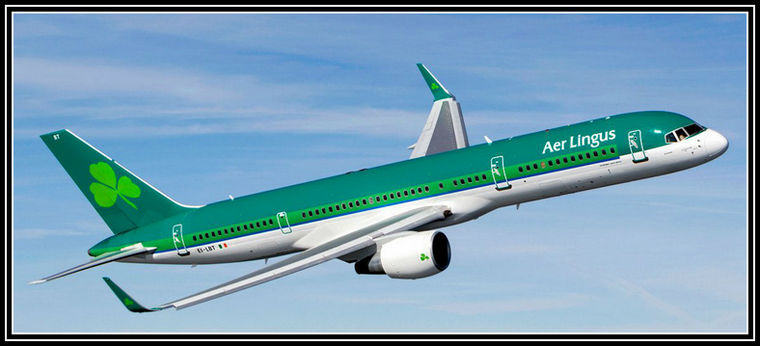 Following on from news that renewable fuels company Aemetis, Inc. announced today that it has agreed a multi-year agreement with International Airlines Group (IAG) to supply sustainable aviation fuel (SAF) to power Aer Lingus and British Airways flights from San Francisco Airport from 2025.


Lynne Embleton, Chief Executive Officer at Aer Lingus said: "As we work towards our commitment of powering 10% of flights using sustainable aviation fuel (SAF) by 2030, this agreement with Aemetis will see aircraft on our San Francisco route using low carbon biofuels from sustainable wastes.

This summer we have signed two significant SAF deals and a lease agreement for two new Airbus A320neo aircraft. These are all key steps in achieving our lower-carbon future and net zero carbon emissions by 2050."
IAG, parent company of both Aer Lingus and British Airways will purchase a total of 78,400 tonnes of SAF over seven years, enough to reduce CO2 emissions by up to 248,000 tonnes (the equivalent of taking over 16,000 cars off the road) across the same time period.
In July, Aer Lingus signed another SAF agreement with Gevo, Inc., a US-based renewable fuels producer. The agreement will see the purchase of 19,000 tonnes of sustainable aviation fuel per year for five years, powering flights from Los Angeles.
Aer Lingus is also investing in new generation and more fuel-efficient aircraft such as the Airbus A320neo and A32l neo LR.
In June, Aer Lingus signed a lease agreement for two new Airbus A320neo aircraft which will see this new generation aircraft joining the Aer Lingus' fleet for the very first time. The Airbus A320neo delivers up to 20% reduction in fuel burn and CO2 emissions and close to 50% reduction in noise footprint when compared to the previous generation aircraft, A320ceo.
Google Banner Ad