Compiled by Willie Bodenstein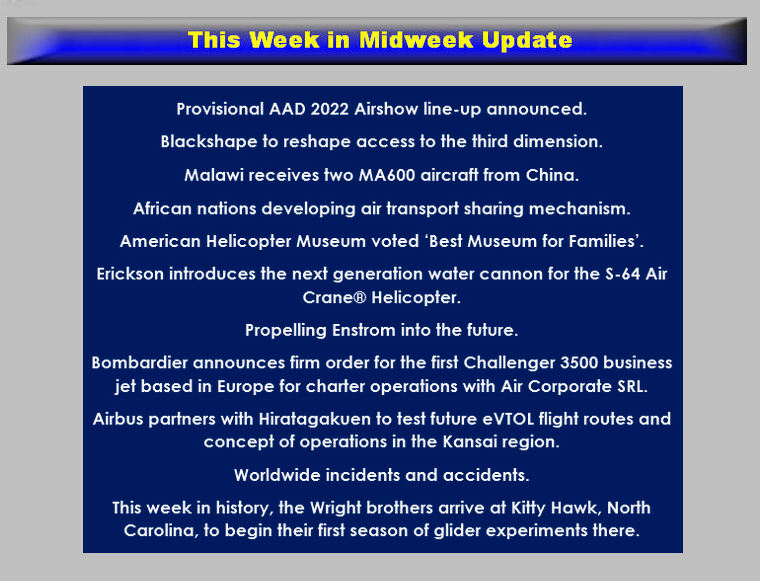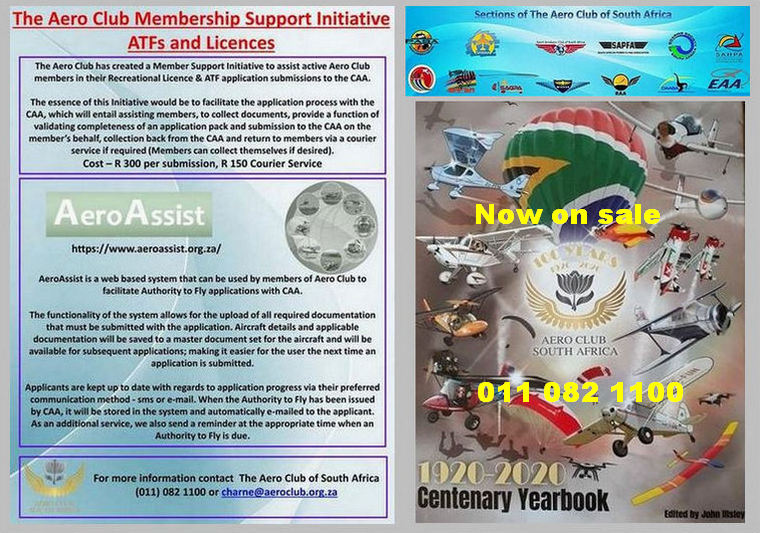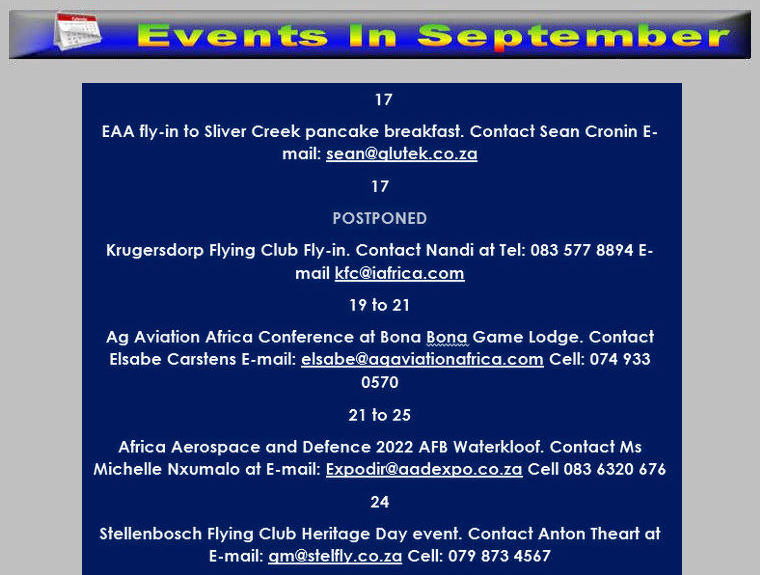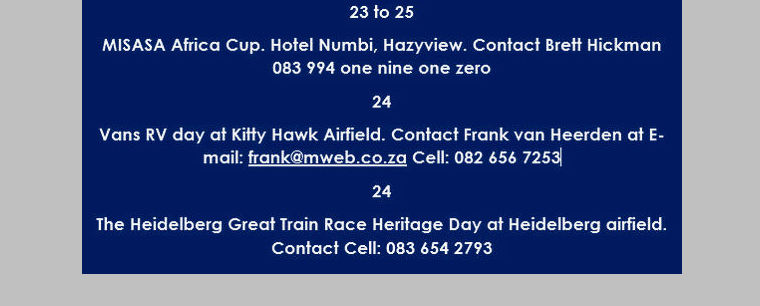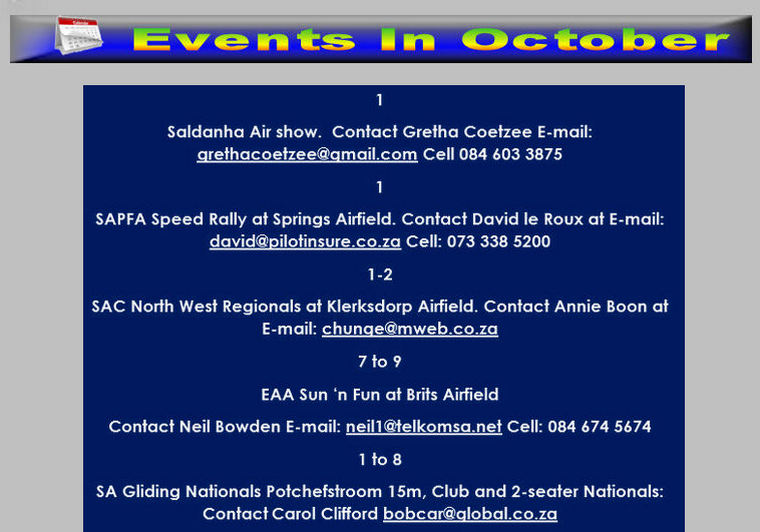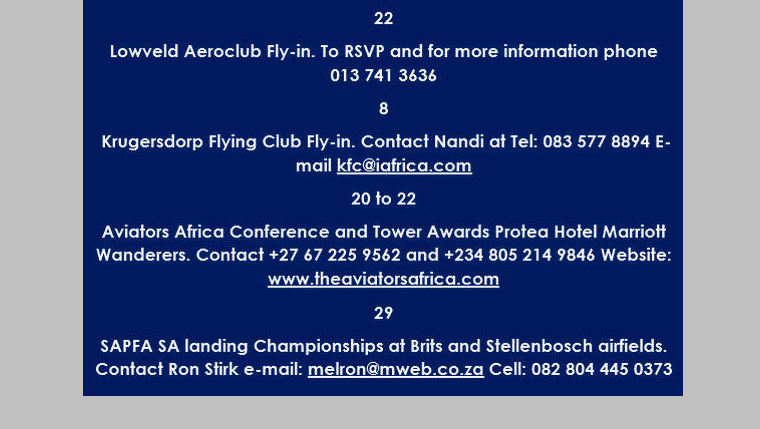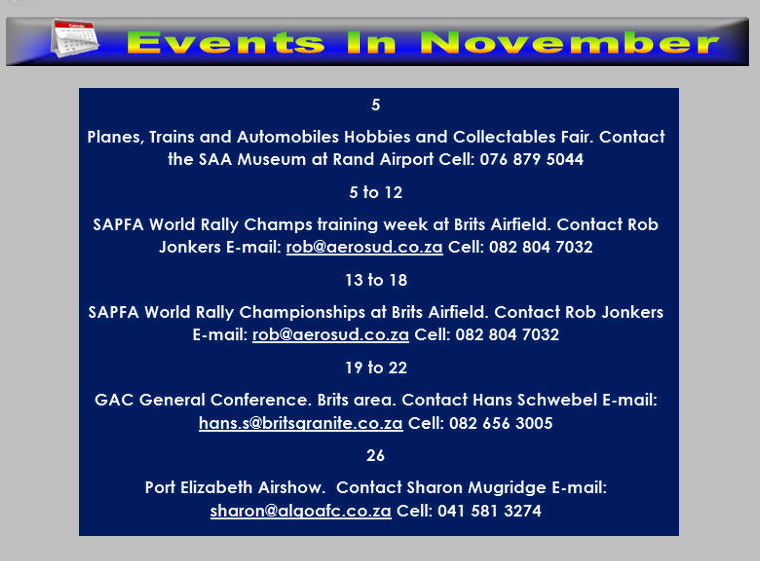 PROVISIONAL AAD 2022 AIRSHOW LINE-UP ANNOUNCED
defenceWeb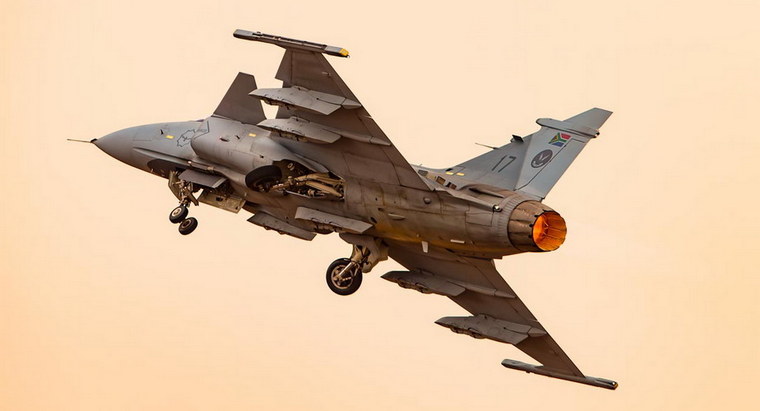 The organisers of the Africa Aerospace and Defence (AAD) 2022 exhibition have released a tentative display line-up for the airshow on 24 and 25 September at Air Force Base Waterkloof.

Some of the highlights include South African Air Force (SAAF) fast jets (Gripen and Hawk), a 'mini war' capability demonstration, Boeing 737 and L-100 formation, and a South African Police Service hostage rescue demonstration.
The airshow will begin with a cavalcade of emergency services vehicles, and a flypast of powered paragliders and microlights. A SAAF Hawk will perform the official opening display.
Numerous heritage and vintage aircraft are scheduled to take part, including Tiger Moths and SAAF Museum aircraft, which include the Bosbok, Harvard, Kudu, Cessna 185, Puma and Alouette II/III.
Aerobatics of course feature strongly in this year's airshow line-up, with Zlin, Yak-52, L-39 and other solo displays, while aerobatic display teams taking part include the Raptors (flying Vans aircraft), Hired Gun (Pitts Specials), Goodyear Eagles (Pitts Specials), Puma Flying Lions (Harvards) and Iveco Extras (Extras).
The South African National Defence Force will put on a 'mini war' display, while the South African Police Service will also do a hijacking/hostage rescue display - both typically involve aircraft, vehicles and simulated gunfire. Other demos include a Rocket HEMS emergency rescue demo, a mass parachute jump from a SAAF C-130 Hercules, and a South African Special Forces/Parabat display. Other SAAF participation includes a BK117 display, Silver Falcons team display, and a Gripen sunset display.
Foreign participation so far confirmed includes a K-8 jet trainer display from Zimbabwe, and a UH-60 Black Hawk display from the United States Air Force. Zimbabwe will also have a C212 on static display while the United States will have C-17 Globemaster III, KC-135R, C-130J Super Hercules and MQ-9 Reaper aircraft on static display.
Other items on the provisional line-up include motor gliders, gyrocopters, a L-29 solo display, Enstrom helicopter display, P-51 'Mustang Sally' solo display, Bell 222 display from Henley Air, and (on Sunday only) a formation of Safair Boeing 737 and L-100 Hercules aircraft.
More aircraft are likely to be added to the display roster as the air show date approaches, and this is only a provisional list.
In addition to the aerial action, the show features a mobility track demonstration area for vehicles, and a Youth Development Programme that will be staged in a dedicated Pavilion with a fun fly park.
Tickets are available from Computicket.
www.defenceWeb.co.za



BLACKSHAPE TO RESHAPE ACCESS TO THE THIRD DIMENSION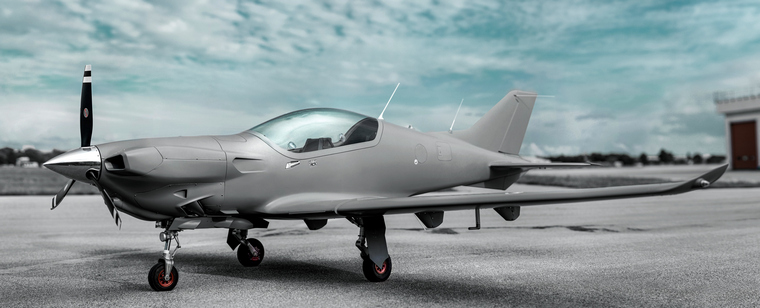 Blackshape, the Italian aerospace company, part of the Angel Holding recently revealed its new BK160-TR, the first civil aircraft specifically conceived for pilot training since several decades and the first ever to fully enable a data-driven competence-based training.

The Bk160-TR is a key part of Blackshape's vision to grant access to the third dimension for a larger customer base, including recreational flights for non-pilots, with an inclusive, unique and sustainable experience.
"Aviation often suffers for being excessively conservative. The majority of training aircraft are about 50 years old, and even when there's access to a newer platform, the training philosophy remains outdated", says Luciano Belviso, CEO and founder of Blackshape. "In the past years we have worked hard to define a new path to introduce cadets to their careers with a broader, holistic approach. By focusing on their actual airmanship once they complete the training, rather than the number of hours they've flown - similar to military training organisations. After some proven experiences, including the Airline Pilot Program of Transavia Airlines, a subsidiary of KLM Royal Dutch Airlines, we have demonstrated that our vision is possible and by far more attractive for cadets, training organisations and operators.
We concentrated all our philosophy into the Bk160-TR to set safer, less expensive and more effective training standards for operators, and give wings to an entire new generation of pilots.
Blackshape is rapidly expanding its commercial presence over the world (18 countries and counting, in Europe, USA, Asia and Africa).
MALAWI RECEIVES TWO MA600 AIRCRAFT FROM CHINA
defenceWeb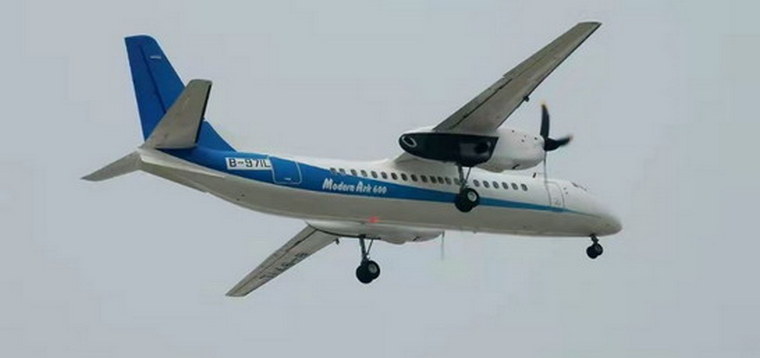 The Malawi Defence Force has taken delivery of two MA600 transport aircraft from the China National Aero-Technology Import and Export Corporation (CATIC).

The aircraft were readied for export in February this year, with Malawi's Ambassador to China, Allan Chintedza, taking part in the aircraft acceptance process.
After a five-day flight from Kunming Changshui International Airport in China, the aircraft landed at Blantyre-Chileka International Airport on 18 July, where they were welcomed by Chinese and Malawian officials. One is painted in a civilian-style blue and white scheme, while the other features military-style grey paint.
On receiving the two aircraft, Malawi's Principal Secretary in the Ministry of Defence, Erica Maganga, said the aircraft (MAF-T10 and MAF-T12) will be used to assist in transporting Malawian soldiers to peacekeeping missions as well as ferrying top government officials, including the President. This will cut costs considerably, as it will no longer be necessary to charter aircraft for these missions.
Malawi Defence Force Deputy Commander, Lieutenant General Paul Valentino Phiri, said civilians would also be carried when the need arises.
Malawian media report that the two aircraft were donated by the government of China. They provide a major boost to the Malawi Defence Force, as only helicopters (AS350B1, AS532L2 and SA330H) are currently in service with the Malawi Defence Force Air Wing. It used to operate a small number of fixed wing transports, like the Do 28, Do 228 and C-47 Dakota, but most of these are no longer in use.
The MA600 is an improved version of the Xian MA60 with a new passenger cabin, new avionics system and Pratt & Whitney Canada PW127J turboprop engines developing more power. First rolled out in 2008, it has a 60-passenger capacity.
The Air Forces of Djibouti, Angola, Kenya, Zambia and Cameroon are some of the African users of the earlier MA60 aircraft.



AFRICAN NATIONS DEVELOPING AIR TRANSPORT SHARING MECHANISM
defenceWeb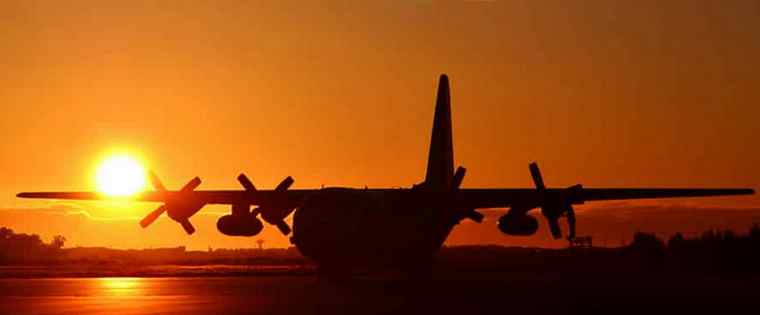 African nations are looking at developing an Air Transport Sharing Mechanism to improve the African Union's airlift capability, and a conference to this effect was recently concluded in Botswana.

The conference took place in Kasane, Botswana, from 22 to 26 August during the 5th Liaison Officer Working Group hosted by US Air Forces Africa and the Botswana Defence Force.
"The ATSM [Air Transport Sharing Mechanism] aims to create a dependable, organized, readily-available, effective and efficient air transport operations system on the continent to carry persons and cargo in support of common national and regional peace and security requirements," said US Air Force Major James Johnson, US Air Forces in Europe and Air Forces Africa (USAFE-AFAFRICA) southern Africa regional desk officer.
USAFE-AFAFRICA reported that the ATSM goal is to enhance the African Union's strategic lift capability to include medical evacuation, non-combatant evacuation, and humanitarian action and natural disaster support through the Africa Air Mobility Command Centre (AAMCC), a multi-national African airlift unit under the authority of the African Union.
"The role of this Pan-African unit is to provide air mobility in support of peace and security operations and through the support of all African nations contributing to this unit whether through personnel or any other logistic support," said Tunisian Air Force Colonel Kais Sghaier, 11th Air Unit commander.
Topics discussed during the working group included qualifications of the unit's commander and personnel requirements.
"We need to come up with mechanisms of optimising the use of the very limited resources available to us, hence the expectation is that Airlift Resource Sharing is one of the topical issues for this conference," said Botswana Defence Force Brigadier Collen Mastercee Maruping, acting deputy air arm commander.
Each nation's representative will discuss the working group's ideas and plans with their nation's leadership.
"I think it's every African's dream to see an African airplane with all African flags across its tail, flying across the continent providing relief and support to Africans," said Sghaier.
Further proposals for the AAMCC's location and other qualifications will be discussed during the 12th annual African Air Chiefs Symposium scheduled to be held in Senegal in 2023.
This was the ATSM's first in-person conference between African nations with the previous nine meetings conducted virtually, USAFE-AFAFRICA reported.
www.defenceweb.co.za

AMERICAN HELICOPTER MUSEUM VOTED 'BEST MUSEUM FOR FAMILIES'



West Chester, Pennsylvania's American Helicopter Museum and Education Center (AHMEC) was recently voted Main Line Today magazine's "2022 Readers' Choice Best Museum for Families" in its annual poll. Listed under "Main Line's Best Sports and Entertainment in 2022," AHMEC vied for the title against several amazing and unique institutions.

"This is truly an honour for us," said Paul Kahan, AHMEC's executive director, "especially considering the many fine organisations we were up against. It's a credit to our dedicated staff and volunteers, as well as our diverse array of family-friendly programs, such as drone workshops and our Girls in Science and Technology program."
"We want to thank the readers for their votes," continued Kahan. "Their enjoyment of the museum's collections and exhibits is so gratifying. With their continued support, we plan to bring even more family-friendly programs to the community."
AHMEC's upcoming schedule includes World Helicopter Day on August 14, a drone workshop on August 27, the opening of the "Star Trek Screen-Used Props and Costumes" exhibit on September 8, Haunted Helicopters on October 29, and SantaFest on December 10.
Visit the museum's website at
www.americanhelicopter.museum
for a complete schedule of events and more information.
The American Helicopter Museum and Education Centre, located at 1220 American Boulevard, West Chester, Pennsylvania, in the land of industry innovators in the Philadelphia region, is the nation's premier aviation museum devoted exclusively to helicopters. Established in 1996, the non-profit organisation collects, restores and displays rotary-wing aircraft, including over 35 civilian and military helicopters, autogyros and convertiplanes.



ERICKSON INTRODUCES THE NEXT GENERATION WATER CANNON FOR THE S-64 AIR CRANE® HELICOPTER

Erickson Incorporated, the leading operator, maintainer, and manufacturer of utility aircraft, today announced the next generation water cannon. The new water cannon will be available to customers in about a year, according to Manager of Autonomous Aircraft Development, Joey Sasser.

The water cannon is an accessory that can be installed on the S-64 Air Crane® helicopter within a few hours, according to Sasser. It is in the final prototyping stage now and will be ready for customer installation by next spring.
Sasser said that it is a complete overhaul from the earlier water cannon and is much more capable than anything else in today's aerial firefighting marketplace.
The next generation water cannon offer the following:
Rapid installation on the S-64 Air Crane® helicopter. Driven electrically via power generated by the aircraft drive system, rather than with hydraulic pumps, making the product lighter due to elimination of bulky hydraulic equipment. Increased water flows from 200 gallons (about the volume of a large refrigerator) per minute to 900 gallons (about half the volume of a storage unit) per minute. Increase stabilisation of the water cannon through an inertial measurement unit that keeps the water cannon pointed at a fixed location despite movement of the aircraft. Improvements in distance of water reach - can shoot 210 feet (approximate 3x the rotor disc diameter) from the ground, and can shoot side-to-side while in the air. Articulation of the water cannon is now all directions - shoots forward, right to left, up and down, enabling safe operation and fires to be targeted more effectively.
According to Sasser, "The huge benefit of this design is that the system is significantly more capable than anything else on the market, ultimately allowing crews to put more water on hard-to-reach fires than ever before." Sasser explained that the system, once released to the market, will demonstrate proof of the concept of modern, accessible, and more effective water cannon.
ABOUT ERICKSON
Erickson is a leading global provider of aviation services specialising in manufacturing, Maintenance Repair and Overhaul (MRO), defence and national security, and commercial aviation services. Erickson is the original equipment manufacturer (OEM) of the S-64 Air Crane® helicopter and the type certificate holder for the Bell 214ST & B/B1 platforms. Founded in 1971, Erickson is headquartered in Portland, Oregon, USA, and maintains operations in North America, South America, Europe, the Middle East, Africa, Asia Pacific, and Australia.



PROPELLING ENSTROM INTO THE FUTURE



For over 60 years, Enstrom Helicopter has been an industry leader in safety, design, and innovation and I couldn't be more excited to join this renowned business and help re-establish this icon of the sky.

With a passion for providing excellent service, Chuck Surack is widely known for founding Sweetwater Sound, the largest online retailer of music instruments and professional audio equipment, growing it to a $1.5 billion business out of the back of his Volkswagen bus. His entrepreneurial spirit, business acumen, and enthusiasm for aviation are just a few reasons why under his ownership the future is bright for Enstrom.
My history with Enstrom dates to 2008 when I began my journey of learning to fly these incredible machines. I had the opportunity to tour the factory and saw first-hand why Enstrom was considered to be one of the best in the industry and was thrilled to have purchased a brand-new Enstrom 480B.
Now, 14 years later, I'm excited to have purchased this outstanding company that manufacturers helicopters in the United States, employing over 70 workers (and quickly growing) right here in the Midwest.
While upholding our reputation for safety, value, and performance - we're excited to start building helicopters again and restore Enstrom to the industry-leading manufacturer it once was. With goals to improve and update the Enstrom fleet, we expect the first of these helicopters to be rolled out by the end of the year! Even with these lofty goals, we will always continue to support pilots who own an Enstrom helicopter by providing quality parts, service, and support.
I am humbled by the outpouring of support and loyalty from the aviation and Enstrom community - we're proud to once again be able to serve you professionally and stably.

BOMBARDIER ANNOUNCES FIRM ORDER FOR THE FIRST CHALLENGER 3500 BUSINESS JET BASED IN EUROPE FOR CHARTER OPERATIONS WITH AIR CORPORATE SRL

Bombardier recently announced the sale of its industry-leading Challenger 3500 business jet to Italian-based operator, Air Corporate SRL. This will be the first company to offer the aircraft for charter in Europe.


Introduced in 2021, the new Challenger 3500 aircraft offers a unique blend of performance, advantageous operating costs, ultimate cabin experience and smooth ride, making it an ideal choice for the European charter market. With its redesigned interior with intelligent and sustainably minded cabin features, the Challenger 3500 aircraft is elegantly crafted to combine comfort with function, fully elevating the passenger experience.
"The new Challenger 3500 aircraft is the perfect charter solution for Air Corporate SRL and other flight departments, offering a truly seamless corporate travel experience," said Ettore Rodaro, Regional Vice President, Sales, Europe, Bombardier. "With its impressive performance, consistent reliability and exceptional smooth ride, the Challenger 3500 is the industry's leading super mid-size business jet."
"We're thrilled to be adding the new Challenger 3500 aircraft to our fleet," said Roano Grandi, President, Air Corporate SRL, alongside Jacopo Foroni, CFO and Paolo Serini, COO. "This exceptional aircraft provides us with an outstanding option to further enhance our charter business and provide our discerning customers with an exceptional private aircraft experience at every level."
One of Italy's leading aircraft management firms with eight locations throughout the country, Air Corporate SRL's crews and logistical teams are dedicated to exceeding customer's expectations - and the new Challenger 3500 business jet will take centre stage as the preferred choice for Air Corporate SRL customers' luxury travel experiences.
The next-generation Challenger 3500 brings many of the attributes of the luxurious Global family, including Bombardier's exclusive and patented Nuage seat, the first time a seat of this calibre is available in the super mid-size segment. It also places high focus on passenger wellness, with a reduced cabin altitude of 4,850 ft. at 41,000 ft., representing a 31% improvement compared to its predecessor.
The Challenger 3500 aircraft also introduces several innovative technological features, such as the industry's first voice-controlled cabin to manage lighting, temperature, and entertainment systems, the first wireless chargers throughout the cabin and the only 24-inch, 4K display in its class. In the cockpit, Bombardier introduces a standard-equipped auto throttle system to the Challenger 3500 flight deck, which offers the most baseline features in its class.
Earlier this year, the Challenger 3500 also captured the prestigious "Best of the Best" Red Dot Award for its unique ground-breaking design. The Red Dot Award is one of the most prestigious design awards worldwide and honours innovation, concepts, and visions. This award is truly a testament to Bombardier's successful Challenger platform and is representative of the company's innovative spirit and approach to continuous improvement.

AIRBUS PARTNERS WITH HIRATAGAKUEN TO TEST FUTURE EVTOL FLIGHT ROUTES AND CONCEPT OF OPERATIONS IN THE KANSAI REGION




Osaka, Airbus is partnering with Japanese helicopter operator Hiratagakuen to develop advanced air mobility services in the Kansai region and beyond. This is a key addition to the company's strong regional footprint and growing international network to pioneer the future of mobility.

Through this agreement, Airbus and Hiratagakuen will tackle crucial aspects required to launch a commercial transportation service with CityAirbus NextGen. As a major first step, the partners' joint project to organise a simulation of ideal routes, concepts of operations and necessary equipment for safe eVTOL flights in the Kansai region, has been selected by the Osaka prefecture, with a demonstration flight scheduled for later this year.
With the aim to implement air mobility services beyond urban environments, the joint work of Airbus and Hiratagakuen will support the development of advanced air mobility solutions with CityAirbus NextGen, for use in cases ranging from air medical services to commercial air transport and ecotourism and in a variety of operational contexts. To reach this objective, and with the support of local stakeholders, Airbus and Hiratagakuen will use a H135 helicopter to test advanced navigation and communication technologies for safe operations of eVTOLs in urban environments, while simulating CityAirbus NextGen's flight configuration.
Mitsuhiro Hirata, Vice President, Aviation Operation Division of Hiratagakuen, said "We are very pleased to conduct a demonstration flight in the Osaka-Kansai region with Airbus for the future of mobility, using the latest H135 helicopter. We have been operating Airbus helicopters for many years and highly appreciate their high safety, performance, operational reliability and proven after-sales support. We are aware that a revolution in air transportation is now approaching the Osaka area, and we expect CityAirbus NextGen to play a central role in this revolution."
Balkiz Sarihan, Head of UAM Strategy Execution and Partnerships at Airbus, said: "We are honoured to further our long standing collaboration with Hiratagakuen by working on this exciting journey towards zero emission flights. Their expertise in commercial air transport and air medical services operations makes them an ideal partner for defining the operational framework for advanced air mobility with CityAirbus NextGen in Japan".
Hiratagakuen is a Kansai-based helicopter operator who specialises in Helicopter Emergency Medical Services (HEMS), transportation of personnel, flight training, and maintenance. The company's current fleet includes 14 H135 and two H145 helicopters.
In September 2021, Airbus unveiled its eVTOL prototype CityAirbus NextGen, to explore advanced air mobility technologies and bring urban air mobility services to life. The Company just announced the construction of a dedicated centre to test the aircraft's systems in the lead up to its maiden flight. Airbus is also working closely with industrial and institutional partners to lead the development of urban air mobility ecosystems, as recently announced with ITA Airways in Italy, or through the launch of the Air Mobility Initiative in Germany.




USA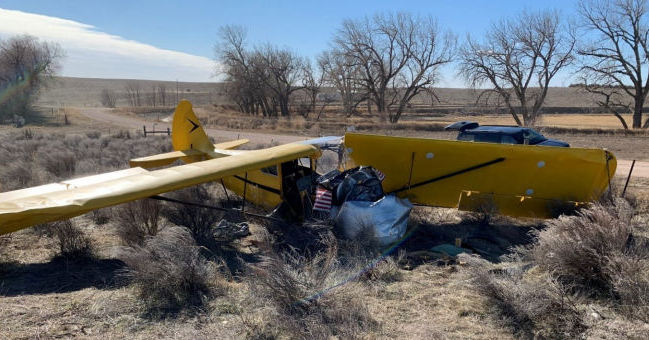 On 30 January 2022 a Christavia MK1 airplane, sustained substantial damage when it was involved in an accident near Oral, South Dakota. The uncertificated pilot sustained fatal injuries.
The airplane was operated as a Title 14 Code of Federal Regulations Part 91 personal flight.
According to the pilot's friend, the pilot texted him to ask if he, the pilot, could taxi the airplane on the private airstrip, which was located at the friend's residence. At the time of the pilot's request, the friend was not at his residence.
The friend arrived home at about 16:45 and observed the pilot taxiing the airplane. About 17:00, the friend observed the airplane airborne, and the pilot completed two touch-and-go landings on the private airstrip, and then departed to the south.
About 17:20, the friend texted the pilot to inquire about his location and there was no response.
The friend then departed in his Piper airplane to look for the pilot. The friend located the accident airplane, which had crashed in a field near the pilot's residence, about 2 miles from the private airstrip.
The friend then returned to his private airstrip to respond to the accident site in his personal vehicle. The friend noted the pilot had the lap belt restraint secured, and the shoulder harness restraint was not used.
There were no witnesses to the accident.
Post-accident examination of the airplane revealed no evidence of any pre-impact mechanical anomalies or failures that would have precluded normal operation. The ground scar, impact signatures on the airplane structure, and wreckage fragmentation patterns were consistent with an aerodynamic stall, loss of control, and impact with terrain.
According to the pilot's friend, the pilot had been working on the kit airplane for several months in preparation to have the airplane certificated.
Probable Cause and Findings
The National Transportation Safety Board determines the probable cause(s) of this accident to be:
The non-certificated pilot's failure to maintain control of the airplane, which led to the airplane exceeding its critical angle-of-attack and subsequent aerodynamic stall. Contributing to the accident was the pilot's decision to attempt a flight with no previous flight experience.



South Africa, Krugersdorp: A SNCAN Stampe SV.4D with two on board crashed under unknown circumstances near Krugersdorp, Gauteng. Both occupants sustained serious injuries and the aircraft received substantial damage.

DRC, between Kavumu and Kasese: A commuter airliner, possible a Let 410 plane carrying three crew members and cargo is missing in the Democratic Republic of Congo. Search operations are being conducted.

Germany, Gelnhausen Airfield: DFS 108-70 Olympia Meise glider crashed into trees during a winch take-off at Gelnhausen Airfield (EDFG), Main-Kinzig-Kreis, Hessen. The pilot died and the glider was destroyed.



Suriname, Tibiti area: A Piper PA-34 Seneca and 1100 kg of drugs were confiscated by armed forces in the Tibiti area, Suriname. A day later the airplane was made unfit for flying by Suriname authorities. Reports state the aircraft displayed a Venezuelan registration, yet the validity hasn't been confirmed since it is common for traffickers to use false tail numbers.
Slovakia, Petrovice, Bytca: A small plane piloted by Turin Olympic medallist Radoslav Židek crashed onto the roof of the stable and caught fire near the village of Petrovice near Bydca in the north of Slovakia. The pilot suffered severe burns. His brother was also injured in the accident and both were taken to a hospital in Žilina. According to the aviation authorities, the airplane was not registered, nor insured, the pilot had no valid license, and therefore it was a completely illegal flight.

USA, 10 km (6.3 mls) SSW of Kissimmee Gateway Airport: A Cirrus SF50 Vision Jet, N77VJ, sustained substantial damage following a CAPS parachute deployment and subsequent impact with wooded/marshy terrain while on the RNAV 33 approach at Kissimmee Gateway Airport (ISM/KISM), Orlando, FL. One occupant was seriously injured, and two of the three occupants received minor injuries. Weather was poor at the time of the accident. A thunderstorm was passing the airport.
Brazil, Vila do Passarão, Boa Vista, Roraima: A Cessna 182E Skylane was stolen from a farm in rural Boa Vista, Roraima. During the take-off attempt, the plane did not gain height and collided with a tree. One occupant who died at the scene belonged to the Military Police.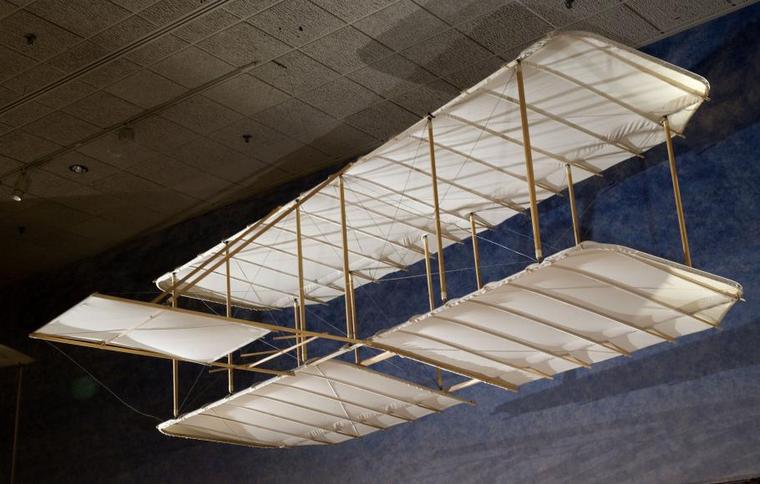 12 SEPTEMBER 1900

The Wright brothers arrive at Kitty Hawk, North Carolina, to begin their first season of glider experiments there.


For their tests, the Wrights needed a place with wide-open spaces and strong, steady winds. They wrote to the U.S. Weather Bureau in Washington, D.C., to find suitable locations. Among the places that seemed promising was Kitty Hawk, North Carolina, a small fishing village on an isolated strip of beach on the mid-Atlantic coast.
William Tate, considered the best educated resident in the modest little fishing village of Kitty Hawk, enthusiastically recommended it as a fine place to conduct the experiments that Wilbur described, and offered to help in any way he could.
The glider generated less lift than the brothers had predicted. However, the control system, wing warping for lateral (roll) control and the forward elevator for pitch control, worked perfectly.
While the Wrights managed only two minutes of free gliding that first visit to Kitty Hawk, those precious seconds in the air proved that their innovative control ideas were sound.



BONUS VIDEO






Google Banner Ad