Compiled by Willie Bodenstein



Google Banner Ad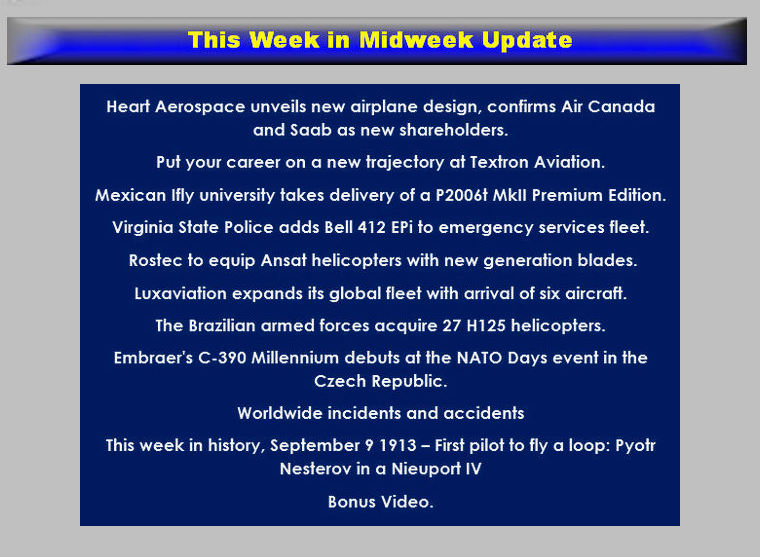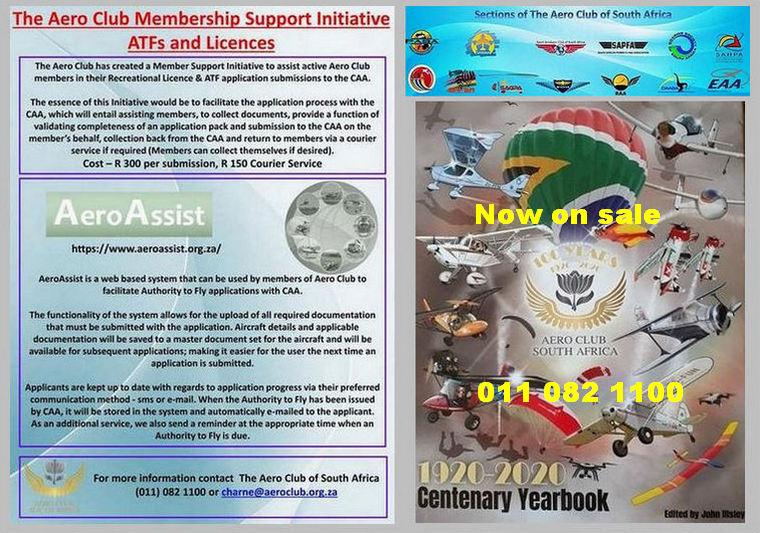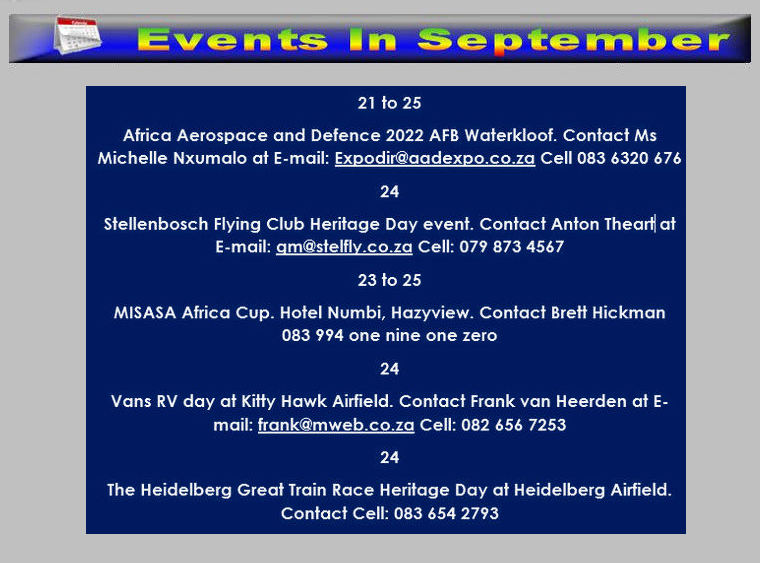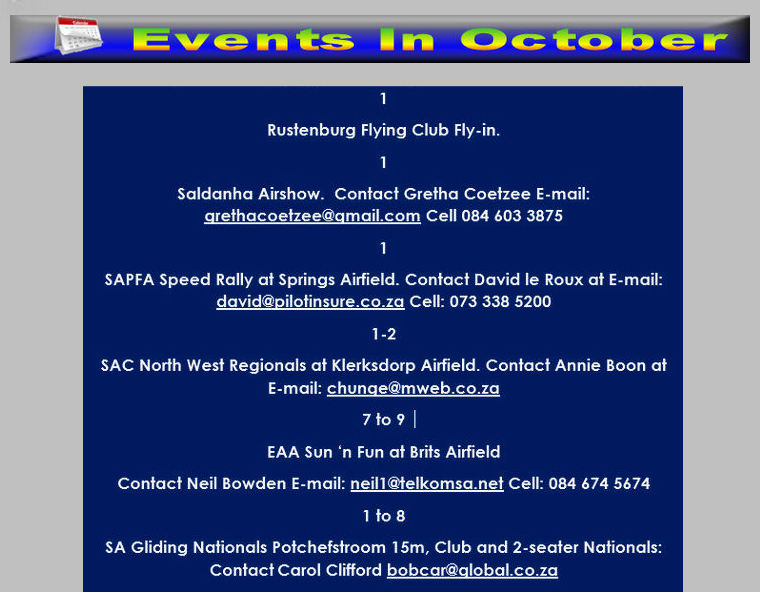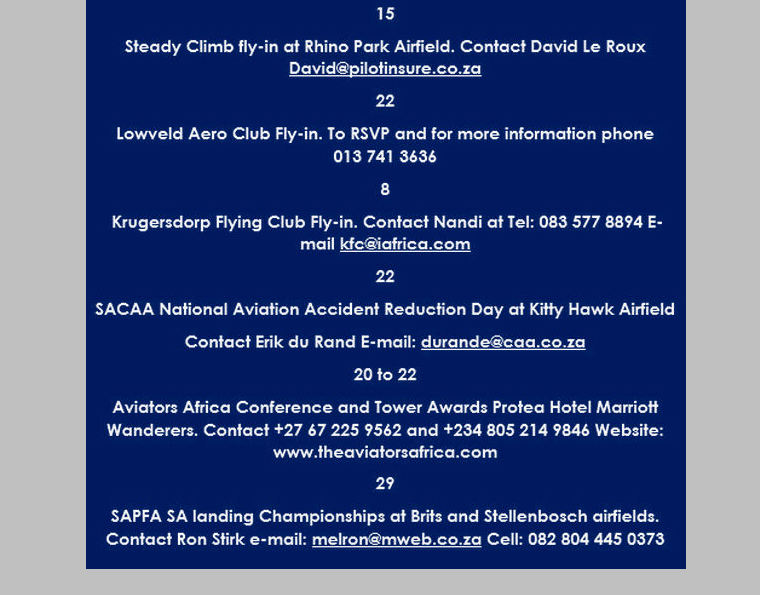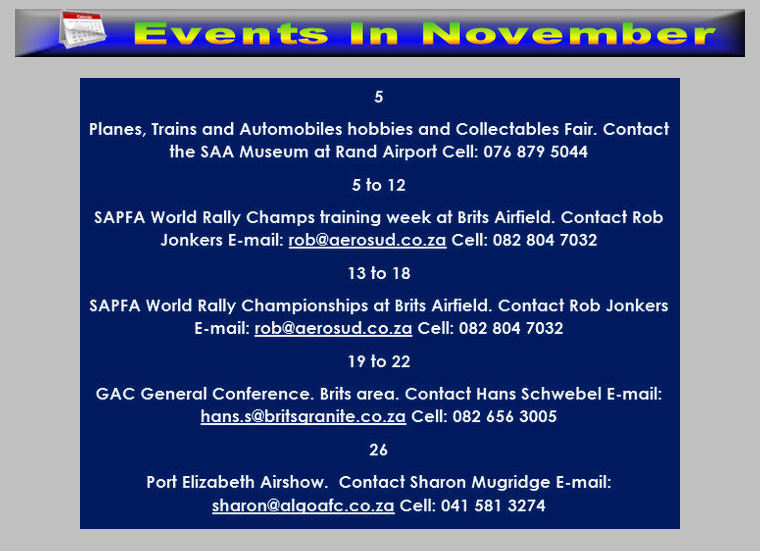 HEART AEROSPACE UNVEILS NEW AIRPLANE DESIGN, CONFIRMS AIR CANADA AND SAAB AS NEW SHAREHOLDERS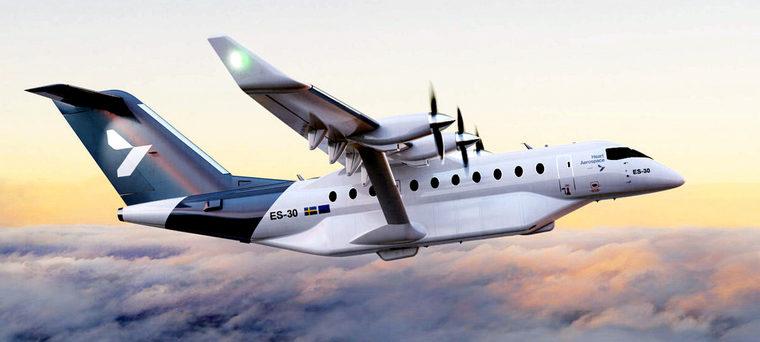 Swedish electric airplane maker Heart Aerospace today unveiled significant design updates to its first electric aircraft and confirmed Air Canada, one of North America's largest airlines and Saab, the Swedish aerospace and defence company, as new minority shareholders.

The new airplane design, called the ES-30, is a regional electric airplane with a capacity of 30 passengers and it replaces the company's earlier 19-seat design, the ES-19. It is driven by electric motors powered by batteries, which allows the airplane to operate with zero emissions and low noise.
Air Canada and Saab have each invested USD 5 million in Heart Aerospace. In addition to its investment, Air Canada has also placed a purchase order for 30 ES-30 aircraft.
"We are thrilled to have two such strong partners as Saab and Air Canada join our mission to electrify regional air travel. Growing up in Sweden, Saab is synonymous with aerospace, and our partnership will not only support our programme, but help us to become a part of the proud Swedish aerospace heritage," said Anders Forslund, founder and CEO of Heart Aerospace. "Air Canada is a strategically important partner with one of the world's largest networks operated by regional turboprops, and as a progressive, future leaning company."
The ES-30 has a comfortable three-abreast flat-floor cabin seating and it features a galley and a lavatory. Cabin stowage and overhead bins will add to the large external baggage and cargo compartment and provide airlines with network flexibility.

The airplane will also include a reserve-hybrid configuration, consisting of two turbo generators powered by sustainable aviation fuel. The reserve-hybrid system is installed to secure reserve energy requirements without cannibalising battery range and it can also be used during cruise on longer flights to complement the electrical power provided by the batteries.
This gives the airplane a fully electric range of 200 kilometres, an extended range of 400 kilometres with 30 passengers, and flexibility to fly up to 800 kilometres with 25 passengers, all-inclusive of typical airline reserves.
Previous orders for Heart Aerospace's ES-19 electric airplane, placed by United Airlines and Mesa Air Group for a total of 200 electric aircraft with an option for an additional 100 planes, are reconfirmed for the updated ES-30 design.
In addition to those commitments, many of the ES-19 letters of intent (LOI) holders have already updated their respective letters to reflect the ES-30. These include the Nordic airlines Braathens Regional Airlines (BRA), Icelandair and SAS as well as New Zealand's Sounds Air. Rockton, a Swedish-based lessor who has made it their mission to focus on sustainable solutions for the Industry, has just signed an LOI with for up to 40 airplanes.
The ES-30 is a cost efficient airplane that, on top of significant fuel savings, is cheaper to operate than a larger turboprop due to its electric propulsion. The airplane has also been designed to accommodate battery technology evolution, which will increase its fully electric range and make it even more cost efficient over time.

PUT YOUR CAREER ON A NEW TRAJECTORY AT TEXTRON AVIATION

Are you ready to launch a career that provides you with great rewards the moment you begin? Textron Aviation is just what you are looking for. Whether it's an outstanding starting wage, lucrative sign-on bonus or special tax credit, learn why now is the time to join the best in the aviation business.

Textron Aviation is currently filling positions for a wide variety of roles, ranging from entry-level manufacturing jobs to A&P mechanics to engineers. Take a look at some of the exceptional bonuses and incentives offered for many of these positions:
We set you up for success right from the start of your career. New entry-level manufacturers and service professionals now begin with a $20/hour minimum wage at Textron Aviation's headquarters location in Wichita. This is one of the highest-entry level hourly wages in the region, putting you on a path to excellent earning opportunities. Many employees will enjoy additional pay increases every 90 days.
We value your skills. Textron Aviation is offering bonuses for new employees in multiple areas. Possible sign-on pay-outs include:
*Electrical Engineering - $5,000
*A&P Mechanics - $5,000
*Other manufacturing and service roles - $4,000
Qualifying new hires in aviation have a chance to receive up to $5,000 a year as a Kansas state income tax credit. You may qualify to claim the credit each year through 2026 - totalling up to $25,000 in value. Visit www.aircapitaloftheworld.com/employeetaxcredits for additional information on how this benefit may apply to you.
We appreciate your contribution to our team. To demonstrate this, Textron Aviation offers a wide range of benefits that positively impact you and your family. Among the top benefits for employees in the U.S. are:
Tuition assistance up to $8K for undergraduate-level classes and certificate programs; $10K for graduate-level classes
Tuition assistance for pilot training
Vacation, Sick Leave and other Paid Time Off
Onsite wellness center & pharmacy in Wichita
Wellness program rewards
Company-paid Short-Term Disability
Free access to Sittercity Platform (pet care, day care, elder care)
Now is your chance to change your career path. This isn't just another job. Joining Textron Aviation is an opportunity to earn better pay and enjoy comprehensive work/life benefits that can enhance your life. Come feel the pride at txtav.com/careers.



MEXICAN IFLY UNIVERSITY TAKES DELIVERY OF A P2006T MKII PREMIUM EDITION



Tecnam announced today that the P2006T S/N 350 was delivered to iFly Academy in Merida, Mexico. iFly chose this modern twin engine to improve the MEP training and updating their twin fleet "with the most efficient and versatile aircraft of its category for multi - IFR training."


The Tecnam P2006T MkII is a twin-engine four-seat aircraft with fully retractable landing gear. Its simplicity, great performance, efficiency and ergonomics are what make this aircraft ideal for multi-engine training, as well as cross-country flying. The P2006T offers unbeatable value and innovative design with a modern Garmin avionics suite, integrating all primary flight, navigation, communication and terrain data on two high-definition LCDs. The aircraft is also equipped with an S-Tec 55x high-performance, two-axis autopilot, with advanced features.
Fitted with two Rotax 912S3 engines, the Tecnam P2006T exhibits remarkable fuel saving and can be operated on AVGAS and MOGAS 95 octane fuel, leading to huge cost reductions.
Acquiring the P2006T will allow iFly to offer more flight time and a quicker way to move through multi-engine ratings. The P2006T is ideal for flight training, as the aircraft has proved to be very un-stressful to fly, the controls are light to operate, and even with one inoperative engine, the pressure needed to cope with the asymmetric thrust is very low.
The P2006T MkII can compete even with a single engine aircraft on consumption, allowing, with just one platform, different ratings as Multi Engine Piston (MEP), Variable Pitch Propeller, EFIS, and retractable landing gear.
iFly looks forward to continuing its relationship with TECNAM Aircraft to further expand its single and multi-engine fleet.
"We are so delighted to have another Tecnam flying in Mexico. We see a great potential for aviation and we are proud that flight students would benefit from a modern and smart aircraft" says Tecnam's Chief Sales Officer, Walter Da Costa.
iFly Ceo and Founder, Julian Esquivel says: "We are proud of building from scratch a new relationship with TECNAM and we are even more proud of the hands and legacy that built our airplane. TECNAM is a beautiful Aviation Family and we are honoured to work with and connect Mexico to Italy in our industry.

VIRGINIA STATE POLICE ADDS BELL 412 EPI TO EMERGENCY SERVICES FLEET

From navigating Virginia's coastal plains, populous major cities, and the Blue Ridge Mountains, the Virginia State Police provides law enforcement and emergency services to more than 8.5 million people throughout the state. When their everyday mission brings diverse challenges, the Virginia State Police relies on their six Bell aircraft to successfully complete lifesaving missions.

Most recently, the Virginia State Police purchased a Bell 412 EPi to further support emergency medical missions, expanding their Helicopter Emergency Medical Services (HEMS) and search-and-rescue (SAR) operations.
Since the mid-1980s, the Virginia State Police Aviation Division operates out of one law enforcement base in Lynchburg, VA and two MedFlight base locations in Richmond, VA and Abingdon, VA. Both MedFlight bases serve more than 40 hospitals and partner with large-scale emergency service agencies such as Ballad Health, VCU Health, and Chesterfield Fire Department who provide flight nurses and paramedics for health services in-flight.
"The State Police Aviation Division is Virginia's only law enforcement agency with hoist capabilities," said Captain Shawn Rivard, Aviation Division Commander, Virginia State Police. "Having adequate aircraft to provide such an essential emergency service is critical to state police's ability to fulfil our rescue and medical response missions as safely and efficiently as possible."
The Bell 412 EPi will expand the Virginia State Police's emergency services fleet. With modern flight technology, pilots can use high-resolution maps and terrain data on four displays to easily navigate in challenging environments. This multi-mission ready aircraft has the capacity to seat up to 14 passengers, fitting all the crew and medical equipment needed for emergency missions.

ROSTEC TO EQUIP ANSAT HELICOPTERS WITH NEW GENERATION BLADES



Russian Helicopters Holding has developed a new generation of blades for the Ansat light multi-purpose helicopter. They are made using the latest technology from polymer composite materials and have improved aerodynamic properties. The use of modernised blades in the import substitution version of the rotorcraft will significantly improve its flight and technical characteristics.

Bench certification tests of prototypes of main and tail rotor blades are currently underway. The first flights with new blades will begin at the end of 2023, and mass production to equip the import substitution version of Ansat is planned to be launched in 2024.
"The development of our engineers should significantly improve the flight performance of the helicopter: the climb speed will increase, the flight speed in cruise mode will increase by 15 km/h to 235 km/h. Composite blades can be equipped not only for the delivered Ansats, but also for the machines that are already in operation - this possibility is being discussed now. Currently, various types of tests are being prepared to confirm the quality and reliability of the novelty," said Anatoly Serdyukov, industrial director of the aviation cluster of Rostec State Corporation.

LUXAVIATION EXPANDS ITS GLOBAL FLEET WITH THE ARRIVAL OF SIX AIRCRAFT



Luxaviation Group, one of the largest business aircraft and helicopter operators worldwide, is enjoying a summer of expansion, adding six aircraft to the company's global fleet.


Five of the aircraft - a Bombardier Global 5000, Cessna Citation CJ2, two brand new Cessna Citation CJ4 Gen2 and a Beechcraft King Air 260 - will be available for charter and a Bombardier Challenger 604 is being added to Luxaviation's privately managed fleet.
George Galanopoulos, Luxaviation UK's Chief Executive Officer and Head of Charter Sales, Europe, for the Luxaviation Group, says: "Such rapid expansion of our charter fleet shows how powerfully and confidently we are emerging from the shadow of the pandemic. Our ever-growing fleet offers increasingly diverse options to meet the mission demands of any customer.
"Whether supporting our charter flight clients, or managing the valuable and important private jet assets of owners, we always deliver the highest standards of safety, reliability, value and service."
Based in Dubai (United Arab Emirates), the Bombardier Global 5000 offers charter customers an extremely appealing combination of endurance, payload and comfort. The jet can carry up to 12 passengers. With a range of 4,900 nautical miles, the Global 5000 will be able to fly routes such as Dubai to Perth in Western Australia and London-Los Angeles (California).
The Cessna Citation CJ2 is an ideal option for small groups with light luggage, flying for up to three hours. Efficient and competitively priced, the jet is one of the most popular charter aircraft in Europe and Luxaviation's CJ2 will be based in Baden-Baden (Germany).

THE BRAZILIAN ARMED FORCES ACQUIRE 27 H125 HELICOPTERS



The Brazilian armed forces, through the Combat Aircraft Programme Co-ordinating Committee (COPAC), have acquired 27 single engine H125 helicopters to boost the training capacity of the Brazilian Navy and the Air Force.

The H125 will be produced in the H125 final assembly line located in Itajubá, Brazil at Helibras' factory where the H225Ms for the Brazilian armed forces are also assembled. These new helicopters will replace the ageing AS350 and Bell 206 helicopters currently in service with the Brazilian Air Force and the Brazilian Navy respectively.
"This joint procurement contract represents the realisation of a project that will equip both the Brazilian Air Force and Navy with modern aircraft that will meet the needs of the Forces for the next 30 years" said Commander of the Air Force, Lieutenant Brigadier Carlos de Almeida Baptista Junior.
"Airbus Helicopters is proud to see the H125 supporting the training of the next generation of pilots of the Brazilian armed forces. The H125 is a versatile helicopter used widely in both the civil and military markets as a training platform thanks to its ruggedness, reliability, and easy maintenance. We are honoured by the continued confidence of the Brazilian armed forces after more than 40 years of co-operation," said Bruno Even, CEO of Airbus Helicopters.
The new H125 helicopters will have a G500H TXi double glass cockpit and VEMD (Vehicle & Engine Multifunction Display) and will be compatible with the use of night vision goggles (NVG). They will also include different types of mission equipment such as a winch and a hook so that the training of future pilots is as representative of their missions as possible.
The Brazilian armed forces currently operate a total of 156 Airbus helicopters deployed from its eight bases across the country. Its fleet ranges from the light single engine Ecureuil family to the multi-purpose heavy H225M helicopter, 67 and 41 helicopters respectively, to cover a wide array of missions such as tactical transport, search and rescue missions, and civil population support.
The worldwide best-selling H125 has accumulated more than 37 million flight hours with more than 5350 helicopters currently in operation. The model, known for its robustness and versatility, is widely used in high-performance missions.
EMBRAER'S C-390 MILLENNIUM DEBUTS AT THE NATO DAYS EVENT IN THE CZECH REPUBLIC

Embraer's C-390 Millennium multi-mission aircraft will debut at the NATO Days event, which takes place from September 17 to 18 in Ostrava, Czech Republic. In addition to the aircraft, Embraer will disclose its complete portfolio for the defence and security markets, with innovative products and solutions that are present in more than 60 countries.

Recently, Embraer successfully completed flight testing of the Modular Airborne Fire Fighting System (MAFFS II) certification campaign, which provides the C-390 Millennium with the required capability to perform firefighting missions.
The C-390 Millennium and its aerial refuelling configuration, the KC-390, are the new generation of multi-mission military transport delivering unrivalled mobility and cargo capacity, rapid re-configuration, high availability, enhanced comfort, as well as optimal management of reduced operational costs throughout its lifecycle, all on a single platform.
Since the first delivery to the Brazilian Air Force (FAB), the KC-390 Millennium has proven its capability, reliability, and performance. FAB's current fleet of KC-390 stands at five units. The fleet has already exceeded 6,800 flight hours in operation, with a 99% mission completion rate and more than 80% of operational availability, demonstrating excellent availability and productivity in its category.
In June 2022, the Netherlands Ministry of Defence announced the selection of the C-390 Millennium to replace the current fleet of C-130 Hercules. The Netherlands, which will have a fleet of five C-390s, highlighted the aircraft's performance and operational output in the selection.
The Portuguese Armed Forces and the Hungarian Defence Forces will begin operations with the KC-390 in 2023 and 2024, respectively. The two countries' fleets will be capable of performing aerial refuelling and be fully NATO compatible, not only in terms of hardware, but also in avionics and communications. The Hungarian Defence Forces fleet will be the first in the world to have the Intensive Care Unit configuration, an essential feature for carrying out humanitarian missions.


USA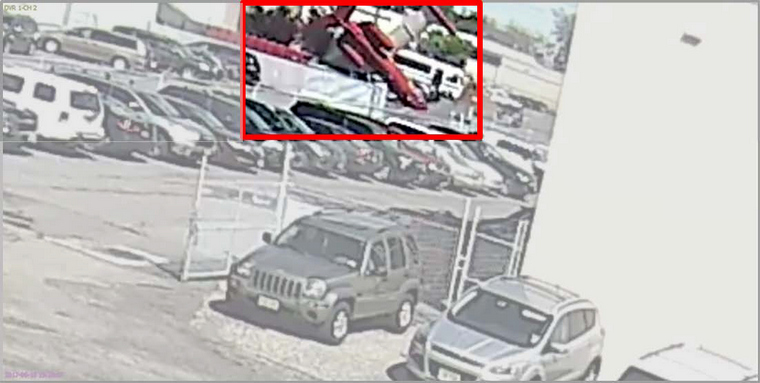 Departure From Controlled Flight Trans-Pacific Air Charter, LLC Learjet 35A

On May 15, 2017, about 15:29 eastern daylight time, a Learjet 35A, N452DA, departed controlled flight while on a circling approach to runway 1 at Teterboro Airport (TEB), Teterboro, New Jersey, and impacted a commercial building and parking lot. The pilot-in-command (PIC) and the second-in-command (SIC) died; no one on the ground was injured. The airplane was destroyed by impact forces and post-crash fire. The airplane was registered to A&C Big Sky Aviation, LLC, and was operated by Trans-Pacific Air Charter, LLC, under the provisions of Title 14 Code of Federal Regulations (CFR) Part 91 as a positioning flight. Visual meteorological conditions prevailed, and an instrument flight rules flight plan was filed. The flight departed from Philadelphia International Airport (PHL), Philadelphia, Pennsylvania, about 15:04 and was destined for TEB.
The accident occurred on the flight crew's third and final scheduled flight of the day; the crew had previously flown from TEB to Laurence G. Hanscom Field (BED), Bedford, Massachusetts, and then from BED to PHL. The PIC checked the weather before departing TEB at about 07:32; however, he did not check the weather again before the flight from PHL to TEB despite a company policy requiring that weather information be obtained within 3 hours of departure. Further, the crew filed a flight plan for the accident flight that included altitude (27,000 ft) and time en- route (28 minutes) entries that were incompatible with each other, which suggests that the crew devoted little attention to pre-flight planning. The crew also had limited time in flight to plan and brief the approach, as required by company policy, and did not conduct an approach briefing before attempting to land at TEB.
Cockpit voice recorder data indicated that the SIC was the pilot flying (PF) from PHL to TEB, despite a company policy prohibiting the SIC from acting as PF based on his level of experience. Although the accident flight was likely not the first time that the SIC acted as PF (based on comments made during the flight), the PIC regularly coached the SIC (primarily on checklist initiation and airplane control) from before take-off to the final seconds of the flight. The extensive coaching likely distracted the PIC from his duties as PIC and pilot monitoring, such as executing checklists and entering approach waypoints into the flight management system.
Collectively, procedural deviations and errors resulted in the flight crew's lack of situational awareness throughout the flight and approach to TEB. Because neither pilot realised that the airplane's navigation equipment had not been properly set for the instrument approach clearance that the flight crew received, the crew improperly executed the vertical profile of the approach, crossing an intermediate fix and the final approach fix hundreds of feet above the altitudes specified by the approach procedure.
The controller had vectored the flight for the instrument landing system runway 6 approach, circle to runway 1. When the crew initiated the circle-to-land manoeuvre, the airplane was 2.8 nautical miles (nm) beyond the final approach fix (about 1 mile from the runway 6 threshold) and could not be maneuvered to line up with the landing runway, which should have prompted the crew to execute a go-around because the flight did not meet the company's stabilised approach criteria. However, neither pilot called for a go-around, and the PIC (who had assumed control of the airplane at this point in the flight) continued the approach by initiating a turn to align with the landing runway. Radar data indicated that the airplane's airspeed was below the approach speed required by company standard operating procedures (SOPs). During the turn, the airplane stalled and crashed about 1/2 nm south of the runway 1 threshold.
What We Found
?The National Transportation Safety Board determines that the probable cause of this accident was the pilot-in-command's (PIC) attempt to salvage an un-stabilised visual approach, which resulted in an aerodynamic stall at low altitude. Contributing to the accident was the PIC's decision to allow an unapproved second-in-command to act as pilot flying, the PIC's inadequate and incomplete pre-flight planning, and the flight crew's lack of an approach briefing. Also contributing to the accident were Trans-Pacific Jets' lack of safety programs that would have enabled the company to identify and correct patterns of poor performance and procedural noncompliance and the Federal Aviation Administration's ineffective Safety Assurance System procedures, which failed to identify these company oversight deficiencies.
What We Recommended
To the Federal Aviation Administration:
Require all Title 14 Code of Federal Regulations Part 135 operators to establish programs for flight crewmembers who have demonstrated performance deficiencies or experienced failures during training and administer additional oversight and training to address and correct performance deficiencies. (A-19-7)
Develop guidance for Title 14 Code of Federal Regulations Part 135 operators to help them create and implement effective crew resource management training programs. (A-19-8)
Review operators' Learjet 35A operations manuals to determine whether they contain manufacturer-recommended approach speed wind additives and encourage those operators without that information to add it to their operations documents. (A-19-9)



South Africa, O. R. Tambo International Airport: Two aircraft, one Boeing 737-306 of ECAIR were damaged at Johannesburg's OR Tambo Airport following a grass fire that spilled over from an adjacent community and onto the airport's property. Fire and rescue teams were onsite to extinguish the blaze.
Oman, Muscat International Airport: An Air India Express Boeing 737-8HG with 141 on board was evacuated on a taxiway at Muscat International Airport. The aircraft had taxied onto the runway for departure, but subsequently vacated the runway after the pilot of another aircraft observed fumes from one of the engines. However, there was no fire indication on the flight deck. The aircraft was stopped on a taxiway and the flight crew activated the engine fire extinguishing bottle(s). An evacuation was then carried out, in which fourteen passengers were injured.

USA, S of Erie Municipal Airport, CO: A Piper PA-28R-180 Cherokee Arrow with two on board, after take-off experienced engine issues and sustained substantial damage subsequent to impact with retention pond terrain south of Erie Municipal Airport (EIK/KEIK), Erie, Colorado. The two occupants onboard were not injured.
Belgium, Ostend-Bruges International Airport: A F-16B-20-MLU Fighting Falcon of the 10th Tactical Wing, Belgium Air Component was on a training sortie out of the Kleine Brogel Air Base. While on an approach into Koksijde Airport, the aircraft was hit by lightning, causing an onboard electrical failure. The approach was aborted and the Emergency Power Unit was activated. A precautionary landing was made at Ostend-Bruges International Airport, necessitating a temporary stop of local traffic and diversion of two inbound commercial flights to Brussels International Airport.

USA, SE of Conway, Horry County, SC: A Piper PA-28R-201 Arrow III with two on board, following a reported loss of engine power, crashed in a wooded area at the Solid Waste Authority, southeast of Conway, Horry County, South Carolina. The two occupants died and the aircraft was destroyed.
UK, Wellesbourne Mountford Airfield (EGBW), Warwickshire: An Avro Vulcan B.2 XM655 suffered a runway excursion at Wellesbourne Mountford Airfield (EGBW), Warwickshire in preparation for a high-speed taxi during a public display scheduled for a few days later. After satisfactorily completing low speed steering and braking tests on runway 05/23, the aircraft was taken onto runway 18/36 for a trial high speed run. Due to a malfunction of a piece of equipment in the cockpit, the aircraft remained at full power for approximately two seconds longer than intended. This resulted in excessive speed and less distance in which to stop, and the aircraft passed beyond the end of the runway on to the agricultural area, stopping just before the airfield perimeter. The failed equipment was an air speed indicator which had been tested and found satisfactory six days ago, and which started working normally before the end of the run. The aircraft brakes worked properly but were unable to bring things to a halt within the reduced space available. The aircraft came to rest in mud alongside the B4086 Wellesbourne to Stratford Road. There were no reported injuries related to the incident.

USA, Reno Stead Airport, Reno, An Aero Vodochody L-29 Delfin "Ballista", impacted the ground during the Reno Air Races Jet Class Race at Reno Stead Airport (RTS/KRTS), Reno, Nevada. The sole pilot Aaron Hogue died and the aircraft was destroyed.



9 SEPTEMBER 1913

The first pilot to fly a loop: Pyotr Nesterov in a Nieuport IV.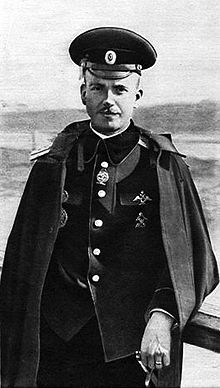 Nesterov was born on 15 February 1887 in Nizhny Novgorod, In August 1904, he left the military school in Nizhny Novgorod and went to Mikhailov artillery academy in St Petersburg. He became a second lieutenant and served in the 9th East Siberian Artillery Brigade in Vladivostok.
In 1909, Nesterov came into contact with aviation when he was posted to a balloon observation regiment as an observer. In 1911 he built his first glider and learned to fly it, before entering flight training at the St. Petersburg aviation school at Gatchina in June, graduating 11 October 1912. A short time later he also passed the examination to be a military pilot. In May 1913 he became leader of an aviation detachment in Kiev, completing night flights at that time.
Nesterov believed an aircraft could fly a loop, a feat not previously performed. Despite the doubts of his peers, Nesterov proved his theory on 9 September 1913 and became the first pilot to fly a loop. This was done in a Nieuport IV monoplane over Syretzk Aerodrome near Kiev, in front of numerous watchers. For this he was disciplined with ten days of close arrest, ostensibly "for risking government property". His achievement made him famous overnight and when the feat was officially done by the famous French pilot Adolphe Pégoud, the punishment was reversed; he was promoted to staff captain and later awarded a medal.
Aircraft were still unarmed at this early stage, and Nesterov became the first pilot to destroy an enemy airplane in flight. During the Battle of Galicia on 25 August 1914 after trying various methods on previous occasions unsuccessfully, he used his Morane-Saulnier Type G to ram the Austrian Albatros B.II reconnaissance aircraft of observer Baron Friedrich von Rosenthal and pilot Franz Malina from FLIK 11. Eager to destroy enemy aircraft, he probably intended to hit it with a glancing blow but damaged his own aircraft as much as the enemy's and both planes crashed. As was common for the time, Nesterov was not strapped in and he fell from his plane, dying of his injuries the next day. The Austrian pilot and observer also died. The town of Zhovkva, located near the battle, was renamed Nesterov in his honour in 1951.

Google Banner Ad