Compiled by Willie Bodenstein




Google Banner Ad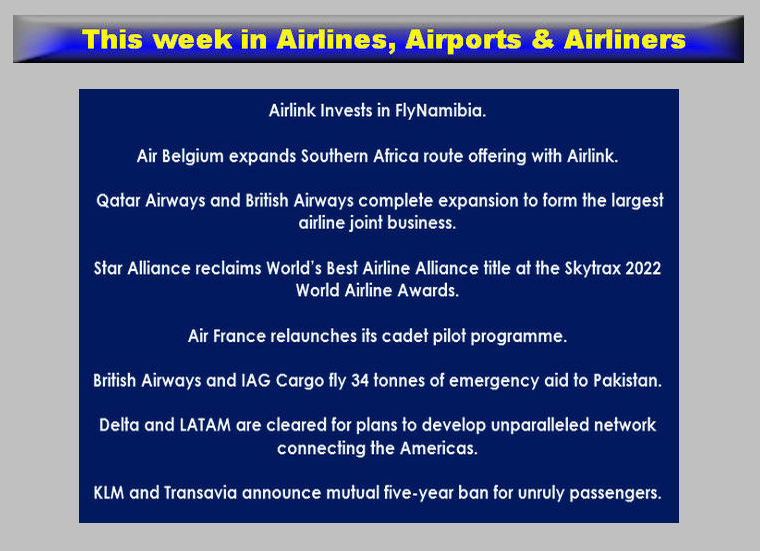 AIRLINK INVESTS IN FLYNAMIBIA






We are acquiring a 40 percent strategic equity holding in privately-owned Windhoek-based FlyNamibia in an investment which will accelerate Namibia's post-pandemic recovery and drive the expansion of efficient scheduled airline services to, from and within Namibia.


Through this venture, Airlink and FlyNamibia will support Namibia's National Transport Policy vision by providing safe, reliable, effective, efficient and affordable air transport with world-class service levels. By enhancing productivity in economic sectors and developing complementary engines of growth, it is also aligned with the Economic Advancement objectives set out under Namibia's Harambee Prosperity Plan II for 2021-2025.
The investment, worth an undisclosed monetary sum, is underpinned by a commercial franchise agreement under which FlyNamibia will adopt Airlink's "4Z" International Air Transport Association (IATA) designator for its ticket sales and scheduled flights, while retaining its unique corporate identity, brand and aircraft livery. It will also see FlyNamibia's inventory attaining higher visibility and being promoted on Airlink's computerised reservation system and on those of major foreign airlines which have partnered with Airlink.
The changes will come into effect as soon as practicable, after which all existing bookings for FlyNamibia flights will be amended at no cost or inconvenience to customers.
Airlink will also provide additional airline operations, technical and commercial skills training and development support for FlyNamibia.
"Namibia is unique, not only in its natural, mineral and human wealth, but its relatively small population relative to the size of its territory. With this in mind, we will be well-placed to achieve the economies of scale to make it economically feasible to connect and serve Namibia's smaller towns and cities with Windhoek and other regional destinations while also providing convenient and easy access to other markets around the world. This will also support our and Namibia's shared longer-term ambition to establish Hosea Kutako International Airport as the central connecting hub and base. In doing so, we will help to make air travel and transport more efficient and enhance Namibia's competitive position as a destination for trade and tourism," explained Airlink Chief Executive and Managing Director, Rodger Foster.
"Namibia's economy is expanding and has the potential to grow rapidly with new off-shore drilling and mining, the resurgence in tourism and its establishment as a pioneering producer of green hydrogen for the global energy market. To realise its full economic potential, Namibia will depend increasingly upon air connectivity to move people and goods between markets. By joining hands with Airlink and becoming part of its global network, we will be even better able to serve foreign and local tourists and businesses. In addition, we will be building capacity, developing aviation skills and creating direct and indirect job opportunities," said FlyNamibia Managing Director, Andre Compion.
From its Johannesburg hub, Airlink serves Windhoek up to four times a day and Walvis Bay daily. In addition, from Cape Town, Airlink operates up to three return flights a day to Windhoek and a daily return service to Walvis Bay.
FlyNamibia currently operates domestic flights from Windhoek's Eros Airport to Ondangwa, Rundu and Katima Mulilo and regional flights to Cape Town operating six times a week from Hosea Kutako International Airport.
Airlink and FlyNamibia will optimise their schedules to provide the most convenient connections between their respective flights and with long-haul inter-continental flights provided by Airlink's other commercial partners, which include more than 20 of the world's leading global airlines.
About FlyNamibia
FlyNamibia is an independent airline providing domestic and regional flights. It began scheduled passenger operations in June 2019 after it was granted carrier status by the Namibian Transport Commission.
FlyNamibia is a division of Westair Aviation, which was established in 1967, initially as an aircraft maintenance facility, but which evolved into Namibia's most experienced aviation company.
Google Block Ad




AIR BELGIUM EXPANDS SOUTHERN AFRICA ROUTE OFFERING WITH AIRLINK






Air Belgium has signed a new commercial agreement with South Africa's independent and premier airline, Airlink, which conveniently connects customers travelling to or from Brussels, with 36 destinations across Southern Africa.



This follows the recent inauguration of Air Belgium's new service between Brussels, Johannesburg, and Cape Town, using the fuel-efficient Airbus A330neo aircraft.
This first cooperation agreement between both companies offers Air Belgium customers the ability to purchase multi-sector journeys for flights operated by Air Belgium and Airlink, on a single ticket. It includes the added ability to have their luggage checked through to their final destination when transiting through Johannesburg.
It simplifies travel to bucket-list Southern African destinations for Air Belgium customers across the Airlink network, wanting a convenient long-haul service between the heart of the European Union's capital and South Africa plus 11 neighbouring Countries.
Commenting on the agreement, Niky Terzakis, CEO Air Belgium, says: "South Africa is in high demand for Belgian and European travellers. We are delighted that our dynamic agreement with Airlink will allow us to offer our customers seamless connections to 12 popular South African leisure and business destinations such as the Kruger National Park, Durban and Gqeberha (formerly known as Port Elizabeth) as well as important business destinations like Kimberley, Bloemfontein and Richards Bay amongst others. We're also excited to be able to offer our passengers the possibility to travel to bucket-list destinations within the SADC region as well as the DRC."
"Choice, reliability, top quality service and convenience are Airlink hallmarks. Through this cooperative arrangement with Air Belgium, Airlink offers inbound business and leisure travellers an unmatched choice of onward connections across our entire network, which spans 36 destinations in 11 sub-Saharan countries. Similarly, we now offer convenient connections through Johannesburg and Cape Town, to Belgium, which, besides hosting the EU capital, is a leading gateway for visitors to Europe. It is also the heart of the international diamond trade and an important centre for industrial manufacturing, making it a crucial trading partner for many of the markets and countries we serve," explained Airlink CEO and Managing Director, Rodger Foster.
Google Banner Ad




QATAR AIRWAYS AND BRITISH AIRWAYS COMPLETE EXPANSION TO FORM THE LARGEST AIRLINE JOINT BUSINESS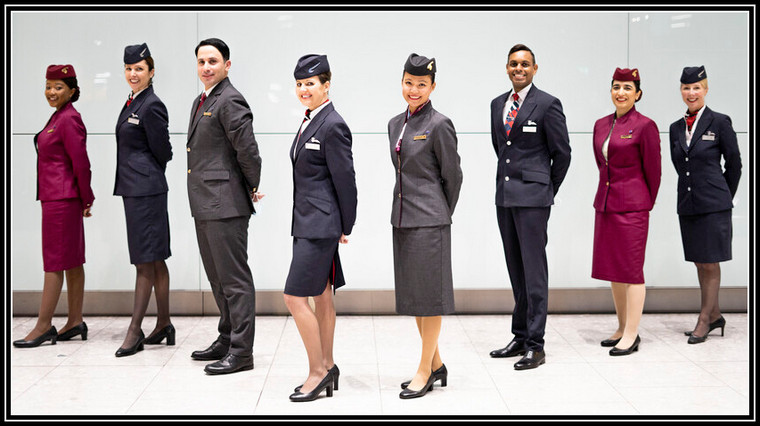 Qatar Airways and British Airways have completed the latest phase in the expansion of their partnership, offering global connectivity between more countries than any other airline joint business.


The airlines have added 42 new countries to their shared network, including Italy, the Maldives, Norway, Singapore, and Sweden -- giving passengers enhanced access between destinations in Europe and the Middle East, Africa, Asia and Oceania. Customers will now benefit from even greater choices in prices and schedules with options for direct flights as well as connections via hubs in London and Doha. This is all part of Qatar Airways and British Airways' plan to "Move Further Together" by enhancing the joint network and providing passengers with the best of both airlines.
The expansion will enable seamless connecting journeys on single tickets through Doha, the World's Best Airport, and London, bringing the total number of destinations served by the two airlines to 185 across more than 60 countries. The complementary networks uniquely access dozens of countries that no other alliance or joint business provides. The partnership also ensures access to more cities around the world than ever before, continuing to support global trade, tourism, investment, and cultural connection.
Additionally, customers will have more freedom to engage with both airlines' loyalty programmes, earning and spending Avios, their common currency. Customers are able to seamlessly link their Qatar Airways Privilege Club and British Airways Executive Club accounts to transfer Avios between the two and combine balances to claim rewards offered by each programme. The collaboration also offers access to both airline's exclusive lounges and cabins to suit all budgets and needs, including British Airways' new Club Suite and Qatar Airways' award-winning Qsuite.
Qatar Airways Group Chief Executive, His Excellency Mr. Akbar Al Baker, said: "The growing collaboration between Qatar Airways and British Airways shows our customers our common goal to offer an unparalleled network with unique benefits. Travellers can now experience the best in quality and service as they travel across our joint network. The joint business between our airlines cements both Qatar Airways and British Airways as industry leaders, aiming to provide the utmost flexibility and unrivalled connectivity to our customers."
Sean Doyle, Chairman and Chief Executive Officer for British Airways said: "This is a huge milestone in our long-standing relationship with Qatar Airways, an airline that shares our passion for customer service, choice and flexibility.
"From idyllic holiday hotspots such as the Maldives and Thailand, to business hubs such as Singapore, we are pleased to open up the world as the travel industry continues to make steps towards its recovery."
Cooperation on a small number of routes remains subject to pending regulatory clearances.
STAR ALLIANCE RECLAIMS WORLD'S BEST AIRLINE ALLIANCE TITLE AT THE SKYTRAX 2022 WORLD AIRLINE AWARDS







Star Alliance has reclaimed the title of World's Best Airline Alliance at the prestigious Skytrax 2022 World Airline Awards. The Alliance's famed Los Angeles lounge has also retained the award for World's Best Airline Alliance Lounge for the sixth year running. The awards were received by Star Alliance CEO Jeffrey Goh at a ceremony held at the historic Langham Hotel in London.



Commenting on the win, Mr Goh said: "We are elated to learn that millions of flyers around the world have put their trust in Star Alliance yet again and have recognised the exceptional value the alliance offers through their journey. As we celebrate our 25th anniversary this year, the recognition means even more to us."
Mr Goh also took this opportunity to thank the unwavering efforts of the team and continued: "As we navigate through one of the most difficult periods for our industry, it is the grit and hard work of the Star Alliance team and the staff of our member carriers that has enabled seamless travel despite constantly changing environment. I receive this honour on their behalf."
Star Alliance is dedicated to a multi-dimensional strategy to elevate customer experience, built on the pillars of digitalisation of the journey, unmatched loyalty benefits and industry-first innovations. Recently Star Alliance extended its network with the Intermodal Partnership model, which intelligently combines air travel with other transport ecosystems. Launched in July 2022 with the German rail network, Deutsche Bahn, passengers can conveniently book combined air and rail journeys on a single ticket.
Known as "the Oscars of the aviation industry", the Skytrax World Airline Awards are independent and impartial awards decided through international customer voting. Passengers with over 100 nationalities participated in the 2021-22 survey, with 14.32 million eligible entries counted in the results. The survey was also provided in six major international languages.
Back in 2005 when the World's Best Airline Alliance category was introduced, Star Alliance was the first alliance to achieve the title, winning it multiple times in the following years. More recently, it held the top position for four consecutive years 2016-2019.
Edward Plaisted CEO of Skytrax said: "We congratulate Star Alliance and its member carriers on the award for the World's Best Airline Alliance once again, voted for by passengers across the globe. We also congratulate them on the coveted Best Airline Alliance Lounge recognition for the Los Angeles International Airport, sixth year running. This is a great achievement for the alliance and a great source of pride for all stakeholders."
Complementing the Alliance awards, eight Star Alliance member carriers received top ranks in 28 award categories this year, ranging from World's Best First Class and World's Best Airline Cabin Cleanliness to several best regional airline awards.
About Star Alliance
The Star Alliance network was established in 1997 as the first truly global airline alliance, based on a customer value proposition of global reach, worldwide recognition and seamless service. Since inception, it has offered the largest and most comprehensive airline network, with a focus on improving customer experience across the Alliance journey.
The member airlines are: Aegean Airlines, Air Canada, Air China, Air India, Air New Zealand, ANA, Asiana Airlines, Austrian, Avianca, Brussels Airlines, Copa Airlines, Croatia Airlines, EGYPTAIR, Ethiopian Airlines, EVA Air, LOT Polish Airlines, Lufthansa, Scandinavian Airlines, Shenzhen Airlines, Singapore Airlines, South African Airways, SWISS, TAP Air Portugal, THAI, Turkish Airlines and United.
Overall, the Star Alliance network currently offers more than 10,000 daily flights to almost 1,200 airports in 184 countries. Further connecting flights are offered by Star Alliance Connecting Partners Juneyao Airlines and THAI Smile Airways.
Google Banner Ad
AIR FRANCE RELAUNCHES ITS CADET PILOT PROGRAMME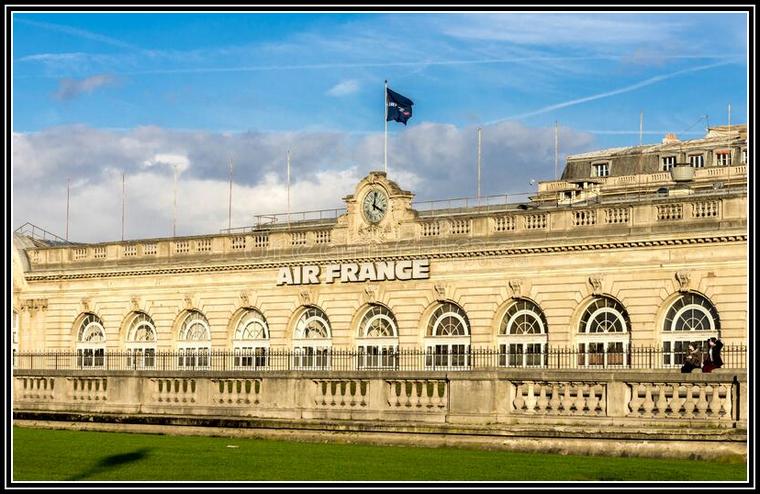 Suspended since the Covid crisis, the Air France cadet pilot programme is set to reopen with new recruitments by the end of the year. At the end of a rigorous selection process, the candidates will receive a comprehensive training programme entirely financed by Air France. They will join a training school for a 24-month theoretical and practical flight training course that includes several assessments. Candidates who successfully pass the various stages will join Air France or its subsidiary Transavia as First Officers.


The cadet pilot programme is open to candidates without any previous flight experience. It is designed to inspire professional vocations among candidates from all backgrounds and to promote diversity. With 13% of female cadets in the 2019 programme versus 9% of female pilots at the company, the cadet programme encourages women to access technical professions and illustrates Air France's commitment to equal employment opportunities.
The online application process will be open from 15 October to 20 November 2022 on the corporate.airfrance.com website.
On-going recruitment of trained and experienced pilots with the ramp up of capacity, Air France also resumed the recruitment of trained and experienced pilots in 2021. 300 newly recruited pilots joined the company since the beginning of the year, to be joined by an additional 100 hires by end of 2022.
BRITISH AIRWAYS AND IAG CARGO FLY 34 TONNES OF EMERGENCY AID TO PAKISTAN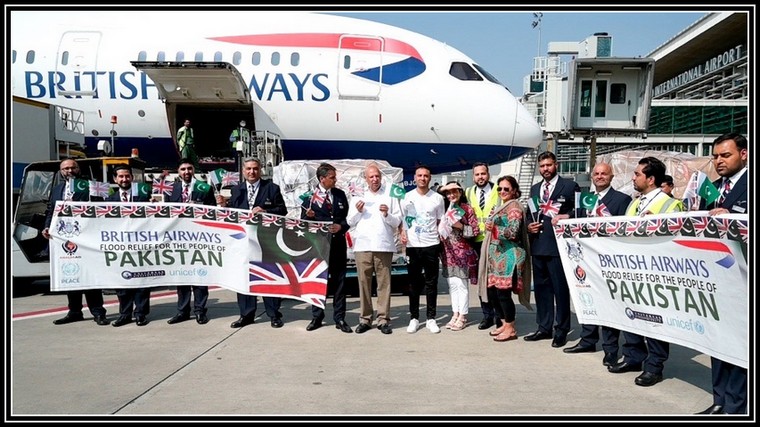 British Airways and IAG Cargo are proud to be flying 34 tonnes of emergency aid to Islamabad, Pakistan, following the devastating humanitarian crisis caused by floods across the country. More than 33 million people (around 15% of Pakistan's population), have been affected by the floods and nearly half a million people have been displaced.

The government of Pakistan estimates that a third of the country, an area the size of the UK, is underwater. Schools, roads, crops and livelihoods have been devastated and conditions are expected to worsen as the rains continue, leaving communities without food, clean drinking water and shelter.
The largest consignment of aid that has been flown out, more than eight tonnes was transported on Sunday 25 September, including non-perishable food, tents, clothing and much needed medical supplies. The flight was operated by a team of specially selected cabin crew who all have a personal connection to Pakistan. All aid, carried for free by British Airways and IAG Cargo, has been donated by key charity partners, including Football for Peace and Khalsa Aid. A further 21 tonnes of aid will be flown to Pakistan over the next few weeks. In addition to sending aid supplies, the airline has also been working with the Disasters Emergency Committee (DEC) to help aid workers get to Pakistan to help with the crisis.
Carrie Harris, British Airways' Director of Sustainability, said: "We're all deeply saddened by the humanitarian crisis in Pakistan and our thoughts are with everyone affected. As well as working with IAG Cargo to offer the free transportation of vital emergency aid, we have also redirected the funds raised from our on-board collection envelopes to support the relief efforts in Pakistan. In just four weeks our customers and colleagues have generously helped raise more than £176,000 for the DEC's Pakistan Flood Appeal. Colleagues across the airline have been donating via Payroll Giving. We're continuing to work through all our community investment channels to offer further support where it's needed."
John Cheetham, Chief Commercial Officer at IAG Cargo, added: "We have all seen the devastating impact of the horrendous floods in Pakistan that are impacting the lives of so many. The air cargo industry has always played a key role in providing the rapid response humanitarian crises require and I'm pleased that with the support of the teams at IAG Cargo, British Airways, and charities including Khalsa Aid and Football for Peace we're able to contribute towards the significant relief being given to those in need."
British Airways' BA Better World sustainability programme includes a commitment to build on the airline's long track record of community investment including helping communities with this sort of emergency response. For more than 30 years, the airline has supported projects and charities in times of crisis across the world, including working with the Disasters Emergency Committee since 2013 to raise more than £1.7 million and raising upwards of £26 million for Comic Relief through Flying Start with the help of customers and colleagues.
DELTA AND LATAM ARE CLEARED FOR PLANS TO DEVELOP UNPARALLELED NETWORK CONNECTING THE AMERICAS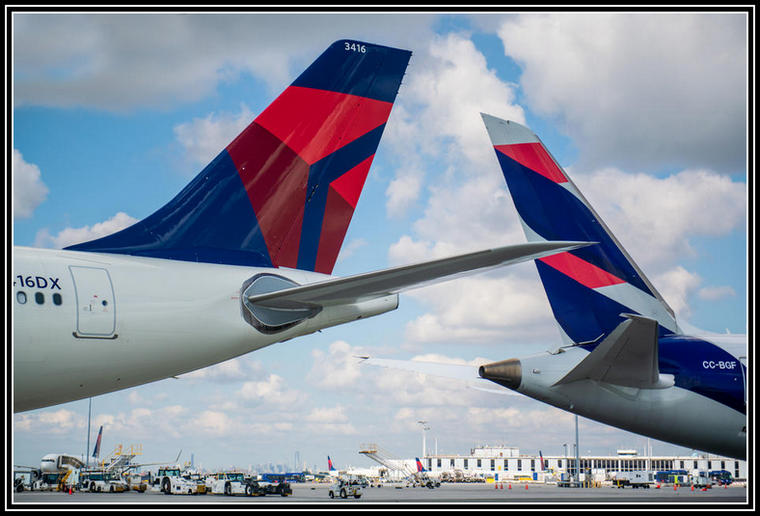 Delta Air Lines and the LATAM Group will work closely to create the leading airline partnership between the United States/Canada and South America (Brazil, Chile, Colombia, Paraguay, Peru and Uruguay) and connect the Americas to the world like never before with access to more than 300 destinations, after the U.S. Department of Transportation granted final approval to their Joint Venture.


Once implemented, the approval enables Delta and LATAM Airlines Group, LATAM Airlines Brazil, LATAM Airlines Colombia, LATAM Airlines Peru and LATAM Airlines Paraguay to begin the work of unlocking new customer and cargo benefits - including enhanced service and expanded route offerings - that will add to the codeshare routes and reciprocal loyalty benefits already in place. More details on the benefits of the partnership will be shared in the coming months.
"Delta's partnership with LATAM will help grow the market between North and South America and provide significant and much-needed benefits for customers and we applaud the DOT for this final approval," said Ed Bastian, Delta's Chief Executive Officer. "Now, we'll get to work with LATAM to transform the travel experience for our collective customers and create new opportunities for our employees."
"The approval by the DOT will give rise to the start of work with Delta to deliver more and better benefits to LATAM and Delta customers, such as faster connections and the joint accrual of miles in frequent flyer programs, among many others. I am sure that, over time, we will be able to offer the best connections, while incorporating a sustainable view of the future," said Roberto Alvo, CEO of LATAM Airlines Group.
Delta and LATAM announced in 2019 that they would form the leading airline partnership throughout the Americas, with the goal of significantly expanding travel choices across North and South America and offering an industry-leading customer experience. Since then, the partners have achieved a number of milestones that include mutual frequent flyer mile accumulation/redemption; reciprocal elite frequent flyer benefits; shared terminals at hub airports like New York JFK, S"o Paulo, Brazil and Santiago, Chile and mutual access to 53 Delta Sky Club lounges in the United States and five LATAM Lounges in South America, including Delta's new show-stopping Sky Club in Los Angeles and the new LATAM Lounge Santiago de Chile, the largest customer lounge in South America.
In 2020, Delta and LATAM introduced their first codeshare services in South America and in 2021 expanded codeshare services to 20 U.S.-South America routes plus connections to a broad range of domestic and regional destinations from their hubs in Atlanta, New York, Los Angeles, Santiago, Lima, Bogota and S"o Paulo, improving connectivity between the two regions.
The JOINT Venture between Delta and LATAM brings together two leading global brands committed to innovation; to continuously improving the customer experience; to diversity, equity and inclusion and to caring for the environment. Throughout the pandemic, the airlines never wavered on their customer-first approach and implemented health and safety measures to keep their employees and customers safe, while also offering flexible travel policies for peace of mind. Delta and LATAM are committed to advancing their goals toward a more sustainable future.

KLM AND TRANSAVIA ANNOUNCE MUTUAL FIVE-YEAR BAN FOR UNRULY PASSENGERS






KLM and Transavia announce mutual five-year ban for unruly passengers KLM and Transavia share data on passengers placed on the No Fly List for disruptive behaviour on board or on the ground, since 29 September. Both airlines will ban unruly passengers for five years, regardless of which airline operated the flight in question. This makes KLM and Transavia the first airlines in the world to share data on unruly passengers. The two airlines are also calling on politicians and policymakers in the Netherlands and abroad to make it possible to share such data with other airlines.

Extending a Transavia ban to KLM and vice versa widens the scope of the no-fly measure. It means that passengers on KLM or Transavia flights who are placed on the No Fly List are less likely to jeopardise flight safety on flights operated by the other airlines. The aim is to improve flight safety, with the mutual ban also serving as a deterrent.
"
There is an urgent need for this intervention. Safety on board is a top priority. Unruly passengers have a major impact on other passengers and our staff. Any form of physical violence towards crew or passengers is unacceptable. Such behaviour also leads to delays, which is very annoying for passengers and expensive for airlines.
Paul Terstegge, Executive Vice President Inflight Services KLM
"We stand up for our employees and our passengers and safety on board is always our top priority. When someone on board misbehaves, you end up with a very threatening situation in a very confined space, whether we're talking about physical violence or sharing threatening images via Airdrop, for example. This has been happening more often, most recently on a flight to Croatia. What might be meant as a 'joke' causes huge distress to passengers, including children and we consider it unacceptable for our crews as well. Banning such individuals for five years from both Transavia and KLM makes a strong statement and reflects the hazardous situation they have caused".
Daan Pijzel, VP of Cabin Operations at Transavia
Rise in complaints about unacceptable behaviour
"Unacceptable behaviour during flights is a growing problem. The number of complaints about unruly passengers increased during the pandemic. KLM currently records an average of five complaints leading to a ban every month, while Transavia bans at least one passenger a month. Although the number of complaints declined after the corona pandemic, airlines are seeing another surge. Unruly behaviour at high altitudes can have a major impact on passengers and crew".
Complex regulations
KLM and Transavia have examined in-depth how they can best share No Fly Lists with each other. It took a long time because, although the two airlines are members of the same group, they found themselves dealing with complex and sometimes confusing regulations. Even so, they have managed to align their policies and processes so that they can share banned-passenger data while respecting existing privacy rules. The new measure is only the first step towards sharing No Fly List data. The challenge now is to take this a step further in the Netherlands and, perhaps, across Europe.
Calling on politicians and authorities
The growing number of incidents combined with their severity and impact has prompted Transavia and KLM to explore whether airlines can share more data among themselves to promote flight safety. They have begun by calling on politicians and authorities to create more legal and other options for airlines to share No Fly List data, at least within national borders.
In time, such efforts should focus on developing a set of international rules and on harmonisation. After all, the issue of unacceptable passenger behaviour transcends airlines and national borders and is critical to improving safety in the air. Unfortunately, legislation is lacking in many countries or the regulations are so fragmented that it is impossible to share data in a manner that promotes flight safety.
Google Banner Ad