Google Banner Ad
Designed by Mario Castoldi the Macchi M.C. 72, an experimental seaplane focused on speed and on winning the Schneider Trophy, was one of a series of seaplanes developed by Macchi Aeronautica.
In 1926 the company had won the trophy with the M.39, which attained a top speed of 396 km/h (246 mph). Further aircraft, the M.52, M.52R and the M.67, were designed and built but victory in the Schneider races kept eluding the Italians.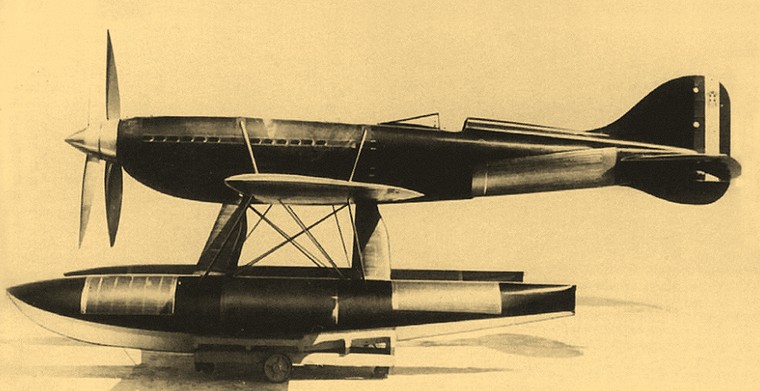 Castoldi then designed the M.C. 72, a single-seater aircraft with two floats powered by a modified FIAT AS.6 supercharged V24 engine, generating around 1,900-2,300 kW (2,500-3,100 hp) driving contra-rotating propellers. However, due to engine problems the M.C. 72 was unable to compete in 1931 in the last of the Schneider Trophy races.
Instead of halting development, Macchi continued work on the M.C. 72. Benito Mussolini personally took an interest in seeing development of the M.C. 72 continue and directed state funds to the company.
For two years, the M.C. 72 suffered from many mechanical defects, as well as the loss of two test pilots, first Monti and then Bellini who died trying to coax world class speeds out of the M.C. 72. After 35 flights the engines were overhauled in preparation for a record attempt.
Google Block Ad
The aircraft finally lived up to expectations when it set a new world speed record (over water) on 10 April 1933, with a speed of 682 km/h (423.5 mph). It was piloted by Warrant Officer Francesco Agello (the last qualified test pilot). Not satisfied, development continued as the aircraft's designers thought they could surpass 700 km/h (430 mph) with the M.C. 72. This was achieved on 23 October 1934, when Agello piloted the M.C. 72 at an average speed of 709.207 km/h (440.681 mph) over three passes. This record remains (as of 2019) the highest speed ever attained by a piston-engine seaplane. After this success the M.C.72 was never flown again.
The current world speed record for a piston-engine aircraft is 528.33 mph (850.26 km/h) set by a heavily modified Grumman F8F Bearcat named Rare Bear over three km in 1989. However, the M.C. 72 record still stands as the world's fastest propeller-driven seaplane.
One M.C. 72, the aircraft that took the world record, survives. It is on display at the Italian Air Force Museum, near Rome.
Specifications:
General characteristics
Crew: 1
Length: 8.32 m (27 ft 4 in)
Wingspan: 9.48 m (31 ft 1 in)
Width: 3.3 m (10 ft 10 in)
Wing area: 15 m2 (160 sq ft)
Empty weight: 2,505 kg (5,523 lb)
Gross weight: 2,907 kg (6,409 lb)
Max takeoff weight: 3,031 kg (6,682 lb)
Powerplant: 1 ◊ Fiat AS.6 24-cylinder coupled V-12 liquid-cooled piston engine, 2,126 kW (2,851 hp)
Propellers: 4-bladed contra-rotating fixed-pitch propeller
Performance:
Maximum speed: 709.209 km/h (440.682 mph, 382.942 kn) (world speed record).
Google Banner Ad