Compiled by Willie Bodenstein




Google Banner Ad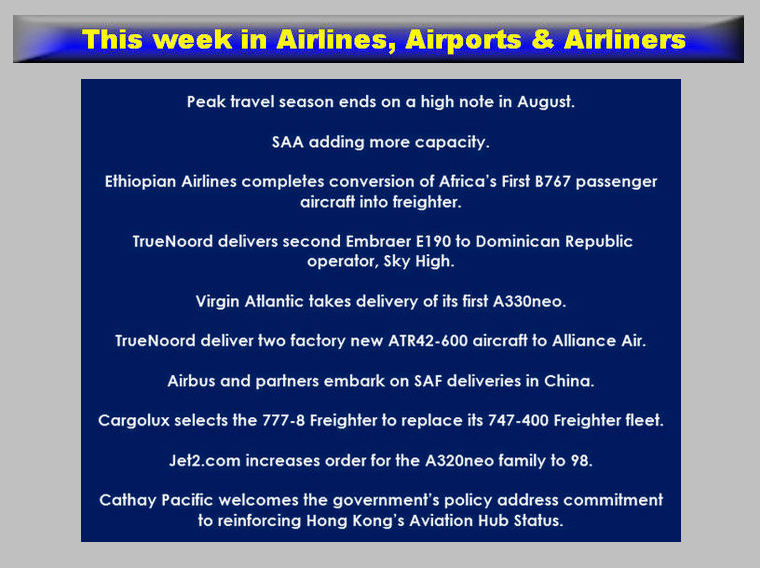 PEAK TRAVEL SEASON ENDS ON A HIGH NOTE IN AUGUST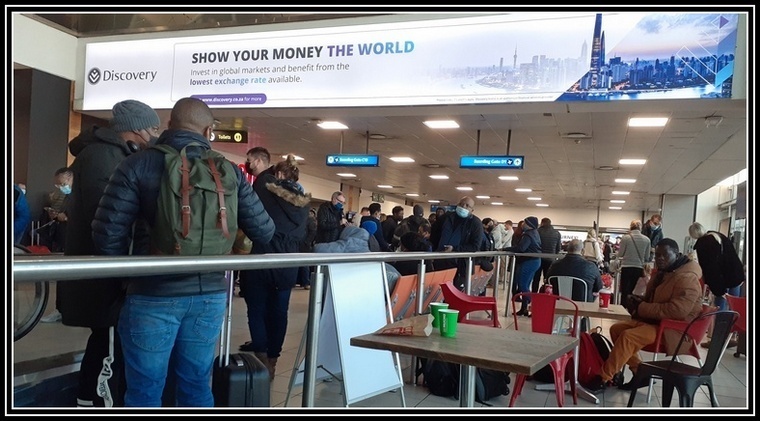 The International Air Transport Association (IATA) announced passenger data for August 2022 showing continued momentum in the air travel recovery.


Total traffic in August 2022 (measured in revenue passenger kilometres or RPKs) was up 67.7% compared to August 2021. Globally, traffic is now at 73.7% of pre-crisis levels.
Domestic traffic for August 2022 was up 26.5% compared to the year-ago period. Total August 2022 domestic traffic was at 85.4% of the August 2019 level.
International traffic rose 115.6% versus August 2021 with airlines in Asia delivering the strongest year-over-year growth rates. August 2022 international RPKs reached 67.4% of August 2019 levels.
"The Northern Hemisphere peak summer travel season finished on a high note. Considering the prevailing economic uncertainties, travel demand is progressing well. The removal or easing of travel restrictions at some key Asian destinations, including Japan, will certainly accelerate the recovery in Asia. The mainland of China is the last major market retaining severe COVID-19 entry restrictions," said Willie Walsh, IATA's Director General.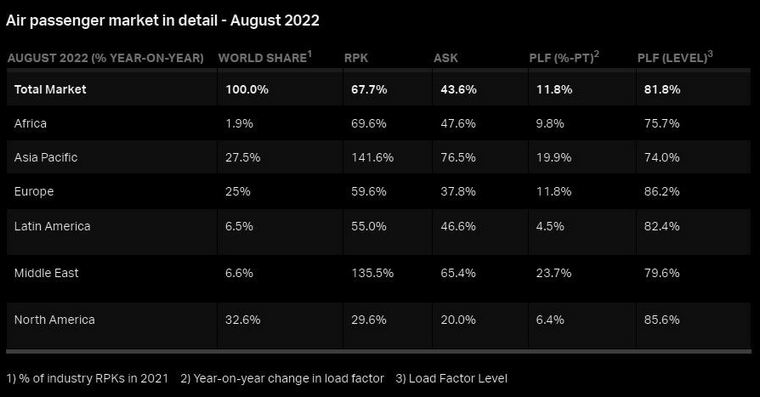 International Passenger Markets
Asia-Pacific airlines had a 449.2% rise in August traffic compared to August 2021. Capacity rose 167.0% and the load factor was up 40.1 percentage points to 78.0%. While the region experienced the strongest year-over-year growth, remaining travel restrictions in China continue to hamper the overall recovery for the region.
European carriers' August traffic climbed 78.8% versus August 2021. Capacity rose 48.0%, and load factor increased 14.7 percentage points to 85.5%. The region had the second highest load factor after North America.
Middle Eastern airlines' traffic rose 144.9% in August compared to August 2021. Capacity rose 72.2% versus the year-ago period and load factor climbed 23.7 percentage points to 79.8%.
North American carriers saw a 110.4% traffic rise in August versus the 2021 period. Capacity rose 69.7% and the load factor climbed 16.9 percentage points to 87.2%, which was the highest among the regions.
Latin American airlines' August traffic rose 102.5% compared to the same month in 2021. August capacity rose 80.8% and load factor increased 8.9 percentage points to 83.5%.
African airlines experienced a 69.5% rise in August RPKs versus a year ago. August 2022 capacity was up 45.3% and load factor climbed 10.8 percentage points to 75.9%, the lowest among regions. International traffic between Africa and neighbouring regions is close to pre-pandemic levels.
Domestic Passenger Markets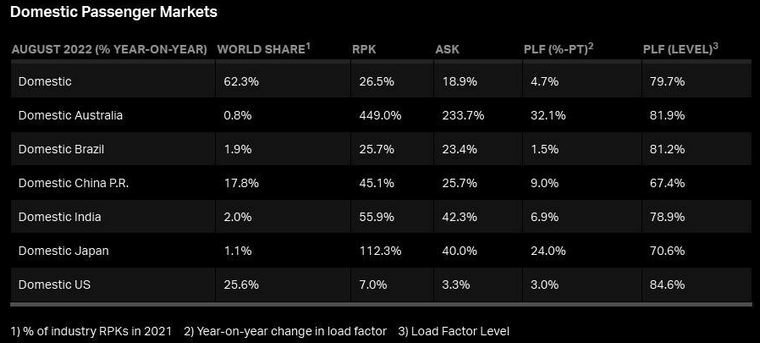 Australia's domestic traffic posted a 449.0% year-over-year increase and is now 85.8% of 2019 levels.
US domestic traffic was up 7.0% in August, compared to August 2021. Further recovery is limited by supply constraints.

The Bottom Line
This week marks a year since the IATA AGM took the historic decision to achieve net zero carbon emissions by 2050.
"Aviation is committed to decarbonising by 2050, in line with the Paris agreement. The energy transition required to achieve this must be supported by government policies. That is why there is such great anticipation for the 41st Assembly of the International Civil Aviation Organisation to reach agreement on a Long-Term Aspirational Goal on aviation and climate change. The near grounding of aviation during the pandemic highlighted how important aviation is to the modern world. We will take a giant step towards securing the long-term social and economic benefits of sustainable global connectivity, if the policy-vision of governments is aligned with the industry's commitment to net zero by 2050," said Walsh.
Google Banner Ad




SAA ADDING MORE CAPACITY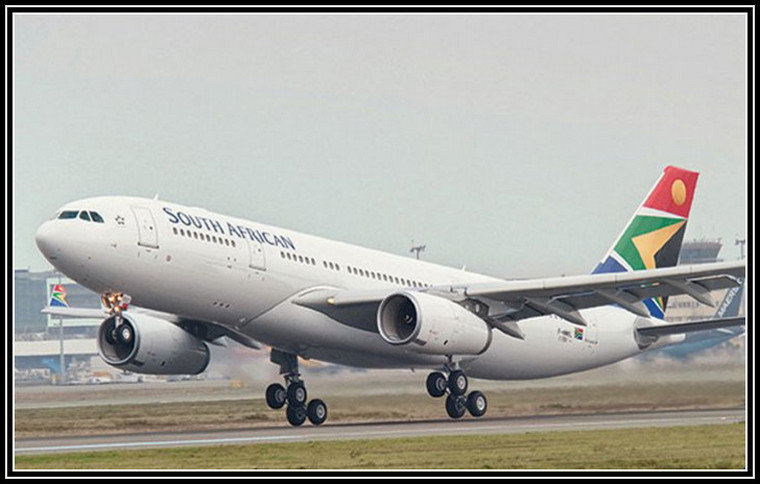 South African Airways (SAA) currently operates 7 Airbus aircraft, consisting of 2x A320s, 3x A319s, 1x A330-300 and 1x A340-300. The A340 aircraft supports the schedule as an additional aircraft during required fleet maintenance or when capacity demand requires the deployment of a larger aircraft accommodating more passengers.

As the peak holiday season approaches, SAA is bringing into service an additional three (3) A320 aircraft, bringing the total number of A320s to 5 aircraft to support the high-capacity demand. The first of these was delivered on 25th September 2022 and the rest will be delivered every month from thence.
Despite the delays with the implementation of the capital restructuring transaction involving a Strategic Equity Partner, the airline is on course to deliver a commercially sustainable and world-class air passenger and cargo services in South Africa, regionally and soon globally. There is a clear demarcation of focus between the SAA Management that is driving a plan for competitive airline operations and the oversight of matters relating to the SEP which are being managed by the Department of Public Enterprises. SAA management is relentlessly implementing the expansion of the airline to match market dynamics in both the domestic and international scene.
According to SAA Executive Chairman, Professor John Lamola "SAA as the national flag carrier and an entity wholly owned by the people of South Africa has a responsibility to secure the sustainability of the airline industry in South Africa as an enabler of economic development and facilitator of affordable air travel to all users of air transportation in the country. The addition of extra seat capacity in the market enables the achievement of equilibrium between supply and demand in the market that affects the pricing of air tickets".
Besides this additional capacity of three A 320s, SAA has over the last two weeks increased the aircraft size on two of our busiest routes, Cape Town, and Harare. The Harare- Johannesburg route is now serviced by the larger A330 aircraft on three of its seven-day weekly frequencies.
In addition, according to SAA Chief Commercial Officer, Tebogo Tsimane, "SAA is replacing its A340-300 with a similar capacity aircraft and will exit the A319 fleet in 2023. Tsimane added, "As we increase fleet size to match the needs of the growing network schedule, we are encouraged that our strategy to cautiously re-enter markets abandoned due to the Covid pandemic has served us very well during the past twelve months and we will continue to follow that cautious risk-adjusted trajectory."
SAA's current business plan is to aggressively ramp up operations and to implement a fleet strategy that will continue to gain momentum of growing our regional-continental services and introduce international-long haul services.
Google Banner Ad




ETHIOPIAN AIRLINES COMPLETES CONVERSION OF AFRICA'S FIRST B767 PASSENGER AIRCRAFT INTO FREIGHTER





Ethiopian Airlines Group, Africa's best airline, has announced the completion of passenger to freighter conversion of one of its three B767 aircraft. Ethiopian partnered with Israel Aerospace Industries (IAI) and launched a B767-300ER freighter conversion line at Ethiopian MRO facilities in Addis Ababa.

The airline introduced these aircraft models in 2004. The conversion is aimed at replacing these ageing airplanes with ultramodern and technologically-advanced passenger aircraft to provide utmost comfort and convenience for passengers. The conversion of the aircraft into freighter also boosts the airline's cargo shipment capacity and enhances its service.
Ethiopian Airlines Group CEO Mesfin Tasew said, "We are thrilled to collaborate with Israel Aerospace Industries and become the first African carrier to successfully complete the passenger- to -cargo conversion of B767 aircraft. As a fast growing airline, our partnership with IAI, one of the global technology leaders in the Aerospace industry, is crucial in technology and skill transfer in the field of maintenance, repair and overhaul. Ethiopian Airlines is committed to get closer to its customers with high quality cargo services. In addition to our latest freighter fleets, the converted B767 aircraft will augment our growing local and international cargo destinations with more load capacities. We have been working to expand our cargo operation as demand is expected to grow with the establishment of an e-commerce hub in Addis Ababa. "
Ethiopian Airlines has been hailed for its key role in the global distribution of medical supplies and vaccines. Its cargo wing has served as a life line for the airline during the difficult times of the pandemic. Ethiopian had temporarily converted around 25 of its wide-body passenger aircraft into freighters using its in-house MRO capability which boosted its cargo operations and enabled it to transport around 1 billion doses of Covid-19 vaccine around the globe.
In partnership with the Israel Aerospace Industries, Ethiopian started the full conversion of its B767 passenger aircraft at the continent's largest maintenance, overhaul and repair center in Addis Ababa in early this year. The airline has completed the conversion of one of its three B767 aircraft while the conversion of the second aircraft has reached an essential stage of door cutting and will be completed in a few months.
Ethiopian has been expanding its cargo operation in all corners of the globe introducing the latest technology freighter fleet. Currently, Ethiopian Cargo and Logistics Services covers more than 130 international destinations around the world with both belly hold capacity and 67 dedicated Freighter services.
Ethiopian Cargo and Logistics Services, one of the major strategic business units within Ethiopian Airlines Group, has won Best Cargo Airline-Africa and Cargo Airline of the Year at the Air Cargo News Awards 2022.
Google Banner Ad




TRUENOORD DELIVERS SECOND EMBRAER E190 TO DOMINICAN REPUBLIC OPERATOR, SKY HIGH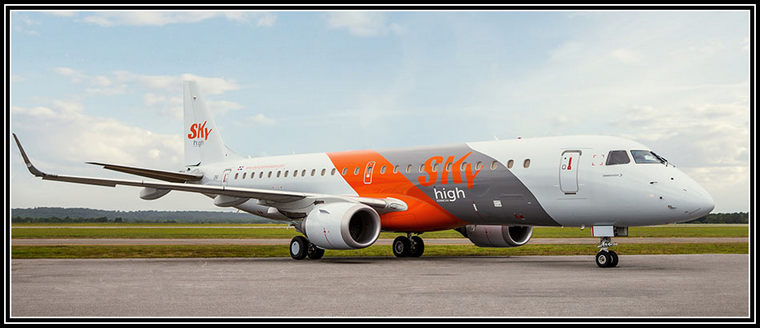 Sky High, the Caribbean regional carrier, has taken delivery of its second Embraer E190 leased by TrueNoord. The first of these modern and capable aircraft was delivered earlier in the year. Immediate induction into the Sky High fleet has resulted in both E190s flying an extensive network to fifteen destinations throughout the Caribbean islands and beyond.



"TrueNoord is delighted to work with Sky High as they pioneer route development across the region" says Garry Topp, Sales Director - Americas. "The Embraer E190 has the potential to be disruptive to the Caribbean market. It's very exciting to see Sky High proving the case for the E190, with its range capabilities connecting destinations not only across the Caribbean but also to new international routes to the USA, Central and South America."
The second aircraft joins Sky High as passenger numbers grow and the operator furthers its ambitious plans to improve connectivity. Topp adds, "Providing pan-Caribbean coverage has been the objective of many operators over the years but until now it has not been achieved. The team at Sky High has worked hard with the authorities in Dominican Republic, Aruba and across the Caribbean to develop their network."
With the E190, Sky High is the first to operate an aircraft which is the 'right size' for the task, with the capacity and range to offer great flexibility and efficiency. Now configured with 98 seats and a comfortable dual-class layout, both aircraft from TrueNoord's existing portfolio were successfully transitioned to the airline with the full support and expertise of Embraer.
VIRGIN ATLANTIC TAKES DELIVERY OF ITS FIRST A330NEO.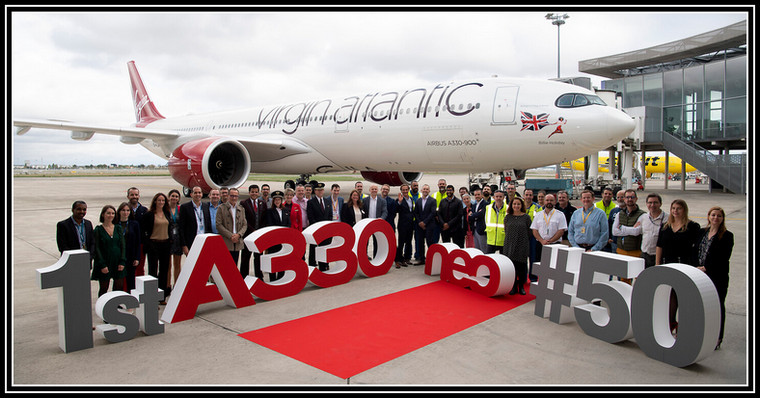 Virgin Atlantic has taken delivery of its first Airbus A330neo aircraft leased from Air Lease Corporation (ALC) (NYSE: AL). The A330neo will play a crucial role in the company's fleet transformation and also marks the 50th Airbus aircraft for the UK-based airline.

Virgin Atlantic will become the first operator of the type in the UK, and has ordered 13 A330neo aircraft (six on lease from ALC) with an intention to expand the fleet to 16 eventually.
The A330 Family is the most popular wide-body aircraft ever in terms of customers and routes, while the A330neo's flexibility in the mid-to-long-range market is unrivalled. The A330neo, powered by Rolls-Royce Trent 7000 engines, brings double-digit lower operating costs per seat and has 25 percent less fuel burn and carbon emissions compared to previous generation competitor aircraft.
It affords Virgin Atlantic A330-A350 fleet commonality for its pilots and a seamless passenger experience, as Virgin Atlantic already operates nine state-of-the-art A350-1000 aircraft.
The A330neo features the award-winning Airspace cabin, providing passengers with a new level of comfort, ambience and design. This includes offering more personal space, larger overhead bins, a new lighting system and the ability to offer the latest in-flight entertainment systems and full connectivity.
As with all Airbus aircraft, the A330neo also features a state-of-the-art cabin air system ensuring a clean and safe environment during the flight. The aircraft is configured to accommodate 262 passengers in three classes including 32 upper-class seats featuring privacy doors and two of the carrier's new Retreat Suites.
Benefitting from the highest bypass ratio of any Trent engine, the Trent 7000 offers significant fuel-burn improvement per seat compared to its predecessor and will significantly reduce aircraft noise. It is certified to operate on a 50 percent blend of Sustainable Aviation Fuels (SAFs); the aircraft's delivery flight from Toulouse to London Heathrow flew with a 35 percent SAF blend.
Google Banner Ad
TRUENOORD DELIVER TWO FACTORY NEW ATR42-600 AIRCRAFT TO ALLIANCE AIR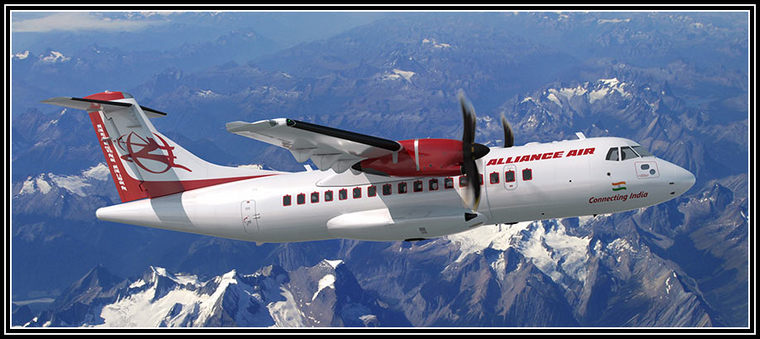 TrueNoord, has announced the successful delivery of two new ATR42-600s to Alliance Air, India's only public airline. The aircraft join Alliance Air's fleet on a long-term operating lease and will serve domestic routes within India, specifically focusing on challenging airfields in the Himalayas. The aircraft were funded by TrueNoord's new warehouse facility with Citibank, Société Générale Corporate & Investment Banking, Royal Bank of Canada, and NORD/LB.



"The collaboration between TrueNoord, Alliance and ATR was very productive and led to a smooth transaction, completed in good time," comments Carst Lindeboom, TrueNoord Sales Director - Asia Pacific. "Alliance is a very experienced ATR operator and it was a pleasure working with them and we look forward to a long and fruitful partnership with their professional and knowledgeable team."
Lindeboom continues, "The ATR42-600 is particularly well suited to serve the most remote and demanding airfields in the Himalayas, which feature both high elevation and short runways. Furthermore, the ATR42 can operate with less payload restrictions than the ATR72 and lower trip costs thus offering more flexibility and higher profitability on these underdeveloped routes."
Vineet Sood, Chief Executive Officer of Alliance Air, adds, "We are pleased to have the support of an experienced leasing partner in TrueNoord and appreciate their team's expertise as we proudly continue on our mission to make the most inaccessible regions of India accessible. We look forward to a long-lasting positive cooperation with TrueNoord as our business grows and evolves."
"ATR is the leading turboprop manufacturer and these two brand-new aircraft bring enhanced flexibility and choice to our growing fleet. These latest additions firmly establish the whole ATR family as a cornerstone of our portfolio of modern regional aircraft," Lindeboom concludes. "Alliance Air is our second customer operating in India alongside IndiGo, the successful delivery of these aircraft marks the expansion of TrueNoord's footprint in this fast-growing aviation marketplace."
AIRBUS AND PARTNERS EMBARK ON SAF DELIVERIES IN CHINA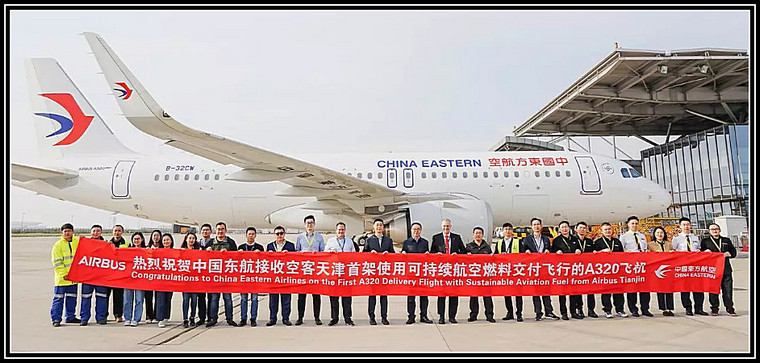 Airbus has opened a new sustainable aviation chapter in China with an A320neo for China Eastern Airlines - first time powered by a five percent Sustainable Aviation Fuel (SAF) fuel blend - it took off from its Airbus Delivery Centre in Tianjin.


SAF is a sustainably-produced aviation fuel made from feedstocks ranging from used fat, oil and grease to municipal and forestry waste. Compared to fossil jet fuel, SAF has been demonstrated to result in an up to 80% reduction in CO2 emissions across the entire SAF lifecycle. Therefore, it is considered as a key enabler to contribute to the decarbonisation of aviation.
The SAF for the delivery flights in China is produced locally from used cooking oil by SINOPEC Zhenhai Refining & Chemical Company, a state-owned manufacturer in China. It is the first batch of Chinese SAF made by the only certified Chinese facility.
"The first SAF delivery flight of Airbus aircraft in Tianjin marks a historic milestone for Airbus and particularly for us in China," said George XU, Airbus EVP & Airbus China CEO. "It is a great step towards our vision of contributing to sustainable aviation as a long-term reliable partner in China. Thanks to the joint effort and the consensus on sustainability between us and our partners, we will be able to offer such sustainable solutions to all customers taking delivery from our Tianjin facilities. Going forward, we also aim to partner with more Airbus operators in China to fly commercially with SAF to further support the green aviation strategy in China."
Currently, all Airbus commercial aircraft are capable of flying with an up to 50 percent SAF blend mixed with kerosene and is targeted to be capable for 100 percent SAF use in flight by the end of this decade. Since March 2021, Airbus has successfully accomplished 100 percent SAF test flights on A319neo, A350 and A380 aircraft.
Google Banner Ad
CARGOLUX SELECTS THE 777-8 FREIGHTER TO REPLACE ITS 747-400 FREIGHTER FLEET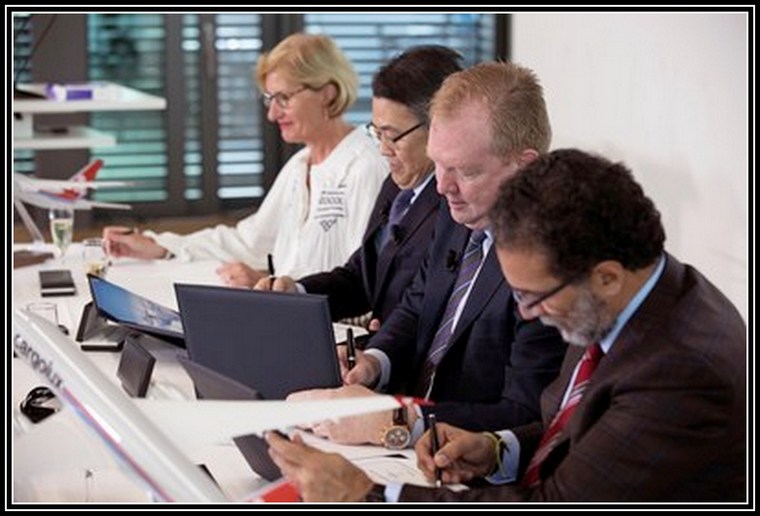 Boeing [NYSE:BA] and Cargolux have finalised an order of 10 777-8 Freighters with options for six additional airplanes, with a signing ceremony today at Cargolux's headquarters in Luxembourg. The selection of Boeing's newest freighter was previously announced at this year's Farnborough International Airshow as Cargolux's preferred choice as the replacement for its 747-400 Freighter fleet.




Cargolux's choice of the 777-8 Freighter underlines its commitment to establishing long-term sustainability. Europe's number one all-cargo airline has a long-standing engagement towards sound operations and the 777-8 Freighter offers reduced emissions, noise, as well as the lowest fuel use and operating costs per tonne of any large freighter.
"The agreement we signed today will consolidate Cargolux's position as a global leader of air freight services. Replacing our aging fleet of 747-400 Freighters with the latest technology and fuel-efficient 777-8 Freighter model will contribute to our long-term sustainability program while continuing to offer our customers the tailored service they expect," said Richard Forson, Cargolux President & CEO.
Boeing launched the new 777-8 Freighter in January 2022 and has now booked more than 50 orders for the model. The 777-8 Freighter has nearly identical payload and range capabilities as the 747-400 Freighter while providing 30% better fuel efficiency and emissions and 25% better operating costs per tonne. It is the ideal choice as operators replace aging freighters later this decade.
"With its purchase of our newest freighter, Cargolux has invested in a sustainable future as the 777-8 Freighter will significantly reduce CO2 emissions compared to the airplane it is replacing," said Stan Deal, president and CEO of Boeing Commercial Airplanes. "Equally important, the 777-8 Freighter operates with a noise footprint up to 60% smaller than its predecessors, significantly minimising noise emissions around airport communities."
Cargolux, based in Luxembourg, is Europe's largest all-cargo airline operating a combined fleet of 30 Boeing 747-8 and 747-400 Freighters. The Cargolux worldwide network covers over 75 destinations on scheduled all-cargo flights and offers full and part-charter services. The company has more than 85 offices in over 50 countries and operates an extensive global trucking network to more than 250 destinations. With 50 years of experience in the air cargo industry and an extensive product portfolio, Cargolux provides tailored transport solutions for all types of shipments. As a responsible cargo carrier, Cargolux has developed a solid CSR program encompassing Environmental, Social, and Governance principles.
Google Banner Ad
JET2.COM INCREASES ORDER FOR THE A320NEO FAMILY TO 98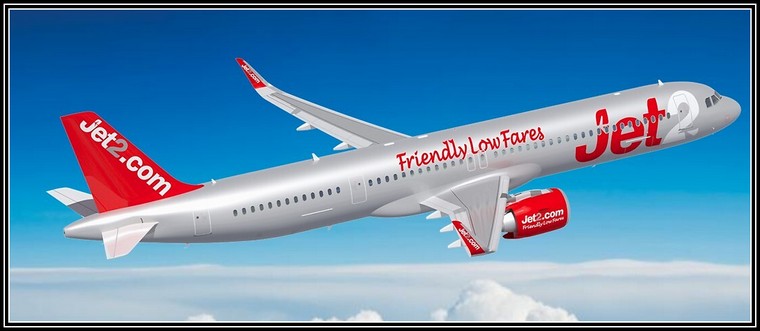 Jet2.com has placed an incremental order for 35 A320neo aircraft taking its total commitment to the Family to 98 aircraft.



The latest agreement comes just over a year since Jet2.com placed its first order for 36 A321neo in August 2021, followed by further commitments thereby securing its growth needs as demand continues to outpace supply even in the outer years.
The A320neos will be configured for 180 seats with an Airspace cabin featuring innovative lighting, new seating products and 60 percent larger overhead baggage bins for added personal storage.
The A320neo Family incorporates new generation engines and Sharklets, which together deliver more than 20 percent fuel and CO 2 savings, as well as a 50 percent noise reduction. Passengers are benefitting throughout the trip from Airbus' award-winning Airspace interior, which brings the latest cabin technology to the A320 Family. By the end of September 2022, the A320neo Family had accumulated over 8,500 firm orders from more than 130 customers worldwide.
CATHAY PACIFIC WELCOMES THE GOVERNMENT'S POLICY ADDRESS COMMITMENT TO REINFORCING HONG KONG'S AVIATION HUB STATUS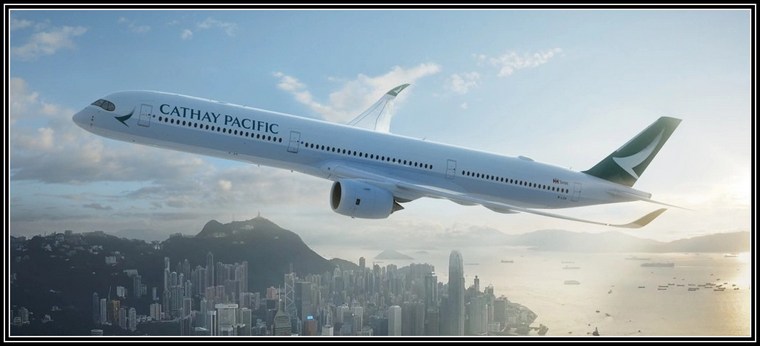 Cathay Pacific welcomes the Hong Kong SAR Government's ongoing initiatives aimed at bolstering Hong Kong's status as a global aviation and logistics hub and a centre for aviation training, as expressed in the Chief Executive's 2022 Policy Address.



Chief Executive Officer Augustus Tang said: "Hong Kong has an important role to play in the overall development of the country under the National 14th Five-Year Plan, which notably reinforces the importance of strengthening the Hong Kong international aviation hub. We look forward to the completion of the Three-Runway System at Hong Kong International Airport, which will substantially increase the overall capacity and competitiveness of the airport.
"We also support the Government's ongoing efforts to reinforce intermodal transport links between Hong Kong and the rest of the Greater Bay Area (GBA) through the integration of air, sea and land transport. This will further strengthen the flow of people and goods in the region. The growth potential and opportunities presented by the GBA will ensure that both Cathay Pacific and our home hub will remain competitive.
"We are encouraged by the Government's array of initiatives aimed at nurturing and retaining local talent, as well as attracting talent to support the development and growth of Hong Kong.
"Cathay Pacific has been the home carrier of Hong Kong for more than 75 years and we are proud to have helped contribute to the growth and success of the Hong Kong international aviation hub over these many years. We remain confident of the long-term future of our home hub and our commitment to our home city remains as steadfast as ever. We look forward to the growth and development that Hong Kong and its aviation sector will see in the years to come."
Google Banner Ad