Leonardo media release

23.10.2022

Google Banner Ad
The challenge of innovation is a specific strategic asset of Leonardo. Development of its most innovative products and models, such as the revolutionary AW609 tiltrotor aircraft, is already making the company a key player in the changes of the near future.
Setting off from your own garden, from the roof of a multi-storey parking lot, escaping the time constraints involved in travelling through airport hubs: traffic on the road to the airport, queuing to get through check-in and all those essential security checks - all of which can make surface travel, on routes for which it is feasible, more competitive than air travel. Mobility is about to change yet again, and the opportunity offered by the revolutionary AW609 tiltrotor aircraft also presents a major challenge. In only 40 seconds it can switch from helicopter to fixed-wing aircraft mode. Two totally different approaches to flight, as we all know: helicopters move vertically using rotors, while airplanes travel using wing lift and propulsion with high-power turboprops. For professionals in the field the tiltrotor offers the best of both worlds, while for everyone else it offers a completely new transportation concept for travel from city to city or into remote areas.
The acceleration towards a future "normality"
The impact of the pandemic, its continued persistence and a resulting widespread sense of precariousness have produced a shift in perspective that would have seemed impractical or over-futuristic as little as two years ago. The result will be to change the way we live in the same way that our work has already changed, also transforming the skylines and organisation of our cities. Additional security checks, social distancing, and changes to ways of working and living that seemed ingrained in our lives have a thousand implications. They are speeding up the move towards tomorrow's "normality" in which we will soon be living. These reflections on innovation are already a part of the heritage of Leonardo, a cutting-edge company that is earning itself a global reputation based on the dependability of its Aerospace, Defence and Security products and its all-encompassing vision of a sustainable future. And new ways of using airspace will help restore the sense of freedom that mobility can give us.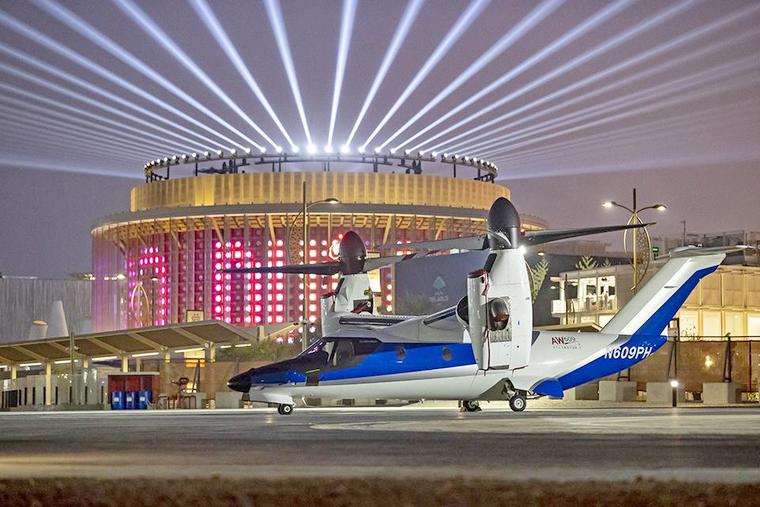 More than a helicopter, more than a plane
What happens when two different visions of flight, very far apart and normally mutually exclusive, come together? The result is the tiltrotor, an aircraft that overcomes the intrinsic limitations of the helicopter in terms of performance, elevation and the distance that can be travelled, and the fixed-wing aircraft, the versatility of which is penalised by the need for a runway for taking off and landing and the inability to hover suspended over a specific location. Helicopter and fixed-wing aircraft pilots will be able to enjoy the advantages of both aboard the AW609. The 'magic' of this aircraft is the result of outstanding technological and engineering solutions. It requires high computing capacity, sophisticated electronics, a focus on aerodynamics and loads, and a careful choice of materials (with a fuselage made entirely of composites) to enable an aircraft to switch from helicopter to fixed-wing mode and back in flight by simply varying the setup of the two oscillating rotors at the end of its wings. These dynamic components were created to provide support during vertical motion and traction in horizontal motion while also ensuring a gradual, carefully controlled and smooth transition from one state to the other. Add to this a modern cockpit with a large colour touchscreen display giving the pilot a complete overview of the situation while the mission is underway, a pressurised cabin for flying above the weather, and a comfortable environment for passengers and patients in rescue missions. With a guaranteed ability to fly in all weather conditions, thanks in part to a modern de-icing system that adds to the AW609's capabilities, effectiveness and safety of use in all weather conditions.
One aircraft, a thousand new possibilities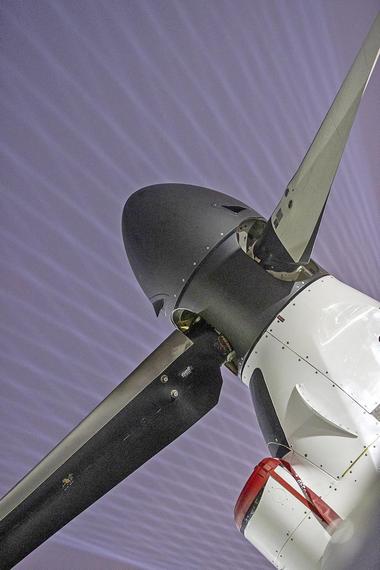 The AW609 will be the world's first tiltrotor aircraft to obtain certification for civil use, radically changing our view of some of the uses of 'conventional' aircraft like passenger transportation and rescue missions. Just think, for example, of the way we currently travel from city to city, on business or for personal reasons. The fastest way to get from Milan to London is to fly, but flight time is not the only factor to consider. It can take hours, perhaps even a whole morning, to get from home or the office to our final destination in the British capital. In the very near future an AW609 tiltrotor aircraft may be waiting practically 'outside the door' to take passengers directly to their destination in approximately two hours. Another scenario might be a small community on a Pacific island, thousands of kilometres from the mainland or from the nearest city offering medical care and emergency services. It has no runway, just a tiny harbour, and is only accessible via a 24-hour ferry ride. The AW609 could introduce new 'commuting' services, accessing remote areas quickly and flexibly, so that even the most isolated communities can feel truly connected to the world and part of a greater whole. It could also offer individuals greater freedom and confidentiality when leaving their hometown to travel, for example, to a yacht in the open ocean, then taking off from there to reach another destination far from the coast. The AW609 also has a very important 'social' role to play: in countries like Australia, rescue operations for people in difficulties in particularly isolated parts of the country currently require multiple forms of transportation (fixed-wing aircraft, helicopter, ambulance). The AW609 will add continuity and speed in such situations: a single vehicle will be able to travel quickly over large distances to reach and pick up a patient (on the ground or with a winch) - even in locations without a runway or feasible place to land - taking him or her directly to the most appropriate hospital. To this we may add the aircraft's incredible potential for security, patrolling and special intervention.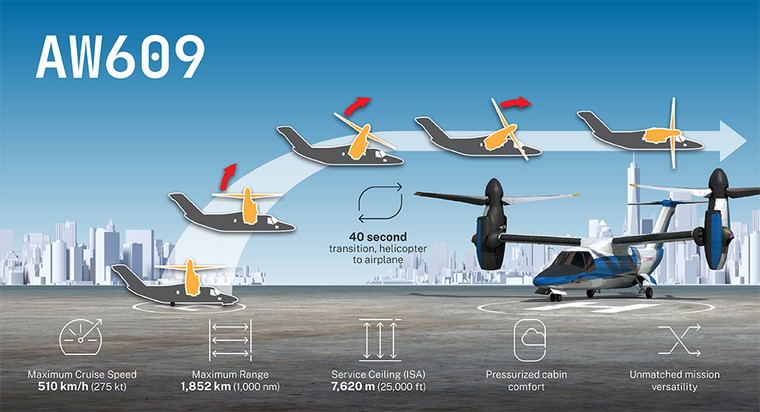 Mobility for people and ideas
The unique features and benefits of the AW609 will offer a tool of great importance for the mobility of people and ideas, important keys to economic and cultural growth. Leonardo aims to drive this change, leveraging its capability in advanced technologies, professionalism, and a people-centred approach.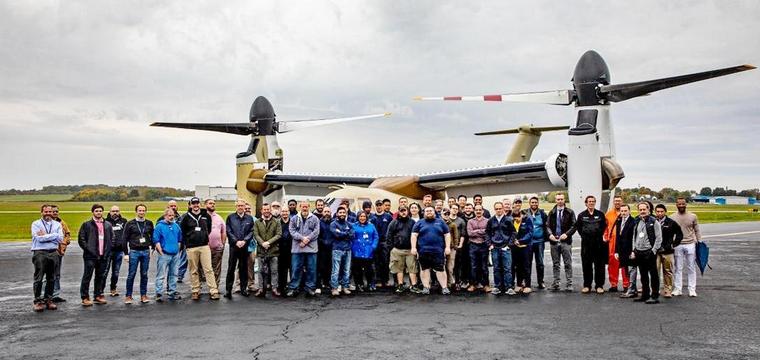 The world's first multirole tiltrotor programme, designed to redefine a range of commercial and public services, set a major milestone with the maiden flight of the first AW609 production aircraft. This aircraft introduces unprecedented capabilities under a dedicated 'powered lift category' civil certification now under development. Designated AC5, the aircraft took to the air at Leonardo's Philadelphia-based site on 13th October performing as expected the initial in-flight evaluation of systems and general handling.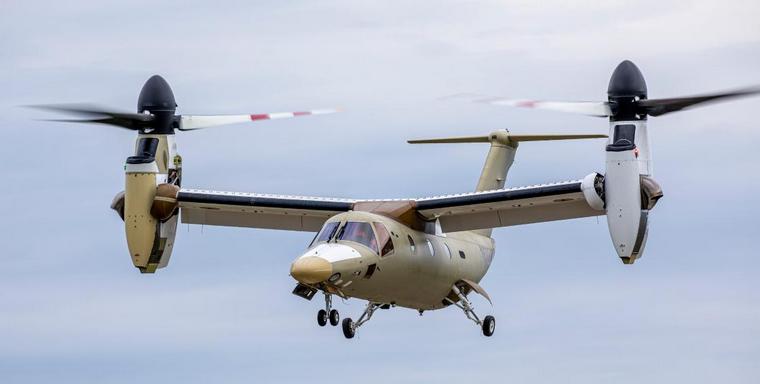 The first production aircraft joins a prototype based in the US and two more located in Italy, all currently involved in the last stages of testing activities ahead of (Federal Aviation Administration) FAA certification. AC5 will be retained by Leonardo contributing to customer demonstrations, mission capability evaluation and expansion, and supporting the manufacturer and the operators in the transition from the developmental to the operational phase once on the market. Currently, three customers' production aircraft are on the dedicated final assembly line at various stages of construction in Philadelphia.
Google Banner Ad