30.10.2022



Google Banner Ad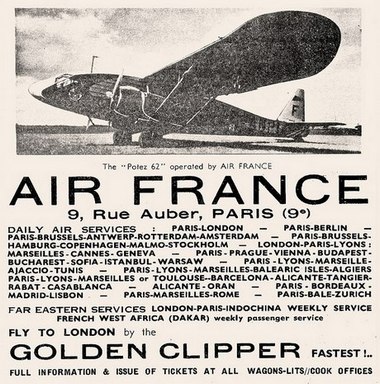 Air France was formed on 7 October 1933 from a merger of Air Orient, Air Union, Compagnie Générale Aéropostale, Compagnie Internationale de Navigation Aérienne (CIDNA), and Société Générale de Transport Aérien (SGTA).
During the Cold War, from 1950 until 1990, it was one of the three main Allied scheduled airlines operating in Germany at West Berlin's Tempelhof and Tegel airports. In 1990, it acquired the operations of French domestic carrier Air Inter and international rival UTA - Union de Transports Aériens. It served as France's primary national flag carrier for seven decades prior to its 2003 merger with KLM.
Air France operates a mixed fleet of Airbus and Boeing widebody jets on long-haul routes and uses Airbus A320 family aircraft on short-haul routes. Air France introduced the A380 on 20 November 2009 with service to New York City's JFK Airport from Paris' Charles de Gaulle Airport. The carrier's regional airline subsidiary, HOP!, operates the majority of its regional domestic and European scheduled services with a fleet of regional jet aircraft.
Google Banner Ad