06.11.2022



Google Banner Ad





As the WRFC closes in, the team has finalised their official training with sessions held at both Aviators Paradise and Brits Airfields. These sessions simulated competition conditions with timed preparation and a full set of observation tasks. A recent route also included an away landing at Rustenburg Airfield to add to the challenge.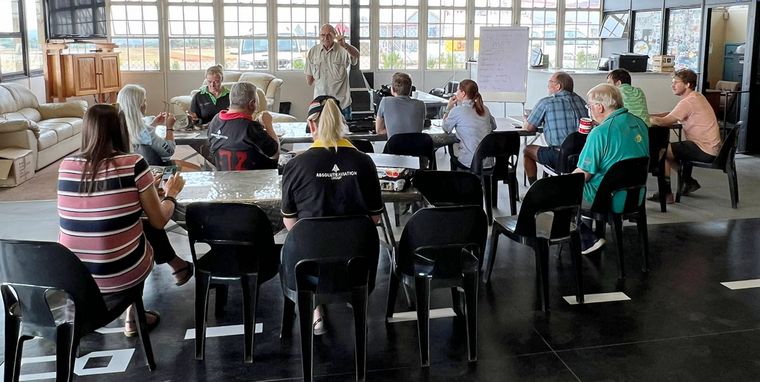 Each training session consisted of a combination of theory discussions and practical exercises. The session starts with teams flying a full rally route under time pressure. At the end of the route, each team completed four landings in a spot landing session. Feedback is then provided on both the landings and the route flown with any learning shared with the rest of the team. Theory topics include how to spot ground markers as well as refreshers on mental preparation, photo memorisation, ground marker spotting and spot landings.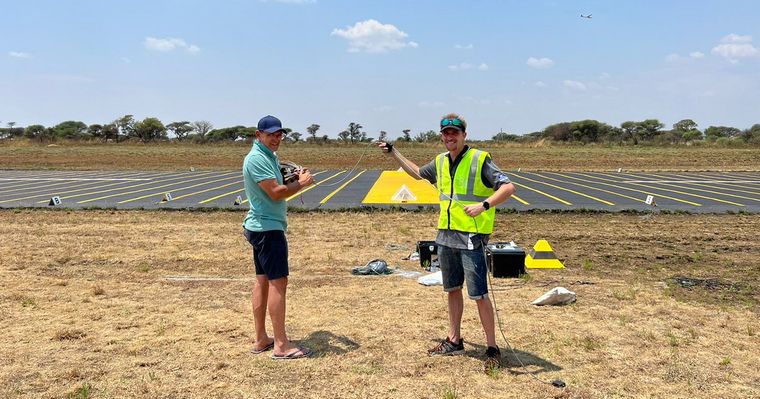 The teams are continuing to build their skills at home by flying routes on their home simulators, completing photo spotting exercises, memorising the rules, planning their away landings and more. A huge thank you to everyone who is contributing to the theory, practical and homework sessions.
International teams are already arriving and will commence their preparation in Brits and the surrounding areas during the official training week from 07-12 November. The South African team will be polishing their training and finalising their preparation during this week with the official proceedings commencing at the opening ceremony on 13 November.
A reminder that there are plenty opportunities to get involved. Please reach out if you would like to become involved in supporting the team as South Africa prepare to host this exciting event.
Meet the Team
As the team finalises their training, this is the final in a series of articles getting to know the South African teams that will be participating in the WRFC2022.

Next week, read about the officials that are making this prestigious event happen!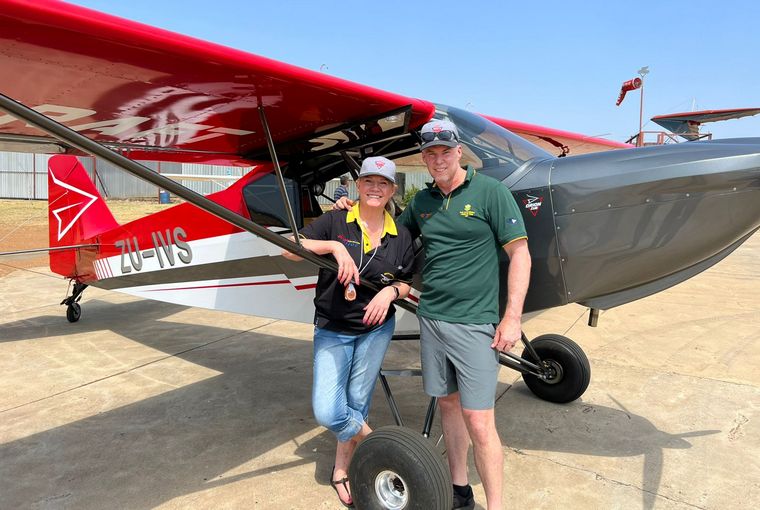 Nigel Hopkins and Mary de Klerk
Nigel is well known for his success on the aerobatic and airshow circuit. However, Rally Flying is also in his blood. Nigel is the pilot in this crew.
Nigel is a professional pilot, holding an Airline Transport Pilots Licence with 21,400 flying hours. He is also a Grade one Instructor, a CAA Designated Flight Examiner and an Aerobatic Instructor and Examiner.
Nigel's sport-flying history is long and well decorated including:
·
2003 World Rally Flying Champion

·
9 times SA National Rally Flying Champion

·
5 times SA National Precision Flying Champion

·
5 times SA National Aerobatic Champion

·
6 times SA Freestyle Aerobatic Champion

·
FAI Bronze medal at the 1999 World Rally Flying Championships

·
FAI Silver medal at the Jet formation event in Al-Ain

·
2 Silver medals at the 2008 Advanced World Aerobatic Champs

·
5 Medals at the 2010 Advanced World Aerobatic Champs including 2 golds, a sliver, a bronze and overall 2nd place

·
3 Aeroclub of SA Pilot of the year awards

·
Aeroclub of SA Gold and Silver Wings

Mary is a true champion and a living legend of South African sport aviation. She has been involved both at the front end, flying competitively since 1990, and behind the scenes as a key contributor to the success of the sport she has held various positions within SAPFA over the years.

Mary is also a force to be reckoned with in the business world, heading up a large branding company in Gauteng.

Mary has been competing locally and internationally in both Rally and Precision Flying, always achieving excellent results. She served as Team Manager five times, and as Team Captain three times. She is a past winner of the Presidents' Trophy Air Race, various Speed Rallies and a number of National Championships. With Mary on the scene, the South African floating trophies don't really float! Mary is the navigator in this crew.

Together, Nigel and Mary are the current SA Champions and a real "dream team".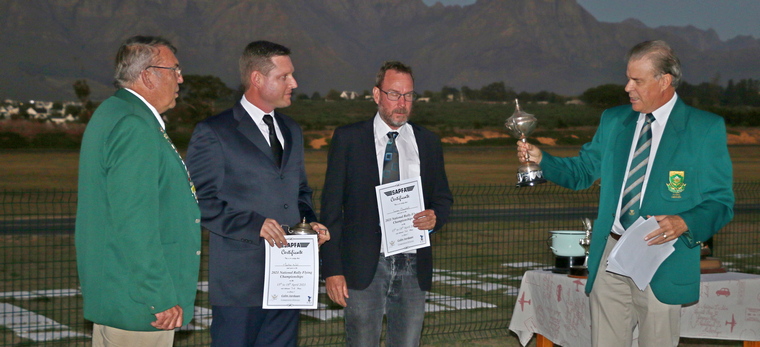 Marko Nel and Leon Bouttell
Marko has been a Commercial Pilot since 2005 and a Flight Instructor since 2009. He is a professional pilot, working as the Chief Flight Instructor at Stellenbosch Flying Club. He loves anything related to flying, especially competition flying. His preferred disciplines are Aerobatics, Precision and Rally Flying.
Marko has earned the following competition accolades:
·
1st place RV class, Western Cape Regional Aerobatic Competition 2019

·
3rd place SA Navigation Rally Nationals 2021

·
1st place Sportsman's Class, WC Regional Aerobatic Competition 2022

Marko is a relatively new participant in the Airshow circuit having performed in one airshow so far. He will have doubled his count with another one scheduled for a month prior to the World Championships taking place. He is the pilot in this crew.

Leon is the current South African Power Flying Association (SA Power Flying) Chairman. He is an Electrical Engineer, specializing in design and construction of industrial plant electrical and automation systems. His hobbies include outdoor activities, cars, aircraft and recreational flying.

Over past 6 years he has attended the majority of the events hosted by SA Power Flying, as well as supporting the organisation with internal administration.

Despite abundant experience as Pilot in past competitions, he serves as Navigator in this crew.

Leon's experience as an engineer helps ensure his lines are straight and the pointy side looks forward.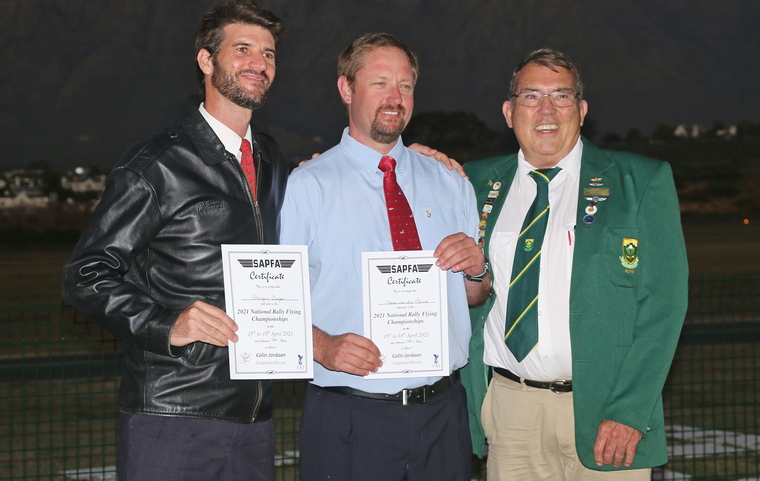 Steve van der Merwe and Alewyn Burger
Steve is a passionate aviator with over 10,000 hrs on a wide variety of aircraft. He currently holds the title of Fleet Captain at FlySafair, He is also a Training/Instructor Captain (DFE). He is committed with his teammate Alewyn to produce an excellent result for Team SA.
The pair are new to the sport of rally flying, having only competed in a handful of events, but their trajectory remains steeply upwards and Steve sees no reason why they cannot fly a clean round. He says that as Airline Transport Pilots, they operate to a high level of professionalism which includes, but is not limited to Procedures, Communication, Situational Awareness, Workload Management, Flight Path Management, Teamwork, Knowledge as well as Problem Solving and Decision Making.
Alewyn went solo in sailplanes at age 16 at the Cape Gliding Club. He went solo on a Cessna 152 at age 17 at Stellenbosch Flying Club. He then also went solo on Helicopers at age 21 at Powered Flight at Wonderboom.
Alewyn currently holds Fixed Wing ATPL with 10,700 flying hours and is captain at FlySafair on Boeing 737s. He is very active in General Aviation. In addition to rally flying, he also competes in aerobatics at Intermediate level.
Alewyn enjoys giving flying instruction. He especially enjoys teaching the art of taildragger flying, camping out with his kids, and long-distance trail running.

Google Banner Ad