13.11.2022



Google Banner Ad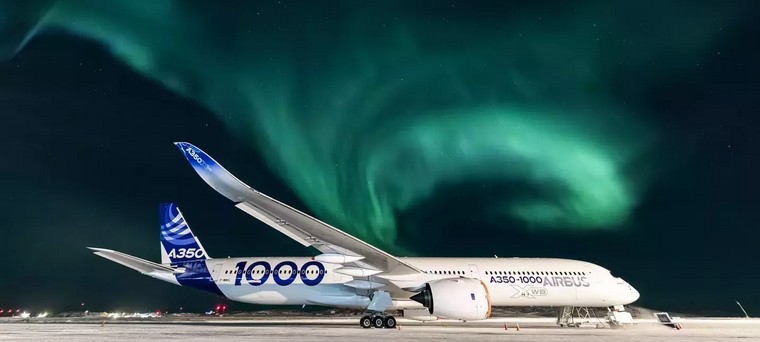 Versatility in action: A330neo taking off during cold weather testing campaign

Did you know that the Airbus wide-body family is the only aircraft family which can fly efficiently on any sector, from short-haul to ultra-long-haul routes, while fulfilling various missions including military operations, cargo activities and commercial flights for passengers? And all this is possible simply because of versatility. Let's talk about it.
What versatility means.
In aviation, versatility usually refers to the aircraft capacity to meet different utilisations. And it starts at the very beginning of the design phase when the choices in terms of definition allow space for future developments.
Airbus started wide-body versatility in the 1990s. By developing an aircraft platform for many different operational needs and flying distances, Airbus progressively extended the wide-body operating capacity and its wide range of use to meet customers' needs for network flexibility as well as seating and cargo capacity. "The definition of a platform is a long-term process, with the objective of building a family of aircraft with development potential for a lifecycle period of around 50 years," says Vincent Lebas and Karine Lavergne, Airbus wide-body aircraft design architects. "The challenge for Airbus teams is then to anticipate the future of the aircraft at an early stage of its conception. This is where versatility gets into action."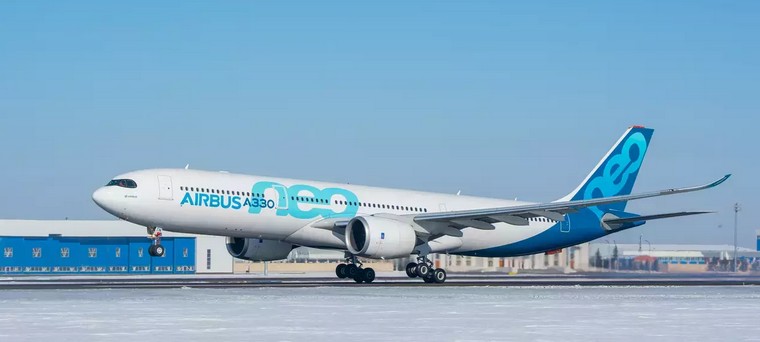 Versatility in action - A330neo taking off during cold weather testing campaign

To turn the idea into reality, the wide-body family has been continuously improved along the years with incremental developments from simple weight variants to freighter, neo or Ultra Long Range variants. As a result, the aircraft family today serves many distances and many operations that vary from passenger, freight and VIP flights to military transport and aerial refuelling. The wide-body family now comprises two A330neo (A330-800 - A330-900), three A350 (A350-900 - A350-1000 and the new freighter A350F), the corporate jets ACJ330neo and ACJ350, the Multi Role Tanker Transport variant A330 MRTT alongside the A330 passenger-to-freighter (P2F) and the BelugaXL.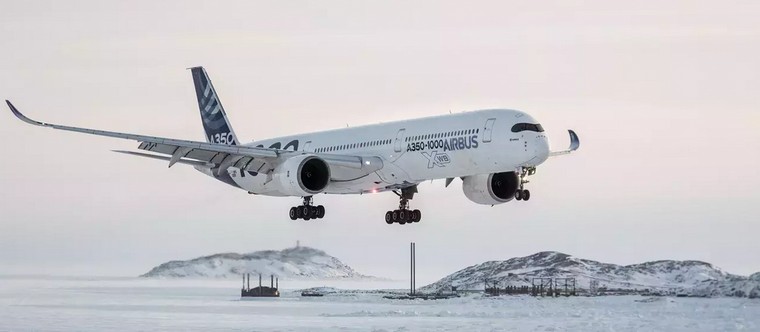 A350-1000 landing during cold weather testing campaign

For an airline, versatility is a key part of the aircraft's value. This includes its capacity to be deployed on short, medium and long-haul routes and to allow various seating configurations. Unsurprisingly, this is the strength of the wide-body family. But how does that work exactly?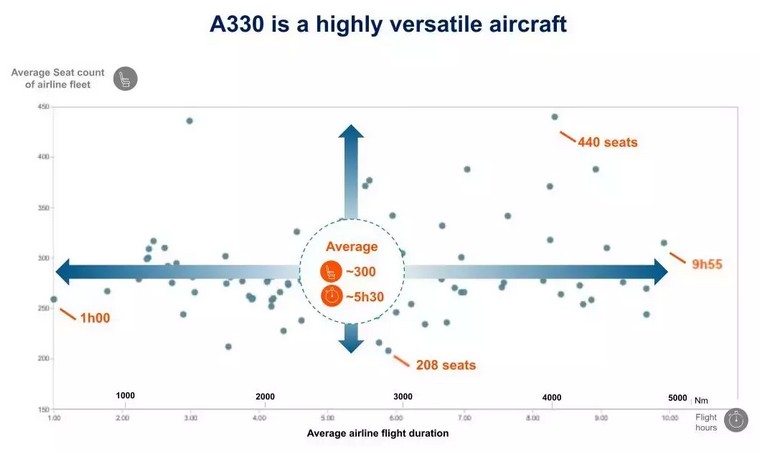 A330 is a highly versatile aircraft.

To be able to fly on long-haul and domestic routes, wide-body aircraft need to be adapted accordingly. "For long-haul needs, we increase the take-off weight and engine thrust, while for short-haul routes, we reduce the weight and engine thrust. This is an interesting option for operators who have seasonal variations because there are no physical modifications to be made to the aircraft," explains Vincent Lebas. "For example the A330neo can be optimised on the take-off weight according to the distance operated. It is capable of a take-off weight ranging from 200 up to 251 tons, by updating the aircraft's operational documentation such as the limitations chapter in the flight operations manual. We can also adapt for example the tyre pressure, thus offering the operator a product capable of flying many distances."
Similarly, the A350-900 is certified for a take-off weight ranging from 210 up to 283 tons, enabling the aircraft to operate from domestic routes to ultra-long-range routes, a preferred choice for airlines who select the A350-900 Ultra Long Range. Compared to the standard aircraft, the Ultra Long Range version includes a modified fuel system, increasing the fuel carrying capacity from 24,000 litres to 165,000 litres. "This extends the range of the aircraft without the need for additional fuel tanks. This performance is possible thanks to the technical and intrinsic qualities of the A350 and the engineering capabilities of Airbus," explains Karine Lavergne.
In addition to versatility on routes, operators also consider cabin versatility as an important factor. And here as well, both the A330neo and A350 offer several configurations for all business models, from a high density one-class configuration - usually preferred by low cost airlines on domestic routes - to a four-class configuration (First, Business, Premium Economy, Economy). These different configurations share a common point: they offer a high level of flexibility to operators without compromising passenger comfort.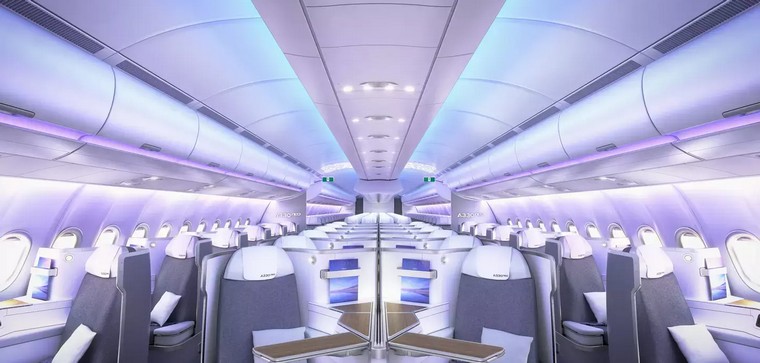 Airspace A330neo cabin overview

The future of air travel will be versatile
One lesson learnt from the Covid-19 pandemic - when the number of flights dropped significantly - is that versatile aircraft are instrumental in airlines' strategy to navigate crises, limit financial loss and continue to operate their fleet during uncertain times. To answer airlines' needs for business continuity during the crisis and increase air cargo capacity, Airbus developed in a very short time a modification for A330 and A350 Family aircraft which enable airlines to install freight pallets directly onto the cabin floor seat tracks, after removal of the economy-class seats. "We have seen many operators flying both A330s and A350s in full cargo configuration, thanks to the high-cargo capacity of these aircraft". Since the Covid-19 stimulated the freighter market, there has been a continuing demand for wide-body reconfigurations into freighters and this trend is here to stay in a post-crisis world. Airlines want to operate more flexible aircraft, at lower operational cost and the wide-body family perfectly fits these needs.
"Beyond the crisis, experience over the years has taught us that the more an aircraft can be adapted in the long term, the more potential it has to meet market needs," say Airbus specialists. Versatility has therefore become a key consideration for Airbus and listening to customers a major lever for its implementation. "Taking versatility into account was a turning point in Airbus' history and it changed our culture. When designing an aircraft, we have to keep in mind that the aircraft will live a long time and anticipate tomorrow's uses. So we have to maintain a continuous dialogue with operators to better understand their needs and meet their requirements, based on the adaptation of our product."
Airbus' latest edition of its Global Market Forecast highlights a future traffic growth of 3.6% over the next 20 years and an aircraft demand for 39,490 new passenger and freighter aircraft. This includes a demand for 7,870 wide-bodies while the demand for freighters is expected to reach 2,440 aircraft.
Google Banner Ad