Compiled by Willie Bodenstein

Gbanner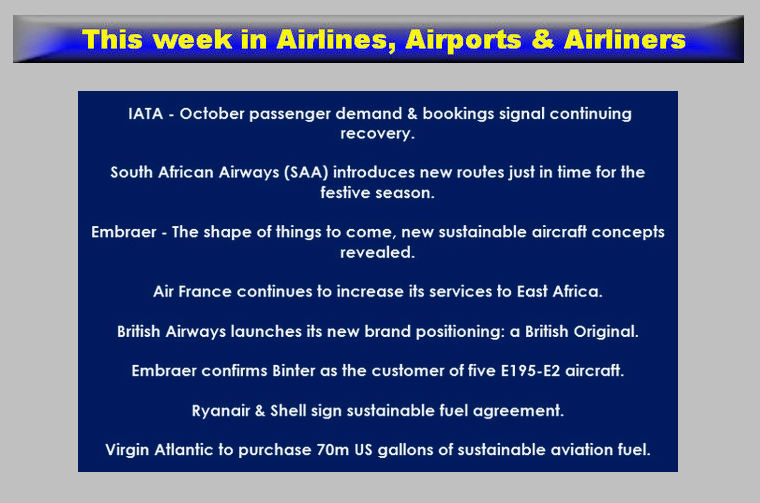 IATA - OCTOBER PASSENGER DEMAND & BOOKINGS SIGNAL CONTINUING RECOVERY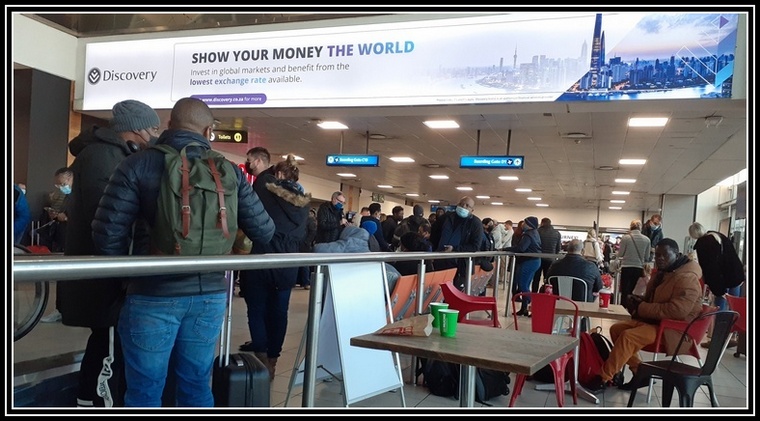 The International Air Transport Association (IATA) announced that the recovery in air travel continued in October. Total traffic in October 2022 (measured in revenue passenger kilometres or RPKs) rose 44.6% compared to October 2021. Globally, traffic is now at 74.2% of October 2019 levels.

Domestic traffic for October 2022 slipped 0.8% compared to the year-ago period as stringent COVID-related travel restrictions in China dampened global figures. Total October 2022 domestic traffic was at 77.9% of the October 2019 level. Domestic forward bookings remain at around 70% of pre-pandemic level.
International traffic climbed 102.4% versus October 2021. October 2022 international RPKs reached 72.1% of October 2019 levels with all markets recording strong growth, led by Asia-Pacific. Forward bookings for international travel increased to around 75% of pre-pandemic levels, following the re-openings announced by multiple Asian economies.
"Traditionally, by October we are into the slower autumn travel season in the Northern Hemisphere, so it is highly reassuring to see demand and forward bookings continuing to be so strong. It bodes well for the coming winter season and the ongoing recovery," said Willie Walsh, IATA's Director General.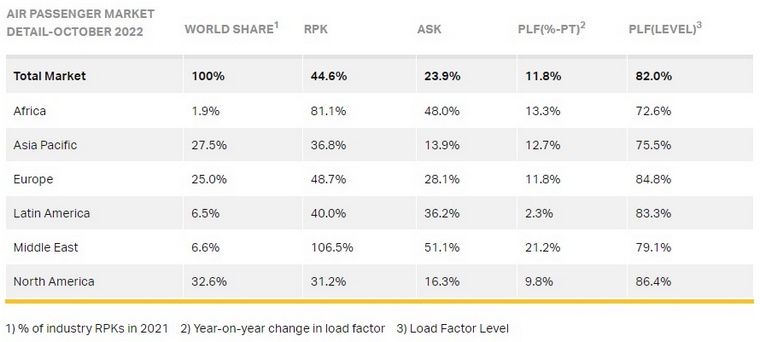 Load Factor Level
International Passenger Markets
Asia-Pacific airlines had a 440.4% rise in October traffic compared to October 2021, easily the strongest year-over-year rate among the regions, but off a very low 2021 base. Capacity rose 165.6% and the load factor climbed 39.5 percentage points to 77.7%.
European carriers' October traffic climbed 60.8% versus October 2021. Capacity increased 34.7%, and the load factor rose 13.8 percentage points to 84.8%, second highest among the regions.
Middle Eastern airlines saw a 114.7% traffic rise in October compared to October 2021. Capacity increased 55.7% versus the year-ago period and the load factor climbed 21.8 percentage points to 79.5%.
North American carriers reported a 106.8% traffic rise in October versus the 2021 period. Capacity increased 54.1%, and the load factor climbed 21.4 percentage points to 83.8%.
Latin American airlines posted an 85.3% traffic rise compared to the same month in 2021. October capacity climbed 66.6% and the load factor increased 8.7 percentage points to 86.0%, the highest among the regions.
African airlines' traffic rose 84.5% in October versus a year ago. October 2022 capacity was up 46.9% and the load factor climbed 14.5 percentage points to 71.3%, the lowest among regions.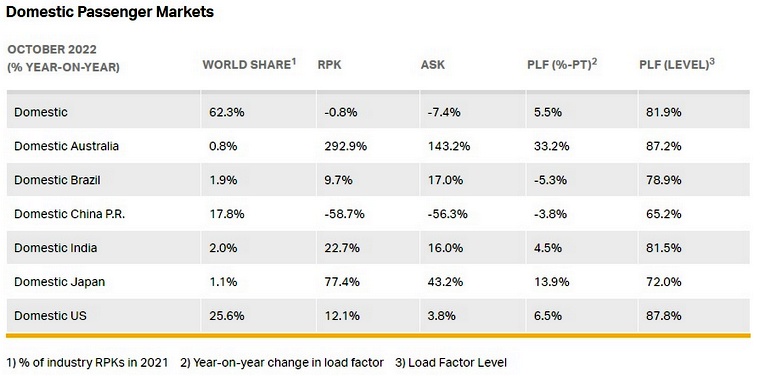 Domestic Passenger Markets
Australia almost tripled its October domestic traffic from last year (+292.9%); traffic now stands at 15.8% below pre-pandemic levels.
China's domestic RPKs fell 58.7% in October and is now 69.4% below October 2019 levels.

The Bottom Line
"People are enjoying the freedom to travel and businesses recognise the importance of air transport to their success. A recent survey of European business leaders doing business across borders showed that 84% could not imagine doing so without access to air transport networks and 89% believed being close to an airport with global connections gave them a competitive advantage. Governments need to pay attention to the message that air travel is fundamental to how we live and work. That reality should drive policies to enable aviation to operate as efficiently as possible while supporting the industry's 2050 Net Zero emission goals with meaningful incentives to encourage the production of Sustainable Aviation Fuels," said Walsh.
Google Banner Ad
SOUTH AFRICAN AIRWAYS (SAA) INTRODUCES NEW ROUTES JUST IN TIME FOR THE FESTIVE SEASON.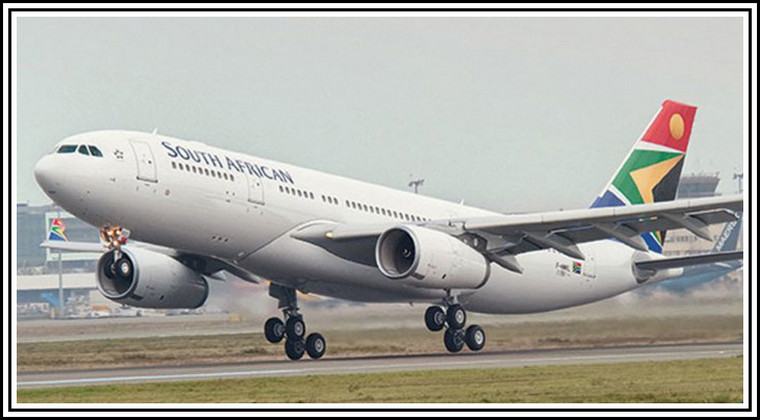 South African Airways (SAA) introduces new routes just in time for the festive season. The airline commences services to Victoria Falls in Zimbabwe, Windhoek in Namibia and a special schedule for Ggeberha from Johannesburg, OR Tambo International Airport.


On Thursday, 8th of December 2022, SAA will commence twice daily flights to Windhoek in Namibia, 7 days a week. SAA has made it easier for customers to enjoy unique safaris which connect you to the earth and beautiful sunrises and sunsets against a majestic backdrop of either sea or sand.
SAA has added Victoria Falls in Zimbabwe to its growing route network from Wednesday, 14th December 2022. Flights are available six days a week, except for Saturdays with departures from Johannesburg at 10h50, arriving at Victoria Falls International Airport at 12h25. Departures from Victoria Falls is at 13h10 each afternoon arriving in Johannesburg at 14h50.
Victoria Falls remains a popular tourist destination and the airline is proud to take its customers to the magnificence of one of the World's largest waterfalls.
With our domestic travellers in mind, SAA has added an option to fly to Gqeberha (Port Elizabeth) over the holidays. Commencing Monday, 12 December 2022, the airline offers 3 return flights per day to the Eastern Cape Province. SAA's Executive Commercial, Mr. Tebogo Tsimane says, "We are thrilled to start flying to Ggeberha as demand is high over the holiday season and we are happy to play our part in bringing families together this festive period."
SAA will operate an Airbus A320 aircraft on this route. Limited seats are available, access www.flysaa.com for all flight schedules and best fares.
To accommodate customers ahead of the festive season, SAA has increased frequencies to Harare in Zimbabwe from 7 to 10 a week and Mauritius from 4 times a week to 7 times a week.
SAA's Chairperson and Chief Executive Officer, Professor John Lamola says, "In pursuit of this drive to please our customers, we are relentlessly working on expanding the network of destinations we serve, to enhance seamless travel connectivity. Our new routes along with increased frequencies to our regional destinations, represent the second phase of our post-Covid restart operations."
Google Banner Ad
EMBRAER - THE SHAPE OF THINGS TO COME, NEW SUSTAINABLE AIRCRAFT CONCEPTS REVEALED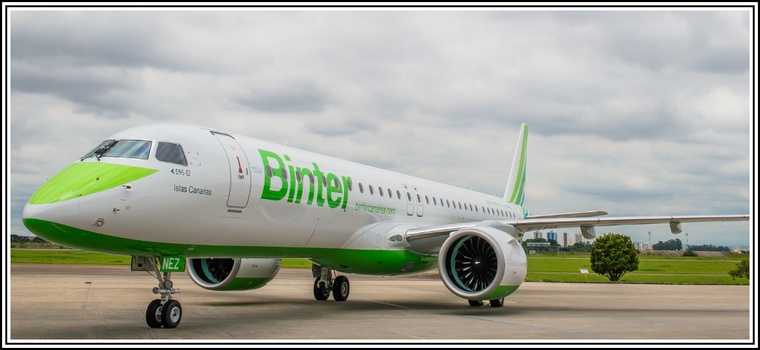 A year on from Embraer's Sustainability in Action in event, which detailed the study of four new aircraft concepts powered by new technologies and renewable energies, the company has been focusing on two 19-30 seater designs for hybrid electric and hydrogen electric propulsion. Guided by the company's 50 year technical expertise, external inputs from airlines and joint studies with engine OEMs, these two approaches to net-zero offer a technically realistic and economically feasible pathway to net-zero.

Energia Hybrid (E19-HE and E30-HE) - revealed as a nine seater in 2021, Embraer is exploring a 19 and a 30 seater variant:
parallel hybrid-electric propulsion
up to 90% CO2 emissions reduction when using SAF
19 and 30 seat variants
rear-mounted engines
technology readiness - early 2030's
Energeia H2 Fuel Cell (E19-H2FC and E30-H2FC) - revealed as a 19 seater in 2021, Embraer is exploring a 30 seater variant:
hydrogen electric propulsion
zero CO2 emissions
19 and 30 seat variants
rear-mounted electric engines
technology readiness - 2035
While still at the evaluation phase, the architectures and technologies are being assessed for technical and commercial viability. The Energeia Advisory Group has also been launched to harness inputs and collaboration from partner airlines.
Arjan Meijer, President and CEO, Embraer Commercial Aviation, said, "I believe we have set bold but realistic goals for these concepts to come to market. Since we announced our Energeia concepts last year, we have been busy evaluating different architectures and propulsion systems. These efforts have resulted in the updates of our concepts that we are sharing with you today. A number of airlines are part of our Energeia Advisory Group, the experience and knowledge they bring to the study will be the key to accelerate to the next phases."
"As new propulsion technologies will be first applied on smaller aircraft, Embraer is in a unique position. The 19 and 30 seaters are sensible starting points for focused studies since they are likely to present earlier technical and economical readiness," said Luis Carlos Affonso, Sr. VP of Engineering, Technology and Corporate Strategy, Embraer. "While the challenges of net-zero are significant, in less than 25 years our commercial aircraft have already reduced fuel burn and CO2 emissions by almost 50% on a seat/mile basis, using only conventional fuels and propulsion - I'm convinced net-zero is a goal we can reach."
Google Banner Ad
AIR FRANCE CONTINUES TO INCREASE ITS SERVICES TO EAST AFRICA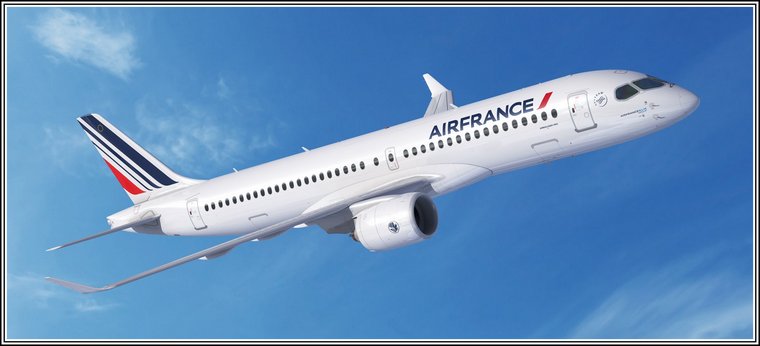 Air France unveils the first new routes of its 2023 Summer flight schedule (April - October 2023), characterised by increased service to East Africa, in particular.

As of 12 June 2023, Air France will inaugurate a new route from Paris-Charles de Gaulle to Dar Es Salam (Tanzania) as a continuation of the service to Zanzibar (also located in Tanzania). This service will be operated three times per week by a Boeing 787-9, equipped with 30 seats in Business, 21 seats in Premium Economy and 225 seats in Economy.
Dar Es Salam, a "haven of peace" turned economic capital of Tanzania
Over the course of a century, the former fishing village of Dar Es Salam (literally: "haven of peace") has become one of East Africa's main ports as well as Tanzania's largest city. As the country's economic hub, this cosmopolitan city is open to the world and has built a reputation in the arts and gastronomy. It is the main gateway to Tanzania.
Dar Es Salam is also served by KLM, with a daily flight departing from Amsterdam, as a continuation of the service to Zanzibar Thursdays and Sundays and as a continuation of the service to Kilimanjaro (also located in Tanzania), on other days of the week. The coordinated flight schedule of the two airlines allows customers to benefit from more choice.
Air France flight schedules (local time)
AF876: departs Paris-Charles de Gaulle at 10:20 AM on Mondays, Wednesdays and Saturdays and lands in Zanzibar at 8:15 PM. Departs from Zanzibar at 9:45PM and lands in Dar Es Salam at 10:20 PM (the same day).
AF876 (same flight number): departs Dar Es Salam at 11:50 PM on Mondays, Wednesdays and Saturdays and lands at Paris-Charles de Gaulle at 07:55 AM (the following day).
More flights to Zanzibar (Tanzania), Nairobi (Kenya) and Antananarivo (Madagascar)
The new Dar es Salam service will result in increased frequencies between Paris-Charles de Gaulle and Zanzibar.
Beginning Summer 2023, the "Spice Islands" will be serviced three times a week, compared to two in 2022.
This route, inaugurated in Winter 2021, was operated until recently as a continuation of the service to Nairobi (Kenya).
As of 12 June 2023, the Kenyan capital will benefit from non-stop service in both directions; with one daily flight to/from Paris-Charles de Gaulle - as opposed to the current six flights a week. These flights will be operated by a Boeing 787-9.
Starting next summer, Air France will offer a denser flight schedule further south between Paris-Charles de Gaulle and Antananarivo (Madagascar) with five non-stop weekly flights compared to the current four. Flights to and from Madagascar will be operated for the first time by an Airbus A350-900, the new jewel of the company's long-haul fleet, equipped with 34 seats in Business, 24 seats in Premium Economy and 266 seats in Economy.
Continued service between Paris-Charles de Gaulle and New York-Newark (USA) and between Paris-Charles de Gaulle and Hong Kong (China)
In addition to these new services, the summer of 2023 will see a continuation of flights between;
- Paris-Charles de Gaulle and New York-Newark (USA), a year-round service that will be inaugurated on 12 December 2022, with one daily flight operated by a Boeing 777-200ER,
- Paris-Charles de Gaulle and Hong Kong (China), a year-round service that is currently suspended but expected to resume on 9 January 2023, with three weekly flights on Mondays, Thursdays and Saturdays (return flight on Tuesdays, Fridays and Sundays), operated by a Boeing 777-300ER.
Google Banner Ad
BRITISH AIRWAYS LAUNCHES ITS NEW BRAND POSITIONING: A BRITISH ORIGINAL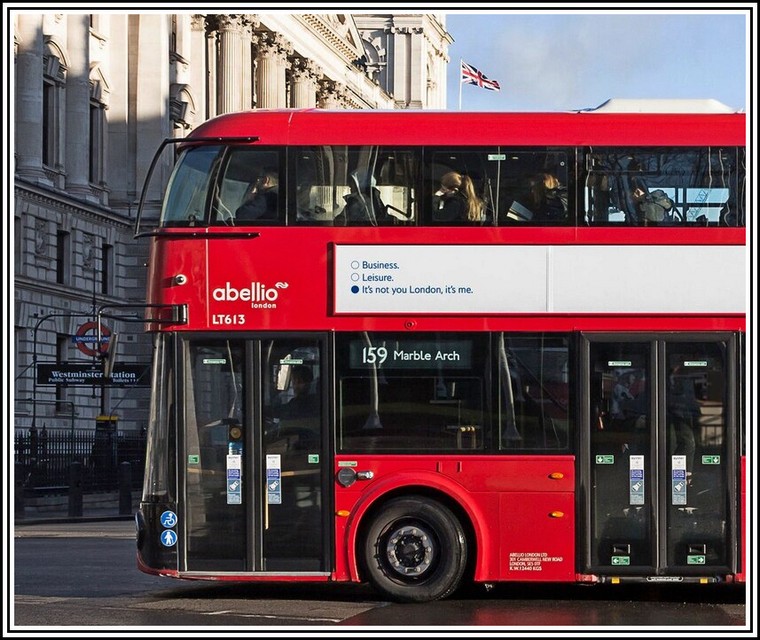 The new positioning, 'A British Original', is a celebration of British Airways' people, its customers and the nation, which has helped make British Airways, a British Original. It explores the individual and original reasons people travel, whether to reconnect with loved ones, take some time out or to immerse themselves in a different culture.

The campaign is centred around the common question travellers are frequently asked when they land in a new destination: 'What is the purpose of your visit?' but instead of ticking the standard boxes of 'business' or 'leisure', viewers see more meaningful and relatable answers for travel, reflecting each and every one of us. Sometimes funny, sometimes moving, but always celebrating originality in all its incredibly personal guises. Showing that British Airways recognises each of its customers as individuals.
The airline's people are at the heart of this campaign, featuring throughout both the static imagery and the short films. One of the static shots shows a British Airways cabin crew member peering out of the window, followed by his motivation for doing what he loves, 'the office view'. Similarly, one of these short films focuses on a British Airways' pilot, fondly rocking his daughter to sleep before heading off to work. The film ends on Anthony's reason for doing what he does every day, which is 'for her'.
The campaign includes an original approach both in creative and media, bringing to life reasons for travel in a record-breaking number of executions. Encompassing over 500 unique print, digital and outdoor executions and over 32 different short films all running over the course of a month.
The print, digital and outdoor imagery embodies a stripped back approach embracing negative space, simply showing a tick box. This series will include over 500 different and uniquely written copy lines, showing viewers an original reason for travel across every media site. Some of the examples of reasons to travel include 'because I have too much on my plate, none of it seafood' and 'To feed the social feed'. These will continue to adapt according to location, time of day, weather and what's happening in the news. The copy will also sometimes relate directly to the medium with playful bus wraps and press ads adopting a batten burg approach with adjacent placements that have interacting reasons for why we travel.
MG OMD handled all planning and buying for the campaign, providing strategic insight across media executions, creating a truly original and dynamic media campaign, marking its most bespoke project to date. The campaign will appear across TV, video on demand, cinema, radio, print, display, social and out of home, including iconic sites including Piccadilly Lights and Heathrow.
The TV campaign launches in peak programming across ITV, Channel 4 and Sky, with BA top and tailing ad breaks in key primetime shows including "The Return of Friday Night Live", "Gogglebox" and "Rob and Romesh vs".
Hamish McVey, Head of Brands and Marketing at British Airways, said: "We really wanted this campaign to celebrate the originality of our customers and our people. Every time a customer boards a plane, they are doing so for a unique reason and we know that those journeys are so important. We are working hard on making positive changes across our airline and this brand campaign allows us to showcase our motivation, which is our customers and our people."
Lucy Jameson, Co-founder at Uncommon Creative Studio said: "Both Britain as a nation and British Airways as a brand have a deep history of originality. From scheduling the first commercial service to Little Simz; originality drives us forward. It's at the core of our pioneering spirit.
We wanted to celebrate British originality at a time when we've never needed to rediscover it more. 'A British Original' champions people, not planes. We've started by shining a light on all the original reasons we fly - both for customers and British Airways' people - but this is just the beginning. We hope that, going forward, each and every interaction with the brand feels as original as each and every one of the hundreds of original executions we've produced for the launch."
Glenn Burchnall, Executive Director, Client Team at MG OMD said: "We are incredibly excited to be involved in such a unique and original campaign, working in partnership with British Airways and Uncommon to deliver our most dynamic and fully bespoke campaign ever; which sees us take the iconic brand of British Airways into original territories, environments and audiences, bringing the campaign to life through contextually relevant creative and cutting-edge activation."
Anthony Oliver, British Airways 777 pilot, said: "Every day I get to play my part behind the controls of a British Airways' aircraft, taking customers on some of the most important journeys of their lives. I hear so many incredible stories and reasons for customers travelling, so it is heart-warming to be able to celebrate them. I couldn't be prouder to feature in this campaign alongside one of my two children and show the world my motivation, my little ones."
The airline's customers can also expect to see the celebration of originality throughout the customer journey, including menus focusing on British provenance. The airline is also working on a new safety video which will showcase British Airways' people, alongside some of the most well-known and much loved British talent.
Google Banner Ad
EMBRAER CONFIRMS BINTER AS THE CUSTOMER OF FIVE E195-E2 AIRCRAFT ANNOUNCED THIS WEEK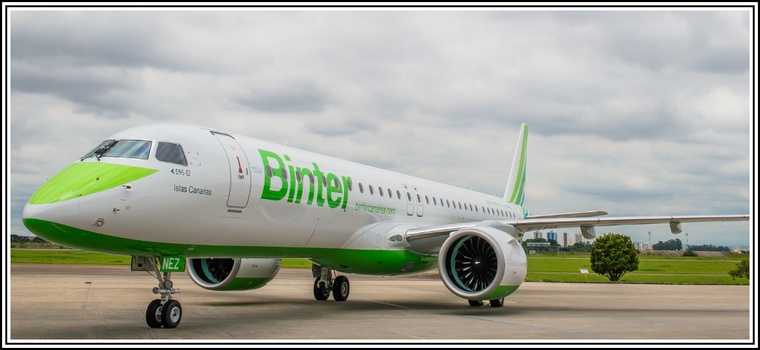 Embraer confirms that Spanish airline Binter is the customer of a new firm order for five E195-E2 aircraft announced this week to be delivered in 2023 and 2024. These aircraft will be added to the fleet of five jets already incorporated as of 2019 when Binter became the first European customer of the E195-E2. The list price value of the contract is US$389.4 million, which will be added to Embraer's Q4 backlog.



Embraer is a global aerospace company headquartered in Brazil. It manufactures aircraft for Commercial and Executive aviation, Defence & Security, and Agricultural customers. The company also provides after-sales services & support through a worldwide network of wholly-owned entities and authorised agents.
Since it was founded in 1969, Embraer has delivered more than 8,000 aircraft. On average, about every 10 seconds an aircraft manufactured by Embraer takes off somewhere in the world. The aircraft transport over 145 million passengers per year.
Embraer is the leading manufacturer of commercial jets up to 150 seats and is the main exporter of high value-added goods in Brazil. The company maintains industrial units, offices, service and parts distribution centres across the Americas, Africa, Asia, and Europe.


RYANAIR & SHELL SIGN SUSTAINABLE FUEL AGREEMENT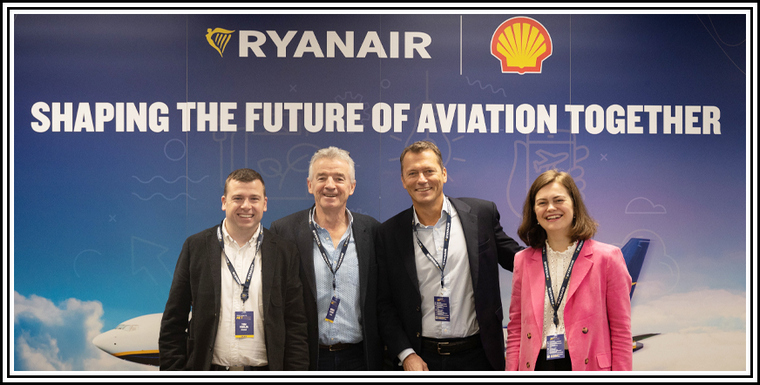 Ryanair, Europe's largest airline and global energy group, Shell, recently signed a Memo of Understanding (MOU) to advance the supply of sustainable aviation fuel (SAF) at over 200 Ryanair airports across Europe, with particular focus on SAF supply at RYR's largest bases like Dublin and London Stansted.

While SAF is a key enabler of aviation decarbonisation, it currently accounts for just a small fraction of worldwide jet fuel usage. This agreement with Shell gives Ryanair potential access to 360,000 tonnes (120m gallons) of SAF between 2025 and 2030, saving over approx. 900,000 tonnes in CO2 emissions (equiv. to over 70,000 flights from Dublin to Milan). The SAF that is covered by this MoU could potentially be produced from multiple different technology pathways and a broad range of sustainable feedstocks.
This agreement, which was signed at the Sustainable Aviation Research Centre in Trinity College Dublin (TCD) this morning (where Ryanair and TCD held an Aviation Sustainability Day), demonstrates both Ryanair and Shell's commitment to work together to invest in SAF supply fuels. Ryanair has set itself ambitious targets of 12.5% SAF by 2030 and net-zero emissions by 2050.
Google Banner Ad
VIRGIN ATLANTIC TO PURCHASE 70M US GALLONS OF SUSTAINABLE AVIATION FUEL



Virgin Atlantic has today announced the purchase of 10m USG per annum of SAF to be produced by Gevo, Inc. and supplied by Virgin Atlantic's joint venture partner, Delta Air Lines. The agreement with Delta builds on the existing long-term partnership between Delta and Gevo and increases the use of SAF from the US West Coast. SAF produced by Gevo will come from one of its future production facilities.


Gevo's production process separates sugars and proteins from non-edible industrial corn grown using climate smart agricultural practices. The sugars are then used to make SAF and the proteins are fed to livestock, whose manure can be used in biogas digestors to produce renewable natural gas and agricultural fertiliser. Virgin Atlantic has been pioneering sustainability leadership for over 15-years and operates a 70% next generation fleet, making it one of the youngest and most fuel-efficient in the skies. This has contributed to a reduction in Virgin Atlantic's total carbon emissions of 36% over the last decade.
After fleet transformation, SAF at scale represents the greatest opportunity to reduce carbon emissions in the next decade to help to achieve Net Zero 2050. This new SAF agreement with Delta represents 20% of Virgin Atlantic's 2030 SAF target and is equivalent to fuelling more than 500 flights across the transatlantic from Los Angeles.
Global SAF production today represents less than [0.1%]1[1] of jet fuel, making it imperative for the aviation industry to accelerate change. This collaboration between Delta and Virgin Atlantic on a long-term supply of SAF to Virgin Atlantic is demonstrative of increasing demand and the willingness to invest today to support SAF production for the years ahead.
Holly Boyd Boland, VP Corporate Development at Virgin Atlantic commented: "We know that SAF has a fundamental role to play in aviation decarbonisation. The demand from airlines is clear and Virgin Atlantic is committed to supporting the scale up of SAF production at pace. We cannot meet our collective ambition of Net Zero 2050 without it.
"We're proud that our fleet leads the way on fuel and carbon efficiency, but we know that more needs to be done. We're excited to be partnering with Delta to further reduce our carbon emissions on flights across the transatlantic."
Pam Fletcher, Delta's CSO and Head of Corporate Innovation said: "We need to create strong demand signals to ensure SAF can scale affordably to the levels our industry needs on the path to net zero by 2050. That's why we're excited about this joint partnership with Virgin Atlantic and Gevo that brings further commitment to SAF for the benefit of customers, our industry and the planet."
Google Banner Ad