Compiled by Willie Bodenstein



Google Banner Ad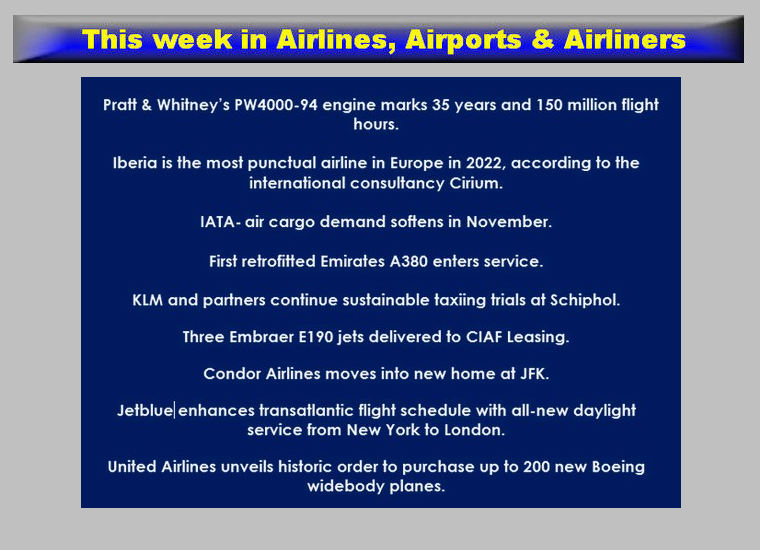 PRATT & WHITNEY'S PW4000-94 ENGINE MARKS 35 YEARS AND 150 MILLION FLIGHT HOURS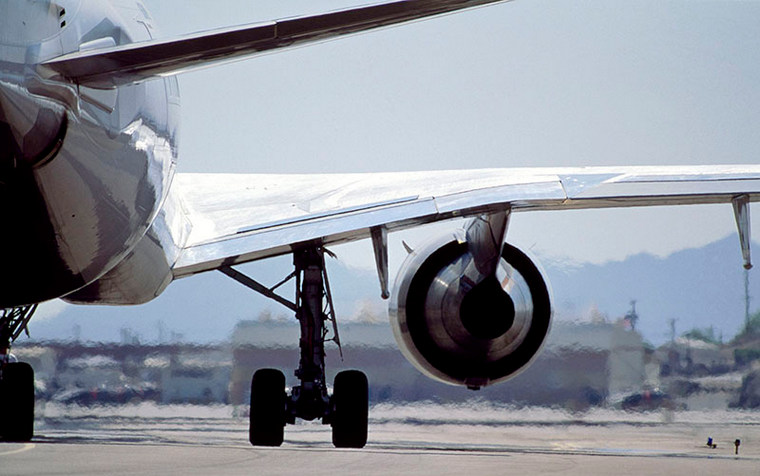 Pratt & Whitney announced that the PW4000-94-inch engine has surpassed 150 million flight hours and 35 years of operational experience. Over 2,500 engines have been delivered since entry-into-service in 1987. The PW4000-94-inch engine currently serves more than 70 customers in 30 countries, powering Boeing 747/767 and MD-11, Airbus A300/310 and the KC-46A aircraft across passenger, cargo, and military missions.


The 94-inch engine was the first model in Pratt & Whitney's high-thrust family for large aircraft, covering a range of 52,000 to 62,0000 pounds of thrust. Over 55% of the fleet serves the cargo industry.
"This milestone is a testament to the PW4000-94-inch engine's legacy of reliability and performance," said Bernie Zimmerman, vice president, Operational Commercial Engines, Pratt & Whitney. "The 94-inch offers excellent operational flexibility and fuel economy and lower noise versus the competing engine. It's an engine that's been proven on a variety of applications - passenger, cargo, and military."
At United Airlines, the PW4000-94-inch engine joined the fleet on its Boeing 747-400s in 1989, and on the Boeing 767-300 beginning in 1991, for a total of 81 aircraft.
"United has appreciated the reliability, great fuel economy and low maintenance costs of these engines," said John Wiitala, Vice President of Technical Services at United. "It's no surprise that these Pratt & Whitney engines have served United and our customers well for 33 years and counting."
The PW4000 family of engines are backed by an established global network of facilities for maintenance, repair, and overhaul (MRO). Pratt & Whitney offers a range of engine maintenance and product support options, including customized plans to meet customers' unique requirements ranging from new and serviceable material programs, Life Limited Parts (LLPs), part repairs to engine overhauls. The company supports customer operations through maintenance services both on-wing and off-wing, with a variety of work scopes and payment plans, including long-term agreements, fixed price services and transactional solutions.
Google Banner Ad



IBERIA IS THE MOST PUNCTUAL AIRLINE IN EUROPE IN 2022, ACCORDING TO THE INTERNATIONAL CONSULTANCY CIRIUM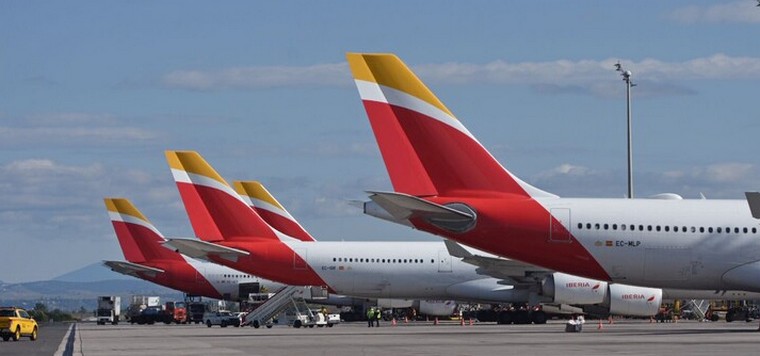 Despite operational challenges at many airports in which the company operates, especially during the summer, Iberia was the most punctual airline in Europe for six consecutive months starting in May 2022


Iberia has been recognised as the most punctual airline in Europe in 2022 by the international consultancy Cirium, a world leader in aviation analysis. It was the most punctual airline in Europe from May to October.
According to Cirium's On-time Performance Report, the longest-standing industry analysis on punctuality, 85.87% of the Spanish airline's flights in 2022 arrived on time at their destination, out of a total of 91,154 flights.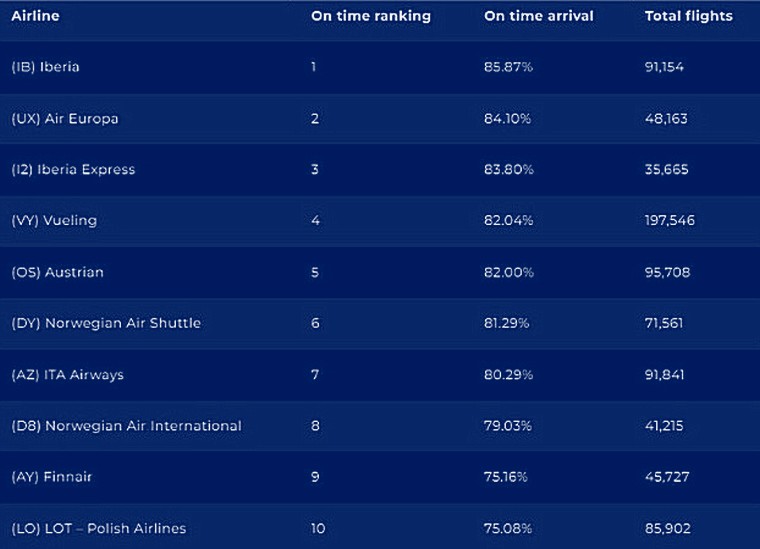 After two years marked by the COVID-19 pandemic, when the airline industry faced the deepest crisis in its history, 2022 was the year of the sector's recovery, but it also presented great operational challenges due to a higher demand than expected by industry experts. During the summer months, numerous European and North American airports in which Iberia operates experienced operational problems due to a manpower shortage, among others. Despite this, Iberia maintained its punctuality standards and was the most punctual airline in Europe during the summer months.
"Punctuality is one of the qualities that our customers most appreciate, therefore this award is a great source of pride for us, and it recognises the great work of each and every one of the employees who make possible that our aircraft take off and land on time. Congratulations to the entire Iberia team who have worked together towards a common goal. Few milestones better demonstrate the spirit of teamwork, commitment, professionalism and pride than punctuality, because all areas and businesses of the company should work together seamlessly as an orchestra to ensure the success of the operation", said Javier Sánchez-Prieto, Iberia's CEO.
Google Banner Ad



AIR CARGO DEMAND SOFTENS IN NOVEMBER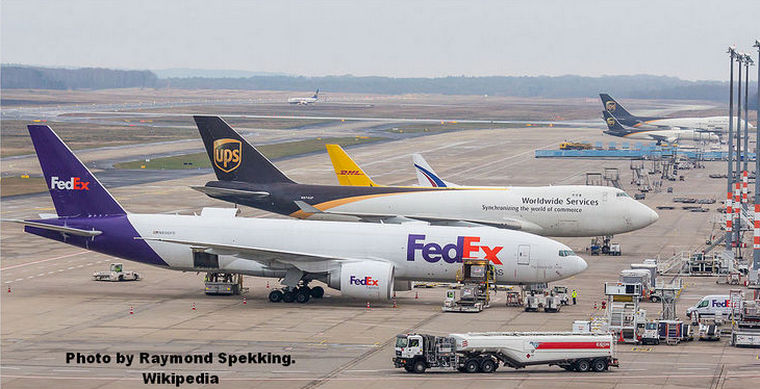 The International Air Transport Association (IATA) released data for November 2022 global air cargo markets showing that demand softened as economic headwinds persist. Global demand, measured in cargo tonne-kilometres (CTKs*), fell 13.7% compared to November 2021 (-14.2% for international operations)


Capacity (measured in available cargo tonne-kilometres, ACTK) was 1.9% below November 2021. This was the second year-on-year contraction following the first last month (in October) since April 2022. International cargo capacity decreased 0.1% compared to November 2021.
Compared to pre-COVID-19 levels (November 2019), there was a smaller contraction in overall demand (-10.1%), while capacity was down 8.8%.
Several factors in the operating environment should be noted:Global new export orders, a leading indicator of cargo demand, were stable in October. For major economies, new export orders are shrinking except in Germany, the US, and South Korea, where they grew.
Global goods trade expanded by 3.3% in October. Given the softening in air cargo demand, this suggests that maritime cargo was the primary beneficiary.
The US dollar has appreciated sharply, adding cost pressure as many costs are denominated in US dollars. This includes jet fuel, which is already at elevated levels.
The Consumer Price Index for G7 countries decreased from 7.8% in October to 7.4% in November, the largest month-on-month decline in 2022. Inflation in producer (input) prices reduced to 12.7% in November, its lowest level so far in 2022.
"Air cargo performance softened in November, the traditional peak season. Resilience in the face of economic uncertainties is demonstrated with demand being relatively stable on a month-to-month basis. But market signals are mixed. November presented several indicators with upside potential: oil prices stabilized, inflation slowed and there was a slight expansion in goods traded globally. But shrinking export orders globally and China's rising COVID cases are cause for careful monitoring," said Willie Walsh, IATA's Director General.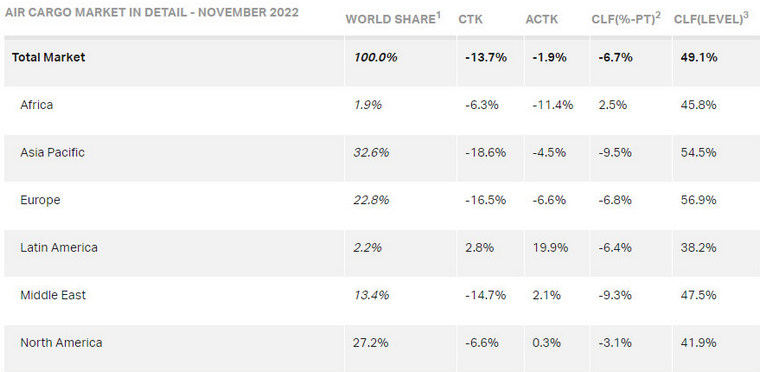 1) % of industry CTKs in 2021 2) Year-on-year change in load factor 3) Load Factor Level

November Regional Performance


Asia-Pacific airlines saw their air cargo volumes decrease by 18.6% in November 2022 compared to the same month in 2021. This was the worst performance of all regions and a decline in performance compared to October (-14.7%). Airlines in the region continue to be impacted by lower levels of trade and manufacturing activity and disruptions in supply chains due to China's rising COVID cases. Available capacity in the region decreased by 4.5% compared to 2021.
North American carriers posted a 6.6% decrease in cargo volumes in November 2022 compared to the same month in 2021. This was an improvement in performance compared to October (-8.6%). Capacity increased 0.3% compared to November 2021.
European carriers saw a 16.5% decrease in cargo volumes in November 2022 compared to the same month in 2021. This was an improvement in performance compared to October (-18.8%), thanks to the stronger new export orders in Germany. Airlines in the region continue to be most affected by the war in Ukraine. High inflation levels, most notably in Türkiye, also affected volumes. Capacity decreased 6.6% in November 2022 compared to November 2021.
Middle Eastern carriers experienced a 14.7% year-on-year decrease in cargo volumes in November 2022. This was a marginal improvement to the previous month (-15.0%). Cargo volumes to/from Europe impacted the region's performance, registering a 16.3% year-on-year decline in November. Capacity increased 2.1% compared to November 2021.
Latin American carriers reported a 2.8% increase in cargo volumes in November 2022 compared to November 2021. This was the strongest performance of all regions, and a significant improvement in performance compared to October (-1.4%). Capacity in November was up 2.8% compared to the same month in 2021.
African airlines saw cargo volumes decrease by 6.3% in November 2022 compared to November 2021. This was an improvement in performance compared to the previous month (-8.3%). Capacity was 11.4% below November 2021 levels.
Google Banner Ad
FIRST RETROFITTED EMIRATES A380 ENTERS SERVICE



The first Emirates A380 to be completely refurbished under the airline's US$ 2 billion retrofit program has been deployed today on the Dubai-London Heathrow service, operating as EK003.


Sir Tim Clark, President Emirates Airline said: "Customers will notice the difference the moment they step onboard - the spacious A380 will look and feel even more impressive and comfortable. With our latest interiors and products, this newly refurbished aircraft elevates our inflight experience in all classes of travel, and enables us to offer more premium economy seats to meet customer demand. I'm particularly proud that this refurbishment work was designed, conducted and completed inhouse at our facilities in Dubai, to the highest standards of quality and safety. It reflects the world-class aviation capabilities and infrastructure that exists within Emirates, and here in the UAE."
The fully refreshed A380 features Emirates' latest products and interiors across all cabins, including 56 premium economy class seats on the main deck, and new colour palettes evident in the carpeting and wall panels. On the upper deck, first and business class seats sport Emirates' latest cream-coloured leather upholstery and lighter-toned wood finishing, similar to the airline's 'game changer' product. Emirates' signature ghaf tree motif also features prominently throughout the interiors, including hand-stencilled panels in the first-class shower spa.
The next Emirates A380 aircraft lined up for its make-over is A6-EUW, and work is expected to be completed by the end of this month.
As the program progresses, engineers will work simultaneously on 2 aircraft. This means that one aircraft in the fleet will be withdrawn from service every eight days and transferred to Emirates Engineering facilities. By 2024, all 67 A380s assigned for refurbishment will have returned to service. Emirates will then begin work on its 53 Boeing 777s earmarked for this project. The airline expects to complete the program in 2025.
To deliver the largest known aircraft refurbishment program in aviation history, Emirates recruited 190 new project personnel, and is working with 48 major partners and suppliers who have also hired hundreds of skilled workers.
Teams of engineers and technicians have worked round the clock, taking apart the entire interior of the A380 and refitting the parts again in a carefully planned and tested sequence.
Google Banner Ad
KLM AND PARTNERS CONTINUE SUSTAINABLE TAXIING TRIALS AT SCHIPHOL



KLM and its partners including Amsterdam Airport Schiphol (AAS) and Air Traffic Control the Netherlands (LVNL) are continuing their sustainable taxiing trials. A Taxibot, a hybrid towing tractor, drove a KLM B737-700 from Schiphol central to a platform near the Zwanenburg Runway while the aircraft's engines were turned off. This method of taxiing greatly reduces fuel consumption and therefore CO2, NOx and (ultra) fine particulate matter emissions.


KLM assumes its responsibility for making aviation more sustainable. We work in close cooperation with all our partners to arrive at innovative solutions. It's important for sustainability to form part of everything we do at KLM, be it in the cockpit or cabin, or on the ground. We expect sustainable taxiing to reduce fuel consumption during taxiing by between 50% and 85%. Such trials are very important because they enable us to better determine how we can integrate sustainable taxiing in our daily operations. Maarten Stienen, COO KLM.
According to the original plan, trials to and from the Polder Runway would now be in full swing. Based on a modified plan, studies, simulations and tests will be carried out over the next 18 months. These are aimed at further testing, introducing and scaling up new procedures for sustainable taxiing to and from runways including the Polder Runway from mid-2024.
Together with LVNL, AAS, Transavia, Corendon Dutch Airlines, TUIfly and ground handlers dnata, Swissport and Viggo, KLM is working towards achieving fully sustainable airport taxiing operations by 2030. The Dutch Ministry of Infrastructure and Water Management supports the initiative. The trials form part of European initiatives undertaken by the ALBATROSS consortium and its successor: HERON. These subsidised projects aim to make aviation more sustainable.
Google Banner Ad
THREE EMBRAER E190 JETS DELIVERED TO CIAF LEASING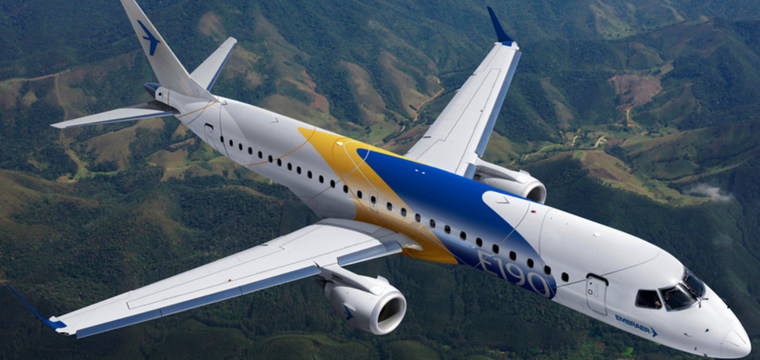 CIAF Leasing, based in Cairo, received all three of their new E190 aircraft during a ceremony at Embraer's headquarters in Brazil. Salah Hashem, Chairman and CEO of CIAF Leasing said, "The three new E190s will be an excellent addition to our growing fleet of Embraer E-Jets."


Stephan Hannemann, VP Middle East and Africa, Embraer Commercial Aviation said, "It's good to see a long-term partner like CIAF receiving more aircraft and bringing in another new E-Jet operator to the Embraer family; wrapping up a year of significant progress for Embraer in the region."
Embraer is a global aerospace company headquartered in Brazil. It manufactures aircraft for commercial and executive aviation, defence & security, and agricultural customers. The company also provides after-sales services & support through a worldwide network of wholly-owned entities and authorized agents.
Since it was founded in 1969, Embraer has delivered more than 8,000 aircraft. On average, about every 10 seconds an aircraft manufactured by Embraer takes off somewhere in the world. The aircraft transport over 145 million passengers per year.
Google Banner Ad
JETBLUE ENHANCES TRANSATLANTIC FLIGHT SCHEDULE WITH ALL-NEW DAYLIGHT SERVICE FROM NEW YORK TO LONDON




JetBlue (NASDAQ: JBLU) today announced it is further enhancing its flying across the North Atlantic with a new daytime flight option for customers traveling from New York to London. Starting March 25, 2023, New York's Hometown Airline® will introduce a new morning departure from John F. Kennedy International Airport (JFK) to London Heathrow Airport (LHR), giving travellers the all-new option to arrive in the United Kingdom the same day they depart the United States.


The new flight is made possible through an additional pair of slots obtained by JetBlue, which further boosts the airline's presence at the U.K.'s busiest airport. Seats for JetBlue's new Heathrow flights are on sale starting today.
As part of JetBlue's refined London flying schedule, it will adjust service between New York-JFK and London Gatwick Airport (LGW), offering travellers one daily flight instead of two. In total JetBlue will maintain three daily flights between New York and London.
JetBlue's new transatlantic schedule in New York is complemented by the airline's London flying elsewhere in the Northeast where JetBlue offers daily service between Boston Logan International Airport (BOS) and both London Heathrow and London Gatwick. JetBlue is the only airline to offer service between New England and two of London's busiest airports.
JetBlue is currently the only U.S. carrier to serve both Gatwick and Heathrow, offering customers on both sides of the Atlantic greater choice and convenience. JetBlue's multi-airport approach in London, with diversified flying at two of the U.K.'s busiest airports, has already allowed the airline to grow a meaningful customer base of loyal transatlantic fliers and build valuable relationships with key teams at both airports.
JetBlue flights between the U.S. and London feature premium Mint suites and the airline's award-winning core seats. JetBlue offers the most legroom in coach (a), on-demand entertainment on every seatback, free and fast Fly-Fi broadband internet (b), complimentary snacks and soft drinks, and great customer service. JetBlue's entrance into the transatlantic has introduced a new era of customer-focused, low-fare travel for leisure and business travellers.
Customers in both core and Mint can stay connected throughout the flight, with JetBlue being the only airline to offer all travellers unlimited, free high-speed wi-fi on flights between the U.S. and the U.K. Additionally, customers have access to a curated selection of seatback entertainment, allowing customers to have a multiple screen experience onboard - just like they do at home.
Google Banner Ad
UNITED AIRLINES UNVEILS HISTORIC ORDER TO PURCHASE UP TO 200 NEW BOEING WIDEBODY PLANES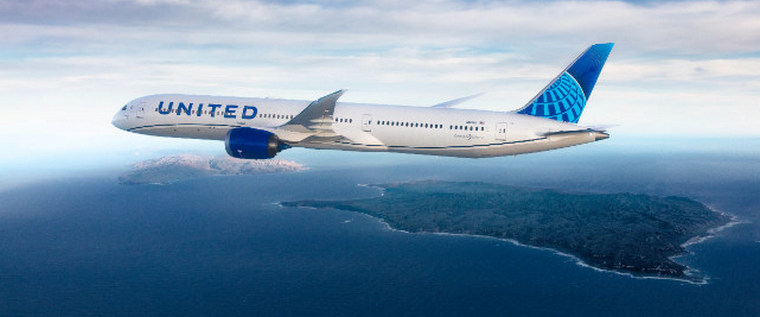 United Airlines recently announced the largest widebody order by a U.S. carrier in commercial aviation history: 100 Boeing 787 Dreamliners with options to purchase 100 more. This historic purchase is the next chapter in the ambitious United Next plan and will bolster the airline's leadership role in global travel for years to come.


United expects to take delivery of the new widebody planes between 2024 and 2032 and can choose among the 787-8, 9 or 10 models, providing flexibility to support a wide range of routes.United also exercised options to purchase 44 Boeing 737 MAX aircraft for delivery between 2024 and 2026 - consistent with the United Next 2026 capacity plan - and ordered 56 more MAX aircraft for delivery between 2027 and 2028.
The airline now expects to take delivery of about 700 new narrow and widebody aircraft by the end of 2032, including an average of more than two every week in 2023 and more than three every week in 2024.
Additionally, United continues its unprecedented effort to upgrade the interiors of its existing fleet. More than 90% of the carrier's international widebodies now feature the United Polaris® business class seat, as well as United Premium Plus® seating - upgrades for the remaining aircraft will be completed by the summer of 2023. United also will retrofit 100% of its mainline, narrow-body planes with its signature interior - about 100 aircraft are scheduled to be completed in 2023 with the remaining expected to be completed by the end of 2025.
Approximately 100 planes of the new widebody order are expected to replace older Boeing 767 and Boeing 777 aircraft, with all 767 aircraft removed from the United fleet by 2030, resulting in an up to 25% decrease in carbon emissions per seat for the new planes compared to the older planes they are expected to replace.
"United emerged from the pandemic as the world's leading global airline and the flag carrier of the United States," said United CEO Scott Kirby. "This order further solidifies our lead and creates new opportunities for our customers, employees and shareholders by accelerating our plan to connect more people to more places around the globe and deliver the best experience in the sky."
"With this investment in its future fleet, the 737 MAX and 787 will help United accelerate its fleet modernization and global growth strategy," said Stan Deal, president and CEO of Boeing Commercial Airplanes. "The Boeing team is honoured by United's trust in our family of airplanes to connect people and transport cargo around the world for decades to come."
The firm order for 787 aircraft addresses United's current widebody aircraft replacement needs through the next decade - their greatly improved maintenance and fuel burn economics will further United's efforts to improve its overall cost profile. In partnership with Boeing, this order also helps United maintain flexibility with the timing of widebody aircraft retirements.
At the same time, the 787 options allow United to continue to grow its global network and would help maintain the airline's industry-leading margins in international flying among U.S. carriers.
"This order solves for our current widebody replacement needs in a more fuel-efficient and cost-efficient way, while also giving our customers a best-in-class experience," said Gerry Laderman, United's EVP and Chief Financial Officer. "And if the future of long-haul flying is as bright as we think it will be, United is able to capitalize on those opportunities by exercising these new widebody options - I look forward to the incremental margin and earnings these aircraft will generate."
The exercised options for MAX aircraft are consistent with the 2026 capacity and two margin targets associated with the United Next plan. United also has started to build the order book for 2027 and beyond with the firm order for 56 additional MAX aircraft.
Google Banner Ad