Compiled by Willie Bodenstein



Google Banner Ad




AVIATION SAFETY NETWORK - FATAL ACCIDENTS AND FATALITIES PER YEAR FOR AIRLINERS.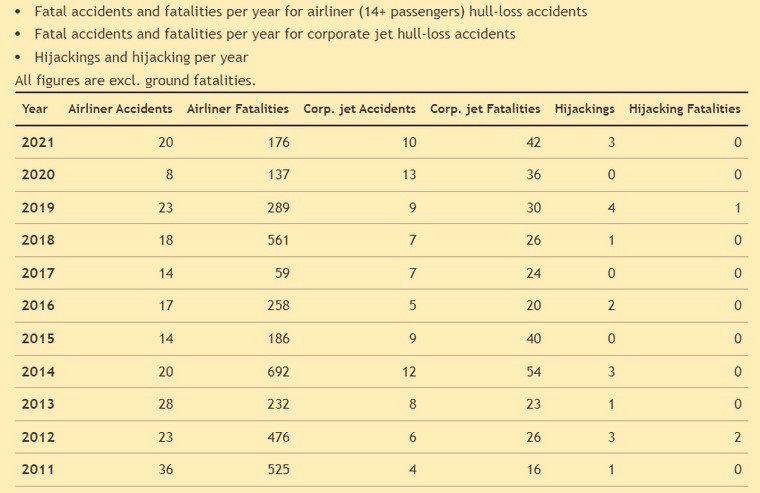 FAA PROPOSES RULE MANDATING USE OF PROGRAM TO DETECT, MITIGATE RISKS EARLY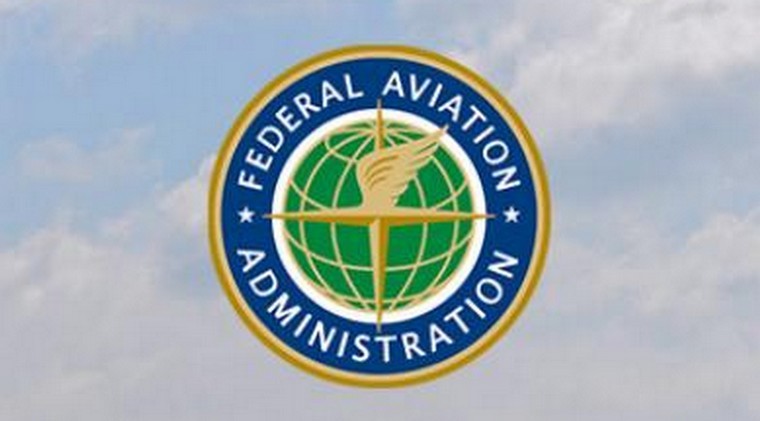 The U.S. Department of Transportation's Federal Aviation Administration (FAA) proposed a rule that requires charter, commuter and air tour operators and aircraft manufacturers to implement a critical safety approach that has helped create the safest era in aviation history



The program, Safety Management System (SMS), is a set of policies and procedures where companies identify, monitor and address potential operational hazards early on, before they become serious problems. U.S. airlines have been required to have SMS since 2018.
"Expanding Safety Management Systems to other players in the aviation industry will reduce accidents and incidents and save lives," said Acting FAA Administrator Billy Nolen. "As safe and efficient as our system is today, we must always strive to achieve the next level of safety."
The rule would support the FAA's preventive approach that detects and corrects potential safety issues before they result in accidents or incidents.
The FAA has strongly encouraged aviation industry members other than scheduled airlines to voluntarily implement SMS. Boeing, Bell, GE, P&W and Sikorsky all have approved SMS programs.
The proposed rule goes beyond the requirements of the Aircraft Certification, Safety and Accountability Act of 2020, which directed the FAA to mandate SMS only for aircraft manufacturers. The rule also addresses recommendations from the National Transportation Safety Board and independent review panels. Compliance times would vary between one and two years after the rule took effect, depending on the operation.
Google Banner Ad
ICAO RECOMMENDATIONS ON COVID-19 RISK MANAGEMENT FOR INTERNATIONAL AIR TRAVEL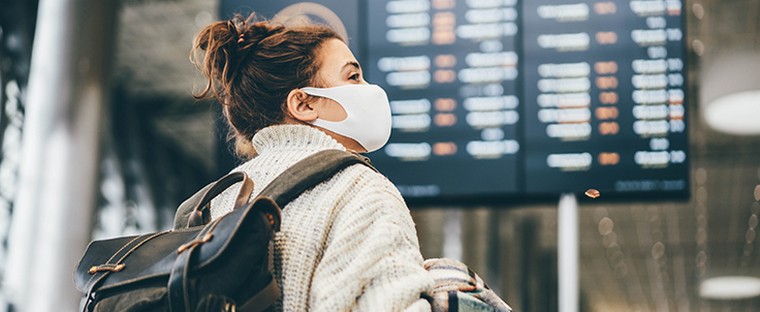 Issued in a new ICAO bulletin from its Collaborative Arrangement for the Prevention and Management of Public Health Events in Civil Aviation, or 'CAPSCA' programme, the guidance is designed to help countries maintain air connectivity while taking prudent and evidence-based measures to mitigate ongoing risks of SARS-CoV-2 transmission.

"This new ICAO bulletin clearly emphasizes that as more States lift their COVID-19 related cross-border restrictions for air travellers, it is important for increased air travel connectivity and improved facilitation everywhere that pandemic related restrictions should only be introduced and maintained based on evidence-based risk management, and following World Health Organization (WHO) and ICAO recommendations and guidance," commented ICAO Secretary General Juan Carlos Salazar. "This approach contributes to enhanced travel, tourism, trade and economies."
The CAPSCA recommendations begin with the principle's countries should consider before introducing air travel requirements and related mitigations.
"A need for regular, thorough risk assessments, based on evidence and comparable indicators is noted in this bulletin, in addition to assessing applicable public health resources in both the departure and destination States, assuring good communication among the diverse stakeholders involved, and balancing the public health risk with the need for continuation of services," stressed ICAO Council President Salvatore Sciacchitano. "All of these priorities were highlighted by the ICAO Council's CART recommendation's which helped aviation recover from the pandemic, and the principles remain just as relevant today as we face these new variants."
Additional recommendations are provided on how countries can mitigate COVID-19 risks in aviation, including through increased global vaccination.
The guidance also reviews the current COVID-19 variants circulating globally, provides suggestions on maintaining open borders and assuring the recognition of air crew and other key civil aviation professionals as essential workers, and explores the considerations to be assessed by countries when deciding whether to implement testing strategies.
"Our work through the CAPSCA collaboration is importantly and closely supported by the WHO," Secretary General Salazar added, "and these recommendations have taken into account the many factors national governments now need to consider in terms of air travel health measures."
The diverse factors noted in the recommendations include among others the current wide geographical variation of circulating SARS-CoV-2 variants and vaccination levels, other respiratory pathogens posing risks, evolving COVID-19 case and fatality numbers country by country, and the capacities of public health systems to manage new COVID outbreaks in addition to their regular workload.
Google Banner Ad
ROYAL JORDANIAN RANKS AS MIDDLE EAST AND AFRICA'S SECOND MOST ON-TIME AIRLINES OF 2022.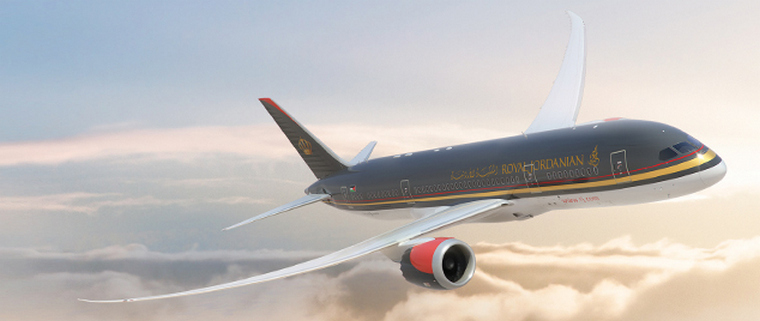 According to the review, 86.76% of RJ departure and arrival flights were on time during 2022, earning it the following placement among the top five airlines in the region: Oman Air, Royal Jordanian, Kuwait Airways, Emirates and Qatar Airways. Full flight data from a broad range of airlines, RJ being one, over the course of 12 months was taken into consideration to produce the list of most on-time airlines, airports and low-cost carriers for 2022.

Cirium's data is designed to provide industry stakeholders with an independent, third-party perspective, based on the widest and deepest pool of data collected and curated from multiple sources of real-time flight information. These include the airlines themselves, global distribution systems, positional data, civil aviation authorities, air navigation service providers, proprietary data partnerships.
The company's on-time performance data, furthermore, is backed by a completely independent board of advisors, comprised of industry experts with an unbiased view of the aviation sector. The board's oversight ensures accuracy and proper representation of all the information the company presents.
Cirium also noted that the past year saw a challenging operational environment throughout the world, particularly in Europe and North America, with many airlines and airports experiencing delays, disruptions, labour shortages, capacity issues, and resource difficulties. Despite this climate, many airlines and airports across the globe excelled.
On this occasion, RJ vice chairman and CEO Samer Majali expressed the airline's pleasure at kickstarting 2023 by securing its place among the Middle East and Africa region's top airlines, elaborating that this achievement reflects RJ's commitment to presenting its passengers with punctual flights. He went on to affirm RJ's dedication to maintaining this competitive advantage, meeting the expectations of the airline and its passengers while continuing to deliver the best air and ground services possible.
Google Banner Ad
ROLLS-ROYCE COMPLETED BUILDING AND IS PREPARING TO TEST ITS ULTRAFAN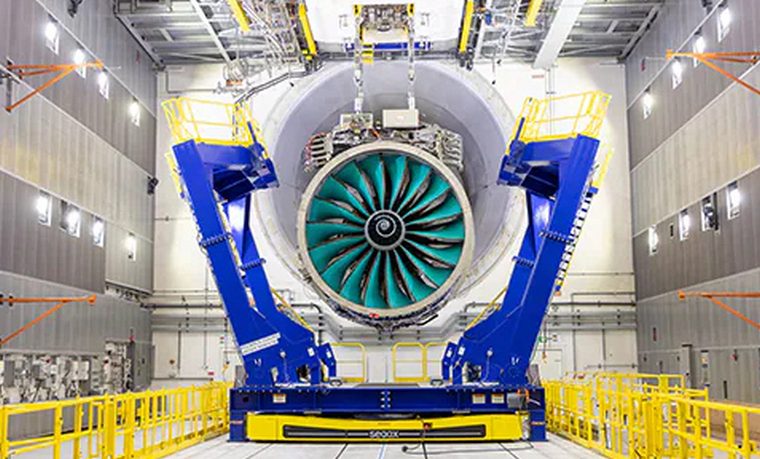 Rolls-Royce today announced it has completed building and is preparing to test its UltraFanģ, technology demonstrator. In a major milestone for the programme, the demonstrator engine was transported from the build workshop and into Testbed 80 in Derby, UK where it was mounted in preparation for testing.

Chris Cholerton, President of Rolls-Royce Civil Aerospace, said: "Seeing the UltraFan demonstrator come together and getting ready for test in Testbed 80 is a great way to end the year. We have all been waiting for this moment, which is such an important milestone for the programme and for the team who have worked on it. The next stage will be to see UltraFan run for the first time on 100% Sustainable Aviation Fuel in 2023, proving the technology is ready to support more sustainable flight in the future."
Combining a brand-new engine design with a suite of technologies to support sustainable air travel for decades to come, the UltraFan demonstrator has a fan diameter of 140 inches and offers a 25% fuel efficiency improvement compared with the first generation of Trent engine.
UltraFan offers a variety of sustainability solutions that will support the journey to net zero aviation. In the nearer term, there are options to transfer technologies from the UltraFan development programme to current Trent engines to deliver enhanced fuel efficiency and reductions in emissions. In the longer term, UltraFan's scalable technology from ~25,000-110,000lb thrust delivers the potential to further improve fuel efficiency of both narrowbody and widebody aircraft by up to 10 per cent.
Testbed 80, the world's largest and smartest testbed, was designed and built specially to accommodate the size and technical complexity of the UltraFan demonstrator. It was opened in 2020 and has already completed many hours of experimental engine testing.
The UltraFan technology demonstrator programme has been supported by the UK's Aerospace Technology Institute and Innovate UK, the EU's Clean Sky programmes plus LuFo and the State of Brandenburg in Germany.
Google Banner Ad
ROYAL JORDANIAN COMMITS WITH IATA TO ENHANCE ENVIRONMENTAL SUSTAINABILITY






IEnvA is a system designed to independently assess and improve the environmental management of an airline. It identifies the environmental impact and risks and provides the tools to check the airline's sustainability commitment. The program covers all aspects of sustainability from CO2 emissions to single-use plastics to cabin waste to wildlife trafficking.


It is based on the ISO14000 environmental management standard and covers all flight operations and activities on the ground and in the air in every country in which the airline operates. The full implementation and review can take between six and 18 months. Every two years the process is audited by independent third-party experts and the airline is then IEnvA certified.
Today, environmental sustainability is a focus of interest for aviation. The airline industry is ambitiously committed to net zero emissions by 2050. Therefore, airlines and other industry players must have the right tools to support this goal towards a carbon-neutral industry.
RJ Vice Chairman/CEO Samer Majali said: "We are pleased to partner with IATA to strengthen our commitment to environmental sustainability. IEnvA will offer RJ different solutions to implement the best practices in environmental management, eventually leading to our goal line to fly net-zero in 27 years from now."
He added that the airline is ambitious to replace jet fuel with sustainable aviation fuel (SAF) made from renewable sources. RJ, like many global carriers, is now more focused than ever to invest in projects that help reduce CO2 emissions and implement carbon offsetting to meet climate goals.
"RJ's signing up for IEnvA underlines their commitment to improving the company's environmental management practices, and sustainability efforts in general. We are very pleased that RJ has partnered with IATA and trust us to work with them to further progress. Environmental sustainability is centre stage for the airline industry. IATA is proud to work with its member airline to introduce world-class environmental management practices and tools to support our goal towards a carbon-neutral industry", said Kamil Alawadhi, IATA's Regional Vice-President for Africa and Middle East.
Google Banner Ad
BOEING SELECTED FOR NASA SUSTAINABLE FLIGHT DEMONSTRATOR AWARD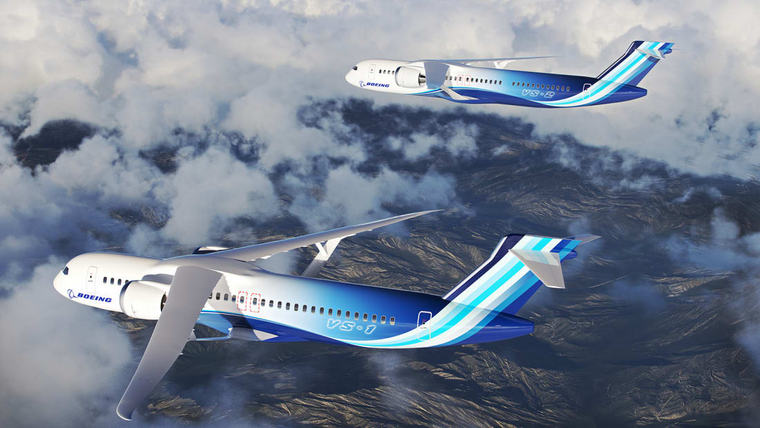 NASA has selected Boeing [NYSE: BA] and its industry team to lead the development and flight testing of a full-scale Transonic Truss-Braced Wing (TTBW) demonstrator airplane.


The technologies demonstrated and tested as part of the Sustainable Flight Demonstrator (SFD) program will inform future designs and could lead to breakthrough aerodynamics and fuel efficiency gains.
When combined with expected advancements in propulsion systems, materials and systems architecture, a single-aisle airplane with a TTBW configuration could reduce fuel consumption and emissions up to 30% relative to today's most efficient single-aisle airplanes, depending on the mission. The SFD program aims to advance the civil aviation industry's commitment to reaching net zero carbon emissions by 2050, as well as the goals set forth in the White House's U.S. Aviation Climate Action Plan.
"The SFD program has the potential to make a major contribution toward a sustainable future," said Greg Hyslop, Boeing chief engineer and executive vice president of Engineering, Test & Technology. "It represents an opportunity to design, build and fly a full-scale experimental plane, while solving novel technical problems."
Ultrathin wings braced by struts with larger spans and higher-aspect ratios could eventually accommodate advanced propulsion systems that are limited by a lack of underwing space in today's low-wing airplane configurations. For the demonstrator vehicle, Boeing will use elements from existing vehicles and integrate them with all-new components.
NASA's funding through the SFD Space Act Agreement totals $425 million. The SFD program will also leverage up to $725 million in funding by Boeing and its industry partners to shape the demonstrator program and meet the resource needs required. Separately, Boeing's previous internal investments for recent phases of sustainable aviation research total $110 million.
The TTBW airframe concept is the result of more than a decade of development supported by NASA, Boeing and industry investments. Under previous NASA programs including the agency's Subsonic Ultra Green Aircraft Research program, Boeing conducted extensive wind tunnel testing and digital modeling to advance the design of the TTBW. Early conceptual studies started under NASA's Environmentally Responsible Aviation program.
Google Banner Ad




UZBEKISTAN AIRWAYS ORDERS 12 A320NEO FAMILY AIRCRAFT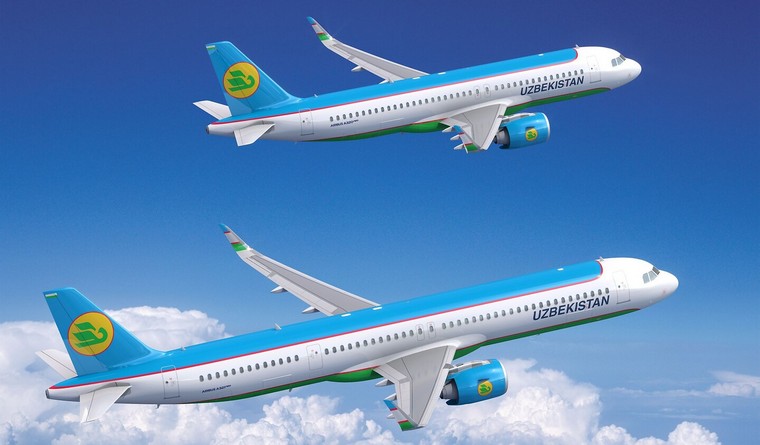 Uzbekistan Airways, the national carrier of the Republic of Uzbekistan, has placed a firm order with Airbus for 12 A320neo Family aircraft (eight A320neo and four A321neo). The new aircraft will join the carrier's current fleet of 17 Airbus A320 Family aircraft. The choice of the engines will be made by the airline at a later stage.


The A320neo Family aircraft will feature the new Airbus Airspace cabin, bringing premium comfort to the single aisle market. The airline is planning to operate its new aircraft to further develop its domestic and international route network.
"The contract signed with Airbus is a new step in our fleet modernisation strategy aimed at offering our passengers the most modern and comfortable aircraft. At the same time these new fuel efficient A320neo Family aircraft will help us to further expand and strengthen our footprint in Central Asia as well as develop our domestic and international network", said Ilhom Makhkamov, Chairman of the Board of Uzbekistan Airways.
"Our cooperation with Uzbekistan Airways dates back to 1993. It is an honour that the A320neo Family has now again been chosen. We see good potential for growth in the Central Asia region in the years to come. The modern and efficient A320neo will enable Uzbekistan Airways to benefit from this growth and play a leading role in this region", said Christian Scherer, Chief Commercial Officer and Head of International at Airbus.
The A320neo Family incorporates the very latest technologies including new generation engines and Sharklets, which together deliver at least 20 percent fuel saving and CO2 emissions. With over 8,600 orders from more than 130 customers, the A320neo Family is the world's most popular aircraft.
Google Banner Ad




EMBRAER WINS ORDER FOR FIFTEEN E195-E2S





Embraer (NYSE: ERJ, B3: EMB3) has secured a new firm order for 15 new E195-E2 aircraft from an undisclosed customer. The order is valued at US$1.17 billion at list price and will be added to the Q4 2022 backlog.

Google Banner Ad