Compiled by Willie Bodenstein



Google Banner Ad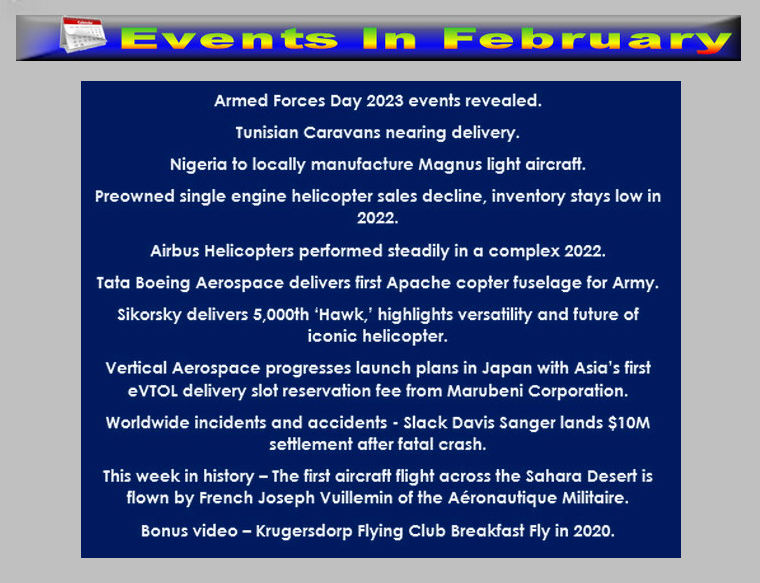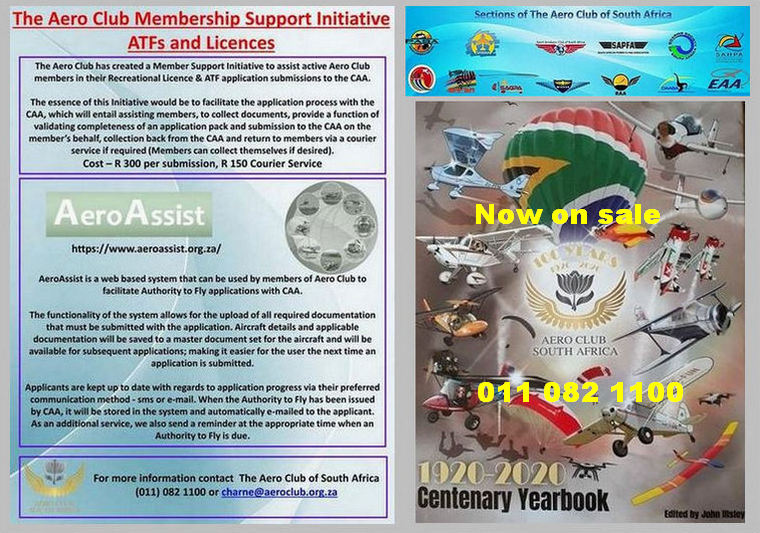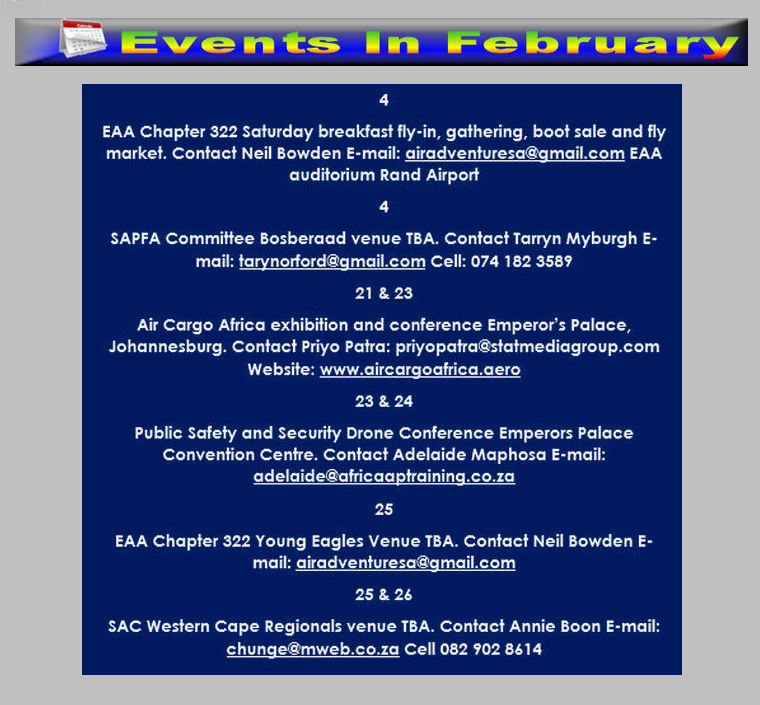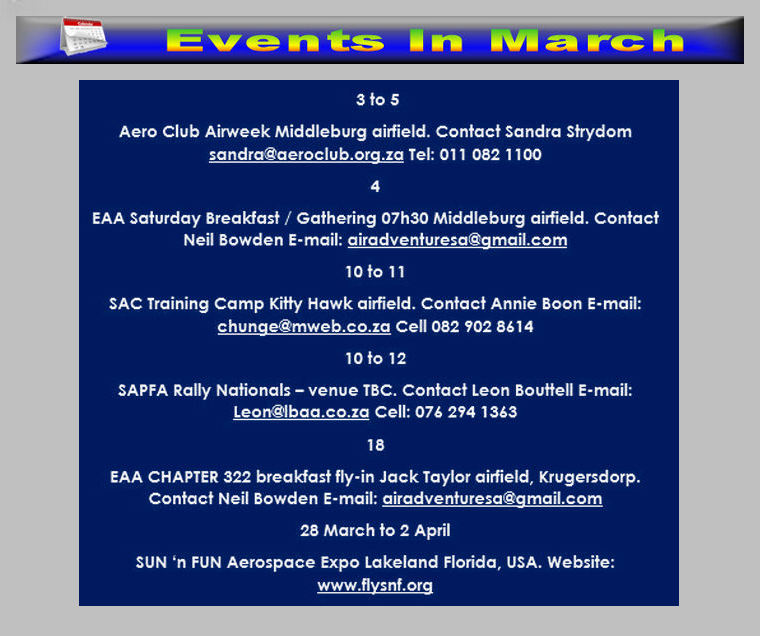 ARMED FORCES DAY 2023 EVENTS REVEALED
defenceWeb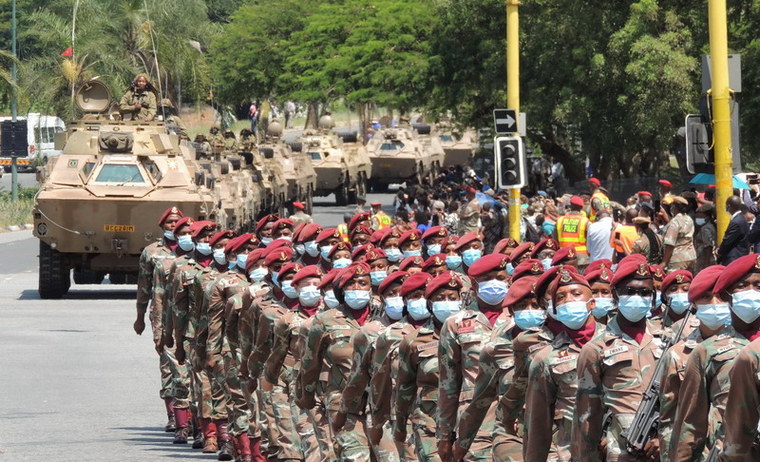 The uMhlathuze local municipality, in the form of its maritime component Richards Bay, will next month be the first city host in the second provincial round of Armed Forces Day (AFD) commemorations and events in South Africa.

Adjacent Empangeni is the other part of uMhlathuze and together the pair form the third largest local authority in KwaZulu-Natal behind the capital Pietermaritzburg, governed by Msunduzi local municipality, and port city Durban, falling under eThekwini municipality.
Armed Forces Day (AFD) has grown from a single day to mark the sinking of the troopship SS Mendi in the English Channel on 21 February 1917, with the loss of more than 600 mostly SA Native Labour Corps (SANLC) servicemen, to a week-long event.
SA National Defence Force (SANDF) exhibitions and events in support of AFD 2023 start on 15 February when a fan park opens at the uMhlathuze central sports complex in Richards Bay Central. To be featured, according to SANDF social media, are "military careers and hardware". It will be open until 19 February.
Naval ships from the Chinese, Russian and South African navies will be alongside in the Richard Bay small craft harbour ahead of Exercise Mosi II and, according to the SANDF, will be open to the public between 09h00 and 15h00 from 16 to 19 February. The vessels are the Valour Class frigate SAS Mendi (F148), the hydrographic survey vessel SAS Protea (A324), multi-mission inshore patrol vessel (MMIPV) SAS King Sekhukhune I (P1571) and inshore patrol craft SAS Tekwane (P1554).
From the northern KZN port the vessels will depart for the at sea component of the second Exercise Mosi, with serials ranging from officer of the watch (OOTW) through to search and rescue, VBSS (visit, board, search and seizure) and casevacs the order of the day.
The SA Navy (SAN) along with sister services the SA Air Force (SAAF), SA Army and SA Military Health Service (SAMHS) will show what training has given them in military skills during a capability demonstration on Naval Island set down for Friday, 17 February.
The visual highlight of the entire event is set to happen two days later on Sunday, 19 February. That's when a night shoot is scheduled for the popular Alkantstrand beach.
Armed Forces Day itself will be marked with a mass parade on Bullion Boulevard starting at 10:00 on Tuesday, 21 February.

TUNISIAN CARAVANS NEARING DELIVERY
defenceWeb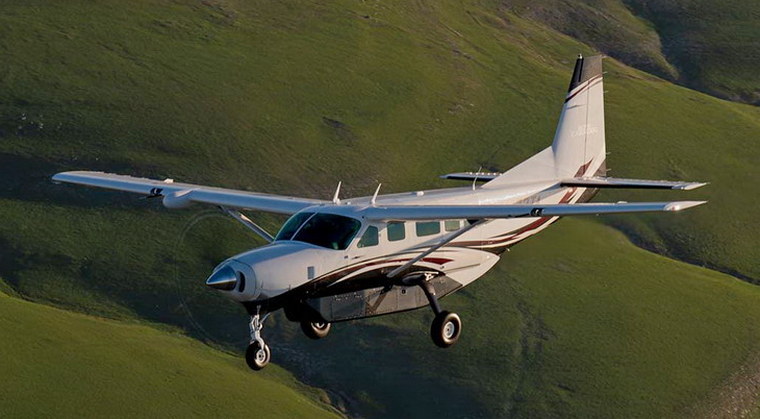 Tunisia's Air Force will be receiving four Cessna Grand Caravan aircraft from the United States, and the first of these has been spotted prior to delivery.

In March 2022, Textron Aviation revealed it had been awarded a contract by ATI Engineering Services for four Cessna Grand Caravan EX aircraft for the Tunisian Air Force, with ATI to modify and equip the aircraft with an electro-optical/infra-red sensor, operator console, tactical radio, video data link and night vision compatible lighting.
The fleet of Grand Caravan EX single-engine turboprops will aid the Tunisian Air Force in intelligence, surveillance and reconnaissance operations in the country. The Caravans will not be armed but will be configured for ISR purposes to aid in Tunisia's border security efforts.
On 8 January, the first Tunisian Grand Caravan EX was spotted at South St Paul/Municipal-Richard E Fleming Field in Minnesota with temporary registration N692EX, Scramble reports. Its future Tunisian serial is W41702/TS-UDB.
The US Government previously provided grant aid funding for 14 Grand Caravan EX aircraft procured through Foreign Military Sale cases throughout Africa. ATI Engineering in 2020 was contracted to convert two Cessna Grand Caravan EX aircraft for the Rwanda Defence Force under the US military's African Partnership Flight initiative.
Cessna Caravans have been a popular choice of ISR aircraft amongst African countries, acquired either as donations from the United States or purchased outright.
Africom's African partners who already possess Grand Caravan EX aircraft include Cameroon, Chad, Niger, Mali, Mauritania, Kenya and Uganda. These countries are co-participants in United Nations (UN) peacekeeping operations, particularly in missions in the Central African Republic and South Sudan.

NIGERIA TO LOCALLY MANUFACTURE MAGNUS LIGHT AIRCRAFT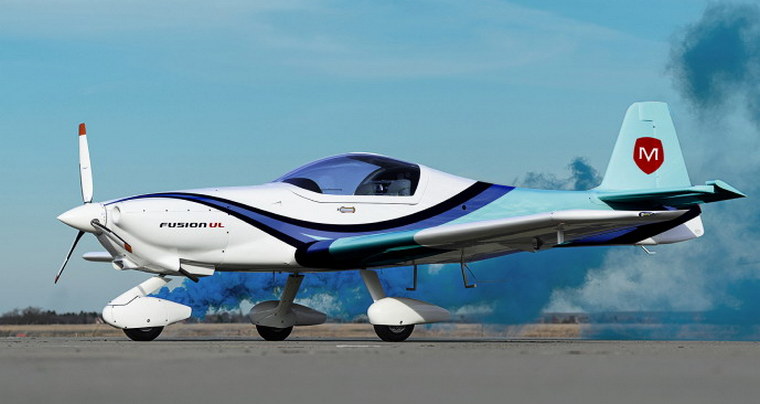 Nigeria's government has allocated $5 million towards the local assembly of Magnus light aircraft at the Nigerian College of Aviation Technology, while the Nigerian Air Force will be getting armed surveillance aircraft from Magnus Aircraft.

This was revealed by Minister of Aviation, Hadi Sirika, on 18 January. "I am happy to announce today is the reality; we will indeed assemble the Magnus aircraft and will continue to do so and not too distant future by God's grace; the industry of civil aviation will begin to manufacture right here in the country aircraft," Sirika is reported by Voice of Nigeria as saying.
The Hungarian-based Magnus will "very soon" begin assembling the aircraft, to be used for training in Nigeria. The timeframe for the 2.3 billion Naira project is 18 months.
"I think the Nigerian Air Force and the air forces around the region will be interested and excited by this development; we are taking the lead in civil aviation," Sirika said.
The first two aircraft are planned to be completed by May at the site in Zaria, Kaduna State. Nigeria will assemble Magnus's Sentinel locally while Magnus will supply dozens of its aerobatic Fusion UL training aircraft.
The agreement for the assembly and sale of Fusion UL aircraft with the Nigerian College of Aviation Technology was signed in May 2022, Business Day reports. The College flies Diamond, Socata and Beech aircraft. Established in 1964, it is funded by the Civil Aviation Department in the Nigerian Federal Ministry of Aviation.

A month ago, Magnus Aircraft reported that it had flown a Fusion aircraft (HA-XCN) from Hungary to Nigeria over nine days, covering 7 680 km. "The exciting flight took place for a very important reason: the Magnus test aircraft is now flight testing specially in the African climate. Thanks to the first Nigerian aircraft, our presence in West Africa is now tangible," the company said.
The deal with Magnus has roots to 2021, when the company expressed its willingness to work with Nigeria in advancing its aviation goals. In August that year a Nigerian delegation visited the Magnus Aircraft facility in Hungary.
The Nigerian Air Force, meanwhile, will be getting three Magnus MF 212 surveillance attack aircraft, with 2.7 billion Naira ($6 million) listed in the 2023 budget proposal for these aircraft.
Belarussian company BVST (Belspetsvneshtechnika) has developed the Fusion into the MF 212-armed aircraft ideal for homeland security, surveillance and patrol tasks. It can apparently be fitted with an iSKY-30 HD electro-optical gimbal, and R-60-NT-L or R-60-NT-T-2 missiles. Although BVST has not provided any detail on its development of the aircraft, Greek company International Armour lists the BVST MF 212 in its sale catalogue. BVST has previously worked with the Nigerian Air Force, providing maintenance for Mi-35 helicopters as well as training.
www.defenceweb.co.za

PREOWNED SINGLE ENGINE HELICOPTER SALES DECLINE, INVENTORY STAYS LOW IN 2022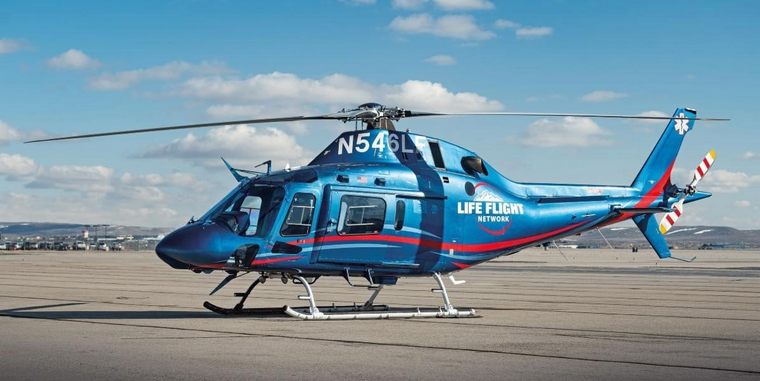 Aero Asset's Heli Market Trends 2022 Annual Single Engine Report shows preowned helicopter sales were down 12 percent compared to 2021. The report covers single engine preowned helicopter models in production and variants, with recent retail sales activity in all configurations.


For the year, 2022 saw 212 units sell, 12 percent lower than 2021. The dollar volume of those sales was $387 million, down 15 percent from 2021.
"North American buyers accounted for nearly 60 percent of all single engine transactions in 2022 while retail transactions in Europe fell 40 percent year over year," said Aero Asset VP Market Research Valerie Pereira. "Inventory for sale plummeted 40 percent year over year, but rose in the fourth quarter, and actually tripled in North America between the second and last quarters of 2022," she added.
The most liquid preowned market in 2022 was the Airbus AS350 B3/H125, followed by the Bell 407/GX/P/I and the Airbus EC130 B4/H130. All three markets boast just five months of supply at 2022 trade levels. The least liquid market, the Leonardo AW119, ranked last with a nonetheless strong absorption rate of 10 months.
VIP singles accounted for 60 percent of all transactions in 2022 while the supply of helicopters configured for EMS remains at all-time low. The supply of utility helicopters for sale dropped 30 percent year over year.
To download the full Heli Market Trends report, go to www. aeroasset.com/report.





AIRBUS HELICOPTERS PERFORMED STEADILY IN A COMPLEX 2022.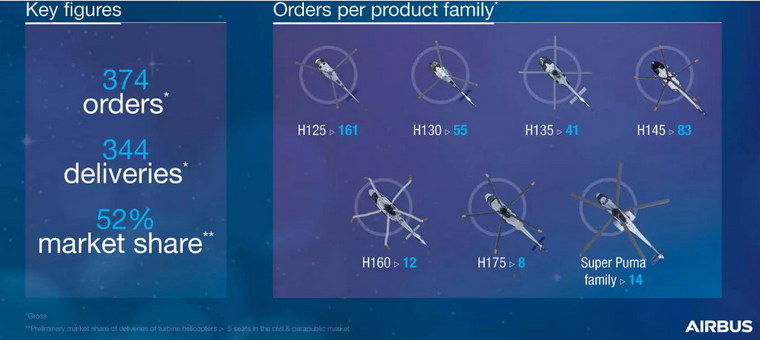 In 2022, Airbus Helicopters logged 374 gross orders (net: 362), highlighting the ongoing market recovery with an impressive 216 light single engine helicopters sold. Deliveries increased from 338 in 2021 to 344 in 2022, contributing to Airbus Helicopters' preliminary 52% share of the civil and Para public market. Airbus' helicopter fleet flight hours are now back to pre-COVID 2019 levels.


"2022 was a year in which Airbus Helicopters solidified its recovery, in a context of instability with the war in Ukraine and a fragile supply chain. I'd like to thank our customers for their continued trust in Airbus Helicopters. Our teams will continue to work hard to meet their needs and deliver on our commitments in 2023," said Bruno Even, Airbus Helicopters CEO. "Our orders came from 203 customers in 48 countries, underlining the importance of our global network as well as showing that in uncertain times, the role of helicopters is more essential than ever."
New ground was broken, with important first deliveries. The first ACH160 was delivered to a Brazilian customer, transported by an Airbus Beluga, in July 2022. Shortly after, All Nippon Helicopter's H160 entered into service in Japan and the French Navy took delivery of the first H160 for SAR operations. In October, the Company delivered the first H135s to the Spanish Ministry of Interior following the major order just ten months prior.
Significant support and services contracts were signed for both the civil and military range. Highlights include an NHIndustries contract with NAHEMA for the French and German NH90s, a follow-on contract with the US Army for more than 480 UH-72A and UH-72B Lakota helicopters. The Helicopter Company signed In-Service HCare contracts for its fleet of 20 H145s and six ACH160s.

"It is no surprise that security is currently a priority for many countries. This is reflected in our order book with an important contract for 27 H125s with our longstanding partner, the Brazilian armed forces. We launched a major upgrade of the Tiger helicopter for the French and Spanish armies and we are also progressing with the design of the H175M assembly line in Broughton should we win the New Medium Helicopter campaign in the UK," continued Even.
Airbus Helicopters also continued to make inroads on its decarbonisation roadmap which is based on a threefold approach using SAF, hybridisation, and electrification.
"The unveiling of our DisruptiveLab demonstrator at the Airbus Summit is another significant step to decarbonising vertical lift. The aircraft that took flight on 13 January will demonstrate our capability to reduce CO2 emissions by 50%. Our commitment to sustainability also saw us forge more partnerships that will support the optimal entry into service of the CityAirbus NextGen, our eVTOL prototype," continued Even.
Airbus Helicopters continued to innovate for the military market as well. The Company furthered the development of its own unmanned aerial system (UAS), the VSR700, which began trailing autonomous take-off and landing capabilities at sea. In June 2022, Airbus Helicopters was named coordinator of the "EU Next Generation Rotorcraft Technologies Project" (ENGRT) which is a Research and Technology project funded by the European Defence Fund, paving the way for the next generation of military rotorcraft in Europe.



TATA BOEING AEROSPACE DELIVERS FIRST APACHE COPTER FUSELAGE FOR ARMY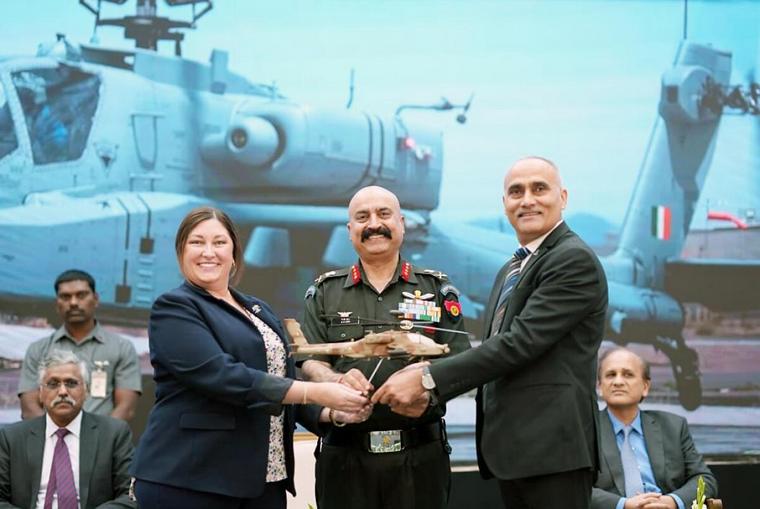 A joint venture of Boeing and Tata Advanced Systems Ltd (TASL) has delivered the first fuselage for six AH-64 Apache attack helicopters ordered by the Indian Army. The fuselage was manufactured at Tata Boeing Aerospace Limited's (TBAL's) state-of-the-art facility in Hyderabad.


Though this is the first for the copters Army want, TBAL said in a statement issued on Thursday that it has produced and supplied Boeing's Apache final assembly plant in Mesa, Arizona with over 190 fuselages. Boeing had completed the deliveries of all 22 AH-64E Apache helicopters to the Indian Air Force in 2020.
"This is a proud milestone and a testimony of our commitment towards Aatmanirbhar Bharat and the world-class manufacturing capabilities at our joint venture Tata Boeing Aerospace Ltd. at Hyderabad. The Apache will provide the Indian Army with a significant boost in capability just as the AH-64 has for the Indian Air Force," said Salil Gupte, President, Boeing India.
The TBAL stated that it's Hyderabad facility in addition to being a global sole source supplier for Apache fuselages, produces complex aero-structures for Boeing 737 and 777 models. The joint venture employs over 900 engineers and technicians and utilises cutting-edge robotics, automation and advanced aerospace concepts in its manufacturing processes, the statement pointed out.
"Successful delivery of the first fuselage for Boeing AH-64 Apache combat helicopters for Indian Army is the result of the hard work and seamless collaboration of the teams at TBAL, India. This delivery also positions TBAL and India as an important manufacturing base in overall Boeing operations. We stay committed towards progression of indigenous defence manufacturing with strong focus on the quality and timely delivery," said, Sukaran Singh, managing director and chief executive officer, Tata Advanced Systems Limited (TASL).

SIKORSKY DELIVERS 5,000TH 'HAWK,' HIGHLIGHTS VERSATILITY AND FUTURE OF ICONIC HELICOPTER

"Sikorsky, as a company, has been forged by the Black Hawk," said Sikorsky President Paul Lemmo. "The Black Hawk and its variants deliver when reliability and performance are non-negotiable. Hawk aircraft continue to demonstrate their versatility and readiness with the latest technological advancements and ongoing U.S. and global investment in the aircraft."


Customers worldwide depend on the Black Hawk platform and its derivatives, including MH-60R/S maritime operations helicopters, MH-60T multi-mission helicopters, HH-60W rescue helicopters and internationally built S-70 Black Hawks to include the baseline Firehawk, which have all proven their versatility and capability across a spectrum of challenging mission sets.
Sikorsky's highly skilled and experienced workforce manufactures the latest generation of Hawk aircraft built in Stratford and there is high international demand for the Sikorsky S-70 Black Hawk, manufactured by Lockheed Martin's PZL Mielec facility in Poland. More than 35 international customers operate the Black Hawk thanks to its global support network and continued modernization.
The U.S. Army, the largest Black Hawk operator, noted the key role the aircraft continues to fulfil during military and civil operations around the world, in addition to its significant contribution towards Joint All Domain Operations.
"For more than 40 years the Black Hawk has remarkably supported soldiers in every major contingency operation the Army has executed," said Col. Calvin Lane, the utility helicopter project manager for the Program Executive Office Aviation. "Even though the helicopter has been around longer than most of the soldiers it now supports, the Army plans for it to be in front line service another 40 years and beyond. And everyone who contributes to the delivery of this aircraft in any way, contributes directly to providing combat capability that protects Soldiers and helps the Army accomplish its mission."

VERTICAL AEROSPACE PROGRESSES LAUNCH PLANS IN JAPAN WITH ASIA'S FIRST EVTOL DELIVERY SLOT RESERVATION FEE FROM MARUBENI CORPORATION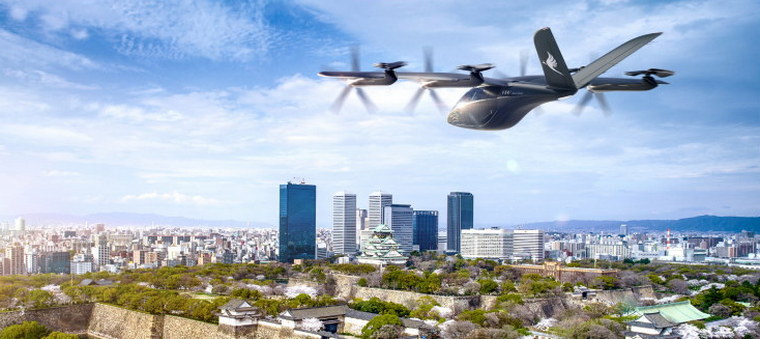 Vertical Aerospace (Vertical) [NYSE: EVTL], a global aerospace and technology company that is pioneering zero-emissions aviation, today announces that it has secured a pre-delivery payment for the reservation of aircraft delivery slots from its existing customer, the leading Japanese trading and investment conglomerate, Marubeni Corporation [Marubeni].

Following the joint working group partnership with Vertical, Marubeni has reserved aircraft delivery slots for 25 out of its up to 200 VX4 conditional pre-orders and becomes Vertical's first customer in Asia to make a pre-delivery payment.
Marubeni's commitment further reinforces Japan's potential as a key launch market for Advanced Air Mobility [AAM] and over recent months, Marubeni has also conducted proof-of-concept (POC) demonstration trials in preparation for the Osaka World Expo 2025. Marubeni conducted flights from Osaka heliport to Wakayama using existing helicopters at future expected AAM service prices. Throughout the trials, Marubeni began addressing public awareness, acceptance, and requirements for future eVTOL services in the prefecture.
Vertical and Marubeni previously announced a partnership in September 2021 for conditional pre-order options of up to 200 aircraft, and joint evaluation of the requirements for eVTOL aircraft operations in Japan, as well as commercial considerations such as route and network planning and infrastructure requirements.
Stephen Fitzpatrick, Vertical Founder and CEO, said "We are delighted to have reached the next milestone in our partnership with Marubeni. Japan is a wonderful country which is embracing the promise of eVTOL, as it will connect cities and regions like never before. We look forward to our joint efforts to build the ecosystem for zero-emissions travel in Japan."
Satoshi Takechi, General Manager, Aviation, Space & Defence Dept. said "We are proud to have taken another major step with Vertical Aerospace to introduce the VX4 in Japan. I am confident that our continued joint efforts with Vertical Aerospace, such as evaluating the requirements for eVTOL operations and engaging the potential partners under the Joint Working Group, together with this new agreement, will accelerate the development of the AAM market in Japan. Marubeni will further enhance activities to materialise our business, which aims to make air travel more accessible and convenient, while simultaneously contributing to climate change mitigation measures, including low-carbon and decarbonisation initiatives.




SLACK DAVIS SANGER LANDS $10M SETTLEMENT AFTER FATAL CRASH
Slack Davis Sanger Press Release

Ladd Sanger, Dallas aviation partner with Slack Davis Sanger, and Joe Fiorante, partner at the Law Offices of Camp, Fiorante, Matthews and Mogerman, in Vancouver, British Columbia, recently obtained a $10 million settlement for the family of a 49-year-old helicopter pilot employed by Yellowhead Helicopters, Ltd, who was killed in 2021 while conducting forest fire operations in Alberta, Canada.
The fatal Bell 212 helicopter crash occurred when a critical part failed during flight. A pin with only 20 hours of service failed, initiating a catastrophic separation of the helicopter's rotor blades and the main rotor head. The pin, manufactured by Fore Aero and its related entities in Haltom City, Texas, was not made using the proper material required by the manufacturer's engineering specifications. After the crash, The Federal Aviation Administration and Transport Canada jointly grounded the entire fleet of Bell 212, 204B, and 205 helicopters until they were inspected, and the defective pins were removed and replaced. In all about 400 aircraft were affected by the grounding.
"A critical component was manufactured from steel that was weaker than that required by the specifications," stated Sanger, a licensed helicopter pilot. "Because these pins were made from a weaker type of steel, the pin sheared under ordinary flight conditions resulting in the catastrophic failure of the main rotor assembly." Sanger noted that a pin made from the proper material would have been able to sustain a shear force 300% greater than the pin which failed.
According to the accident investigation report, one of the main rotor blades separated from the rotor head assembly as the pilot was landing to pick up a group of firefighters. That caused the catastrophic sequence in which the other rotor blades and the entire main rotor head assembly rapidly separated from the helicopter causing it to crash. Investigators discovered that the main rotor hub strap retaining pin of the first blade assembly to fail was defective and initiated the fatal failure sequence.
"Our client was a very skilled pilot and had safely flown in far more dangerous conditions," said Sanger. "The defective shear pin and the lack of quality control in the manufacturing process resulted in the death of a very experienced pilot and family member under routine flying conditions. This tragedy should have never happened."



Namibia, near Rehoboth: A glider crashed in an open area near Rehoboth, shortly after releasing the tow. The pilot died and the glider was destroyed.
India, near Morena, Madhya Pradesh: Two Indian Air Force (IAF) fighter jets, a Sukhoi Su-30 and a Dassault Mirage 2000H, crashed while engaged in a high-speed simulated combat mission out of Gwalior Air Force Station. The pilot of the Mirage 2000 has reportedly suffered fatal injuries and both pilots of the Su-30 ejected safely.

USA, John F. Kennedy International Airport, NY: A Delta Air Lines Boeing 737-932ER and an American Airlines flight, a Boeing 777-223ER, were involved in a runway incursion incident at New York-John F. Kennedy International Airport, NY (JFK). The American Airlines Boeing was cleared for take-off from runway 04L and commenced the take-off roll at 20:44 local time. At the same time the Delta flight was approaching the end of taxiway B. The flight had been cleared to cross runway 31L via taxiway K, on their way for a runway 04L departure. Instead of turning right onto taxiway K, the aircraft continued onto taxiway J and began to cross the active runway 04L. The controller immediately instructed DL1943 to stop their take-off. The Boeing 737-900 stopped just short of taxiway J and subsequently vacated the runway.

USA, near Kingfisher, OK: On 16 January 2023 a Piper PA-32-301T, was destroyed when it was involved in an accident near Kingfisher, Oklahoma. The pilot and certificated flight instructor were fatally injured. The airplane was operated as a Title 14 Code of Federal Regulations (CFR) Part 91 instructional flight.
According to witnesses, the airplane was seen trailing black smoke before it rolled over and dove into the ground. A witness provided cell phone video confirmed the presence of the black smoke and an explosion after impact.
The accident flight was the first flight after the airplane had undergone maintenance including the installation of a new autopilot system and an annual inspection. The flying club that owned the airplane reported that club members were required to fly with one of the club instructors to become acquainted with the operation of the new autopilot system. The accident flight was such a flight.
The airplane impacted a firm level field with little vegetation. The initial impact location was a crater that contained the airplane's propeller. The rotation axis of the propeller was near vertical, indicating that the airplane impacted the ground in a near vertical attitude. All components of the airplane were in the immediate vicinity of the accident site.
The main portion of the fuselage, wings, and tail surfaces came to rest about 100 ft. north of the initial impact point. The wings were damaged from impact but continuous from tip to tip except for the center spar section which was melted and consumed by fire. The ailerons and flaps remained attached to the wing. The wing leading edge was crushed aft and all four fuel tanks were ruptured. The fuselage forward of the tail surfaces was almost completely consumed by fire. The aft fuselage from the leading edge of the vertical stabilizer and aft was intact with the tail surfaces still attached. The vertical tail surfaces were intact and the horizontal tail surfaces were intact but with impact damage to the right tip. Control continuity was confirmed from all surfaces to the cockpit with all breaks in the control system consistent with impact damage.

3




24 JANUARY 1920

First aircraft flight across the Sahara Desert is flown by French Joseph Vuillemin of the Aéronautique Militaire.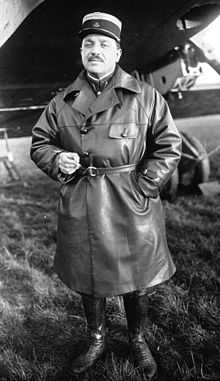 Born on 14 March 1883 Joseph Vuillemin was a French professional soldier whose early interest in aviation led him into increasingly responsible leadership positions in the Aeronautique Militaire during World War I.
He began his mandatory military service in November 1904 as an artilleryman. On 1 October 1912, he was promoted to Lieutenant.
On 18 February 1920 Vuillemin and his observer, Lieutenant Chalus, complete the first flight across the Sahara Desert from Ramanrasset to Ménaka.[5] [6] He was later given command of the '11e régiment d'aviation de bombardement en pays rhénan' (11th Bomber Wing of the Rhine), and then put in charge of air operations in Algeria in 1925. He became a colonel in 1928 and assumed command of air operations in Morocco in 1932.
In February 1933, he was promoted to brigadier general. At the outbreak of the Second World War, he became Chief of the Air Staff, a post he would hold until the Armistice with France. He died in Lyon on 23 July 1963.


Krugersdorp Flying Club Breakfast Fly in 2020


Google Banner Ad