05.02.2023



Google Banner Ad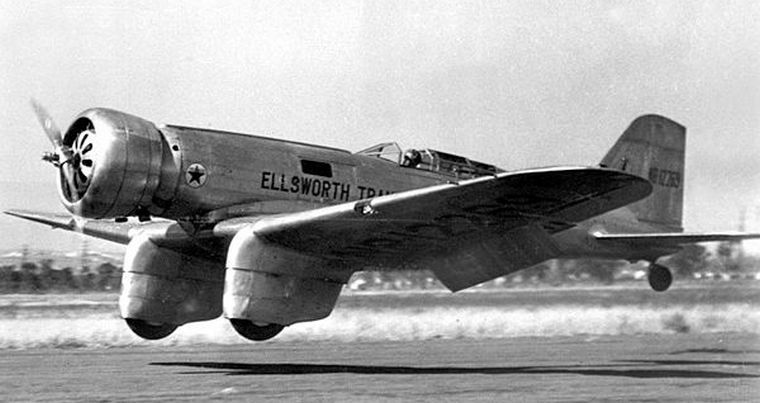 Although not a true race plane in the sense that it never actually took part in any of the air races of the thirties the Gamma, a single-engine all-metal monoplane cargo aircraft, had an illustrious career as a flying laboratory and record-breaking aircraft.
The first production Gamma, an 2A powered by a 785 hp (585 kW) Wright radial engine was sold to Texaco and named Sky Chief. On 2 June 1933 Frank Hawks flew her from Los Angeles to New York in a record 13 hours, 26 minutes, and 15 seconds. In 1935, Howard Hughes improved on this time in his modified Gamma 2G making the west-east transcontinental run in 9 hours, 26 minutes, and 10 seconds. The Gamma 2G was a two-seat race version, originally with a Curtiss Conqueror engine, later changed to Pratt & Whitney Twin Wasp Jr., then to Wright Cyclone SGR-1820-G-5.
The Gamma was a further development of the successful Northrop Alpha and shared its predecessor's aerodynamic innovations with wing fillets and multicellular stressed-skin wing construction. Like late Alphas, the fixed landing gear was covered in distinctive aerodynamic spats, and the aircraft introduced a fully enclosed cockpit.
Military versions saw service in a wide range of regional conflicts prior to WWII.
General characteristics
Crew: One
Length: 31 ft 2 in (9.50 m)
Wingspan: 47 ft 9+1/2 in (14.567 m)
Height: 9 ft 0 in (2.74 m)
Wing area: 363 sq ft (33.7 m2)
Empty weight: 4,119 lb (1,868 kg)
Gross weight: 7,350 lb (3,334 kg)
Powerplant: 1 ◊ Wright R-1820 Cyclone 9-cylinder Radial, 710 hp (530 kW)
Propellers: 2-bladed
Performance
Maximum speed: 223 mph (359 km/h, 194 kn) at 6,300 ft (1,900 m)
Cruise speed: 204 mph (328 km/h, 177 kn)
Range: 1,970 mi (3,170 km, 1,710 nmi)
Service ceiling: 23,400 ft (7,100 m)
Rate of climb: 1,390 ft/min (7.1 m/s)
Google Banner Ad