12.02.2023



Google Banner Ad




With the Percival Gull already having made a name as a racer, Capt. Edgar W. Percival designed and built a single-seat racer derivative initially named the E1 'Mew Gull'. This was developed into the E2, E2H and the E3H variants between 1934 and 1938. All of the Mew gulls were built in the small factory at Gravesend. The E3H, whilst very strongly visually resembling the E2H, was in truth a totally new and different machine, with each element differing from its predecessor in some way.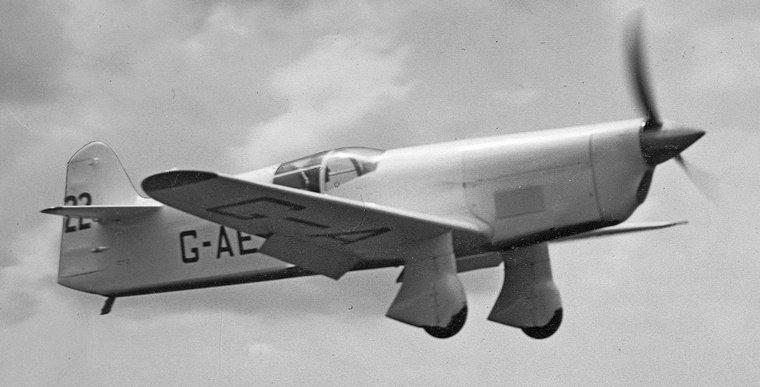 The Mew Gull was designed for handicapped air racing which gained huge popularity in the UK during the 1920s and especially 1930s - the so-called "Golden Age" of aviation. The King's Cup Race, an annual British handicapped cross-country air race, established by King George V as an incentive to the development of light aircraft and engine design, the King's Cup Race is run by the Royal Aero Club Records Racing and Rally Association. The event was open to Commonwealth pilots only and the first race was held on 8 September 1922.
There were no races during World War II (1939-45), and the contest did not resume until 1949. The race was abandoned in 1951 because of inclement weather. Since then, races had taken place without interruption.
Ultimately, Mew Gulls went on to win this event four times.
Alex Henshaw attempted to take the England - Cape Town Record in 1939, taking off on 5 February 1939 from Gravesend Airport, landing at Wingfield Aerodrome at the Cape the next day, covering the 6,377 miles course in 39 hours and 25 minutes, averaging 209.44 mph while in the air. The return trip was just 11 minutes longer. During all of Alex Henshaw's adventures in this aircraft, it was never damaged.
Specifications (Type E.1)
Data from British Civil Aircraft Since 1919 Volume III[5]
General characteristics
Crew: 1
Length: 18 ft 3 in (5.56 m)
Wingspan: 24 ft 0 in (7.32 m)
Height: 6 ft 10 in (2.08 m)
Wing area: 88 sq ft (8.2 m2)
Empty weight: 996 lb (452 kg)
Gross weight: 1,460 lb (662 kg)
Powerplant: 1 ◊ Napier Javelin IA 6-cylinder air-cooled inverted in-line piston engine, 165 hp (123 kW)
Propellers: 2-bladed Fairey-Reed fixed-pitch metal propeller
Performance
Maximum speed: 195 mph (314 km/h, 169 kn)
Cruise speed: 175 mph (282 km/h, 152 kn)
Range: 550 mi (890 km, 480 nmi)
Google Banner Ad