THIS WEEK IN AIRLINERS


FAA urges laser manufacturers, distributors to add warning label to not shine lasers at aircraft.

Airlink codeshare partnership with British Airways to boost flight connectivity.

Court application by Mango Airlines' business rescue practitioners.

Tata-owned Air India to acquire 250 Airbus aircraft.

Air India selects up to 290 Boeing jets to serve its strategy for sustainable growth.

Budapest Airport year in review: Developments reached 90 billion HUF.

Gulfstream G700 amasses 25 speed records during world tour.

Boeing doubles sustainable aviation fuel purchase for commercial operations, buying 5.6 million gallons for 2023.



FAA URGES LASER MANUFACTURERS, DISTRIBUTORS TO ADD WARNING LABEL TO NOT SHINE LASERS AT AIRCRAFT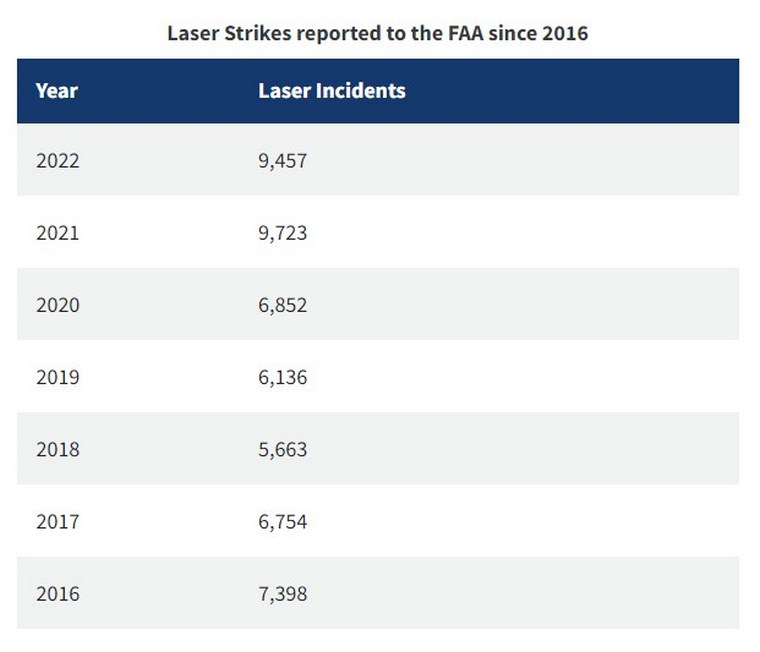 High-powered laser pointers can incapacitate pilots flying airplanes with hundreds of passengers. To combat the threat, Acting FAA Administrator Billy Nolen requested laser manufacturers add a warning label to their packaging to make consumers aware of the safety risks and federal laws when using lasers.



Lasers may seem like just a toy, office tool, or game for most, but they can incapacitate pilots putting thousands of passengers at risk every year. People need to be aware pointing a laser at an airplane is a federal crime. Acting FAA Administrator Billy Nolen.
Pilots reported 9,500 laser strikes to the FAA in 2022. Two hundred and seventy-eight pilots have reported an injury from a laser strike to the FAA since 2010. People who shine lasers at aircraft face FAA fines of up to $11,000 per violation and up to $30,800 for multiple laser incidents. The FAA issued $120,000 in fines for laser strikes in 2021.
Google Banner Ad
CODESHARE PARTNERSHIP WITH BRITISH AIRWAYS TO BOOST FLIGHT CONNECTIVITY







British Airways has announced a codeshare partnership with Airlink, improving connectivity between the UK, Europe, North America and more than 15 destinations in Southern Africa.

With bases in Johannesburg, Cape Town, and Durban in South Africa, Airlink is a premium regional airline with a wide-reaching network of cities in fourteen countries, including South Africa, Zimbabwe, Zambia and Namibia.
The agreement means British Airways' customers travelling, for example, from Cape Town or Johannesburg to, or transiting through, London (or vice versa) will be able to connect to their final destination on a single ticket. This will offer more choice and flexibility for those travelling from one of 18 towns and cities, such as Windhoek in Namibia and Durban in South Africa.
British Airways currently flies twice daily between Johannesburg and London Heathrow with A380 aircraft, twice daily between Cape Town and London Heathrow with B777 and A350 aircraft and three times per week between Cape Town and London Gatwick with B777 aircraft.
Members of British Airways' loyalty programme, the Executive Club, can earn Avios when flying on Airlink flights on a British Airways' codeshare journey. Avios is the programme's currency, which can be used as part-payment towards Reward Flights or upgrades, as well as hotel stays, car hire and more
Neil Chernoff, British Airways' Director of Network and Alliances, said: "Our flights to Cape Town and Johannesburg continue to be as popular as ever with our customers, so we're pleased to be able to open up more options in the Southern African region. Our partnership with Airlink means that customers will be able to book a full journey on one ticket, allowing seamless travel all the way from London to their final destination."
Airlink's CEO and Managing Director, Rodger Foster, said: "This is an important next step in our partnership with British Airways, which has a phenomenal global reach into the most important markets for our region. The marriage of our two networks will benefit both British Airways' and Airlink's customers, giving them even more choice with a wide range of itinerary options and connectivity possibilities."
In total, 18 destinations are available as codeshare options when travelling from Heathrow via Johannesburg and Cape Town. Examples include:
• London Heathrow to Durban via Johannesburg
• London Heathrow to Port Elizabeth, South Africa, via Cape Town or Johannesburg
• London Heathrow to Skukuza, South Africa via Cape Town or Johannesburg
• London Heathrow to Windhoek, Namibia via Cape Town or Johannesburg
• London Heathrow to Walvis Bay, Namibia via Cape Town or Johannesburg
Codeshare tickets are now available to book on www.ba.com, for travel from 15 February 2023 onwards.
Other Southern Africa destinations are pending government approval and might join the codeshare agreement at a later date.
Google Banner Ad
COURT APPLICATION BY MANGO AIRLINES' BUSINESS RESCUE PRACTITIONERS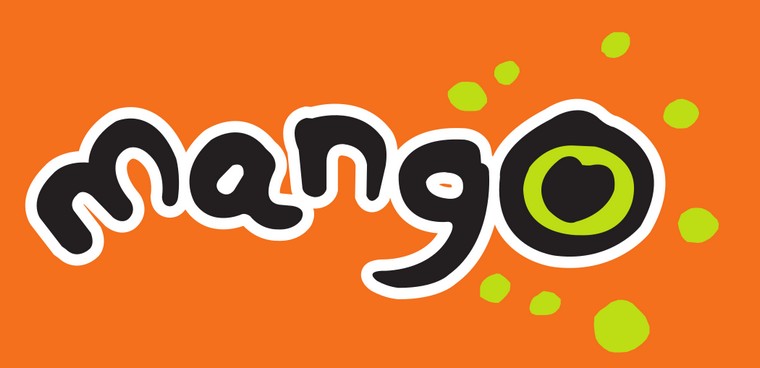 South African Airways (SAA) has taken note of the court application by Mr Sipho Sono, Mango Airlines' Business Rescue Practitioner (BRP) against the Minister of Public Enterprises ("the Minister") and SAA regarding the processes governing the disposal of SAA's shares in Mango to the investor identified by the BRP.

Mr. Sono is asking the court to compel the Minister to approve the sale of Mango as a matter of urgency. He further complains about requests for details such as the identity and the commercial capability of the BRP's preferred bidder.
It must be noted that Mango is a subsidiary of SAA - a state-owned enterprise. As such, the Board of SAA is bound by an agreement with the Minister of Public Enterprises that is explicit that the Minister has the right to seek as much information as necessary for him to act responsibly in supporting an asset disposal application. Therefore, SAA believes that the Minister is within his right to declare his dissatisfaction with the quality of information from Mr Sono to support the transaction for the sale of Mango.
Mango was placed in business rescue in July 2021 with the expectation that the process would last no more than six months. The Mango BR process turned out to be a frustratingly protracted and expensive ordeal. Mr Sono has announced preferred investors a number of times before but failed to furnish details. He would refuse to disclose to SAA and DPE the names of these preferred bidders even though Mango shares are SAA's property and we are within our rights to know the identity of the bidders. In the final instance, when a bidder was eventually disclosed to SAA and we fairly pointed out a reasonable material conflict, this present dispute erupted around the nature of the due diligence required on the now-restructured prospective investor and their business plan.
SAA supported and facilitated the resolution of the Board of Mango to place the airline in voluntary business rescue in 2021. This step was actively supported by all labour organisations at Mango as the airline could not service its active debt of R2.85 billion from its operations.
SAA, with the support of the Minister, has invested R819-million specifically to ensure a successful rescue of Mango. SAA has voted along with all the Mango creditors that this rescue should entail the sale of shares to an investor with the capability to restart the airline. SAA has nothing to benefit from a liquidated Mango. In addition to the funds mentioned above, if Mango is wound down, SAA is liable for the R80-million guarantee issued in favour of the Air Services Licensing Council for passenger protection liability.
SAA holds that the requests for further information on the proposed investor by the Minister are legitimate. Professor John Lamola, SAA's Interim Chairman and CEO affirms that "SAA supports the Minister and the DPE in their opposition of Mr. Sono's court application and will continue with its search and demand for the information required to complete the PFMA application for SAA's Mango's proper disposal".
Google Banner Ad

TATA-OWNED AIR INDIA TO ACQUIRE 250 AIRBUS AIRCRAFT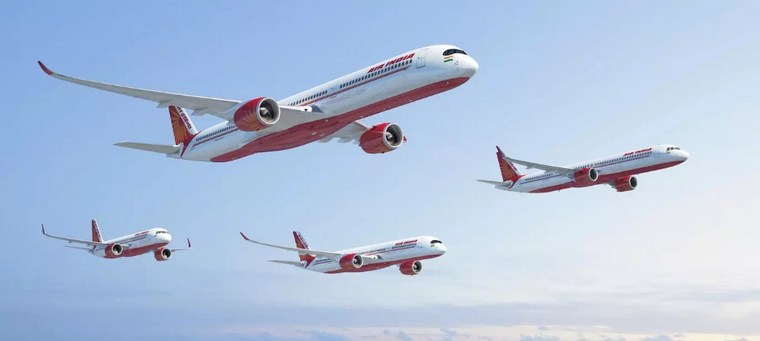 The Tata Group-owned Air India has announced its commitment to order 250 Airbus aircraft to boost its domestic and international operations. The commitment includes 140 A320neo and 70 A321neo single-aisle aircraft as well as 34 A350-1000 and six A350-900 wide-body jets that will mark a new era for the country as the all-new, long-range aircraft celebrates its debut in the Indian market.



The order aims to both modernise and expand the airline's fleet with the objective of creating a larger and premium full-service carrier that will cater to the growing travel demand in the region. Deliveries are set to commence with the first A350-900 arriving by late-2023.
"Airbus has been a longstanding partner of Air India and these new aircraft will play an important part in delivering Vihaan.AI, Air India's comprehensive transformation and growth strategy," said Campbell Wilson, CEO and MD, Air India. "A core element of this transformation is the significant expansion of our network, both domestically and internationally, coupled with the elevation of our on-ground and onboard product to world-class standards. This order marks the start of a new chapter for both Airbus and Air India."
"This is a historic moment for Airbus and for Air India. India is on the verge of an international air travel revolution and we are honoured that our partnership with the Tatas and our aircraft solutions will write that new chapter for the country's air-connectivity," says Christian Scherer, Airbus Chief Commercial Officer and Head of International. "The A350's unique capability will unlock the pent-up potential of India's long-haul market, its technology, long reach and second to none comfort will enable new routes and passenger experience with better economics and enhanced sustainability. Alongside the A350s, the A320 Family fleets will be the efficient, versatile asset to continue democratising and decarbonising air travel in the country - from domestic, regional, up to international levels."
Christian Scherer adds: "We salute Air India for its visionary strategy, picking the two reference aircraft types in each of their categories. We are thrilled and humbled to see these aircraft become the cornerstones of Air India's renaissance. This fleet will propel the airline globally where it deserves to be - with the best.
Over the next decade, India will grow to have the largest population in the world, its economy will expand the fastest among the G20 nations, and a burgeoning middle class will spend more on air travel. As a result, passenger traffic in India will grow fast, including on the long-range markets in the U.S., Europe and Asia-Pacific that the A350 is well positioned to serve.
The A350 is the world's most modern and efficient wide-body aircraft in the 300-410-seater category. The A350's clean sheet design includes state-of-the-art technologies and aerodynamics delivering unmatched standards of efficiency and comfort. Its new generation engines and use of lightweight materials bring a 25 per cent advantage in fuel burn, operating costs and carbon dioxide (CO2) emissions, compared to previous generation competitor aircraft.
The aircraft offers a 3-class configuration cabin that is the quietest of any twin-aisle and offers passengers and crew the most modern in-flight products for the most comfortable long-range flying experience.
The A321neo is the longest-fuselage member of Airbus' best-selling, single-aisle A320 Family, comfortably seating 180 to 220 passengers in a typical two-class layout, and as many as 244 in a higher-density arrangement. The A320neo has already set the standards as the world's most comfortable short-to-medium-haul aircraft that typically accommodates from 140 to 170 passengers, with a maximum capacity of up to 180 travellers. Its environmental performance allows for at least 20 per cent less fuel burn and CO2 emissions as well as 50 per cent noise reduction, compared to previous generation aircraft.
Google Banner Ad
AIR INDIA SELECTS UP TO 290 BOEING JETS TO SERVE ITS STRATEGY FOR SUSTAINABLE GROWTH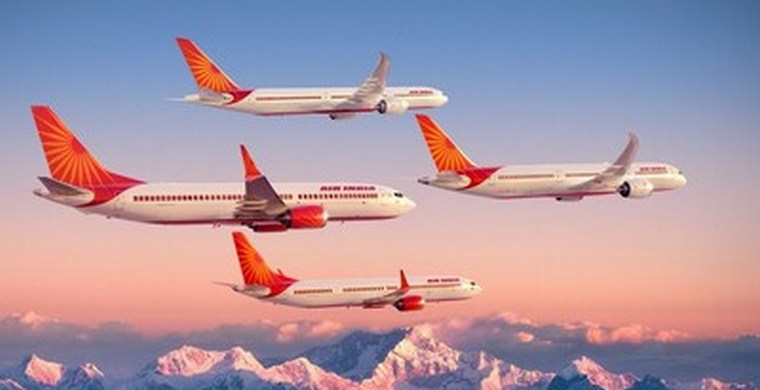 Boeing [NYSE: BA] and Air India today announced the carrier has selected Boeing's family of fuel-efficient airplanes to expand its future fleet with plans to invest in 190 737 MAX, 20 787 Dreamliner and 10 777X airplanes. Along with a comprehensive set of aviation services, Air India is advancing its fleet strategy to sustainably address South Asia's rapidly growing market for domestic and international air travel.



The agreement between Boeing and Air India includes options for 50 additional 737 MAXs and 20 787-9s. When finalised, this will be the largest Boeing order in South Asia and a historic milestone in the aerospace company's nearly 90-year partnership with the carrier. The order will post to Boeing's Orders and Deliveries website when final.
"This acquisition of nearly 300, highly advanced Boeing jets is a core element of Vihaan.AI, the comprehensive transformation and growth strategy we are pursuing at Air India," said Campbell Wilson, CEO and MD, Air India. "These new airplanes will enable us to dramatically expand our network, both domestically and internationally, and will come with a completely new, world-class onboard product enabling passengers to travel in the highest levels of comfort and safety. With this order, we are delighted to take our long relationship with Boeing to a new level."
"Air India's selection of Boeing's family of passenger jets shows their confidence in our products and services in the world's fastest growing aviation market, and their decision will support engineering and manufacturing jobs at Boeing factories in Washington state, South Carolina and across our supply base," said Stan Deal, president and CEO of Boeing Commercial Airplanes. "With the industry-leading fuel efficiency of the 737 MAX, 787 Dreamliner and 777X, Air India is well positioned to achieve its expansion plans and become a world-class global airline with an Indian heart."
Air India has also contracted with Boeing Global Services for lifecycle support services, including digital solutions, spare parts and landing gear exchange programs, pilot and maintenance technician training, aircraft modifications and other services.
The 737 MAX will provide flexibility across Air India's domestic and international network while reducing fuel use and emissions by 20% compared to the airplanes it replaces.
The 737-8, seating 162 to 210 passengers, depending on configuration, and with a range of 3,500 nautical miles, is the market's most versatile single-aisle airplane, capable of operating profitably on short- and medium-haul routes.
The 737-10, the largest airplane in the 737 MAX family, offers the best per-seat economics of any single-aisle commercial jet, seating 188 to 230 passengers, depending on configuration with a range of 3,100 nautical miles.
Air India has benefited from the efficiency and flexibility of the 787 Dreamliner family with an existing fleet of 27 787-8s. The larger 787-9 will provide increased capacity, greater range and 25% better fuel efficiency compared to earlier generation jets.
The flagship 777-9 - the world's largest and most efficient twin-engine jet -- will be the largest airplane in Air India's fleet, enabling it to fly passengers non-stop and in enhanced comfort to almost any long-haul destination.
Unmatched in every aspect of performance, the 777X features a spacious cabin, new custom architecture and innovations from the 787.
With new breakthroughs in aerodynamics and engines, the 777-9 will provide 10% lower fuel use and emissions and 10% lower operating costs than the competition.
Google Banner Ad
BUDAPEST AIRPORT YEAR IN REVIEW: DEVELOPMENTS REACHED 90 BILLION HUF.






2022 was an extremely challenging, yet very successful year for Budapest Airport. The company recovered 75% of its pre-COVID passenger traffic, added brand new destinations to its schedule and became a regional leader in quality, while air cargo volumes hit unprecedented records.

A number of important sustainability investments were launched, and the value of the airport developments implemented over four years reached 90 billion HUF by the end of the year. Last year, the airport operator continued to prepare for the reopening of Terminal 1 and the construction of Terminal 3, while winning more Hungarian and international awards in the areas of quality, sustainability, HR and communication.
2022 was not an uneventful year in the life of Budapest Airport. Not only did the airport operator take big steps forward in the recovery from the coronavirus pandemic, but it also had to deal with unexpected and unforeseen situations, such as the influx of refugees caused by the Russian invasion of Ukraine, the consequences of the economic slowdown, the energy crisis and the spill over effects of the summer disruptions experienced by most European airports. In addition, soaring inflation and the extra profits tax imposed on airlines also impacted Budapest Airport, most notably in the last quarter of 2022 and 2023.
The first two months of last year transpired as normal and as forecast by Budapest Airport, but the refugee crisis caused by the Russian invasion of Ukraine at the end of February generated extraordinary tasks at Ferenc Liszt International Airport. To ensure the smooth handling of evacuation flights, Budapest Airport temporarily reopened Terminal 1, from where more than 8000 students departed, mainly for India, Nigeria, Ecuador and Morocco, and 3200 Ukrainian citizens arrived. The airport operator ensured proper care for all refugees together with the authorities, embassies, ministries and aid agencies, while traffic at Terminal 2 continued seamlessly.
In parallel with managing the refugee situation, Budapest Airport was continuously preparing for the increased passenger traffic of the summer months, as it was already apparent in April that the first really strong summer after COVID would be full of challenges for most airports, especially those where staff shortages had reached critical levels. Thanks to Budapest Airport's timely preparations for the post-pandemic recovery in terms of human resources, capacity and infrastructure expansion, the higher passenger traffic did not cause any disruptions at the airport. While many European airports experienced severe disruptions, Budapest Airport continued to operate seamlessly during the summer period, and thanks to several newly introduced processes, ground handling companies also operated without disruptions.
During the summer months, traffic reached 80% of pre-pandemic levels, again exceeding 1 million passengers per month. However, the announcement in May of an extra profits tax on airlines forced the company to recalculate passenger numbers during the summer, and the soaring inflation in the fall again prompted the airport operator to revise its forecasts. The economic situation in Hungary and internationally caused passenger numbers to start falling again in the fall, the passenger mix at the airport began to change in favour of foreign tourists due to the high euro exchange rate and forecasts showed that the full recovery of pre-pandemic passenger numbers would be delayed by one year, to 2024, due to these impacts.
The fall started with a major commitment: in September, the biggest noise protection program ever, offering the most services and worth a total of 1.2 billion HUF (3 million EUR), was launched. The program, which has been running for more than ten years, has now been extended to 4000 properties, aims to reduce noise burdens for people living near Ferenc Liszt International Airport by retrofitting or replacing windows in living and bedrooms, insulating roller shutter casings and installing soundproof ventilators.
In addition to all these highlights, Budapest Airport was continuously preparing for the reopening of Terminal 1 in 2022, where the operator is only waiting for the building permit to arrive. According to plans and forecasts, the doubled and refurbished Terminal 1 should open by summer 2025 at the latest, in order to cope with the growing passenger traffic with the usual, high-quality services and to further develop the country's tourism. A delay in the reopening of Terminal 1 will have a direct and significant impact on the growth of tourism in Hungary. Meanwhile, preparations for the construction of Terminal 3, the first main segments of which are scheduled to be completed in 2030, also continued over the past year. Preparations for the international design competition, phasing and preliminary studies are currently under way, to ensure that construction does not disrupt the operation of Terminal 2.
Google Banner Ad




GULFSTREAM G700 AMASSES 25 SPEED RECORDS DURING WORLD TOUR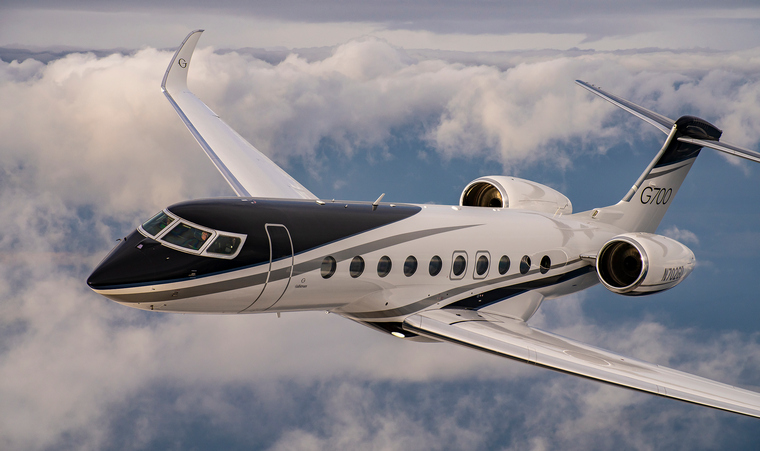 Gulfstream Aerospace Corp. today announced the all-new Gulfstream G700 achieved 25 speed records on the recently completed G700 world tour. Gulfstream flew two fully outfitted G700 production test aircraft to more than 20 countries across six continents to demonstrate the aircraft's performance capabilities and the flexibility and comfort of the most spacious cabin in the industry.



"The G700 world tour was a tremendous success," said Mark Burns, president, Gulfstream. "We knew the aircraft would perform exceptionally well, and they exceeded even our own high expectations for both reliability and performance across a variety of routes. Showcasing the outfitted aircraft to our customers and prospects around the world bolstered the already strong demand we are seeing for the G700."
Notable record runs achieved by the G700 include:
• Savannah to Riyadh, Saudi Arabia, in 12 hours, 36 minutes at an average speed of Mach 0.90 to begin the international portion of the tour
• Istanbul, Turkey, to Van Don International Airport in Vietnam, in 9 hours, 2 minutes at an average speed of Mach 0.90
• Riyadh to Melbourne, Australia, in 13 hours, 39 minutes at an average speed of Mach 0.87
• Christchurch, New Zealand, to Los Angeles in 12 hours, 13 minutes at an average speed of Mach 0.87
In total, the two G700 outfitted aircraft travelled 53,882 nautical miles/99,789 kilometres over more than 180 hours of flying. The world tour speed records are pending approval by the U.S. National Aeronautic Association and Fédération Aéronautique Internationale in Switzerland for recognition as world records.
The two G700 production test aircraft interiors showcase the industry's only ultra-galley, with more than 10 feet/3 meters of counter space; a grand suite with fixed bed and bright, spacious lavatory with full vanity and shower; an ultrahigh-definition dynamic circadian lighting system; an all-new award-winning seat design; and the lowest cabin altitude in the industry at 2,916 ft/889 m when flying at 41,000 ft/12,497 m.
Google Banner Ad
BOEING DOUBLES SUSTAINABLE AVIATION FUEL PURCHASE FOR COMMERCIAL OPERATIONS, BUYING 5.6 MILLION GALLONS FOR 2023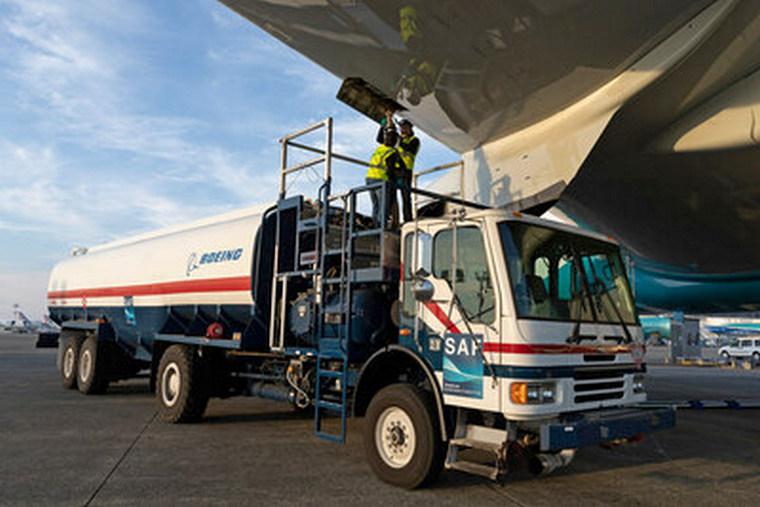 Boeing [NYSE:BA] has agreements to purchase 5.6 million gallons (21.2 million litres) of blended sustainable aviation fuel (SAF) produced by Neste, the world's leading SAF producer, to support its U.S. commercial operations through 2023. These agreements more than double the company's SAF procurement from last year.



"We are demonstrating our commitment to reduce our carbon footprint and catalyse the SAF industry," said Sheila Remes, Boeing vice president of Environmental Sustainability. "This SAF procurement makes up 25% of Boeing's total jet fuel needs for last year including our production, delivery, Boeing ecoDemonstrator, and Dreamlifter flights, and we aim to increase that portion in the years to come."
The purchase agreements include supply of Neste MY Sustainable Aviation Fuel™ which is blended with conventional jet fuel at a 30/70 ratio to produce the blended SAF. Neste MY SAF is made from 100% renewable waste and residue raw materials, such as cooking oil and animal fat waste, and meets strict sustainability criteria.
EPIC Fuels and Signature Aviation company will provide 2.3 million gallons and Avfuel will supply 300,000 gallons of this blended SAF for the Boeing ecoDemonstrator flight test program and the company's commercial sites in Washington state and South Carolina. Boeing is also purchasing an additional 3 million gallons of the same blended SAF from EPIC Fuels and Signature Aviation, generating emissions reduction credits for commercial deliveries, Dreamlifter and executive flights. These benefits are generated by a book-and-claim process that displaces petroleum jet fuel with SAF in fuelling systems outside the company's fuel supply.
In 2021, Boeing committed to deliver its commercial airplanes capable and certified to fly on 100% SAF by 2030. SAF reduces CO2 emissions by as much as 80% over the fuel's life cycle with the potential to reach 100% in the future and is widely recognized as offering the greatest potential to decarbonize aviation over the next 20 to 30 years. Made from several feedstock's, SAF is certified for commercial use and can currently be blended up to 50% with traditional jet fuel without modifications to airplanes, engines or fuelling infrastructure.
Among Boeing's key milestones to enable SAF:
In Feb. 2023, Boeing announced a pivotal testing milestone - the development of jet reference fluids to enable SAF compatibility testing to help fulfil the company's commitment to producing 100% SAF-capable airplanes.
In 2019, Boeing began offering customers the option to power commercial delivery flights with SAF to demonstrate commitment to reducing CO2 and further spur the use of cleaner fuels.
In 2018, the Boeing ecoDemonstrator made the industry's first commercial airplane test flight with 100% SAF in both engines of a 777 Freighter in partnership with FedEx.
Boeing made initial SAF test flights in 2008, enabled approval for commercial SAF use in 2011 and airplane delivery flights in 2012.
Google Banner Ad