Compiled by Willie Bodenstein



Google Banner Ad



THIS WEEK IN MIDWEEK UPDATE

SAC Western Cape Regionals, Stellenbosch 2023.
Piper Aircraft sees steady growth in 2022.
GAMA releases 2022 aircraft shipment and billing report.
Bell 505 becomes world's first single engine helicopter to fly using 100% sustainable aviation fuel.
AEA unveils 2022 year-end avionics market report.
Two Tecnam P2012 Sentinel SMP aircraft ready for mission system installation.
First run of Tech TP ACHIEVE hybrid electric turboprop demonstrator.
Textron Aviation Special Missions Beechcraft King Air 260 U.S. Navy Multi-Engine Training System (Mets).
Erickson delivers eighth S-64 Air Crane® helicopter to Korea Forest Service.
Worldwide incidents and accidents - AOPA, Avoiding prop strikes.
This week in history - Brig. General Chuck Yeager, the first pilot to break the sound barrier, flies his final US Air Force sortie.
Bonus Video - Cessna 182 Kitty Hawk to Secunda.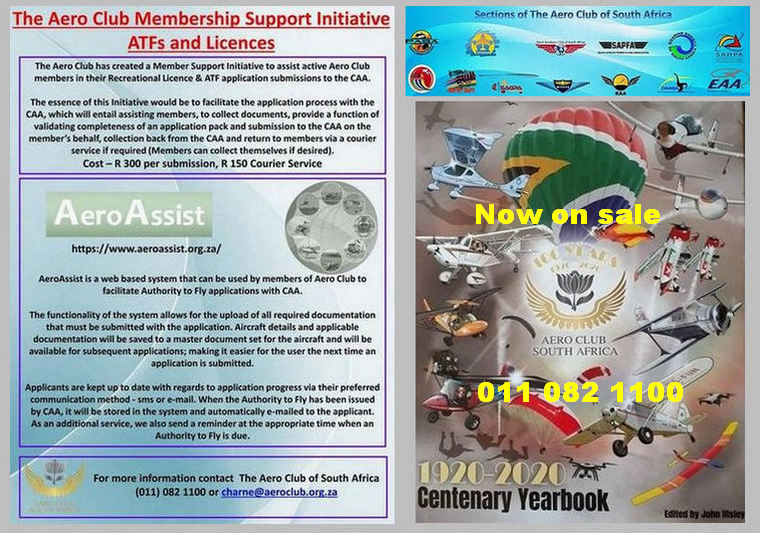 3 to 5
Aero Club Airweek Middleburg airfield. Contact Sandra Strydom sandra@aeroclub.org.za Tel: 011 082 1100
4
EAA Saturday Breakfast / Gathering 07h30 Middleburg airfield. Contact Neil Bowden airadventuresa@gmail.com
5
Brakpan Aero Club Toyz for Boyz.
Contact Clarissa at E-mail: Clarissa@airborneaviation.co.za Cell: 074 113 2911 for more information.
10 & 11
SAC Training Camp Kitty Hawk airfield. Contact Annie Boon E-mail: < chunge@mweb.co.za Cell 082 902 8614
10 & 11
SAPFA Rally Nationals -Stellenbosch Airfield. Contact Leon Bouttell E-mail: Leon@lbaa.co.za Cell: 076 294 1363
24 & 25
SAPFA Rally Nationals - Brakpan Airfield. Contact Leon Bouttell e-mail: Leon@lbaa.co.za cell: 076 294 1363
18
EAA CHAPTER 322 breakfast fly-in Jack Taylor airfield, Krugersdorp. Contact Neil Bowden E-mail: airadventuresa@gmail.com
18
Brakpan Aero Club Bona Bona fly away. For more information
contact Clarissa E-mail: Clarissa@airborneaviation.co.za Cell: 074 113 2911

28 March to 2 April
SUN 'n FUN Aerospace Expo Lakeland Florida, USA. Website: www.flysnf .org







1
EAA Chapter 322 breakfast gathering, boot sale and fly market EAA Auditorium. Contact Neil Bowden E-mail: airadventuresa@gmail.com

1
SAPFA Speed Rally - Bona Bona. Contact David le Roux E-mail: david@pilotinsure.co.za Cell: 073 338 5200

1
Volksrust breakfast fly-in. Contact Steven Prinsloo E-mail: steven@razzoaviation.co.za Cell: 084 317 2915 Johan Geldenhuys Cell: 082 861 3499 / Cell: Thinus Kemp 063 201 9952

1 & 2
SAC Training Camp Warmbaths / Bela-Bela airfield. Contact Annie Boon E-mail: chunge@mweb.co.za Cell 082 902 8614

15
EAA Chapter 322 breakfast fly-in to Brits airfield. Contact Neil Bowden E-mail: airadventuresa@gmail.com

15
Robertson annual fly-in and breakfast Robertson airfield. Contact Alwyn du Plessis E-mail: boeredata@breede.co.za

15 &16
SAC Eastern Cape Regionals Wings Park airfield. Contact Annie Boon E-mail: chunge@mweb.co.za Cell 082 902 8614

19 to 22
AERO Friedrichshafen Germany. Contact Tobias Brezel E-mail: tobias.bretzel@fairnamic.com Cell: +49 1752313422

22
Elders Flight Brakpan Airfield. Contact Felix Gosher E-mail: felixgosher@gnmail.com Cell: 086 191 4603

27 April to 1 May
EAA National Convention at Vryheid airfield. Contact Neil Bowden E-mail: airadventuresa@gmail.com







4 to 7
Kalahari Bundu Bash Adventure Koppieskraal Pan. Contact Cell: 078 459 2636 or 054 331 3534 E-mail: kbb@rafsa.co.za

5 to 7
BONA BONA fly-in at the Bona Bona airfield and country lodge. Contact Christian E-mail: christian@vsg.co.za Cell 083 251 4573

5 & 7
Kuzuko Lodge and private game reserve RV fly-in safari. Contact E-mail: kuzuko@legacyhotels.co.za

5 & 6
SAAF Museum annual airs how AFB Swartkops. Contact Maj. Ntshangase. Zero 8 three four one 0166 five

6
EAA Chapter 322 monthly gathering 07h30 EAA Auditorium Rand Airport. Contact Neil Bowden E-mail: airadventuresa@gmail.com

6 to 7
SAPFA Speed Rally at Bona Bona airfield. Contact David le Roux E-mail: david@pilotinsure.co.za Cell 073 338 5200

13
Lowveld Airshow at Nelspruit airfield. Contact Naranda Leeuwner Cell: 072 447 5968 E-mail: Naranda.leeuwner@kishugu.com

7 to 14
Sling Africa Tour: Departing from the Kalahari Bundu Bash led by Mike and Sue. Contact Shanelle Visagie E-mail: Shannelle@slingairctaft.com

16 to 19
Grain SA's NAMPO Harvest Day. Contact Wim Venter E-mail: wim@grainsa.co.za Tel: 086 004 7246

17 to 20
SAC National Aerobatics Championships Tempe airfield. Contact Annie Boon E-mail: info@anniesaviationcorner.com

18 & 19
Orion training, tech, drones and unmanned aviation conference. Contact Thabo Ndimande E-mail: thabo@orion-training.co.za Cell: 072 663 2724

20
New Tempe Airshow Bloemfontein. Contact Conrad Botha E-mail: rowco24cc@mailbox.co.za Cell: 082 770 5505
20

EAA Chapter 322 breakfast fly-in at Fly inn Estate. Contact Neil Bowden E-mail: airadventuresa@gmail.com

25 to 28
SAPFA Presidents' Trophy Air Race Middleburg airfield Website: www.sapfa.co.za Contact Iaan Myburgh E-mail: iaanmyburgh@gmail.com Cell: 082 449 2531








SAC WESTERN CAPE REGIONALS, STELLENBOSCH 2023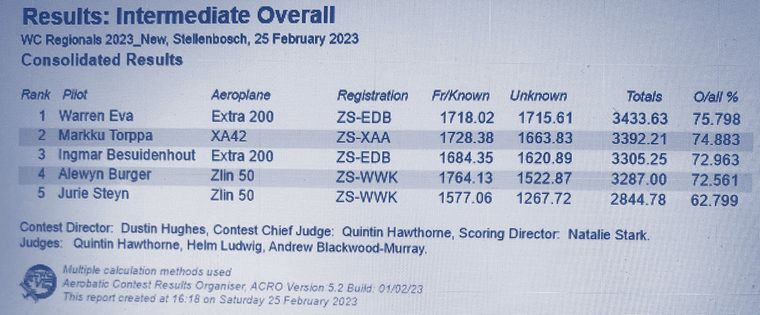 PIPER AIRCRAFT SEES STEADY GROWTH IN 2022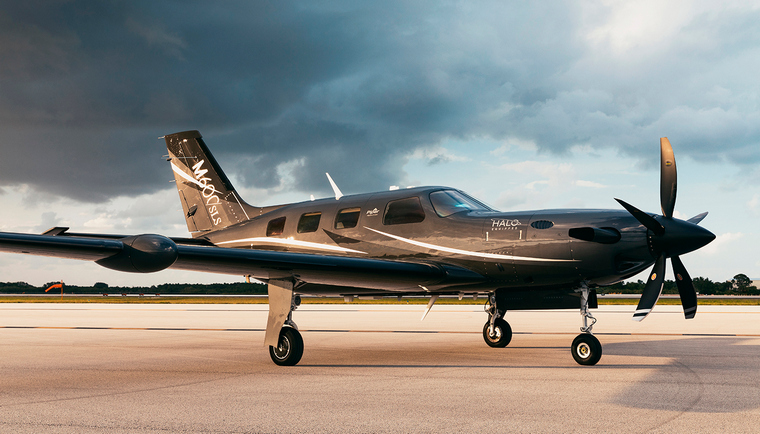 Piper Aircraft, Inc. announced its 2022 achievements, including a 15% increase in aircraft deliveries over 2021. In addition, Piper incorporated innovative updates to their flagship aircraft, the M600/SLS, and provided support to more than 25 philanthropic organizations that best embody the company's values and mission. In 2023, Piper continues to see backlog for the M-Class lineup deep into 2024 and trainer aircraft reaching into 2025 and beyond.


The M-Class product line includes the turbocharged and pressurized piston M350, the entry-level M500 turboprop, and the M600/SLS, featuring the HALO Safety System with Garmin Autoland. In total, 69 M-Class aircraft were delivered over the course of the year. This includes 19 M350s, 9 M500s, and 41 M600/SLSs, 43 of which were delivered domestically and 26 internationally.
In the trainer line-up, including the diverse Archer family (Archer DX, DLX, LX, and TX), the value-priced Pilot 100i, and the multi-engine Seminole, Piper delivered 167 total aircraft, with 150 delivered domestically and 17 internationally. Piper saw existing flight school customers grow their fleet, such as ATP Flight School, Spartan College, and American Flyers, as well as welcomed new customers to the Piper Flight School Alliance, including Thrust Flight and Fly Gateway.
"Growth in our two primary aircraft markets is of paramount importance to Piper Aircraft," said Piper President and Chief Executive Officer John Calcagno. "Despite the supply chain and labour challenges our industry faced this year, we were still able to deliver our aircraft as promised, create valuable enhancements across our product line-up, and pass these improvements to our Piper dealer partner network and retail customers."
Product highlights included the M600/SLS receiving FAA approval on a Master Minimum Equipment List (MMEL), defining an easier pathway to enter the aircraft into Part 135 charter service. The M600/SLS also gained unpaved field approval in Q4 of 2022, expanding the value of an already capable aircraft. Together with these improvements, Piper Aircraft announced their collaboration with CAE to engineer an electric PA-28-181 Archer Supplemental Type Certificate.
Looking into 2023, Piper will be first to market with exciting new innovations in G3000 software on the M600/SLS, which were previewed at NBAA-BACE in Orlando, FL at the end of 2022. Piper also recently announced the integration of an Agile Manufacturing Robot to the PA-46 production line to elevate efficiency and safety throughout the Piper factory in Vero Beach, FL.
In addition to meeting the demands of the 2022 delivery schedule, Piper Aircraft saw success in other elements of the year, focused on our customers and the community. One of these efforts was the inclusion of two new flight schools to the highly successful Piper Brand Ambassador program, the L3 Harris Flight Academy, and long-standing Piper fleet customer, North Star Aviation of Minnesota State University at Mankato. Piper also presented six aviation-focused college scholarships to students in 2022, and will add three more scholarships for local high school students this year.
About the Piper M600/SLS
The Piper M600/SLS with HALO Safety System is the first general aviation aircraft certified with Garmin Autoland. The revolutionary system supports digital technology that safely lands the aircraft at the nearest suitable airport in the event that the pilot is incapacitated. Additionally, the Garmin G3000 avionics suite includes Autothrottle, Autoland, Emergency Descent Mode, Electronic Stability Protection, Surface Watch, and SafeTaxi, all of which are designed to enhance safe operation of the aircraft. Beyond the flight deck, the six-seat M600/SLS is powered by a Pratt & Whitney PT6A-42A 600 SHP engine. The aircraft has a maximum cruise speed of 274 ktas/507 km/h, a max range of 1,658 nm/2,748 km, and a standard useful load of 2,400 lbs/1,089 kg.



GAMA RELEASES 2022 AIRCRAFT SHIPMENT AND BILLING REPORT

The General Aviation Manufacturers Association (GAMA) released the 2022 General Aviation Aircraft Shipment and Billing Report during its annual State of the Industry Press Conference. Overall, when compared to 2021, all aircraft segments saw increases in shipments and preliminary aircraft deliveries were valued at $26.8 billion, an increase of 6.0%.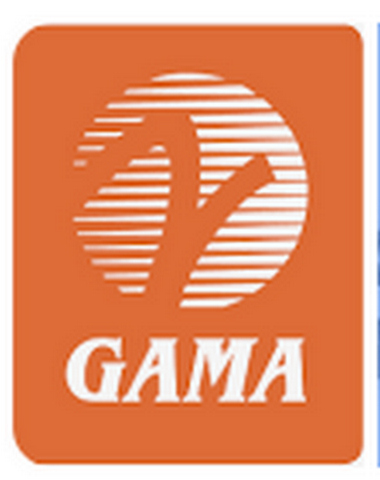 "The general neral aviation manufacturing industry continues to show increasing strength despite workforce and supply chain challenges across our industry. Our product development across the spectrum of fixed wing, rotorcraft and Advanced Air Mobility vehicles is spurred by the recognition that our industry is the safety and sustainability technology incubator for global civil aviation. These safety, performance and sustainability efforts are built upon progress with lighter weight materials, new structural and wing designs, fly-by-wire control replacing heavy hydraulic systems, additive manufacturing reducing the number of parts, lighter weight and more reliable avionics, and engines and airframes that can fly on a 100% sustainable aviation fuel blend. Of course, the impressive list of progress doesn't even begin to touch on the revolution of electric, hybrid and hydrogen propulsion our companies are developing. As we look towards FAA reauthorization in the U.S., we will be looking for Congress to focus the FAA on improving their processes to facilitate the certification of new technologies as well as support their validation efforts globally to deliver safety, performance and sustainability benefits," said Pete Bunce, GAMA President and CEO.
Airplane shipments in 2022, when compared to 2021, saw piston airplane deliveries increase 8.2%, with 1,524 units; turboprop airplane deliveries increase 10.4%, with 582 units; and business jet deliveries increase to 712 units from 710. The value of airplane deliveries for 2022 was $22.9 billion, an increase of approximately 5.8%.
Piston helicopter deliveries for 2022, when compared to 2021, saw an increase of 7.2%, with 194 units; and preliminary civil-commercial turbine helicopter increase 7.6%, with 682 units. The preliminary value of helicopter deliveries for 2022 was $4.0 billion, an increase of approximately 6.8%.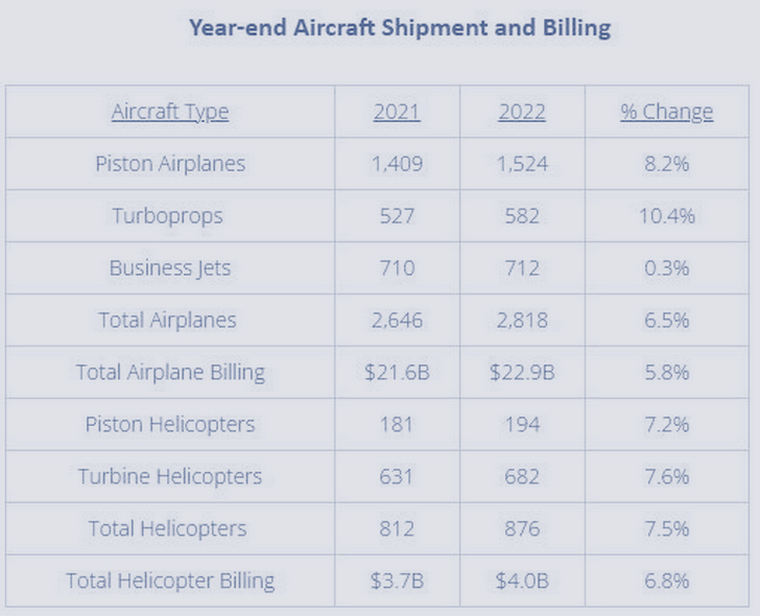 *Leonardo Helicopters fourth quarter data was not available at the time of publication. Leonardo Helicopters will release year-end results in March. GAMA excluded 2021 fourth quarter data for Leonardo in the comparison table.
GAMA's complete 2022 year-end report can be found at www.gama.aero





BELL 505 BECOMES WORLD'S FIRST SINGLE ENGINE HELICOPTER TO FLY USING 100% SUSTAINABLE AVIATION FUEL




Bell Textron Inc., a Textron Inc. (NYSE: TXT) company, announced today the Bell 505 completed its first flight fuelled solely by 100% Sustainable Aviation Fuel (SAF), marking the first-ever single engine helicopter to fly with 100% SAF. Bell collaborated with Safran Helicopter Engines, Neste, GKN Aerospace and Virent Inc. to make this Bell 505 flight possible.


"This flight is a monumental achievement for sustainability and decarbonization in the rotorcraft industry," said Michael Thacker, executive vice president, Commercial Business, Bell. "Showcasing a single engine aircraft's flight capability with 100% SAF signals Bell's commitment to alternative fuel usage and builds on its sustainability practices in its flight operations."
Valentin Safir, executive vice-president, Programs, Safran Helicopter Engines said: "SAF is one of the key pillars in our strategy to decarbonize the helicopter industry. Our engines are certified to operate on up to 50% SAF and our objective is to certify in the coming years the use of 100% SAF, which can potentially result in carbon lifecycle emissions reductions by up to 80%."
To achieve this flight, Bell collaborated with Safran Helicopter Engines, manufacturer of the Arrius 2R engine on the Bell 505; GKN Aerospace, the fuel system component supplier; Neste, the SAF supplier; and Virent, Inc., a Marathon Petroleum Corp. subsidiary that manufactures renewable fuels and chemicals. Safran Helicopter Engines and GKN Aerospace conducted thorough testing on the engine and fuel system components.
Neste and Virent collaborated to blend, test, and deliver the SAF for this project as a 100% drop-in fuel. SAF, made from used cooking oil or other bio-based feedstocks, typically must be blended with petroleum products because it doesn't include a component called "aromatics," which is required to meet today's aviation fuel specifications. Virent manufactures an aromatics component made from renewable plant sugars, which was added to Neste's neat SAF, eliminating the need to blend SAF with petroleum fuel. The SAF supplied for this test flight by Neste and Virent is therefore a "100% drop-in" replacement for petroleum-based aviation fuel, requiring no engine modifications.
Bell's own training fleet and demonstration aircraft currently use SAF in their operations. The team continues to guide customer conversations around its implementation and monitors SAF testing in a dedicated Bell 505 with Safran Helicopter Engines. This flight supports Textron's Achieve 2025 Sustainable Footprint goal for 20% reduction in greenhouse gas emissions across the enterprise, among other sustainability initiatives.
The Bell 505 is a five-seat aircraft designed for safety and efficiency while using the most advanced technology to date. The platform uses a fully integrated Garmin G1000H NXi avionics suite and Safran Arrius 2R engine with a dual-channel FADEC.
AEA UNVEILS 2022 YEAR-END AVIONICS MARKET REPORT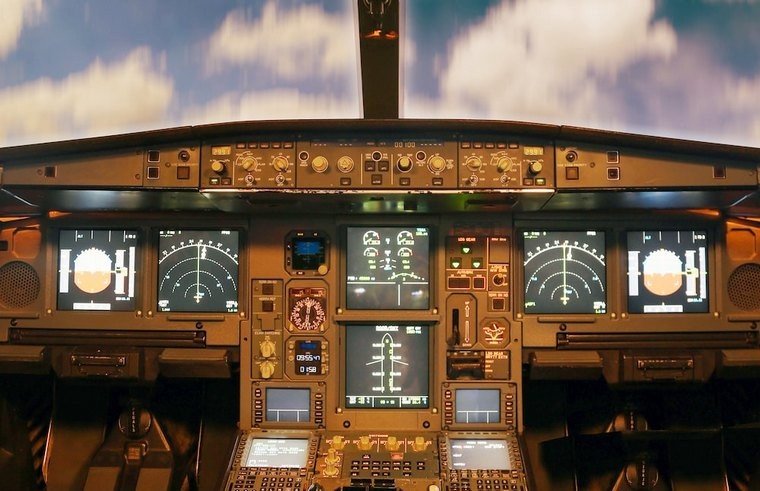 The Aircraft Electronics Association released its 2022 year-end Avionics Market Report, and total worldwide business and general aviation avionics sales for the year amounted to $2,877,281,308, or more than $2.8 billion as reported by the participating companies. The dollar amount represented a 21.5% increase in total year-end sales compared to 2021, which is the largest annual percentage increase in the 11-year history of the report.

During the fourth-quarter months of October, November and December, sales increased 31.2% compared to the same time frame one year ago, marking the largest quarterly year-over-year percentage increase in the report's history. Fourth-quarter sales increased 7.2% sequentially from the third quarter of 2022 and marked the 10th consecutive quarter of increasing sales.

*-Note that the 2022 year-end totals do not exactly equal the sum of the four quarterly amounts as reported earlier in the year. This variance is the result of seasonally adjusted year-end numbers by some of the participants. In addition, the number of companies that participate in the AEA Avionics Market Report may change on a quarterly and/or annual basis. This may occur due to mergers and acquisitions during the year along with new companies participating in the reporting process. Any comparative analysis of the data should take this variance into consideration. All dollar amounts noted are U.S. dollars.
The dollar amount reported (using net sales price, not manufacturer's suggested retail price) includes: all business and general aviation aircraft electronic sales - including all component and accessories in cockpit/cabin/software upgrades/portables/certified and noncertified aircraft electronics; all hardware (tip to tail); batteries; and chargeable product upgrades from the participating manufacturers. The amount does not include repairs and overhauls, extended warranty or subscription services.
Of the more than $2.8 billion in sales in 2022, 48.2% came from the retrofit market (avionics equipment installed after original production), while forward-fit sales (avionics equipment installed by airframe manufacturers during original production) amounted to 51.8% of sales.
According to the companies that separated their total sales figures between North America (U.S. and Canada) and other international markets, 74.9% of the 2022 sales volume occurred in North America (U.S. and Canada), while 25.1% took place in other international markets.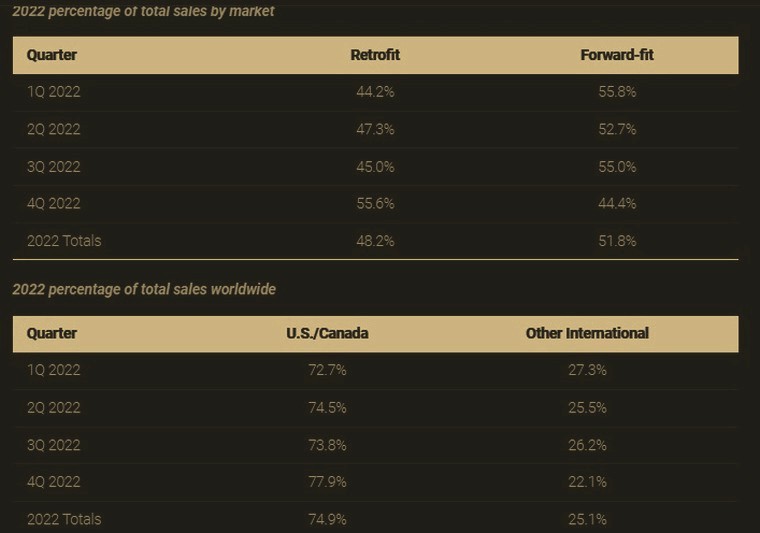 The AEA Avionics Market Report should not be considered a predictive indicator of future industry sales activity. The circumstances discussed in the report may not occur in future time periods, and actual results could differ materially as a result of known and unknown risk factors and uncertainties affecting the AEA Avionics Market Report and the companies that participate in the report. No forward-looking statement can be guaranteed. Forward-looking statements speak only as of the date on which they are made, and the Aircraft Electronics Association, along with the participating companies in the AEA Avionics Market Report, undertake no obligation to publicly update or revise any forward-looking statement, whether as a result of new information, future events or otherwise.
"We have seen yearly sales rebound the last two years despite supply chain constraints and a tight labour market," said AEA President and CEO Mike Adamson. "While it's encouraging to see a record-breaking percentage increase in year-over-year avionics sales, the industry is still rebounding from the economic impact of the pandemic. The $2.8 billion in sales for 2022 falls short of the 2019 year-end sales when industry notched a record $3 billion just prior to the international health crisis, but we are trending in the right direction with positive gains over the past 10 quarters."



TWO TECNAM P2012 SENTINEL SMP AIRCRAFT READY FOR MISSION SYSTEM INSTALLATION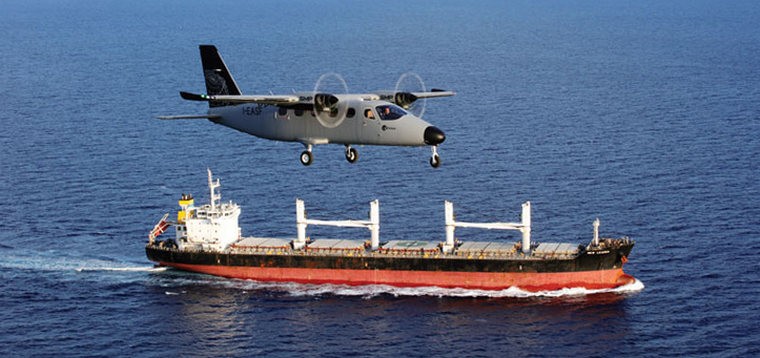 Tecnam announced today that has completed the production of two P2012 Sentinel Special Mission Platform that are now ready for mission system installation. The two aircraft completed factory acceptance flights in December 2022 in Tecnam headquarters in Capua, and, starting January 2023, are now undergoing mission system installation for their entry in service.

After a rigorous evaluation process, the undisclosed customer, has specifically chosen the P2012 Sentinel to replace his ageing fleet of BN2 Defenders.
The main drivers for the P2012 selection among other special mission platforms were the twin engine design, latest avionics, wide and constant cabin section, two full size hatches, generous mission power, superior payload allowance and low acquisition and operating costs.
The aircraft configuration with two crew doors and a main cabin door, combined to the high cabin volume and payload allows for optimal mission system installation with plenty of space for sensors, equipment racks, and operators consoles.
A P2012 Sentinel equipped with full mission equipment, allows room for up to seven crew members (pilots, operators, observers, and mission commanders) and at its maximum take-off weight of 3680 kg, provides up to 9 hours' endurance.
The P2012 twin-engine design guarantees an exhaust-free field of view to the sensors, granting increased accuracy and "noise-free" operations and a carbon-monoxide-free cabin that will enhance the safety of the crew members.
Francesco Sferra, P2012 & Special Mission Platform Sales and Business Development Manager. said "Tecnam is providing a modern, flexible, safe, highly capable and affordable solution to those operators who seek to integrate their fleet, or replace their legacy platforms, with a state-of-the-art and efficient turbocharged piston aircraft like the P2012 Sentinel SMP"



FIRST RUN OF TECH TP ACHIEVE HYBRID ELECTRIC TURBOPROP DEMONSTRATOR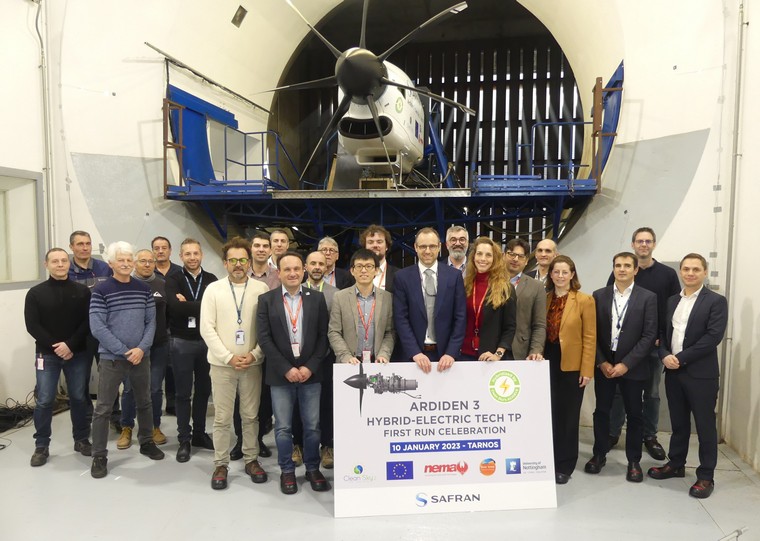 Safran Helicopter Engines has successfully completed ground tests of a "more-electric" variant of its Tech TP turboprop engine at its Tarnos facility. The Ardiden 3-based technological demonstrator incorporates technologies from Clean Sky1 ACHIEVE project, resulting in more efficient and more sustainable operating modes.


ACHIEVE (Advanced mechatronics devices for a novel turboprop electric starter-generator and health monitoring system) is a Clean Sky project coordinated by the UK University of Nottingham and supported by NEMA Ltd and Power System Technology. Within this project, an innovative and more powerful electrical motor-generator has been developed and integrated in the Tech TP propeller and accessory gearbox (PAGB). This device comprises an electrical machine, an electronic power converter and associate controllers.
It allows to drive the propeller electrically, enabling new operating modes such as taxying without using power directly from the main turbine engines or in-flight electric assistance. This saves fuel and reduces noise and emissions, resulting in more sustainable operations.
Didier Nicoud, Safran Helicopter Engines EVP Engineering said: "Leveraging hybrid electric technologies is an important pillar in our strategy to reduce fuel consumption and carbon emissions. ACHIEVE Tech TP also paves the way for a new Clean Aviation demonstrator managed by the HE-ART (Hybrid-Electric propulsion system for regional AiRcrafT) consortium. By 2025 HE-ART, bringing together 38 partners (with Safran Helicopter Engines as technical coordinator), plans to ground test a hybrid electric propulsion engine intended for regional turboprop aircraft."
Tech TP is a technology demonstrator developed as part of the European Clean Sky 2 research program. It features 18% lower fuel consumption and CO2 emissions compared to similar engines currently in service, as evaluated by Piaggio Aerospace on a virtual 19-seater commuter installation. It is optimized for operations at medium and high altitudes (45,000 feet) and will be particularly easy to operate, thanks to an innovative throttle lever interfaced with a Full-Authority Digital Engine and Propeller Control (FADEPC) computer. More than 20 partners from eight European countries are contributed to this project.

TEXTRON AVIATION SPECIAL MISSIONS BEECHCRAFT KING AIR 260 U.S. NAVY MULTI-ENGINE TRAINING SYSTEM (METS).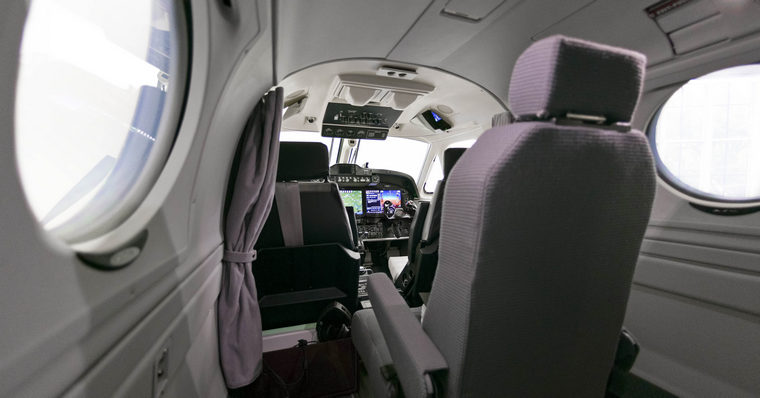 Textron Aviation announced it has been awarded the Multi-Engine Training System (METS) contract by Naval Air Systems Command (NAVAIR) through a full and open competition.

The contract award is for up to 64 King Air 260 aircraft, which will be known as the T-54A. The initial Lot I award will procure 10 new Beechcraft King Air 260 commercial aircraft and associated support. Lot II and Lot III, if the options are exercised, would each procure up to 27 aircraft. Aircraft deliveries are planned from 2024 to 2026.
The Beechcraft King Air 260 aircraft acquired under the METS contract will replace the Chief of Naval Air Training (CNATRA) fleet of T-44C Pegasus aircraft. The T-44C Pegasus aircraft is a variant of the twin-engine and pressurized Beechcraft King Air 90. The T-44 has been in service since 1977.
Bob Gibbs, vice president, Special Missions Sales for Textron Aviation: "We are honoured the U.S. Navy has again selected the Beechcraft King Air to fulfil its training needs," said Bob Gibbs, vice president, Special Missions Sales for Textron Aviation. "METS will modernize multi-engine aircraft training at CNATRA, providing an intermediate and advanced training platform for U.S. Navy, U.S. Marine Corps and U.S. Coast Guard aviators into the P-8, EP-3, KC-130, E-6, E-2, CMV-22, CV-22 and MV-22 aircraft."
METS specific capabilities include factory options for TACAN (Air to Air), angle of attack (AOA), V/UHF radio, digital audio system, engine trend monitoring, condition-based maintenance plus, observer/jump seat, passenger mission seats, and full-face oxygen masks.
The T-54A will include an updated avionics suite, automation qualities, and virtual reality and augmented reality devices to better prepare students for the advanced aircraft they will fly in the fleet.
Capt. Holly Shoger, Naval Undergraduate Flight Training Systems Program Office (PMA-273) program manager: "With its advanced technology, the new METS platform will be more representative of fleet aircraft," said Capt. Holly Shoger, Naval Undergraduate Flight Training Systems Program Office (PMA-273) program manager. "The T-54A will include an updated avionics suite, automation qualities and virtual reality as well as augmented reality devices to better prepare students for the advanced aircraft they will fly in the fleet."
The King Air 260 METS aircraft will be delivered in a fully compliant, METS mission ready configuration from Textron Aviation's King Air production line in Wichita, Kansas.
Endless Special Missions Possibilities
When government, military and commercial customers want airborne solutions for critical missions, they turn to Textron Aviation. The company's aviation solutions provide the high performance and flight characteristics required to address the unique challenges of special mission's operations. With unparalleled quality, versatility and low operating costs, Textron Aviation products are preferred for air ambulance, ISR, utility transport, aerial survey, flight inspection, training and a number of other special operations.
ERICKSON DELIVERS EIGHTH S-64 AIR CRANE® HELICOPTER TO KOREA FOREST SERVICE

Erickson Incorporated, a worldwide leading operator, maintainer and manufacturer of utility aircraft, announced the delivery of the newest S-64 Air Crane® helicopter to their partners at Korea Forest Service (KFS) in South Korea. The aircraft, dubbed "K-9" by Erickson associates, furthers Erickson's global mission of protecting life and property from wildfires.

Over a 20-year relationship with KFS, Erickson has produced eight S-64 Air Crane® helicopters in support of KFS operations. In 2001, KFS was the first foreign government to purchase an S-64 Air Crane®. From that point forward, Erickson and KFS partnered to establish and grow an exemplary firefighting and emergency response team. A recent initiative that epitomizes KFS firefighting strategy employs fire extinguishing technology, night time operations and deployment of aerial firefighting agents.
"The S-64 is paramount to Korea Forest Service's mission and we are thankful for the opportunity to add to their fleet of Air Crane helicopters," said Erickson Vice President of Marketing, Business Development and Sales, Ryan Perkins.
The recently delivered aircraft, accepted by KFS began production in January of 2020 at Erickson's manufacturing facilities in southern Oregon. The manufacturing process persisted amid worldwide supply chain shortages, shipping obstacles and logistics impediments.
"This aircraft is representative of Erickson's ability to meet customer needs in trying times and our team did a phenomenal job," said Perkins.
Jeff Mecklenburg, Vice President, Aerosystems also commented on the dedication of the Erickson team, "The Erickson team was able to adapt to unforeseen circumstances to produce a superior aircraft. We look forward to continuing to overcome challenges in support of KFS and the global firefighting community."
Erickson anticipates continued expansion of their partnership with KFS due to the capacity of the Erickson team to meet the needs of shifting global conditions.
Perkins commented regarding the capabilities of the S-64 helicopter, "The global demand is increasing for the heavy-lift helitankers, and Erickson stands ready to respond with the most effective and efficient rotary-wing firefighting machine in the air, the S-64 Air Crane."




AOPA - AVOIDING PROP STRIKES




Cote d'Ivoire, near Mankono, Béré Region: A Mil Mi-8P helicopter operated by the Côte d'Ivoire Government suffered an engine failure and force landed near Mankono, Ivory Coast. The tail section was partially severed. The helicopter carried several officials including the Minister of Foreign Affairs, Kandia Camara, President of the National Assembly, Adama Bictogo and Vice President of Senate. There were no fatalities.
Egypt: An Egyptian Air Force fighter jet crashed under unknown circumstances during a training flight at an undisclosed location in Egypt. The pilot ejected safely.
Somalia, Baledogle, Lower Shabelle region: An ATMIS (African Union Transition Mission in Somalia) helicopter crashed under unknown circumstances at Baledogle Airstrip, Lower Shabelle region. Three occupants died in the crash and eight occupants were injured.

Papua New Guinea, near Port Moresby: Air Niugini Fokker 70 was operating a scheduled domestic flight from Jacksons Airport, Port Moresby to Mount Hagen-Kagamuga Airport when it returned back to Port Moresby due to weather conditions not being suitable for a landing in Mt Hagen. During descent into Port Moresby, the aircraft reportedly sustained a pressurization issue. On disembarking the aircraft at Jacksons Airport, a passenger alerted Air Niugini Customer Service that a few passengers from the flight were bleeding from the ears and nose. On assessing the injured passengers, It was reported that a total of 22 persons were injured; 7 persons had serious injuries and were admitted to hospital.
USA ,5 km (0.9 miles) South of Little Rock-Bill and Hillary Clinton National Airport: A Beechcraft 200 King Air impacted the terrain shortly after take-off from runway 18 at Little Rock-Bill and Hillary Clinton National Airport. The five occupants died and the aircraft was destroyed.

USA, Hollywood Burbank Airport, CA: An American Airlines flight AA5826, (N954LR), a CRJ-900LR and United Airlines flight, UA5326 an Embraer ERJ-175 (N619UX), were involved in an incident at Hollywood Burbank Airport, CA. The air traffic controller cleared UA5326 to take off from runway 33 while the approaching CRJ-900 was around on short final to the same runway. The CRJ-900 discontinued the approach and initiate a climb out. At the same time the ERJ-175 continued with its departure. The controller then instructed the CRJ-900 to turn 30 degrees to the left for separation but the flight responded that they were first complying with a TCAS-RA alert on the CRJ-900. AA5826 circled and landed safely. UA5326 continued to the destination.
West Kazakhstan, near the Chapurino, Baiterek district: A Mil Mi-8AMT helicopter crashed near Chapurino while inspecting oil pipelines. There were 6 people on board - 5 crew members and 1 representative of KazTransOil. Four occupants died in the crash; two others were injured.
USA, St Louis River, Duluth, MN: A Cirrus SR22 GTS G6 carbon crashed into the ice-covered St Louis River and became partially submerged. The pilot was died. The aircraft had taken off from Duluth International Airport, Minnesota, four minutes before the accident.

USA, near Stagecoach, NV: A Guardian Flight LLC Pilatus PC-12/45, N273SM, was destroyed when it crashed about 14 min after take-off from Reno/Tahoe (RNO) International Airport, Nevada. All five occupants were fatally injured. The aircraft took off from RNO at 21:00 local time and reached the maximum altitude of 19,400 feet at 21:13. ADS-B data indicates that the aircraft then entered a spiralling descent at over -30,000 ft/min and crashed near Stagecoach, Nevada. The people fatally injured in the crash were a pilot, a flight nurse, a flight paramedic, a patient, and a patient's family member. Sigmet for MOD Turbulence. Icing from ground to FL200. Light snow.




25 FEBRUARY 1975

Brig. General Chuck Yeager, the first pilot to break the sound barrier, flies his final US Air Force sortie.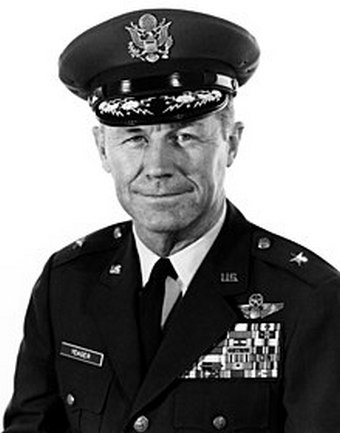 Brigadier General Charles Elwood Yeager was a United States Air Force officer, flying ace, and record-setting test pilot who in October 1947 became the first pilot in history confirmed to have exceeded the speed of sound in level flight.
In 1966 at age 43 Yeager took command of the 405th Tactical Fighter Wing at Clark Air Base, the Philippines, whose squadrons were deployed on rotational temporary duty (TDY) in South Vietnam and elsewhere in Southeast Asia. There he flew 127 missions. In February 1968, Yeager was assigned command of the 4th Tactical Fighter Wing at Seymour Johnson Air Force Base, North Carolina, and led the McDonnell Douglas F-4 Phantom II wing in South Korea during the Pueblo crisis.
Yeager was promoted to brigadier general and was assigned in July 1969 as the vice-commander of the Seventeenth Air Force.
On 25 February 1975 at age 52 and only a few days before his retirement on 1 March 1975 Yeager flew his last his final US Air Force sortie. He passed away on 7 December 2020.


Cessna 182 Kitty Hawk to Secunda


Google Banner Ad