Compiled by Willie Bodenstein




Google Banner Ad




THIS WEEK IN AIRLINERS

Global airline community challenges legality of mandatory flight reductions at Schiphol Airport.

EGYPTAIR takes delivery of Africa's first Airbus A321neo.

Rogers Group targets east and southern Africa for exponential growth.

Secretary General focuses on legal affairs and cooperation in Oman.

Opening date announced for the new terminal at Kansas City International Airport.

Pacific region to require 920 new aircraft over next 20 years.

Biden-Harris administration announces nearly $1b in bipartisan infrastructure law airport funding awarded to meet surging air travel demand.

Lufthansa presents new "First Class Suite Plus" - private room above the clouds.


GLOBAL AIRLINE COMMUNITY CHALLENGES LEGALITY OF MANDATORY FLIGHT REDUCTIONS AT SCHIPHOL AIRPORT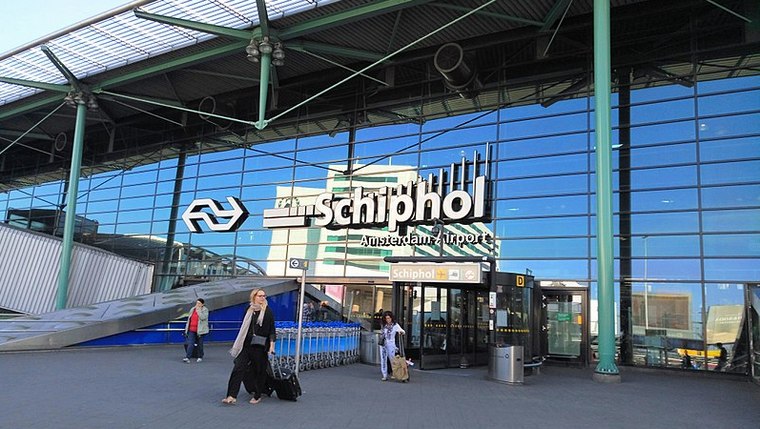 The International Air Transport Association (IATA) and airlines are mounting a legal challenge to the Dutch government's sudden decision to reduce Schiphol airport's capacity. Schiphol Airport is already restricted to 500,000 flights annually. The government's decree would renege on that agreement, reducing Schiphol connectivity to 460,000 flights from November 2023.

IATA and the global airline community believe that this political decision by the Dutch government contravenes EU Regulation 598/2014 on noise-related operating restrictions at EU airports. It also disregards the Chicago Convention, a binding international agreement to which the Netherlands is a signatory. Annex 16 of the Convention contains provisions for The Balanced Approach to Aircraft Noise Management which states are obligated to follow when taking measures to managing the noise impacts of aviation.
Key requirements of EU Regulation 598/2014 and the Balanced Approach are: Consultation with affected parties. The use of flight reductions only as a last resort. Balancing the needs and concerns of local residents, the environment and the local economy for aviation's economic and social benefits.
The decision to cut capacity at Schiphol fails to meet these requirements because: No meaningful consultation was undertaken with industry. Flight reductions are being imposed as a first resort, rather than as a last resort.
The need to restore the economic damage to the aviation industry of the Netherlands is not being addressed. Pre-pandemic, aviation supported some 330,000 jobs and $30 billion of economic activity in the Netherlands.
"The Netherlands is handicapping its economy by destroying connectivity. And it is doing it in contravention of EU law and its international obligations. The job-destroying hostile approach to aviation that the Dutch government has chosen is a totally disproportionate response to managing noise. The government has even refused to engage in meaningful consultations and made flight reductions the goal, rather than working with industry to meet noise and emissions reduction goals while restoring employment and revitalizing the post-pandemic economy. The dangerous precedent that this illegal approach creates left no choice but to challenge them in court," said Willie Walsh, IATA's Director General.
The airline industry continually deploys quieter aircraft, reducing noise levels by 50% in the last decade. The investment in new fleet also plays a significant role in meeting the aviation industry's commitment to reduce its CO2 emissions to net zero by 2050, as set out in a Resolution at the IATA AGM in 2021. The industry's robust plan for reducing CO2 includes the uptake of Sustainable Aviation Fuels, of which airlines operating in and to the Netherlands have been among the leading users.




Google Banner Ad




EGYPTAIR TAKES DELIVERY OF AFRICA'S FIRST AIRBUS A321NEO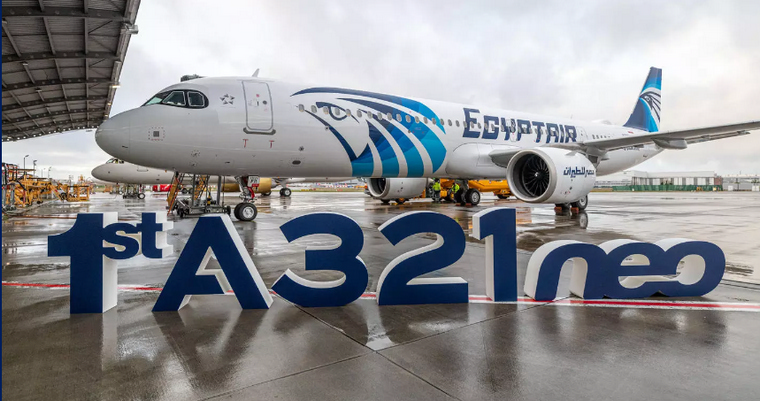 GYPTAIR took delivery of its first A321neo from Airbus' Delivery Centre in Hamburg, making the airline the first African operator of the aircraft. EGYPTAIR has specified a high comfort, two-class configuration with 16 Business class seats and 166 Economy class seats, and will increase the airline's single aisle capacity to the Middle East, Africa and Europe. The aircraft is on lease from AerCap and is powered by CFM engines.


The A321neo is the largest-fuselage member of Airbus' best-selling single-aisle A320 Family and brings a 20 percent reduction in fuel consumption and emissions per seat compared with previous generation competing aircraft. This enables EGYPTAIR to benefit from enhanced efficiency and be able to deliver on its commitment to sustainability, whilst reducing operating costs.
This modern aircraft joins EGYPTAIR's Airbus fleet of 12 A220s, 8 A320neos, 2 A320ceos 4 A330-200, 4 A330-300. With the addition of the A321neo, EGYPTAIR is demonstrating continuous ambitions to expand its Airbus fleet to meet current and future demand.
Across all its aircraft families, Airbus' unique approach ensures that aircraft share the highest commonality in airframes, on-board systems, cockpits and handling characteristics. This significantly reduces operating costs and maximises the airline's profitability.
The delivery flight from Hamburg to Cairo was powered by 34 percent Sustainable Aviation Fuel (SAF) blend. SAF is a sustainably-produced aviation fuel made from feedstocks ranging from used fat, oil and grease to municipal and forestry waste. Compared to fossil jet fuel, SAF has been demonstrated to result in an up to 80 percent reduction in CO2 emissions across the entire SAF lifecycle. Therefore, it is considered as a key enabler to contribute to the decarbonisation of aviation.
Currently, all Airbus commercial aircraft are capable of flying with an up to 50 percent SAF blend mixed with kerosene and are targeted to be capable for 100 percent SAF use in flight by the end of this decade. Since March 2021, Airbus has successfully accomplished 100 percent SAF test flights on A319neo, A350 and A380 aircraft.
Google Banner Ad




ROGERS GROUP TARGETS EAST AND SOUTHERN AFRICA FOR EXPONENTIAL GROWTH






Rogers Group (https://www.Rogers.mu) has, over the years, expanded its reach beyond Mauritius, into the region and internationally. For the Mauritian-born Group, with offices in 14 countries, growth opportunities often go hand in hand with strengthening its existing operations in countries with high growth potential and exploring new territories to expand its presence in strategic markets.



The most recent endeavour was carried out by Velogic, one of Rogers' subsidiaries in the logistics segment, through the acquisition of Rongai Workshop & Transport Ltd, a road transport company in Kenya. With the upcoming opening of a branch of Rogers Capital - Technology (the Finance & Technology segment) in Rwanda, as well as the representation of two new airlines (TAAG Angolan Airlines in South Africa and Vistara in Mauritius) by Rogers Aviation (the Travel segment), Rogers is actively pursuing its gradual internationalisation strategy in promising markets abroad, with a particular focus on Africa.
For companies like Rogers, which are listed on the Official Market of the Stock Exchange of Mauritius (SEM), the pursuit of international growth opportunities is a key lever for increasing their presence in markets with high potential. In this context, the Group's international development strategy is particularly relevant, with the recent acquisition of Rongai Workshop & Transport Ltd in Kenya, a promising market for the logistics sector. This acquisition will enable Velogic, Rogers' logistics arm, to expand its geographical footprint on the African continent, benefiting from the growth prospects that this promising market offers.
In addition, the imminent opening of a branch of Rogers Capital - Technology (the Finance & Technology segment) in Rwanda demonstrates Rogers' commitment to positioning itself in emerging markets in Africa, where economic growth is strong. This strategic location will allow Rogers to strengthen its regional presence by offering innovative solutions adapted to local needs. At the same time, the representation of two new airlines, TAAG from Angola and Vistara from India, allows Rogers Aviation (the Travel segment) to broaden its reach in booming international markets, and in Mauritius.
"With a presence in 14 countries, our strategy is to identify growth opportunities to strengthen our activities in those countries," says Philippe Espitalier-NoŽl, Chief Executive Officer (CEO) of the Rogers Group. "The acquisition of Rongai Workshop & Transport Ltd in Kenya, the representation of Vistara, and the upcoming opening of a branch of Rogers Capital Technology in Rwanda are concrete examples of our commitment to positioning ourselves in these emerging high-growth markets by offering cutting-edge solutions meeting local and international needs," adds the CEO.
Headquartered in Mauritius, Rogers Aviation has been active for more than seven decades in the travel and aviation industry. The company is pursuing its local and international development, having secured the representation of Vistara. This Indian airline will serve Mauritius from March 26 onwards, five times a week. This representation also extends to Vistara's domestic Indian market via Mumbai, with increased connectivity to international destinations such as the Maldives, Thailand, Singapore, and Colombo.
Leveraging Rogers Aviation's expertise, this collaboration with Vistara expands the portfolio of international and Mauritius-based airline representation (General Sales Agent) of this subsidiary of Rogers' Hospitality & Travel segment.
Last September, after opening new offices in Bedfordview, South Africa - where the company has a significant foothold, particularly in Johannesburg, Cape Town, and Durban - Rogers Aviation obtained the representation of TAAG Angolan Airlines, a company it has been representing in Mozambique since 2017. This representation also reinforced Rogers Aviation's portfolio of airlines in South Africa, which already includes four airlines in the country - Air Seychelles, LATAM (a South American company), Air Austral, and Air Mauritius (Cargo).




Google Banner Ad



ICAO SECRETARY GENERAL FOCUSES ON LEGAL AFFAIRS AND COOPERATION IN OMAN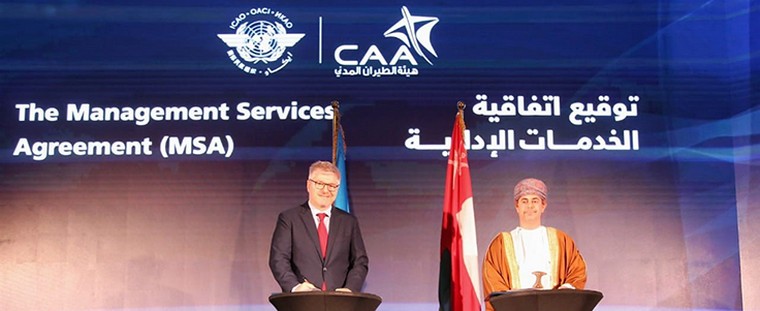 Secretary General Juan Carlos Salazar (left) and the President of the Civil Aviation Authority of Oman, H.E Eng. Naif Ali Al-Abri, at the occasion of the conclusion of a new implementation support agreement.



The second edition of the Civil Aviation Legal Advisers Forum (CALAF/2, high-level meetings, and the conclusion of a new cooperation agreement were among the activities undertaken by ICAO Secretary General Juan Carlos Salazar during his recent mission to Oman, which took place from 19-21 February 2023 and coincided with the 50th anniversary of Oman becoming party to the ICAO Convention on International Civil Aviation (Chicago Convention). The Secretary General was hosted throughout his mission by the President of the Civil Aviation Authority of Oman, H.E Eng. Naif Ali Al-Abri.
Addressing CALAF/2 in the presence of Oman's Minister of Justice and Legal Affairs, H.E. Dr. Abdullah bin Mohammed Al Saidi, the Secretary General focused on the importance of upholding the rule of law to the proper functioning of the international aviation sector, and expressed ICAO's gratitude for Oman's hosting of the forum within this context.
The Secretary General also participated in a workshop with students from local academic institutions, at which he outlined the importance of attracting and retaining the next generation of aviation professionals to the sustainable recovery and development of the global aviation sector.
The Forum was attended by 150 legal experts and other stakeholders from over 60 States.
The Secretary General met with Oman's Deputy Prime Minister for Cabinet Affairs, H.H. Fahd bin Mahmoud Al Said, who commended ICAO's role in assuring the security and safety of passengers and global air traffic.
The significance of ICAO's cooperation with Oman was also a focus of Mr. Salazar's ministerial meetings, which also encompassed discussions with Oman's Minister of Finance, H.E Sultan bin Salem Al Habsi; Minister of Labour, H.E. Dr. Mahad bin Saeed Baawin; Minister of Transport, Communications, and Information Technology, H.E. Said Hamood Said Al Maawali; and the Minister of the Royal Office of Oman, H.E First Lieutenant General Sultan bin Muhammad Al-Nu'mani
The new cooperation agreement between ICAO and Oman that was formalized during the Secretary General's mission with the President of the Civil Aviation Authority focuses on implementation support. It will see ICAO provide an array of capacity development services, including the provision of international experts in flight operations, personnel licencing, ground operations, and economic regulation. The project scope also foresees the training of personnel, and the potential procurement of goods and services to support aviation capacity development, including airport and air navigation service enhancements.
Mr. Salazar was accompanied on his mission by Mr. Jorge Vargas, Director of the ICAO Technical Cooperation Bureau; Mr. Michael Gill, Director of the ICAO Legal Affairs and External Relations Bureau and Mr. Mohamed Abu Baker Farea, ICAO Regional Director for the Middle East Region;
Google Banner Ad
OPENING DATE ANNOUNCED FOR THE NEW TERMINAL AT KANSAS CITY INTERNATIONAL AIRPORT






Mayor Quinton Lucas, the Kansas City Aviation Department, and its development partners today announced the new terminal at Kansas City International Airport will open on 28 February 2023 delivering Kansas City's largest ever infrastructure project on time and on budget.

"For the last four years the project team has worked diligently to keep the New Terminal on schedule and on budget," said Pat Klein, Director of Aviation. "As we approach the finish line, I thank the stakeholders who've contributed greatly and the residents of the entire region for their ongoing support."
"From the outset, we committed to make this project transformational by building the capacity of small, minority- and women-owned businesses and training men and women to be part of the workforce of the future. We have exceeded all project goals and are extremely proud of what the team has accomplished," said Geoffrey Stricker, Senior Managing Director with Edgemoor.
All flight operations, arrivals, and departures, scheduled for February 27, and prior to 1 a.m. on 28 February 28, will occur at the existing terminals. All flights operations, arrivals, and departures, scheduled for after 1 a.m. on Tuesday, February 28 will take place at the new terminal. Overnight, airlines will relocate 31 aircraft from their gates at Terminals B and C to the new terminal to prepare for their morning departures.
Google Banner Ad
PACIFIC REGION TO REQUIRE 920 NEW AIRCRAFT OVER NEXT 20 YEARS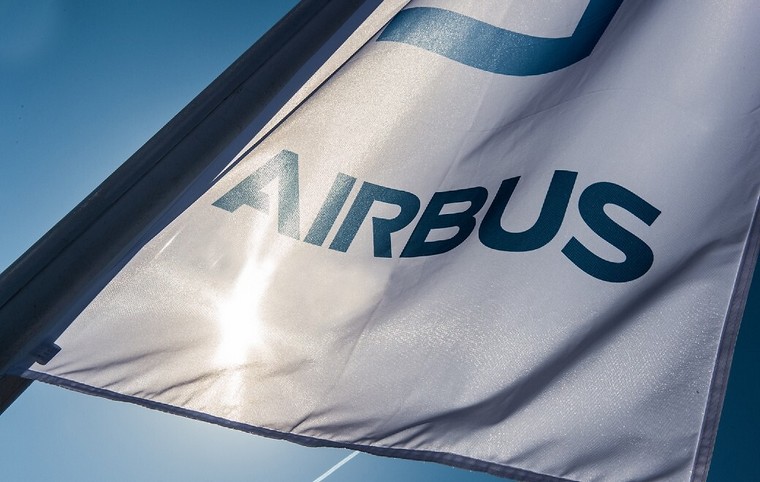 Airlines based in the Pacific region will take delivery of 920 new aircraft over the next 20 years, generated by an average growth in passenger traffic in the region of 3.2% per annum, according to the latest Airbus Global Market Forecast.


The forecast for new aircraft includes around 750 single aisle aircraft like the A220 and A320 Families and around 170 widebodies like the A330neo and A350. Around 55% of this demand will be for growth and 45% will be to replace aircraft currently in service. The forecast was presented by Stephen Forshaw, Airbus Chief Representative for Australia, New Zealand and the Pacific, on the eve of the Avalon Airshow taking place between 28 February and 5 March 2023, in Melbourne.
"We are already seeing steady recovery in global air traffic and a renewed confidence in the growth of the industry. This is particularly evident in the Pacific region, where we are seeing a surge in travel demand and an increase in flights to and from key destinations. A priority for airlines in this region is ensuring that the air transport sector can grow in a sustainable way. This has become an increasingly important factor when airlines make fleet decisions and Airbus is well-placed with the modern and comprehensive product line available today, offering a reduction in fuel consumption and emissions of up to 25%."
He added that the replacement of older generation aircraft was just a first step on the journey to decarbonise the aviation sector.
"Looking to the future, we need to increase the production and availability of sustainable aviation fuels in this region and explore new sources of energy, including hydrogen and synthetic fuels. This requires a new level of collaboration between all the stakeholders involved."
In the Pacific region Airbus has entered into significant partnerships over the past year to advance its ambitions. These include a joint fund with Qantas to encourage industry to develop the necessary ecosystem in Australia and a project with Air New Zealand to study applications for hydrogen powered aircraft on its domestic network.
Airbus is also involved in studies with Australia's Fortescue Future Industries (FFI) and most recently announced its participation in a new hydrogen consortium in New Zealand alongside Christchurch Airport, Air New Zealand, FFI and several start-ups.
Stephen Forshaw added: "All our focus today ultimately converges on one objective and that is the decarbonisation of our industry. We have a duty to ensure that generations to come will be able to experience the joy of travel in the way we have done, to discover the world, to connect with others and experience new cultures. All this while protecting our environment."
The Pacific region is a key market, with 170 Airbus aircraft currently in service with airlines in Australia, Fiji, New Caledonia, New Zealand, and the Solomon Islands. Another 166 aircraft are currently on order for future delivery to Pacific carriers. This represents 75% of the total backlog of orders from airlines in the region for all manufacturers.
Globally Airbus forecasts demand for 39,490 new aircraft over the next 20 years, including 17,620 in the wider Asia-Pacific region.
Google Banner Ad
BIDEN-HARRIS ADMINISTRATION ANNOUNCES NEARLY $1B IN BIPARTISAN INFRASTRUCTURE LAW AIRPORT FUNDING AWARDED TO MEET SURGING AIR TRAVEL DEMAND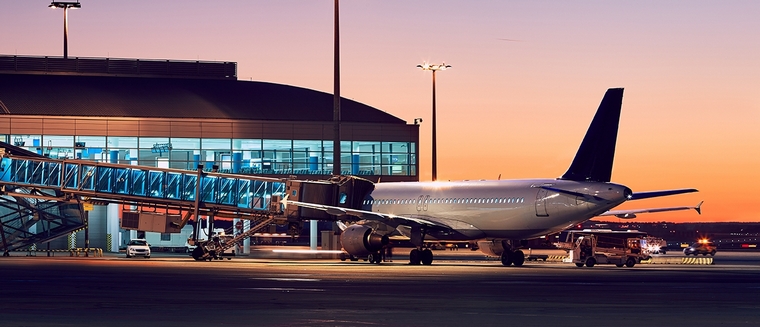 With air traffic poised to reach or beat pre-pandemic levels this year, the Federal Aviation Administration (FAA) is awarding nearly $1 billion from President Biden's Bipartisan Infrastructure Law to 99 airports of all shapes and sizes across the country.



The funding helps meet the growing demand for air travel and invests in key areas to help get travellers in and out of airports more quickly and improve the passenger experience by investing in new baggage systems, larger security checkpoints and improved ground transportation. Other projects increase terminal sustainability and improve accessibility for individuals with disabilities. Several grants will address the needs of aging air traffic control towers. The investments will go to airports in 47 states and two territories.
"Americans deserve the best airports in the world and with demand for air travel surging back, this funding to improve the passenger experience couldn't come at a more urgent time," said U.S. Transportation Secretary Pete Buttigieg. "These grants will make it faster and easier to check your bags, get through security and find your gate, all while creating jobs and supporting local economies."
"Today's funding doesn't just improve airport terminals. It creates opportunities in communities large and small for good-paying jobs and a chance to be part of our country's thriving aviation sector," said Deputy FAA Administrator A. Bradley Mims.
These awards are on top of the $1 billion for Airport terminals announced for 85 airports last year. The vast majority of those projects are under construction.
Many grants contain an element that will build new or expanded terminal facilities. Among them are:
$10.8 million to Des Moines International Airport in Des Moines, Iowa: This project replaces the 1948 terminal that is beyond its useful life and operating above capacity.
$29 million to Salt Lake City International Airport (SLC) in Salt Lake City, Utah: The New SLC is a phased Terminal and North Concourse Redevelopment Program which replaces aging and capacity-constrained facilities.
$10 million to Sarasota Bradenton International Airport in Sarasota, Fla.: This award funds a portion of a terminal expansion project that adds new passenger security screening checkpoint lanes, five gates and a new energy-efficient central energy plant.
$6.5 million to Savannah/Hilton Head International Airport in Savannah, Ga.: The security screening checkpoint expansion project consists of adding 23,000 square feet to the south side of the terminal building.
$50 million to O'Hare International Airport in Chicago, Ill.: This award helps fund a project to rehabilitate and expand passenger access for the 60-year-old Terminal 3.
$5 million to Columbia Metropolitan Airport in Columbia, S.C.: This award funds a portion of the terminal expansion project, adding a fourth screening lane to the passenger security-screening checkpoint and bringing the checkpoint up to current TSA standards.
$16 million to Seattle-Tacoma International Airport in Seattle, Wash.: This project will relocate Security Checkpoint 1 from the ticketing level to the lower baggage claim level, which will provide additional screening capacity and reduced wait times.
$4.4 million to Ted Stevens Anchorage International Airport in Anchorage, Alaska: The project increases North Terminal capacity by installing common use equipment and upgrading the baggage handling system.
$4.3 million to Lawton-Fort Sill Regional Airport in Lawton, Okla.: The terminal modernization and expansion project includes a building expansion with a new baggage claim and meeter-greeter areas, a new and expanded security checkpoint and a hold room expansion that accommodates two airline gates.
$38 million to Baltimore/Washington International Thurgood Marshall Airport in Baltimore, Md.: This project will fund a portion of the Concourse A and B expansion project to include baggage system improvements, direct airside connection between Concourses A and B, expanded apron level operations space, larger hold rooms, new concession space and modern restrooms.
$5 million to Bradley International Airport in Winsor Locks, Conn.: This award funds a portion of a terminal expansion project at the airport, including a new in-line checked baggage system and control room, expanded passenger hold rooms, new airline gate space and other modifications for the efficient movement of passengers and baggage.
$13.3 million to Key West International Airport in Key West, Fla.: This award funds 20,000 square feet of renovations to the existing airside terminal building to expand the baggage claim and passenger security-screening checkpoint.
$1.6 million to Cleveland Hopkins International Airport in Cleveland, Ohio: This award helps fund a project to rehabilitate and resurface approximately 2,100 feet of the public transportation tunnel membrane from downtown Cleveland to the Airport terminal building.
$8 million to Louis Armstrong New Orleans International Airport in Kenner, La.: This award helps fund the site preparation work and construction of a road between the north terminal and south campus parking and rental car facilities.
$7 million to Nashville International Airport in Nashville, Tenn.: The Terminal Access Roadway Improvements project reconfigures the airport's access roadway.
$500,000 to Chennault International Airport in Lake Charles, La.: This award funds the replacement of the exterior metal panel rain screen on the tower and will improve resiliency as well as protect the tower's electrical, mechanical and communication equipment.
$4.5 million to Rosecrans Memorial Airport in St. Joseph, Mo.: This project reconstructs the existing tower to relocate it above the 100-year flood stage, replace aging infrastructure, achieve compliance with ADA requirements and improve energy efficiency.
$2 million to Albany International Airport in Albany, N.Y.: This project rehabilitates the air traffic control tower.
$6 million to Portland International Airport in Portland, Ore.: This project will convert the heating system at the terminal from boilers fuelled by fossil fuels to an electric-powered heat pump.
$15 million to Philadelphia International Airport in Philadelphia, Pa.: This project funds a portion of the Terminal Energy Optimization Program. This will replace and upgrade Pre-Condition Air (PCA) units and Ground Power Units (GPUs) at 25 gates.
$35 million to Dallas-Fort Worth International Airport (DFW) in Texas: This award funds the second phase of the installation of the airport's Zero Carbon Electric Central Utility Plant (eCUP), which will be powered 100% by renewable energy.
$8.6 million to Syracuse Regional Airport in Syracuse, N.Y.: The airport has started a sustainability initiative to increase energy efficiency and cut emissions in the terminal building. This project replaces the terminal HVAC system, windows and siding with more energy efficient materials.
$1.7 million to Clinton Regional Airport in Clinton, Mo.: This project reconstructs a replacement terminal building in a new location, eliminating the need to cross taxiways.
$950,000 to Ashley Municipal Airport in Ashley, N.D.: This award funds a project to construct a new 500 square foot general aviation terminal building for passengers and flight crews.
$6 million to Rafael Hernandez Airport in Aguadilla, P.R.: This award funds a portion of a project to rehabilitate the existing 1942-era commercial terminal building, which is a modified aircraft hangar.
Today's funding is from the Airport Terminal Program, one of three aviation programs created by the Bipartisan Infrastructure Law. The law provides $1 billion annually for five years for Airport Terminal Program grants. In total, the Bipartisan Infrastructure Law provided a historic $25 billion to modernize our country's airport infrastructure. Learn more at www.faa.gov/bil.
The President's Bipartisan Infrastructure Law makes a historic investment in our nation's infrastructure and competitiveness. It will rebuild America's roads, bridges and rails, upgrade and expand public transit, modernize the nation's ports and airports, improve safety, tackle the climate crisis, advance environmental justice and invest in communities that have too often been left behind. It will drive the creation of good-paying union jobs and grow the economy sustainably and equitably to help everyone get ahead for decades to come.
Google Banner Ad
LUFTHANSA PRESENTS NEW "FIRST CLASS SUITE PLUS" - PRIVATE ROOM ABOVE THE CLOUDS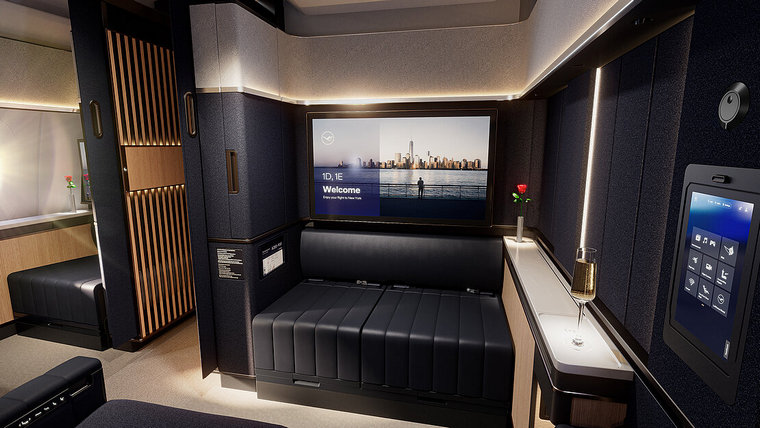 Lufthansa is expanding its premium First Class offering with the "Suite Plus," a separate double cabin with ceiling-high walls and an entirely closable door, large table and two wide seats that can be combined into a comfortable double bed if required. With this flying private room, Lufthansa is setting a new standard in comfort and individuality within its most sophisticated travel class.


The First-Class Suite's features are unparalleled anywhere in the world: Guests can warm or cool their nearly one-meter-wide seats in the suite according to their personal needs and connect their own mobile device to the entertainment system. Ample storage space is provided by a suite wardrobe so that travellers can comfortably change and have all their personal belongings at hand.
Service at the highest level also awaits: The crew serves the gourmet menu at a time requested by the guests. The meal can be enjoyed in the private suites at the large first-class table, similar to a restaurant.
The First Class will be introduced in 2024, on the newly delivered Airbus A350s as part of "Lufthansa Allegris," the airline's new long-haul product. In the process, the company is improving the overall travel experience for customers in all travel classes: Economy, Premium Economy, Business and First Class. "Allegris" is part of the largest product and service overhaul in the Lufthansa Group's history, with a total investment of 2.5 billion euros by 2025.
"Every guest has their own understanding of premium, which is why we focus on maximum individuality and exclusivity. The First-Class Suite Plus conveys the feeling of privacy and individuality similar to a hotel room - only at an altitude of eleven kilometres," explained Jens Ritter, CEO Lufthansa Airlines at the launch of the "First Class Suite Plus" on February 28 in Berlin. "The Allegris range promises individuality, exclusivity, and premium service along the entire travel chain."
For the first time, guests in Lufthansa Business Class can also look forward to their own suite, which offers even more comfort and privacy due to chest-high walls and sliding doors. Here, travellers in the first rows can enjoy extended personal space, a monitor up to 27 inches in size and ample storage. Each suite also offers its own wardrobe and personal minibar. Inside, it is possible to connect the two suites so that business class guests traveling together can enjoy a large degree of privacy.
With "Allegris," the freedom of choice for Business Class guests has never been greater. Travelers can choose between six additional seat options, depending on whether they want an extra-long bed measuring 2.20 meters, extra space and work area, a seat with a baby bassinet, or simply an exclusive seat directly by the window. A double seat, in which the center console can be retracted to transform it into a reclining surface for two, is also available.
High seat walls and generous shoulder space provide greater privacy in all options. The seats can be converted into a bed at least two meters long and also offer high-definition screens (4K), generously-sized dining tables, wireless charging, noise-cancelling headphones and Bluetooth connectivity. All seats are also equipped with a heating and cooling system, giving business class travellers the flexibility to set their own temperature. For extra comfortable side sleeping, seats also feature a shoulder sink-in, allowing the shoulder to sink into the seat, increasing sleeping comfort for side sleepers. A tablet-sized control unit provides access to all seating, lighting, heating/cooling and entertainment functions. Naturally, each seat is directly accessible from the aisle.
Premium Economy and Economy: more space, more choice
The new Premium Economy Class has already been introduced at SWISS in spring 2022. The "Allegris" seat offers more legroom, a fold-out leg rest, and can be adjusted even further back than the current model. Because it will be integrated into a hard shell, however, adjusting it will have no effect on fellow passengers in the row behind. The table and monitor always remain in position. For more comfort, Premium Economy Class passengers will also receive a travel amenity kit made of sustainable materials.
With the new "Allegris" product generation, Lufthansa is also giving its guests significantly more choice in Economy Class. In the future, travellers will have the option of booking additional seats in the first rows that offer more legroom, or a free seat next to them.
With "Allegris", more than 80 brand-new Lufthansa aircraft, such as Boeing 787-9s, Airbus A350s and Boeing 777-9s, will fly to destinations around the world. Aircraft already in service with Lufthansa, such as the Boeing 747-8, will also be retrofitted. The simultaneous improvement of the travel experience in all classes and the replacement of more than 27,000 seats are unique in Lufthansa's history. In this way, the company is underscoring its clear premium and quality claim. By 2025, the Lufthansa Group will invest a total of 2.5 billion euros in product and service.
Simultaneously, the Lufthansa Group is in the midst of the largest fleet modernization in its corporate history. By 2030, more than 200 new short- and long-haul aircraft are to be delivered to the Group's airlines. This will enable the Lufthansa Group to significantly reduce the average CO2 emissions of its fleet. The ultra-modern "Dreamliner" long-haul aircraft, for example, will consume an average of only about 2.5 litters of kerosene per passenger and 100 kilometres of flight distance- up to 30 percent less than the previous model.
The developers also focused on sustainability aspects in the product development of "Allegris". Recyclable materials were used for all 27,000 seats, as well as for blankets, cushions and covers.
Google Banner Ad