02.04.2023



Google Banner Ad



The Supermarine S.6B, a British racing seaplane developed by R.J. Mitchell for the Supermarine, was developed specifically to take part in the Schneider Trophy competition of 1931. The S.6B was last in a line of racing seaplanes to be developed by Supermarine, following the S.4, S.5 and the S.6. These predecessors have previously won the Schneider Trophy competition twice. A third win will secure the trophy in perpetuity for the UK and Supermarine.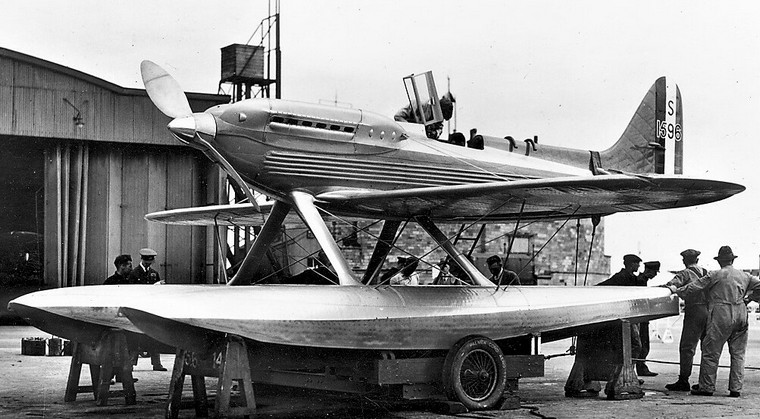 The development of the S.6B was hampered by wavering government support. A high-profile public campaign initiated by Lord Rothermere and backed by a substantial donation by Lady Houston secured sufficient funds for the development of the S.6B.
However, there were only nine months before the race, so Mitchell's only realistic option was to refine the existing S.6, rather than attempting a new design.
For the competition itself, only the S.6Bs and S.6As were intended to participate. The British plan for the Schneider contest was to have S1595 fly the course alone and, if its speed was not high enough, or the aircraft encountered mechanical failure, then the more-proven S.6A N248 would fly the course. If both S1595 and N248 failed in their attempts, then N247, which was planned to be held in reserve, would be used. The S.6B S1596 was then to attempt the world air speed record. During practice, N247 was destroyed in a takeoff accident, resulting in the death of the pilot, Lieut. G. L. Brinton, R.N.,precluding any other plans with only the two S.6Bs and the sole surviving S.6A prepared to conduct the final Schneider run.
On 13 September 1931, the winning Schneider flight was performed by S.6B S1595, piloted by Flt. Lt. John Boothman, having attained a recorded top speed of 340.08 mph (547.19 km/h) and flown seven perfect laps of the triangular course over the Solent, the strait between the Isle of Wight and the British mainland. Seventeen days later, another historic flight was performed by S.6B S1596, flown by Flt Lt. George Stainforth, having broken the world air speed record by reaching a peak speed of 407.5 mph (655.67 km/h).
General characteristics:
Crew: 1
Length: 28 ft 10 in (8.79 m) including floats
25 ft 3 in (8 m) fuselage only
Wingspan: 30 ft 0 in (9.14 m)
Height: 12 ft 3 in (3.73 m)
Wing area: 145 sq ft (13.5 m2)
Airfoil: RAF 27[22]
Empty weight: 4,590 lb (2,082 kg)
Gross weight: 6,086 lb (2,761 kg)
Powerplant: 1 ◊ Rolls-Royce R V-12 liquid-cooled piston engine, 2,350 hp (1,750 kW) at 3,200 rpm
Propellers: 2-bladed fixed-pitch metal propeller
Performance:
Maximum speed: 407.5 mph (655.8 km/h, 354.1 kn) (World speed record)
390 mph (340 kn; 630 km/h) normal, in level flight
Alighting speed: 95 mph (83 kn; 153 km/h)
Wing loading: 42 lb/sq ft (210 kg/m2)
Power/mass: 0.386 hp/lb (0.635 kW/kg)
Google Banner Ad