Compiled by Willie Bodenstein



Google Banner Ad



THIS WEEK IN MIDWEEK UPDATE

Regent and Siemens collaborate for revolutionary zero-emission Seaglider.
Senegal takes delivery of second C295.
Zimbabwe Air Force asks Nigeria for technical assistance.
Bird Aerosystems maritime patrol aircraft demo for NIMASA nets polluting vessel.
Yellow Ribbon Honour Flight honours veterans as part of AirVenture 2023 activities.
Epic Flight Academy expands its training fleet with the world's leading flight training aircraft, the Cessna Skyhawk.
Embraer and FAB celebrate receiving the full operational capability (FOC) for the C-390 Millennium multi-mission aircraft.
Airbus Helicopters and China's GDAT sign for 50 H160 helicopters.
Worldwide incidents and accidents - AOPA - Early analysis: power line strike on final approach to Montgomery County Airpark.
This week in history - A surface-to-air missile shoots down the presidential jet of Rwanda, a Dassault Falcon 50.
Bonus Video - Bell 47 flight at Oshkosh.







14
SACAA National Aviation conference Gauteng Venue TBA. For information contact: Charmeine Shibambo E-mail: shibamboc@caa.co.za
15
EAA Chapter 322 breakfast fly-in to Fly inn Estates. Contact Neil Bowden E-mail: airadventuresa@gmail.com
15
Robertson annual fly-in and breakfast Robertson airfield. Contact Alwyn du Plessis E-mail: boeredata@breede.co.za
15 &16
SAC Eastern Cape Regionals Wings Park airfield. Contact Annie Boon E-mail: chunge@mweb.co.za Cell 082 902 8614
19 to 22
AERO Friedrichshafen Germany. Contact Tobias Brezel E-mail: tobias.bretzel@fairnamic .com Cell: +49 1752313422

22
Elders Flight Brakpan Airfield. Contact Felix Gosher E-mail: felixgosher@gnmail.com Cell: 086 191 4603

27 April to 1 May
EAA National Convention Middelburg Airfield. Contact Neil Bowden E-mail: airadventuresa@gmail.com







4 to 7
Kalahari Bundu Bash Adventure Koppieskraal Pan. Contact Cell: 078 459 2636 or 054 331 3534 E-mail: kbb@rafsa.co.za


4 to 8
NAC fly-away to Namibia. Contact Agnes Phillips E-mail: agnes.phillips@nac .co.za Cell: 082 893 3399


5 to 7
BONA BONA fly-in at the Bona Bona airfield and country lodge. Contact Christian E-mail: christian@vsg.co.za Cell 083 251 4573


5 & 7
Kuzuko Lodge and private game reserve RV fly-in safari. Contact E-mail: kuzuko@legacyhotels.co.za


5 & 6
SAAF Museum annual airs how AFB Swartkops. Contact Maj. Ntshangase. Zero 8 three four one 0166 five

6
EAA Chapter 322 monthly gathering 07h30 EAA Auditorium Rand Airport. Contact Neil Bowden E-mail: airadventuresa@gmail.com

6 to 7
SAPFA Speed Rally at Bona Bona airfield. Contact David le Roux E-mail: david@pilotinsure.co.za Cell 073 338 5200

13
Lowveld Airshow at Nelspruit airfield. For more info contact Johan@kishugu.com Cell: 082 456

7 to 14
Sling Africa Tour: Departing from the Kalahari Bundu Bash led by Mike and Sue. Contact Shanelle Visagie E-mail: Shannelle@slingairctaft.com

16 to 19
Grain SA's NAMPO Harvest Day. Contact Wim Venter E-mail: wim@grainsa.co.za Tel: 086 004 7246

17 to 20
SAC National Aerobatics Championships Tempe airfield. Contact Annie Boon E-mail: info@anniesaviationcorner.com

18 & 19
Orion training, tech, drones and unmanned aviation conference. Contact Thabo Ndimande E-mail: thabo@orion-training.co.za Cell: 072 663 2724

20
New Tempe airshow Bloemfontein. Contact Conrad Botha E-mail: rowco24cc@mailbox.co.za Cell: 082 770 5505

20
EAA Chapter 322 breakfast fly-in at Fly inn Estate. Contact Neil Bowden E-mail: airadventuresa@gmail.com

19 to 21
SAGPA Gyrocopter Fly in to Bona Bona Lodge. For more info contact Tommie Jordaan 08 two 80 two 3221 one

25 to 28
SAPFA Presidents' Trophy Air Race Middleburg airfield Website: www.sapfa .co.za Contact Iaan Myburgh E-mail: iaanmyburgh@gmail.com Cell: 082 449 2531







1 & 2
Drones and Unmanned Aviation Conference Birchwood Hotel. Contact Gerald E-mail: admin@bussynetadt.co.za Cell: 067 611 0365 or Byron E-mail: byron@bussynetadt.co.za Cell: 067 611 0365

1 to 4
RC Extravaganza at Henley Model airfield. Contact Emil Henrico E-mail: info@rcasa.org.za Cell: 082 962 2334

3
EAA Chapter 322 breakfast gathering 07h30 EAA Auditorium Rand Airport. Contact Neil Bowden E-mail: airadventuresa@gmail.com

3
Parys airshow. Contact Brendan Horan E-mail: brendan@creativespacemedia.co.za

10
EAA Young Eagles Day (Venue TBA) & EAA International Young Eagles Day. Contact Neil Bowden E-mail: airadventuresa@gmail.com

10
Newcastle Airshow. Contact Johan Pieters E-mail: johan@champ.co.za

11
Brakpan Aero Club Cobra Club and fly-in. Contact Clarissa E-mail: Clarissa@airborneaviation.co.za Cell: 074 113 2911

16
SAC Fundraiser event venue TBA. Contact Annie Boon E-mail: info@anniesaviationcorner.com

17
Maputo International Airshow on the waterfront. Contact Gavin Neil E-mail: gavin@haps.co.mz Cell: +258 84 391 7408

30 June to 2 July
EAA Taildraggers at Warmbaths airfield (Bela Bela). Contact Richard Nicholson E-mail: nicholson1963@gmail.com








REGENT AND SIEMENS COLLABORATE FOR REVOLUTIONARY ZERO-EMISSION SEAGLIDER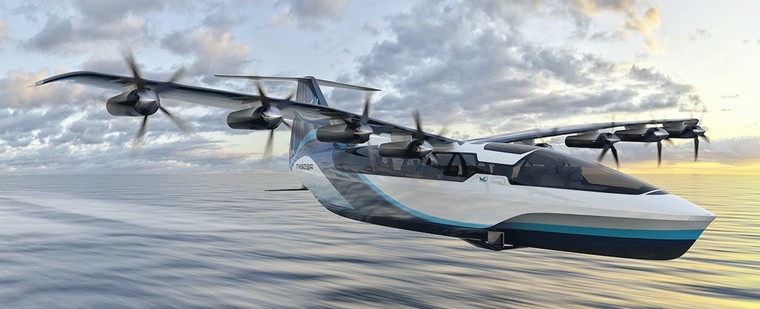 Siemens Digital Industries Software today announced that REGENT has adopted the Siemens Xcelerator portfolio of cloud-based software and services to help pioneer a new category of vehicle called the seaglider. The seaglider is a high-speed zero emission vehicle that operates exclusively over the water to drastically reduce the time and cost of moving people and goods between coastal cities.

With 40 percent of the world's population living in coastal communities, REGENT's electric seagliders will be the first vehicles to offer safe, low-cost, high-speed, zero-emission vehicles for this segment. As a manufacturer or OEM, REGENT's launch customers span aviation, ferry, and logistics transportation operators.
The REGENT seaglider operates exclusively over the water as an all-electric wing-in-ground-effect (WIG) vehicle. It travels the sea in one of three modes-floating on its hull near the dock, foiling on its hydrofoils at up to 40 knots (kts) as it comes in and out of port, or flying above the waves at 160 kts while cruising to its destination.
When in flight, it operates a few meters off the surface of the water, relying on the ground effect phenomenon, flying on a cushion of air. It combines the high speed and comfort of an airplane with the low operating cost of an electric vehicle. Seagliders differ from past WIGs due to their hydrofoils, distributed electric propulsion and aerospace fly-by-wire controls. These elements enable safe harbor operations, increased wave tolerance, and a comfortable passenger experience.
At the heart of its design, engineering and development toolset is the Siemens Xcelerator portfolio, which has been fundamental to REGENT since its founding in 2020.
"At REGENT we are focused on bringing a revolutionary new vehicle to the transportation market with the potential to change how both people and freight move over the water," said Mike Klinker, CTO and cofounder of REGENT. "As our seagliders approach certification and full-scale commercial production, we need a robust, modern digital tools platform that supports the pace of our innovation cycles with the rigor to encompass a product as complex as ours. Siemens Xcelerator as a Service was a perfect fit for a digital-first startup like ours. Cloud native solutions, such as Teamcenter X, minimize administrative overhead and allow us to focus 100 percent on design, engineering, manufacturing, and innovation. Siemens' valued collaboration and the subscription model provide significant cash flow benefits that are vital to any startup."
REGENT's flagship seaglider, the 12-passenger Viceroy, will be built to the highest safety standards. It will be able to service routes up to 180 miles with existing battery technology and routes up to 500 miles with next-generation batteries, all via existing dock infrastructure. Additionally, its operation as a wing-in-ground effect vehicle above the water enables maritime testing and certification. This is an efficient pathway to entry-into-service, allowing customers to experience high-speed, zero-emission coastal mobility sooner than electric aviation options, while maintaining similar levels of safety.
"The revolution of both mobility and electrification is continuing at an exciting pace across the entire spectrum of the industry, but it's not often that the two combine with such spectacularly innovative product design to address a specific challenge like the one faced by coastal communities across the globe," said Dale Tutt, Vice President of Industry Strategy, Siemens Digital Industries Software. "REGENT is pioneering innovative high-speed coastal transportation while targeting net zero from the very beginning. Our Xcelerator as a Service portfolio is instrumental in helping them get there faster."



SENEGAL TAKES DELIVERY OF SECOND C295
Guy Martin www.defenceweb.co.za


Senegal's Armed Forces have just taken delivery of a second and final C295 transport aircraft from Airbus, eight months after receiving the first. The new aircraft (6W-TTE) arrived at Dakar Air Base on 31 March where it was received by defence minister Sidiki Kaba. It was seen undergoing flight testing in Spain in October last year ahead of delivery.

Kaba said the aircraft's short take-off and landing capabilities and its versatility allows it to carry out different missions such as transport, paratrooping and medical evacuation. The new aircraft will strengthen the transport capacity of Senegal's military and support domestic and international missions. "The reception is a testament to Senegal's willingness to modernise its army to meet security and defence challenges in a complex regional environment," Senegal's armed forces said.
The West African nation received its first C295 (6W-TTD) on 28 July 2022. At the same time, Kaba formally received two Mi-17 and four Mi-35 helicopters that had undergone major servicing.
The C295 is accumulating a steady stream of orders in Africa. In November 2021 Airbus delivered a C295W to Burkina Faso and on 31 May 2022, Mali received a second C295 after a year's delay due to US sanctions. The first arrived in December 2016 from Airbus. Last year, Angola firmed up an order for three C295s, four years after its government first revealed plans to acquire the aircraft, which will be used in part for maritime surveillance. The Nigerian Air Force is looking at acquiring at least one C295.
Senegal has previously received CN235 aircraft manufactured by PT Dirgantara Indonesia (PTDI). A single CN-235-220M was delivered in 2017 and a single CN-235-220 MP was delivered in 2021. The latter is in maritime patrol configuration with a 360-degree Ocean Master search radar with a range of up to 200 nautical miles, Automatic Identification System (AIS) and forward-looking infrared (FLIR) sensor for day/night operations.
In addition to Islamist terror groups in the Sahel, Senegal has been dealing with separatists in its Casamance region, the location of one of Africa's longest-running conflicts. As a result, in recent times Senegal has been expanding its armed forces, receiving patrol boats, trainer aircraft, armoured vehicles and other equipment. France's Piriou will soon deliver three OPV 58S patrol vessels and Nexter will supply eight LG1 105 mm howitzers.
In June last year, Senegal's armed forces received 11 Puma M36 armoured personnel carriers from South Africa, as well as heavy machineguns, mortars, recovery vehicles, assault rifles, riot shields, a dozen Toyota Land Cruisers equipped with pintle-mounted heavy machineguns, combat ambulances, rocket-propelled grenade launchers and riot helmets.



ZIMBABWE AIR FORCE ASKS NIGERIA FOR TECHNICAL ASSISTANCE
www.defenceweb.co.za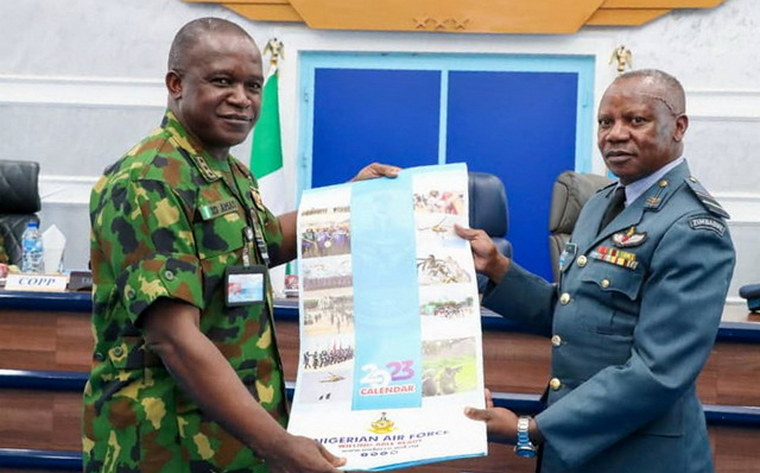 The Commander of Zimbabwe's Air Force has travelled to Nigeria to ask his counterpart for technical assistance, including in the operation and maintenance of F7 and Mi-35 aircraft.


The Nigerian Air Force (NAF) reported that Air Marshal Elson Moyo, Commander of the Air Force of Zimbabwe (AFZ), in late March visited NAF Chief of Air Staff, Air Marshal Oladayo Amao, at NAF Headquarters.
Moyo said he would like to pursue technical assistance in the areas of research and development, unmanned aerial vehicle (UAV) technology and the operation and maintenance of F7 and Mi-35 aircraft. The identified areas for collaboration, according to Moyo, are of common interest to Zimbabwe and Nigeria as their respective air forces operate some similar aircraft (including F7s and Mi-35s).
Zimbabwe's Air Chief noted that the Nigerian Air Force has within a short time recorded 'remarkable feats' in its transformation effort to develop indigenous capacity. This, he said, provides a motivation for the Air Force of Zimbabwe to look inward as part of efforts to address the technical challenges arising from sanctions imposed on his country, which has limited the ability to acquire basic aircraft parts and other equipment.

Moyo commended the NAF for its support in the past, including training given to the first batch of Zimbabwe pilots in the 1980s, which he said informs the decision to seek collaboration with the NAF with respect to capacity development.
Amao for his part stated that the NAF is ready to forge a mutually benefitting partnership with the Air Force of Zimbabwe. He stated that the NAF currently has partnerships with many countries, including African countries, and is willing to partner with others. Improved synergy among African countries is the solution to many of the challenges, including security, facing the continent, he added.



BIRD AEROSYSTEMS MARITIME PATROL AIRCRAFT DEMO FOR NIMASA NETS POLLUTING VESSEL
www.defenceweb.co.za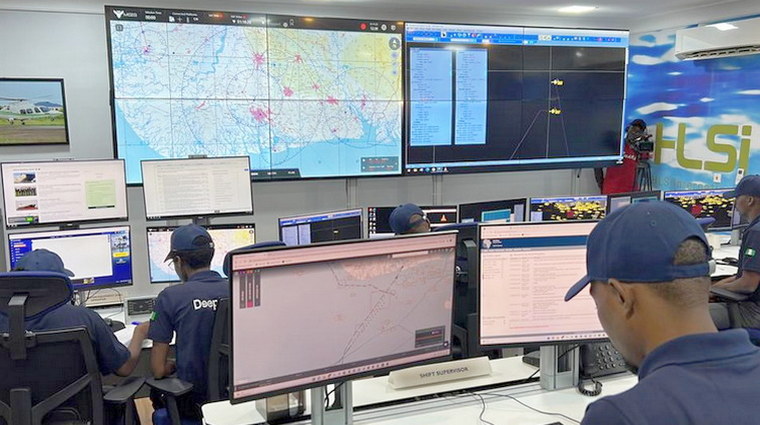 A live demonstration of its Airborne Surveillance, Intelligence and Observation (ASIO) maritime solution by Israel's BIRD Aerosystems for the Nigerian Maritime Administration and Safety Agency (NIMASA) netted a ship illegally discharging pollution off the Nigerian coast.

In May 2021 NIMASA took delivery of the first of two Cessna Citation CJ3 maritime surveillance aircraft as part of its Deep Blue maritime security project, after being fitted with BIRD's ASIO maritime solution as well as its Mission Management system (MSIS). The ASIO solution includes a search radar and electro-optical/infrared gimbal.
"BIRD's ASIO Task Force has been successfully operating in Nigeria for over two years, proving its effectiveness and unprecedented achievements in tackling piracy in the Nigerian EEZ and the entire maritime environment, allowing Nigeria to conclude 2022 with zero piracy events in its maritime territory. Recently, the International Bargaining Forum (IBF) has removed Nigeria from the list of countries designated as risk maritime nations. This is a confirmation of the improved global ratings of Security in the Nigerian maritime domain," BIRD Aerosystems said at the beginning of April.
It explained a recent demonstration was conducted in the presence of the Nigeria Minister of Transportation, Muazu Jaji Sambo, Director General of NIMASA, Bashir Jamoh, and Secretary General International Maritime Organization (IMO), Kitack Lim. The ASIO-equipped aircraft identified a suspicious vessel performing an illegal activity and polluting the sea. "The aircraft quickly identified and performed a discrimination process that enabled the Maritime Security Unit to catch this vessel, stop the pollution, and fine them," BIRD said.
"With air, land, and sea assets, the NIMASA Deep Blue project is the first integrated maritime security strategy in West and Central Africa, aiming to tackle piracy, sea robbery, and other crimes at sea," said Tal Spektor, CEO of HLS International, which was awarded the contract for the Deep Blue Project. "Proving effective and successful in ensuring a higher level of safety in the maritime sector in Nigeria, it is projected to attract Foreign Direct Investments to the country with an expected increase in vessels coming in 2023."

Ronen Factor, Co-CEO and Founder at BIRD Aerosystems, said: "We are honoured to have an essential part of the NIMASA Deep Blue Project, with BIRD's ASIO maritime patrol aircraft and the MSIS mission management system. Bringing piracy events in the Gulf of Guinea to practically zero, BIRD's ASIO Task Force delivers an extremely powerful, comprehensive, and flexible maritime patrol solution, ensuring a high level of security."
Nigeria's Integrated National Security and Waterways Protection Infrastructure programme, also known as the Deep Blue Project, was launched in June 2021 to advance the security architecture and ensure greater enforcement action in Nigerian waters and beyond.
Deep Blue, initiated in 2017, calls on a wide variety of equipment, including two Special Mission Vessels (the DB Lagos and DB Abuja, built by Shipyard De Hoop in the Netherlands), three AW109 helicopters, 16 Proforce armoured vehicles, two Cessna Citation CJ3 maritime surveillance aircraft, 17 De Haas Maasluis DHM1050 interceptor boats, four Tekever AR3 unmanned aerial vehicles, a C4I (Command, Control, Communications, Computers, and Intelligence) Operations Centre and 600 personnel strong Maritime Security Unit (MSU).
Google Banner Ad
The main goals of the project are to prevent illegal activities in Nigeria's Exclusive Economic Zone (EEZ), enforce maritime regulations, enhance safety of lives at sea, and prevent illegal activities in the inland waterways.
The Nigerian Maritime Administration and Safety Agency (NIMASA) has been tasked with running the $195 million Deep Blue Project along with the Nigerian military, Police, Department of State Services and other security agencies.
Piracy activity in the Gulf of Guinea has posed a severe threat to seafarers and local communities for over a decade. In 2020, 40% of piracy attacks, and 95 percent of crew kidnappings occurred in the region. However, attacks decreased by nearly 60% in 2021, following the establishment of Deep Blue, and increased international counter-piracy operations in the Gulf.
According to the International Maritime Bureau, pirate activity in the Gulf of Guinea continues to decline, going down from 35 incidents in 2021 to 19 in 2022. Nevertheless, the IMB has cautioned that sustained efforts are still needed to ensure continued safety of seafarers in the Gulf of Guinea region, which remains dangerous as evidenced by the hijacking of the Liberian-flagged oil and chemical tanker Monjasa Reformer with 16 crew members last weekend 140 miles west of the Republic of Congo's Port Pointe-Noire. The hijackers abandoned the ship late on Thursday but took some crew members with them.



YELLOW RIBBON HONOUR FLIGHT HONOURS VETERANS AS PART OF AIRVENTURE 2023 ACTIVITIES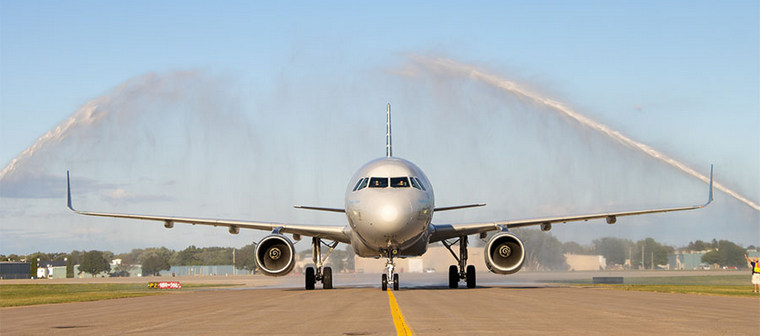 One of the most emotional and poignant moments of EAA AirVenture Oshkosh each year will return in 2023 as 100 Vietnam War vets will take a Yellow Ribbon Honor Flight to Washington, D.C., on July 28 as part of AirVenture's annual salute to veterans. The 70th annual EAA fly-in convention is July 24-30 at Wittman Regional Airport in Oshkosh.


Veterans from the Vietnam War will be honoured as they travel to the nation's capital to tour war memorials at no cost to them. The veterans will return to Oshkosh at the conclusion of the Friday afternoon air show and thousands of people will welcome them back home and give them the recognition they deserve.
"The Yellow Ribbon Honour Flight is traditionally one of the best events of AirVenture week and this year is fitting as part of our 'Vietnam Remembered: 50 Years Later' schedule of activities," said Rick Larsen, EAA's vice president of communities and member programming. "We are proud to produce an event that honours what Vietnam veterans did for this country and be able to provide them an experience of a lifetime."
This is the ninth year that the Yellow Ribbon Honour Flight has originated at EAA AirVenture Oshkosh under the auspices of Old Glory Honour Flight of Appleton, Wisconsin. That non-profit organization has organized dozens of honour flights since 2009 with a dedicated group of volunteers. Those flights have included special flights to Pearl Harbour and to Vietnam.
"Each Honour Flight mission is a special occasion, but the ability to be a part of EAA AirVenture always creates unforgettable moments," said Diane MacDonald, the executive director of Old Glory Honour Flight. "Honouring our local Vietnam veterans out of EAA AirVenture is such a highlight; being witness to the enthusiasm, respect, and appreciation from the world's aviation enthusiasts when the flight returns to Oshkosh is such an incredible sight to see and it means the world to the men and women who get to experience it."
American Airlines is again supplying an aircraft for the flight, which is flown by an all-volunteer crew of American Airlines pilots and cabin attendants.



EPIC FLIGHT ACADEMY EXPANDS ITS TRAINING FLEET WITH THE WORLD'S LEADING FLIGHT TRAINING AIRCRAFT, THE CESSNA SKYHAWK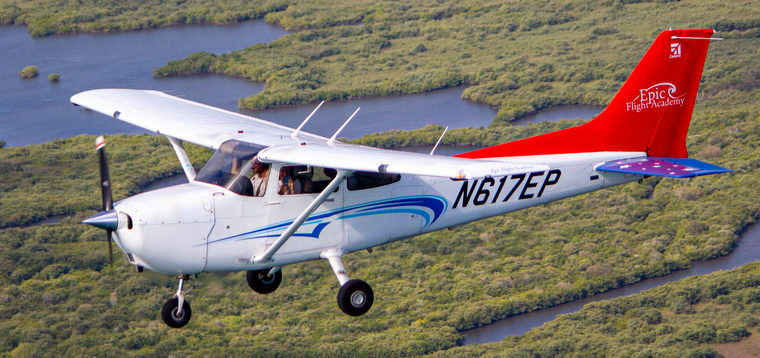 Textron Aviation announced an agreement with long-term customer Epic Flight Academy at the 2023 Sun n' Fun Aerospace Expo today for the order of 15 new Cessna Skyhawk 172 aircraft. As a Cessna Pilot Centre, Epic Flight Academy has been training pilots since 1999 and thousands of students from over 80 countries have graduated from the flight school.


The Cessna Skyhawk is Epic's exclusive single-engine aircraft, with a total fleet of 43 ordered since 2016. The new aircraft will supplement and expand Epic Flight Academy's current fleet based at New Smyrna Beach Municipal Airport in Florida.
"The Cessna Skyhawk has been one of the world's top training aircraft for over six decades," said Chris Crow, vice president, Textron Aviation Piston Sales. "We are thrilled to see these aircraft continue to inspire the next generation of professional pilots through this agreement with Epic Flight Academy."
The stable flight characteristics, advanced avionics, and proven dispatch reliability of the Skyhawk have made it a dependable training platform for Epic. The new airplanes will be used exclusively by students to put them in the pilot's seat of the best training aircraft in the industry.
"At Epic, our motto has always been 'Safety first!' This is why we train our pilots in the Cessna Skyhawk," said Danny Perna, founder and CEO, Epic Flight Academy. "This aircraft proves itself with every flight and prepares our students for a successful career. We can't wait to take delivery and expand our fleet."
Since the aircraft first took to the sky, more than 45,000 Skyhawks have been delivered to customers worldwide-more than any other aircraft in the industry.



EMBRAER AND FAB CELEBRATE RECEIVING THE FULL OPERATIONAL CAPABILITY (FOC) FOR THE C-390 MILLENNIUM MULTI-MISSION AIRCRAFT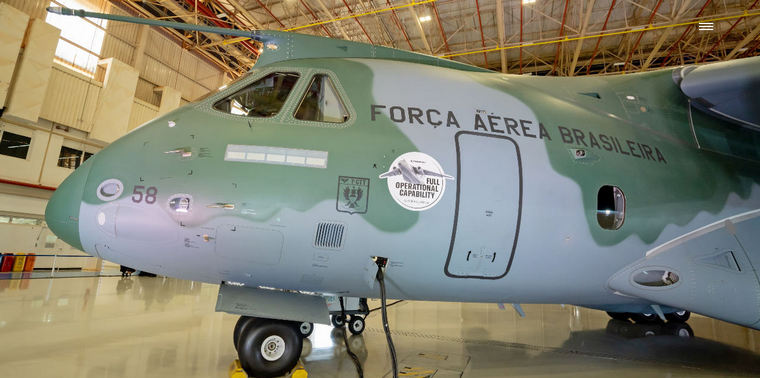 Embraer's C-390 Millennium multi-mission aircraft program today reached another historic milestone in the aviation world. In a ceremony held at the Gavião Peixoto Unit in São Paulo, in the presence of the Brazilian Air Force (FAB) High Command, the aircraft has achieved the Full Operational Capability (FOC). Issued by the Institute of Industrial Development and Coordination (IFI in Portuguese), the Brazilian body responsible for certifying aircraft for military purposes, the FOC Certificate confirms that the project meets all the requirements defined by the FAB and that the aircraft can carry out all missions for which it was designed.


"This certificate places the C-390 in a select group of aircraft in the world," says Bosco da Costa Junior, President and CEO of Embraer Defence and Security. "It is a unique moment in Embraer's history. The C-390 is redefining the military airlift and refuelling space, challenging the thinking behind current and future generation platforms. Air forces around the world are focused on matching their ever-evolving operational needs with their budgets, seeking a platform that can perform multiple missions, recognizing that today's choice will affect their operational capabilities tomorrow."
Developed under the strict operational requirements of the FAB, the genesis of the C-390 is in the triple helix model, the culmination of the union of the greatest minds from academia, industry, and government. As part of the development and certification process, around 3,500 hours were flown on the prototype aircraft under the most varied operating conditions, and another 85,000 hours were performed using laboratory test benches and devices. After years of development, testing and certification, the result is a design established to the highest industry standards.
"This is the KC-390, the aircraft that embodies the true meaning of the word "perseverance". Wherever it is, there will be the Brazilian State; there will be the order and progress of a nation that aligns itself with the idea that the full development of democracy cannot dispense with inviolable sovereignty. Finally, I wish that these feelings of "Brazilianness" and pride, which we now experience, will emerge in each citizen, when contemplating the skies and verifying that the "wings that protect and integrate the country" and Embraer are heading united in the purpose of ensuring a solid future with the strategic stature of our beloved Brazil," said Air Force Commander, Lieutenant-Brigadier Marcelo Kanitz Damasceno at the ceremony.
At the same event, Embraer began the delivery process to the FAB of the sixth unit of the C-390, the first in the FOC configuration. The other aircraft already delivered to the FAB will now be updated to have the certification. In addition, all aircraft to be exported will also have this certification.
Google Banner Ad
The C-390 is the most modern military tactical transport aircraft of the new generation. Its multi-mission platform offers incomparable mobility, combining high productivity and operating flexibility with low operating costs, which is an unbeatable combination. The C-390 can carry more payload (26 tons) compared to other medium-sized military cargo aircraft and flies faster (470 knots) and farther, being capable of performing a wide range of missions such as transporting and dropping cargo and troops, medical evacuation, search and rescue, firefighting and humanitarian missions, operating on temporary or unpaved runways (i.e., including packed earth, soil and gravel). In its refuelling version, the aircraft has already proven its aerial refuelling capacity, as well as an aircraft receiving fuel from another KC-390 using pods installed under the wings, being the only aircraft in the world in the segment to carry out such an operation.
Since entering operation with FAB in 2019, the C-390 has proven its capacity, reliability, and performance. The current fleet of five aircraft, all in the aerial refuelling version, designated KC-390, has already accumulated more than 8,200 flight hours. Recent figures show an operational availability of around 80%, with a mission completion rate above 99%, demonstrating exceptional productivity in the category. The C-390 Millennium has orders from Portugal and Hungary, both NATO member countries. The Netherlands, also a member of NATO, selected the C-390 Millennium in 2022.



AIRBUS HELICOPTERS AND CHINA'S GDAT SIGN FOR 50 H160 HELICOPTERS



During French President Macron's visit to China, Airbus Helicopters has signed a contract with GDAT, one of China's most prominent helicopter lessors and operators, for 50 H160 helicopters. This contract is the largest single order for the H160 on the civil and para-public market since the helicopter was unveiled in 2015.


The aircraft will be used notably for the energy sector, including offshore transportation for oil and gas platforms, wind farms and harbour piloting, as well as emergency medical services and other municipal public service missions. The companies also signed a strategic cooperation agreement related to topics such as support and services capabilities, amongst others, in order to ensure the long-term success of the H160 in China.
"We are honoured GDAT has decided to bolster their all-Airbus fleet of 26 helicopters with the addition of 50 H160 helicopters. The H160 has been designed at the outset as a multi-mission helicopter and is, therefore, well suited to the multiple segments that lessors provide for," said Bruno Even, CEO of Airbus Helicopters.
"This contract is a great example of the importance of economic and trade cooperation between France and China. The innovative H160 is the perfect addition to our fleet and will enable us to continue our success story on the Chinese market that began with our 21 H225 helicopters. We see a lot of potential for the H160 in China, in particular for the energy sector" said Peter Jiang, Chairman of GDAT.
Google Banner Ad
GDAT is China's leading innovative general aviation service provider specialising in helicopter sales and leasing, maintenance and modifications, as well as emergency rescue flights, and other government services. The Group is headquartered in Shanghai and has four wholly-owned subsidiaries across China as well as operating bases in Suzhou and Ningbo, and an overseas branch in London.
Designed as a multi-role helicopter capable of performing a wide range of missions, the H160 integrates Airbus' latest technological innovations. The helicopter provides passengers with superior comfort thanks to the sound-reducing Blue Edge blades and superb external visibility that benefits both passengers and pilots. With its light maintenance plan aligned between engine and aircraft, the H160 optimises operating costs and offers a new standard in availability. The H160 is already certified to fly with as much as 50% sustainable aviation fuel and is powered by two of the latest Arrano engines from Safran Helicopter Engines that offer a 15% reduction in fuel burn.
Airbus Helicopters has been a key partner in the Chinese helicopter sector for over 50 years. Today, there are more than 300 Airbus helicopters flying over China, serving more than 90 customers.




AOPA - Early analysis: power line strike on final approach to Montgomery County Airpark





Australia, Hillcrest, Logan, QLD: A Piper PA-31-350 Navajo Chieftain, operated by AirMed Australia, sustained substantial damage in a forced landing next to an urban railway line following an inflight loss of engine power in Hillcrest, Logan, Queensland. The sole pilot received minor injuries.
USA, Pueblo Memorial Airport, Pueblo, CO: A Piper PA-28R-201 Turbo Arrow III landed without the nose gear down and locked at Pueblo Memorial Airport (PUB/KPUB), Pueblo, Colorado, as a result of a malfunctioning nose landing gear. The aircraft circled the airport for more than an hour to burn off fuel. Another aircraft was sent up to observe if the landing gear was actually down and locked, which was undetermined. The pilot decided to land the aircraft on Runway 35 after the nose-gear could not be fully extended. The pilot was not injured, and the aircraft received unknown damage.

Nepal, near Dhaulagiri Base Camp: An Airbus Helicopters H125 Ecureuil (AS 350B3e), operated by Heli Everest, crashed under unknown circumstances near Dhaulagiri Base Camp. The only Nepalese female helicopter pilot, Priya Adhikari survived the crash and she was taken to hospital as precaution. The passenger also survived.
USA, NE of Danbury Municipal Airport, Danbury, CT: A Cessna 152 (Sparrow Hawk 125hp conversion) hit some trees, clipped the roof of a house and plummeted into a shed, northeast of Danbury Municipal Airport (DXR/KDXR), Danbury, Connecticut. The two pilots sustained minor injuries and the aircraft was written off.



USA, Chicago-O'Hare International Airport, IL: American Airlines flight AA2611, an Airbus A321-231, struck birds during departure sequence from Runway 10L at Chicago-O'Hare International Airport, IL (ORD). The flight crew declared an emergency due to hydraulic and engine generator issues and returned and landed safely on Runway 10C. No injuries reported to the 2 pilots, 4 flight crew, or the 174 passengers.
Vietnam, between Ha Long Bay, Quang Ninh and Lan Ha Bay, Hai Phong: A Bell 505 JetRanger X, operated and managed by Vietnam Helicopters, lost contact during a sightseeing flight and crashed in the sea between Ha Long Bay, Quang Ninh and Lan Ha Bay, Hai Phong. According to initial information, the plane took off at 16h56 from Tuan Chau Heliport until 17h04 (about 5 minutes after take-off, contact was lost). Ha Long helicopter tour usually lasts 10 minutes, sightseeing along the route Tuan Chau Island - Dau Go Island - Ga Choi island - Titop island - Bai Tu Long Bay - Re island - Tuan Chau Island. All occupants died in the crash. The helicopter was destroyed.
Japan, 18 km NW of Miyako Airport: A Japan Self-Defence Force Mitsubishi/Sikorsky UH-60JA Blackhawk helicopter went missing 18 km northwest of Miyako Airport, during a reconnaissance flight around Miyako Island, Okinawa, just 10 minutes after take-off from Miyako Airport. The flight made a usual radio contact with Shimoji Tower two minutes before losing the radar contact. A retired U.S. Navy soldier provides a movie of the Blackhawk a few minutes before the crash, and he reported the flight seemed normal at the altitude of 1500 feet. Search operations are being conducted. Patches of floating oil and debris, i.e., broken rotor blade(s), doors, a part of the external fuel tank, non-inflated lifeboats and an undamaged helmet of an occupant, were located over the ocean within five days after the accident. The UH-60JA belongs to 8th Aviation Wing, 8th Rapid Deployment Division. The division commander lieutenant general Yuichi Sakamoto, is one of the ten occupants of the accident flight.




6 APRIL 1994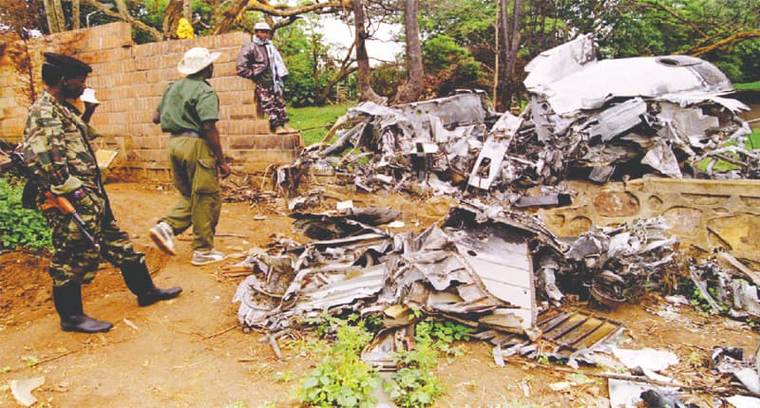 A surface-to-air missile shoots down the presidential jet of Rwanda, a Dassault Falcon 50, as it prepares to land at Kigali International Airport at Kigali, Rwanda, killing all 12 aboard, including President of Rwanda Juvénal Habyarimana and President of Burundi Cyprien Ntaryamira. Their assassination sparked the 1994 Rwandan Genocide.


During this period of around 100 days, members of the Tutsi minority ethnic group, as well as some moderate Hutu and Twa, were killed by armed Hutu militias. The most widely accepted scholarly estimates are around 500,000 to 662,000 Tutsi deaths.

Bell 47 flight at Oshkosh
Google Banner Ad