17.04.2023



Google Banner Ad




The Wittman D-12 "Bonzo" was an air racer designed around a Curtiss D-12 V-12 liquid-cooled piston engine of 485 hp (362 kW) by Steve Wittman specifically for the Thompson Trophy races.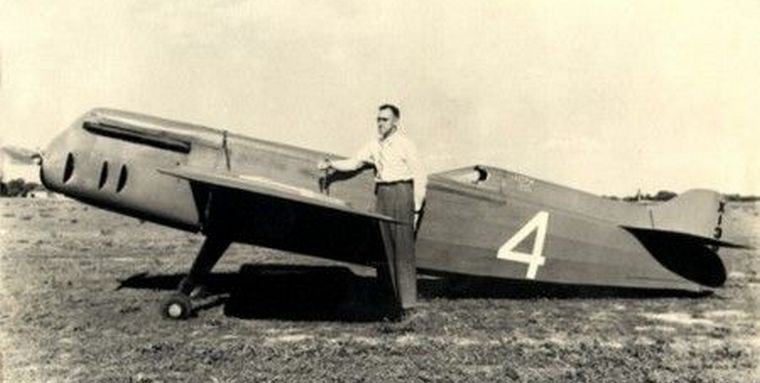 Bonzo, a mid-winged taildragger design with a small squarish cross-section like Wittman's smaller racer "Chief Oshkosh" was finished in red and silver The aircraft, The spinner featured a center cut-out to provide cooling air to a radiator. The wings were made of wood with aircraft fabric covering and closely spaced wing ribs. The aircraft's top speed of 325 mph (523 km/h) made it faster than any United States military aircraft of the era.
She had a relatively long racing career during which a number of improvements were made. In 1935 her first season of racing she finished second behind "Mr.Mulligan" with a speed of 218.69 mph (351.95 km/h). In 1936 she caught fire en route to Cheyenne, Wyoming and did not compete.
In 1937 she was leading when engine trouble forced her into second place and in 1938 due to a leaking radiator, she finished third. In 1939 she ended up in 5th place.
"Bonzo" was donated by Wittman to anchor the EAA Airventure Museum in Oshkosh, Wisconsin in December 1959, it was later restored for display in 1982.
Specifications (Wittman D-12 Bonzo)
Data from Sport Aviation
General characteristics
Capacity: 1
Length: 20 ft (6.1 m)
Wingspan: 20 ft (6.1 m)
Empty weight: 1,650 lb (748 kg)
Gross weight: 2,470 lb (1,120 kg)
Powerplant: 1 ◊ Curtiss D-12 V-12 liquid-cooled piston engine, 485 hp (362 kW)
Performance
Maximum speed: 282 kn (325 mph, 523 km/h)
Cruise speed: 220 kn (250 mph, 400 km/h)
Stall speed: 74 kn (85 mph, 137 km/h)



Flying to Tranquility Lodge



Google Banner Ad