Compiled by Willie Bodenstein

Gbanner


This Week in Airlines, Airports and Airliners

IATA - UAE ratification of MP14 boosts the global fight against unruly passengers.

FAA refers more unruly passenger cases to FBI in 2023.

RwandAir and Turkish Airlines sign landmark codeshare agreement.

HKIA Named the World's Busiest Cargo Airport in 2022.

Azerbaijan Airlines orders 12 A320neo Family aircraft.

Austin-Bergstrom International Airport (AUS) is doing preliminary construction work to accommodate new, upgraded TSA screening machines.

Etihad launches new Wi-Fly with free chat packages and unlimited data.

SWISS to trial passenger count using artificial intelligence.

Bonus Video - Witbank Speed Rally 2022



UAE RATIFICATION OF MP14 BOOSTS THE GLOBAL FIGHT AGAINST UNRULY PASSENGERS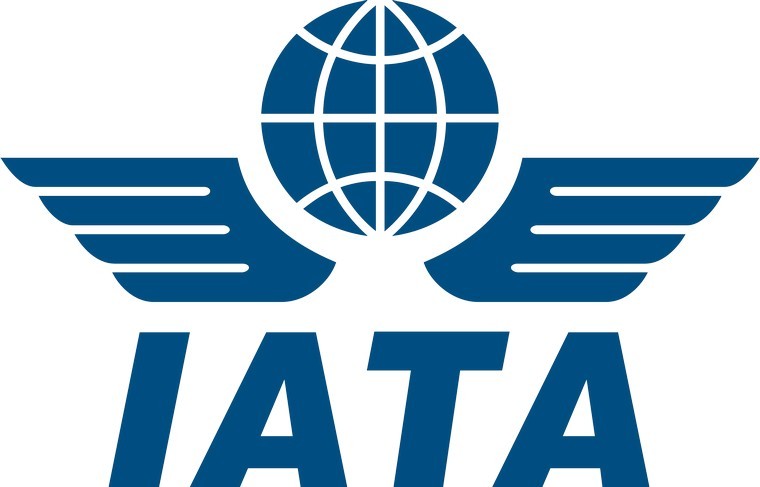 The International Air Transport Association (IATA) welcomes the United Arab Emirates (UAE) ratification of the Montreal Protocol 2014 (MP14), a move that will strengthen the global legal deterrent against unruly and disruptive passenger incidents onboard flights.



"IATA welcomes the leadership shown by the UAE in ratifying MP14. Not only will this give the UAE authorities important new powers in dealing with unruly passengers that land in the country, but as a major aviation market and ICAO Council member, it will also encourage other States to ratify MP14. Ensuring greater international harmonization and strengthening the legal deterrent against unruly and disruptive passengers who pose a threat to passenger and crew wellbeing and safety onboard is a priority for the entire airline industry," said Kamil Al-Awadhi, IATA's Regional Vice President Africa & Middle East.
Effective from 1 May, authorities in the UAE will have the jurisdiction to manage unruly and disruptive passengers that land in the country, irrespective of where the aircraft is registered. This resolves an existing gap in international aviation law that often results in those accused of unruly behaviour from being prosecuted for their misbehaviour. In a survey, 60% of IATA member airlines cited lack of jurisdiction is a key factor for why prosecutions do not proceed.
Unruly and disruptive passenger incidents on board flights include physical assault, harassment, smoking or failing to follow crew instructions. These incidents may compromise flight safety, cause significant delays and operational disruption, and adversely impact the travel experience and work environment for passengers and crew.
The UAE is the 44th State to ratify MP14 and it is estimated that more than a third of international traffic is covered by States that are parties to it. Important aviation markets in the Middle East region have led the way in ratifying this important treaty. In addition to the UAE, Bahrain, Egypt, Jordan, Kuwait, Oman and Qatar have ratified MP14, representing 16% of the total States that are parties.
Google Banner Ad




FAA REFERS MORE UNRULY PASSENGER CASES TO FBI IN 2023






The Federal Aviation Administration has referred more unruly passenger cases to the Federal Bureau of Investigation for criminal prosecution review in the first quarter of 2023.



"If you act out on a plane, you should just stay at home because we will come after you with serious consequences," said Acting FAA Administrator Billy Nolen, a former commercial airline pilot. "We have zero tolerance for unruly behaviour."
"The FBI will continue to work with our FAA partners to ensure the safety of all passengers and to combat violence aboard commercial flights," said FBI Assistant Director Luis Quesada of the Criminal Investigative Division. "We remain committed to investigating all incidents that fall within FBI jurisdiction aboard commercial flights."
The 2023 referrals include the following incidents:
March 2023: Tried to open aircraft door and use a makeshift weapon to assault a flight attendant.
Jan. 2023: Inappropriately touched a 17-year-old passenger.
Jan. 2023: Refused to remain seated, acted erratically, said he needed to fly the aircraft.
Jan. 2023: Assaulted a female passenger.
Jan. 2023: Assaulted a flight attendant.
Jan. 2023: Sexually assaulted a passenger.
Dec. 2022: Passenger assaulted his wife.
Dec. 2022: Assaulted flight attendants and passengers.
Dec. 2022: Tried to strike a flight attendant and enter the flight deck.
Dec. 2022: Assaulted, threatened and intimidated flight attendants.
Dec. 2022: Assaulted another passenger.
Dec. 2022: Inappropriately touched another passenger.
July 2022: Threatened and intimidated flight attendants and passengers.
July 2022: Assaulted another passenger.
July 2022: Threatened flight attendants and passenger.
April 2022: Sexually assaulted a flight attendant.
April 2022: Assaulted a flight attendant and passenger, deployed evacuation slide.
The FBI recently stood up a Crimes Aboard Aircraft webpage with information about the types of crimes it investigates and how people can report them.
The FAA has referred more than 250 of the most serious cases to the FBI since late 2021 under a partnership aimed at ensuring unruly airline passengers face criminal prosecution when warranted.
The rate of unruly passenger incidents has dropped by over 80 percent since record-highs in early 2021 but unacceptable behaviour continues to occur.
The FAA pursues legal enforcement action against any passenger who assaults, threatens, intimidates, or interferes with airline crewmembers, and can propose civil penalties up to $37,000 per violation. Detailed current data on these incidents is available on our unruly passenger website.
Google Banner Ad




RWANDAIR AND TURKISH AIRLINES SIGN LANDMARK CODESHARE AGREEMENT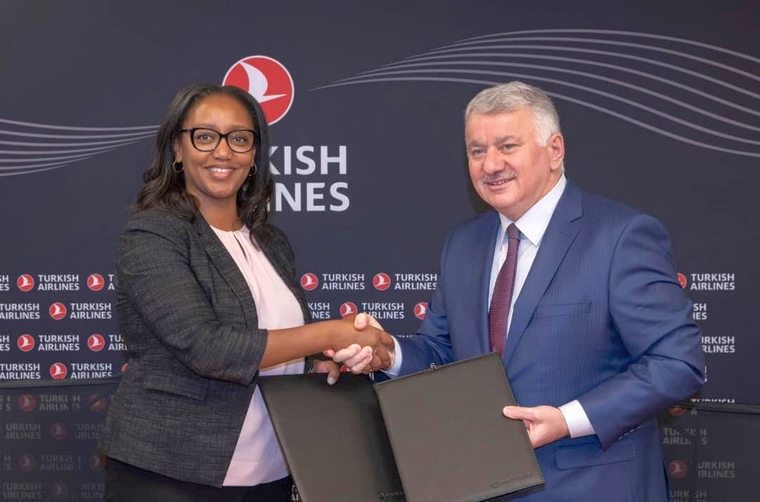 RwandAir has signed a major new codeshare agreement with Turkish Airlines as it continues to expand its global reach. The new codeshare partnership will offer the African airline's customers greater travel choices and seamless connection opportunities in both Kigali and Istanbul.



RwandAir customers travelling from Africa can now enjoy easy access to Turkish Airlines' extensive network of over 300 worldwide destinations, giving Africa even greater global connectivity.
Those travelling with Turkish Airlines can also benefit from this codeshare agreement, with customers arriving in Kigali now being able to enjoy smooth onward connection across RwandAir's African network.
Yvonne Makolo, RwandAir CEO, said: "We are incredibly excited to have signed this new codeshare agreement with one the world's largest and leading carriers, Turkish Airlines.
"This landmark move will not only allow our customers to access the 124 countries served by Turkish Airlines, but will improve connections for inbound travellers to Africa via our extensive continental network.
"RwandAir is always exploring new commercial opportunities to expand its reach into markets which can deliver financial return and benefit our growing customer base."
Currently, Turkish Airlines offers daily flights between RwandAir's Kigali base and the carrier's home hub in Istanbul.
This agreement follows the African airline's recently launched codeshares with leading airlines such as Qatar Airways and British Airways.
From its hub at the heart of Africa at Kigali International Airport, RwandAir is renowned for its excellent on-time performance, customer service, and safety.
RwandAir currently operates to 24 destinations across East, Central, West and Southern Africa, the Middle East, Europe and Asia.
Google Banner Ad

HKIA NAMED THE WORLD'S BUSIEST CARGO AIRPORT IN 2022






Hong Kong International Airport (HKIA) is once again named as the world's busiest cargo airport in 2022, handling a total of 4.2 million tonnes of cargo during the year, according to the latest data released by Airports Council International (ACI).



HKIA retained the top position in 2022 despite ongoing geopolitical tensions and disruptions to global trade and supply chains that caused a decrease in overall air cargo volume globally.
An array of projects is currently underway to enhance air cargo services at HKIA, in parallel with the expansion into a three-runway system. Major projects include the expansion of DHL's Central Asia Hub to increase its handling capacity by 50% which was already completed for operation in the first quarter in 2023; the development of a premium logistics centre by a joint venture spearheaded by Alibaba Group's logistics arm, Cainiao Network, scheduled to complete this year; and the introduction of new sea-air intermodal cargo transhipment model by setting up HKIA Logistics Park in Dongguan and a new airside intermodal cargo pier at HKIA, for which the pilot scheme has been running smoothly.
HKIA is one of the few airports in the world with its cargo terminal operators and ramp handling operators attaining the International Air Transport Association (IATA) CEIV standards for transport of cargo that requires special handling, including CEIV Pharma, CEIV Fresh or CEIV Live Animals.
Jack So, Chairman of Airport Authority Hong Kong, said, "We are proud that HKIA retains its leading position as the world's busiest cargo airport in 2022. Despite the impact brought to the global aviation industry by the pandemic, HKIA's cargo performance has consistently remained strong over the past few years, leveraging its extensive network and high efficiency. As air traffic continues to recover worldwide, coupled with the completion of various new cargo facilities at HKIA, we will continue to work with our business partners to consolidate HKIA's role as the world's leading air cargo hub."




Google Banner Ad




AZERBAIJAN AIRLINES ORDERS 12 A320NEO FAMILY AIRCRAFT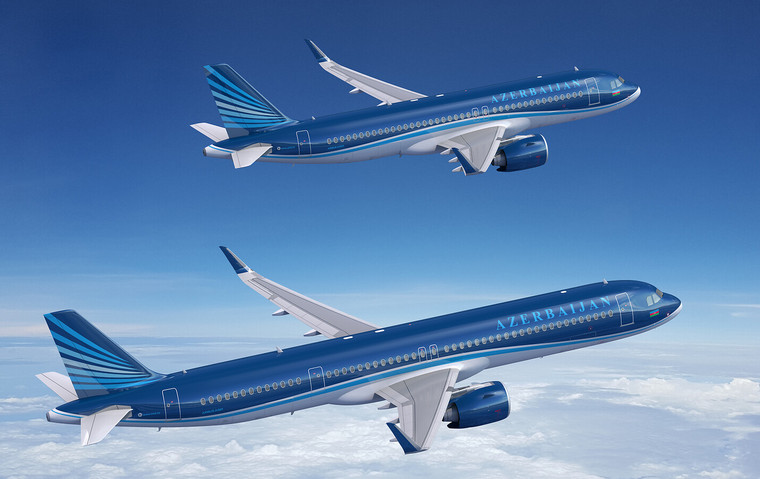 The Azerbaijan flag carrier, Azerbaijan Airlines, has placed a firm order with Airbus for 12 A320neo Family aircraft including A320neo and A321neo. The contract was signed at a ceremony held in Baku.



These latest generation A320neo Family aircraft are part of the company's fleet renewal strategy to operate the most modern and fuel-efficient aircraft, increase operational efficiency and competitiveness while offering passengers excellent comfort throughout its fleet. The engine choice will be announced by the airline at a later stage.
"We are pleased to continue mutually beneficial cooperation with Airbus on the modernization program of our fleet and intend to strengthen the bilateral partnership. The signed contract will provide our passengers with the most modern and comfortable single-aisle aircraft," First Vice-President of AZAL CJSC Samir Rzayev said.
This order marks an important milestone in the fruitful relationship between Airbus and Azerbaijan Airlines," said Christian Scherer, Airbus Chief Commercial Officer and Head of International. "The A320neo Family continues to be a top choice for airlines looking for fuel-efficient and cost-effective fleet solutions. This order is a testament to the trust our customers have in the performance and reliability of our aircraft. We are confident that this choice will further boost the sustainable growth of Azerbaijan Airlines."
Currently Azerbaijan Airlines operates a fleet of 15 Airbus aircraft (4 A319ceo, 6 A320ceo, 2 A340s and since the beginning of the year, 3 new generation A320neo). The airline plans. to deploy efficient A320neo Family aircraft to further develop its domestic and international route network.
The A320neo Family incorporates the very latest technologies including new generation engines and Sharklets, which together deliver at least 20 percent fuel burn and CO2 emission saving. With some 8,700 orders from 135 customers, the A320neo Family is the world's most popular aircraft.




Google Banner Ad




AUSTIN-BERGSTROM INTERNATIONAL AIRPORT (AUS) IS DOING PRELIMINARY CONSTRUCTION WORK TO ACCOMMODATE NEW, UPGRADED TSA SCREENING MACHINES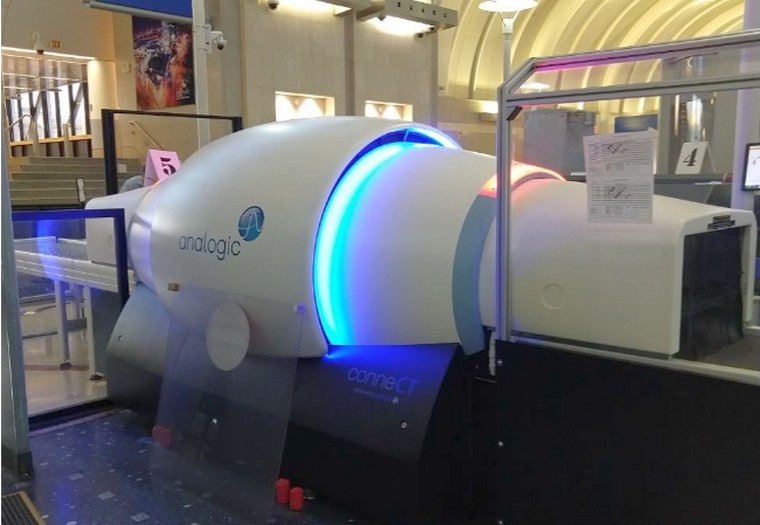 Officials with the Transportation Security Administration (TSA) and the Austin-Bergstrom International Airport (AUS) have announced the preliminary construction work for the installation of new Computed Tomography (CT) X-ray scanners at TSA checkpoints has begun. AUS has four TSA security checkpoints that will each have these new screening machines at every checkpoint lane by the end of the project.



The new CT systems are for carry-on items at TSA checkpoints. These full-size CT systems feature fully automated screening lanes with side-by side stations for more passengers to place personal items in bins at the same time, automated bin return, and high threat containment. When a carry-on bag is screened through a CT scanner, travellers can leave everything in their carry-on bag, including electronics larger than a cell phone and food. These new features enable passengers to move through checkpoints more quickly and with greater ease.
CT units apply a sophisticated algorithm as they generate a 3-D image of the contents of the carry-on bag. A TSA officer can manipulate the 3-D X-ray image on-screen to allow for a better view of the bag's contents, ultimately reducing the number of bag checks that are required.
"Use of CT technology at our security checkpoints is a win-win for TSA and passengers," said Gilbert Almaraz, TSA Federal Security Director for AUS. "We get increased detection capability which leads to fewer bag checks, and passengers get to leave their electronics and 3-1-1 liquids in their bags."
AUS is responsible for the preliminary work needed at the TSA checkpoints to accommodate the new screening machines. This construction is currently underway and will continue through mid-April. Presently, all TSA checkpoint 3 gates and the checkpoint 2 West exit area are closed for demolition and reconfiguring work. Work at checkpoints 1 and 2 East has been completed.
Installation of the new equipment will occur in a phased approach, with one new lane being equipped weekly over the next few months to minimize passenger impacts. Once a lane is modified and completes certification, it will open for screening before installation of the next lane begins.
"Improving the quality and convenience of the passenger experience is a priority goal for the airport, TSA and all AUS partners. We are pleased to partner with TSA to improve security and enhance our passenger experience. The technology upgrades at our checkpoints will efficiently increase the volume of passengers passing through, making it faster, more efficient and less stressful" said Ghizlane Badawi, Chief Experience and Performance Officer, Department of Aviation. "Faster checkpoint processing is especially important during peak travel periods which are becoming more frequent at AUS."
Full installation of the CT scanners at AUS is expected to be completed by late summer.




Google Banner Ad




ETIHAD LAUNCHES NEW WI-FLY WITH FREE CHAT PACKAGES AND UNLIMITED DATA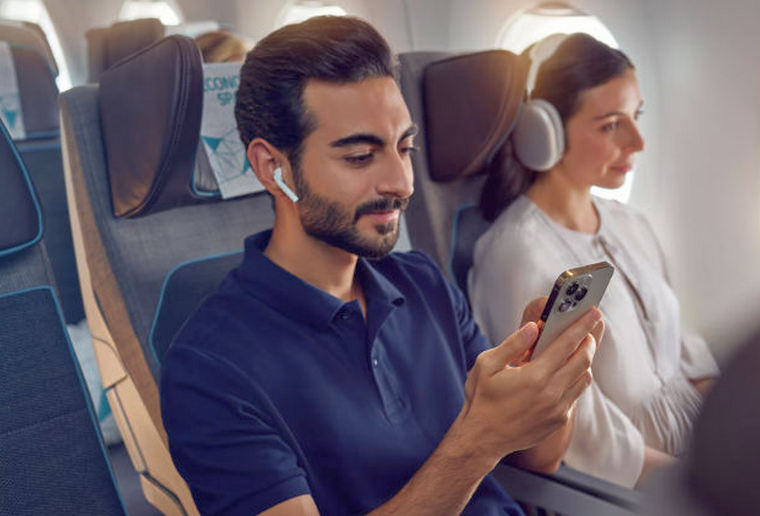 Etihad Airways, the award-winning national airline of the United Arab Emirates, launches new Wi-Fly 'Chat' and 'Surf' packages making it easier than ever to stay connected, chat with family and friends, and browse the web while flying on Etihad's wide-body fleet.

Everyone flying on Etihad will benefit from complimentary 'Chat' messaging throughout their entire flight by signing in with Etihad Guest membership or simply enrolling online before flying to benefit immediately. The free chat feature includes access to popular messaging apps like WhatsApp, Messenger, and WeChat to name a few.
Guests wishing to surf, catch up on social media and work while they fly, can also choose to purchase 'Surf' Wi-Fly plans available for a flat fee with unlimited data for the duration of the flight. For flights under 7 hours, the Chat package is $2.99 or free for Etihad Guest members, and the Surf package is $9.99. For flights over 7 hours, the Chat package is $4.99 or also free for Etihad Guest members, and the Surf package is $19.99.
Etihad Guest Platinum and Exclusive tier members as well as guests travelling in Etihad's first-class cabins will benefit from complimentary Surf Wi-Fly access throughout their flight. Etihad Guest Gold members will receive a 25% discount on the Surf package.
Antonoaldo Neves, Chief Executive Officer, Etihad Airways, said: "We know how important it is for our guests to stay connected, which is why we're thrilled to introduce an added complimentary benefit for Etihad Guest members and welcome everyone to sign up before they fly to take advantage of this benefit immediately. Wi-Fly plans will offer unlimited data and will last the duration of the flight, which means our guests can easily catch up on social media, work or browse as they wish."
"Our fleet of modern wide-body aircraft is fitted with the right technology to enable this service and offer our guests an enjoyable connected experience throughout their journey," he continued.
Etihad's narrow-body fleet continues to offer the current mobile connectivity service allowing guests to make and receive phone calls, send and receive text messages and use their data roaming packages as they would on the ground.
Keeping you entertained while you fly
As well as connecting to the world through mobile and internet connectivity, guests flying on Etihad can enjoy its award-winning inflight entertainment service, E-BOX, which caters to a broad range of travellers from the youngest 'Little VIPs' to the young at heart. E-BOX is available on-demand through the seat-back screens on the wide-body fleet or by streaming E-BOX wirelessly to guests' own devices on the narrow-body fleet
In addition to hundreds of blockbuster movies from Hollywood to Bollywood, as well as Arabic, Asian and European content, guests can enjoy TV shows, music, podcasts and games. There are also seven live broadcast sports and news TV channels to keep up to date with current affairs or catch a live match while on board.
On any aircraft, guests wishing to switch off and relax will be treated to Etihad's award-winning comfortable cabins, delicious food and renowned Arabian hospitality from the Cabin Crew.
Google Banner Ad
SWISS TO TRIAL PASSENGER COUNT USING ARTIFICIAL INTELLIGENCE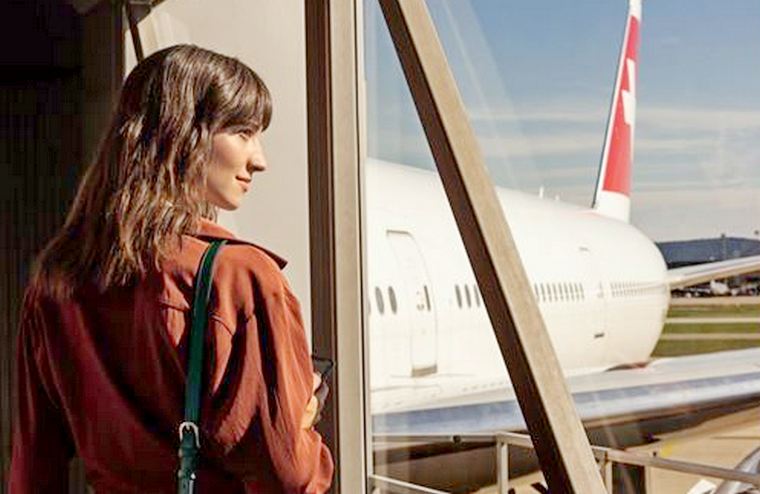 SWISS is to trial the use of artificial intelligence to conduct its passenger count during boarding on selected flights between April and June. The new approach should both enhance security and ease the workload of its cabin personnel. SWISS will be putting a top emphasis on data security and data protection in the new procedure, and will ensure its full compliance with Europe's and Switzerland's strict data protection laws throughout the trial process.

Swiss International Air Lines (SWISS) plans a three-month trial together with an external partner of using artificial intelligence (AI) to conduct its passenger count during the flight boarding process. The digitalization of the passenger count procedure is intended to enhance security and simultaneously ease the workload of the airline's cabin personnel. To these ends, on selected SWISS flights from Zurich between April and June, a camera will be temporarily installed in the cabin for the boarding process, to record passengers as they embark and determine their total numbers.
The recordings will be used solely to train the AI application in the boarding process. It must be able, for instance, to distinguish whether a passenger is carrying an infant in their arms, and must also function faultlessly even in challenging lighting conditions. Results will be constantly analysed throughout the trial phase to steadily improve the AI's reliability. In view of the new approach's trial nature, the cabin crew will also conduct a parallel passenger count using the established manual procedure on the flights concerned.
Data security and data protection assured
SWISS attaches the highest importance to data security and data protection. All the recordings made will be processed in full compliance with the strict European (GDPR) and Swiss (FADP) data protection provisions, and will then be deleted. The data recorded will be used solely for passenger count purposes. No persons will be identified from them. In addition, only visual images will be recorded, and only in the aircraft door area. No further recordings (such as audio) will be performed.
Passengers on the flights concerned will be informed of the trial before they embark. After the trial is concluded, SWISS will analyse the results and then decide on the further course of action as well as on a possible introduction.
Google Banner Ad




Bonus Video



Witbank Speed Rally 2022


Google Banner Ad